Called by many "the McDonald's of coffee", Starbucks is probably the most famous coffee chain in the world, with more than 21,500 stores in 64 countries. And, as Starbucks itself states, the company is not "passionate" only about coffee, but everything that goes with it:
We also offer a selection of premium teas, fine pastries, and other delectable treats to please the taste buds. And the music you hear in store is chosen for its artistry and appeal. It's not unusual to see people coming to Starbucks to chat, meet up, or even work. We're a neighborhood gathering place, a part of the daily routine — and we couldn't be happier about it.
Let's get to know a little more about the Starbucks business model.
A brief history of Starbucks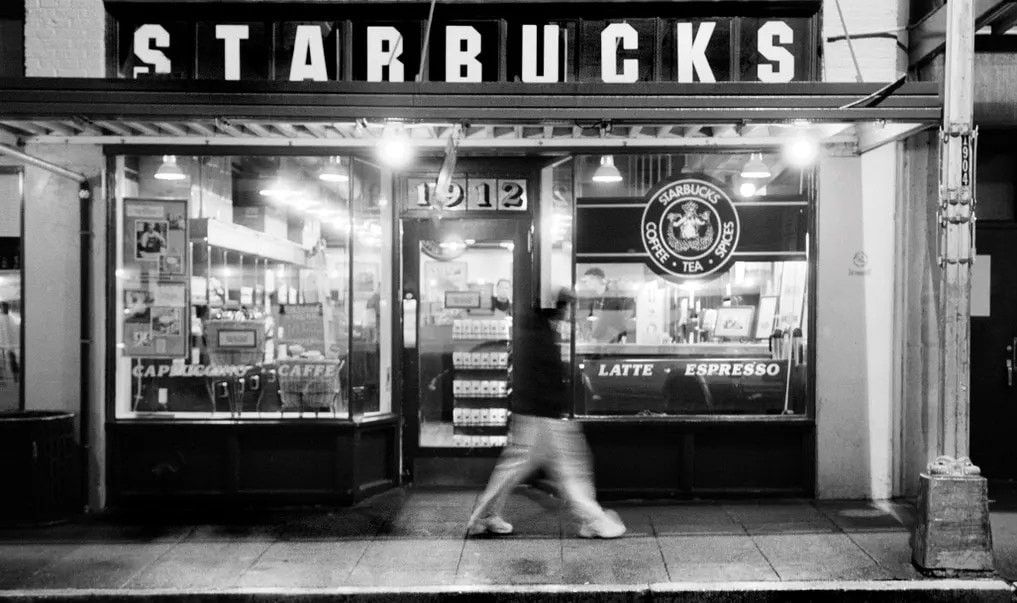 The Starbucks story begins with three students at the University of San Francisco, back in the early 1970s: the English teacher Jerry Baldwin, the history teacher Zev Siegl, and the writer Gordon Bowker. The three of them had met Alfred Peet, a coffee roasting entrepreneur, who taught them his style of roasting beans.
After that, they decided to sell high-quality coffee beans and equipment. Before the foundation, Bowker owned an advertising agency with Terry Heckler, who said that words beginning with "st" were powerful. So, the founders looked up a list of words beginning with "st," and discovered a mining town called "Starbo". From there, they recalled the name of the chief mate in Moby-Dick's book: "Starbuck". And that was how the first Starbucks was born, on March 31, 1971, in Seattle, Washington.
Following the initial idea, this first shop would only sell roasted whole coffee beans until 1976. Five years later, Howard Schultz (Chairman and CEO of Starbucks from 1986 to 2000, and then again from 2008 to 2017) walked into a Starbucks store. He would join the company as director of retail operations and marketing the following year, when Starbucks began providing coffee to fine restaurants and espresso bars. In 1983, Schultz travels to Italy, and gets impressed with the espresso bars in Milan, and sees the potential to develop a similar coffeehouse culture back in Seattle.
So, in 1985, Schultz founds Il Giornale, a coffeehouse that offered brewed coffee and espresso beverages made from Starbucks® coffee beans. Two years later, the original founders sold Starbucks to Schultz. He rebranded his Il Giornale cafés as Starbucks and began expanding the company. By the year 1989, there were 55 Starbucks stores in the United States. Starbucks completed its initial public offering (IPO) on the stock market in mid-1992, with revenue of $73.5 mi and a market value of $271 mi.
Four years after that, its first store outside North America was opened in Tokyo. And, finally, nowadays, Starbucks is one of the 500 largest United States corporations by revenue, according to Fortune, with a market value of over $100 bi and 32,660 stores all over the world.
Who Owns Starbucks
In 2022, Howard Schultz, one of Starbucks' key executives, is back as the company's CEO, after already holding the position from 1986 to 2000, and then again from 2008 to 2017, as previously mentioned.
Starbucks' Mission & Values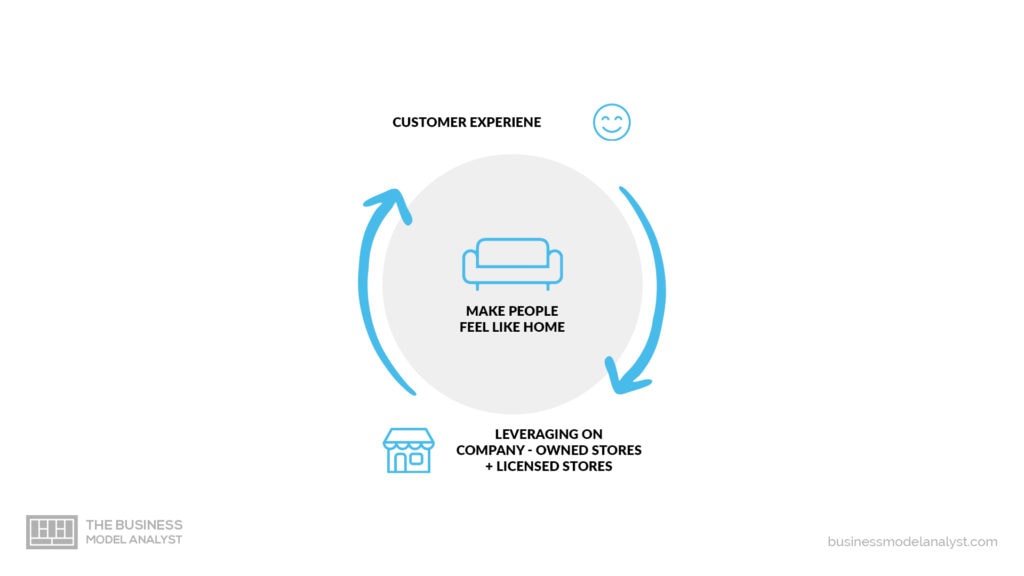 Starbucks' Mission Statement
To inspire and nurture the human spirit — one person, one cup, and one neighborhood at a time.
Starbucks' Values
Creating a culture of warmth and belonging, where everyone is welcome;
Acting with courage, challenging the status quo, and finding new ways to grow our company and each other;
Being present, connecting with transparency, dignity, and respect;
Delivering our very best in all we do, holding ourselves accountable for results.
How Starbucks makes money
Simply speaking, Starbucks makes money by selling coffee, tea, food, and other ready-to-drink beverages in its company-operated or licensed stores. Other revenues also come from royalty and licensing incoming, consumer-packed goods, food service, etc., since Starbucks products can be found in grocery stores, convenience chains, and other beverage selling places. Although almost half of the stores are franchised, Starbucks still makes most of its money from its company-operated stores: the segment makes 81.5% of total revenue ($22.4 bi), which is nearly ten times its licensed stores' revenue. However, it is fair to highlight that licensed stores have shown the highest revenue growth.
Starbucks' revenue streams by operating segments
Americas (U.S., Canada, and Latin America): This segment includes both company-operated and licensed stores. It's the biggest and most mature business segment;
CAP & EMEA: CAP stands for China & Asia Pacific, while EMEA stands for Europe, Middle East, and Africa. Both the segments include company-operated and licensed stores, but these operations are in several levels of development;
Channel Development: This segment includes roasted whole beans and ground coffee, Starbucks and Teavana single-serve products, ready-to-drink beverages, and other products sold outside the company-operated and licensed stores.
Starbucks' revenue by product types
Beverages: The majority of Starbucks revenue comes from the sale of beverages (around 60%), especially coffee ones;
Food: Food is the second-highest revenue source, standing for 18% of the total generated;
Packaged and single-serve coffees & teas: Revenues generated from these products are the lowest, representing 8% of the total;
Others: 14% of the total revenue comes from royalty & licensing, selling beverage-related ingredients, server ware, and ready-to-drink beverages.
Starbucks' Business Model Canvas
The Starbucks Business Model can be explained in the following business model canvas: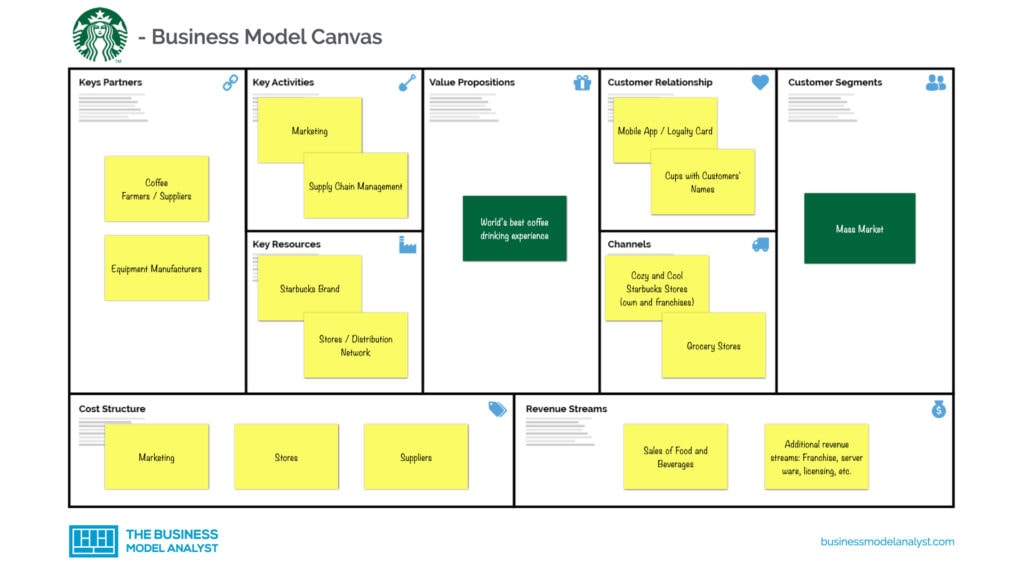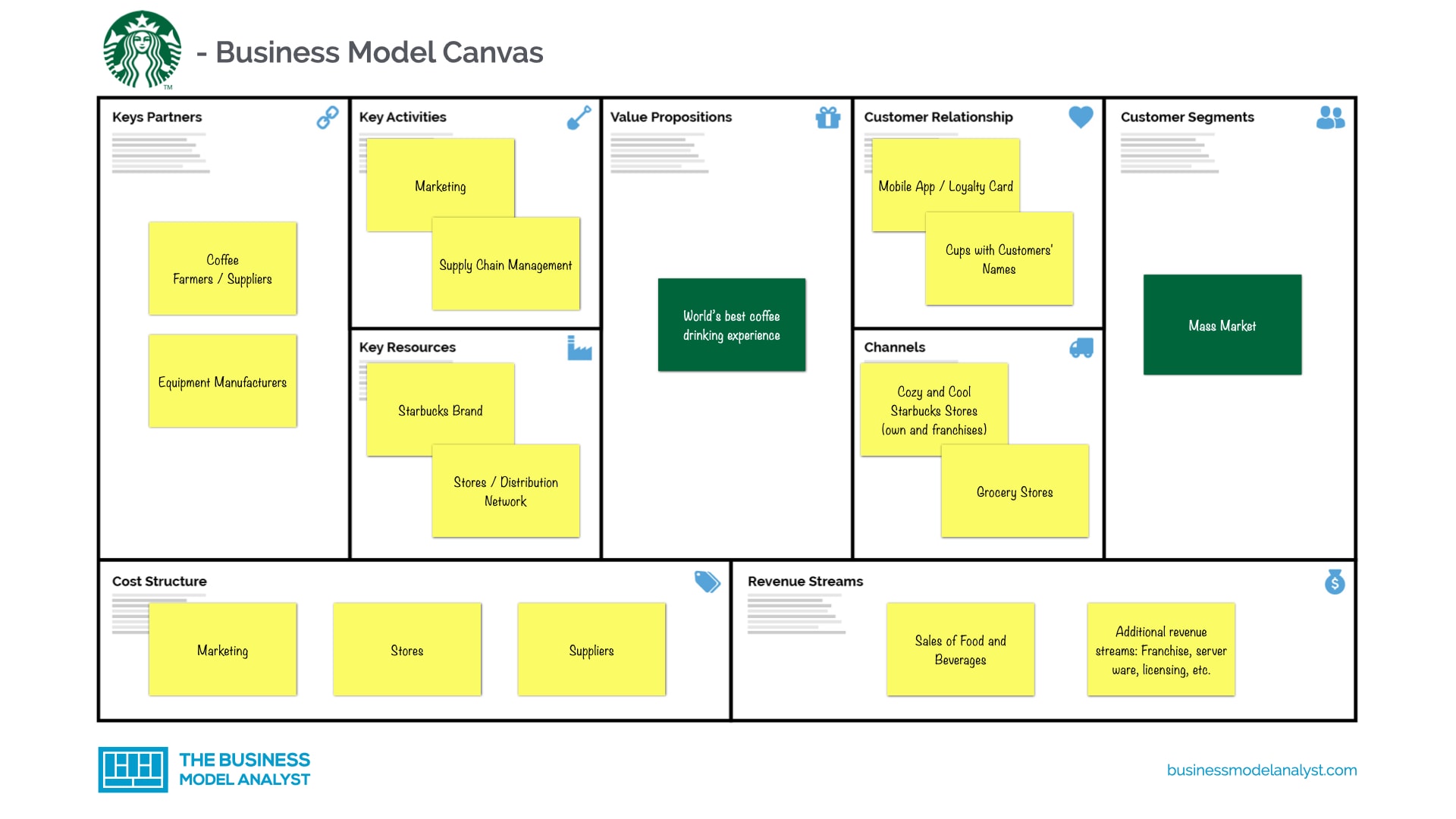 Starbucks' Customer Segments
There is no customer segmentation in Starbucks' business model. Anyone who wants high-quality coffee is part of Starbucks' customer segment. In other words, the mass market.
Starbucks' Value Propositions
Innovation: Starbucks constantly designs innovative products for its customers;
Quality: It uses only high-quality beans and trained roasters to work on them;
Convenience: Customers can order products through Starbucks' app, avoiding lines at the stores;
Variety: It offers 30 blends of coffee and a wide range of sandwiches, pastries, tea, smoothies, salads, etc.;
Brand: Starbucks has a powerful and awarded brand, seen as a synonym of quality.
Starbucks' Channels
Coffee shops, grocery stores, retailers, Starbucks cards, customer service, Starbucks apps, and social media.
Starbucks' Customer Relationships
Employees make and serve products to the customers, and also assist them anyhow. This ensures a loyal customer base for the brand.
Starbucks' Revenue Streams
Beverage (especially coffee) and food selling in both company-operated or licensed stores, royalties, and licenses, packed goods, etc.
Starbucks' Key Resources
Human resources, high-quality coffee farmer centers, product developers, and stores.
Starbucks' Key Activities
Product development, customer service, marketing, production, R&D, cleaning, and others.
Starbucks' Key Partners
Suppliers worldwide, coffee producers, outside trading companies, exporters, retailers, and distributors.
Starbucks' Cost Structure
Administration and operation costs, marketing, distribution, facilities
Starbucks' Competitors
Dunkin' Donuts: Donuts and coffee house, founded in 1950, with over 11,500 restaurants in more than 35 countries;
Costa Coffee: British coffeehouse, founded in 1970 and acquired by Coca-Cola in 2019;
McCafé: A subsidiary of McDonald's, founded in 1993;
Tim Horton's: One of the largest Canadian-based fast-food multinationals, with popular coffee and donuts, with over 4,600 restaurants in 13 countries;
Peet's Coffee: A retail company specialized in coffee roasting, founded in 1966;
Lavazza: Brand of coffee in Italy, founded in 1895, with stores in several European countries;
Yum China: The largest restaurant operator in China, and the sole Chinese licensee of KFC, Pizza Hut, and Taco Bell;
Café Coffee Day: India's largest coffee chain, founded in 1996, with markets in Africa, Europe, and Asia;
Independent coffeehouses: All the millions of small neighborhood coffee shops in the world.
Starbucks' SWOT Analysis
Below, there is a detailed swot analysis of Starbucks: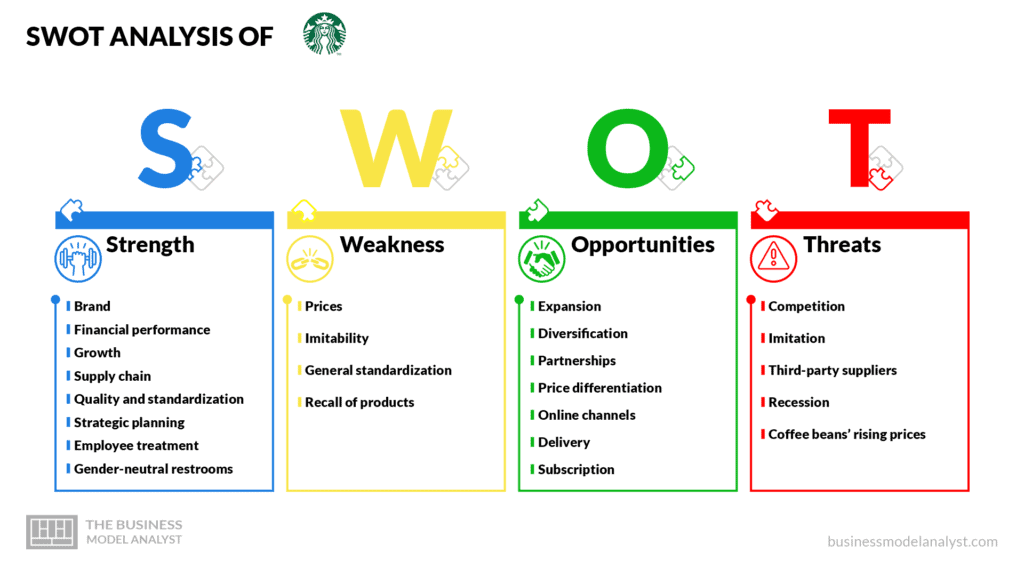 Starbucks' Strengths
Brand: The most popular brand in the food and beverage industry;
Financial performance: Annual revenue over $26 bi;
Growth: Each year, new stores are open somewhere on the planet (32,660 currently);
Supply chain: Extensive global supplying network, with coffee beans from Latin America, Africa, and Asia;
Quality and standardization: Premium blends and coffees are consistently standardized in all its locations;
Strategic planning: Starbucks reinvests its profits in business development;
Employee treatment: Starbucks is often listed as one of the best places to work for;
Gender-neutral restrooms: To protect the LGBTQ+ community against discrimination.
Starbucks' Weaknesses
Prices: For many consumers, Starbucks is more costly than some competitors, such as McDonald's;
Imitability: It is quite easy for the competitors to replicate its products;
General standardization: Some products don't associate with the locals' preferences;
Recall of products: It has recalled several in-demand products, affecting the brand image.
Starbucks' Opportunities
Expansion: Most of its coffeehouses are in the U.S. Therefore, emerging economies are a great opportunity for expansion;
Diversification: Developing products according to the specific target market's preferences;
Partnerships: Co-branding could increase its market share;
Price differentiation: Offering regular coffee to capture the middle-class;
Online channels: Strengthening its online channels to attract more customers for pick up locations;
Delivery: It can start its own delivery service, instead of using Uber Eats and alike;
Subscription: It could start some coffee subscription services to expand its customer base.
Starbucks' Threats
Competition: Many coffeehouses offer cheaper products. Besides, there are strong competitors such as multinational companies (Dunkin' Donuts and McDonald's for example);
Imitation: Their products can be easily reproduced;
Third-party suppliers: There are many contractors and stakeholders, which makes it hard to manage the whole chain;
Recession: Starbucks' revenue has already dropped, especially after temporarily closing many stores due to the pandemic;
Coffee beans' rising prices: The price of Arabica (the most-produced coffee in the world) has raised drastically during the covid-19 pandemic.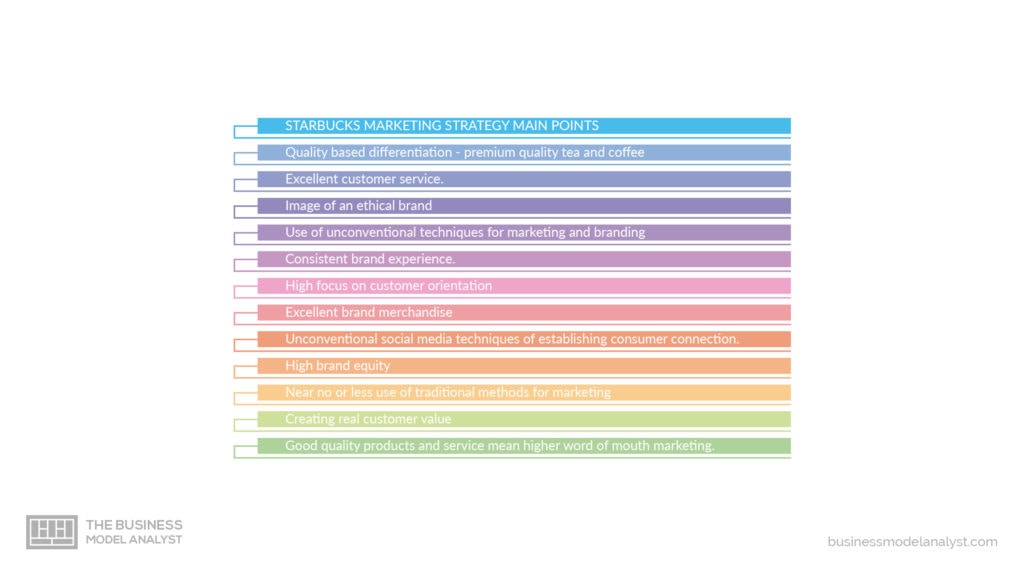 Conclusion
Starbucks is a gigantic coffee enterprise and has an enormous market share. Although the mentioned threats and weaknesses have their explanations and the appointed vulnerabilities need to be taken care of, it is still a company that completely dominates its market, and has somewhat vanished its opponents in the entire past decade.