The growth of digital payment methods is undoubtedly one of the driving forces behind the dizzying boom in trade over the past few decades, both locally and internationally. Few companies have been closer to the forefront of this advancement than Square. Let's take a look at the Square business model to get a deeper understanding of how this amazing company operates.
A brief history of Square
Square is a subsidiary of Block, Inc. (formerly Square, Inc.), the brainchild of Jack Dorsey (Twitter co-founder and former CEO) and Jim McKelvey (current Chair of the St. Louis Fed). The company is a financial services and digital payments firm, which was founded by the duo in 2009 and launched its first product in 2010.
They currently hold about 53% of the market share with a clientele base of over 2 million merchants. The company was initially formed in response to the difficulties encountered by customers and merchants when trying to make payments across different platforms and offered a more streamlined approach.
However, it has since expanded to include a host of other products and services, such as Square Payroll, Square Market, Square Capital, and so on. Through these subsidiaries, it has since gone from simply offering easy-to-use payment processing services to including inventory services, sales tracking, analytics software, financial services, general and administrative services, and much more.
Who Owns Square
Even though Block, Inc. was founded by Dorsey and McKelvey, it became a publicly-traded company in 2015. The largest shareholders include Jack Dorsey (12.7%), Morgan Stanley (6.8%), Vanguard Group Inc. (6.3%), T. Rowe Price (3.4%), and Jennison Associates (3.4%).
Square's Mission Statement
The Square mission statement states: "We believe that every individual must have an equal chance to build themselves in the economic world. We believe that the economy of any country and the world grows collectively when every citizen has access to the economic world. Therefore, we aim to make commerce easy for everyone".
Their vision statement says: "We are here to assist businesses of all scales and sizes. We will help them to start, function, and then grow towards a better future in economies. And we do it because we believe that the growth of one business is the growth of every other business".
Let's take a closer look at some of the key income streams of Square below.
Service Fees
The platform charges a service fee or transaction fee on many of the services offered by its subsidiaries. For example, Square's standard processing fee is 2.6% + 10¢ for contactless payments. Payments that are made via manually keyed-in transactions have a 3.5% + 15¢ fee.
Subscription Fees
Several Square subsidiaries and packages offer monthly subscription fees as well.
Hardware Sales Revenue
The company also sells a line of hardware products like the Square Stand, Square Card readers for NFC and EMV chip cards, barcode scanners, receipts printers, cash drawers, and so on. Square uses a blade and razor approach, which means that the hardware is usually sold at a loss or below market price, while profits are made through the revenue generated via the service fees of using Square services like Cash App, Square Debit Card, and so on.
By Issuing MCAs to Other Businesses
Merchant Cash Advances (MCAs) are a form of non-traditional loans which offer guarantees on the "sale of future income". This means that, in exchange for giving small businesses loans upfront, Square recoups a portion of this debt directly from digital payments made to the business.
Software and Data Product Revenue
Square also gains revenue through the sale of its various software and data tracking products, such as inventory software, data analytics programs, payroll software, and POS software.
Square Business Model Canvas
The Square Business Model can be explained in the following business model canvas: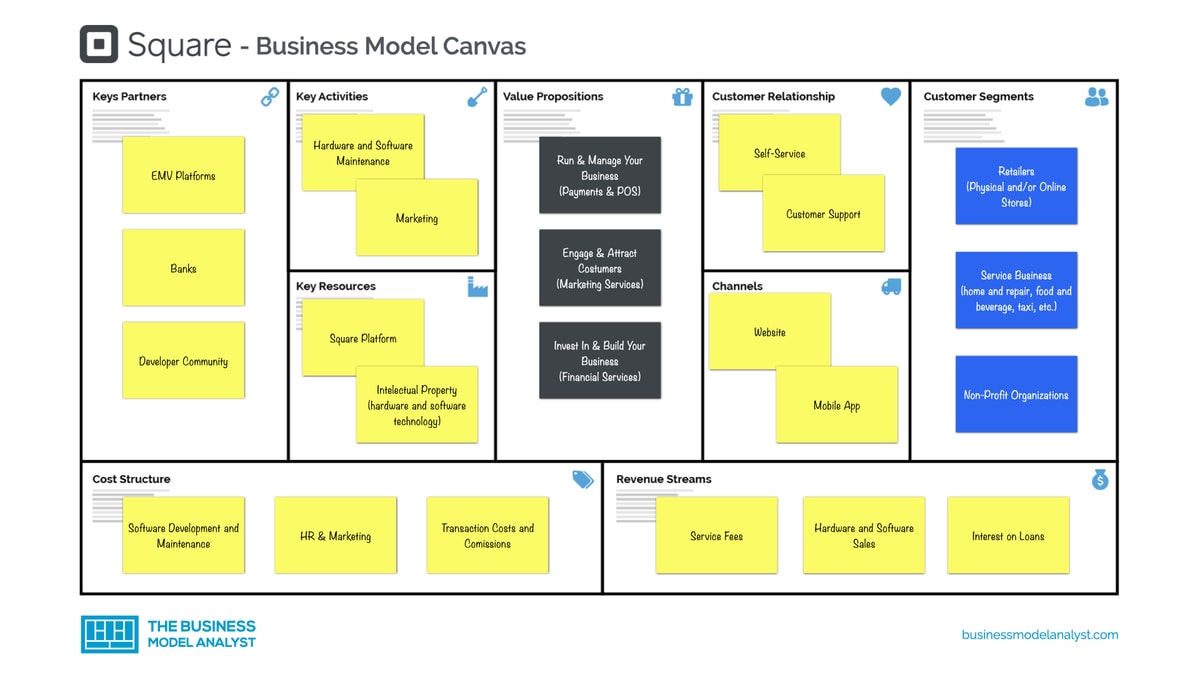 Square's Customer Segments
Square's customer segments consist of:
Physical stores
Online retailers
Digital shoppers
Food and beverage services
Non-profit organizations
Taxi services
Home and repair services
It's important to note that most of the companies that Square caters to are small and medium-sized businesses.
Square's Value Propositions
Square's value propositions consist of:
Streamlined Financial Transactions Between Buyers and Sellers
Square offers both merchants and buyers smooth, affordable, easy, and quick financial transaction options. This is done primarily through a point-of-sale (POS) system that makes use of credit cards and computer tablets as payment registers. Square also provides the hardware required to facilitate such transactions as well. They also accept online payments through Square Market.
Offers Flexible Financial Services
Square also provides financial services such as MCAs to small and medium-sized businesses, which can then be paid off over time via credit card deductions. They also offer Square Gift cards.
General and Administrative Services
Square also offers a service known as Square Payroll, which helps business owners process employee payrolls much more efficiently. The firm also offers online booking services.
Square's Channels
Square's channels consist of:
Official website
Mobile app
Square Readers devices
Developer APIs
Social media channels
Mobile application download channels, such as Google's Play Store and Apple's App Store
Marketing and advertising campaigns
Direct interaction with sales representatives
Square's Customer Relationships
Square's customer relationships consist of:
Loyalty programs, such as the Square Gift card program
Social media pages
Online community
Personal assistance
Self-service
Customer feedback solicitation
Square's Revenue Streams
Square's revenue streams consist of:
Service fees
Hardware sales
Software sales
Data product sales
Interest paid on MCA loans
Square's Key Resources
Square's key resources consist of:
Platform reputation and market branding
Human resources
Intellectual property, such as software and hardware tools
Ability to build custom solutions for third-party apps
Square's Key Activities
Square's key activities consist of:
POS services through EMV and NFC integration
SME financing services
General and administrative services, such as payroll services and online booking services
Software services
Customer services
Legal services
Hardware and software maintenance
Marketing, branding, and content creation
Square's Key Partners
Square's key partners consist of:
EMV platforms, such as Europay, MasterCard, and Visa
Various Banks, such as Celtic Bank, Unity Bank, Southern Cross Credit Union, Sumitomo Mitsui Banking Corporation (SMBC), and WAW Credit Union
Near-field Communication (NFC) platforms
Digital and physical stores
Business app developers
Square's Cost Structure
Square's cost structure consists of:
Transaction costs, such as interchange fees and fees paid to the card-issuing institution
Fees paid to third-party payment processors
Hardware maintenance costs
Operating expenses, such as facility maintenance, wages, legal fees, IT costs, etc.
Bank settlement fees
Marketing and advertising costs
Square's Competitors
Here are some companies in the same field who can be viewed as Square's closest competitors.
PayPal: PayPal is an e-commerce company that enables payments between parties through a streamlined online transfer ecosystem;
Shopify: Shopify Inc. is a multinational e-commerce company that offers a proprietary e-commerce platform for online stores, which provides retail point-of-sale systems, shipping services, marketing, and various customer engagement tools;
Lightspeed: Lightspeed is a point-of-sale and e-commerce software provider company based in Canada that also offers various administrative services like inventory management, work orders, vendor returns, special orders, and so on;
CDGcommerce: CDGcommerce is a merchant account provider which provides various point-of-sale services, including various forms of software and hardware support.
Square's SWOT Analysis
Below, there is a detailed swot analysis of Square business model.
Square's Strengths
Strong management team and leadership;
Impressive growth rate;
Strong brand value;
Efficient financial ecosystems and effective partnerships with allied industries.
Square's Weaknesses
Dependence on payment card services;
High cost of operations;
Relatively high employee turnover;
Lack of a global presence.
Square's Opportunities
Opportunity to expand their services to an international market;
The chance to develop new products and services to offer more financial services through diversification;
Support and collaboration with the government and other allied financial service industries.
Square's Threats
Increasing competition from competitors with similar services;
Increasing business complexity;
Cyberattacks.
Conclusion
Square is at the forefront of innovation in terms of streamlined payment services between buyers and sellers. In 2021, they reported a profit of US$ 657 million and a 60% increase in their profits from outside the U.S. market. With the digital payments segment estimated to reach $8.50 trillion in 2022 and $13.91 trillion by the end of 2026, Square is certainly well-positioned to capitalize on this growth.