The Spotify Business Model operates worldwide as an audio streaming and media services provider that gives its users access to millions of music, podcasts, and videos uploaded on the platform by artists and other content creators. Spotify is one of the largest music providers with millions of active users and subscribers all over the world.
A brief history of Spotify
Spotify was founded on 23rd April 2006 in Stockholm, Sweden, by a Swedish billionaire entrepreneur and technologist, Daniel Ek, and his partner, the cofounder of Tradedoubler, Martin Lorentzon. Spotify was created to help deal with the problem of music piracy, which used to cost the music industry millions every year. The name, Spotify, is a portmanteau of the words "spot" and "identify". 
Although Spotify was founded in 2006, it did not launch until two years later. Spotify was launched on 7th October 2008 and its services were only available by invitation only to a few European countries such as the United Kingdom, Spain, Sweden, France, Norway, and Finland. In February 2009, Spotify released its free service for public registration in the United Kingdom, however, it had to halt this service because of the large number of registrations following the release of a mobile application.
In July 2011, Spotify was launched in the United States market, and it started to compete with other big music streaming services. Since then, Spotify has expanded its operations in the United States and its U.S. headquarters is located in New York City. Currently, Spotify operates in over 180 countries and has over 400 million subscribers.
Who Owns Spotify
Spotify is still primarily owned by its founders, Daniel Ek and Martin Lorentzon. While there are shareholders who own stakes in the company, the founders still retain the highest amount of shares. Daniel Ek, who is also the chief executive officer of the company, owns 16.7% (32,323,633) of the total ordinary shares and possesses 31.9% of the voting power. Cofounder Martin Lorentz, on the other hand, owns 10.9% (20,988,551) of the total ordinary shares and possesses 42.9% of the voting power. 
Some other key shareholders of the Spotify company include Baillie Gifford & Co., Morgan Stanley, T. Rowe, Price, and Tencent. Other shareholders include Alecta Pension Insurance Mutual, BlackRock Fund Advisors, Ark Investment Management LLC, AMF Fonder AB, Jenison Associates LLC, etc.
Spotify's Mission Statement
"To unlock the potentials of human creativity".
How Spotify makes money
Spotify operates a freemium business model. This means that some of its services can be accessed for free, while some of its services are considered premium and can only be accessed when paid for. Spotify generates its revenue from its users who are either using the free service or subscribed to the premium service.
Advertisements
Spotify offers its audio-streaming services for free to its users. Such users have limited access to a catalog of millions of songs, however, some features are restricted for these users. Also, free users are shown advertisements that serve as a source of revenue and compensation for the free services offered by Spotify. Advertisers on Spotify are brands, agencies, and institutions that pay Spotify to showcase their products and service to the vast audience that uses the music-streaming app. This way, Spotify generates revenue by showing paid ads to its free users in exchange for the services offered.
Premium Subscription
This is the biggest source of revenue for Spotify. While some of Spotify's services can be accessed freely, users still need to pay a monthly subscription fee to unlock all the features of the music-streaming service. Spotify's users who pay for full access to Spotify's services are known as premium subscribers. There are different plans available for the Spotify premium subscription, with varying prices for different categories. These include individual, duo, family, and student plans. Any premium subscriber who pays for any of these plans is granted unlimited access to Spotify's catalog of music and podcasts, both online and offline (after download). 
Also, ads are eradicated for premium subscribers, and they have the best experience listening to music without interruption from advertisements. As of the second quarter of 2022, Spotify had 188 million premium subscribers worldwide, and Spotify will continue to generate revenue from premium subscriptions as long as its subscribers renew their subscription plans every month.
Spotify's Business Model Canvas
The Spotify Business Model can be explained with the business model canvas below: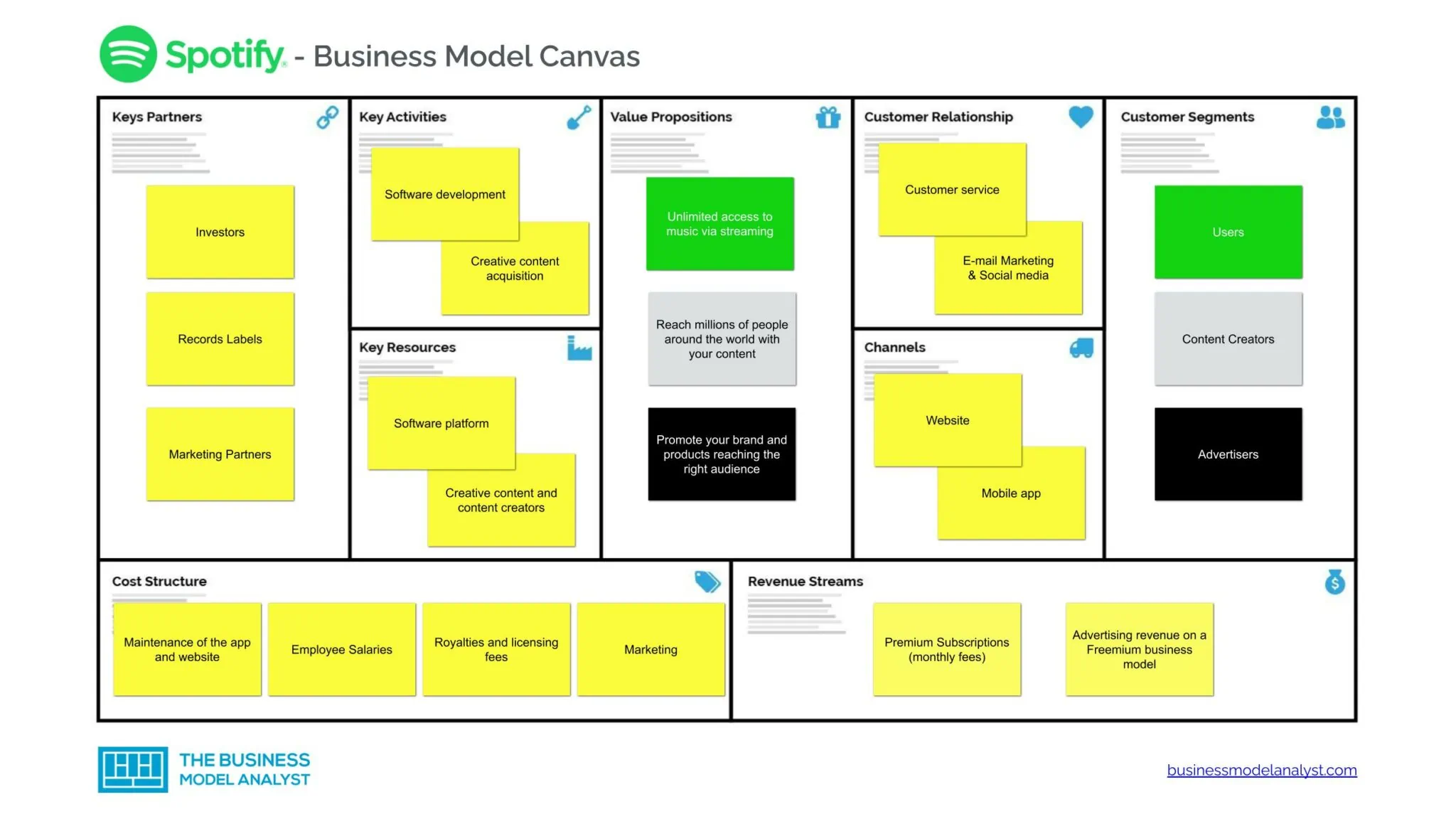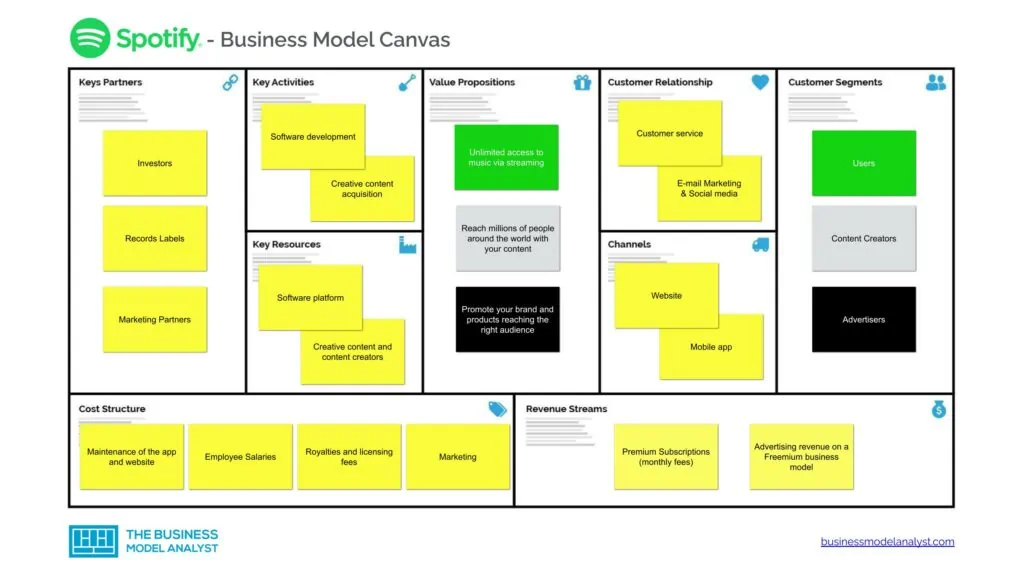 Spotify's Customer Segments
Spotify operates in over 180 million countries, therefore it has customers all over the world. Spotify's customer segment consists of the following:
Users: The users of Spotify are people who make use of the platform's large catalog of music, podcasts, and other services. Spotify's users either use the platform for free but limited services or become premium subscribers who have access to all of the platform's features. Users make up a huge chunk of Spotify's customer segment, and they are the exclusive audience for Spotify. They are also the target audience for advertisers based on their demographics;
Content Creators: This refers to the artists, record labels, and podcasters who create audio content and put it out on the Spotify platform for millions of people to access. Without the content creators, there are no users, therefore the content creators are an important part of the Spotify customer segment;
Advertisers: These are the brands, institutions, and businesses that use the Spotify platform to propagate their goods and services to a vast audience of users. Advertisers pay Spotify to advertise their goods and services to its users.
Spotify's Value Propositions
Spotify provides value for every member of its customer segment. Spotify's value propositions consist of:
Value Propositions to Users
Spotify's users are the exclusive audience of Spotify. They make up the largest part of its customer segment. The following are Spotify's value propositions to its users:
Legal accessibility to entertainment: Piracy is illegal and is considered a criminal offense in several countries. Before the advent of streaming services such as Spotify, people used to pirate music, thereby causing the music industry to lose millions. However, Spotify provides a platform through which music lovers can listen to music legally for free or at affordable costs;
High-quality music: Compared to other streaming services and music platforms, Spotify makes music available to its users in very high quality. The quality of audio on the Spotify platform can be as high as 320kbps. There are other audio streaming options available to Spotify users;
Convenience: Spotify users can get access to their user profiles and millions of tracks and podcasts on various devices as they wish. The Spotify platform is also easy and convenient to use;
Personalization: With Spotify, users can create a personalized profile by picking their favorite artists or songs and adding them to their music library or playlists. Spotify's algorithm is designed to recommend songs that align with a user's interests, tastes, and preferences, based on previous selections. 
Value Propositions to Content Creators
Content creators on Spotify are the creatives who put out original content on the Spotify platform. Spotify's value propositions to its content creators includes:
Wide Audience: The Spotify platform allows artists and podcasters to reach millions of people around the world with their music or podcasts. Spotify is one of the largest music streaming services that allow artists and podcasters to become well-known and build their fan bases;
Stats tracking: Spotify helps artists and podcasters grow by providing insights through real-time statistics. This helps artists and podcasters to understand trends, discover their audience, know how to deliver content, and know when to promote content. Spotify also helps content creators track their listeners' behavior and discover a potential audience;
Brand identity: Spotify allows artists and other content creators to build their brands on its platform. It gives them access to creative profile tools that can be used to add a bio, short videos, images, and other content that engages and inspires their fans. Content creators can also go live on the Spotify platform and interact with their audience;
Revenue: Spotify pays artists or their record labels or the rights' holder any song royalties per stream that they get from their uploaded content. This encourages content creators to upload their content on Spotify.
Value Propositions to Advertisers
Spotify has an ads studio available for advertisers to help them reach millions of people. The following are Spotify's value propositions to its advertisers:
Ads Placement: Spotify allows advertisers to place ads on its platform for a fee, thereby allowing them to market their goods and services to millions of its users across the world;
Effective targeting of ads: Spotify ensures that the ads of its advertisers always reach the right audience. Through some targeting options on the Spotify platform, advertisers can target users based on their demographics, interests, listening behaviors, previous interactions, and device & connectivity. This ensures that the ads reach their target audience. Also, this can be easily changed, even while the ads are running already;
Pricing: With a budget of as low as $250, advertisers can run ad campaigns on the Spotify platform. The Spotify platform provides free tools with which advertisers can easily create ads from scratch. Spotify's advertisement gives advertisers value for their money and helps them reach millions of their target audience;
Creativity: The Spotify ad studio empowers advertisers to create ad content of different kinds to market their goods and services. With the Spotify ad studio, advertisers can create photo and video ad content, voice-overs, and other features that can make their ads appealing to their target audience; 
Ads Tracking: Spotify does not stop providing value to advertisers immediately after their ads are up and running. It also provides them with the tools to track the performance of their ads by. Advertisers can evaluate the performance of their ads and make necessary changes.
Spotify's Channels
Spotify's channels consist of:
Website: Spotify's website is its major distribution channel, and it acquires the majority of its customers through this channel. Its website contains communities for users, artists, developers, advertisers, investors, and vendors;
Mobile app: Spotify has mobile apps for the android and iOS operating systems. Its mobile apps cater to the needs of all of its consumers. Spotify has the 'Spotify: Play Trending Music" app for its users, the "Anchor" app for podcasters, the "Spotify for Artists" app that caters to the needs of its artists, the 'Soundtrap Studio" app for recording, and the "Spotify Live" app for interactions between artists/podcasters and their fans.
Spotify's Customer Relationships
Spotify's customer relationships consist of:
Customer service
E-mail Marketing
Social media
Website
Online Community
Spotify's Revenue Streams
Spotify operates a freemium business model. However, it still manages to generate revenue from two major sources. Spotify's revenue streams consist of:
Premium Services: Although every user of Spotify has access to its audio streaming service, such access is limited. Spotify provides an unlimited service through its premium version, which is an ad-free experience for every user willing to pay for it. Spotify premium users have unlimited, ad-free access to all of its features and services for as long as their premium subscription is active. Therefore, Spotify generates monthly revenue from its premium services;
Ad-supported services: Spotify users who do not have a premium subscription can still enjoy the audio-streaming platform's services for free. While this comes at no extra financial cost to such users, Spotify still manages to generate revenue. Spotify displays advertisements during a free user's streaming experience. These ads are sponsored by brands, institutions, and businesses that pay Spotify to market its goods and services to its users.
Spotify's Key Resources
Spotify's key resources consist of:
Proprietary software platform: This refers to the website, mobile, and desktop applications for various devices through which Spotify's services are made available;
Creative content and content creators: These are the artists, podcasters, rights holders, and record labels that are in agreement with Spotify to upload creative content on its platform;
Investors: This refers to the individuals and corporations who contributed financially to Spotify's growth as a young company;
Human resources: This includes Spotify's employees who are responsible for the content, value delivery, and technical maintenance and update of the platform. As of 2021, Spotify had an average of 6,617 employees worldwide.
Spotify's Key Activities
Spotify's key activities consist of:
Software development for various devices
Creative content acquisition
Site and app maintenance
Product Marketing
User base expansion
Contract negotiation
Management of music library/catalog
Spotify's Key Partners
Spotify has partnered with some important individuals and corporations to ensure effective operations and value delivery. Spotify's key partners include:
Investors: As a startup, Spotify has had to rely on funding from outside individuals or corporations. It has had over 18 rounds of funding since 2010 and has raised $2.1B to date from a total of 54 investors;
Music Partners: Spotify cannot function without the creative content uploaded on its platform. Therefore, it has to partner with record labels, media houses, independent artists, and rights holders to obtain the streaming rights to host its content on its platform. Some of Spotify's music partners include Universal Music Group, Warner Music Group, Sony Music Entertainment Group, etc.;
Marketing Partners: Spotify has partnered with big brands and technological giants to market its services and expand its user base across the globe. Examples of Spotify's marketing partners include Facebook, Slack, Wufoo, Salesforce, etc.;
Ads Campaign Partners: To ensure the satisfaction of its advertisers, Spotify has partnered with some ad campaign reporting partners. These partners help to track and measure the influence of the ads run on the Spotify platform by advertisers. Examples of Spotify's ads campaign reporting partners include Comscore, Nielsen, Leanlab, etc.
Spotify's Cost Structure
Spotify's cost structure consists of:
Physical structures and facilities (Offices and company buildings in various locations)
Maintenance of the app and website
Employee Salaries (Executive team and staff)
Research and development
Copyright
Legal fees
Sales and marketing
Royalties and licensing fees (for original songwriters, record labels, rights holders, etc.)
Spotify's Competitors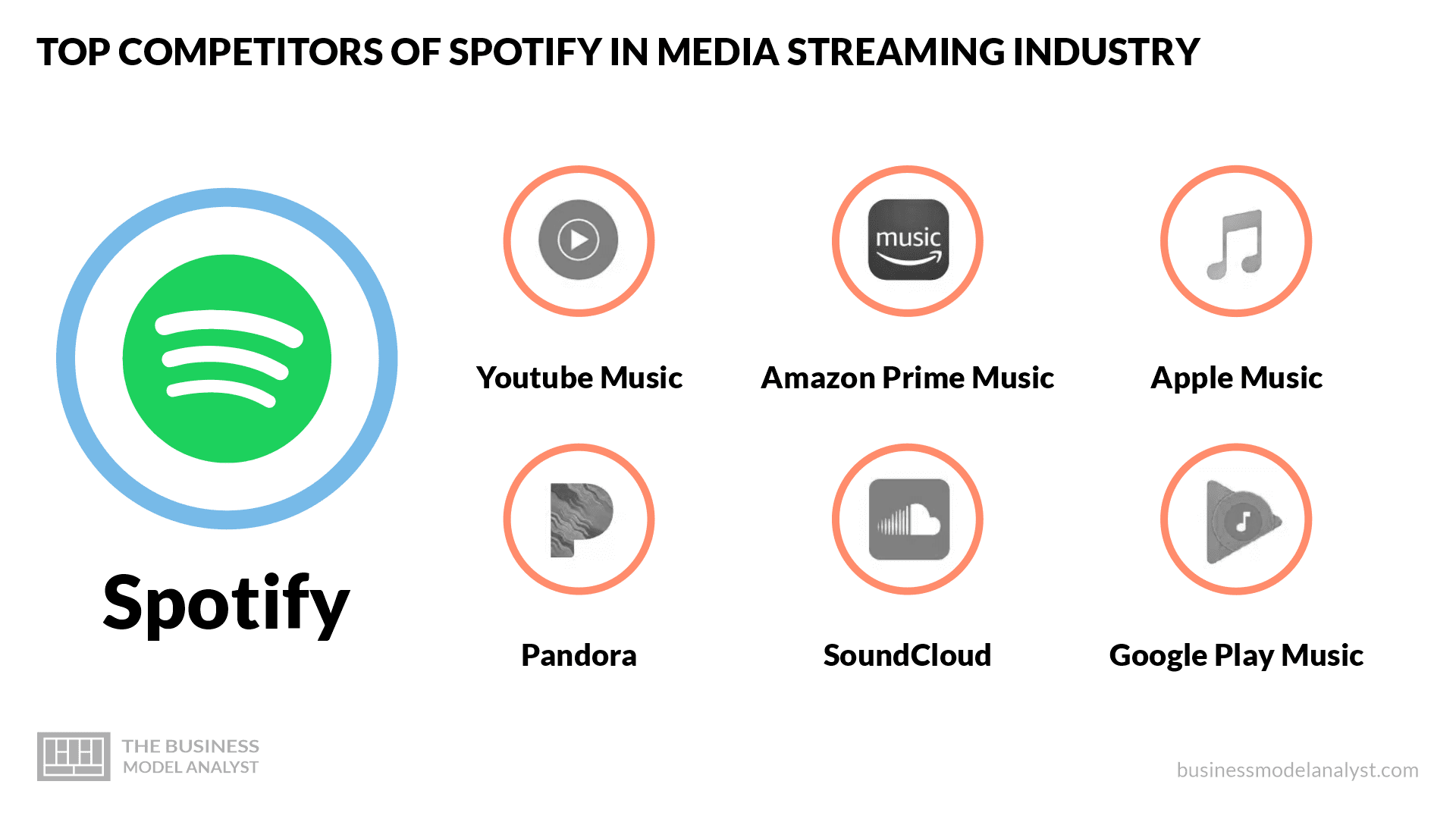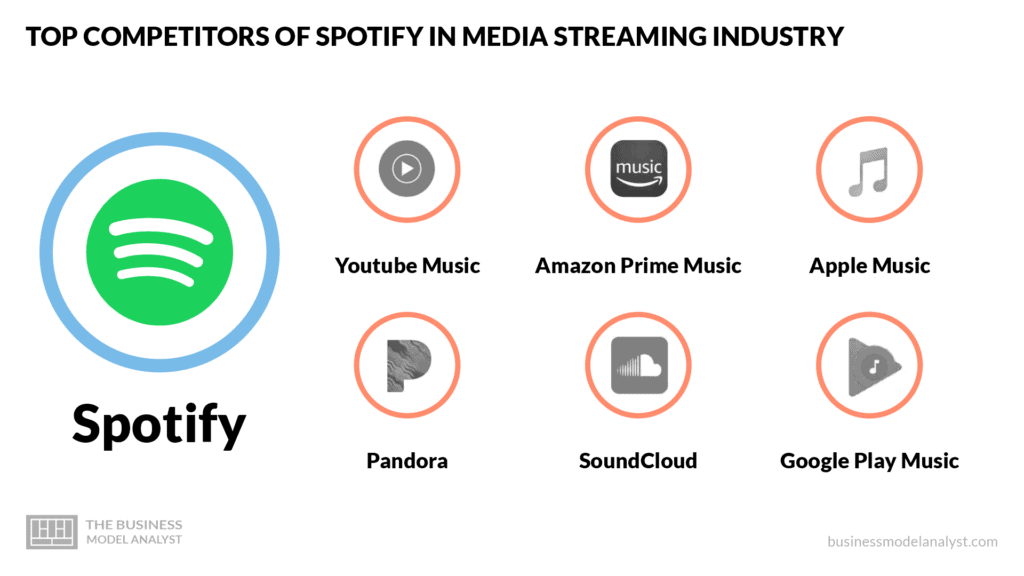 Spotify is one of the largest music-streaming services in the world, however, it is not without its competitors. Spotify's competitors include:
Apple Music: Apple Music is widely considered Spotify's biggest competitor. It is owned by the tech giant, Apple, and comes installed with Apple's iOS products. This makes it a popular choice for people who already have apple products. Apple offers similar services as Spotify and operates a similar business model, thereby making it one of Spotify's biggest competitors;
Pandora: Although it is only available in the United States, Pandora is another music-streaming service that is competing with Spotify. Pandora has about 70 million active monthly users, and it also operates the freemium business model;
YouTube Music: YouTube music is an upgrade to Google's Google Play Music. YouTube Music is a music-streaming app that is available for all types of devices and operating systems. Similar to the Spotify app, YouTube Music offers its free users an ads-filled music experience, while its premium subscribers enjoy an ads-free music experience. YouTube Music is one of Spotify's biggest competitors;
Amazon Music: Amazon Music is a subsidiary of Amazon, an American multinational technology company. Amazon Music was launched in September 2007, in the United States, and it has been a competitor to Spotify. Amazon Music's services are free for its users for the first three months, after which they are billed monthly;
Tidal: Tidal is a subscription-based music, video, and podcast streaming service that was launched by Aspiro, a Swedish public company. Tidal is a significant competitor to Spotify as the famous rapper, Jay-Z once left Spotify for Tidal, in which he owned a major stake. 
Spotify's SWOT Analysis
Below, there is a detailed SWOT analysis of Spotify: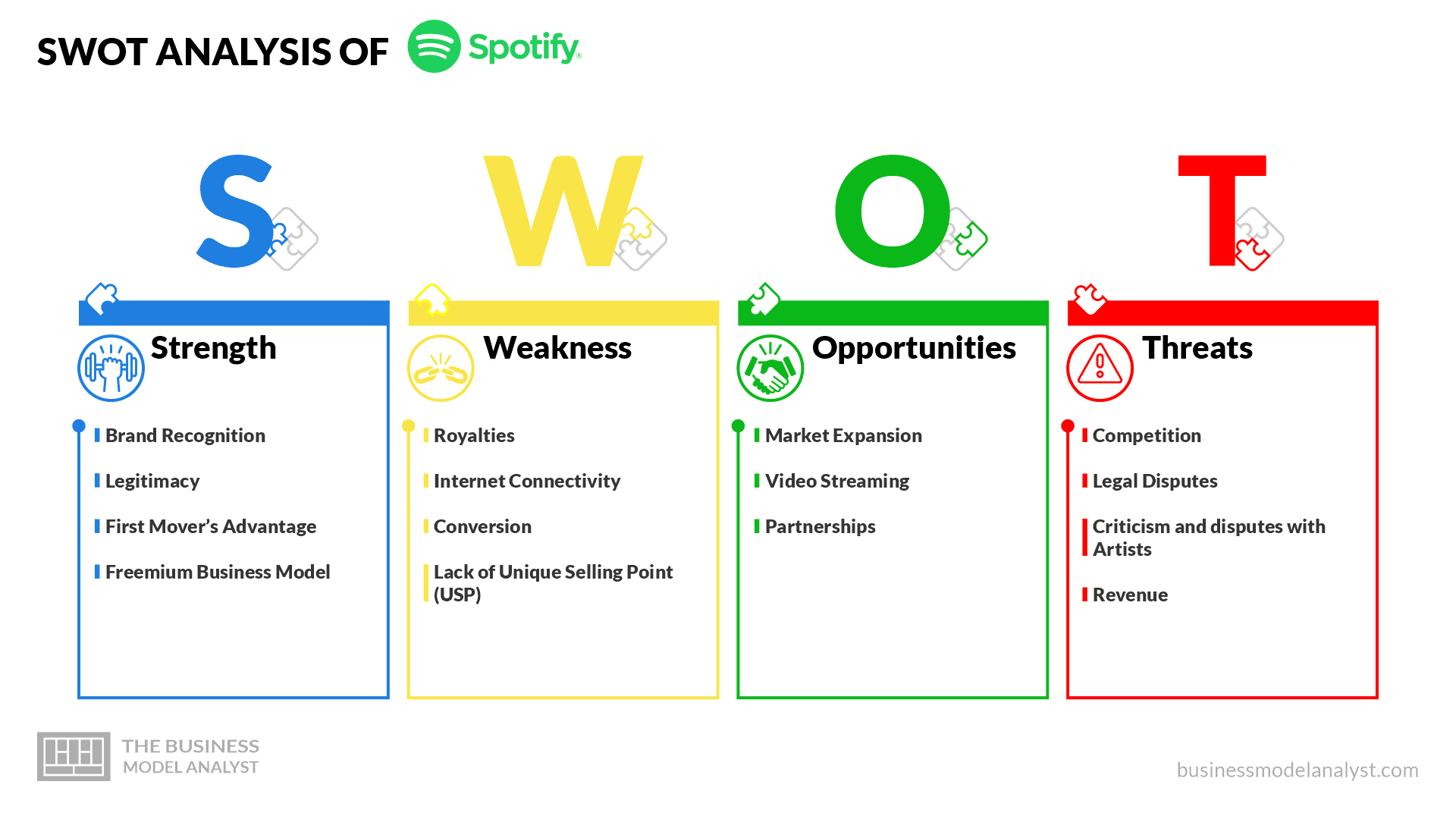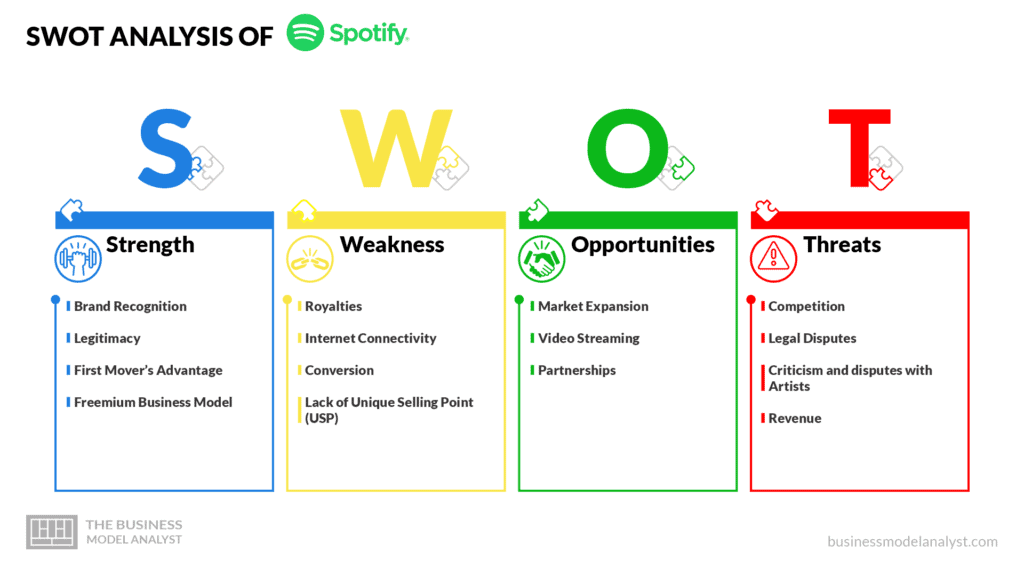 Spotify's Strengths
Brand Recognition: With over 433 million monthly active users, Spotify is unarguably one of the largest music-streaming service providers. Its consistency and large catalog of music have made it a household name in the music market;
Legitimacy: Before Spotify, a lot of people have been pirating music, sometimes against their wishes. However, Spotify has afforded people the opportunity to listen to and share their favorite music with friends without committing a criminal offense;
First Mover's Advantage: Spotify was one of the first-ever online music-streaming service providers to ever exist. Since its creation in 2006, Spotify has grown to become one of the most popular music-streaming platforms worldwide. This gives it an edge over its competitors;
Freemium Business Model: Although limited, Spotify's services are available to everyone for free. People do not even have to sign up before using Spotify, therefore everyone can use Spotify. However, to enjoy a better experience, have access to all features, and avoid ads, users can pay monthly to become premium subscribers. Through this business model, Spotify retains its users.
Spotify's Weaknesses
Royalties: Spotify spends as much as 70% of its total revenue on royalty costs to artists or their record labels, copyright holders, writers, and producers for the content uploaded on its platform. Licensing fees make the cost of running the platform high;
Internet Connectivity: To enjoy Spotify's services, users must have access to the internet and a stable internet connection. Although premium subscribers can listen to music offline, they still need a stable internet connection to download music to their library;
Conversion: Spotify already spends a lot on royalty fees, therefore, it needs more revenue for sustenance. Spotify's biggest source of revenue is its premium subscribers. However, some users may never become premium subscribers because of the free option. Therefore, Spotify spends a lot of effort to convert free users to paying subscribers;
Lack of Unique Selling Point (USP): Despite Spotify's status as one of the biggest music-streaming service providers, there is growing competition. This is because a lot of music-streaming service providers already provide similar services to Spotify, down to the platform's layout. The lack of uniqueness is a weakness for Spotify.
Spotify's Opportunities
Market Expansion: Although Spotify already operates in most countries of the world, it still has growth potential, and it can tap into new streaming markets and audiences;
Video Streaming: Spotify has already tested the waters for video streaming through video podcasts in July 2020. Adding video streaming to its list of services will help Spotify compete with other huge video content streamers;
Partnerships: There is still room for Spotify to partner with big tech companies to promote its services. 
Spotify's Threats
Competition: Other big music-streaming service providers owned by tech giants now provide similar services to Spotify, thereby posing as big competition;
Legal Disputes: Spotify has to acquire several licenses from record labels, artists, and copyright holders to host their content on its platform, therefore, legal disputes are not always avoidable. However, these legalities can cost Spotify financially;
Criticism and disputes with Artists: Spotify has been accused of underpaying artists several times, and this has caused some famous artists such as Taylor Swift to pull their content down from the platform;
Revenue: Spotify spends a huge part of its revenue on royalties fees. To keep it operational, it needs more revenue. Spotify's major source of revenue is its premium subscribers, however, some users may refuse to become paying subscribers.
-> Read More About Spotify's SWOT Analysis
Conclusion
Spotify operates a freemium business model that aims to put an end to music piracy by providing legal music streaming services to people at little to no cost at all. Through its services, Spotify saves the music industry millions of dollars. Despite the ever-increasing number of competitors, Spotify remains one of the largest audio-streaming service providers. However, Spotify needs to explore new markets and products to stay above its competitors.