The SpaceX business model is based on making and launching rockets into Earth orbit for. The company was founded in 2002, by Elon Musk, famous for being the co-founder of Tesla and PayPal and one of the richest men in the world, with assets valued at about $ 80 billion.
In short words, SpaceX wants "to revolutionize space technology, with the ultimate goal of enabling people to live on other planets". But so far, Elon Musk's company has focused on overcoming the current limits of space logistics, in order to reduce expenses for commercial and defense purposes.
We can't deny that The interplanetary objective makes Elon Musk one of the most inspiring figures of our time and pushes SpaceX forward in technological advancements.
A brief history of SpaceX's foundation
The primary purpose of Elon Musk, the visionary founder of SpaceX, was to enable life on Mars and other planets. To that end, he initially thought of a venture called "Mars Oasis", which would place a plant nursery on the Red Planet.
However, the activity was quite costly for NASA. So, Musk went after private rocket suppliers. But, given the values ​​faced, the entrepreneur realized that he could start a space aircraft company.
That's how he founded Space Exploration Technologies Corporation – SpaceX. His goal was to manufacture a low-cost, reusable rocket capable of making multiple trips.
To make that true, he hired rocket designer Tom Mueller. Together, they spent two years developing Falcon 1 (the name is a reference to the Star Wars). The venture was subsidized by some speculators in addition to Musk's own $ 100 million.
In 2008, after three previous attempts, Falcon 1 entered space. Two years later, Falcon 9 became the main private space shuttle to go and come back from Earth orbit.
SpaceX today
SpaceX nowadays has more than 8,000 employees, including its headquarters in California, two launch complexes in Florida and one in California, one testing facility in Texas, and other offices in different American states.
The company is also building the world's first commercial launch site designed for orbital missions in South Texas. SpaceX's build and launch site for Starship test articles and spacecraft take place there.
The development facility is in the city of McGregor, Texas. There are 4 thousand acres of area, with 16 specialized test stands that validate the tests of the engines of both the rockets (Falcon 9 and Falcon Heavy) and the Dragon spacecraft.
How does SpaceX make money?
SpaceX has been the first – and, for the time being, only – private company to develop spacecraft for Earth orbit logistics.
The first rocket carrying a satellite was launched in 2009. One year later, the company made history by bringing a commercial rocket back into Earth for the first time ever. And, in 2012, SpaceX launched its first commercial spacecraft with the mission of delivering and picking up cargo at the International Space Station.
Since 2017, SpaceX regularly launches private rockets into Earth orbit and, since 2018, it started launching Falcon Heavy, the most powerful operational rocket in the world, with a load of up to 63,800 kilos.
SpaceX has already concluded 97 launches, and its valuation is reaching $44 billion. That number includes commercial satellite launches and missions for the United States government.
Its probe, called the Dragon, has also been carrying out several cargo-refueling missions for the space station. However, Dragon was primarily designed to transport people. Then, it will soon also take astronauts from NASA's Commercial Crew Program.
SpaceX currently offers launch services for Falcon 9 rockets, with a capacity of 22,800 kg and Falcon Heavy, mentioned above. It can also offer crew transport services to commercial customers that want to take astronauts to alternative destinations.
In a near future, SpaceX aims to launch its Starship – designed to deliver satellites further and at a lower marginal cost per launch than our current Falcon vehicles, with a payload compartment larger than any fairing currently in operation (a payload for more than 100 tons).
Let's now visualize SpaceX Business Model using the canvas.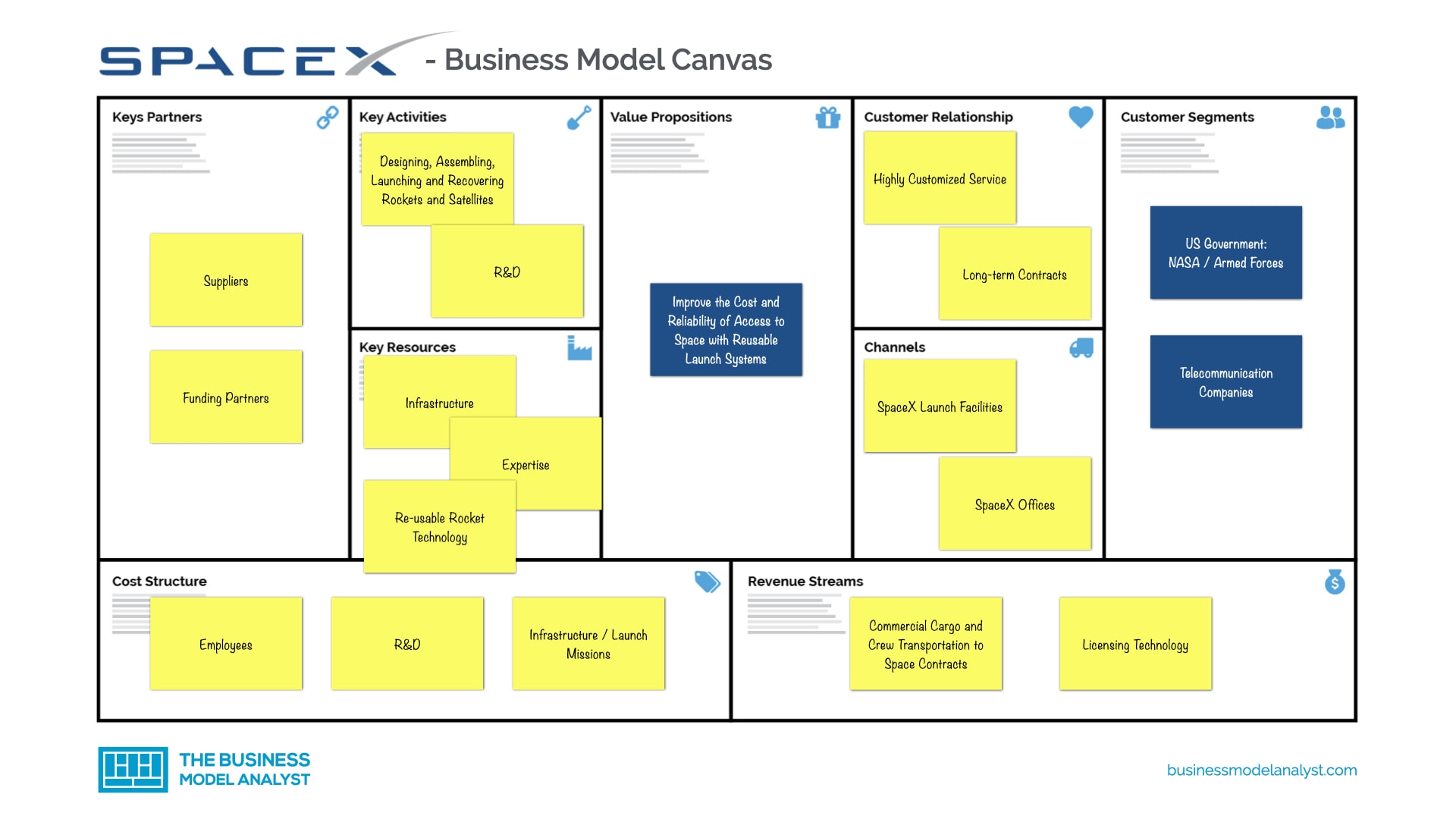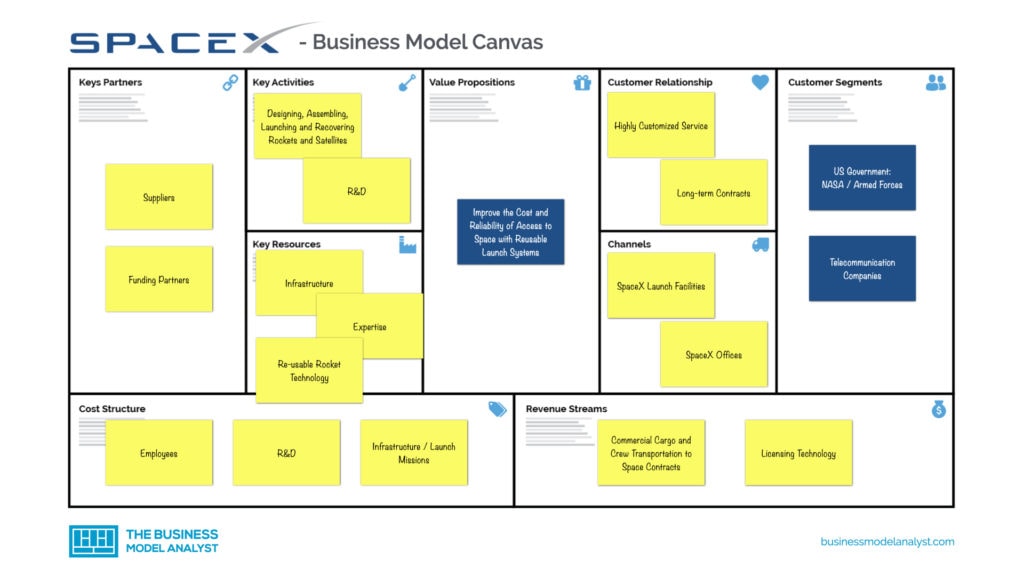 Download High-Resolution PDF of the SpaceX Business Model Canvas
SpaceX Business Model Future
As you have already realized, the future of SpaceX has been written since its conception: transporting human beings. Therefore, the company focuses on developing and launching fully reusable space aircraft, capable of transporting people to Mars and other destinations in the Solar System.
SpaceX states that there are plans to use Starship to send up a satellite in 2021, and, then, to host a trip around the moon in 2023, and establish a city on Mars by 2050!