The SpaceX business model is based on making and launching rockets into Earth orbit. The company was founded in 2002, by Elon Musk, famous for being the co-founder of Tesla and PayPal and one of the richest men in the world, with assets valued at about $80 billion. In short words, SpaceX wants "to revolutionize space technology, with the ultimate goal of enabling people to live on other planets".
But so far, Elon Musk's company has focused on overcoming the current limits of space logistics, in order to reduce expenses for commercial and defense purposes. We can't deny that The interplanetary objective makes Elon Musk one of the most inspiring figures of our time and pushes SpaceX forward in technological advancements.
A brief history of SpaceX
The primary purpose of Elon Musk, the visionary founder of SpaceX, was to enable life on Mars and other planets. To that end, he initially thought of a venture called "Mars Oasis", which would place a plant nursery on the Red Planet. However, the activity was quite costly for NASA. So, Musk went after private rocket suppliers. But, given the values ​​faced, the entrepreneur realized that he could start a space aircraft company.
That's how he founded Space Exploration Technologies Corporation — SpaceX. His goal was to manufacture a low-cost, reusable rocket capable of making multiple trips. To make that true, he hired rocket designer Tom Mueller. Together, they spent two years developing Falcon 1 (the name is a reference to Star Wars).
The venture was subsidized by some speculators in addition to Musk's own $100 million. In 2008, after three previous attempts, Falcon 1 entered space. Two years later, Falcon 9 became the main private space shuttle to go and come back from Earth orbit.
SpaceX today
SpaceX nowadays has more than 8,000 employees, including its headquarters in California, two launch complexes in Florida and one in California, one testing facility in Texas, and other offices in different American states.
The company is also building the world's first commercial launch site designed for orbital missions in South Texas. SpaceX's build and launch site for Starship test articles and spacecraft take place there. The development facility is in the city of McGregor, Texas. There are four thousand acres of area, with 16 specialized test stands that validate the tests of the engines of both the rockets (Falcon 9 and Falcon Heavy) and the Dragon spacecraft.
Who Owns SpaceX
SpaceX is owned by the billionaire Elon Musk, who holds the position of CEO, Chairman, and CTO since its foundation back in 2002. Another key person is Gwynne Shotwell, who is the President and COO of the space company.
SpaceX's Mission Statement
"To revolutionize space technology, with the ultimate goal of enabling people to live on other planets".
How Does SpaceX Make Money?
SpaceX has been the first — and, for the time being, only — private company to develop spacecraft for Earth orbit logistics. The first rocket carrying a satellite was launched in 2009. One year later, the company made history by bringing a commercial rocket back to Earth for the first time ever. And, in 2012, SpaceX launched its first commercial spacecraft with the mission of delivering and picking up cargo at the International Space Station.
Since 2017, SpaceX regularly launches private rockets into Earth orbit and, since 2018, it started launching Falcon Heavy, the most powerful operational rocket in the world, with a load of up to 63,800 kilos. SpaceX has already concluded 97 launches, and its valuation is reaching $44 billion. That number includes commercial satellite launches and missions for the United States government.
Its probe, called the Dragon, has also been carrying out several cargo-refueling missions for the space station. However, Dragon was primarily designed to transport people. Then, it will soon also take astronauts from NASA's Commercial Crew Program. SpaceX currently offers launch services for Falcon 9 rockets, with a capacity of 22,800 kg, and Falcon Heavy, just mentioned above.
It can also offer crew transport services to commercial customers that want to take astronauts to alternative destinations. In a near future, SpaceX aims to launch its Starship — designed to deliver satellites further and at a lower marginal cost per launch than our current Falcon vehicles, with a payload compartment larger than any fairing currently in operation (a payload of more than 100 tons).
SpaceX's Business Model Canvas
Let's now visualize SpaceX's business model using the canvas.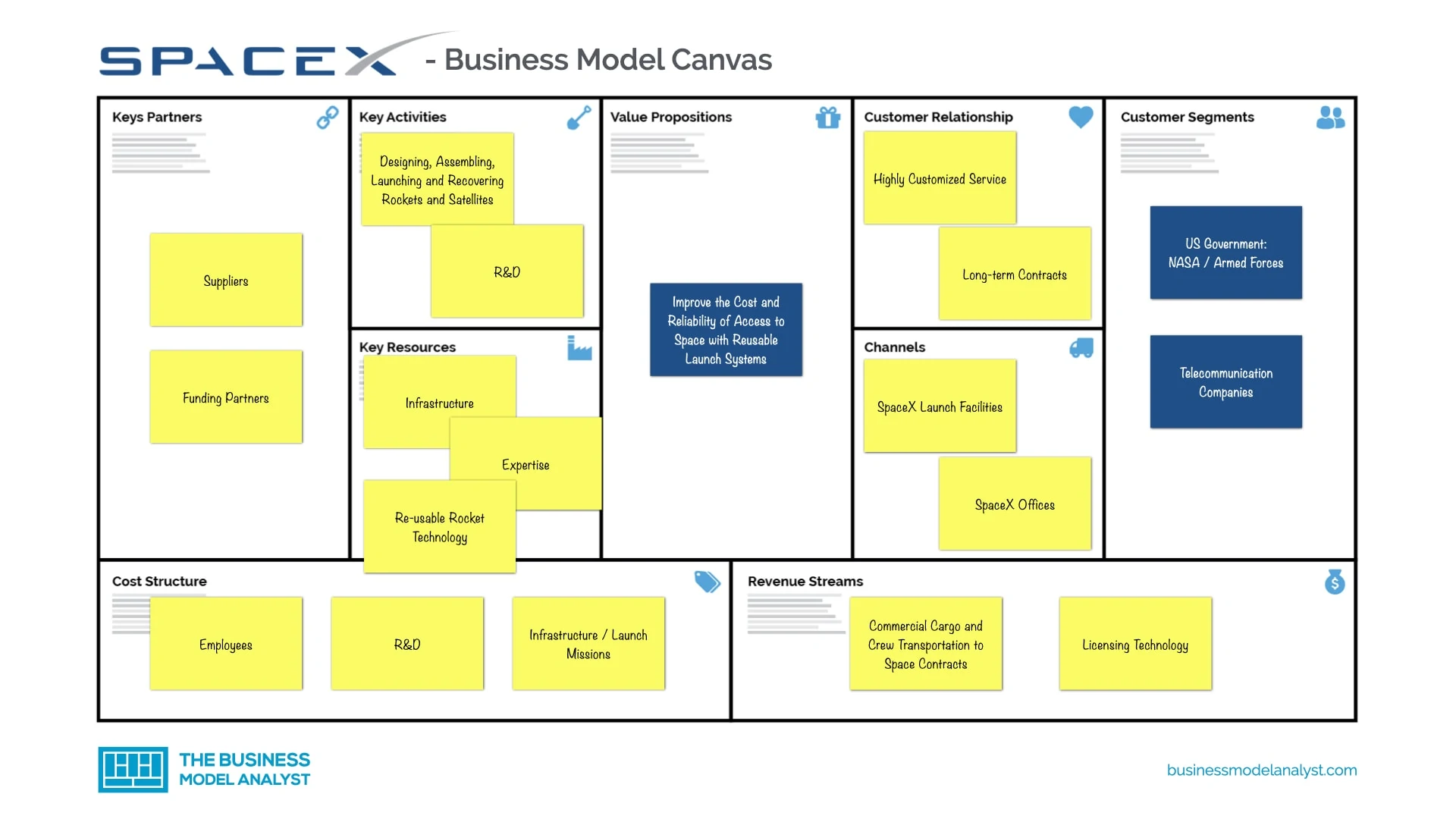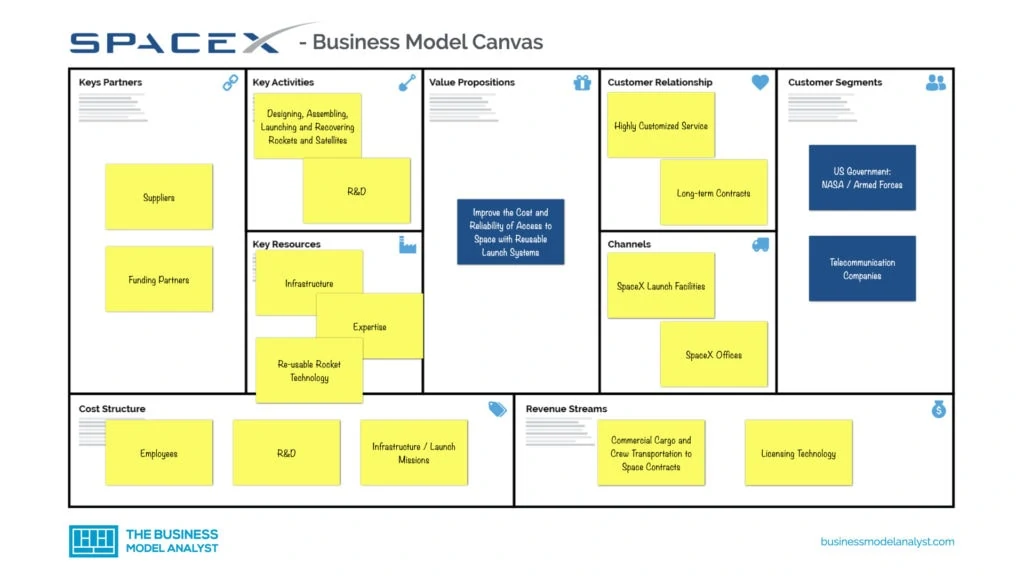 SpaceX's Customer Segments
There are two main customer segments: The U.S. Government and telecommunications companies, both of which need to transport something into space. Currently, its customers include the United States armed forces, NASA, as well as Orb Comm (a company focused on the internet of things and communication solutions for machines), and MDA Corporation (specialized in satellites and related services).
SpaceX's Value Propositions
SpaceX offers cost-effective and reliable access to space through its reusable rocket systems. There are three main sub-offerings: accessibility, performance, and status. It is the main private company to send and bring back a space shuttle, send rockets to the International Space Station and to a geosynchronous circle, and yet to manage the arrival of water from a first stage orbital rocket. Its brand is solid and is associated with Elon Musk.
SpaceX's Channels
SpaceX's main channel is its offices and launch facilities.
SpaceX's Customer Relationships
SpaceX acts very closely with its customer with high-customized support and sales to negotiate and design long-term contracts.
SpaceX's Revenue Streams
SpaceX's revenue streams are contracts for commercial cargo and crew transportation to space that are based on the supply of rockets and satellites. A Falcon 9's launch costs $62 million when new and approximately $50 million when reused. A Falcon Heavy's launch costs $90 million when reusable, and $150 million when expendable. Plus, Musk believes SpaceX's reusable 100-passenger Starship will cost $2 million per flight.
SpaceX's Key Resources
Undoubtedly, its reusable rocket technology, launching facilities, and expertise of its innovation team, with programmers, developers, and designers.
SpaceX's Key Activities
Designing, assembling, launching, and recovering rockets and satellites.
SpaceX's Key Partners
They are the suppliers that guarantee the parts of the aircraft. There are more than three thousand throughout the American territory.
SpaceX's Cost Structure
Its biggest expense is the cost of the rockets and spacecraft, its employees, and R&D efforts.
SpaceX's Business Model Future
As you have already realized, the future of SpaceX has been written since its conception: Transporting human beings. Therefore, the company focuses on developing and launching fully reusable space aircraft, capable of transporting people to Mars and other destinations in the Solar System.
SpaceX states that there are plans to use Starship to send up a satellite in 2021, and, then, host a trip around the moon in 2023, and establish a city on Mars by 2050!
SpaceX's Competitors
Virgin Orbit: Founded in 2017 in California, it provides launch services for small satellites. In January 2021, its product, the air-launched LauncherOne rocket, successfully reached orbit;
Blue Origin: Owned by the billionaire Chairman of Amazon, Jeff Bezos, it is a  privately funded aerospace manufacturer and sub-orbital spaceflight services. Based in Washington, it has already deployed five crewed missions to space, through its commercial passengers' tourism program;
Northrop Grumman: Based in Virginia, it's a multinational aerospace and defense technology company, which focuses on military aircraft, unmanned aerial vehicles, missile defense systems, as well as satellites, and rocket launch systems;
United Launch Alliance: This Colorado-based company is a spacecraft launch service provider company that works with customers such as the Department of Defense (DoD) and NASA;
Boeing: Founded in 1916 in Chicago, Illinois, Boeing is famously known as a company that designs, manufactures, and sells airplanes and aircraft worldwide — but not just that. In fact, it is among the largest global aerospace manufacturers, working as well with rockets, satellites, and missiles.
SpaceX's SWOT Analysis
Below, there is a detailed swot analysis of SpaceX: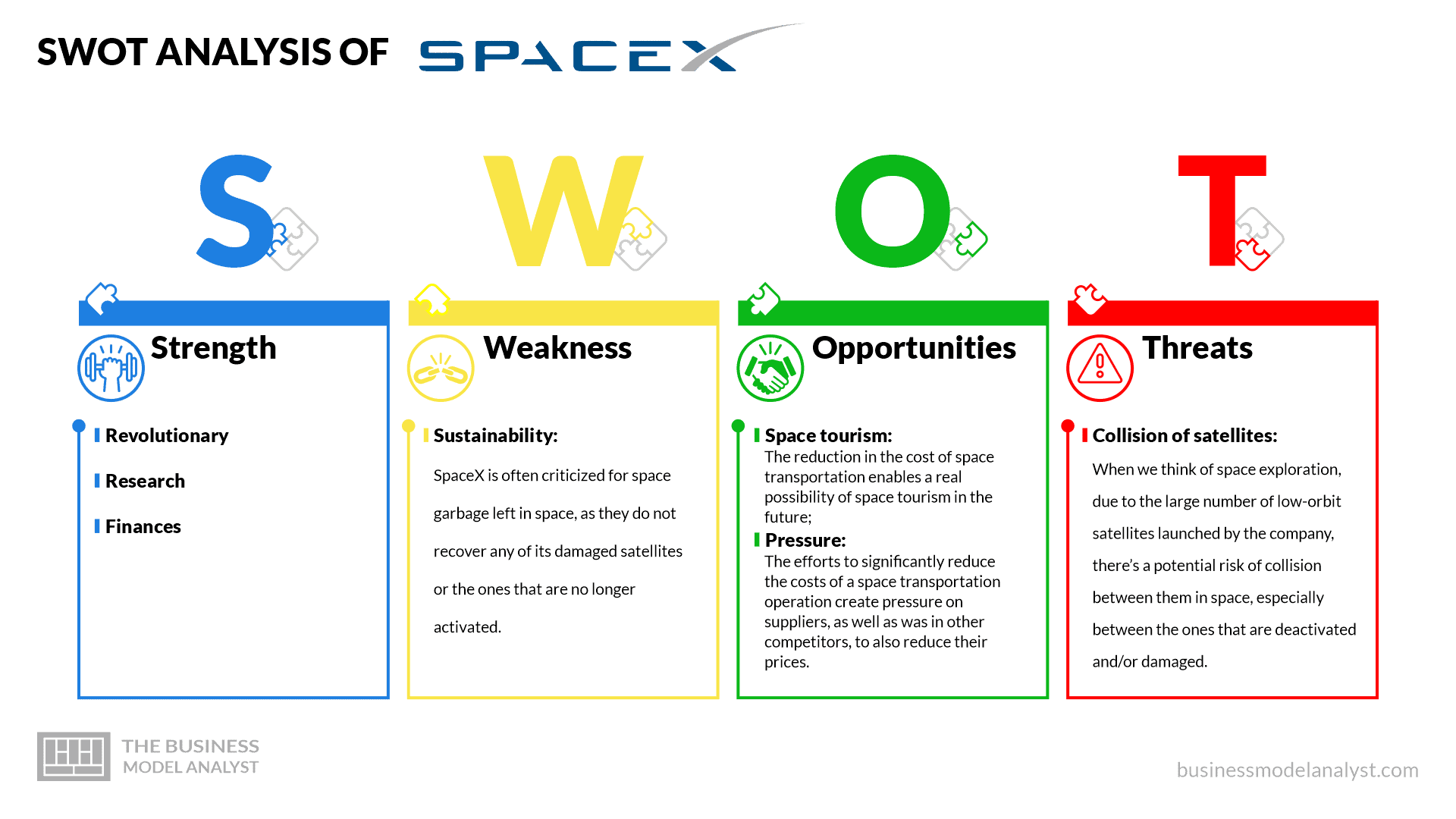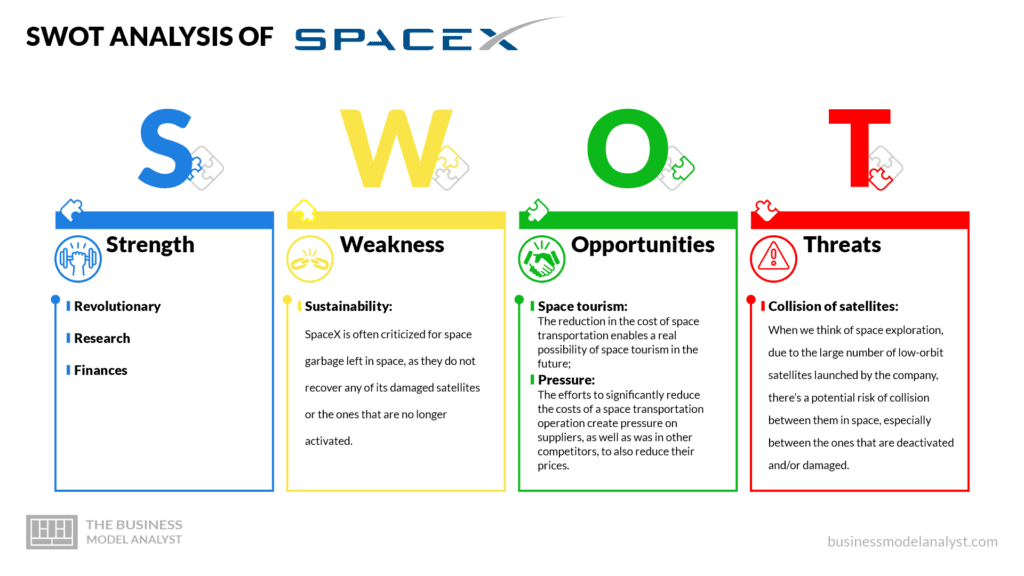 SpaceX's Strengths
Revolutionary: SpaceX can be seen as a real revolution when it comes to space technology, presenting relatively low-cost launches combined with high-level engineering;
Research: Partnered with NASA, the company has embraced space research and exploration in the past few years;
Finances: Combining smart engineering with barely unlimited finance resources offers SpaceX the possibility to domain the space tourism and transportation market.
SpaceX's Weaknesses
Sustainability: SpaceX is often criticized for space garbage left in space, as they do not recover any of its damaged satellites or the ones that are no longer activated.
SpaceX's Opportunities
Space tourism: The reduction in the cost of space transportation enables a real possibility of space tourism in the future;
Pressure: The efforts to significantly reduce the costs of a space transportation operation create pressure on suppliers, as well as was in other competitors, to also reduce their prices.
SpaceX's Threats
Collision of satellites: When we think of space exploration, due to the large number of low-orbit satellites launched by the company, there's a potential risk of collision between them in space, especially between the ones that are deactivated and/or damaged.
Conclusion
SpaceX has an entirely different ecosystem and workflow than most common enterprises out there, even the ones related to the technology market. One could say not even the sky is the limit for the Elon Musk company, as their rockets and spaceships keep leaving Earth's sphere year after year and making connections to the International Space Station (ISS) — not to mention its ambitious plans to explore and populate the planet Mars.