The Southwest Airlines business model is based on the low-cost business model. It can offer cheap flight tickets by creating an extremely efficient operation. The economic crisis resulting from the Covid-19 pandemic is putting multiple companies out of business — and that is certainly reflecting on the commercial flight industry as well.
However, against all odds, the Southwest Airlines Business Model is holding this American airline as one of the strongest airlines in the world. Over the last 20 years, Southwest Airlines, unlike many other airlines, has been surfing stability, due to its consolidated business model — and that's precisely why the company may survive the coronavirus crisis without greater efforts.
Southwest Airlines is, currently, the leading low-cost airline in the United States. It has flights to more than 90 destinations inside the country, including the Caribbean and Central America, and Mexico. According to the site of the company, "Southwest believes in a sustainable future where there will be a balance in our business model between Shareholders, Employees, Customers, and other Stakeholders."
And add: "To protect our world for future generations and uphold our commitments, we will remain focused on sustaining our unmatched profitability record in the industry, efficiency that conserves natural resources, fostering a creative and innovative workforce, and giving back to the communities in which we work and live".
Southwest Airlines Competitive Advantages
Southwest Airlines' business model is based on features that differentiate the company from any other airline. Besides low cost, their strategy includes efficient operations with on-time flights, innovative logistics processes and solutions, positive customer experience, and motivated employees — the company is often listed on Forbes as one of the "Best Employers".
Let's take a closer look at Southwest Airlines' competitive advantages:
Pricing
Southwest Airlines focuses on offering the lowest prices for the most popular routes, being the only large American airline that can actually compete on price, even matching prices if a customer finds a lower one is another airline. To achieve this unique advantage, the whole Southwest Airlines Business Model has been built around low operating costs. The company owns a few aircraft types, services in small and secondary airports (with lower charges), and a high airplane utilization, with short-haul flights and quick turnarounds.
Rewarded Loyalty
Besides good-pricing tickets, Southwest Airlines provides one of the best rewards programs in the industry, by giving points to customers, that can be used to buy the next flights. It also offers a credit card (in partnership with Chase Bank), that permits the users to accumulate points from purchases other than tickets.
Flexible Policy
Other strategies to guarantee passengers' engagement are Southwest Airlines' simple and flexible policies and procedures. For example, the company allows the passenger to cancel a reservation up to 30 minutes before departure — and the customer keeps the funds from cancellation for a future trip.
Human Resources
Southwest Airlines is also known for its friendly, helpful, and motivated employees. In order to make that true, the company invests in practices and policies, and focused on hiring members who really embody the brand's message and are truly passionate about helping people.
Innovation
Southwest Airlines is oriented to a flexible business model, which is adaptable and suitable for quick changes. They are always looking for lower-cost and disruptive solutions, which helps them grow even into critical periods.
Proven Strategy
This "proven strategy" is stated on Southwest Airlines' website, through some outstanding such as:
Carry the most passengers in the U.S.
Most daily departures in the world
Serve more than half of the top 50 U.S. metro areas
47 consecutive years of profitability
Strong balance sheet
Disciplined capital deployment strategy
Commitment to return value to shareholders
A brief history of Southwest Airlines
Founded in 1967 by the businessman Herb Kelleher with the name "Air Southwest", it was first planned to fly among Texas cities, especially San Antonio between San Antonio, Dallas, and Houston. In fact, its first model draw was a triangle, connecting the three cities. Later in 1971, it was rebranded as Southwest Airlines.
Back then, the company could set its plane tickets at much lower prices when compared to potential competitors. This happened because Civil Aeronautics Board (CAB)'s control regulations did not apply to Southwest Airlines, as it operated exclusively in the State of Texas.
Ten years after its foundation, in 1977, the company had ten aircraft in its fleet — all of them Boeing 737s — and started operating in other Texas cities, such as Austin, El Paso, Lubbock, Midland, and more. By 1982, Southwest Airlines had grown its fleet to 37 jets and operated interstate flights, including several cities and states, such as Las Vegas (Nevada), Oklahoma City (Oklahoma), Albuquerque (New Mexico), Phoenix (Arizona), Kansas City (Kansas), and California major cities, such as Los Angeles, San Francisco, and San Diego. By the end of 1983, there were already 46 aircraft in the fleet.
In 1985, it started operating in Chicago (Illinois), Jackson Hole, Wyoming, and St. Louis (Missouri), and by the 90s, with over 220 jets, Southwest Airlines would reach Baltimore (Maryland), the states of Mississippi, Kansas, and Alabama, as well as Florida major cities, such as Tampa, Fort Lauderdale, and Orlando. By the end of 1999, Southwest Airlines had over 310 aircraft in its fleet and expanded through the East Coast cities and states, operating in Connecticut and North Caroline.
In the next decade, after 9/11, naturally, the whole aviation market suffered a brand-new regulatory process, but Southwest Airlines continued to expand. In 2003, it started operating in Philadelphia (Pennsylvania) and had around 388 jets in its fleet — rising to 400 in the following year.
After operations started in Denver (Colorado) in 2006 and New York (New York) in 2009, it was only in 2011 that Southwest Airlines would go abroad. With the permission of the Department of Transportation (DOT), it had about 698 aircraft in its fleet and started operating in Mexico, with flights to Cabo San Lucas, Cancun, and Mexico City, coming from Orange County (California) and San Antonio (Texas).
As for the Caribbean and Central American countries, Southwest Airlines launched its services in 2014, with flights from Baltimore heading to Aruba. In 2019, it was Hawaii that was added to the company's airline service.
Who Owns Southwest Airlines
Although some people believe, Southwest Airlines is not owned by American Airlines, it is only an American airline company that happens to be based in Texas State as well. While AA's headquarters are in Fort Worth, Southwest Airlines is based in Dallas. The company has Bob Jordan as the CEO, Gary Kelly as the Chairman, and Mike Van de Ven as the President and COO.
Southwest Airlines' Mission Statement
"Dedication to the highest quality of Customer Service delivered with a sense of warmth, friendliness, individual pride, and Company Spirit".
How Southwest Airlines makes money
As already mentioned, Southwest Airlines' revenue streams are based on domestic and international airline services. Its revenue is divided in:
Passenger Revenue, from the sale of domestic and international passenger airfares;
Freight Revenue, from shipping and cargo services;
Other Revenue, from the sale of and provisions of extra services, such as early check-in and in-flight sales.
It's important to highlight that this "Other revenue" doesn't include some fees that are common for their competitors, such as bag fees, simple onboard snacks (like peanuts and crackers), seat classes, and premium seating (the company doesn't offer this kind of seat assignments).
Southwest Airlines' Business Model Canvas
Now, let's analyze the Southwest Airlines Business Model Canvas in a nutshell: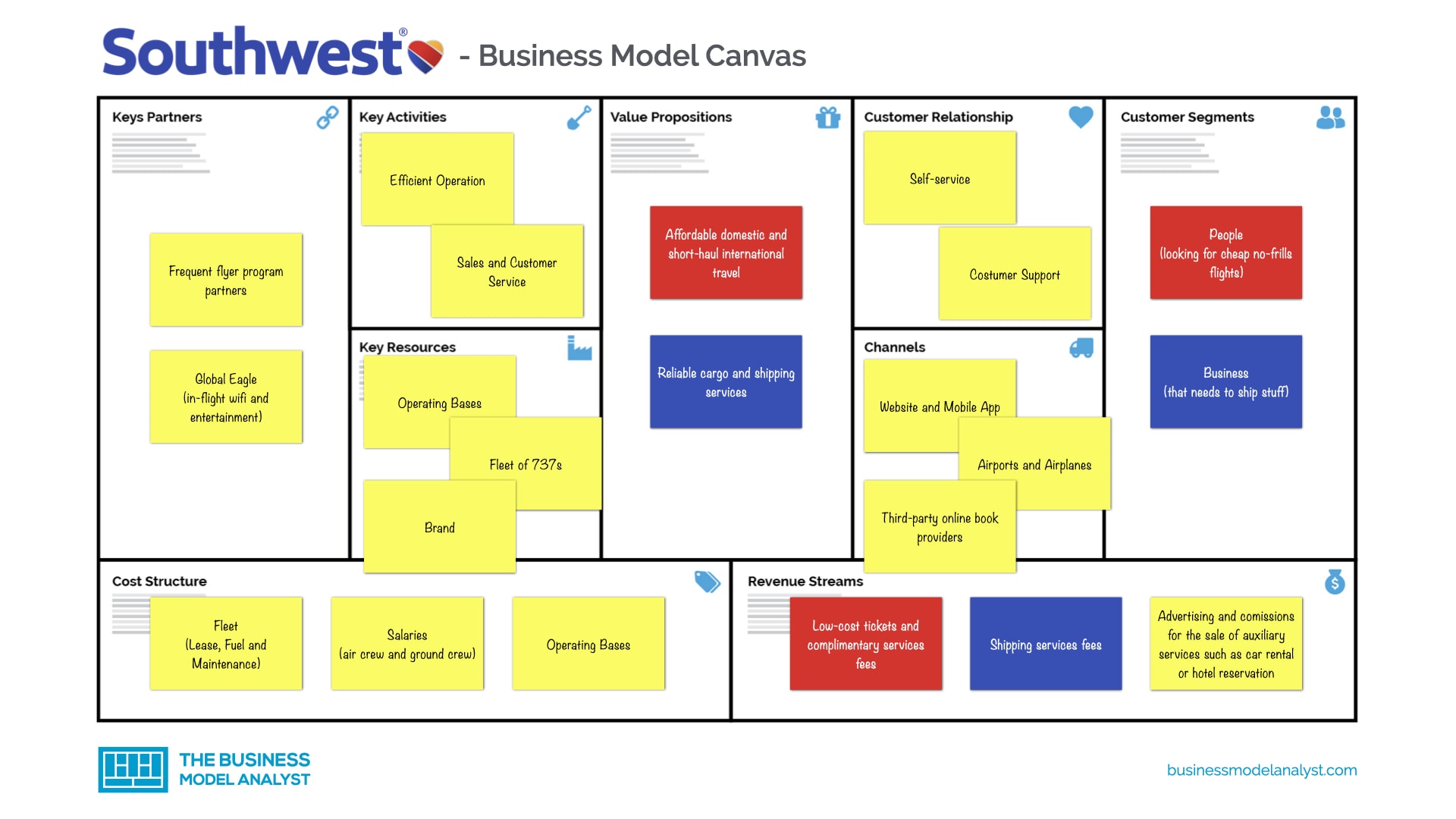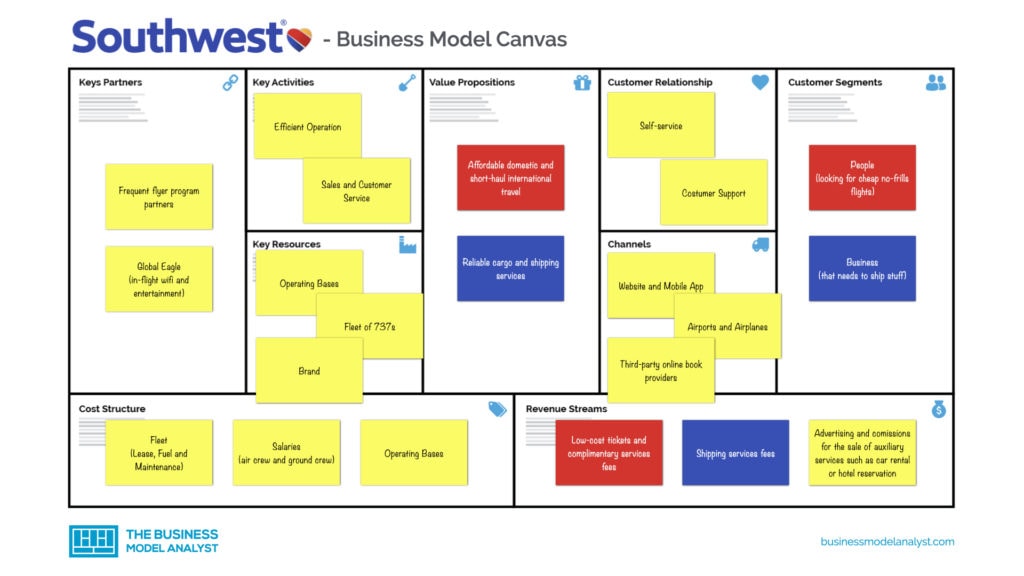 Southwest Airlines' Customer Segments
Its customer segments: General customers, both professional and personal, especially aiming to attract low-budget users. The company also serves shipping to corporate clients, mainly importers, and exporters.
Southwest Airlines' Value Propositions
Low-cost airfares, free-fee baggage (up to two pieces of luggage at no additional cost), a broad network of destinations, qualified customer service, beneficial rewards program, and additional services at small costs.
Southwest Airlines' Channels
Its own website, its own mobile, and a network of affiliate sites, such as Booking Builder, Sabre, and Apollo. Its own website provides all the information about destinations, fees, and schedules, and contains the booking portal, by which customers can make and manage reservations. Moreover, the company has a network of offices that provide direct sales.
Southwest Airlines' Customer Relationships
Regarding sales, Southwest Airlines makes them on a self-service primarily basis. Customers can book flights and manage their reservations online, without having to interact with anyone. Its personal service is offered, indeed, in-flight and by its airport staff, by assisting and informing. Besides, there is customer support during and after booking, by phone, e-mail, posts, FAQs, and, additionally, through social media (Twitter, Facebook, Instagram, and YouTube).
Southwest Airlines' Revenue Streams
They have been analyzed above, but it's worthy to highlight that 98% of Southwest Airlines' revenue streams come from domestic flights.
Southwest Airlines' Key Resources
Fleet, maintenance, physical and IT infrastructure, customer support, sales channels, partnerships network, and human resources.
Southwest Airlines' Key Activities
Low-cost passenger airline service in the United States and near markets; corporate and group travel services, and cargo and shipping solutions.
Southwest Airlines' Key Partners
Affiliate partners (a network of websites and travel agencies), rewards partners (businesses that provide products and services as part of the rewards program), and service partners (such as car rental providers and hotels).
Southwest Airlines' Cost Structure
Fleet's, physical, and IT infrastructures' operation and maintenance, fuel, personnel, marketing and sales, and general and administrative expenses.
Southwest Airlines' Competitors
American Airlines: The world's largest airline company, American Airlines was founded in 1926, and it is headquartered in Fort Worth, Texas. It manages more than 200 million passengers annually, as well as an average of 500,00 passengers on a daily basis. It operates in 350 destinations and 49 countries;
Delta Air Lines: Headquartered in Atlanta, Georgia, it is the oldest airline company still in activity, being founded in 1925. It handles over 5,400 flights on a daily basis, operating in 325 destinations and 52 countries;
United Airlines: The 3rd biggest airline company worldwide, United Airlines is headquartered in Chicago, Illinois, and operates in 342 destinations and 74 countries;
JetBlue Airlines: Founded in 2000, JetBlue is based in New York City, and it is a low-cost airline company. It operates mainly throughout the U.S., the Caribbean, northern and central Latin America, as well as Europe;
Alaska Air Group: Founded in 1985 and headquartered in Washington, the Alaska Air Group works exclusively across the U.S.
Southwest Airlines' SWOT Analysis
Below, there is a detailed swot analysis of Southwest Airlines: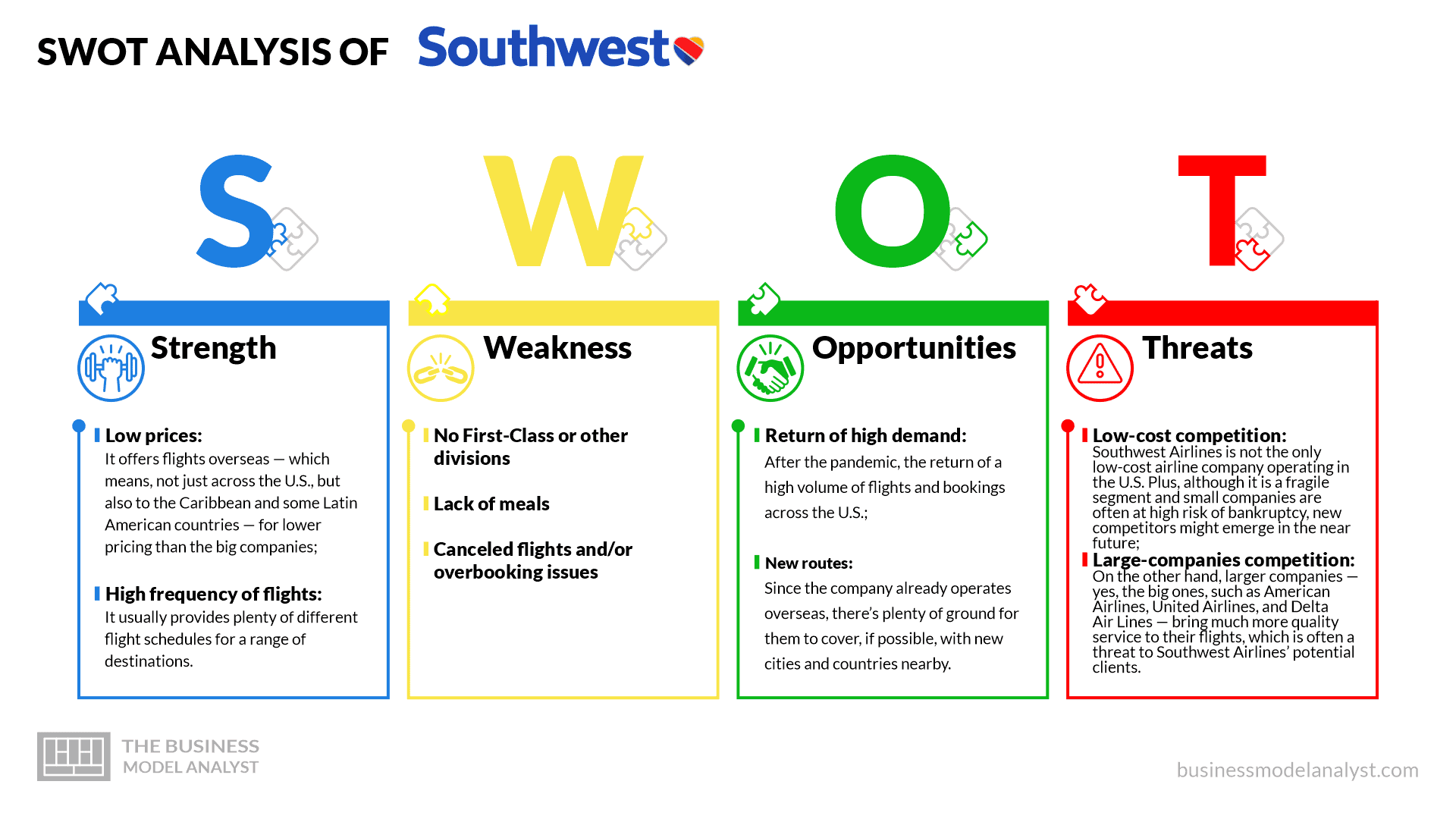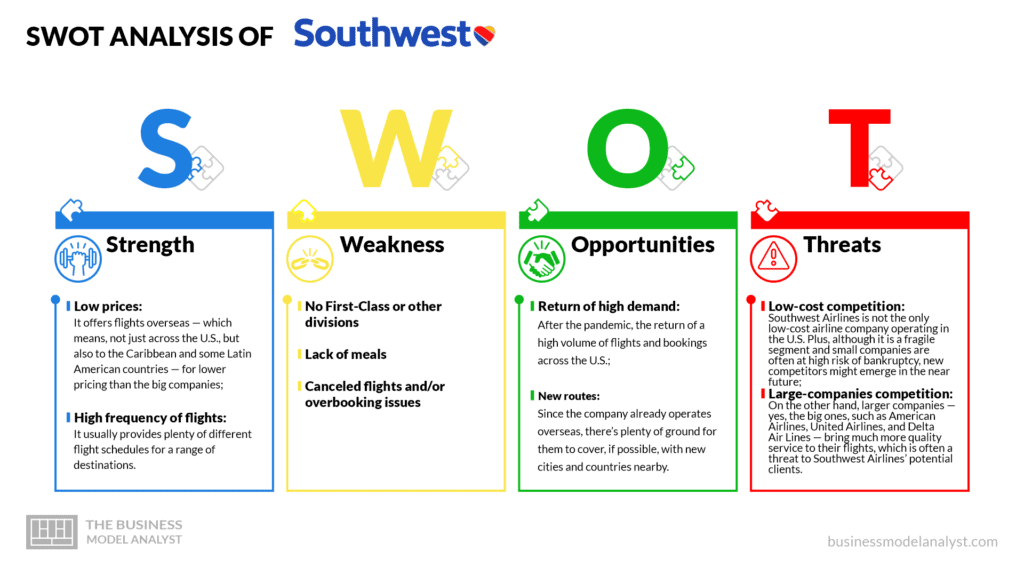 Southwest Airlines' Strengths
Low prices: It offers flights overseas — which means, not just across the U.S., but also to the Caribbean and some Latin American countries — for lower pricing than the big companies;
High frequency of flights: It usually provides plenty of different flight schedules for a range of destinations.
Southwest Airlines' Weaknesses
No First-Class or other divisions: As it is a low-cost airline company, there are no First-Class seats as well, which can push away potential wealthier customers;
Lack of meals: For the same reason, they do not serve meals on board, which can be a key factor in the customer's choice;
Canceled flights and/or overbooking issues: Low-cost airline companies often have this kind of issue. Overbooking and flights being canceled at the last minute, unfortunately, are not rare and can push away even loyal clients of the company.
Southwest Airlines' Opportunities
Return of high demand: After the pandemic, the return of a high volume of flights and bookings across the U.S.;
New routes: Since the company already operates overseas, there's plenty of ground for them to cover, if possible, with new cities and countries nearby.
Southwest Airlines' Threats
Low-cost competition: Southwest Airlines is not the only low-cost airline company operating in the U.S. Plus, although it is a fragile segment and small companies are often at high risk of bankruptcy, new competitors might emerge in the near future;
Large-companies competition: On the other hand, larger companies — yes, the big ones, such as American Airlines, United Airlines, and Delta Air Lines — bring much more quality service to their flights, which is often a threat to Southwest Airlines' potential clients.
Conclusion
Rebecca Goldberg and Elliott Weiss wrote an article for the Washington Post, stating that Southwest Airlines' business model may be based on the competitive advantage of saying 'no', in order to keep its cost structure cheap to maintain its main value proposition working: low-cost air transportation.
They explain: "Southwest has a winning formula that aligns process, people, and purpose. But the real coup in responding to a changing competitive landscape lies in learning to say 'no'. Operations are all about customer service, which means delivering on a promise that a customer wants to keep. Deciding what promises to keep always means saying 'no'".