Southwest Airlines Business Model is based on the low-cost business model. It can offer cheap flight tickets by creating an extremely efficient operation.
The economic crisis resulting from the Covid-19 pandemic is putting multiple companies out of business – and that is certainly reflecting on the commercial flight industry as well. However, against all odds, Southwest Airlines Business Model is holding this American Airline as one of the strongest airlines in the world.
Over the last 20 years, Southwest Airlines, unlike many other airlines, has been surfing stability, due to its consolidated business model – and that's precisely why the company may survive the coronavirus crisis without greater efforts.
Southwest Airlines is, currently, the leading low-cost airline in the United States. It has flights to more than 90 destinations inside the country, besides the Caribbean and Central America, and Mexico.
According to the site of the company, "Southwest believes in a sustainable future where there will be a balance in our business model between Shareholders, Employees, Customers, and other Stakeholders."
And add: "To protect our world for future generations and uphold our commitments, we will remain focused on sustaining our unmatched profitability record in the industry, efficiency that conserves natural resources, fostering a creative and innovative workforce, and giving back to the communities in which we work and live."
Southwest Airlines Competitive Advantages
Southwest Airlines' business model is based on features that differentiate the company from any other airline. Besides low-cost, their strategy includes efficient operations with on-time flights, innovative logistics processes and solutions, positive customer experience, and motivated employees – the company is often listed on Forbes as one of the "Best Employers".
Let's take a closer look at Southwest Airlines' competitive advantages:
Pricing
Southwest Airlines focuses on offering the lowest prices for the most popular routes, being the only large American airline that can actually compete on price, even matching prices if a customer finds a lower one is another airline.
To achieve this unique advantage, the whole Southwest Airlines Business Model has been built around low operating costs. The company owns few aircraft types, services in small and secondary airports (with lower charges), and a high airplane utilization, with short-haul flights and quick turnarounds.
Rewarded Loyalty
Besides good-pricing tickets, Southwest Airlines provides one of the best rewards programs in the industry, by giving points to customers, that can be used to buy the next flights. It also offers a credit card (in partnership with Chase Bank), that permits the users to accumulate points from purchases other than tickets.
Flexible Policy
Other strategies to guarantee passengers' engagements are Southwest Airlines' simple and flexible policies and procedures. For example, the company allows the passenger to cancel a reservation up to 30 minutes before departure – and the customer keeps the funds from cancellation for a future trip.
Human Resources
Southwest Airlines is also known for its friendly, helpful, and motivated employees. In order to make that true, the company invests on practices and policies, focused on hiring members who really embody the brand's message and are truly passionate about helping people.
Innovation
Southwest Airlines is oriented to a flexible business model, which is adaptable and suitable for quick changes. They are always looking for lower-cost and disruptive solutions, which helps them grow even into critical periods.
Proven Strategy
This "proven strategy" is stated in Southwest Airlines' website, through some outstanding such as:
Carry the most passengers in the U.S.
Most daily departures in the world.
Serve more than half of the top 50 U.S. metro areas.
47 consecutive years of profitability.
Strong balance sheet.
Disciplined capital deployment strategy.
Commitment to return value to Shareholders
How does Southwest Airlines make money?
As already mentioned, Southwest Airlines' revenue streams are based on domestic and international airline services. Its revenue is divided in:
Passenger Revenue, from the sale of domestic and international passenger airfares;
Freight Revenue, from shipping and cargo services;
Other Revenue, from the sale of and provisions of extra services, such as early check-in and in-flight sales.
It's important to highlight that this "Other revenue" doesn't include some fees that are common for their competitors, such as bag fees, simple onboard snacks (like peanuts and crackers), seat classes, and premium seating (the company doesn't offer this kind of seat assignments).
Southwest Airlines Business Model Canvas
Now, let's analyze the Southwest Airlines Business Model Canvas in a nutshell: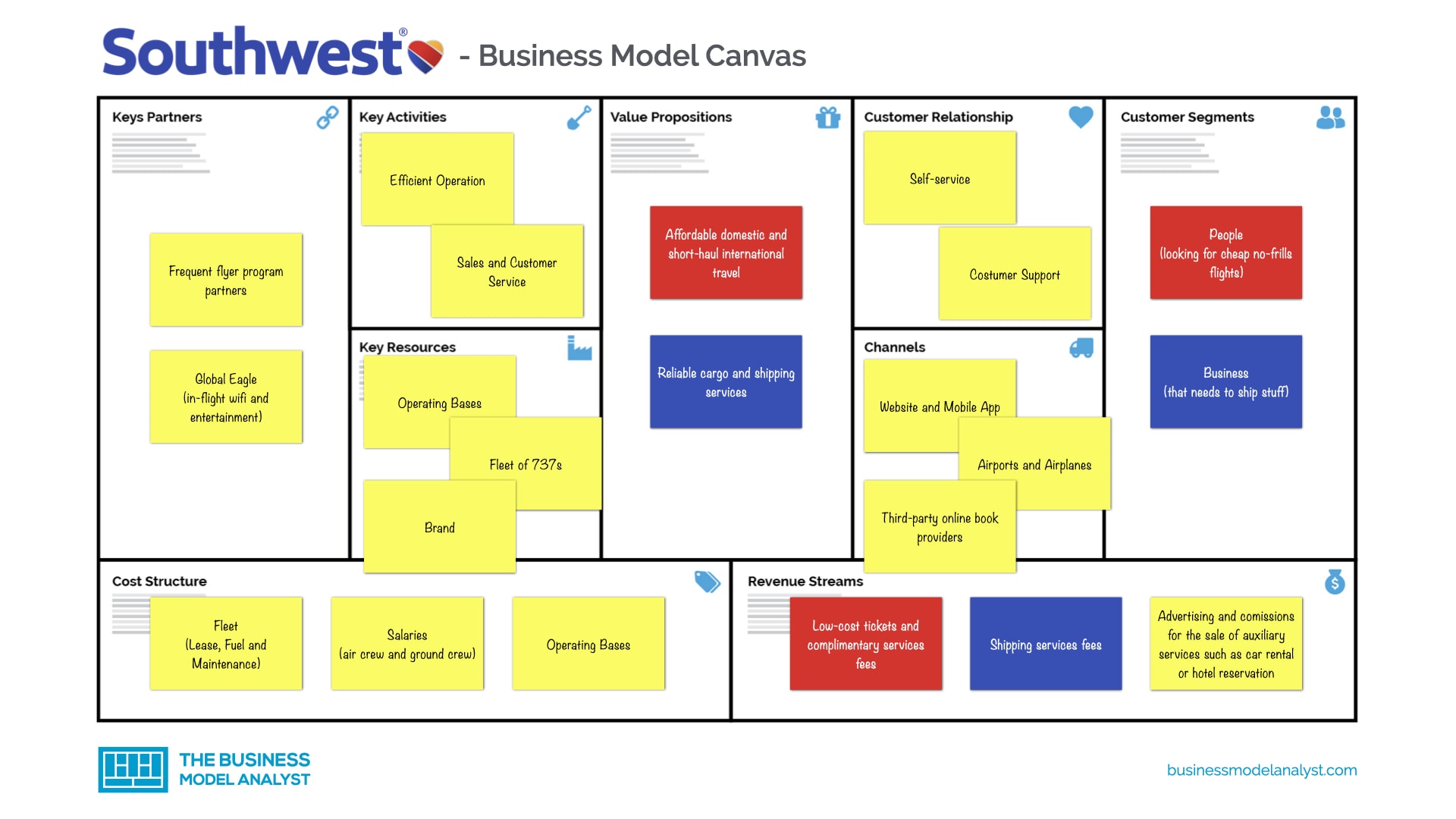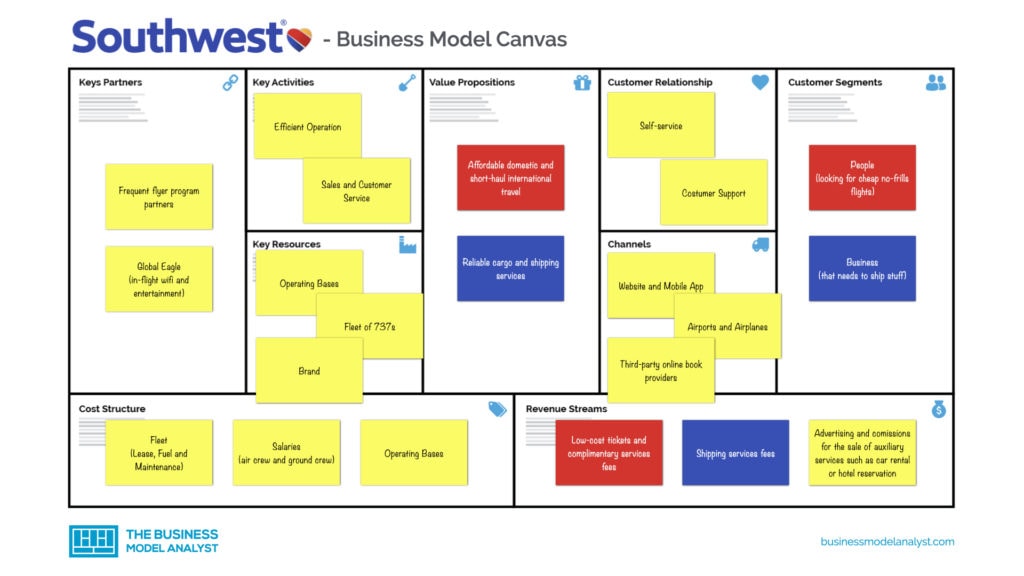 Download High-Resolution PDF of the Southwest Airlines Business Model Canvas
Final considerations
Rebecca Goldberg and Elliott Weiss wrote an article for the Washington Post, stating that Southwest Airlines' business model may be based on the competitive advantage of saying 'no', in order to keep its cost structure cheap to maintain its main value proposition working; low-cost air transportation.
They explain: "Southwest has a winning formula that aligns process, people and purpose. But the real coup in responding to a changing competitive landscape lies in learning to say "no." Operations are all about customer service, which means delivering on a promise that a customer wants to keep. Deciding what promises to keep always means saying no."