The Slack business model is basically based on paid subscriptions to its communication and file sharing services. Slack is an online messaging platform with numerous advanced features. The company name, "SLACK", stands for "Searchable Lock of All Conversation and Knowledge". Initially built for a video game, the platform has become a profitable business tool. The platform's features include file sharing, direct messaging, alerts, search, group chat, and notifications. Slack allows integration with third-party services like Google Drive and Dropbox. 
Slack's ability to support source code snippets and integrate them with development tools such as Bitbucket and GitHub makes it ideal for developers. Slack is designed to resolve email limitations and provide multiple features like group and direct messaging, boosting internal communication efficiency. 
A brief history of Slack
Stewart Butterfield, Serguei Mourachov, Cal Henderson, and Eric Costello established and launched Slack in 2013. Today, it's one of the most popular channel-oriented messaging platforms. Both individuals and companies use the Slack business model to merge their systems, coordinate their teams, and operate their businesses. Before Slack's founders realized its potential, it was developed for internal use. They would later convert the platform into a one billion project in a record eight months. 
Stewart and his team developed a unique new product for the MMORPG (massively multiplayer online role-playing game) market. This act would transform how people communicate in their workplaces. Slack goes down in history as one of the fastest-evolving startups. Its product evolution was unconventional. 
Initially, Stewart and his team never intended to develop a SaaS product for the workplace. Instead, they created a tool for internal use before realizing its commercial potential. According to Stewart, "the pattern was to share Slack with progressively larger groups. We would say, 'Oh, that great idea isn't so great after all. We amplified the feedback we got at each stage by adding more teams." 
Although this phase would become Slack's Beta release, Stewart and his team didn't call it so for fear that people would consider the product unreliable or flaky. Instead, they relied on what he termed "an impressive press blitz" They invited interested parties to try Slack and received a tremendous response. This response taught Stewart the importance of traditional media for businesses, especially during their launch phase. Slack's founders attribute its growth and success to the continuous use of conventional marketing strategies and media.
Who Owns Slack
Stewart Butterfield, Cal Henderson, Eric Costello, and Serguei Mourachov were Slack's original developers. Salesforce would later buy Slack in 2020 for approximately $27.7 billion.
Slack Mission Statement
Slack's mission statement is, "To make work life simpler, more pleasant, and more productive."
How Slack works
Slack is committed to ensuring that collaboration is readily available with the following features.
Organized Conversations Via Channels and Messaging
Information on Slack circulates in channels. Users can create multiple channels. Often, these channels are created based on a company's size or the number of teams working on a project.
Channels and Messaging
The channel is Slack's core unit. Channels help people maintain collaboration and organization on specific roles, share data, and complete their work efficiently. Channels are organized based on the situation and organizational structure. They can be public, allowing access to people in Slack's organization, or private, limiting their access to specific people in the organization. Messaging occurs via the channels. 
Trackable History
Slack maintains a trail of all tasks, allowing users to refer to a specific channel for information. You can refer to all the information uploaded on Slack in the future, even if you leave or archive the channel.
Secure Working Environment
Slack guarantees security via two-factor authentication for accounts. This means that even when users forget their password, no one except them can sign in. further, the SAML-based SSO facilitates secure access via an identity provider. 
Integration
Integration separates Slack from an ordinary instant online collaboration and messaging system. However, it lacks various built-in project management features such as Twitter, Dropbox, and Google Drive. Still, users can integrate these features in Slack, transforming it into a fully developed management application. Through integrations, companies can collect information from other applications. Integrations with software such as Salesforce boost a user's productivity. 
Custom Commands and Shortcuts 
Users can create custom commands, such as keyboard shortcuts, instead of using predefined options. 
Audio and Video calls
Slack users can make video or audio calls free of charge with one to 15 people simultaneously. In this case, users don't have to switch between Slack, Google, Skype, and Hangouts to make a call. 
Bots
Slack has numerous bots ideal for different purposes. For example, the Slackbot facilitates note-taking and setting reminders, while the Diggbot helps deliver exciting news and websites to a channel. Slack users can create customized bots as well. 
Search
Information on different Slack channels is easily retrievable because the platform is searchable. 
How Slack makes money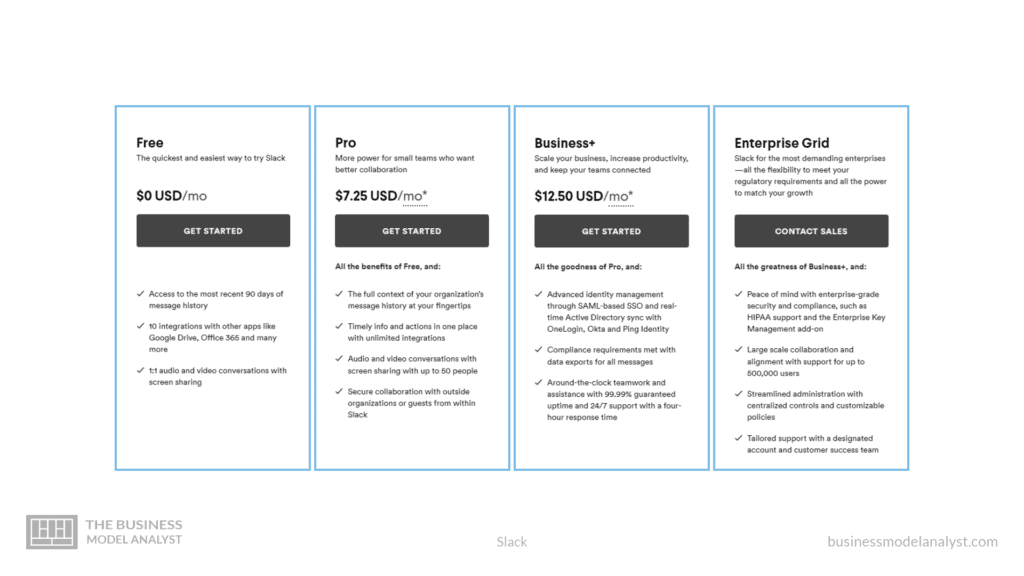 Slack is a SaaS (Software as a Service) company that makes money through different monthly subscription plans. However, users can also access its freemium service. 
Pro Plan
The Standard plan on Slack is the least expensive. It's ideal for small and medium-sized businesses. Subscribers using this premium will get access to various features, such as single sign-on, guest accounts, unlimited search, and multiple workspace channels. This plan also includes unlimited apps, screen-sharing, and group calls. Yearly charges are $7.25 per individual per month. 
Business+ Plan
This plan is ideal for large companies or organizations with advanced administration tools. Subscribers will get all the Pro Plan features, guaranteed 99.99% uptime, data-export functionality, enhanced security, high user storage limits, personalized message retention, and round-the-clock email support. Subscribers pay $12.50 per individual per month.
Enterprise Grid
Subscribers using the Enterprise Grid plan will get all features from the business+ plan and unlimited access to integrations with other apps, message and file history, and workspaces. Enterprise compliance and security, like the Enterprise Key Management add-on and HIPAA support, gives users peace of mind. Subscribers will also get personalized support. 
Slack Business Model Canvas
You can learn about the Slack Business Model from this business model canvas.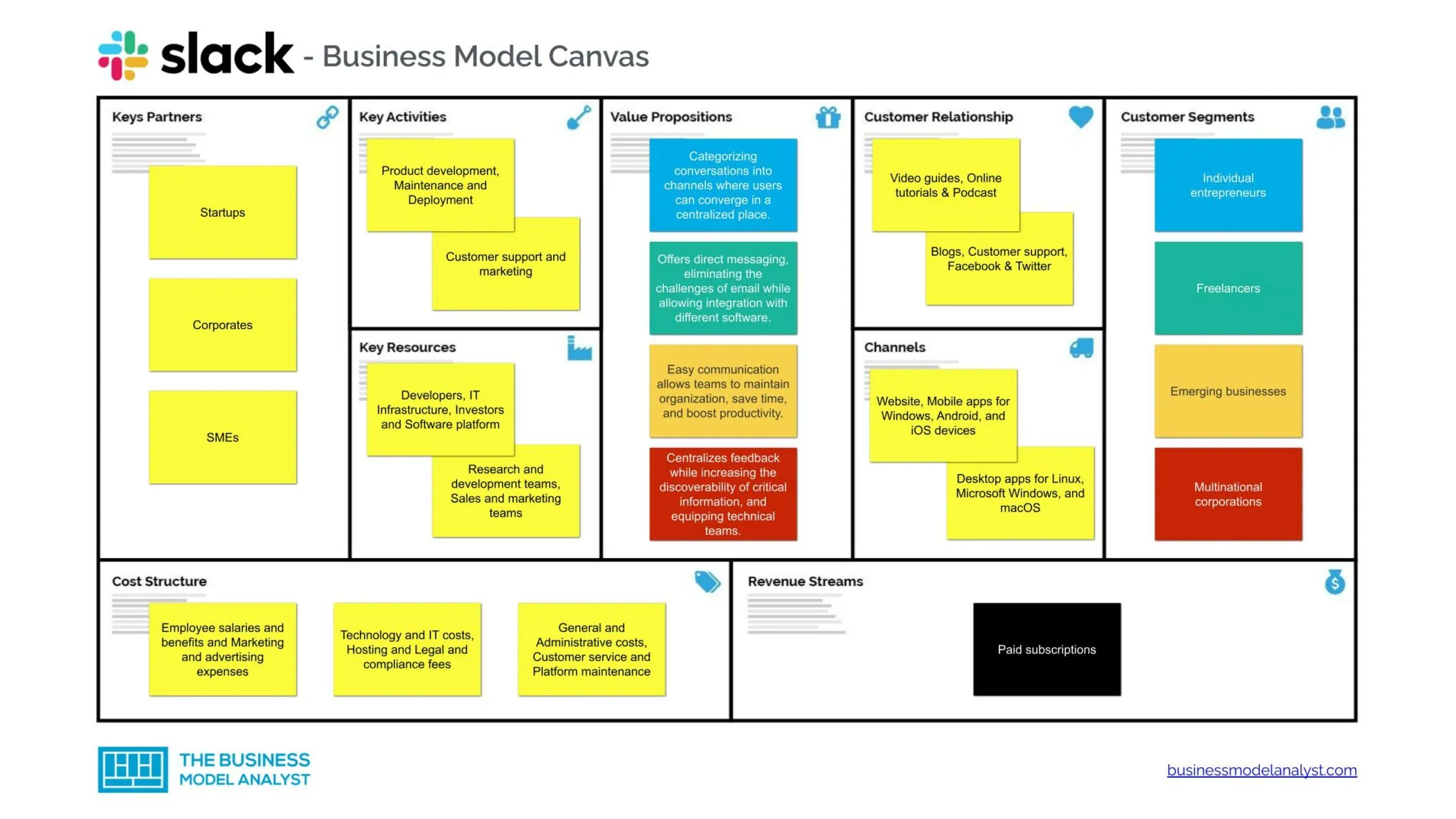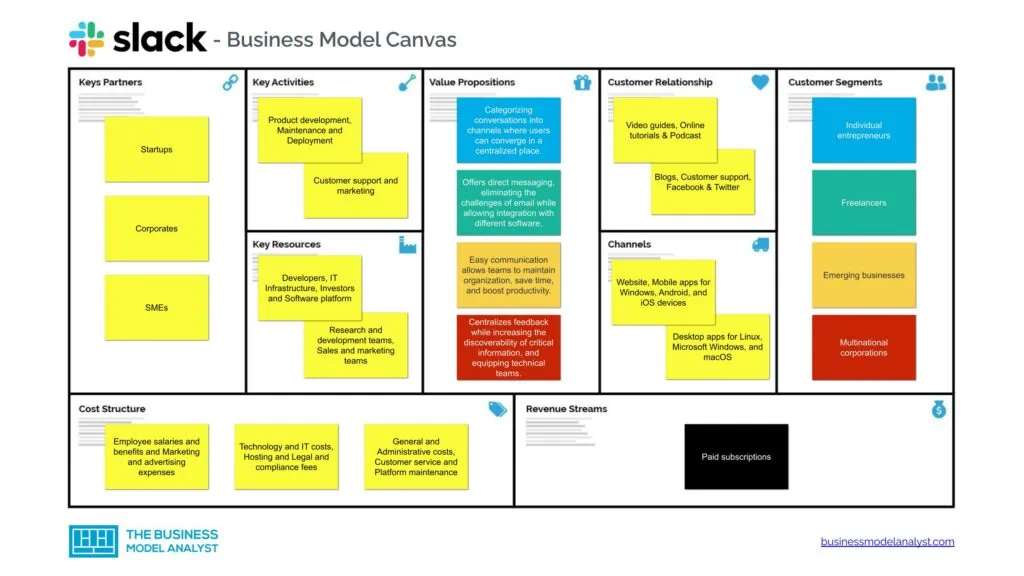 Slack Customer Segments
Slack's customer segments consist of: 
Individual entrepreneurs: Entrepreneurs can use Slack's communication tools to ensure their employees communicate easily and share files fast;
Freelancers: Freelancers can grow a community of other freelancers who can consult for advice and assistance, network, or share tips and resources with colleagues in the industry;
Emerging businesses: They use the different apps available on Slack, but can integrate customized apps based on their organization's needs;
Multinational corporations: Offers the flexibility to choose add-ons and apps, leverage messaging instead of calls, and choose the best personalization option for notifications. 
Slack Value Propositions
Slack's value propositions consist of:
For individual entrepreneurs: Categorizing conversations into channels where users can converge in a centralized place to share ideas and make informed decisions. Teams can pull together and operate fast regardless of their location;
For freelancers: Offers direct messaging, eliminating the challenges of email while allowing integration with different software, helping freelancers meet deadlines and remain on track;
For emerging businesses: Easy communication allows teams to maintain organization, save time, and boost productivity;
For multinational corporations: Centralizes feedback while increasing the discoverability of critical information, and equipping technical teams with tools to counter bugs accurately and fast. 
Slack Channels
Slack's channels consist of:
Website
Mobile apps for Windows, Android, and iOS devices
Desktop apps for Linux, Microsoft Windows, and macOS
Slack Customer Relationships
Slack's customer relationships consist of:
Video guides
Online tutorials
Podcast
Blogs
Customer support
Facebook & Twitter
Slack Revenue Streams
Slack's revenue streams consist of:
Slack Key Resources
Slack's key resources consist of:
Developers
IT Infrastructure
Investors
Software platform
Research and development teams
Sales and marketing teams
Slack Key Activities
Slack's key activities consist of:
Product development
Maintenance
Deployment
Customer support
marketing
Slack Key Partners
Slack's key partners consist of:
Startups
Corporates
SMEs, 
Slack Cost Structure
Slack cost structure consists of:
Employee salaries and benefits
Marketing and advertising expenses
Technology and IT costs
Hosting
Legal and compliance fees
General and Administrative costs
Customer service
Platform maintenance
Slack Competitors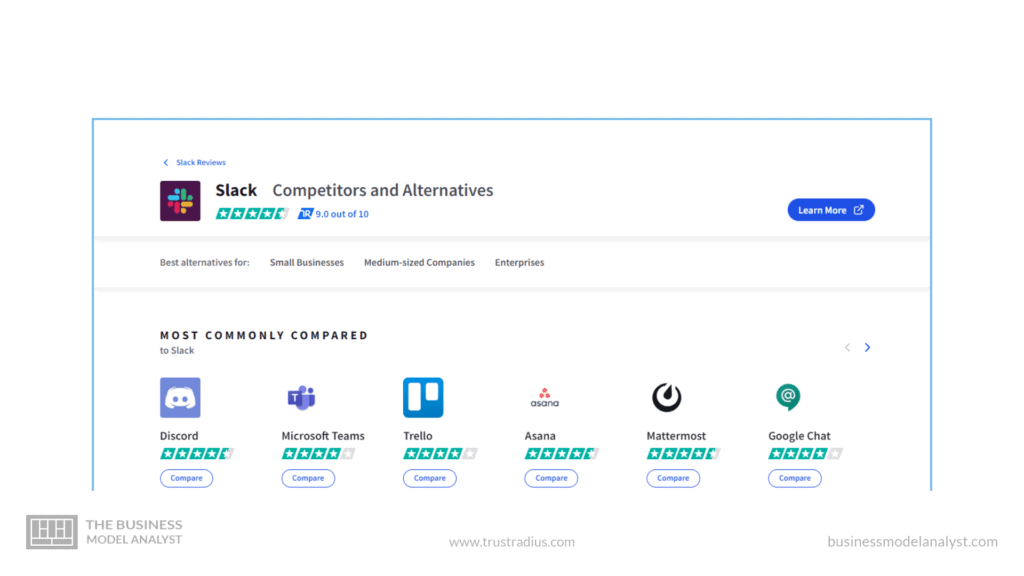 Rocket.Chat: Users can customize Rocket.Chat to fit the security and privacy standards of highly regulated organizations. It was recently integrated with Pexip, merging video and chat conferencing to make on-premise collaboration more secure. Rocket boasts federation possibilities, facilitating user interaction from different platforms through Rocket.Chat; 
Microsoft Teams: It's an ideal platform for enterprise companies with communication and collaboration features. MS Teams' freemium version includes over 250 integrations and supports built-in video and audio calls.;
Chanty: It features AI-powered messaging and replies, driving its chat and collaboration features. Other features include unlimited chat history search, screen sharing, and voice calling and chat. Chanty supports the integration of third-party applications like MailChimp, Jira, and Google Drive;
Mattermost: Features open-source platforms that allow a self-regulated server or private cloud hosting. It supports more than 600 integrations with extensions, bots, and plugins. Mattermost allows companies to personalize it based on their needs and is ideal for developers;
Flock: This is ideal for teams that rely on collaboration. Flock offers various collaboration features that many instant messaging applications lack. Its freemium plan is restricted to 10,000 searchable messages. The platform's paid plans have additional features. 
Slack SWOT Analysis
Below, there is a detailed SWOT analysis of Slack: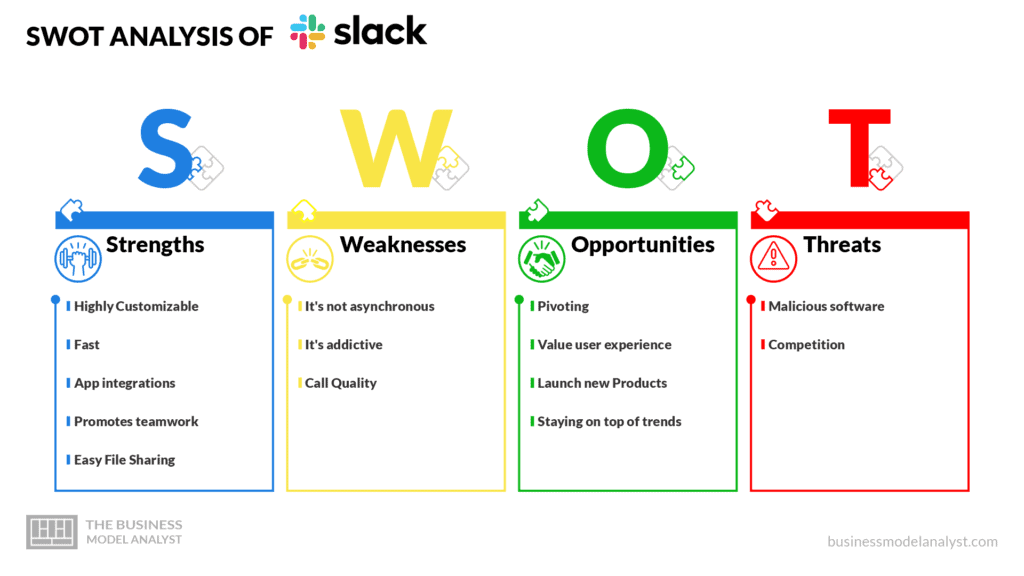 Slack Strengths
Highly Customizable: Slack users can customize alerts to fit their needs. For example, they can mute them for channels that are irrelevant to their work or enable them where necessary. Users can mute notifications periodically;
Fast: Slack prides itself on delivering real-time audio and video calls, messaging, project management, and file transfers. This platform enhances communication, reducing redundancies and backlogs and boosting project deliverables, which helps companies save money. Further, it accelerates project execution, proofing, and correcting, ensuring that companies get paid on time;
App integrations: Slack users can integrate over 2400 third-party applications free of charge. The apps boost Slack's functionality, efficiency, and service delivery. Users can leverage the app integration feature on Slack to increase productivity, customize actions, and save time;
Promotes teamwork: Slack has team features like video and voice conferencing, channels, and Slack connect. Slack for teams boosts project efficiency, saves time, and promotes remote working;
Easy File Sharing: Users can share files and documents with their colleagues within a Slack conversation in real time. They can also leave comments and receive feedback instantly. Photos, documents, and files are shareable from a cloud storage gadget or desktop. 
Slack Weaknesses
It's not asynchronous: Slack relies on real-time communication, reducing flexibility and productivity while causing distractions regularly;
It's addictive: Like social media, Slack features catchy colors, a user-friendly user interface, a solid alert system, and unique add-ons. Eventually, users may want to use it for all their office tasks. Dependency on Slack can hinder social life, trigger disruptions, and affect user productivity;
Call Quality: Slack's audio and video call quality is wanting. Further, there can be prolonged delays before calls finally connect. 
Slack Opportunities
Pivoting: Slack should be on the lookout for arising failures, opportunities, and challenges. Evaluating customers' needs and monitoring trends will help them develop the product and stay ahead of their competitors;
Value user experience: Both startups and established companies should value customer experience. Slack should adopt robust strategies to listen to customers and evaluate their feedback. While Slack's customer experience is one of the best in the industry, more should be done to guarantee customer satisfaction, boost retention, and keep competitors at bay;
Launch new Products: Soft launching new products is an effective strategy. Combining it with early product acquisitions and word-of-mouth advertising can be all Slack will need to stay ahead of its competitors;
Staying on top of trends: In today's digital world, communication issues will continue evolving, and better companies will be launched. Slack should be on high alert to monitor trends and act fast to implement them, while solving problems as they arise. 
Slack Threats
Malicious software: Up to 75% of companies encountered malicious software activity in 2022. This was mainly caused by an employee clicking on suspicious links and spreading malware within the company network. The rising frequency and intensity of malicious software attacks are associated with various factors, such as collaboration tools;
Competition: Slack faces fierce competition from more established companies, with Microsoft Corp. being its core competitor. 
Conclusion
Slack is one of the best and most popular messaging apps available. It features private and public channels, critical integrations with third-party applications, and smooth file sharing. It managed to conquer the competition with its unique user interface. Apart from Slack's user-friendliness, it's compatible with mobile devices and desktops. The Slack team messaging application is feature-rich. It enables users to collaborate with their colleagues, share files, and automate repetitive tasks. Slack's channels offer a dedicated space to accelerate communications with colleagues and third-party individuals. With its integrations, users can collaborate without switching platforms.