The Signal Business Model relies heavily on donations from the general public and crowdsourcing. A non-profit headquartered in San Francisco, California, Signal was launched on July 29, 2014, by Moxie Marlinspike and former co-founder of WhatsApp, Brian Acton. Signal, regarded as the best chat tool in terms of privacy, gives you more control over your privacy and encrypts all of your text messages using end-to-end encryption.
It is popular for those who wish to communicate privately because of its secure messaging feature. Other features that make it appealing to users include sending photos and videos that disappear after a set amount of time.
More than 40 million users switched from WhatsApp to Signal in 2021, which significantly increased the messaging app's popularity. With more than 125 million downloads in 2021, it has expanded into a bigger ecosystem of privacy-focused technology. Many celebrities, including Elon Musk, who donates to the nonprofit group, endorsed it. The support of Black Lives Matter campaigners and well-known actors in the field also significantly impacted its popularity.
The messaging app keeps improving, as the company's top objective is to create a messaging tool that is privacy-friendly, even though the company faces stiff competition from other messaging apps like Telegram. To beat the competition, the company included features like one-on-one calls, group calls of up to 40 people, group chats and photos, video calls, and user support.
A brief history of Signal
In early 2014, two developers named Moxie Marlinspike and Robert Statica released an app called TextSecure. This app was designed to provide users with more privacy and security in online messaging. In August of that same year, they released another app called RedPhone, designed to encrypt phone calls. A few months later, in November 2014, Moxie Marlinspike declared that he and Brian Acton, co-founders of WhatsApp, had teamed up to launch Signal, a brand-new messaging service. The objective of this project was to create a single software that incorporated the finest elements of RedPhone and TextSecure. Thus, Signal was created.
Since then, Signal has become one of the most widely used encrypted communications platforms available, with presently more than 2 million users globally.
Who Owns Signal
Signal Technological Foundation was founded in 2018 following the investment of Brian Acton in the non-profit organization, which made him the interim CEO following the step-down of Moxie Marlinspike. It was developed from a merger of Redphone and Textsecure in 2015. 
Signal Mission Statement
Signal's mission statement is to ensure the right of freedom of expression for its users through the use of 'open-source privacy technology.' Their main focus is building a sustainable project on privacy and security which is non-profit, thereby putting their users first.
How Signal works
Developed by a nonprofit organization called Open Whisper Systems, Signal enables users to share files and messages via Bluetooth securely. The software has been downloaded hundreds of thousands of times since it was first developed in 2013. However, many who disagree with the app's objectives have threatened the creators' lives.
The Signal app encrypts all of its messages by default with a key that only the sender and recipient are aware of. Thanks to the app's end-to-end encryption, only the users sending and receiving messages can decrypt them. Additionally, the app employs a non-static public key mechanism to guarantee message security wherever it originates, which is why it's regarded as a secure messaging app.
How Signal makes money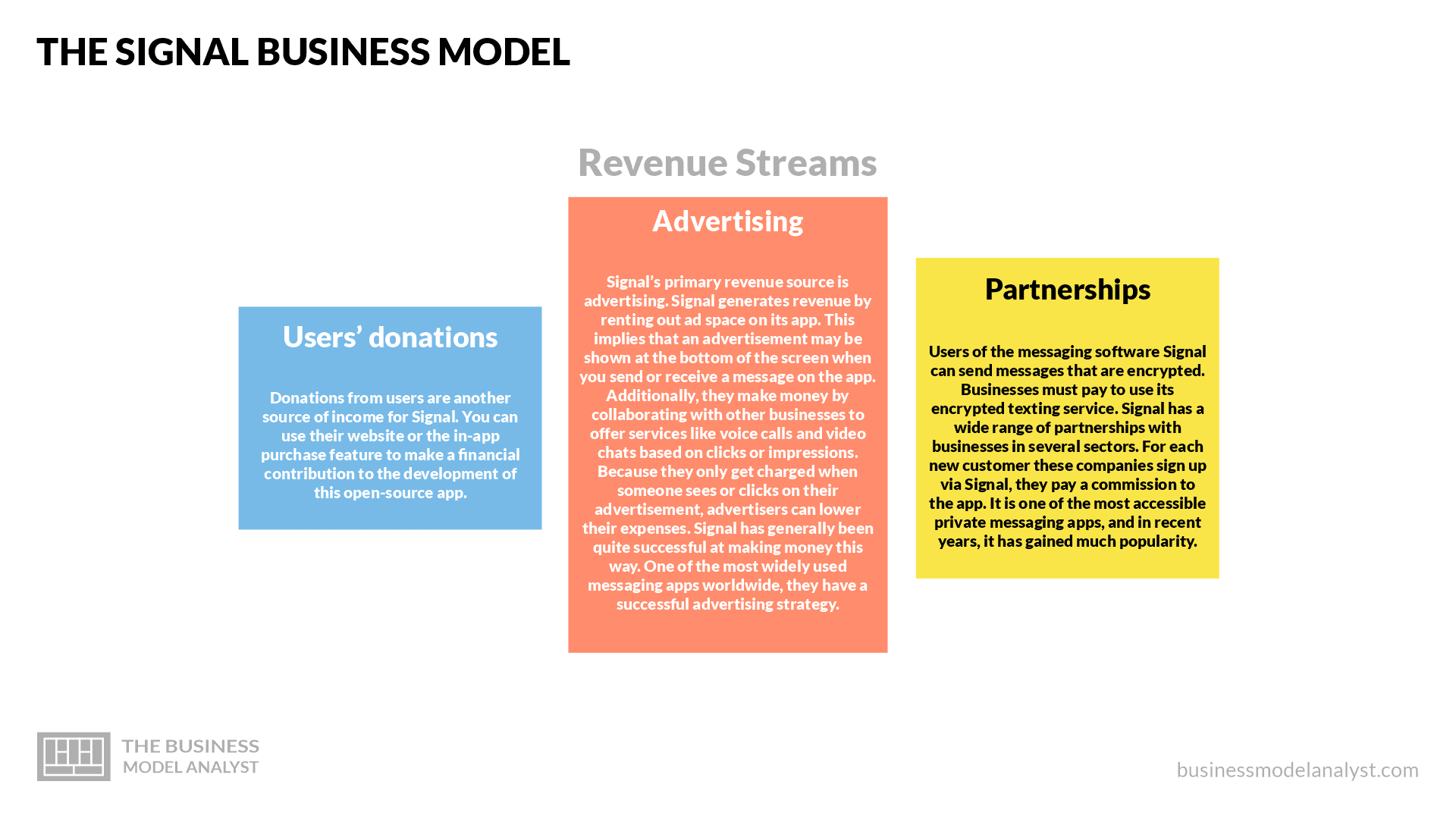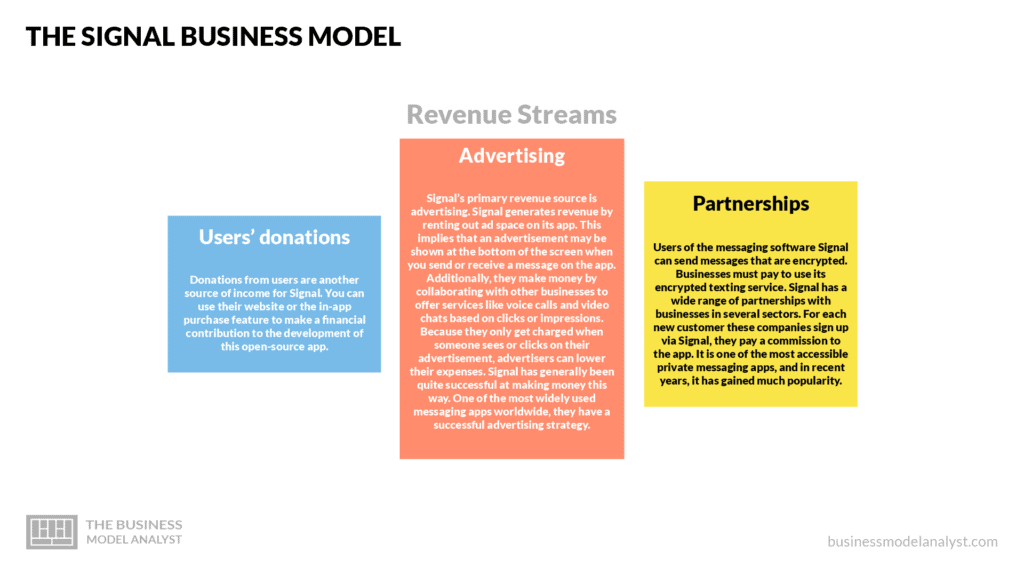 Unlike other messaging services like WhatsApp, Facebook, and Telegram, the Signal foundation operates as a non-profit corporation; therefore, it is essentially free. The app receives funding from generous donors and gifts from various investors. Brian Acton contributed $50 million to the main fund.
Advertising
Signal's primary revenue source is advertising. Signal generates revenue by renting out ad space on its app. This implies that an advertisement may be shown at the bottom of the screen when you send or receive a message on the app. Additionally, they make money by collaborating with other businesses to offer services like voice calls and video chats based on clicks or impressions. Because they only get charged when someone sees or clicks on their advertisement, advertisers can lower their expenses. Signal has generally been quite successful at making money this way. One of the most widely used messaging apps worldwide, they have a successful advertising strategy.
Users' donations
Donations from users are another source of income for Signal. You can use their website or the in-app purchase feature to make a financial contribution to the development of this open-source app.
Partnerships 
Users of the messaging software Signal can send messages that are encrypted. Businesses must pay to use its encrypted texting service. Signal has a wide range of partnerships with businesses in several sectors. For each new customer these companies sign up via Signal, they pay a commission to the app. It is one of the most accessible private messaging apps, and in recent years, it has gained much popularity.
Signal Business Model Canvas
The Signal Business Model can be explained in the following business model canvas: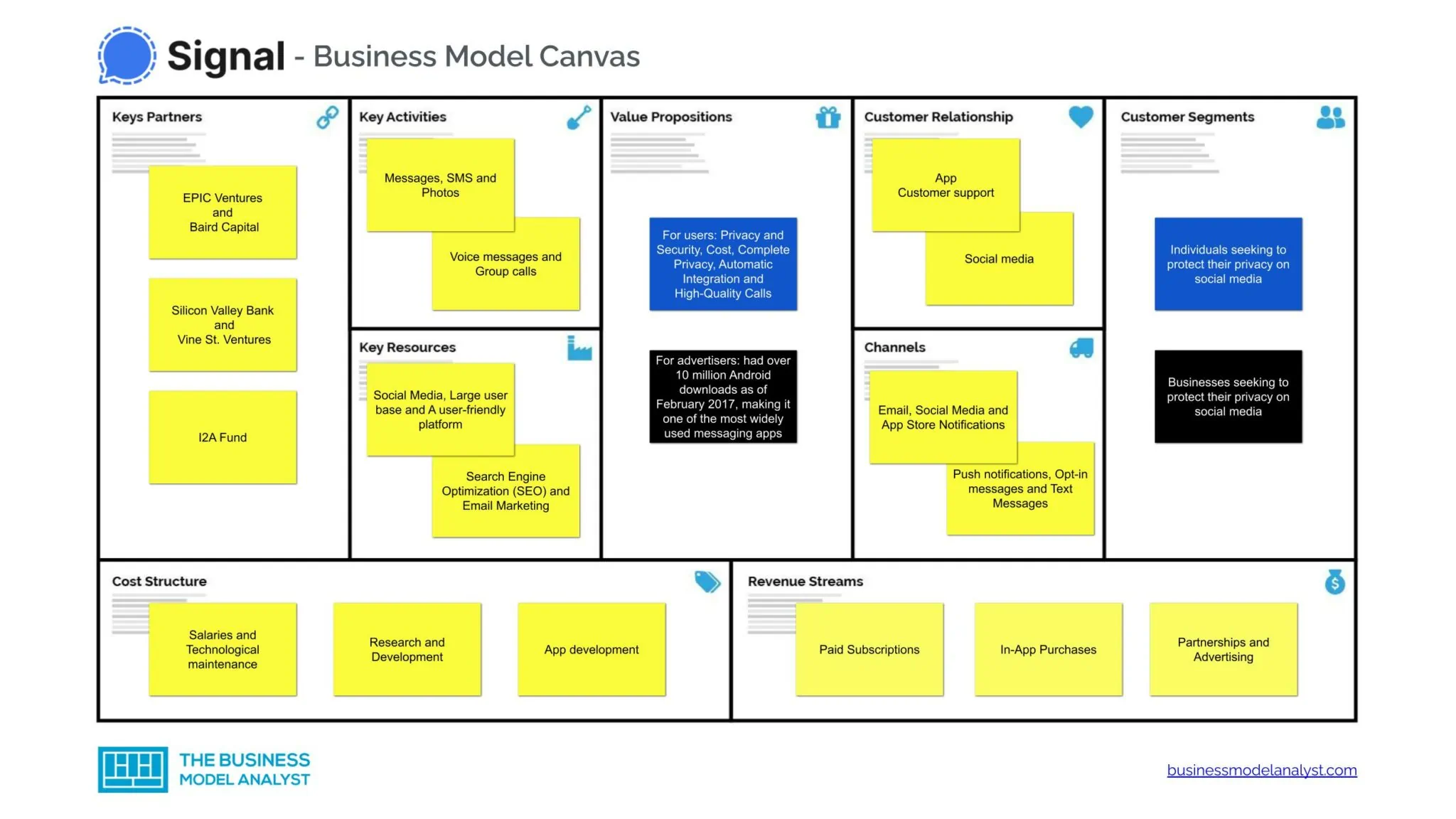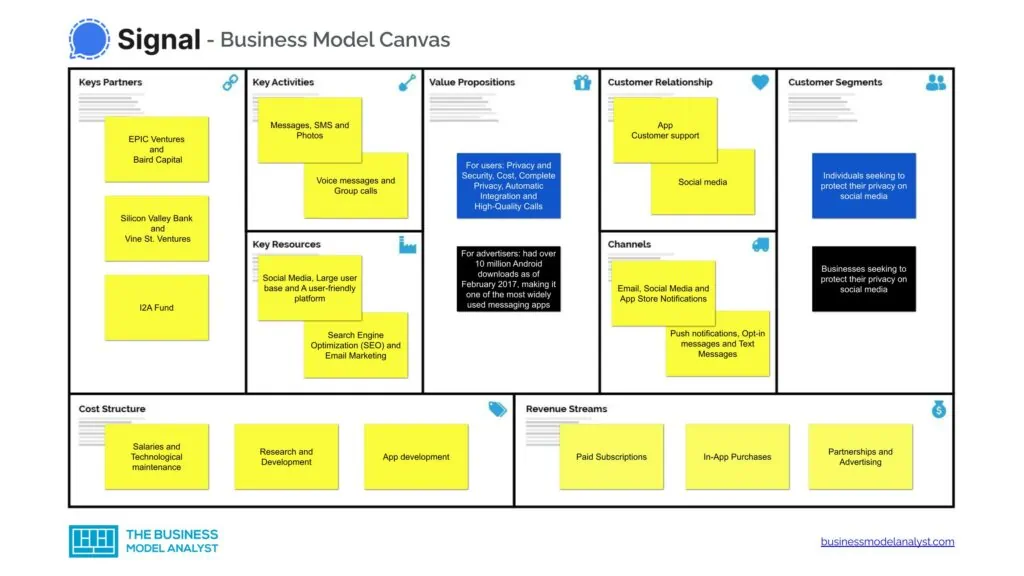 Signal Customer Segments
Signal's customer segments comprise:
Individuals seeking to protect their privacy on social media;
Businesses seeking to protect their privacy on social media.
Signal Value Propositions
The Signal value propositions consist of the following:
Value propositions for users
Privacy and Security: Signal uses end-to-end encryption to prevent unauthorized parties from reading your messages. It also has a "Ghost Mode" feature that enables you to conceal your identity from others;
Cost: Signal is a free messaging service, unlike many others. There are no recurring fees or additional charges;
Complete Privacy: The Signal software encrypts your communications from beginning to end, whether you send messages or make calls. This indicates that no one else can view them and that only the sender and receiver can read them;
Automatic Integration: You don't need to manually enter contacts because the Signal app automatically interacts with your phone book. Chats can also be started from other applications, such as Gmail or WhatsApp;
High-Quality Calls: The Signal app uses high-quality audio codecs to make your calls crystal clear, even to international numbers. Dropped calls and poor sound quality are no longer a concern;
End-to-end encryption is used by Signal to make sure that all communications are safe and cannot be accessed by outside parties. This makes it ideal for conveying sensitive information or bringing up private matters;
High-Quality Audio: Signal provides call capabilities with high-quality audio ideal for conferences or client meetings. All participants will be able to hear each other clearly, and without any distortion, so you can be sure of that.
Value propositions for Advertisers
User Base: Signal had over 10 million Android downloads as of February 2017, making it one of the most widely used messaging apps.
Signal Channels
Signal's channels comprise:
Email
Social Media
App Store Notifications
Push notifications
Opt-in messages
Text Messages
Signal Customer Relationships
Signal's customer relationships consist of:
App
Customer support
Social media
Signal Revenue Streams
The signal revenue streams consist of the following:
In-App Purchases
Partnerships
Advertising
Signal Key Resources
Signal's key resources include:
Social Media
Large user base
A user-friendly platform
Search Engine Optimization (SEO)
Email Marketing
Signal Key Activities
Signal's key activities comprise:
Messages
SMS
Photos 
Voice messages
Group calls
Signal Key Partners
Signal's key partners include:
EPIC Ventures
Baird Capital
Silicon Valley Bank
Vine St. Ventures
I2A Fund
Signal Cost Structure
Signal's cost structure consists of:
Salaries
Technological maintenance
Research and Development
App development 
Signal Competitors
Microsoft Teams: Developed by Microsoft, Microsoft Teams gained popularity during the COVID-19 pandemic, overtaking other messaging tools developed by Microsoft. Features such as video conferencing, private chat box, group conversations, and breakout rooms, among many more, distinguish it from other communication platforms;
Telegram: Telegram is a cloud-based messenger application with features such as secret messaging, file sharing, video calls, and self-destructing messages. Telegram reaches a larger audience than other technology by allowing about 200,000 people in a group. It has taken over other messaging apps globally, specifically in countries like Ukraine, Ethiopia, Russia, Cambodia, etc.;
WhatsApp: WhatsApp, also known as WhatsApp Messenger, is a free messaging app owned by Meta. It is a North-American company recognized internationally, operated through phone number registrations, and used on mobile phones or computers. WhatsApp is one of the most popular messaging apps in the world, with many features that make it appealing for personal and business use. These include end-to-end encryption, file sharing, group chats, and voice/video calling. The main downside of WhatsApp is that it is less secure than Signal, Telegram, and TextSecure;
TextSecure: TextSecure is similar to Signal in terms of functionality and security. It offers end-to-end encryption, voice calls, and group chats. One advantage that TextSecure has over Signal is that it supports Android devices dating back to Version 4.4 (KitKat).
Signal SWOT Analysis
Below, there is a detailed swot analysis of Signal: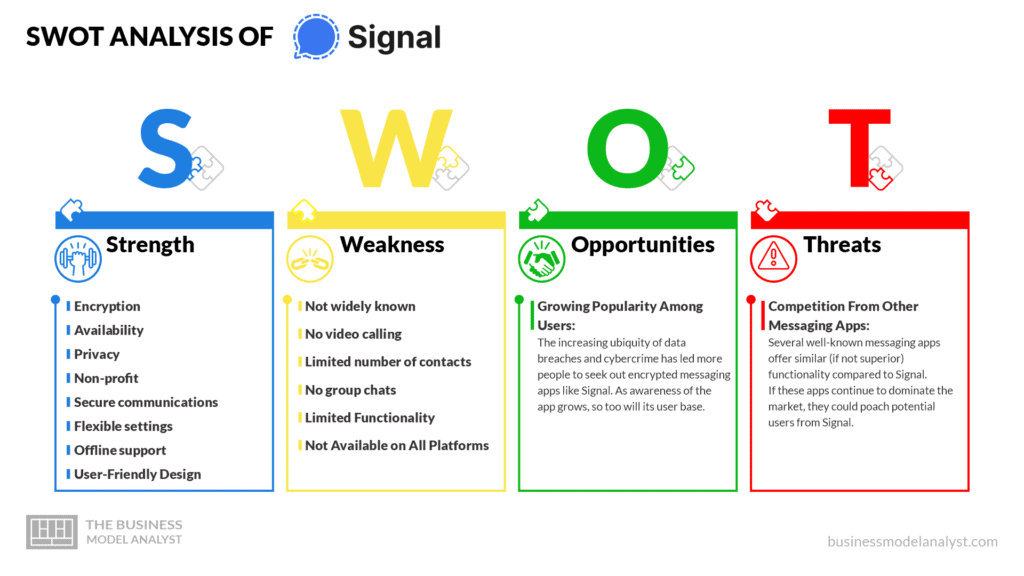 Signal Strengths
Encryption: One of Signal's biggest strengths is its encryption technology. This makes it very difficult for anyone to intercept or hack into messages sent using the app. Signal utilizes end-to-end encryption to ensure that messages are secure and cannot be intercepted by third parties, making the app ideal for confidential communications;
Availability: Another strength of Signal is its availability on multiple platforms, including Android, iOS, and macOS, as well as Linux distributions, such as Ubuntu Touch. This makes it accessible to a large number of people worldwide;
Privacy: The main purpose of the signal is to ensure that users have their right to freedom of expression without any interference by the public, including security officials, the government, and even Signal itself. The app gained recognition because of this feature of a high user privacy level and high data protection;
Non-profit: The organization's primary purpose is to satisfy its customers. It is a free messaging tool that seeks to bring the best to its users without making a profit. The organization mainly generates income from donors and sponsors to provide free services;
Secure communications: All messages sent through Signal are encrypted, meaning they cannot be read by anyone other than the sender and recipient. This makes Signal a safe choice for sensitive information;
Flexible settings: Signal allows users to customize their notifications according to their needs. For example, they can choose to receive alerts when someone they're following sends a new message or when one of their contacts joins a chatroom;
Offline support: If you lose your internet connection or your phone runs out of battery, you can still send and receive messages through Signal. The messages will be stored on the server until you reaccess the internet;
User-Friendly Design: Signal is simple and easy to use, even for those who are not tech-savvy. This makes it a popular choice among users.
Signal Weaknesses
Not widely known: Even though Signal is becoming increasingly popular, it is still not as well-known as other messaging apps like WhatsApp or Facebook Messenger. This could be due to the need for more marketing efforts;
No video calling: Unlike other messaging apps, Signal does not yet support video calls;
Limited number of contacts: Unlike other messaging apps, Signal does not allow users to connect with people who have yet to install the app on their phones. This can be inconvenient for those who want to talk to friends or family members who don't live nearby;
No group chats: Another downside of Signal is that it does not allow users to create group chats, unlike other messaging apps. If you want to talk with more than two people at once, you have to open WhatsApp or Facebook Messenger accounts;
Limited Functionality: While Signal does have some features, such as voice calling, it lacks many of the features offered by other messaging apps, such as WhatsApp or Messenger. This may deter some users from switching to Signal;
Not Available on All Platforms: Unlike WhatsApp and Messenger, which are available on Desktop platforms, Signal is only available on iOS and Android devices. This could limit its reach among certain demographics.
Signal Opportunities
Growing Popularity Among Users: The increasing ubiquity of data breaches and cybercrime has led more people to seek out encrypted messaging apps like Signal. As awareness of the app grows, so too will its user base.
Signal Threats
Competition From Other Messaging Apps: Several well-known messaging apps offer similar (if not superior) functionality compared to Signal. If these apps continue to dominate the market, they could poach potential users from Signal.
Conclusion
Developed by The Signal Foundation and globally recognized as the best communication tool for data protection and privacy, Signal is making waves in the communications market. Besides, it is essentially free to use, and users can easily customize the settings to suit their desires. However, Signal needs to step up its game and upgrade its functionalities if it wants to dominate the market.