When we think of video game companies making money, like Riot Games Business Model is successfully doing, what comes to mind is usually consoles that cost more than $400 and games with prices over $60 each.
However, the most played game in the world, League of Legends, is a free game that, as incredible as it may seem, assures the company an annual profit of more than 1.75 billion dollars. We don't misspell: it's billion, indeed.
But how can a game that I can just download on my mobile and for which I don't have to pay a cent get revenue like that?
A brief history of Riot Games
The most curious part about the history of Riot Games is that the company's founders developed this idea, still in college, as a result of their personal frustration with the gaming universe.
The founders of Riot Games, Brandon "Ryze" Beck and Marc "Tryndamere" became friends when they were roommates studying business at the University of Southern California, and much of their affinity was born out of the fact that they were both video game enthusiasts.
However, what bothered Beck and Merrill in the realm of games was that the developers' standard was basically to launch game after game, instead of evading those which already had fans, who would prefer to keep playing new updated versions of their favorite games, rather than just shutting them down and having to go after a new replacement.
So, Beck and Merrill decided that they would start a game company focused on the interests of players, which would always bring updates and new features to their games, instead of launching new options on the market.
Nevertheless, the founders agreed that they did not want to make the mistake of selling upgrades that players should achieve through skill in the game. So, they decided that the game would be monetized through additional perks that would offer a more personalized experience, such as changing clothes and characters' appearance.
To start the venture, Beck and Merrill raised funds together with their families and angel investors, totalizing $ 1.5 million to launch the company, which opened its office in 2006 in Santa Monica, California. And Riot's first major signing was Steve "Guinsoo" Feak, one of the early developers of DotA Allstars (a pioneer in the MOBA genre).
Riot Games created League of Legends as the flagship of a video game company rooted in e-commerce. The idea generated several rounds of new investments, which resulted in a total contribution of $ 8 million. One of the investors was the Chinese holding company Tencent, which would later become its distributor in China.
League of Legends was officially launched in 2009, as a free-to-play game, so that the company could make adjustments based on player feedback.
In 2011, with the success of the game, Tencent paid $ 400 million for a 93 percent stake in Riot Games. And the remaining 7 percent was purchased by the Chinese company in December 2015. The price was not disclosed.
By 2013, League of Legends was already the most-played multiplayer PC game in the world. Three years later, there were more than 100 million players. And, by May 2008, Riot Games would already employ over 2,500 people, in 24 offices around the world.
Last year, Riot Games acquired Hypixel Studios, which they had been investing in over the previous three semesters, to help them publish Hytale, a voxel-based sandbox game.
Riot Games Mission & Values
Riot Games Mission Statement:
We aspire to be the most player-focused game company in the world.
Player Experience First
Dare to Dream
Thrive Together
Execute with Excellence
Stay Hungry; Stay Humble
How Riot Games makes money
Free-to-play games build their revenue on microtransactions, a type of digital commerce that has been an exorbitant success, especially in mobile games. League of Legends earns an average of $31 a second in microtransactions, or $2.64 million each day.
The great advantage of Riot Games and its League of Legends is that, while most online games have transformed these microtransactions into a "pay-to-win" formula, League of Legends maintained the integrity of the game, and added only paid extra features.
As mentioned above, most of League of Legends' microtransactions are about cosmetic improvements on characters or shortcuts for unlocking new ones. In order to allow it, the game has the so-called Riot Points (or RP), the currency used to buy characters, runes, and skins in the League.
To have an idea, most skins in the game cost something between 750 and 975 RP – which means 6 to 8 dollars per skin. Some are cheaper and some are more expensive than that, depending on how fancy the skin looks. And, sometimes, the League has even occasional sales to help users out.
Besides microtransactions, League of Legends is also one of the top viewed games on YouTube, with over 1.6 million followers that sum up billions of views on their channel. And, even though Riot doesn't formally put advertisements on their YouTube channel, their sponsors are clearly visible.
Moreover, Riot Games advertises merchandise on stream, even though they are small and subtle, and also releases some official League of Legends' items, such as stuffed animals and figurines.
And, finally, some partnerships call attention as well: like the one with Coca-Cola, a strong supporter of eSports. Riot Games and Coca-Cola have partnered to advertise for League on the giant's products and that has been successful for both the brands.

Riot Games Business Model Canvas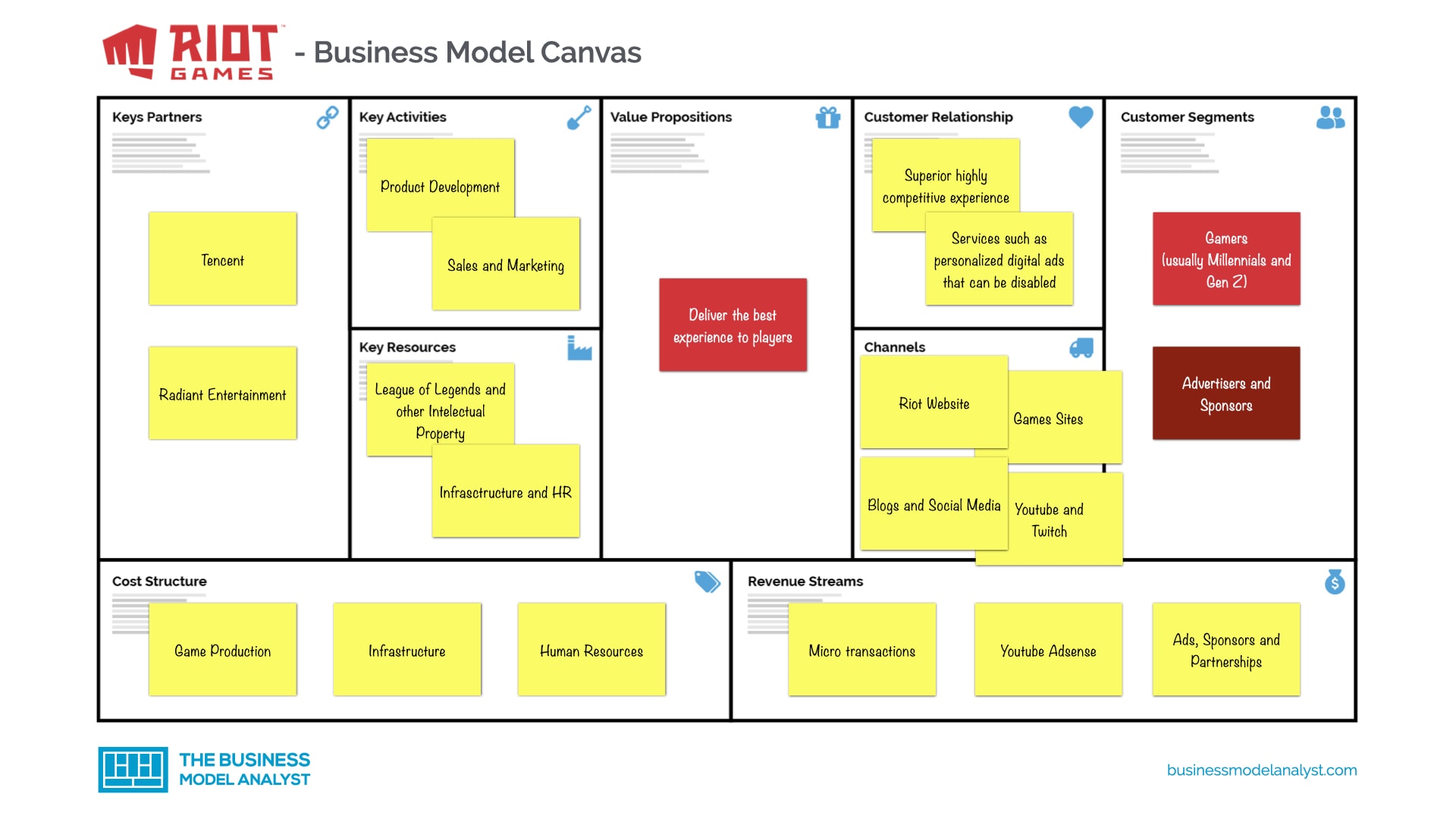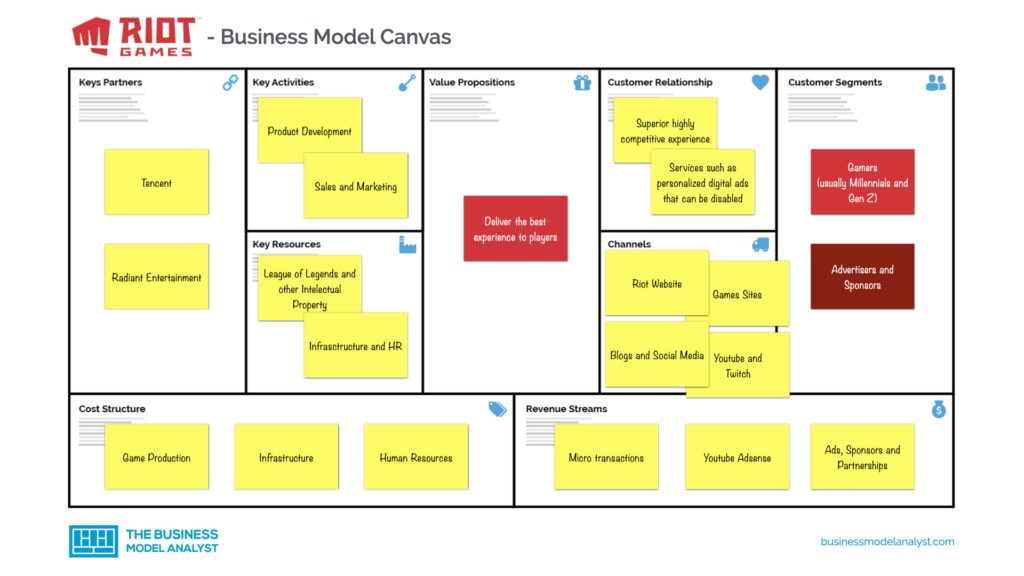 Download High-Resolution PDF of the Riot Games Business Model Canvas
Riot Games customer segments
Gamers (usually Millennials and Gen Z), advertisers, and sponsors.
Riot Games value proposition
The greatest value proposition is their own mission: deliver the best experience to players, as the most player-focused game company all over the world; also, to make League of Legends a global eSport that lasts long.
Riot Games channels
Riot website, video games sites, blogs, social media, League of Legend community, FAQs, League of Legends championships, YouTube.
Riot Games customer relationships
Superior highly competitive experience with team-based online games, providing their community with services such as personalized digital ads that can be disabled.
Riot Games revenue streams
Free-to-play supported by microtransactions, primarily, besides YouTube views, sponsors, ads, and partnerships.
Riot Games key resources
League of Legends, infrastructure and facilities, human resources, and intellectual property.
Riot Games key activities
Product development, design, sales and marketing, strategic planning, advertising, user support, etc.
Riot Games key partners
Tencent (owner), Radiant Entertainment (acquired), YouTube, and sponsors.
Riot Games cost structure
Game production, software development, maintenance and operation, offices and infrastructure, customer support, eSports events, etc.
Riot Games competitors
Epic Games: video game and software development company, founded in 1991, with a 28.5 bi valuation.
Electronic Arts: games and services for games developer, publisher and distributor, founded in 1982, with 39.9 bi valuation.
Valve Software: entertainment software and tech company, founded in 1996. Its flagship is Counter-Strike.
Activision: video games developer and publisher, founded in 1979.
Pocket Gamer: mobile social games developer, founded in 2005.
King: gaming developer, whose flagship is Candy Crush, founded in 2003.
Riot Games swot analysis
Strengths
Revenue: it can help Riot Games to invest in new projects.
Relationship with suppliers: it may increase products and services by leveraging its supply chain partners.
Intellectual Property: Riot Games has several patents and copyrights, reducing competition.
Domestic Market: Riot Games can easily grow in its domestic market, which allows it to build a diverse product mix.
Weaknesses
Replication: Riot Games' business model can be easily replicated by startups, even with its intellectual property rights.
Environmental Protection: environmental consideration is not strong in Riot Games, which can lead to consumer backlash.
Opportunities
E-commerce and social media: they can help Riot games grow in the international market since the cost to enter a new market is lower because reaching new customers is easier.
Artificial Intelligence – it can be used to better predict consumer demand, and make better recommendation engines.
Global Market: expansion into the international market can help Riot Games to access high-level talents.
Threats
Increasing costs: governments have been trying to apply environmental taxes that can increase logistics and packaging costs.
Sticky prices: Riot Games operates in an industry that deals with sticky prices, which can prevent the company from increasing microtransaction prices.