The Redfin business model is centered around real estate brokerage services. Redfin is currently one of the most popular real estate platforms in America. According to the company, it has over 40 million monthly users.
So, what makes this company stand out in the business world? Let's find out with a business model analysis on Redfin. 
A brief history of Redfin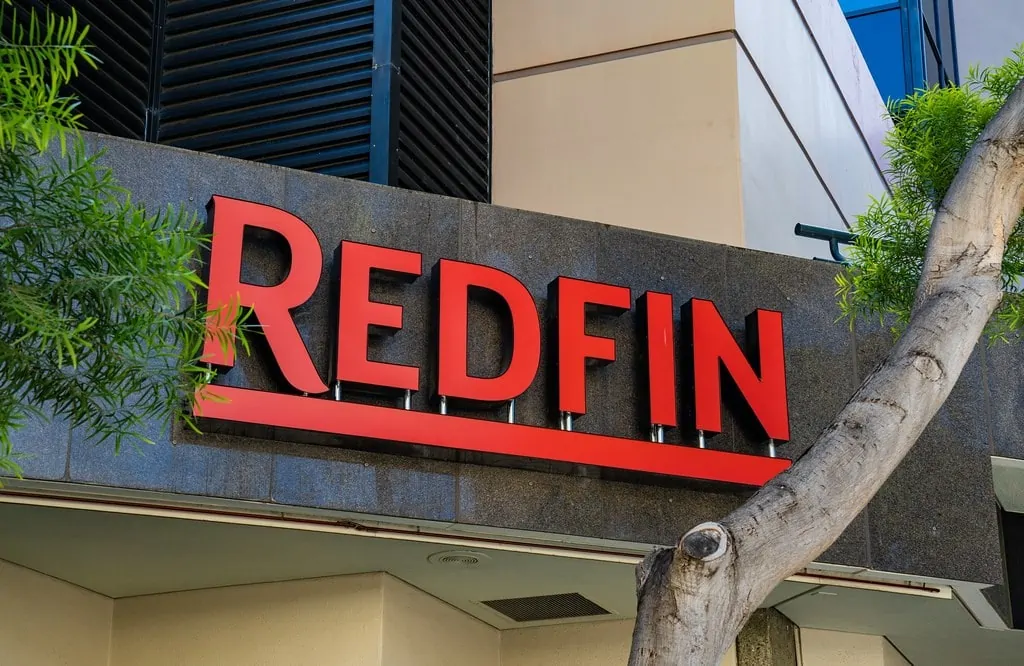 Redfin was founded in 2004 by David Eraker, Michael Dougherty, and David Selinger. David Eraker was inspired to create Redfin with the hopes of disrupting the conventional real estate brokerage business.
David Eraker dropped out of the University of Washington from a career in software design, and Michael Dougherty was an electrical engineer from Yale University. Together, they came up with an innovative idea to display homes for sale on an interactive map. 
Redfin used this map-based real estate system to display available homes in a particular area. This was achieved by pairing satellite maps with real estate information to provide consumers with a better home buying experience. 
The technology helped Redfin overcome the limitations of the online real estate search systems available at the time. Redfin disrupted the real estate industry and drove some competitors out of business.
Redfin essentially made selling and buying houses more efficient than traditional brokerages. David Selinger later joined the company as the third founder and helped to build the mapping and real estate data analytic engine at Redfin. 
After receiving $1 million in initial financing from Madrona Venture Group, in May 2006, Redfin raised 8 million in a Series B funding led by Vulcan Inc. Later, in 2007, the company received another round of funding from Greylock and Draper Fisher Jurvetson.
Subsequent funding raised $50 million in a round led by T. Rowe Price and Tiger Global Management, bringing its total funding to about $96 million.
The company raised another $70.9 million in December 2014. This round of funding led by Wellington Management Co. and Glynn Capital Management, plus others, was done in order to expand its software-powered real estate service in the U.S. 
Redfin finally went public on July 28, 2017, raising $138 million, and starting with a share price of $15. Redfin stock closed at $21.72 on the first day of trading, giving the company a market capitalization of $1.73 billion. As of April 2022, the company's share price sits at about $11.73 per share.
Who Owns Redfin
Redfin is owned by its shareholders because it's a publicly-traded company. Institutional investors currently own over 90% of the company shares, leaving its angel investors and management with a small portion of the company stock. 
Redfin's Mission Statement
"Redefine real estate in the consumer's favor."
How Redfin makes money
Redfin makes money from listing fees charged on homes sold through its platform. Additionally, the company purchases properties through its instant buyer program (Redfin Now) and sells them for a profit. They also make money by referring clients to their affiliates or partners. 
Below, there is a breakdown of the ways that Redfin makes money:
Real Estate Brokerage
The company charges a 1 to 1.5% listing fee for buying and selling on its platform. Redfin makes the majority of its revenue through these commissions. 
Redfin Instant Buyer Program (Redfin Now)
The company also makes money from selling homes, which is its second-largest revenue stream. Redfin purchases properties from homeowners and sells them for a profit.
Partner Fees
Redfin works with other partners and agents to sell properties. The company sends client referrals to its partners in exchange for a referral fee.
Redfin's Business Model Canvas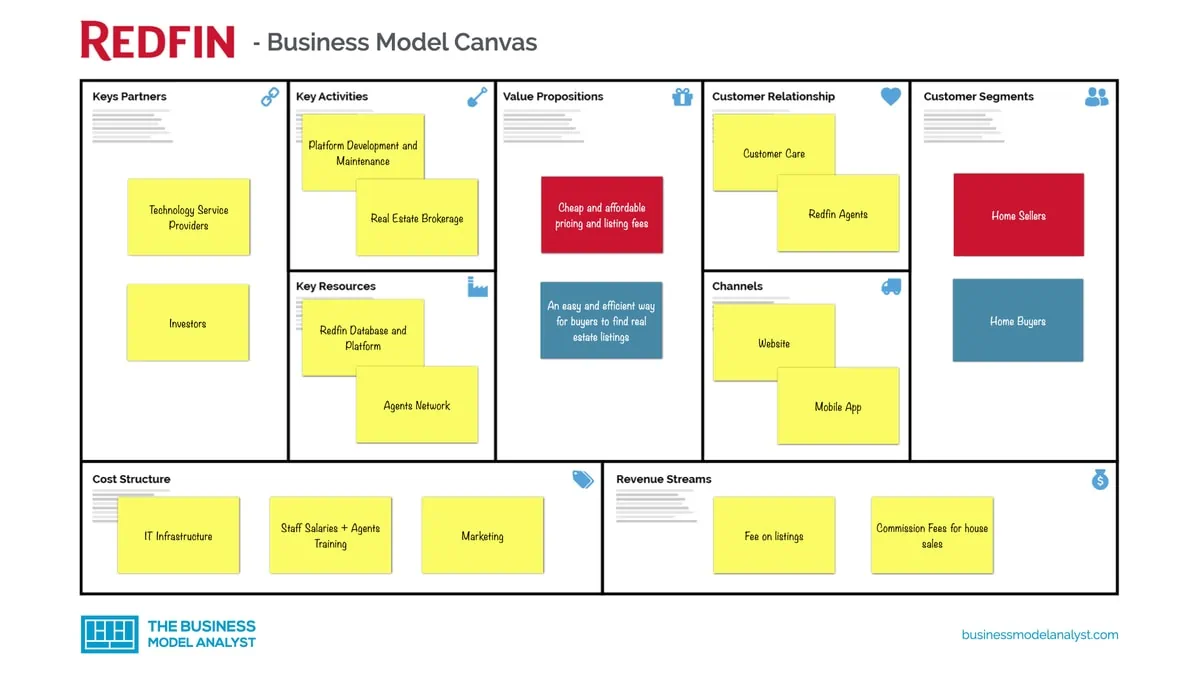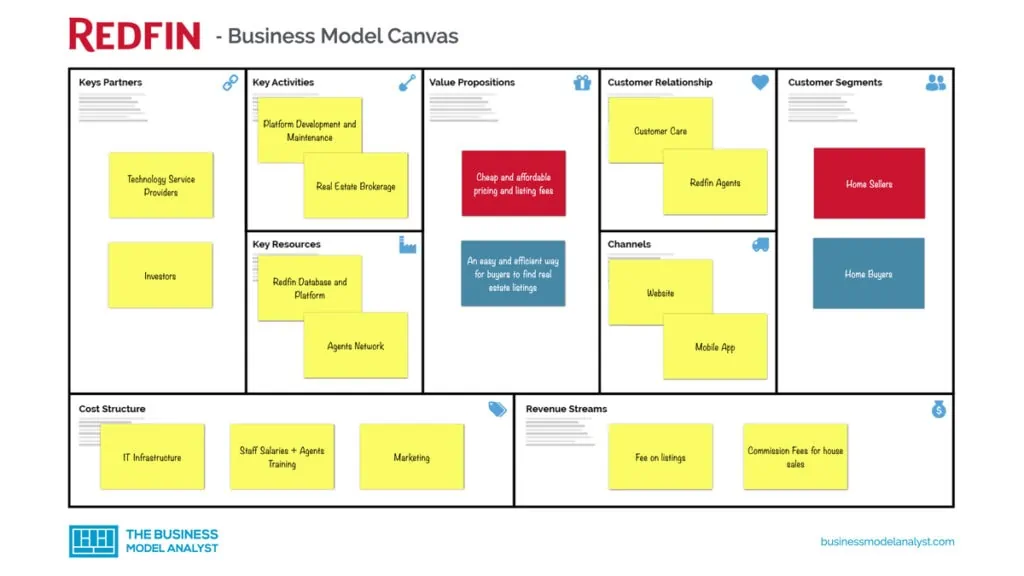 Below, there is a detailed breakdown of Redfin's business model canvas:
Redfin's Customer Segments
Redfin's customer segments consist of:
Redfin's Value Propositions
Redfin's value propositions consist of:
An easy and efficient way for buyers to find real estate listings
Cheap and affordable pricing and listing fees
Redfin's Channels
Redfin's channels consist of:
Mobile app for iOS and Android
Website 
Social media
Redfin's Customer Relationships
Redfin's customer relationships consist of:
Customer care services
Social media 
Redfin agents 
Redfin's Revenue Streams
Redfin's revenue streams consist of:
Commission on listings
Commission from house sales
Redfin's Key Resources
Redfin's key resources consist of:
Agents  
Mobile app
Website 
Database 
Redfin's Key Activities
Redfin's key activities consist of:
Real Estate Brokerage Services
Software development
Marketing 
Redfin's Key Partners
Redfin's key partners consist of:
Investors
Buyers
Sellers
Technology service providers
Redfin's Cost Structure
Redfin's cost structure consists of:
Staff salaries
Technology architecture and maintenance
Marketing
Training agents
Redfin's Competitors
Zillow: It is a real estate and rental marketplace founded in 2006. It's currently the most visited real estate website in the United States. The company offers a variety of products for home buyers and sellers;
Opendoor: It is a platform that utilizes technology to help people buy and sell homes quickly; 
UpNest: It is a real estate marketplace that connects homebuyers with agents from multiple brokerages, who compete with each other for the opportunity to do business with you. The company has facilitated billions of dollars in home sales;
Compass: It is an online real estate brokerage specializing in luxury homes. They facilitate the purchase, sale, and rental of homes on its platform by connecting buyers, renters, and sellers with real estate agents; 
Movoto: It is a full-service real estate agency with over 350,000 monthly users. The company strives to make real estate transactions easy by providing home buyers with real estate agents that will help them get the best deals;
Re/Max (Real Estate Maximus): It is an American international real estate company that connects customers to agents with the right connections, technology, and strategy to help them achieve their home buying dreams.
Redfin's SWOT Analysis
Below, there is a detailed SWOT analysis of Redfin: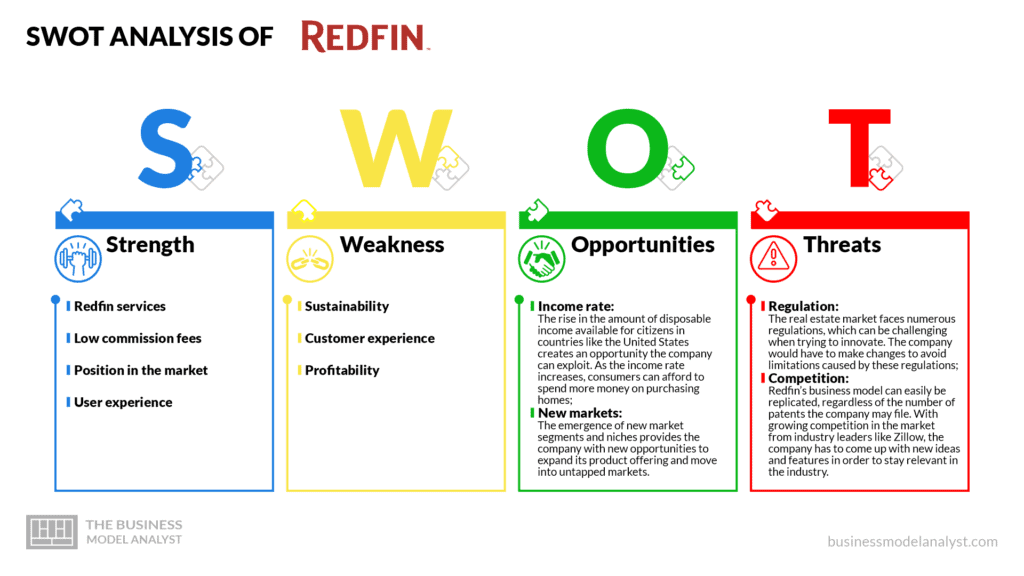 Redfin's Strengths
Redfin services: Redfin can be called an all-in-one brokerage platform. It caters to most of its customer's needs by offering a wide range of real estate services, which enables the company to control a considerable market share; 
Low commission fees: Redfin has slashed the listing commission to 1 to 1.5%. These commission fees are amongst the lowest in the market, making Redfin affordable;
Position in the market: Redfin is one of the most popular brokerage platforms. The company has a market cap that's over 1 billion dollars, with over 46 million monthly users on its website and mobile app. This amount of traffic helps the company to grow its revenue year by year;
User experience: Redfin set out to revolutionize the real estate market and make buying and selling a home easier. Innovative features like home listing on the map or 360 video tours of their listed homes improve the platform's user experience.
Redfin's Weaknesses
Sustainability: Redfin has been publicly criticized for its poor waste management practices by various environmentalists;
Customer experience: Inadequacies in Redfin's customer services have resulted in poor customer complaint handling, which may give the company a negative reputation;
Profitability: Redfin has made very little profit since it was founded.
Redfin's Opportunities
Income rate: The rise in the amount of disposable income available for citizens in countries like the United States creates an opportunity the company can exploit. As the income rate increases, consumers can afford to spend more money on purchasing homes;
New markets: The emergence of new market segments and niches provides the company with new opportunities to expand its product offering and move into untapped markets. 
Redfin's Threats
Regulation: The real estate market faces numerous regulations, which can be challenging when trying to innovate. The company would have to make changes to avoid limitations caused by these regulations;
Competition: Redfin's business model can easily be replicated, regardless of the number of patents the company may file. With growing competition in the market from industry leaders like Zillow, the company has to come up with new ideas and features in order to stay relevant in the industry.
Conclusion
Buying and selling homes have become more accessible in the past few years, due to the rise of online real estate companies.
Redfin's business model is based on helping its customers find a home with services like brokerage, instant buying (Redfin Now), rentals, lending insurance, and renovation of real estate.
The company is popularly known for having a one percent fee and offering cash offers to buy up houses from their customers. According to the company, it has saved consumers more than one billion in real estate commissions.