The Pfizer business model is centered around discovering, developing, manufacturing, marketing, selling, and distributing biopharmaceutical products around the world. It has garnered attention in the pharmaceutical industry because of its forward-thinking marketing and product development approach. 
Pfizer is a multinational pharmaceutical and biotechnology company that specializes in manufacturing drugs and vaccines that provide wellness or alleviate illnesses in the fields of immunology, oncology, cardiology, endocrinology, and neurology.
As one of the largest global biomedical and pharmaceutical corporations, Pfizer is dedicated to advancing medicine to promote well-being and provide prevention and treatment for some of the most dreaded diseases that plague humans.
Before diving into the specifics of Pfizer's business model, including its revenue streams, customer segments, and value propositions, let's briefly examine Pfizer's history and who owns it to understand how Pfizer has become a leader in the pharmaceutical industry, from its humble beginnings in New York City to its current status as a global corporation.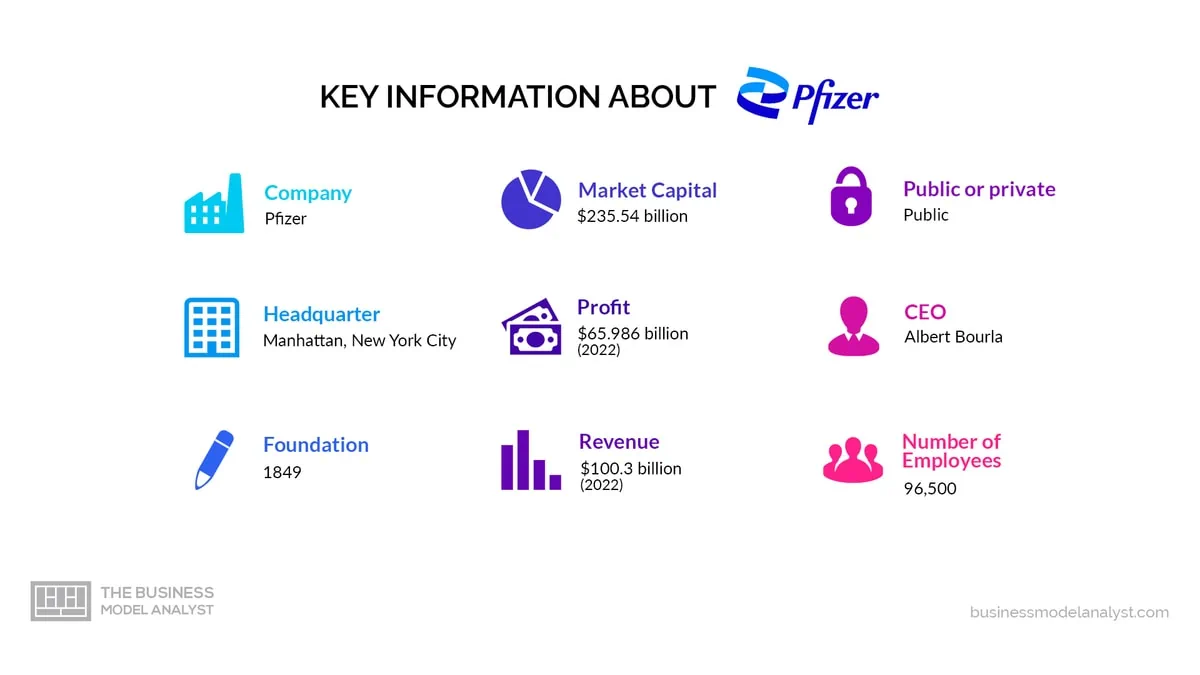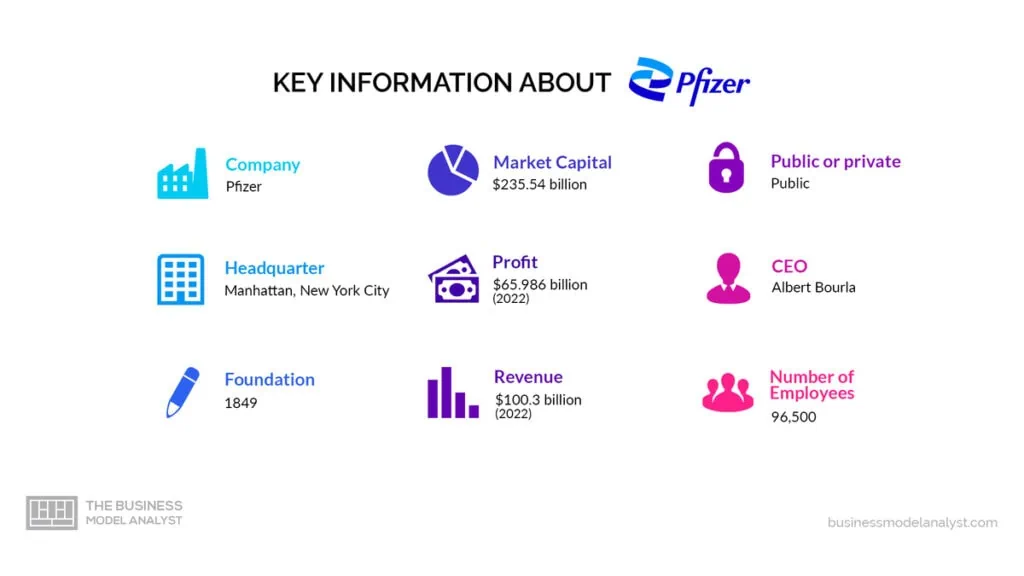 A brief history of Pfizer
Pfizer is one of the world's leading pharmaceutical companies, with a long and storied history dating back over 170 years. The company was founded in 1849 by Charles Pfizer and Charles F. Erhart, two German immigrants who initially produced chemical compounds in a rented building in Brooklyn, New York. Despite financial setbacks and competition from larger, more established companies, Pfizer became a leader in the pharmaceutical industry in the early 1900s
In 1900, William H. Erhart, son of Charles Erhart, joined the company and became its vice president. He then later served as Chairman of the Board from 1929 to 1940, and under his leadership, Pfizer continued to expand its product line and increase its manufacturing capabilities.
During World War II, Pfizer produced penicillin, a life-saving antibiotic that helped save countless lives on the battlefield. After the war, Pfizer focused on developing new antibiotics and other medicines to treat various conditions.
Pfizer, which had then been a company in a redbrick building, has since focused on topping the charts and making a name for itself in the health sector. 
In 1919, a doctor named James Curie, with the help of his assistant, Jasper Kane, found a means of producing citric acid from sugar through mold fermentation. This massive production made Pfizer independent of European citrus growers. In 1924, Pfizer celebrated a milestone of 75 years of pharmaceutical proficiency, with 306 workers employed in the Brooklyn plant at the time.
In 1936, a Pfizer employee, Dr. Richard Pasternack, created a means of producing ascorbic acid (vitamin C) without the usual fermentation process. Pfizer soon became the world's leading manufacturer of vitamin C, and they rapidly expanded and soon engaged in vitamin B2 and B12 production.
In 1950, Pfizer expanded their production to include antibiotics like Terramycin, which treated a wide range of infections. That served as a turning point for the company after it produced penicillin.
From 1951 to 1999, Pfizer continued to grow and diversify in the post-war years. The company introduced many new products, like Vibramycin, Minipress, Feldene, Glucotorol, Unasyn, Procardia, and Viagra, which all quickly became bestsellers.
Back in 2000, Pfizer and Warner-Lambert joined forces to form a powerhouse in the pharmaceutical industry, propelling the newly-formed Pfizer to become the world's fastest-growing major pharmaceutical company. The company pushed the boundaries of innovation and growth, introducing groundbreaking products like Lyrica, Sutent, and Selzentry in the years that followed. 
Pfizer's acquisition of Wyeth in 2009 marked a turning point for the company, as it became a leader in a wide range of products and therapies that have touched the lives of countless patients and consumers worldwide.
In 2013, Pfizer announced an ambitious plan to divide the company into two publicly traded entities, one focused on developing cutting-edge drugs and the other on establishing products. As part of this restructuring, Pfizer spun off its animal health business, Zoetis, into a separate publicly traded company.
The company's growth continued in 2014, with Pfizer acquiring Baxter International Inc.'s portfolio of marketed vaccines, worth $635 million, and a portion of Baxter's facility in Orth, Austria, where these vaccines are manufactured. The acquisition of Hospira in 2015 added a growing revenue stream and a platform for growth for Pfizer's Global Established Pharmaceuticals (GEP) business.
Pfizer's collaboration with IBM Watson for drug discovery in 2016 was also a significant milestone in the company's journey toward advancing research in immuno-oncology. 
In 2017, Pfizer's partnership with Corning Incorporated introduced Corning Valor Glass, a revolutionary pharmaceutical glass packaging solution that modernized pharmaceutical packaging and improved drug safety.
The COVID-19 pandemic in 2020-2021 presented unprecedented challenges to the world, but Pfizer rose to the occasion, leading the way in developing a vaccine and treatment for the virus. The company committed to lighting-speed manufacturing to expand vaccine and treatment access to people around the world, solidifying its position as a global leader in healthcare.
In 2021, as Pfizer prepared to celebrate its 172nd anniversary, the company outshone its competitors, thanks to its pivotal role in fighting the pandemic by producing the COVID-19 vaccine. In 2022, Pfizer acquired several companies, including Arena Pharmaceuticals, a clinical-stage company that's developing potential therapies for treating several immune-mediated inflammatory diseases.
Throughout its long and illustrious history, Pfizer has invested heavily in research and development, and its efforts have borne fruit with the introduction of several new products and therapies into the market. The company has also collaborated with numerous organizations and companies, forging partnerships that have advanced healthcare innovation and improved the lives of countless individuals.
Who Owns Pfizer
Charles Pfizer and Charles Erhart founded Pfizer, which is currently owned and led by the chief executive officer (CEO), Albert Bourla, who took the reins of power in January 2019. Before then, he had been working as the COO in 2018, and he succeeded Ian Read the following year. 
Apart from Albert Bourla, other major company shareholders are Frank A. D'Amelio, Mikael Dolsten, State Street Corporation, Vanguard Group Inc., Black Rock Fund Advisors, and many more, all of whom own a significant percentage of Pfizer. 
Pfizer Mission Statement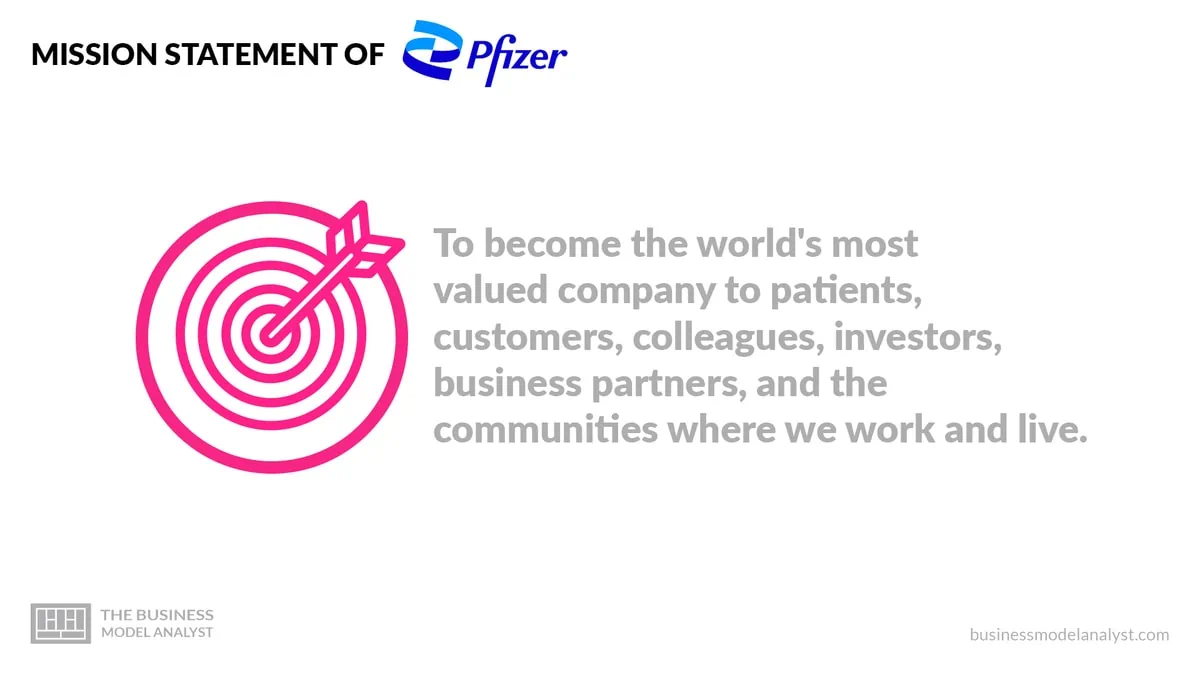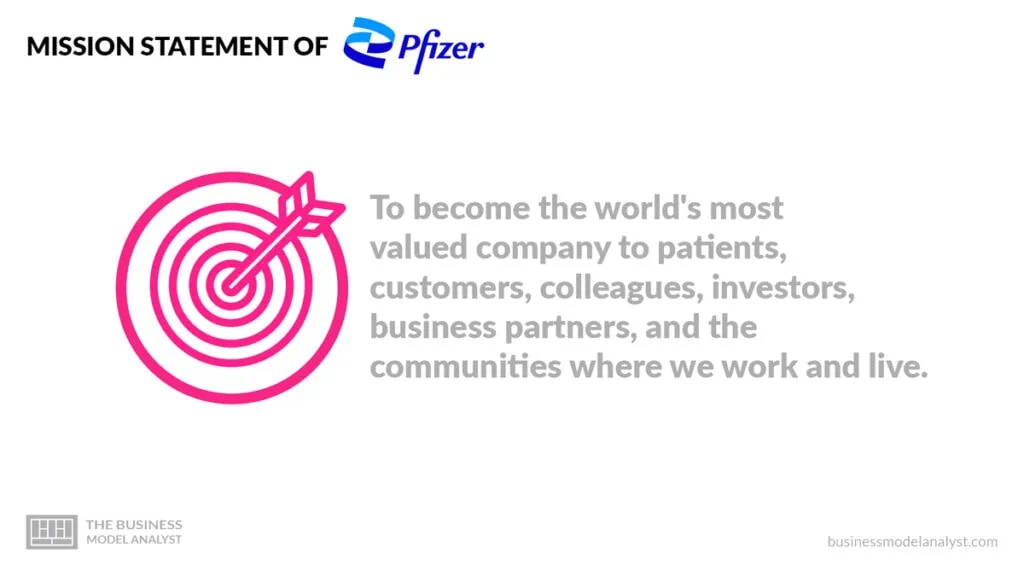 Pfizer's mission statement is "to become the world's most valued company to patients, customers, colleagues, investors, business partners, and the communities where we work and live."
How Pfizer works
Pfizer, a multinational pharmaceutical company, works to discover, develop, manufacture, and market medications and vaccines for various medical conditions. The company conducts extensive research and development activities to create new treatments and therapies to help patients lead healthier, more productive lives.
Pfizer's research and development efforts involve teams of scientists, researchers, and medical professionals who work together to identify new therapeutic targets, explore new drug candidates, and conduct clinical trials to evaluate the safety and efficacy of new treatments.
Once a new treatment or therapy has been developed, Pfizer works to manufacture and distribute it globally, ensuring that patients worldwide have access to the medications they need. The company also works with healthcare providers, patient advocacy groups, and other organizations to raise awareness about medical conditions and the treatments available.
The company is committed to advancing healthcare through research, innovation, and collaboration. It is dedicated to ensuring patients can access the treatments they need to live healthier, more fulfilling lives.
How Pfizer makes money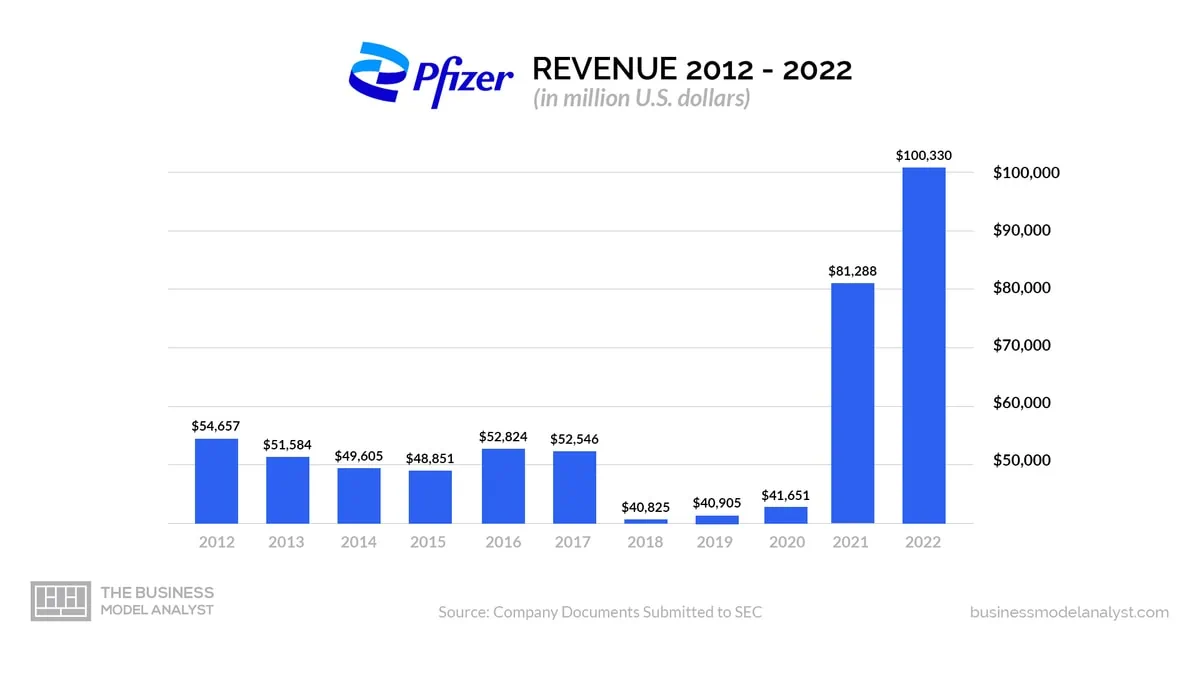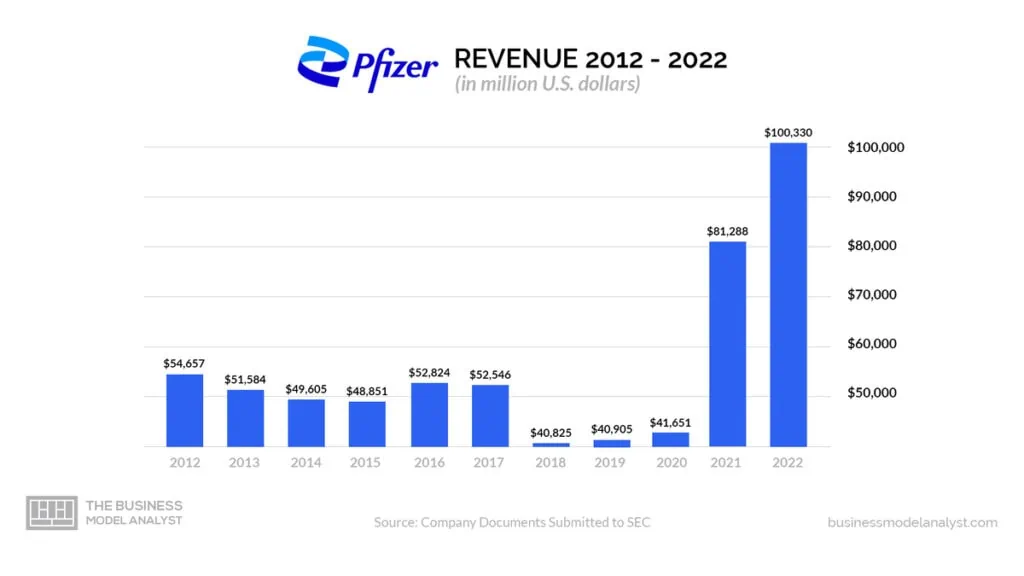 Sales of Pharmaceutical Products
Pfizer's primary revenue source comes from sales of pharmaceutical products, including prescription drugs and vaccines. Pfizer has a broad range of products and therapies that touch the lives of patients and consumers at every stage of life.
Licensing Agreements and Royalties
Pfizer also generates revenue through licensing agreements and royalties. For example, Pfizer may license out its technology or intellectual property to other companies and receive royalties in return. This allows Pfizer to leverage its existing assets and generate income without having to develop and market products on its own.
Collaborations and Partnerships
Pfizer is involved in several collaborations and partnerships with other companies and organizations to advance innovation in healthcare. These collaborations may involve joint research and development efforts, co-marketing of products, or other strategic initiatives that generate revenue for Pfizer.
Government Contracts
Pfizer also generates revenue from government contracts, such as those for vaccine development and distribution. During the COVID-19 pandemic, Pfizer received significant government contracts to develop and distribute its COVID-19 vaccine.
Animal Health Products
In the past, Pfizer had an animal health division that was spun off into a separate publicly traded company called Zoetis. Zoetis produces a broad range of animal health products, including vaccines, medicines, and diagnostics, and generates revenue by selling these products.
Pfizer Business Model Canvas
Pfizer's elaborate business model canvas consists of the following: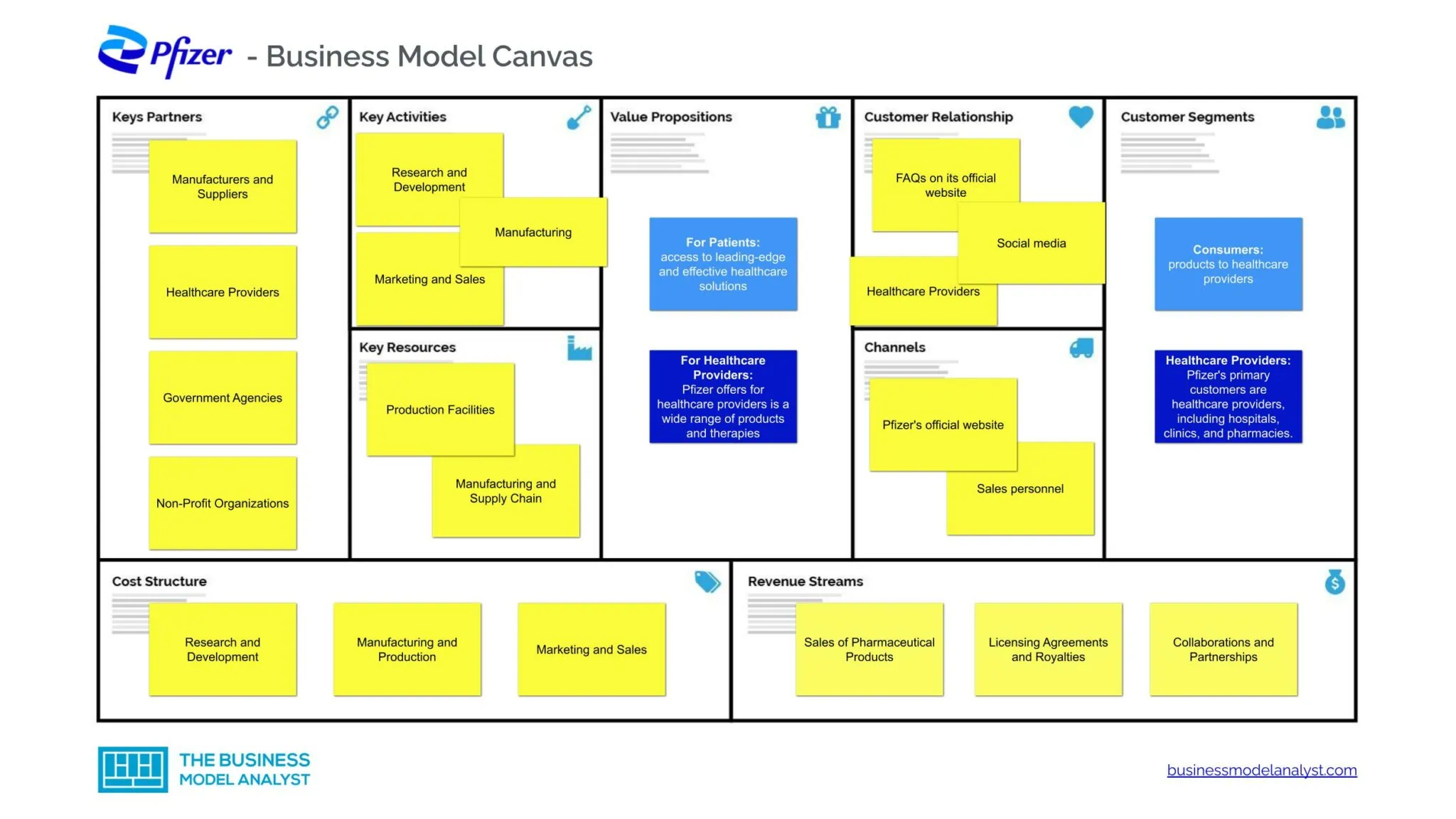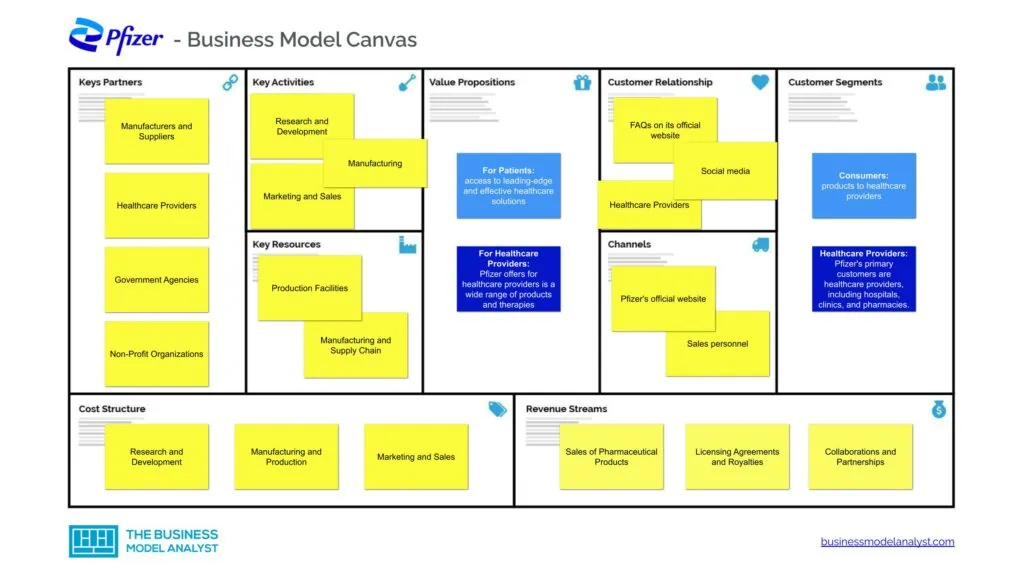 Pfizer Customer Segments
Pfizer customer segments consist of:
Healthcare Providers: Pfizer's primary customers are healthcare providers, including hospitals, clinics, and pharmacies. These providers purchase Pfizer's products and therapies to treat their patients, including adults and children of different genders, facing one health issue or another. Pfizer's wide range of products and therapies cater to different healthcare needs, such as cancer and inflammation vaccines and more;
Governments and NGOs: Pfizer also works with governments and non-governmental organizations (NGOs) to provide healthcare solutions to populations around the world. Pfizer collaborates with these organizations to provide access to affordable and quality healthcare, especially in developing countries. Governments and NGOs also purchase Pfizer's products and therapies for their healthcare systems and programs;
Consumers: Although Pfizer primarily sells its products to healthcare providers, it also markets some of its products directly to consumers. Pfizer's over-the-counter (OTC) products, such as Advil, ChapStick, and Centrum, are available in pharmacies and retail stores. These products cater to consumers' needs for pain relief, skin care, and nutrition.
Pfizer Value Propositions
Pfizer offers a wide range of high-quality products for the following reasons:
For Patients: Pfizer's most significant value proposition for patients is access to leading-edge and effective healthcare solutions. Pfizer invests heavily in research and development to create new drugs and therapies that improve patients' health outcomes and quality of life. Additionally, Pfizer is committed to making its products accessible and affordable to patients, regardless of their financial situation or location;
For Healthcare Providers: Another significant value proposition that Pfizer offers for healthcare providers is a wide range of products and therapies that can help them better treat their patients. Pfizer's products are rigorously tested for safety and efficacy and designed to meet patients' diverse needs. Pfizer also provides training, education, and support for healthcare providers to ensure they have the knowledge and resources they need to use Pfizer's products effectively;
For Governments and Public Health Organizations: Pfizer's value proposition for governments and public health organizations is its commitment to public health. Pfizer is dedicated to working with governments and public health organizations to improve global health outcomes by developing and distributing vaccines and treatments for diseases affecting millions worldwide. The company's outreach goes as far as nations in Africa and North America. Pfizer also partners with these organizations to provide education and resources to help prevent and control the spread of diseases.
Pfizer Channels
Pfizer channels consist of:
Pfizer's official website (www.pfizer.com)
Sales personnel
Distributors and Wholesalers
Allied Pharmacies
Pfizer Customer Relationships
Pfizer customer relationships consist of:
FAQs on its official website 
Social media 
Healthcare Providers
Company's sales teams
Email and telephone support.
Pfizer Revenue Streams
Pfizer revenue streams consist of:
Sales of Pharmaceutical Products
Licensing Agreements and Royalties
Collaborations and Partnerships
Government Contracts
Animal Health Products
Pfizer Key Resources
Pfizer key resources consist of:
Production Facilities
Manufacturing and Supply Chain
Investors
Integrated Technology
Research and Development Facilities
Brand and Reputation
Financial Resource
Sales administrators 
Expert personnel. 
Pfizer Key Activities
Pfizer key activities consist of:
Research and Development 
Manufacturing
Marketing and Sales
Distribution and Logistics
Regulatory Affairs
Partnerships and Collaborations
Pfizer Key Partners
Pfizer key partners consist of:
Manufacturers and Suppliers
Healthcare Providers
Government Agencies
Non-Profit Organizations
Consumer channel partners
Pfizer Cost Structure
Pfizer cost structure consists of:
Research and Development
Manufacturing and Production
Marketing and Sales
Administration and Support
Legal and Regulatory Compliance
Acquisition and Licensing
Pfizer Competitors
Johnson and Johnson: This is a Pharmaceutical industry company that specializes in various consumer wellness products. The company was founded by James Wood Johnson, Robert Wood Johnson I, and Edward Mead Johnson in January 1886. Johnson and Johnson is currently Pfizer's biggest competitor;
Eli Lilly and Co: This pharmaceutical company is headquartered in Indianapolis, Indiana, U.S. They specialize in drugs for diseases such as Diabetes, Obesity, Immunity, and Oncology. In 2022, Verzenio, a drug produced by them for combating breast cancer, pulled up $1.7 billion, and $28.54B was recorded as their 2022 revenue;
Merck and Co: This pharmaceutical company was founded by George Merck and Theodore Weicker in January 1891 in New York, United States. They equally specialize in vaccines, drugs, animal health, and other related sectors. It recorded $42.84 as revenue in 2022 and currently boasts about 69,000 employees led by Robert M. Davis;
Bristol Myers Squibb: A biopharmaceutical company founded in 1858 and has since been involved in producing drugs to combat cancer, psychiatric disorders, rheumatoid arthritis, cardiovascular diseases, and more. It pulled up revenue of $46.16B in 2022 and is currently led by Giovanni Caforio with over 34,000 employees;
Vivus: This pharmaceutical company is headquartered in Campbell, California, U.S., and was founded way back in 1991; it is currently striving to improve the quality of life and to provide a cure for serious medical conditions. They are currently intent on providing drugs for Obesity, exocrine pancreatic insufficiency, sleep, and sexual health. Some of their drugs are Qysmia, Pancreaze, Avanafil, etc.
Pfizer SWOT Analysis
As is common for every business model, Pfizer's adequate analysis of its strengths, weaknesses, opportunities, and threats goes thus: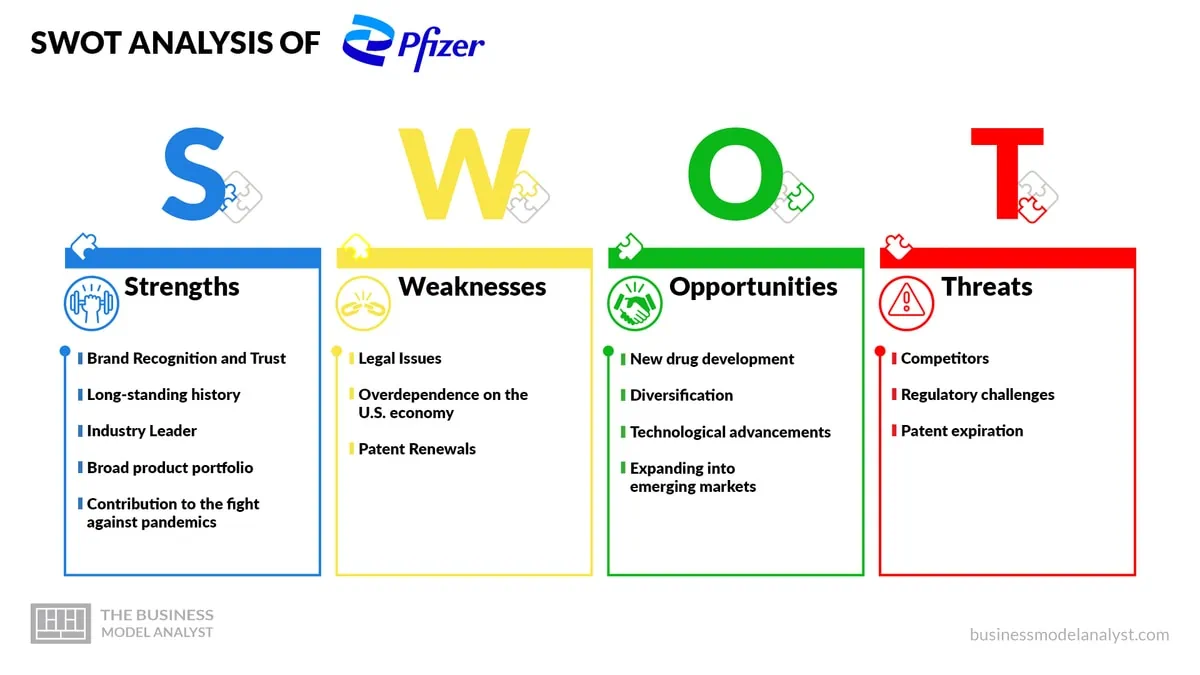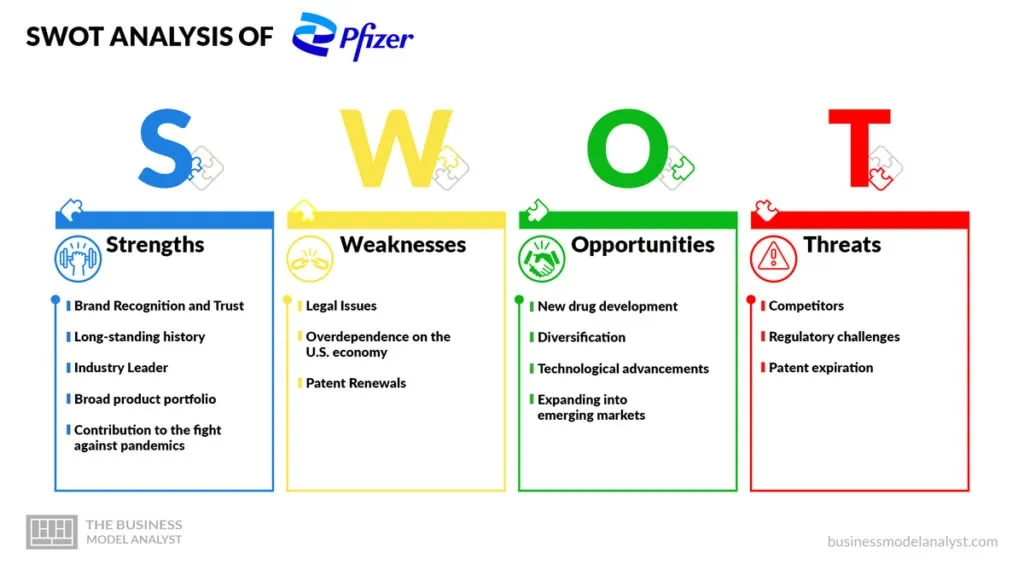 Pfizer Strengths
Brand Recognition and Trust: Pfizer is a well-known name in the pharmaceutical industry, and its customers worldwide trust its products. Its popularity, and brand recognition, makes it easier for Pfizer to market and sell its products, as customers are more likely to choose Pfizer over lesser-known competitors;
Long-standing history: Pfizer has a long-standing history that dates back to 170 years, which has allowed it to establish a reputation as a reliable and trustworthy company. Its experience in the industry has helped it to develop a strong portfolio of products, expertise, and resources, giving it an edge over its competitors;
Industry Leader: Pfizer has consistently been ranked as one of the top companies in the pharmaceutical industry. It is currently one of the 50 publicly traded companies and the second-largest pharmaceutical company. This positioning has given Pfizer significant leverage over its competitors and has allowed it to lead the way in research and development, as well as innovation;
Broad product portfolio: Pfizer offers a broad range of products, from prescription drugs to over-the-counter medications and vaccines, which helps to diversify its revenue streams and reduce risk;
Contribution to the fight against pandemics: Pfizer's contribution to combating the COVID-19 pandemic was significant. Its vaccine development, approval from regulatory bodies such as the FDA, and mass production have helped curb the spread of the virus worldwide. This accomplishment has not only solidified Pfizer's reputation as a leader in the industry but has also opened doors for future collaborations and partnerships.
Pfizer Weaknesses
Legal Issues: Pfizer has been continuously led to court, facing several lawsuits due to allegations of illegal marketing practices. This has indeed incurred losses for them as they continuously face these allegations;
Overdependence on the U.S. economy: Even for a multinational company, Pfizer has not evened out its prospects as they still manage to remain dependent on the U.S. market. A decline in the U.S. market automatically is a decline in Pfizer's gross profit. This overreliance on one market could hinder its growth and expansion in other regions;
Patent Renewals: Pfizer's consistent need to renew patents can be time-consuming and expensive, and it also creates a risk of counterfeit drugs, ultimately impacting its revenue and market share.
Pfizer Opportunities
New drug development: Pfizer can continue investing in research and development to develop new drugs and vaccines to address unmet medical needs;
Diversification: Pfizer can explore diversification into other healthcare sectors, such as medical devices, diagnostic tools, and healthcare services, to reduce its reliance on pharmaceuticals and expand its market reach;
Technological advancements: Pfizer can invest in technological advancements in drug development and manufacturing, such as artificial intelligence and robotics, which could reduce costs and increase efficiency;
Expanding into emerging markets: Pfizer can take advantage of the growth potential in emerging markets such as India, China, and Brazil, where there is a high demand for pharmaceutical products and a growing middle class with increased purchasing power.
Pfizer Threats
Competitors: The pharmaceutical industry is becoming quite competitive as companies wish to outwit the other with one discovery or the other. This makes the competition fierce and intense from established players and new startups;
Regulatory challenges: The pharmaceutical industry is heavily regulated, and changes in regulations or new regulatory requirements can create challenges for Pfizer;
Patent expiration: As mentioned earlier, Pfizer may face increased competition from generic drug manufacturers when patents expire.
Conclusion
Pfizer's unwavering commitment to improving human health has earned them a spot among the world's most reputable pharmaceutical companies. Their groundbreaking research has resulted in the development of life-saving drugs, and their dedication to innovation has set them apart in the industry.
As the world grapples with the COVID-19 pandemic, Pfizer's efforts to combat the virus have been nothing short of remarkable. Their discovery of a highly effective vaccine has offered hope to billions of people worldwide. Their ability to quickly and efficiently produce the vaccine on a mass scale has been a testament to their expertise.
Looking to the future, Pfizer's goal to treat over 225 million people suffering from severe diseases by 2025 is a bold and inspiring one. With their innovative approach to research and development, they are well-positioned to make significant strides in the global health industry.
Pfizer's unwavering commitment to improving people's lives worldwide has earned them a reputation as a company that genuinely cares about the well-being of humanity. As they continue to push the boundaries of what is possible, there is no doubt that they will remain a force to be reckoned with in the years to come.