Despite the polarized views the company attracts, the OnlyFans business model is undoubtedly a successful one. The company has introduced a new dimension to the concept of online content subscription services. In this article, we'll take an in-depth look at the OnlyFans business model, how the brand operates, as well as its strengths, weaknesses, competitors, and untapped potential.
A brief history of OnlyFans
The platform known as OnlyFans was launched in 2016 by English entrepreneur Tim Stokely as a monthly subscription service that allowed content creators to provide exclusive videos and photos to their followers. After a significant investment in 2018 by the owner of MyFreeCams, Ukrainian-American businessman Leonid Radvinsky, the platform began to focus increasingly on sexual content and its primary content creators became amateur and professional sex workers.
The platform has seen significant growth in recent years due to an increasing number of celebrity content creators such as Cardi B, Bella Thorne, Floyd Mayweather, DJ Khaled, and so on. The service also saw significant growth during the COVID-19 pandemic, with the user base jumping from 7.5 million users to over 85 million users in barely a year. OnlyFans achieved a company valuation of $1 billion in 2021 and currently has over 170 million registered users, with more than 1.5 million content creators, cementing its standing as one of the most rapidly growing social media platforms in the world.
Who Owns OnlyFans
Officially OnlyFans is owned by Fenix International Limited, however, the majority shareholder of the company is the Ukrainian-American businessman Leonid Radvinsky, who purchased 75% of the company from the founder Tim Stokely in 2018.
OnlyFans' Mission Statement
OnlyFans is the social platform revolutionizing creator and fan connections. The site is inclusive of artists and content creators from all genres and allows them to monetize their content while developing authentic relationships with their fan base.
How OnlyFans' Makes Money
Let's take a look at how OnlyFans makes its money.
Commission Fee
Despite its general perception as a social media service that offers users access to exclusive content for a fee, OnlyFans does not bill its subscribers directly, but rather the content creators. The platform charges content creators a 20% commission fee on every transaction which occurs on the platform, in exchange for providing them with a paywall service for their content.
There are three primary ways that content creators can make money on the platform:
Through a monthly subscription which ranges between $4.99 to $49.99;
Pay-per-view (PPV) content;
Tips that are paid out by registered users to content creators.
As we mentioned earlier, the platform receives 20% of these earnings and pays out 80% to its content creators.
Official E-commerce Store
The platform also offers a range of official merchandise through its e-commerce platform. This includes clothing, accessories, and so on.
OnlyFans' Business Model Canvas
The OnlyFans Business Model can be explained in the following business model canvas: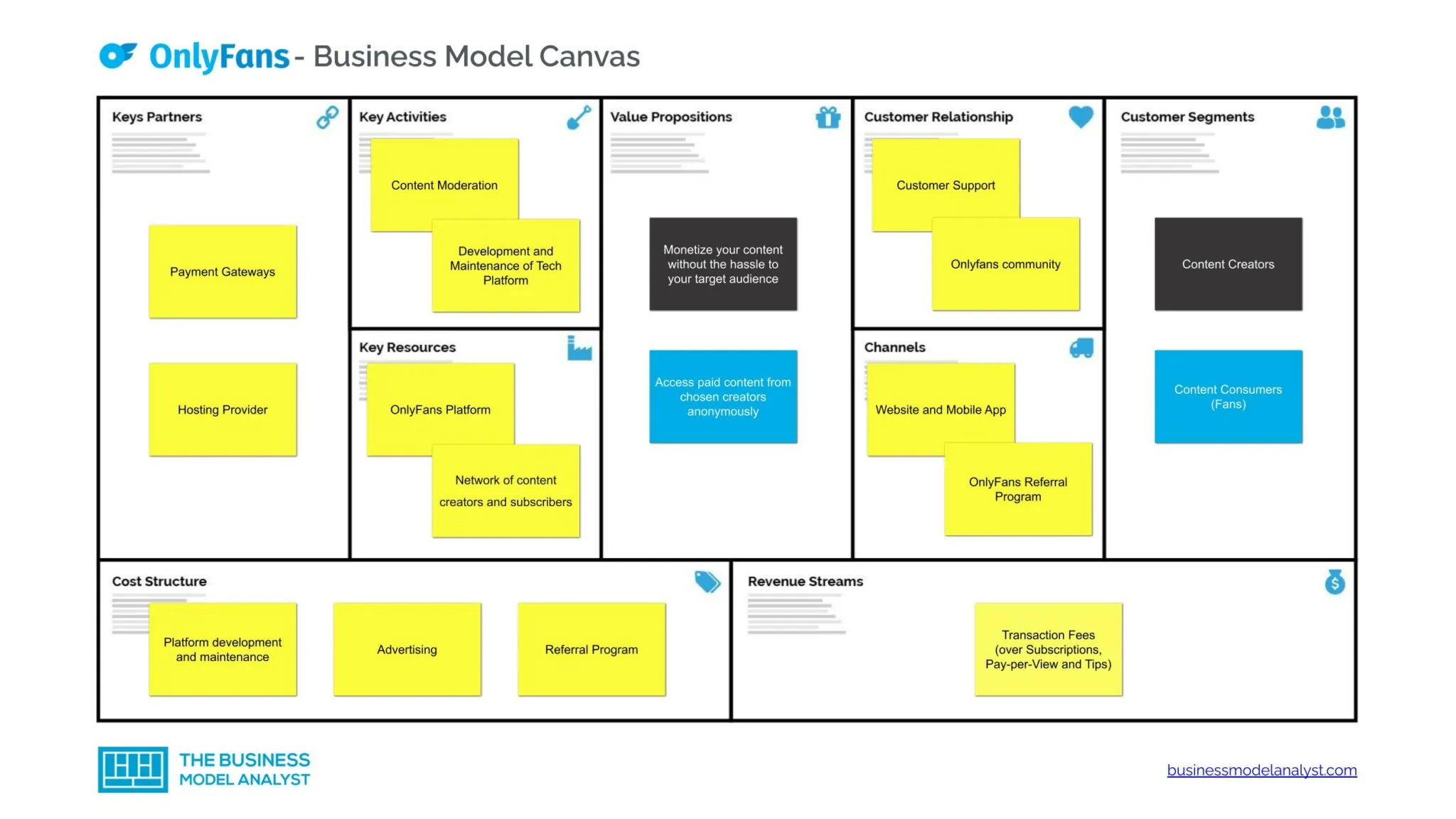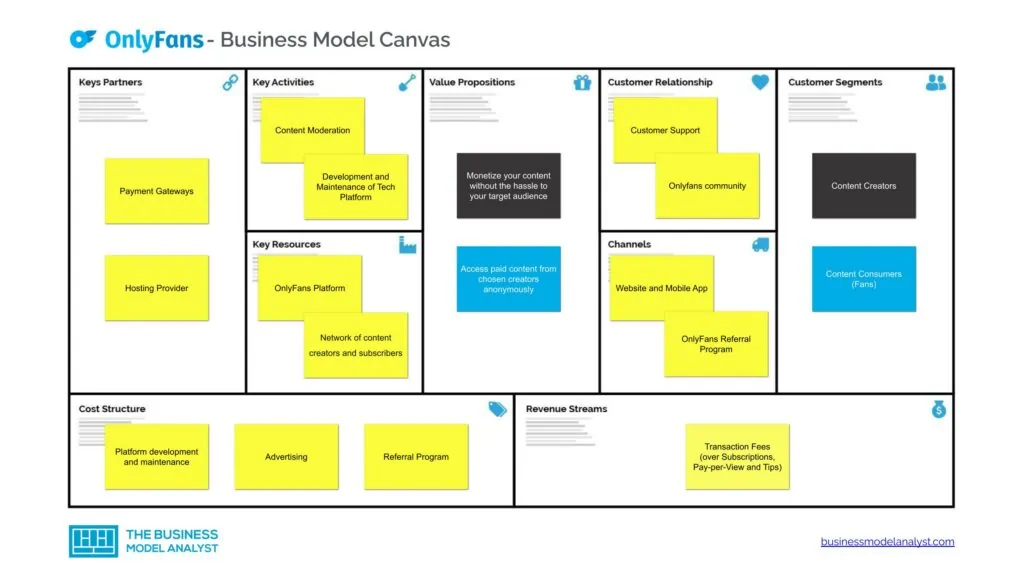 OnlyFans' Customer Segments
OnlyFans customer segments consist of:
Influencers: Various content creators can release monetized content on the platform due to its paywall. This includes influencers like sex workers, artists, chefs, motivational speakers, musicians, actors, and so on;
Fans: OnlyFans provides fans the opportunity to access exclusive content from their favorite influencers as well as creates an opportunity for influencers and their fan base to interact freely, but also in complete privacy.
OnlyFans' Value Propositions
OnlyFans value propositions consist of:
Content Monetization: The platform offers content creators the opportunity to monetize their content through the use of a paywall service, as well as build a strong fan base;
Exclusive Copyright: It offers these influencers exclusive copyright over their material as well, since sharing pictures or videos obtained on the platform is restricted;
Relaxed Content Restrictions: OnlyFans gives content creators the freedom to post material that may be considered controversial by most social media platforms;
Genuine Interactions Between Fans and Influencers: The platform offers an avenue for influencers and their fans to interact, especially through two-way private communication.
OnlyFans' Channels
OnlyFan channels consist of:
Website
Mobile application
Social media
Official e-commerce store
Brand merchandise
Advertising
Influencers
OnlyFans' Customer Relationships
OnlyFans customer relationships consist of:
Social media marketing
Content marketing
Dedicated personal assistance
Customer feedback solicitation
OnlyFans' Revenue Streams
OnlyFans revenue streams consist of:
Commission fees
Merchandise sales
OnlyFans' Key Resources
OnlyFans key resources consist of:
Content creators
Loyal fan base
Relaxed content restrictions
Revolutionary content monetization model
OnlyFans' Key Activities
OnlyFans key activities consist of:
Advertising
Customer support
Platform support
Shipping and delivery
OnlyFans' Key Partners
OnlyFans key partners consist of:
OnlyFans' cost structure
OnlyFans cost structure consists of:
Influencer payments
Administrative and operational costs
Platform maintenance
Transaction fees
Maintenance of physical infrastructure
Branding and marketing
Producing merchandise
Shipping merchandise
Research and development
OnlyFans' Competitors
FanCentro: This is a subscription-based service that allows adult material content creators to monetize their private social media accounts by charging fans a fee for access;
LoyalFans: A platform that offers content creators the opportunity to monetize their content through subscription prices ranging from $1 to $50;
MYM Fans: Meet Your Model (MYM) offers content creators the license to set their subscription prices, as well as post both public and private content.
Other notable competitors include:
Fansly
Fanvue
iFans
Okfans
OnlyFans' SWOT Analysis
Below, there is a detailed swot analysis of OnlyFans: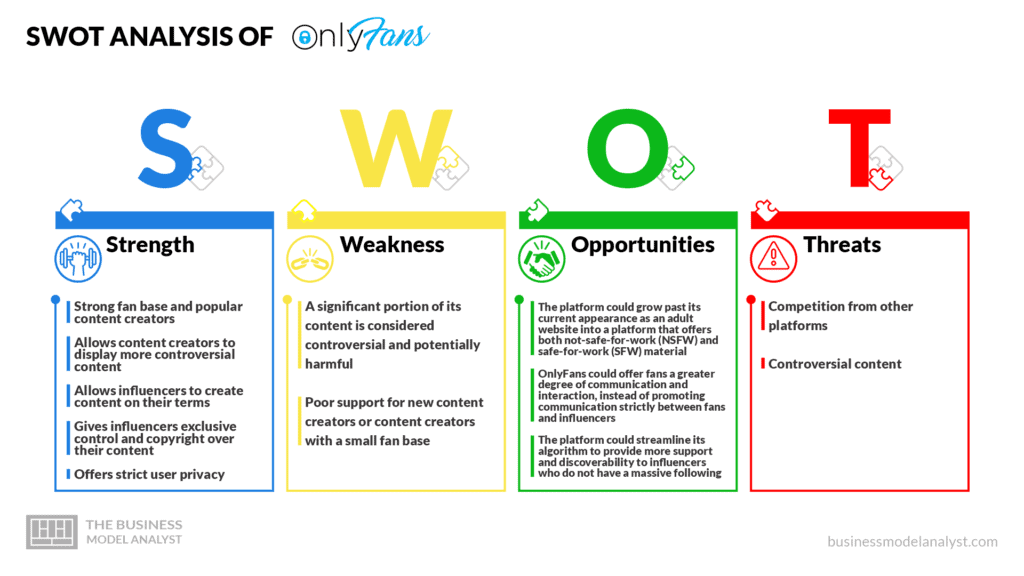 OnlyFans' Strengths
Strong fan base and popular content creators;
Allows content creators to display more controversial content;
Allows influencers to create content on their terms;
Gives influencers exclusive control and copyright over their content;
Offers strict user privacy.
OnlyFans' Weaknesses
A significant portion of its content is considered controversial and potentially harmful;
Poor support for new content creators or content creators with a small fan base.
OnlyFans' Opportunities
The platform could grow past its current appearance as an adult website into a platform that offers both not-safe-for-work (NSFW) and safe-for-work (SFW) material;
OnlyFans could offer fans a greater degree of communication and interaction, instead of promoting communication strictly between fans and influencers;
The platform could streamline its algorithm to provide more support and discoverability to influencers who do not have a massive following.
OnlyFans' Threats
Competition from other platforms;
Controversial content.
Conclusion
Despite its controversies, OnlyFans is certainly on its way to becoming one of the largest social media and content creation platforms in the world through its revolutionary model and dedication to supporting the control of content creators over their content. Having paid its influencers over $2 billion, it's hard to argue that OnlyFans has not been one of the most influential entertainment companies in the last decade.