The Nike Business Model is based on producing and selling athletic and sports products, including footwear, clothing, equipment — and also some services. Everything is under one of the most famous brands in the world. Let's take a closer look at how and why Nike company has become so relevant in the business world.
A brief history of Nike
Nike was first founded as "Blue Ribbon Sports" in January 1964 by Phil Knight, a student at the University of Oregon and track athlete, along with his coach Bill Bowerman. The company was officially rebranded as Nike in May 1971, which is the Goddess of Victory in Greek mythology.
Headquartered in Beaverton, Oregon, Nike is one of the most well-succeeded sports brands globally, manufacturing shoes and sportswear, but the story behind its foundation is that, before that, Adidas and Puma — both of them German brands — completely dominated the sneakers market, in every single sport.
So, Knight decided to introduce cheap, but high-quality running shoes, and he achieved it through a partnership with Onitsuka Tiger (now known as Asics), a Japanese running shoes company, as its U.S. distributor.
In the '70s, the partnership between Blue Ribbon Sports and Onitsuka collapsed, so Knight decided it was time for its own line of footwear. The company was relabeled as  Nike, and the worldwide-famous swoosh design was first used in 1971.
After that, Nike thoroughly conquered the sneakers market of sports footwear. Some of its main achievements include Michael Jordan's signature footwear, the Air Jordan (1984), as well as renowned marketing campaign slogans, such as "There is no finish line" (1977) and "Just do it" (1988). Nowadays, it dominates the global sports market, with an impressive 38% of the market share.
Who Owns Nike
Nike is owned by one of its co-founders, Phil Knight, the Chairman Emeritus. The company also has Mark Parker as the Executive Chairman and John Donahoe as the President and CEO.
Nike's Mission Statement
"Our mission is what drives us to do everything possible to expand human potential. We do that by creating groundbreaking sports innovations, by making our products more sustainably, by building a creative and diverse global team, and by making a positive impact in communities where we live and work".
How Nike makes money
Nike is the largest footwear and apparel seller in the world, and its revenue is generated mainly from these sales. Although its footwear items are designed especially for athletic purposes, with massive investment in innovation and high-quality products, most of them are usually worn on a daily basis, for leisure times.
Nike also sells sports equipment and accessories, such as balls, eyewear, bags, gloves, digital devices, and more, as well as recreational articles for many physical and outdoor activities. The company targets men, women, young athletes, and kids — in order of revenue. And Nike's product subdivides into six categories: Running, Basketball, Jordan Brand, Soccer, Training, and Sportswear (lifestyle products), being Running, Jordan, and Sportswear are the strongest ones in revenue.
Nike's Outsourcing
Nike doesn't actually produce the items it sells. Its manufacturing is all outsourced, mostly outside the United States. They are more than 300 external independent suppliers, in over 35 countries, such as Vietnam, China, Indonesia, and Thailand.
Manufacturers in India, Argentina, Italy, Mexico, and Brazil are also contracted to produce for local markets. In spite of its large supply chain and manufacturing network, Nike still focuses on maintaining the quality and innovative character of its products, investing heavily in research and development.
Nike's Business Model challenges
Competition: Sports articles and apparel market is marked by massive competition, not only in the USA but all over the globe, both in marketing and supply chain — because the amount of suppliers for high-quality raw materials is limited. This competition leads to a great investment in research and development and in marketing and sales, in order to stand out;
Trends: Nike's success relies on anticipating customers' demands. But these changing preferences are not always easy to predict. So, there is no certainty that every new product will gain the expected acceptance in the market. Therefore, it requires a great expenditure in adjusting the mix to keep profitable. Moreover, Nike relies on experts in several areas in order to produce innovative articles, such as engineers, physiologists, designers, biochemists, chemists, orthopedists, coaches, etc.;
Global risks: Some global conditions and changes can have either positive or negative impacts on sales, such as economic crises or recessions (especially in emerging nations), environmental policies, trade regulations, data security and privacy, and more.
Nike's Business Model Canvas
Let's take a look at the Nike Business Model Canvas.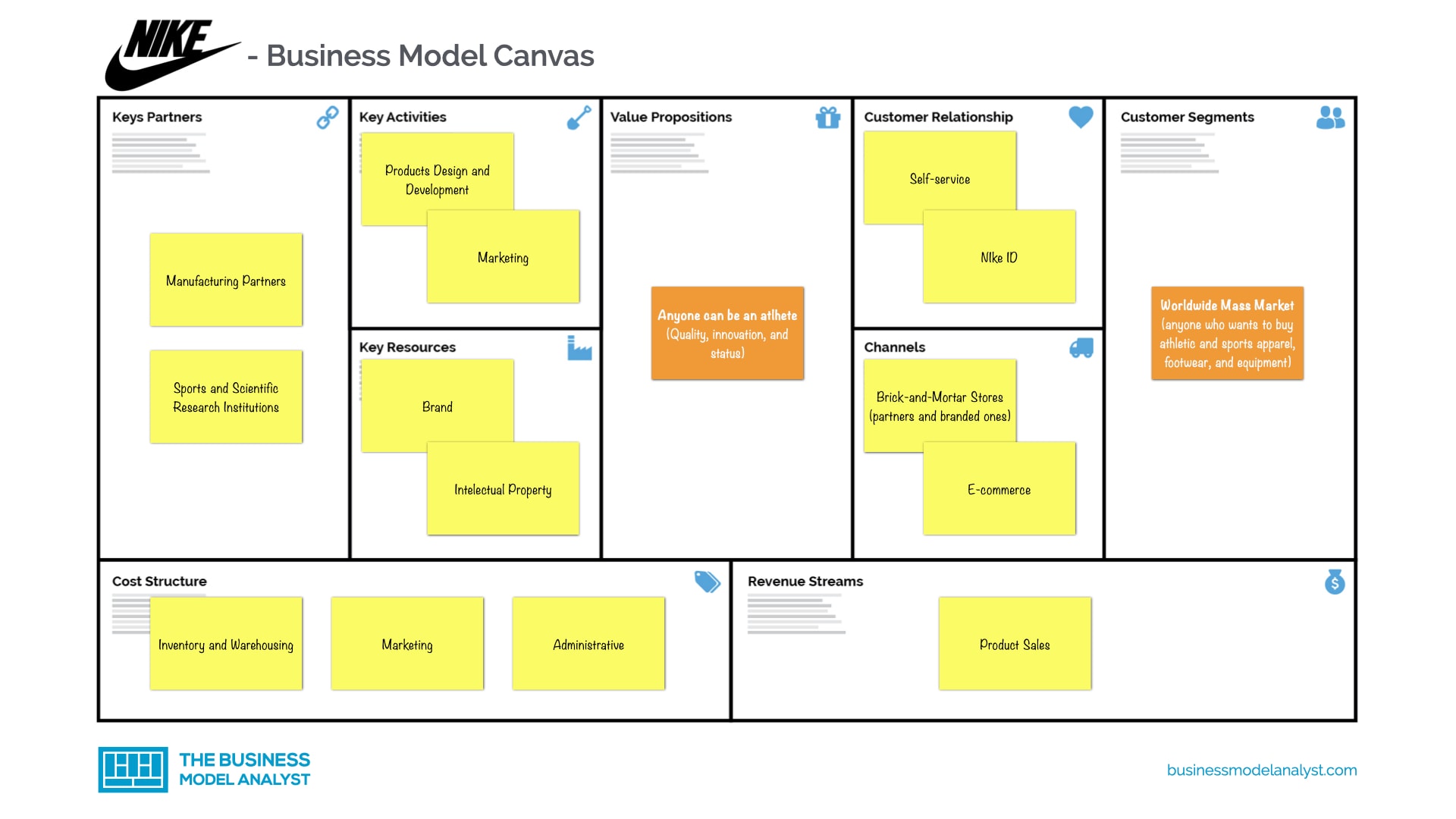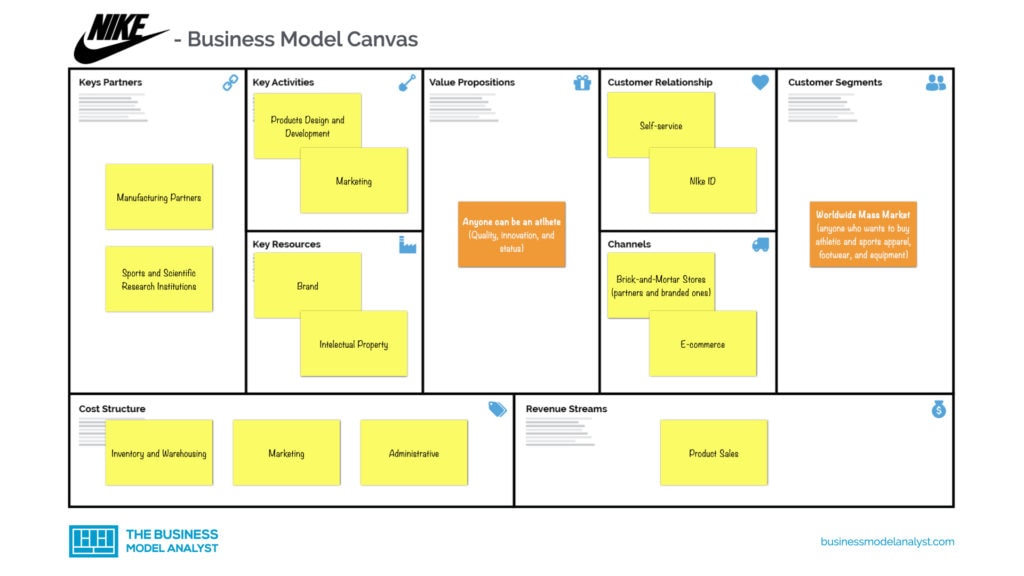 Nike markets to anyone who wants to buy athletic and sports apparel, footwear, and equipment. Geographically speaking, Nike's market is divided into four main divisions, also in order of revenue:
North America
EMEA (Europe, Middle East, and Africa)
Greater China
APLA (the Asia Pacific and Latin America)
Nike offers products to inspire anyone to become an athlete. Their products heavily rely on the quality, innovation, and status of the brand. This is the foundation of the brand, and it is exactly what the customers seek when they buy a Nike. The company offers a great variety of items, for many different sports and activities.
But, indeed, what matters for the audience is acquiring a product that has been heavily studied and developed from the best raw materials and technology available. Also, they want to carry the successful reputation the brand states, since athletes such as Michael Jordan, Tiger Woods, and Cristiano Ronaldo speak for the company.
Nike's Channels
Nike uses many different channels for marketing. Its main channel is the brick-and-mortar stores, especially the Nike-branded ones. The company has an extensive sales network, with 1,152 physical stores throughout the world (numbers of 2019).  Nike also has an e-commerce platform, which serves more than 45 countries.
Besides that, Nike employs other channels, such as social media, digital, print, and TV advertising, brand events, and heavy sponsorship of athletes and teams. Therefore, its marketing expenses usually reach over $3.5 billion a year ($3,753 million in 2019).
Nike's Customer Relationships
The relationship with the customers is practically restricted to self-service. The customer will check the product in a store (online or offline), and buy and use it. There will be some interaction with a salesperson when needed. Moreover, there is a FAQ session on the website and customer support via phone, e-mail, or live chat. Nike also has Nike ID, which is a personalization service that brings Nike products closer to customers' desires.
Nike's Revenue Streams
The revenue streams of the company are the sales of its products: footwear, apparel, equipment, and accessories. The total revenue reached $39,117 million, in 2019.
Nike's Key Resources
Nike's key resources consist of:
Physical structures: Five distribution centers in Memphis and others in California;
Human resources: Nike Explore Tea Sports Research Lab, with more than 40 researchers that work on innovations;
Intellectual property: Third-largest design patent portfolio in the United States.
Nike's Key Activities
The main key activity of the company is designing and developing the products. In order to achieve that, other activities are involved, such as research (about materials, technologies, and trends/behavior) and negotiation with the suppliers. Additionally, marketing, sales, and advertising are essential for this business model.
Nike's Key Partners
As Nike relies on outsourced contractors to manufacture its articles, these manufacturers are surely its most important key partners. They are more than 145 footwear factories and over 400 apparel factories, mostly outside the United States. Besides that, other partners include some universities and institutions in North America, Europe, and Asia for sports and scientific research.
Nike's Cost Structure
The largest expenses for Nike are the costs of sales (mostly inventory and warehousing), that account for more than $21 billion per year. Additionally, around $3 billion is for marketing, including advertising and promotion costs, sponsorship, media, brand events, and retail brand presentation. Other general and administrative expenses cost over $500 million a year.
Nike's SWOT Analysis
Below, there is a detailed swot analysis of Nike:
Production costs: Since Nike's business model outsources almost all its production, the company has reduced its operational costs, significantly, and focused its efforts and capital on marketing and sales. However, that doesn't mean Nike has lost control over production quality. It only relies on suppliers that can support the brand's standards;
Minor sales variations: The demand for Nike's products doesn't fluctuate a lot during the year. The sales of fashion products and apparel usually remain equivalent all throughout the months. Due to some major campaigns, the company sometimes experiences a sudden rise. But, in these cases, there have been many studies, and it is ready to meet the demand;
Quality: As Nike produces higher quality products, compared to most of its competitors, the company is also able to raise prices. This works out precisely because the quality has made the brand achieve a strong and reliable reputation, resulting in market-leading;
Speed: For sales to succeed, the companies must transform ideas into products on the shelves as fast as possible. Nike, through its processes, has accomplished this efficiency, keeping its audience engaged and avoiding losses.
-> Read more about Nike's SWOT Analysis.
Conclusion
Nike's business model success rests on the sum of innovation and marketing. The company faces some strong players in the market — such as Adidas or Under Armour. That's why the brand maintains its focus on research and development. Its future plans, for instance, are to increase the use of sustainable material, a strategy to grow popularity and engage the audience.