Nextdoor Holdings, Inc is an American public company founded in 2008 with its headquarters in San Francisco, California, and its current CEO is Sarah Frair. Nextdoor operates a hyper-local social networking service for neighborhoods and allows neighbors to keep up to date with local news — including crime in the neighborhood — and hire sitters for their dogs or babies. The Nextdoor business model allows them to make money from sponsored posts, as well as run local deals and ads on their app.
Unlike other social media platforms like Facebook and Instagram, which allow people to connect with users around the globe, Nextdoor aims to connect exclusively people who live near one another. It has an app designed for this purpose. Once users are registered with Nextdoor, they have access to a lot of benefits, such as:

Staying up to date with local news;
Selling & buying items, such as household items, appliances, etc.;
Hiring service providers, like babysitters, dog sitters, and cleaning assistants;
Receiving recommendations for functions, picnics, dates, etc.;
Networking with one another.
A brief history of Nextdoor
Nextdoor Inc. was founded by four people: Nirav Tolia, Prakash Janakiranam, David Wiesen, and Sarah Leary in 2008. However, the company's history started in 1999, when Tolia and some people co-founded a website for reviewing consumer products, Epinions.
Epinions soon merged with a company known as Dealtime, which dealt with price comparisons. In 2004, both companies went public. Due to the merger, the value of the companies rose and skyrocketed to $750 million.
However, due to being untruthful about his schooling and previous work experience, Tolia, one of the founders, was fired. To save him from losing face, he was hired to work at Benchmark as an entrepreneur in residence, leading to the start of Nextdoor three years later. But the issues had not ended. Raj Abhyanker, one of Tolia's business partners, sued Tolia and Benchmark for copyright infringement. Before Nextdoor was created, Abhyanker had researched and started a social network in the Lorelei neighborhood in Menlo Park. He told Benchmark, who told Tolia, and Tolia began a similar company not quite long.
Nextdoor was tested for a year before it was officially launched, with 175 neighborhoods in 26 states already registered on the website in 2011.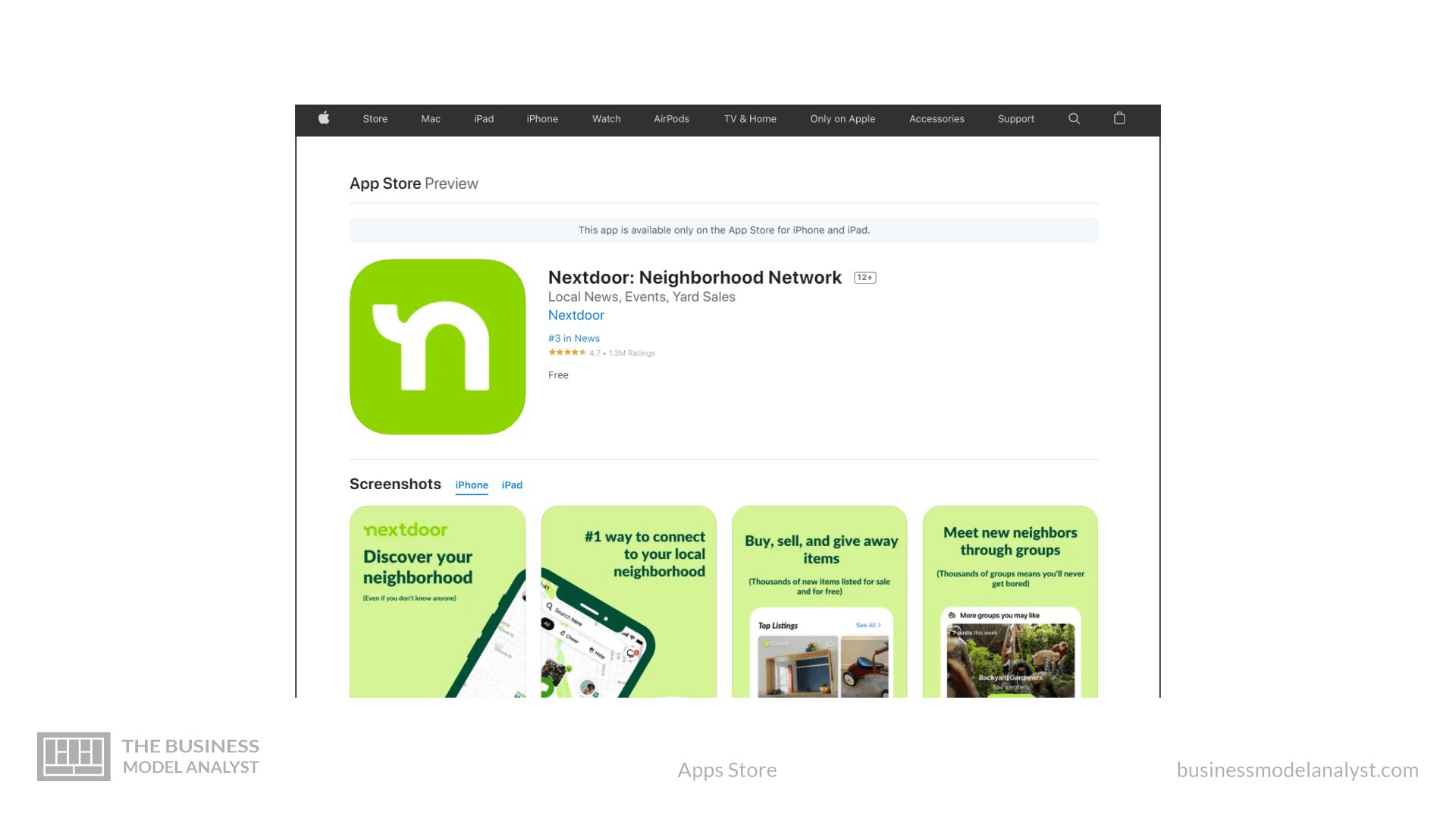 Who Owns Nextdoor
Nextdoor was jointly founded by Nirav Tolia, Sarah Leary, Prakash Janakiraman, and David Wiesen. However, its concept was derived from Raj Abhyanker, who invented FatDoor, in 2006. Nextdoor revealed its ownership structure when it went public in November 2021.
Benchmark, represented by Bill Gurley, has the largest boring power with a common stock of 16.88%. This is followed by Shasta Ventures with a total of 8.77%, Greylock with 6.80%, and Tiger Global Management with 5.37%.
The rest is divided among the co-founders Sarah Leary, Prakash Janakiraman, and David Wiesen, and each owns less than 1%. Only the current CEO, Mrs. Sarah Friar, was granted a stake of 4.40%.
Nextdoor's Mission Statement
Nextdoor is founded on the idea that the neighborhood is one of the most important communities in an individual's life. It aims to be a platform where neighbors everywhere can make trustworthy connections and exchange helpful information, goods, and services.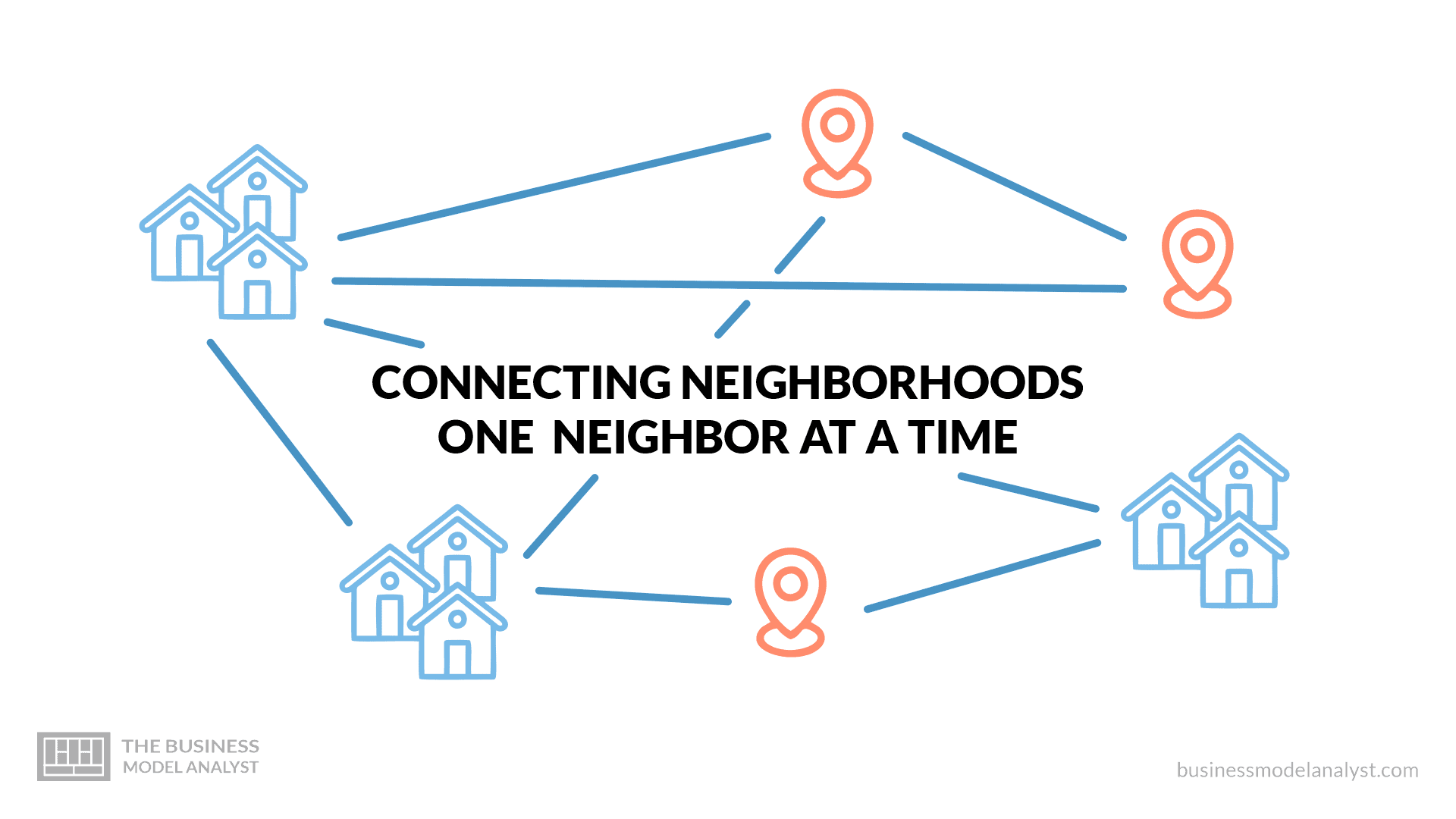 How Nextdoor makes money
As a venture-funded company, Nextdoor Holdings Inc. was not mandated to generate revenue for its operations, so it only started making money four years ago. By 2016, Nextdoor started testing various income sources. Currently, its business model has three different income streams.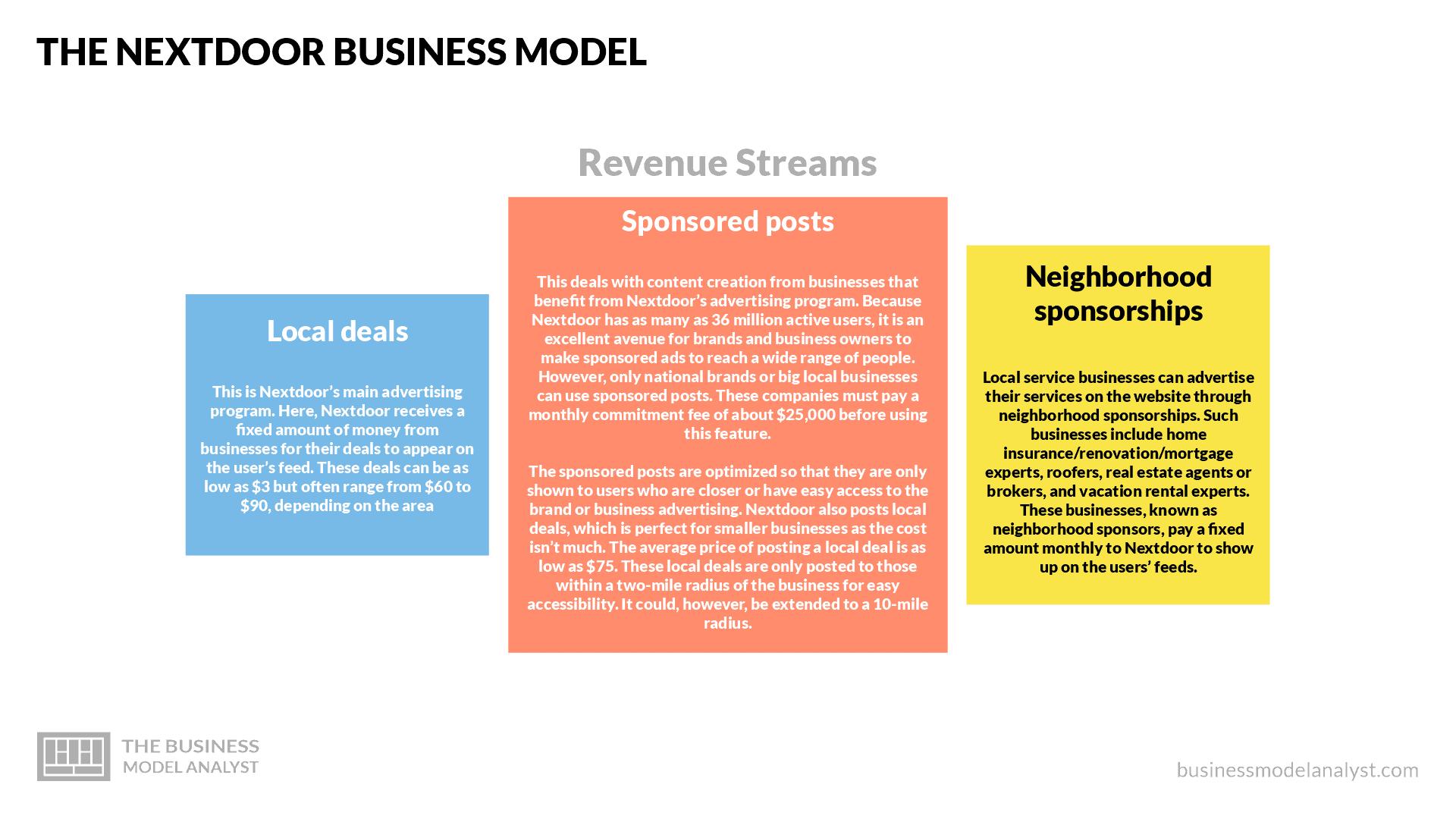 Local deals
This is Nextdoor's main advertising program. Here, Nextdoor receives a fixed amount of money from businesses for their deals to appear on the user's feed. These deals can be as low as $3 but often range from $60 to $90, depending on the area;
Sponsored posts
This deals with content creation from businesses that benefit from Nextdoor's advertising program. Because Nextdoor has as many as 36 million active users, it is an excellent avenue for brands and business owners to make sponsored ads to reach a wide range of people. However, only national brands or big local businesses can use sponsored posts. These companies must pay a monthly commitment fee of about $25,000 before using this feature.
The sponsored posts are optimized so that they are only shown to users who are closer or have easy access to the brand or business advertising. Nextdoor also posts local deals, which is perfect for smaller businesses as the cost isn't much. The average price of posting a local deal is as low as $75. These local deals are only posted to those within a two-mile radius of the business for easy accessibility. It could, however, be extended to a 10-mile radius.
Neighborhood sponsorships
Local service businesses can advertise their services on the website through neighborhood sponsorships. Such businesses include home insurance/renovation/mortgage experts, roofers, real estate agents or brokers, and vacation rental experts. These businesses, known as neighborhood sponsors, pay a fixed amount monthly to Nextdoor to show up on the users' feeds.
Nextdoor Business Model Canvas
The Nextdoor Business Model can be explained in the following business model canvas: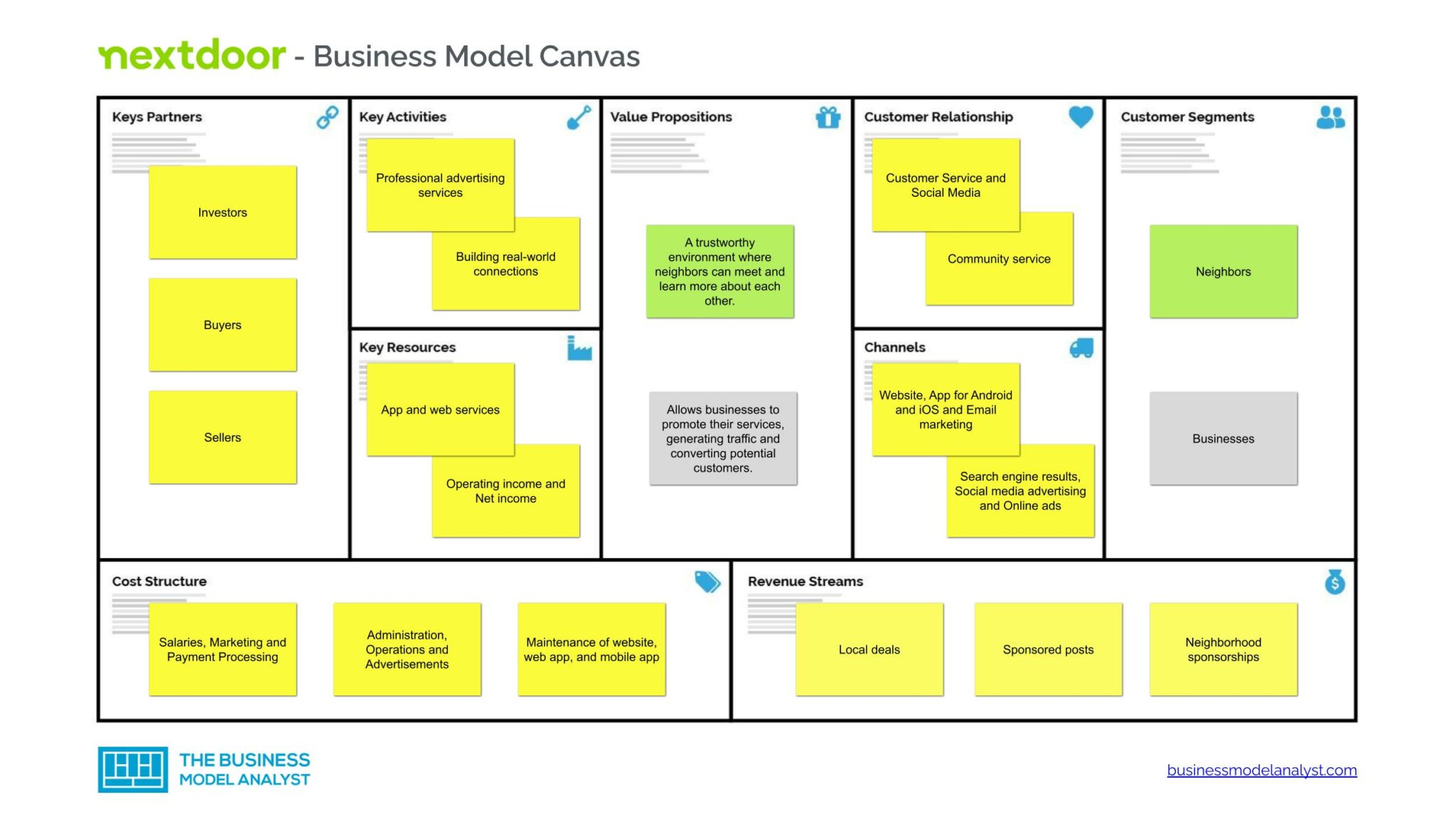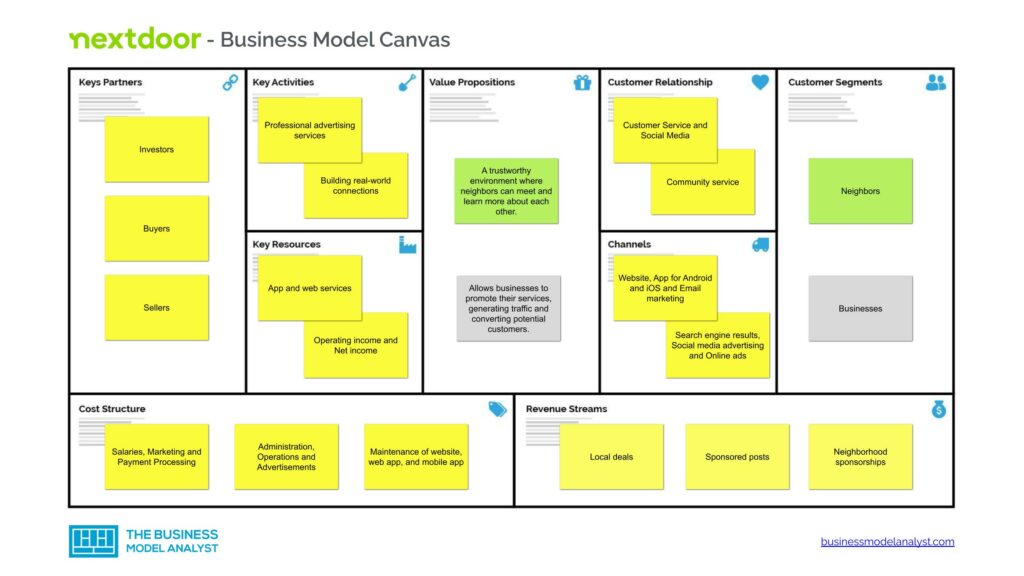 Nextdoor Customer Segments
Nextdoor's customer segments consist of:
Neighbors: Nextdoor Holdings Inc.'s Customer base is neighbors who report events and news and ask one another for recommendations for local service providers. According to the site's rules, members whose home addresses are beyond the boundaries of existing neighborhoods can start their neighborhoods. However, they must have at least ten households to create a neighborhood.
Local businesses: Also, Nextdoor collects a fixed amount of money from local businesses who run ads on their platform.
National brands : Nextdoor runs sponsored posts and content creation for national brands for a fee.
Nextdoor Value Propositions
Nextdoor's value propositions include:
For neighbours: According to Nirav Tolia, the sole value proposition behind Nextdoor is that familiar feeling of knowing that your actual neighbors do all the content being created. And that feeling sinks deeper than others. It's where your neighbors feel important, where you can get your neighbors' recommendations on where it's best to be. Neighbor is creating a trustworthy environment where neighbors can meet and learn more about each other.
For businesses: Nextdoor also allows businesses to promote their services, thereby generating traffic and converting potential customers. On Nextdoor, advertisers can target specific audiences with their ads. These companies can also use demographics, location, preferences, interests, etc., to show ads to a particular audience. As such, only potential customers see these ads, making the advertisers' money worth the value.
Nextdoor Channels
Nextdoor's channels consists of:
Website
App for Android and iOS
Email marketing
Search engine results
Social media advertising
Online ads
Nextdoor Customer Relationships
Nextdoor's customer relationships consist of:
Customer Service
Social Media
Community service
Nextdoor Revenue Streams
Nextdoor's revenue streams include:
Local deals
Sponsored posts
Neighborhood sponsorships
Nextdoor Key Resources
Nextdoor's key resources consist of:
App and web services
Assets
Operating income
Net income
Nextdoor Key Activities
Nextdoor's key activities are:
Professional advertising services
Building real-world connections
Keeping local customers informed about local businesses
Giving help and getting help
Building awareness to bring about sales
Product Marketing
Customer service
Organizing events
Making recommendations
Nextdoor Key Partners
Nextdoor's key partners consist of:
Nextdoor Cost Structure
Nextdoor's cost structure consist of:
Salaries
Marketing
Payment Processing
Administration and Operations
Advertisements
Maintenance of website, web app, and mobile app
Nextdoor Competitors
OneRoof: As the name goes, OneRoof connects people within a building to become a community and be more resourceful;
Citizen: Citizen provides real-time alerts of crimes and other incidents to nearby locations. Citizens empower users with the technology and information they need to stay safe;
BlockChalk: BlockChalk, dba BlockBoard, allows users to leave messages at locations in their neighborhood using their mobile devices. Users can directly report cases where portholes and graffiti are found;
NeighborPal.com: A social network for neighbors and local friends. Neighbors connect and interact with like-minded locals who share the same community, circle of friends, local interests, groups, and daily life;
SkyAlert: SkyAlert provides technological solutions that help prevent and reduce human and economic losses during environmental disasters. It is based in Berkeley, California;
SSAYE Club: SSAYE CLUB is a digital marketplace offering products and services, including asset management, energy sustainability, and social engagement projects;
HamletHub: Hamlethub is referred to as the next-generation local paper, as it is a digital community hub created in Connecticut for NEWS generation in regional areas.
Nextdoor SWOT Analysis
The swot analysis of Nextdoor's business model must be analyzed to understand its success.
Nextdoor Strengths
Neighbors' recommendation: Recommendations from neighbors who have benefitted from the service help to bring in more members who would also love to benefit from Neighbourhood services;
No direct competitors: Due to Nextdoor's uniqueness, there isn't much room for competition, enabling the company to thrive.
Nextdoor Weaknesses
Low user trust: Because it's an online-based community, many people find it hard to trust Nextdoor and prefer not to use it;
Faulty app architecture: Due to how the app is built, many find it hard to operate and hence don't bother using it;
Lack of customization for users: Since the app isn't customized, members can't see who can access or react to their posts.
Nextdoor Opportunities
The Pandemic: The pandemic made everyone stay inside for safety purposes, prompting the need to keep up with local news through online outlets. Even though the pandemic is over, the use of online news outlets hasn't stopped. Instead, the demand is higher, and Nextdoor has found an opportunity;
Improve their Reputation: There is also an opportunity to improve their online and offline reputation, which can be done by contributing their quota to positive community building. Supporting local communities and providing the right news are just some of the ways they have been able to optimize this opportunity;
Increasing Post Relevancy: This is an opportunity waiting to be claimed. The key way to increase post relevancy is to focus on the user's needs and what they are more inclined to read. This is key to getting relevant information, which would eventually lead to higher engagement;
Improve usability and in-app navigation: The app has already achieved this by possessing features that allow easy navigation.
Nextdoor Threats
Criminal Activity: Every social network has some criminal activity, and Nextdoor is no different. Although large social networking sites have bigger fraudulent activities, Nextdoor's fraud stems from its neighborhood-focused design;
Harassment: Even though neighbors report crimes and suspicious activity around the neighborhood on Nextdoor, some users now use this feature to complain about racial discrimination;
Personal Information Collection: The Nextdoor Privacy policy gives the company some rights regarding personal information. For instance, Nextdoor has the right to collect information about your devices, the Facebook account on your device, your contacts, and your location when using the app;
Poor ratings in the iOS App Store and Google Play Store: Since users fail to rate the app on the Play Store or rate it poorly, it decreases the company's credibility and might discourage potential customers.
Conclusion
Nextdoor is one of the fast-rising social networks where neighbors communicate and build strong relationships without speaking in person. Missing pets can be found. People who are new in the neighborhood can find an excellent doctor or a nice restaurant to dine at. Neighbors can advertise events or post items for sale. However, Nextdoor can host hate-filled political arguments. Neighbors sometimes argue about the neighborhood's rights and wrongs, such as walking a dog off-leash. They can also call each other out for bad driving habits or loud music.
When used safely and thoughtfully, Nextdoor is a social network where people can make new friends, socialize, share essential resources, or post warnings of criminal activity. Since Nextdoor is based on geography rather than one-on-one relationships, people from all over North America can connect on the social platform and build vibrant neighborhoods.