McDonald's mission statement is "to be our customers' favorite place and way to eat and drink." Their vision statement is "to move with velocity to drive profitable growth and become an even better McDonald's, serving more customers delicious food each day around the world."
McDonald's has established itself as the largest fast-food restaurant chain in the world, and to ensure sustainable success going forward, they recognize corporate missions and vision statements as integral aspects of its policies and strategic management. These mission and vision statements are a response to adapting to changes in the global food service industry, enabling them to continue growing even when faced with competitive pressure from well-known international chains like Burger King, Subway, Starbucks, and Dunkin' Donuts, plus local restaurants.
The company's mission statement establishes it as an accessible and enjoyable food service destination, while its vision statement sets its long-term aims for growth and improvement. Here, we will look into McDonald's corporate mission and vision statements, exploring how the fast-food chain uses these tools to stay competitive in its industry.
Mcdonald's Mission Statement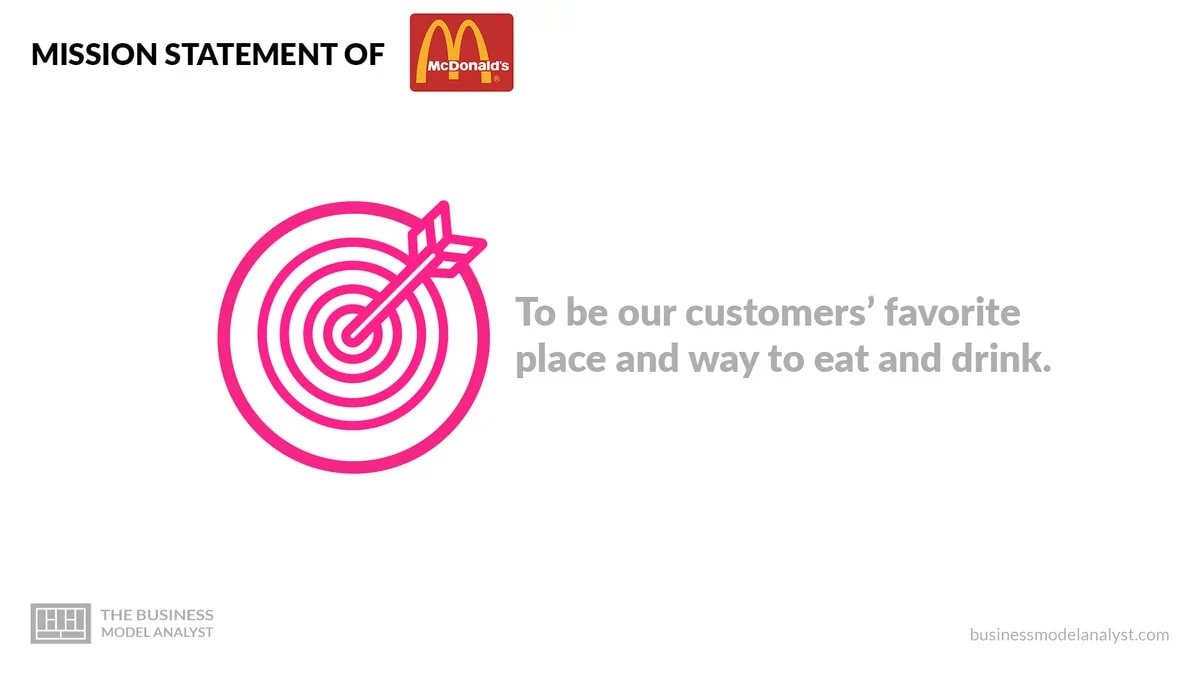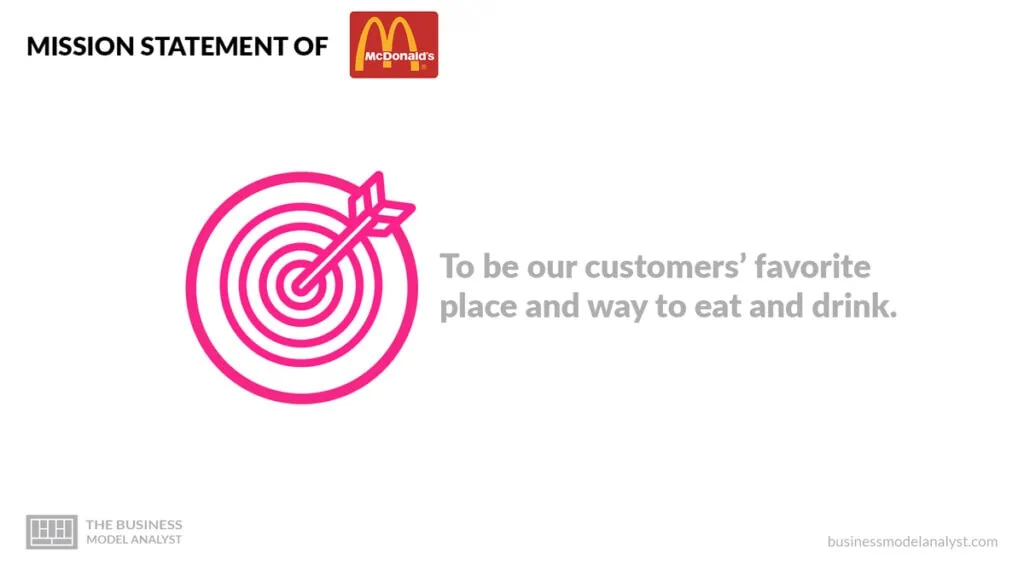 McDonald's mission statement is "to be our customers' favorite place and way to eat and drink." This statement is centered around the idea of providing customers with an enjoyable experience when dining at their restaurants. The company seeks to make every visit to a McDonald's restaurant a fun and pleasurable one for everyone involved. From fast and friendly service to quality food, attention to detail, and the cleanliness of their locations, McDonald's strives to ensure that all customers have a positive experience from beginning to end.
The statement also expresses McDonald's commitment to providing the highest level of customer service possible. They believe in listening carefully to customer feedback to continually better meet their needs and exceed expectations. The company values feedback and takes suggestions seriously for them to be able to adapt quickly, so it can always meet the changing demands of customers within different markets worldwide.
McDonald's highlights how important it is for them to be the "favorite place" where people come time and time again, not only because they offer such a pleasant eating experience but also due to their affordable prices, which enable them to reach out to more people than ever before across different economic backgrounds. This mission serves as an assurance that no matter who you are or what your budget is, there will always be something on offer that fits your needs at McDonald's restaurants around the world.
Improving health
McDonald's is devoted to safeguarding the well-being of its customers and recognizes that freshness is vital when it comes to food. Accordingly, they have adopted measures such as "burgers cooked when you order" to guarantee high standards and ensure the health of their customers.
The fast-food giant also takes proactive action aimed at ensuring all its menus contain healthy, balanced options for customers who are mindful of their diet choices. The restaurant chain offers salads, lean meats, and vegetarian dishes on most of its menus, so those looking for healthier options have plenty of options available. McDonald's also offers nutrition facts alongside every menu item, so people can make informed decisions about what they consume.
McDonald's also implements sustainable agriculture practices [2], such as sourcing locally grown ingredients and supporting farmers who use fewer pesticides or fertilizers on crops whenever possible. This helps reduce environmental pollution and protects people from consuming harmful chemicals found in artificially produced food. McDonald's works with suppliers to evaluate packaging materials frequently in order to ensure environmentally conscious methods are used as much as possible throughout the production process.
In a direct effort to promote healthier eating habits among customers, McDonald's launched the "Go Active" campaign in 2004, which encouraged adults to be more active with fun activities by using the stepometers that were handed out during the campaign [2]. McDonald's also works closely with organizations such as Ronald McDonald House Charities (RMHC), which offer nutritional guidance programs in-house or at local community centers focused on teaching children better eating habits through educational activities such as cooking classes.
Favorite place for customers
McDonald's has cultivated an atmosphere that entices customers to keep returning. Not only do they put substantial effort into delivering superior-quality food, but they also prioritize creating a pleasant environment tailored to their customer's desires. McDonald's offers free Wi-Fi in all its stores so that customers can stay up-to-date with the latest news or take care of business while enjoying their meals. For those who are short on time, counter service and digital kiosks offer prompt order and payment processes for an easy lunch or dinner experience.
The aesthetic aspects of the stores have been designed with comfort and convenience in mind as well. No matter the location, McDonald's is well insulated from outside noise and distractions, allowing customers to enjoy their meals without disruption. Soft lighting helps set a relaxed tone for enjoying breakfast or lunch away from home or work. The classic red and yellow interior décor is instantly recognizable by patrons at all locations around the world, creating an experience of familiarity, regardless if it is your first visit or your hundredth. All this makes McDonald's a pleasant place for taking meals. The strategic design elements create a feeling of comfort combined with affordability that keeps people coming back, making it one of the favorite places for dining out for many customers worldwide.
Mcdonald's Vision Statement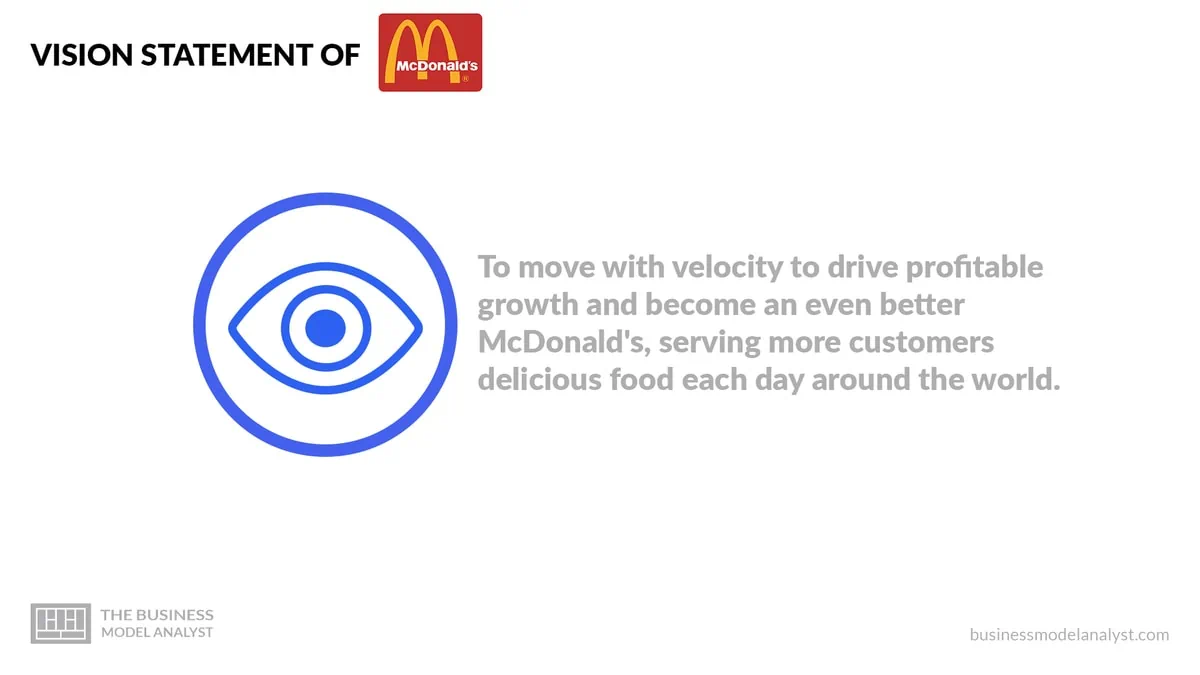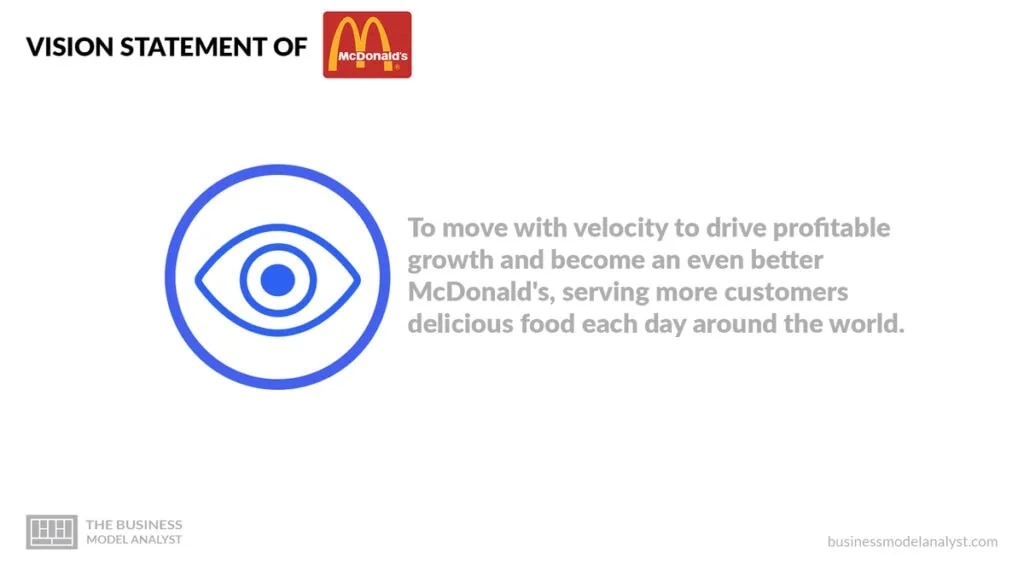 McDonald's Vision Statement can be summed up in the phrase, "to move with velocity to drive profitable growth and become an even better McDonald's, serving more customers delicious food each day around the world." This statement makes it clear that the company is focused on continuing to offer top-notch quality food while also investing in its staff, technology, and resources to drive further growth. The aim of achieving profitable growth and greater customer satisfaction is a key part of the core mission of McDonald's.
The statement emphasizes the importance of being "even better." This suggests that McDonald's is continuously seeking ways to improve their service and product offerings to create a truly outstanding customer experience. By working towards becoming "even better" every day, McDonald's can stay competitive with other restaurant chains by remaining at the forefront of trends and customer expectations.
The vision statement also speaks about doing these things at "velocity" — this implies that McDonald's places an emphasis on not just doing it faster, but doing it smarter as well. The company looks to use speed as an advantage while simultaneously creating new systems that will help deliver its products faster without having a negative impact on quality standards or profitability. Their vision statement can be divided into these key points:
Move to drive growth
In pursuit of becoming a major and successful corporation, McDonald's has strategically emphasized expanding their operations and diversifying their menus. In addition, the wide range of menu items now offered by McDonald's provides something for all tastes; from classic burgers and fries to a variety of breakfast selections or healthier options such as salads and smoothies.
McDonald's has also vied for more exposure in both physical locations and online presence by launching delivery services via app orders, as well as McDelivery through Uber Eats and Just Eat, which further assisted in tapping into additional consumer segments in certain cities around the world. By taking advantage of digital marketing techniques like social media campaigns and influencer collaborations, McDonald's reaches out to new audiences that might otherwise be inaccessible, allowing them to increase sales, which allows them to tap into even wider consumer bases in various demographics around the world.
To drive even further growth within the company, McDonald's continues its dedication to researching trends within their customer base while evolving their various product offerings based on feedback received from surveys or focus groups conducted when possible. By doing so, they are able to rapidly gauge what customers want while adapting existing products or creating entirely new ones if needed at any given time.
Better at serving customers
McDonald's is dedicated to delivering the highest quality of service to its customers. In an effort to remain competitive, the organization continuously makes refinements and advancements to exceed customer expectations. Strategies for improvement involve incorporating expert insights, providing employee training that prepares them with relevant skill sets, and garnering feedback through surveys to gain a better insight into customer needs.
As a result, over time, this commitment to customer satisfaction has seen McDonald's become one of the biggest leaders in the food industry sector and set standards for others to emulate. McDonald's also ensures consistency within each store — allowing customers to feel assured that no matter which branch they visit, they'll receive high-quality food prepared using safe ingredients while being served by friendly staff who go out of their way when possible to meet special requests or solve any problems that may arise during their dining experience.
Around the world
McDonald's is an iconic global fast food brand, and its presence extends hugely around the world. McDonald's has been committed to providing a great experience for customers all over the globe since 1955. The company has opened over 38,000 restaurants in more than 100 countries and regions, serving nearly 70 million people each day, striving to bring convenience to people's lives. To provide customers with more interactive experiences and create memorable emotions for them, McDonald's focuses on ensuring that every restaurant worldwide operates according to high standards of quality, service, and cleanliness.
McDonald's vision statement reflects this commitment by declaring the commitment "to move with velocity to drive profitable growth and become an even better McDonald's, serving more customers delicious food each day around the world." To implement this vision statement globally, McDonald's emphasizes regional market strategies in order to better understand individual cultures and needs.
By taking into account customer preferences such as menu items tailored to different cultures, different communication methods such as digital platforms, and dining options including personalization services or delivery options — McDonald's aims to become firmly integrated into people's daily lives while being attentive to their requirements regarding price points. All those flexible offerings enable McDonald's managers across locations to easily adapt their operations based on country-specific regulations or local market trends, while keeping innovation alive within its global network of eateries.
McDonald's vast global presence provides numerous growth prospects, as well as the need to implement methods that uphold profitable customer relationships worldwide by delivering culturally-relevant products and positive customer experiences regardless of branch. Supporting this, host teams' tangible efforts ensure both franchised locations and corporate stores are able to boost sales while carrying out unified systems and processes to deliver local profitability as well as fulfill top management objectives such as annual financial performance goals or long-term business strategies.
Mcdonald's Core Values
McDonald's core values are grounded in quality, service, inclusivity, and value. The company is passionate about engaging in ethical business practices and corporate responsibility as part of these core foundations. This includes initiatives such as assisting local communities, providing a safe workplace for all employees, preserving the environment through responsible processes, delivering an affordable menu while adhering to food safety regulations, and maintaining integrity in every interaction with people.
Serve
"Serve" at McDonald's means putting customers and people first. This is demonstrated through their recent initiatives to pilot a program that offers personalized orders and deals across all digital touchpoints in select restaurants, which will eventually launch nationwide. McDonald's understands the importance of customer convenience, speed, and ease — they are taking steps to further accelerate their drive-thru advantage by providing more personalized services to customers.
Inclusion
Inclusion is an essential part of McDonald's core values, as the company is dedicated to fostering a diverse and inclusive environment. To achieve this goal, McDonald's has set targets for increasing the number of minorities in its senior leadership ranks to 35% by 2025 and women's representation to 45% within five years. Through these initiatives, McDonald's reinforces its commitment to creating an environment that welcomes everyone equally. The company also seeks to promote this value across its operations globally in order to build a more equitable workplace for all employees.
Integrity
Integrity is the foundation of McDonald's, as they strive to make sure their core values are reflected in everything they do and every decision they make. This involves taking appropriate measures to ensure that customers have access to high-quality food, a safe working environment for their team members, and transparent business practices from the corporate offices all the way down to the restaurant level. McDonald's recognizes that upholding integrity requires them to take responsibility for their actions, be accountable for their mistakes, and continue striving towards higher ethical standards to achieve success.
Community
McDonald's core value of community is demonstrated by its initiatives to help disadvantaged groups in the community. Through programs such as the HACER National Scholarship Program, McDonald's provided 30 Hispanic students with scholarships worth up to $100,000 and gave out $1000 to thousands of students in 2021 alone. The company offers other scholarships targeting different demographics, providing young people with more opportunities to make an impact in their communities. By increasing access to higher education for these underrepresented groups, McDonald's is actively making a difference in creating a more equitable future.
Family
McDonald's believes strongly in the concept of family. They demonstrate this core value through their partnership with Ronald McDonald House Charities, to which they have dedicated resources since 1974. In 2021, McDonald's reaffirmed its commitment to families in need by pledging two cents for every Happy Meal sold throughout the year. These actions prove that McDonald's stands behind its "#BetterTogether" campaign.
Conclusion
McDonald's has established a mission and vision statement that aims to provide quality food at an affordable price while maintaining a commitment to sustainability and community involvement. The company's commitment to these values helps ensure that it meets the needs of its customers and stays relevant in the highly competitive fast-food industry.