The Lululemon mission statement is "to elevate the world from mediocrity to greatness." And the Lululemon vision statement is "to be the experimental brand that ignites a community of people living the sweat life through sweat, grow and connect." Founded in 1998 by Chip Wilson, Lululemon has become one of the leading manufacturers of high-quality athletic apparel for customers worldwide. With its unique approach to operational excellence and outstanding customer service provision, the Vancouver-based business has experienced remarkable growth since its inception, allowing it to stay ahead of the competition within this sector. From running attire to yoga gear, Lululemon offers a comprehensive range of workout clothing that continues to meet the needs of its international consumer base.
The success of Lululemon is underpinned by its mission and vision statements, which provide clarity on how to reach desired results and illustrate future ambitions. In particular, the brand has prioritized health and wellness for its customers as well as community development, creating values that prioritize personal improvement over other outcomes such as financial gains. These elements serve as the foundation of their philosophy, enabling them to maintain a meaningful connection with their patrons.
Lululemon Mission Statement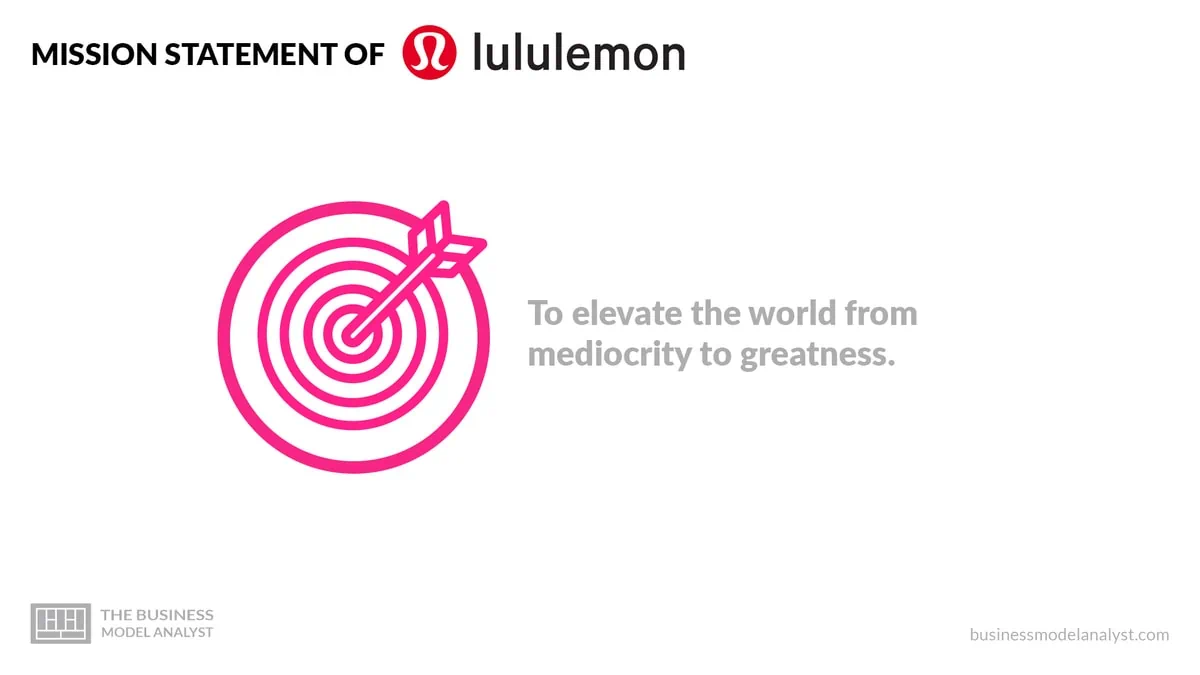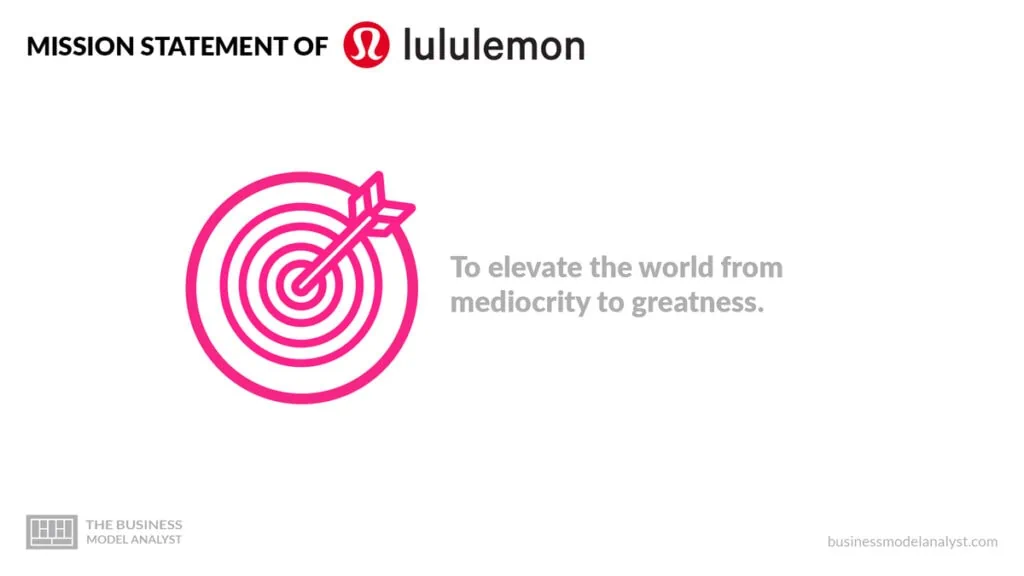 The mission statement of Lululemon is "to elevate the world from mediocrity to greatness." This statement highlights the company's commitment to inspiring customers to live their best lives and reach their highest potential, both physically and mentally.
The company believes in providing quality technical clothes that help athletes stay comfortable when engaging in physical activities, allowing them to focus on what matters — achieving excellence. By making its products easily accessible through various channels, such as stores and online, Lululemon seeks to encourage more people around the globe to pursue an active lifestyle that promotes health and well-being. 
The strong words used in Lululemon's mission statement emphasize the high standards it sets for itself and the passion it expects from its customers, who are working towards becoming their best selves.
The company supports individuals on their journey towards greatness by encouraging them through its campaigns organized to motivate others and promote a positive attitude towards personal growth. Such initiatives have included events such as wellness workshops where people engage with certified yoga teachers who offer advice on how one can maximize self-improvement strategies such as mindfulness practice or meditation techniques, further empowering each individual's transformative potential while living a meaningful life according to their values and passions.
Improving lives
Lululemon is dedicated to its mission of "elevating the world," recognizing that people are the essential drivers of any changes and improvements. Thus, Lululemon strives to improve lives in various ways, from supporting a global community of individuals and groups with the intention of effecting positive change in their communities to providing accessible resources for those who need them. 
At the same time, Lululemon recognizes its role as an active participant in community development and social progress. To this end, it offers an array of strategic sales options for team programs and more that are tailored towards engaging its customers and making them stakeholders in driving sustainability initiatives around the world.
The company also invests heavily in charitable causes, such as environmental stewardship programs aimed at reducing its carbon footprint. In addition, Lululemon regularly donates to refugees and other humanitarian organizations across Africa, Asia-Pacific, and Latin America, resulting in more equitable access to basic human needs all over the world. They also actively partner with numerous NGOs that work on issues such as gender equality while supporting their female colleagues through equal pay initiatives, among other policies designed to foster career growth opportunities for all employees regardless of gender identity or orientation.
Improving health
At Lululemon, improving health is the highest priority of its mission statement. As a company that places its customers' wellness and longevity at the forefront, they strive to create products that will help people reach their peak performance. Their emphasis lies in designing innovative, high-quality apparel and accessories that are driven by technology, sweat-wicking material, breathability, comfort, and versatility. 
Their commitment to creating performance apparel means consistently testing new fabrics and materials to optimize athletic performance and supporting customers who seek to use their products for both leisurely activities and more rigorous leisure pursuits such as running or CrossFit. To this end, Lululemon has partnered with world-class athletes who specialize in different sports to provide insight into how to best improve their designs for peak performance through practical testing and feedback in real-life scenarios. 
Moreover, Lululemon also seeks to educate its customers so that they can make the most of its products when using them for fitness-related activities. Through their mirror workout technology, which displays interactive videos, customers can follow along with instructors demonstrating exercises. They can also learn proper form and technique when exercising, which aids in preventing injury while providing maximum benefit during workouts.
Exceeding expectations
Lululemon always seeks to exceed expectations when it comes to providing its customers with lifestyle changes. The company offers an extensive collection of outfits that not only suit a wide range of workout regimes, but also contribute towards creating a realistic look and appealing aesthetic. Lululemon's accessories section also presents a variety of products that can be used to further enhance customers' ensembles and amplify their individual styles. 
Not only does the company have apparel for physical activities, but it also provides pieces for casual settings or even everyday errands and tasks. This way, Lululemon is making sure that no matter what customers are doing or where they are going, they look good while doing so. As a result, this contributes to feeling more confident in any situation — something that transforms attitudes and outlooks on situations entirely — all to reach life goals without fear or doubt. 
In addition, all of these items (clothing, accessories, etc.) have been carefully designed with quality in mind, offering high-performance fabrics with sweat-wicking capabilities along with adjustable features such as pockets and windbreakers, making them ideal during colder climates too — proving once again how much Lululemon puts into exceeding customer expectations.
Lululemon Vision Statement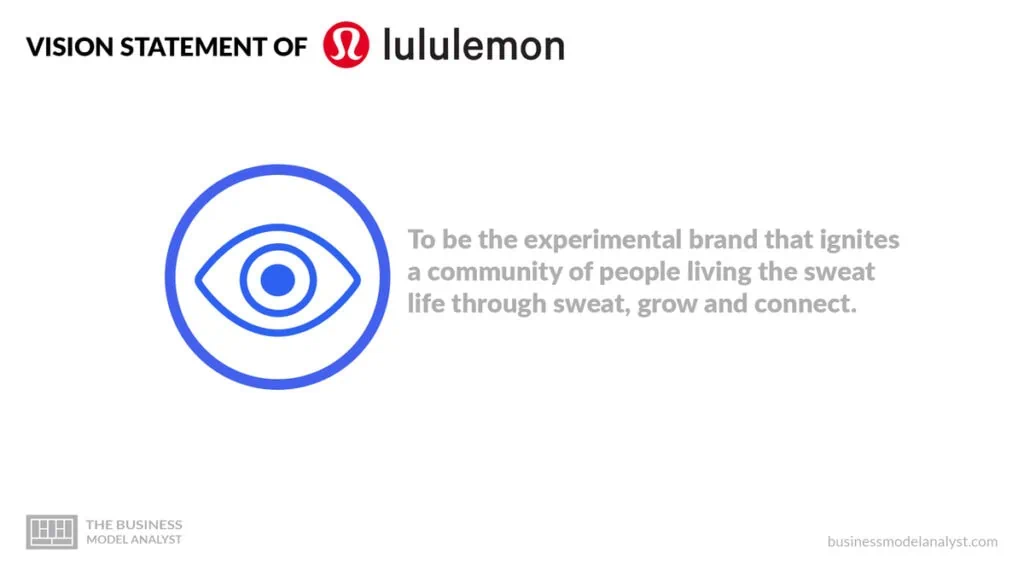 Lululemon's vision statement is "to be the experimental brand that ignites a community of people living the sweat life through sweat, grow and connect."
This statement is an ambitious and compelling call to action. It asks people to join a community dedicated to "living the sweat life," which means having an active lifestyle with a focus on physical activity, growth, and connection. Lululemon believes that living an active lifestyle helps bring people together in meaningful ways. This philosophy is at the heart of their vision statement, as it encourages individuals to come together in pursuit of "sweat, grow, and connect."
The creation of a "community hub" is critical for achieving this vision statement. Not only does it create a space where people can access apparel and accessories designed specifically for the sweat life, but it also creates a safe space where individuals can come together with one another to share ideas and experiences related to health and wellness. The company also plans to use its stores as "experimental brands,"  offering unique experiences such as yoga classes or workshops geared towards helping participants better understand themselves while building self-confidence through movement. 
Lululemon's goal has always been more than just selling clothes; they strive to create real connections between those who are passionate about physical activity and wellness. Their vision statement aims towards creating an environment that fosters meaningful relationships based on shared values and interests, all while inspiring each other through movement activities such as yoga or running workouts.
Exceptional brand
At Lululemon, they strive to create an exceptional brand, and nothing is ever done in a normal fashion. Their mission to bring long-lasting change drives their creative designs, which always focus on meeting the needs and desires of their customers. Quantity isn't their primary objective; instead, they seek to create a legacy by creating the best possible product for each customer. 
Lululemon's vision statement reflects this commitment to excellence: "to be the experimental brand that ignites a community of people living the sweat life through sweat, grow and connect". This means that they not only want to provide quality products that can make a difference in people's lives, but also build strong relationships with customers so that everyone has a positive experience when using Lululemon's services or products.
Ignite communities through sweat
Lululemon believes that the best way to ignite a community is through sweat. The company has developed activewear and accessories to make physical activities accessible and comfortable for everyone. To further increase participation in healthy living, Lululemon encourages its customers to take part in its empowerment programs, which are held across Canada, the U.S., and other regions where it operates. These programs emphasize providing motivation to people of all ages, genders, and skill levels so that they can get the most out of their workout sessions. 
The aim of these initiatives is not just to promote fitness, but also to engage customers in meaningful conversations about healthy lifestyles and physical activity options available to them in their local communities. It ensures that individuals feel included regardless of their background or ability level by encouraging them to connect over their shared interest in working up a sweat. 
Lululemon's workshops on health topics like nutrition education and self-care strategies help communities build confidence in taking ownership of their physical well-being, while providing an opportunity for discussion of any challenges they face when trying to stay active. Through such events, communities can develop relationships with each other through sweat, which reinforces the message that leading an active lifestyle isn't something only some can do — anyone can if they put their mind (and body) into it
Create connections
Lululemon has long understood the importance of fostering relationships with its ambassadors, guests, and athletes to drive innovation and success. In doing so, the company has created a collaborative platform to connect these key stakeholders with each other and with Lululemon. This connection allows for an exchange of ideas, experiences, and feedback that are used to create products that meet individual needs. 
The company has sought out partnerships with professional athletes, such as some of the world's top surfers, yogis, and runners, as well as emerging grassroots talents from many different sports backgrounds.
Through collaboration, Lululemon brings fresh perspectives to designing apparel that meets the unique demands of active lifestyles. This also enables Lululemon to stay ahead of trends in performance fabrics and design them according to athlete feedback on how they are used during their workouts. These partnerships also bring vital knowledge about the cultures associated with each sport, which helps shape product designs that reflect both style and functionality. 
Starting at home base, Lululemon invites its customers' in-store locations to provide their opinions through various initiatives like trunk shows. Through these types of events, new insight is gained regarding consumer preferences while creating an enjoyable atmosphere centered around physical activity.
Core Values
Lululemon upholds a strong set of core values that consist of nurturing entrepreneurial spirit, assuming personal accountability, valuing connection, being honest and courageous, and picking fun. These guiding principles have enabled the company to cultivate relationships with its customers and deliver superior products.
These ideals also help them promote trust among their target audience by consistently boosting efficiency in their services. By adhering to its standards of excellence, Lululemon is able to stay among the top brands in the industry amidst competition from its rivals like New Balance, Puma, Prana, Nike, Adidas, etc.
Taking personal responsibility
Taking personal responsibility is an essential part of the core values of this company. Employees are encouraged to give their best and push themselves for a better result, understanding that any improvement in their performance will be beneficial not just to them but to the brand as a whole.
To help facilitate this, the company has invested in ramping up its employees' training, with an emphasis on omnichannel capabilities, and then offering digital educators to help customers shop online more effectively. The goal is not just employment growth and success, but also learning and self-improvement through individual accountability. In doing so, each employee can take his or her own responsibility for their job role within the larger organization and actively seek out opportunities to grow personally while growing professionally as well. This creates a positive feedback loop, which then helps empower the brand gradually over time.
Acting with honesty and courage
The core values of the company, Lululemon, are heavily rooted in acting with honesty and courage. This was exemplified when Trevor Fleming, an official at Lululemon, posted an image of a long-sleeved T-shirt displaying anti-Asian sentiment. The company proceeded transparently, showed integrity by publicly condemning the post, and promptly fired Mr. Fleming for his actions. This action proved that the company embodies its stated values of honesty and courage even when facing difficult decisions or tough public scrutiny.
Lululemon recognizes that having a name associated with ethics and principles is important to keeping its reputation prestigious and well-reputed. When instances like this arise, they have shown they will take immediate steps to maintain their core values of being honest in what they do while taking risks to challenge industry standards through courageous acts to make sure the right thing is done, regardless of the backlash they may face. They back up their words with action time after time, which proves their commitment to these core beliefs and allows them to remain successful as well as respected around the world.
Valuing connection
Celebrating connection is at the heart of Lululemon's core values, as the company highly encourages engagement between customers and within employees, which it believes can bolster loyalty to its brand.
This was particularly significant in 2020, when widespread restrictions were put in place due to the COVID-19 pandemic. To assist people everywhere in staying healthy and active while confined, Lululemon offers a range of online sports challenges, such as Move and Stay Connected. This challenge connects users across all corners of the world with an international community for shared training.
Through these efforts, Lululemon aims to foster strong connections that create a sense of belonging amongst its customers, while also highlighting its commitment to helping people remain healthy and connected — no matter where they are or what life throws at them.
Choosing fun
At Lululemon, having fun is an integral part of achieving the company's vision of living life to the fullest in the most healthy ways. Fun provides an opportunity for employees and customers alike to take a break from their busy lives and enjoy themselves while engaging in a positive and inspiring atmosphere.
To ensure that fun remains at the core of who they are, Lululemon strives to make sure their stores are known as places of laughter, joy, and lightness — no matter which stores you enter. Whether it be through weekly team meetings or encouragements within teams on days off, they strive to promote a culture where everyone can feel free to express themselves authentically and have fun.
Nurturing entrepreneurial spirit
Nurturing an entrepreneurial spirit is a key core value for Lululemon. The company has been built on innovation and the drive to do something different. Founder Chip Wilson recognized that to stay ahead of the competition, it was important to foster creative ideas and encourage risk-taking. By supporting young entrepreneurs, Lululemon continues to bring fresh perspectives into the industry and inspire others with their vision.
This commitment to nurturing an entrepreneurial spirit sets them apart from other companies in their industry by providing a platform where employees can express themselves through innovative means. Additionally, this philosophy helps keep Lululemon current on fashion trends so that they can continue offering exciting products that push boundaries while staying true to their core values.
Conclusion
By setting clear goals based on health and wellness, community development, and personal improvement, Lululemon has been able to create a unique brand identity characterized by high-quality products and exceptional customer service. With these values in mind, the company has been able to establish itself as one of the leading manufacturers of workout apparel worldwide.
Thus, it can be said that although many elements have enabled Lululemon's success over time, its mission and vision statements have undeniably played an essential role throughout its growth journey. Through these statements, they have created a company culture based on purposeful objectives and ambitions: to elevate the world from mediocrity to greatness while celebrating those who live "the sweat life" through sweat, growth, and connection.