Linkedin Business Model is a multisided platform that connects professional users that want to create their own professional network with recruiters and advertisers.
Due to its large community of professionals from every line of business and everywhere in the planet, LinkedIn is known as "the professional network". Currently, LinkedIn has more than 660 million users, from more than 200 countries.
The main goal of the people who join LinkedIn is to build a professional identity and develop useful contacts for business, with the purpose to broaden their career frontiers.
The greatest benefit is the convenience: in instead of having to physically move for seeking for human resources, aiming for recruitment and selection, training, or networking, one can simply connect to the internet and login on LinkedIn.
LinkedIn is a multi-sided platform, which offers several solutions for different customers. It is based on a freemium business model (there are plans for free, but the best resources are charged), but also on recruitment and advertising.
So, let's explore LinkedIn Business Model!
What is LinkedIn?
LinkedIn calls itself as the "largest professional network in the world", and it is founded on their five pillars: "transformation, integrity, collaboration, humor, and results" to make people's jobs easier.
On LinkedIn, every profile stands for a kind of résumé: every person who check one's profile will have information such as current and former jobs and positions, education, experience, skills and abilities, courses, training, aspirations etc.
Besides, the platform offers space to market available jobs in more than 9 million businesses all over the globe. And, as any other social network, one can connect to other LinkedIn users by sending them friendship requests.
It's interesting remembering that LinkedIn was founded by the investor Reid Hoffman in 2002, being officially released one year later. In December 2016, it was acquired by the giant Microsoft, in a purchase of over 26.2 billion dollars!
How does LinkedIn make money?
According to LinkedIn's User Agreement, its "services are designed to promote economic opportunity for our members by enabling you and millions of other professionals to meet, exchange ideas, learn, and find opportunities or employees, work, and make decisions in a network of trusted relationships."
Some of the services the network provides in order to make its users achieve all their possibilities are charged. Its Paid Features include: Premium Accounts, Talent Solutions, Marketing Solutions and Sales Solutions.
The company revenue had a steady growth in the past years. In the fiscal year 2019, LinkedIn's annual revenue amounted to almost 6.8 billion U.S. dollars, up from 5.26 billion U.S. years during the preceding fiscal period.
Let's take a closer look at each of them.
Talent Solutions
These solutions encompass the resources offered to both recruiters/employers – that search for qualified candidates for their available positions – and individuals, who seek for improvement through courses and training.
For the ones who are selecting professionals, LinkedIn offers a portfolio of solutions, which allow employers to connect to a wide network of candidates, also by advertising their available jobs.
Furthermore, there's the Recruiter Account, that guarantees:
unlimited access to the whole network,
profile management,
available jobs management,
collaboration and productivity resources,
administrative tools.
For the individuals, LinkedIn offers the Learning platform, a premium subscription model, that provides access to more than 15,000 video courses, with instructors from several areas of expertise.
These Talent Solutions account for more than 65% of the company's revenue, due to premium resources for both businesses and workers.
Marketing Solutions
This second service is about driving advertising campaigns to LinkedIn's audience, composed of its users. Businesses can deliver content to a targeted audience, generate leads and, after all, measure their ROI (return on investment).
Businesses can also develop sponsored content and advertisement, even through InMails, the direct messages that one can send to users they are connected.
Sales Solutions
These solutions are about creating a professional brand and engaging prospects through the network. The objective is to get sales insights, such as company and job changes or updates.
Furthermore, through the Sales Navigator tool, one can find prospects, by using specific filters. According to LinkedIn, it's a "powerful way to find and reach more decision makers".
Premium Accounts
Premium Career and Premium Professional accounts stand for 17% of LinkedIn's revenue. They are the paid subscriptions, which allow users to enhance their searches, get in touch with people out of their personal network, have premium information access (such as people who have viewed their profiles, video courses, InMail messages etc.), and many other special features.
There are four different plan options, and the fees go from $30 to $100 per month. Most users, however, chose the Basic Account, which is free.
LinkedIn Business Model Canvas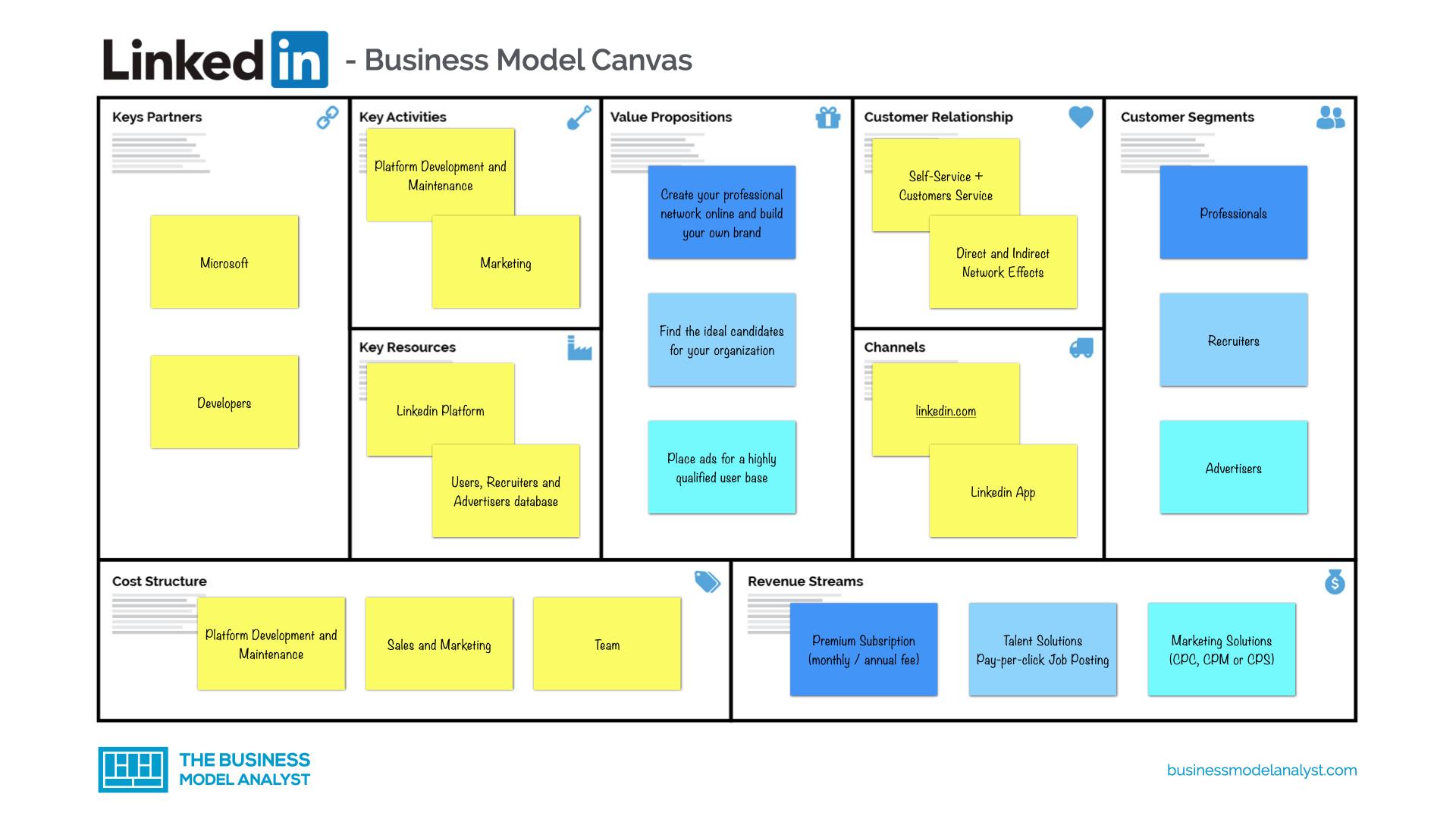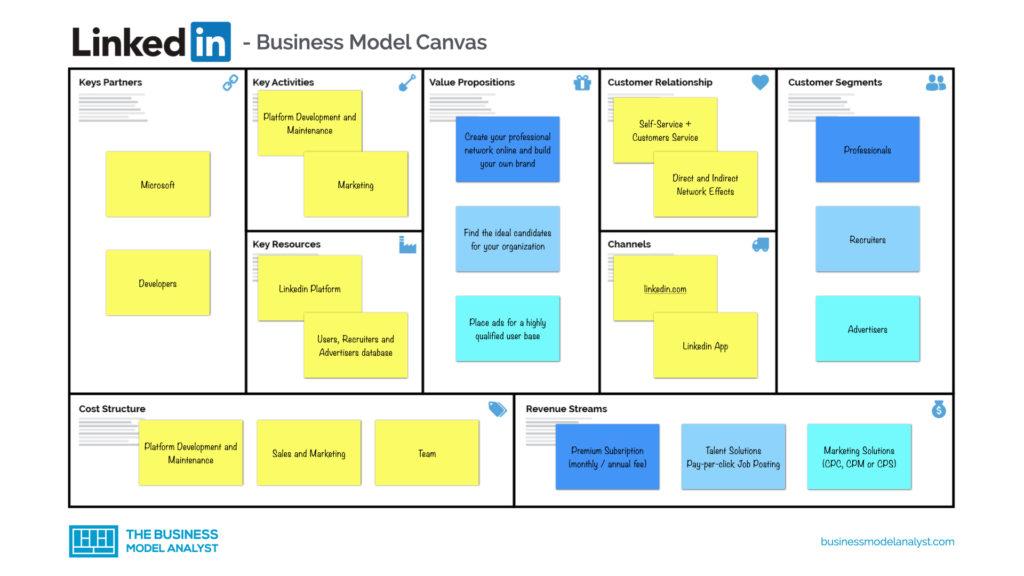 Download High-Resolution PDF of the Linkedin Business Model Canvas
LinkedIn's revenue streams have been already present previously, when talking about LinkedIn's monetization, above. It's worth highlighting that this revenue has exceeded 5 billion dollars annually.