Klarna is one of the world's leading financial technology companies. The Klarna business model caters to customers around the globe by facilitating a platform through which individuals can shop freely using a temporary Visa card.
Many financial experts consider the Swedish-based company as the original creator of the modern-day buy-now-pay-later stratagem. As they are also the biggest player in terms of volume, Klarna was able to successfully execute their Initial Public Offering (IPO) in 2021. While the offering isn't as readily available as many other IPOs, it remains quite popular, regardless.
In this article, we'll be taking an analytical look at the business model of Klarna, how it operates, and the features that result from the execution of its services.
A brief history of Klarna
The fintech company is a Swedish financial services provider that was founded in Stockholm in 2005. The masterminds of the company were Victor Jacobsson, Sebastian Siemiatkowski, and Niklas Adalberth.
Sebastian Siemiatkowski initiated the bare bones of what would later become Klarna as he was nearing the end of his master's degree in the Stockholm School of Economics. In an interview that was later published by Forbes, Siemiatkowski mentioned that he once pitched the idea of the company to a team of innovators, and they said it couldn't work.
Despite this, the trio went ahead with their plans and finally launched the platform. The first transaction to take place on Klarna occurred on April 10, 2005. The location was a popular bookstore in Sweden known as Pocketklubben. The company would continue to grow from there, as the co-founders went on to repeatedly tweak their existing business model.
Constant improvisations brought them to the point of creating a website that allowed consumers to conveniently order products online, with an invoice that would follow within 30 days afterward. As eCommerce was still a fairly new concept at this time, this innovation positioned Klarna to get an edge over its competitors considerably, pushing them to the forefront of retail sales.
Who Owns Klarna
Ownership of Klarna Bank AB is dissimilarly split amongst its three co-founders. As of 2021, before the company went public, CEO and co-founder Sebastian Siemiatkowski owned an estimated 8% of Klarna. This stake was assessed to be worth about $2.2 billion.
The second co-founder, Victor Jacobsson owned about 10% of the company. This was valued at $2.7 billion. Finally, the third co-founder, Niklas Adalberth, owned 0.4% of the online fintech establishment.
In addition to the co-founders of the company, the trajectory of the company is also somewhat influenced by investors like Sequoia Lake, Visa, Permira, Atomico, and Ant Group. A board of directors that has eight members led by Chairman Michael Moritz also influences the direction of the company to varying degrees.
Klarna's Mission Statement
The mission statement of Klarna Bank AB is to, "Make paying simple, safe, and smooth as possible."
The fintech company also boasts a vision. This is to, "Transfer the power from large corporations to the consumer and empower consumers to make fast and informed decisions."
How Klarna Makes Money
The method of operation and execution that the Klarna business model employs enables the fintech company to get funds through four main income streams. These are via merchant commissions, in-store Klarna Card transactions, interest charges, and late payment fees.
Merchant Commissions
As was highlighted earlier, Klarna works through the process of connecting a prospective consumer to a retailer. The fintech company charges retailers for making this type of service available to them. Because of this, every merchant that a consumer uses on this platform is expected to pay both a flat transaction fee, as well as a percentage of the total sale cost.
However, what merchants are expected to pay as commission varies, depending on the preferred payment option of a consumer.
For example, if a consumer opts for the 30-day payment option, a merchant has to pay Klarna $0.30 flat charges as well as up to 5.99% percentage of the total transaction. The same guidelines apply when a consumer chooses the four-installment payment option.
However, should a consumer pay through financing, the $0.30 flat charges still apply but the percentage of the transaction that Klarna can claim changes to only 3.29%.
It's important to note that the above-mentioned commissions apply whether the transaction is performed online or in-store.
In-Store Klarna Card Transactions
The fintech company also generates revenue through a virtual card that it makes available to shoppers. This virtual card can be used to make in-store purchases in certain brick-and-mortar retail stores affiliated with Klarna.
Most users leverage this resource by setting a budget on the virtual card for the specific retailer(s) they use it for, and then linking that card to their Apple or Google wallets to facilitate easier payment.
The main source of income for Klarna here is from late payments from defaulting consumers. However, because of the way the card works, it also allows the fintech establishment to considerably increase what they stand to get through merchant commissions.
Some of the high-profile retailers that consumers can use the Klarna Card in include Sephora, IKEA, Nike, GameStop, and Foot Locker.
Interest Rates
Consumers who use financing from Klarna are arguably the major source of revenue for the company. This is because, when financing from Klarna is used to make more expensive purchases, it allows the fintech company to charge considerably higher interest rates.
As an example, for certain transactions, a consumer may be expected to pay as high as a 19.99% APR for up to 36 months. What a consumer is expected to pay interest is significantly influenced by their credit score.
It bears mentioning that users who only leverage the four-installment payment or the 30 days option aren't expected to pay Klarna any interest at all.
Late Payment Charges
Although the 30 days option and the four-installment payment option are both interest-free initially, consumers who aren't able to meet up with their payments when due are liable to pay late payment fees. The late fees are charged on two levels.
Klarna not only charges a consumer for each time they're late with a payment, but they also place a levy on the user for every month that they fall behind with their payments. As such, for every payment a consumer misses, they have to pay a sum of $7. For every month that they're behind on their payment, the levy is $35.50.
As a side note, even when consumers don't pay Klarna for the item(s) purchased, it still falls on the fintech company to take responsibility and pay the merchants for the products sold.
Klarna Business Model Canvas
Here's how the Klarna business model is designed to operate: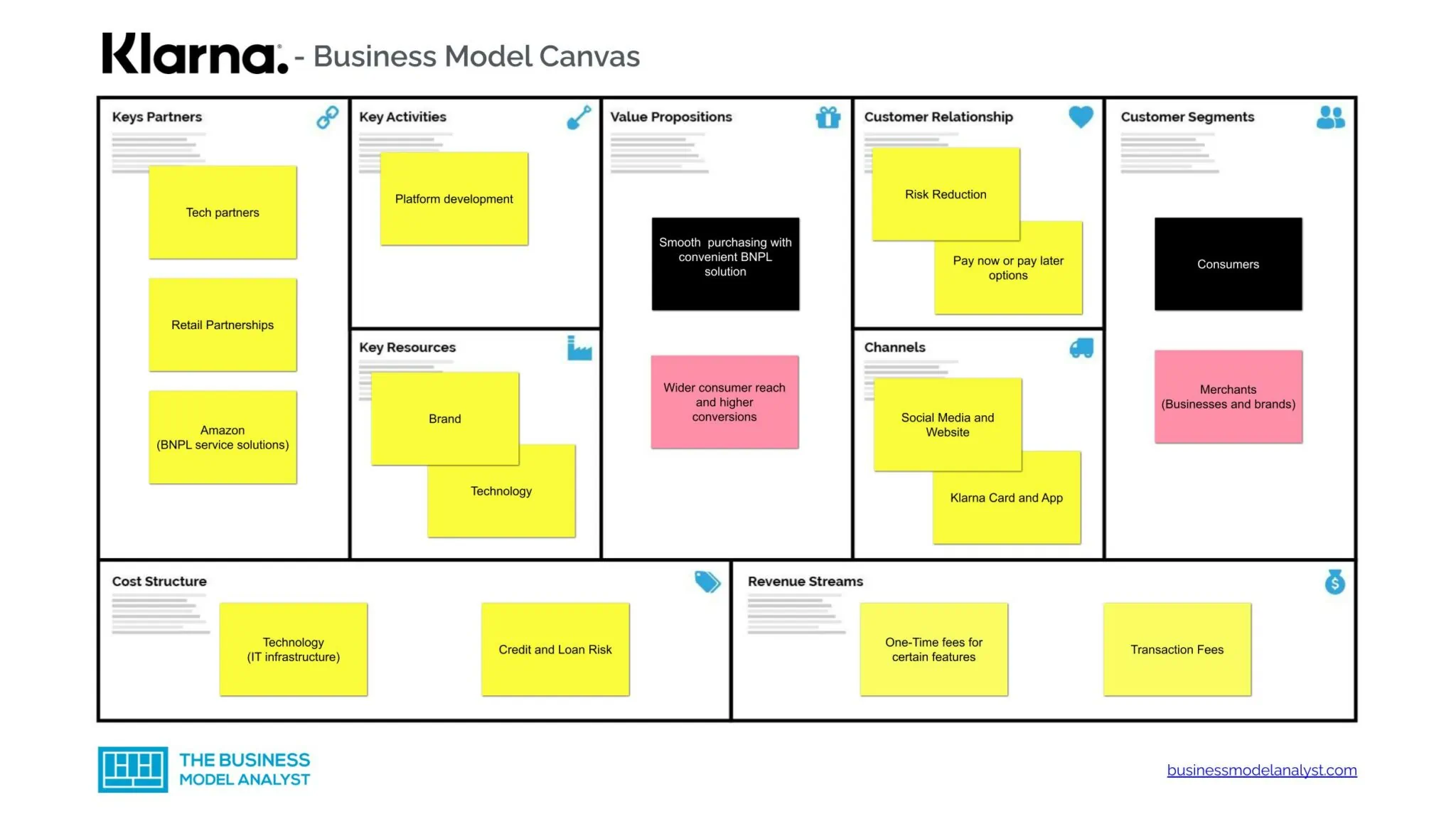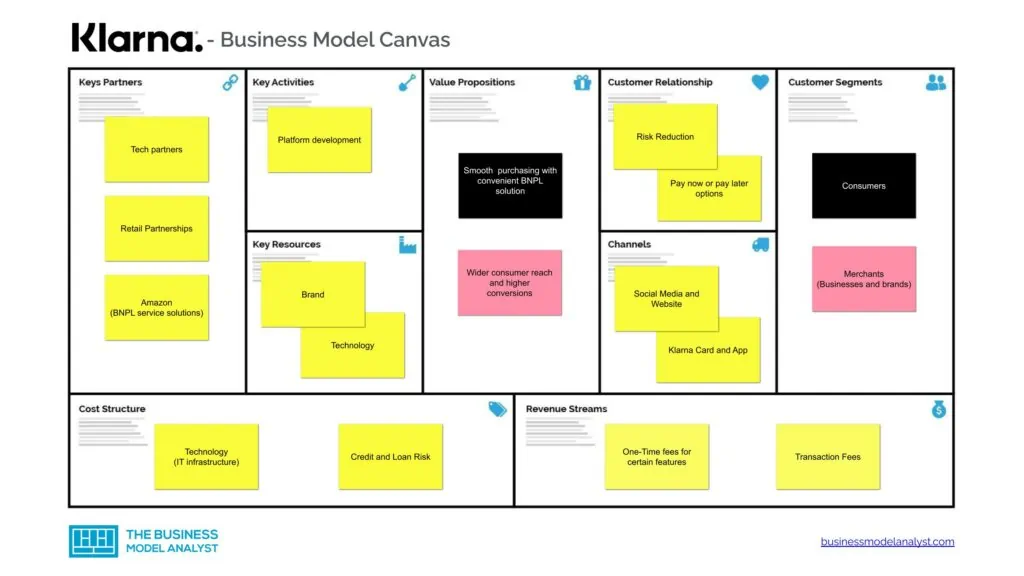 Klarna's Customer Segments
Due to the way that Klarna is set up to operate, it functions as a multi-sided business model. The result of this is that it features two interdependent customer segments, indispensable to each other. These are:
Consumers: These are the individuals who patronize Klarna for the high level of security and flexibility that the platform affords when it comes to paying for products after delivery;
Merchants: These are the businesses and brands that come to the Klarna platform because they realize that consumers may require increased flexibility when it comes to purchasing their products.
Klarna's Value Propositions
This fintech company provides value propositions based on four key points. These are convenience, performance, risk reduction, and increased brand respect. Here's more on these components.
Convenience: Users get an immense level of comfort and convenience via Klarna Checkout. Klarna Checkout is a feature that enables consumers to make online purchases with the click of a button. Because the platform already has the necessary financial information of the user saved, transactions can be made while saving a lot of time. On the other end of the spectrum, merchants benefit from this feature as well because it reduces the resources spent on administration;
Performance: Klarna Bank AB has amply displayed that it can pull its own weight thanks to the fact that it constantly and consistently delivers strong results for merchants. As an example, it has helped platforms like wish.com, adlibris, and fitnessguru record more than a 40% increase in conversion rate;
Risk Reduction: The fintech company has also shown that its protective features are quite formidable. A classic example of this is the fact that it consistently offers the Pay After Delivery service. This is a feature that lets Klarna users pay only after they must've received the product they ordered. What's more, this feature also allows the consumer to wait up to 14 days post-delivery before initiating payment, if they so choose. While it's reducing risk to consumers, it's also doing the same for merchants as well. This is because merchants on Klarna receive payment the instant that their product(s) is ordered by a consumer. As a result, Klarna assumes the risk on both ends and only gets reimbursed when the consumer finally pays;
Increased Brand Respect: With more than 45 million consumers and 65, 000 retailers globally, Klarna has garnered a lot of respect for its success. The platform oversees over 400, 000 transactions daily and boasts a record 10% of Northern Europe's eCommerce market.
Klarna's Channels
The fintech company has two main channels. These are:
Online and Offline Platforms: Most buy-now-pay-later transactions executed by Klarna are done through its online platform. However, more recently, retailers have begun experimenting with making more in-store options available for the platform. So far, this development has met a positive reception from users;
Klarna Card and App: The Klarna Card and app works to complement the offering of the website and social media pages of the company.
Klarna's Customer Relations
This platform interacts with its customers through three main channels. These are:
Merchants: The vast majority of the customer relationship that exists between Klarna and its users originates and is largely maintained by the merchants. As the platform is merchant-centric, this system of operation makes it more convenient to attend to the needs of its consumers;
App Interface: Users also relate with Klarna, albeit in a limited capacity, through the Klarna app. This app contains most of the payment information of the user and can be used to streamline the services of the platform;
Email and Social Media: Finally, users can also get in touch with Klarna via its official email or its social media handle on platforms like Facebook and Twitter.
Klarna's Revenue Streams
Klarna utilizes four main avenues to generate funds. These are:
One-Time Payments: The two categories of users (merchants and consumers) that the platform caters to are expected to make certain one-time payments before they can leverage Klarna's services. Consumers have to make a one-time payment before they can access Klarna's installment payment solution, while merchants are asked to make a similar payment to become eligible to use certain features like Klarna Checkout;
Transaction Charges: Merchants who leverage Klarna to perform transactions are obliged to pay a fee of 1.5 to 3% on each transaction they make;
Usage Charges: Primarily applicable to only merchants, this charges a monthly fee for the usage of the platform's higher-end features like Klarna Checkout;
Interest Fees: Primarily applicable to users, consumers that default on their payments to Klarna through specific payment options are liable to pay certain fees for such action.
Klarna's Key Resources
Klarna leverages three key resources. These are:
Brand Name: As the platform has established itself as a force to be reckoned with in the buy-now-pay-later (BNPL) industry, merchants who want to afford their consumers more flexibility naturally gravitate towards Klarna;
Technology: As the original BNPL service provider, Klarna continues to lead the industry with its proprietary software platform. Its considerably advanced banking software puts it ahead of competitors;
Partnerships: Through the right partners, the platform has been able to achieve scalability on a global level.
Klarna's Key Activities
The two major activities of the fintech company so far are:
New Banking Model: Thanks to the execution of a new and improved banking model, the brand continues to tap into new opportunities globally;
U.S. Scalability: In recent times, Klarna has been working to make its U.S. market even bigger than that of Germany.
Klarna's Key Partners
Klarna has three key partners. These are:
Amazon: By partnering with Amazon, the platform can bring its BNPL service solutions to more consumers globally;
Retail Partnerships: For its BNPL service to work, the platform has created partnerships with more than 60, 000 well-known brands around the world;
Alipay: Through collaborating with Alipay, Klarna was able to successfully breach the Asian market and increase its target audience.
Klarna's Cost Structure
The platform's cost structure can be broadly broken into two categories. These are:
Technology: Klarna operates a cost-driven structure that utilizes its new banking infrastructure and integration with partner platforms to increase revenue through maximum process automation;
Credit and Loan Risk: As the platform assumes responsibility on both ends of a transaction, it has had to more efficiently manage its credit and loan risks.
Klarna's Competitors
Affirm: Like Klarna, this platform is also a BNPL service provider. Founded in 2012 by Max Levchin, the company has its headquarters in San Francisco. Some major partners of Affirm are Shopify, Amazon, and Walmart;
PayPal: This platform was jointly founded by Peter Thiel, Max Levchin, Ken Howery, Luke Nosek, and Yu Pan in 1998. It rivals Klarna with its "Pay in 4" service, which was launched in June 2022;
Splitit: This is one of Klarna's newest rivals, as it was founded in 2021. Splitit works by lending money to its consumers at the point of sale, allowing them to pay back after an established timeframe.
Klarna's SWOT Analysis
Below, there is a detailed swot analysis of Klarna Business Model: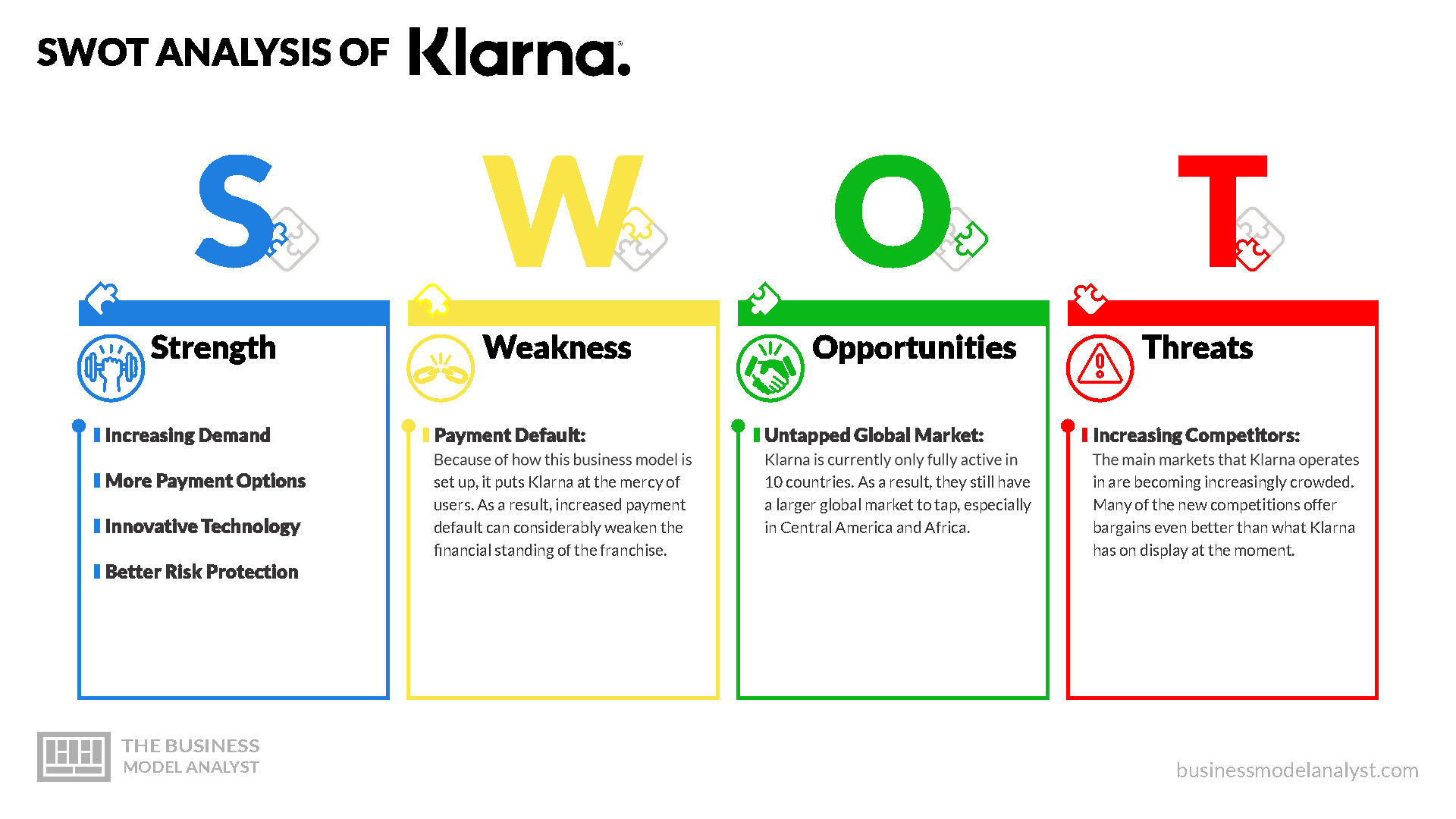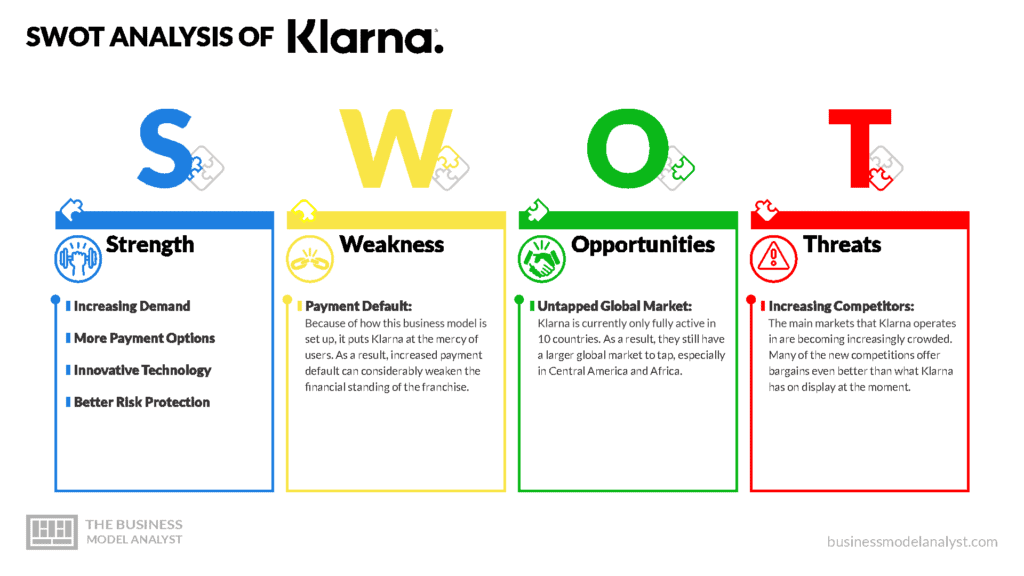 Klarna's Strengths
Increasing Demand: Considering the current economic climate, more consumers are willing to leverage the services of the brand;
More Payment Options: As the platform offers more payment options, potential users are more inclined to try it out;
Innovative Technology: The proprietary banking software they utilize gives the platform a considerable edge in the industry;
Better Risk Protection: Due to its system of operation, merchants and retailers alike enjoy maximum risk protection while they go about their transactions.
Klarna's Weaknesses
Payment Default: Because of how this business model is set up, it puts Klarna at the mercy of users. As a result, increased payment default can considerably weaken the financial standing of the franchise.
Klarna's Opportunities
Untapped Global Market: Klarna is currently only fully active in 10 countries. As a result, they still have a larger global market to tap, especially in Central America and Africa.
Klarna's Threats
Increasing Competitors: The main markets that Klarna operates in are becoming increasingly crowded. Many of the new competitions offer bargains even better than what Klarna has on display at the moment.
Conclusion
Although Klarna isn't recording profits right now, the future still looks very bright for the fintech company. As the brand continues to leverage modern technology and enhance its product features, they make itself more appealing to a growing market.
Klarna's business model canvas is undoubtedly unique, and many financial analysts are watching to see what the future has in store for the company.