Is Walmart Profitable? The retailer makes around $1.56 billion in one day and approximately $49 billion in monthly revenue. Walmart has posted these results for the last decade, with some years surpassing the $1 billion mark. From serving its nearly 36 million customers globally daily, Walmart has made massive profits over the years. By 1988, the retailer became one of the most profitable companies in the U.S.
Recently, Fortune released the 2022 Fortune Global 500 list, ranking the largest corporations based on revenue for fiscal 2021 globally, where Walmart maintained the top spot for the ninth year consecutively.
Despite Walmart's continued success, the company faced a previous $3.1 billion settlement in a national opioid case. During the 2022 third fiscal quarter, Walmart's revenue was $152.8 billion, an 8.7% increase from the previous quarter. However, net income dropped 158% to hit a $1.798 billion loss.
Timeline of Walmart's Financial Growth and Funding
Walmart is a multinational retail organization based in the U.S. It operates as a discount department and warehouse store network. By September 2021, Walmart had more than 10,500 locations globally. Further, the retailer is one of the biggest private employers globally, with over two million employees. Walmart is an irresistible investment for employers, having outshined the S&P 500 over the last few years. Here is Walmart's growth story.
1962-1970: Sam Walton launched the inaugural Walmart store in Rogers, Arkansas. The retailer adopted the "selling brand merchandise at low prices" approach, which became the driving framework for subsequent Walmart stores. The second Walmart store was established in Harrison, Arkansas, in 1964. By 1967, Walmart had 24 stores within Arkansas state and had hit $12.6 million in sales.
The retailer started expanding to other states in the U.S. in 1968. In 1969, the retailer was incorporated as Wal-Mart, Inc., before changing its name to Wal-Mart Stores, Inc. in 1970. The same year, the organization launched its inaugural distribution center and home office in Bentonville, Arkansas.
Then, Walmart had 38 stores, 1,500 employees, and $44.2 million worth of sales. In October of the same year, the company started trading stock as a public company. The initial stock split took place in 1971 at $47 per share.
1972-1980: In 1972, Walmart was listed on the NYSE (New York Stock Exchange) with 51 stores and $78 million worth of sales. By 1975 Walmart had 7,500 employees and 125 stores, making $340.3 million in sales. Between 1975 and 1979, Sam introduced the Walmart cheer, established a pharmacy, and launched the Walmart foundation.
Walmart made its first significant acquisition in 1977 when it purchased 16 Mohr-Value stores in Illinois and Missouri. In the same year, Forbes ranked Walmart top based on return on capital, equity, earnings growth, and sales growth. Walmart would acquire the Hutcheson Shoe Company in 1978 before establishing a division to cater to all the new product lines it was offering.
The retailer also launched its own jewelry divisions and auto service center in the same year. In 1979, 276 Walmart stores were spread across 11 states while sales had skyrocketed to $1.25 billion, making it one of the first companies to hit the $1 billion revenue milestone.
1981-1990: Walmart acquired about 92 Southeast American-based Kuhn's Big K stores in 1981. By then, the firm had more than 20,000 employees. In 1983 Sam launched the inaugural Sam's club in Midwest City, Oklahoma. It also adopted computerized point-of-sale systems in place of cash registers.
This approach was critical in facilitating accurate and fast checkout. Walmart completed its $24 million worth of satellite network investment in 1984, integrating all its stores with the Bentonville office through one-way video communications and two-way data and voice transmissions with the Bentonville office. These advancements allowed Walmart's corporate office to monitor inventory sales and communicate with stores instantly.
By 1984, Walmart was sourcing up to 40% of its products from China. Walton later stepped down as the CEO in 1988 but remained the board chairman. David Glass took over as the CEO. In 1985, Walmart invited U.S. manufacturers to participate in a "Buy-American" program, offering to collaborate to produce quality products to compete against imports. In his 1988 message to the Nation's Business, Sam said: "Our American suppliers must commit to improving their facilities and machinery, remain financially conservative and work to fill our requirements, and most importantly, strive to improve employee productivity."
Between 1985 and 1989, Walmart cut imports by around 5%, with analysts saying the company still sourced up to 30% of its products abroad. In 1990, Walmart became the leading retailer in the U.S. It also acquired a retail and grocery distributing company, the McLane Company, Inc., for approximately $275 million.
1991-2000: Walmart went global in 1991. Sam's club also merged with Indianapolis' Wholesale Club, Inc., in the same year. The company also agreed to dispose of its convenience store gas stations to Conoco, Inc., Sam Walton died in April 1992, and his eldest son took over as the board chairman. Walmart introduced Great Value in 1993. It also purchased 91 Pace Membership Warehouse clubs from Kmart for $830.5 million.
In the same year, Walmart posted a $2.33 billion profit out of $67.34 billion in revenue. The company adopted the "Always Low Prices, Always" slogan to boost its advertisement drives. It penetrated the Canadian market the following year after acquiring 122 Wool Corporation stores. In 1996, Walmart's total sales hit $118.1 billion and won a spot at the Dow Jones Industrial Average in 1997.
The company entered the European market the same year after acquiring the German-based 21-unit Wertkauf hypermarket chain for $880 million. The chain's annual sales then were approximately $1.4 billion, making it the eighth-biggest hypermarket in German. By 1998 Walmart operated five Sam's Clubs and nine Walmart supercenters in Puerto Rico. The company purchased the Asda chain in the U.K. in 1999.
2000-2010: Sales skyrocketed to $165 billion in 2000, with H. Lee Scott becoming Walmart's CEO and president. For the first time, the company was listed as the largest corporation on the Fortune 500 list in America. Its profit then was $6.7 billion out of a $219.8 billion revenue. Walmart maintained its revenue and profit margins for the better part of the decade. Fiscal revenues in 2003 were $244.52 billion.
In 2006 Walmart announced plans to remodel its stores in the U.S. to appeal to diverse demographics. Walmart adopted the "Save money. Live better." slogan in 2007. Global Insight conducted some research the same year and established that Walmart's reduced prices helped customers save up to $287 billion in 2006. In 2010, Walmart acquired Vudu, Inc., a video streaming company, for approximately $100 million.
2011 to date: At the beginning of 2011, Walmart announced a nutritional value-boosting program in its stores, eliminating trans fats and reducing sugars and salt. The company released "Goodies," its inaugural mail subscription service where customers received five to eight food samples for $7 monthly. However, the service didn't last, shutting down the following year.
Walmart started discussions with Naivas, a Kenyan-based supermarket, to acquire a majority stake. A section of Walmart employees downed their tools in crucial U.S. cities, citing poor salaries in 2014. Tracy Morgan also initiated a lawsuit against the firm over a multi-car pile-up, which allegedly a driver of one of Walmart's tractor-trailers caused.
Following the injury, Morgan and two passengers were injured. While Walmart admitted no liability, it settled with the family of one of the passengers for $10 million. It reached a settlement for an undisclosed amount with Morgan in 2015.
The company announced the closure of 269 stores in 2016. The same year, Walmart announced plans to acquire Jet.com, an e-Commerce platform, for $3.3 billion. It also revealed plans to partner with Tsinghua University and IBM to leverage blockchain to monitor China's pork supply chain.
In 2017 Walmart acquired Moosejaw for around $51 million and Bonobos, a men's apparel firm, for $310 million. It also acquired Parcel, a same-day and last-mile delivery technology-based company in Brooklyn. In 2018 Walmart introduced meal kits for two, while in 2020, it changed a section of its employee benefits following the pandemic. The pandemic disrupted operations at Walmart stores.
Temporary workers earned $150, while full-time employees earned a $300 bonus. In the 2020 third quarter, Walmart's revenue was $134.7, marking a 5.2% increase year-on-year. Walmart revealed plans to establish its Spark crowdsource delivery in 2021. It also sold a majority stake in Seiyu to Rakuten and KKR (Kohlberg Kravis Roberts & Co.)
The firm invested in autonomous vehicles, fintech, and drone delivery in 2021 before launching GoLocal last-mile delivery service the same year. In 2022 Walmart scaled in-home delivery to reach 30 million homes in the U.S., and Walmart Health expanded to Florida. The group also marked its 60th anniversary.
Walmart Financial Performance: Revenues, Expenses, and Profits
Walmart posted over $570 billion in revenue in 2022 to maintain its top position on Fortune's Global 500 list. The company's success is attributed to owning a supply chain that facilitates fulfillment, cutting costs. The supply chain also grants Walmart control over its logistics network.
72% of the group's strategic capital expenditures between 2019 and 2020 were linked to transformation in the supply chain, including adopting e-Commerce, infrastructure, and advanced supply chain technologies. The company spent over $11 billion during that period. As a result of these investments, Walmart has experienced flexible, accurate, and fast fulfillment and demand forecasting.
In the fourth quarter that ended January 31, 2023, Walmart's sales were $162,743 million, an increase from $152,871 million the previous year. Net income was $6,275 million, a sharp increase from $3,562 the previous year. Primary earnings per share from ongoing operations was $2.33, a slight increase from $1.29 the previous year.
The year's sales were $605,881, an increase from $567,762 the previous year. The company's revenue was $611,289 compared to $572,754 the previous year. Net income dropped from $13,673 the previous year to $11,680.
Walmart Revenue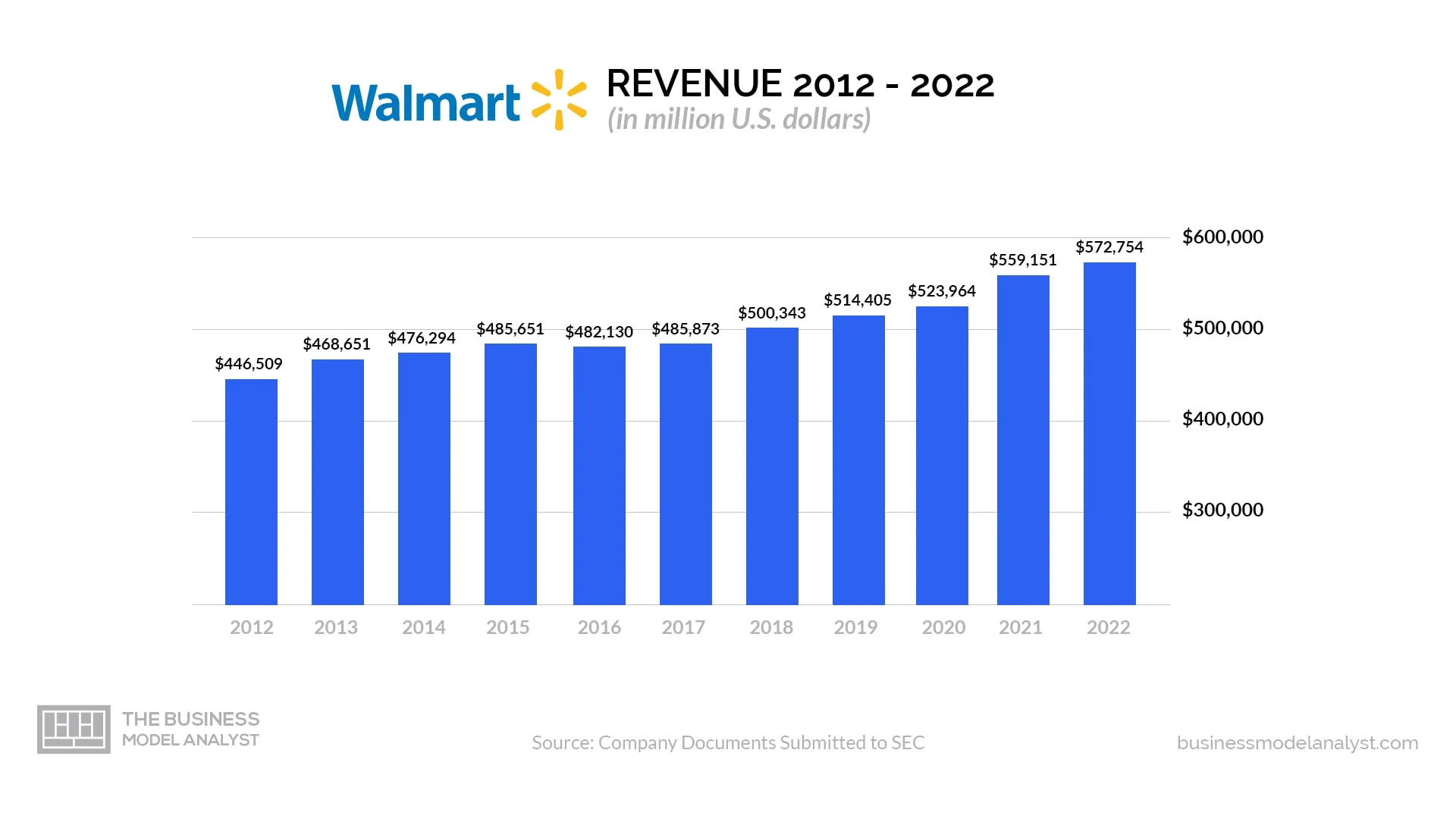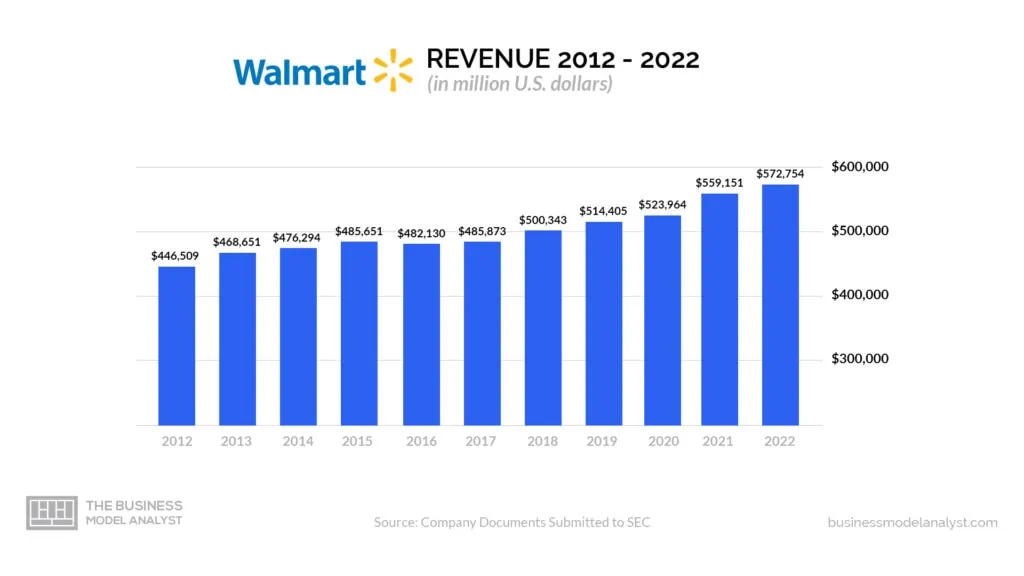 Walmart's revenue per year is approximately $572 billion annually. The company experienced 42% revenue growth between 2018 and 2021. It employs 2,300,000 employees, with the revenue per employee ratio being $249,023. The group's quarter four revenue for 2022 was $152.9 billion, while its peak revenue for the same year was $572.8 billion.
In 2021, Walmart's annual revenue was $559.2 billion, a 6.7% increase from the previous year, while its revenue for 2021 was a 2.43% rise from the previous year. The company's revenue for the January 31, 2023, quarter was $164.05 billion, a 7.31% rise year-over-year, while the annual revenue for the year ending January 31, 2023, rose by 6.73% to hit $164.048 billion.
In a recently released report, Walmart reported a 9% increase in sales in the 2022 third fiscal quarter. Revenue for the three-month period that ended October 31 was $152.81 compared to the company's estimated $147.75. Walmart released quarter four financial results for the 2022 fiscal year in November 2022.
According to the report, Walmart's revenue increased by 0.5% year-over-year, while its operating income increased by 7.3% to hit $5.9 billion. According to the company, divestitures in various business operations negatively affected its Q4 revenue by $10.2 billion.
Walmart Expenses
Walmart's operating expenses for the January 31, 2023, quarter increased by 7.83% year-over-year to hit $158.5 billion. The annual operating expenses for the 12 months ending on January 31, 2023, increased by 8.06% to hit $590.86 billion. In 2022, the company's operating expenses were $546.82 billion, a 1.9% rise from 2021. Operating expenses for 2021 hit $536.6 billion, marking a 6.6% rise from the previous year.
Walmart Profits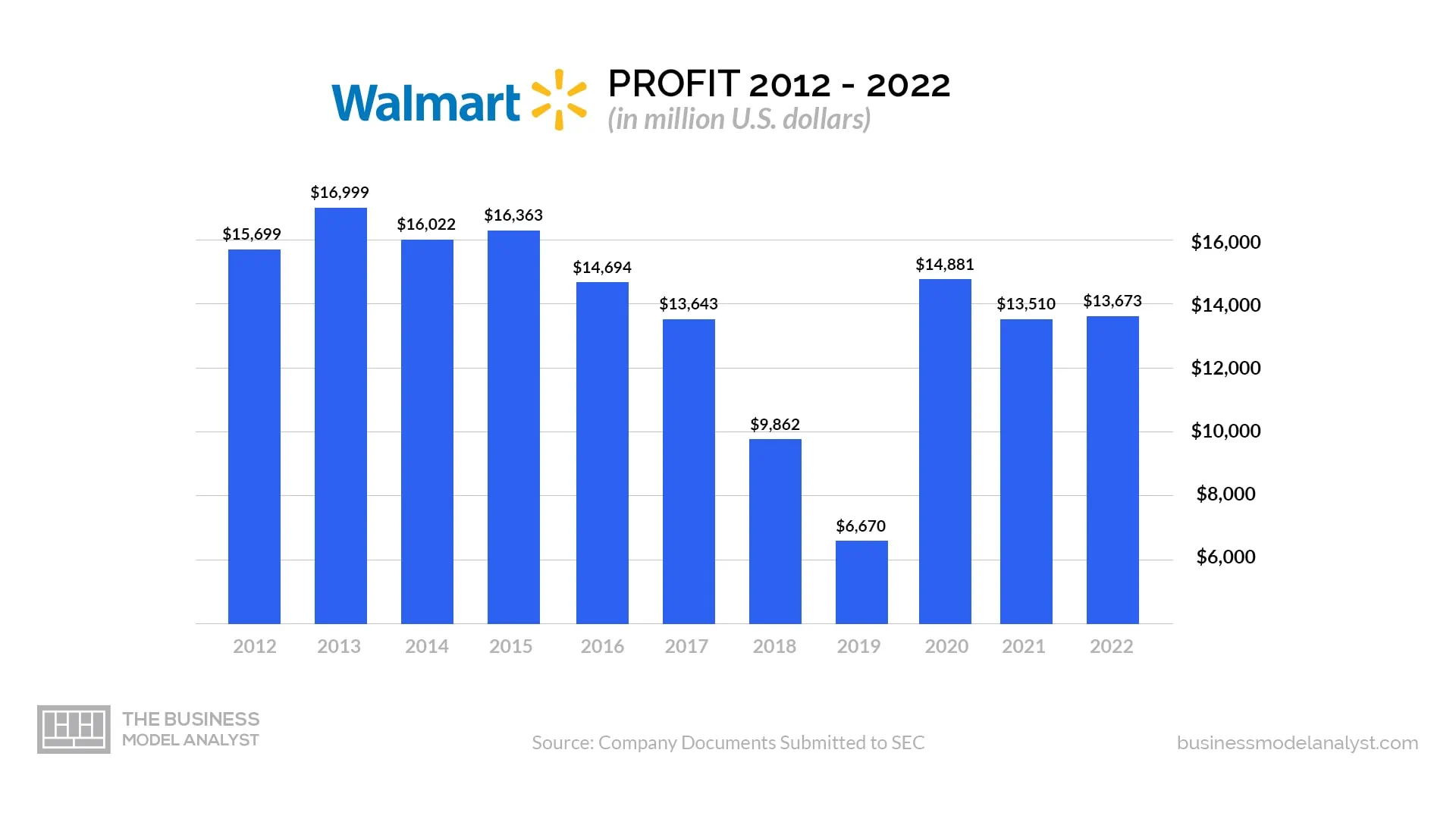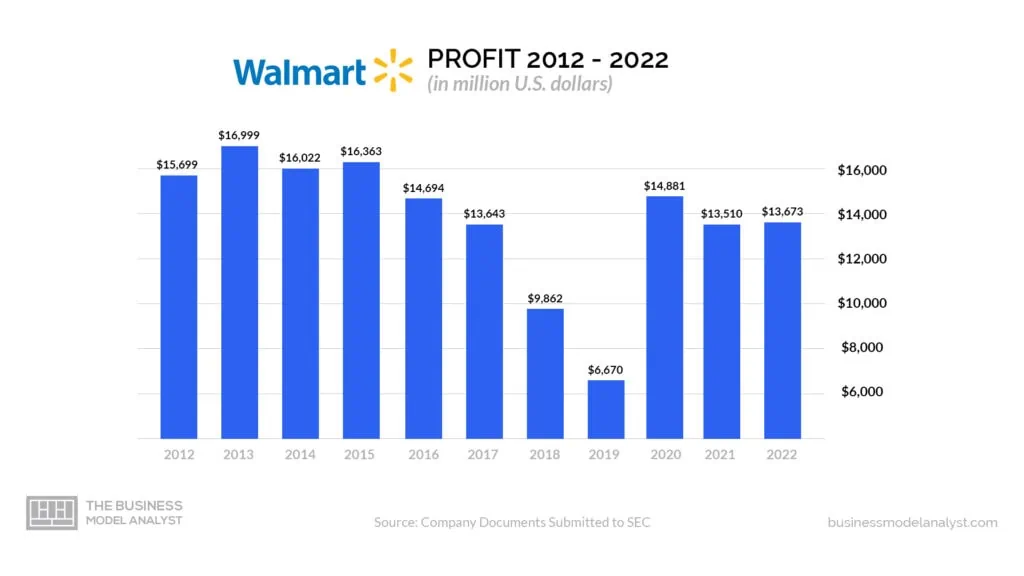 Walmart's 2021 gross yearly profit increased 7.3% from the previous year to $138.84 billion. In 2022, the company's profits rose by 3.54% to hit $143.75 billion, while annual gross profit for the year ended January 31, 2023, was $147.57 billion, a 2.65% rise from 2022.
Potential for Profitability
Walmart must adopt new strategies to remain relevant, attract customers, and increase revenue and profit. Digital advertising is one of the most effective methods Walmart can leverage to maximize growth. In 2018, Doug McMillon, then Walmart CEO, recognized the impact of digital advertising, saying: "we have a tiny ad business. It could be bigger."
While the company acquired Polymorph Labs in 2019 to improve its advertising operations, more must be done to thrive in the industry. Analysts opine that social commerce with transform the business industry.
Walmart is collaborating with social media companies to evaluate social commerce in the U.S. Once this strategy succeeds; it will generate more revenue and eventually increase its profit. The company should also improve Walmart.com's marketplace to make it user-friendly.
Conclusion
Walmart has been consecutively ranked the most successful company on the Fortune 500 list for nine years. The company has weathered many challenges during the pandemic and lawsuits to remain afloat. Walmart's revenue and profit margin sequence will continue for many years.