Yes, Tesla is profitable. However, the company has only become profitable in recent years, first achieving profitability in 2020 and growing to generate $12.55 billion in net profits for 2022.
Starting with just $862 million of profit in 2020, Tesla quickly grew over the next couple of years to make $5.6 billion in 2021 and more than double that by the year 2022. The answer to the question: "Is Tesla profitable?" is, therefore, a resounding yes – Tesla has been profitable since 2020 and continues to expand its business year-on-year.
Timeline of Tesla's financial growth and funding
Tesla's success in the automotive industry is remarkable, particularly as a sustainable and profitable car manufacturer. Here we look at Tesla's financial growth timeline, beginning with its initial funding in 2004.
2003 – 2004: Initial Funding
Tesla Motors was founded in 2003 by entrepreneurs Martin Eberhard and Marc Tarpenning. Elon Musk joined the company in 2004 and became the highest shareholder with an initial $6.35 million investment. Along with his investment, the Tesla Serie A funding on April 23rd, 2004, ended with $7.5 million being raised.
2006: Series C Funding
In 2006, Tesla closed a Series C investment round worth $40 million from venture capital firms seeking to capitalize on the nascent market for electric vehicles at that time. J.P. Morgan Securities Inc., VantagePoint Capital Partners, Capricorn Investment Group, and Draper Fisher Jurvetson all took part in this investment round.
2007: IPO
A year later, Tesla Motors conducted its first initial public offering (IPO), which saw it raise over $226.1 million; shares opened at $17 and ended at $23.89.
2008 – 2013: Loan Facility Agreement
Despite encountering difficulties raising capital during the 2007-2008 global financial crisis era, Elon Musk was able to successfully secure the U.S. Department of Energy's backing for a loan facility agreement worth $465 million. This government-supported leveraged loan offered lower interest rates than alternative borrowing options available at the time. The loan was paid back in 2013, about nine years ahead of the payment schedule.
2014: Expansion into China
In 2014, Tesla showed a significant accomplishment by beginning to sell their electric vehicles in new markets such as China, in addition to the more-established regions of the U.S., Canada, and Europe. Model S sales had already begun to generate profits compared to earlier models. This "stability" it provided was integral for experimenting with new products and subsequently releasing more affordable models like Model 3.
2015 – 2017: Strategic Alliances & Bigger Markets Reaches
The years from 2015-2017 marked a period of rapid expansion, thanks to strategic partnerships, successful entry into global markets, and increased revenue streams. Agreements with companies such as Daimler AG resulted in an added value proposition for customers, apart from cost savings in internal operations. Purchasing parts directly from component supplier Panasonic Corp also maintained key business relationships toward the expansion strategy, which led to revenue rising above projections. Moreover, successes with current products like the Model S and the upcoming EV sedan line Model 3 contributed to broader profit margins overall — enabling further development while generating higher profits quarter after quarter.
2018 – 2021: Autonomous Vehicle Revolution & Economic Potential Realized
In recent years, major breakthroughs in autonomous vehicle engineering have enabled a broadening of applications beyond luxury cars, which had been the main target up until then. Investments from external sources, such as large tech corporations, have helped to realize goals that were previously thought impossible.
Notably, the company's plan for AI-assisted transportation has recently been fulfilled, enhancing the experience of users. As a result, shareholder value has substantially increased, making green initiatives highly profitable in light of the current economic climate. Therefore, Tesla becoming an established leader in the electric vehicle space and growing their yields through multiple channels looks increasingly likely going forward.
Tesla's Financial Performance: Revenues, Expenses, and Profits
Tesla's Revenue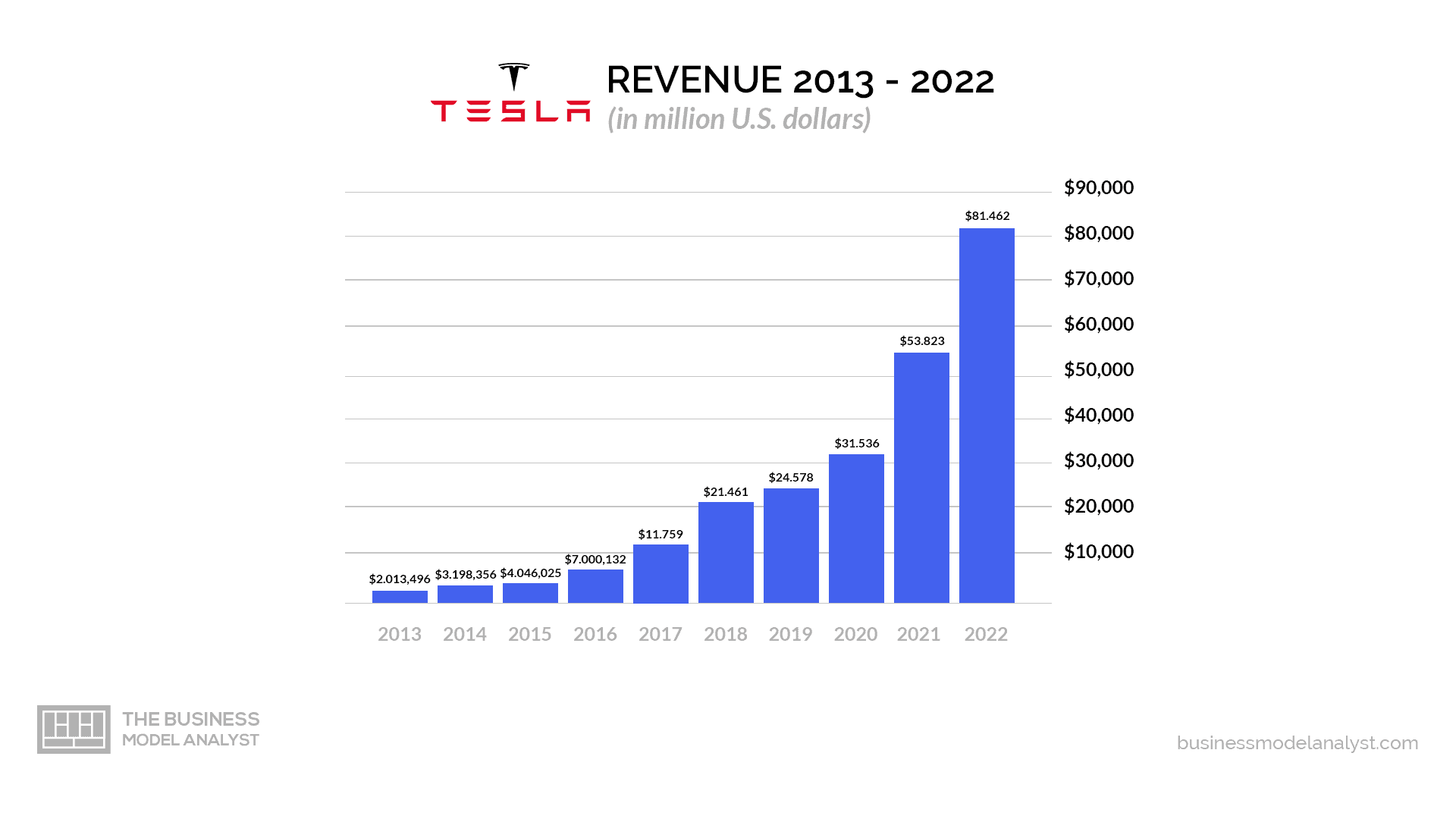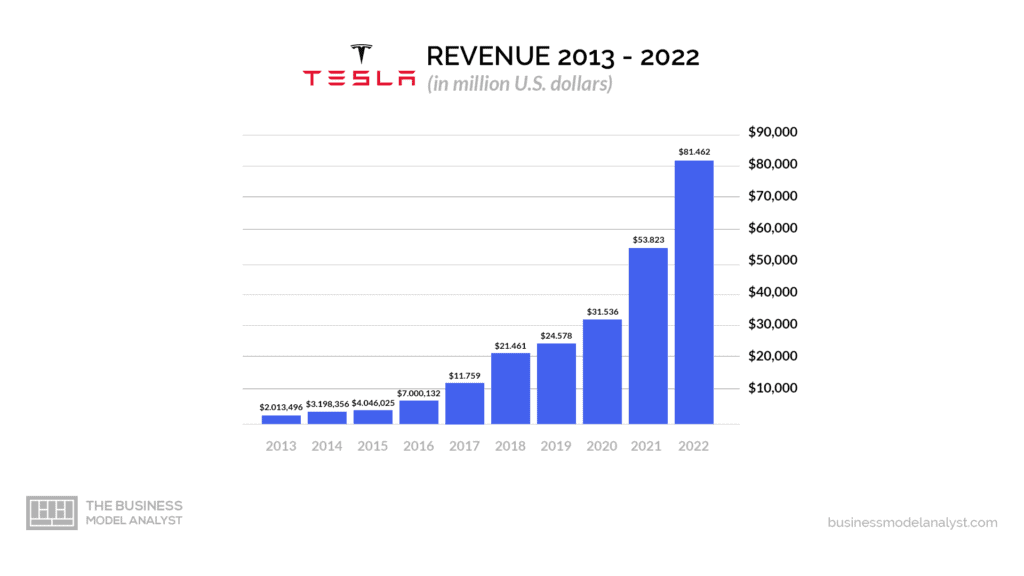 Tesla's revenues have steadily increased over the years. In 2018, Tesla reported revenue of $21.4 billion, an increase from 2017's $11.7 billion. This reflects a growth of 83%. The majority of this revenue came from Automotive sales, while "Energy Generation and Storage" and "Services and Other" accounted for a smaller percentage of the total sales. For example, in 2018, automotive sales accounted for 86% or $18.5 billion of total revenues, with "energy generation and storage sales" ($1.39 billion) and "services and other" ($1.55 billion) accounting for 6.4% and 7%, respectively.
These figures have grown significantly since then. In 2022, Tesla's automotive sales accounted for $71.46 billion on revenue of $81.46 billion, while "energy generation and storage" and "services and other" accounted for over $3 billion and $6 billion, respectively.
The impressive growth in revenues can be attributed to increasing demand for electric vehicles as well as Tesla's continued investment in product innovation, such as the introduction of new models and major upgrades made by the company to its existing products.
Tesla's Expenses
In terms of expenses, Tesla has two main categories – the cost of goods sold (COGS), which includes marketing costs and other variable costs related to the sale of vehicles; and administrative costs, which include salaries, rent payments, and additional fixed overhead expenses unrelated to vehicle production or sale activities.
Taking into account all these expenses associated with running Tesla's operations in 2018, it spent $17 billion on COGS, representing 79% of its total operating expenses recorded at $21.8 billion, while administration costs totaled 12.8% ($2.8 billion). Research and development (R&D) accounted for about $1 billion in expenses, or 6.4% of operating expenses. This marks a 63% increase when compared with 2017 ($13.3 billion in operating expenses), when these cost allocations stood at 71% (COGS) vs. 10% (administrative costs) of operating expenses.
In 2022, operating expenses stood at $67.8 billion ($47.3 billion in 2021), a 211% increase in costs from 2018 and a 43.3% increase from 2021. COGS accounted for $60.6 billion vs. $40.2 billion in 2021, while selling, general, and administrative costs (SG&A) stood at $3.9 billion vs. $4.5 billion in 2021.
Tesla's Profits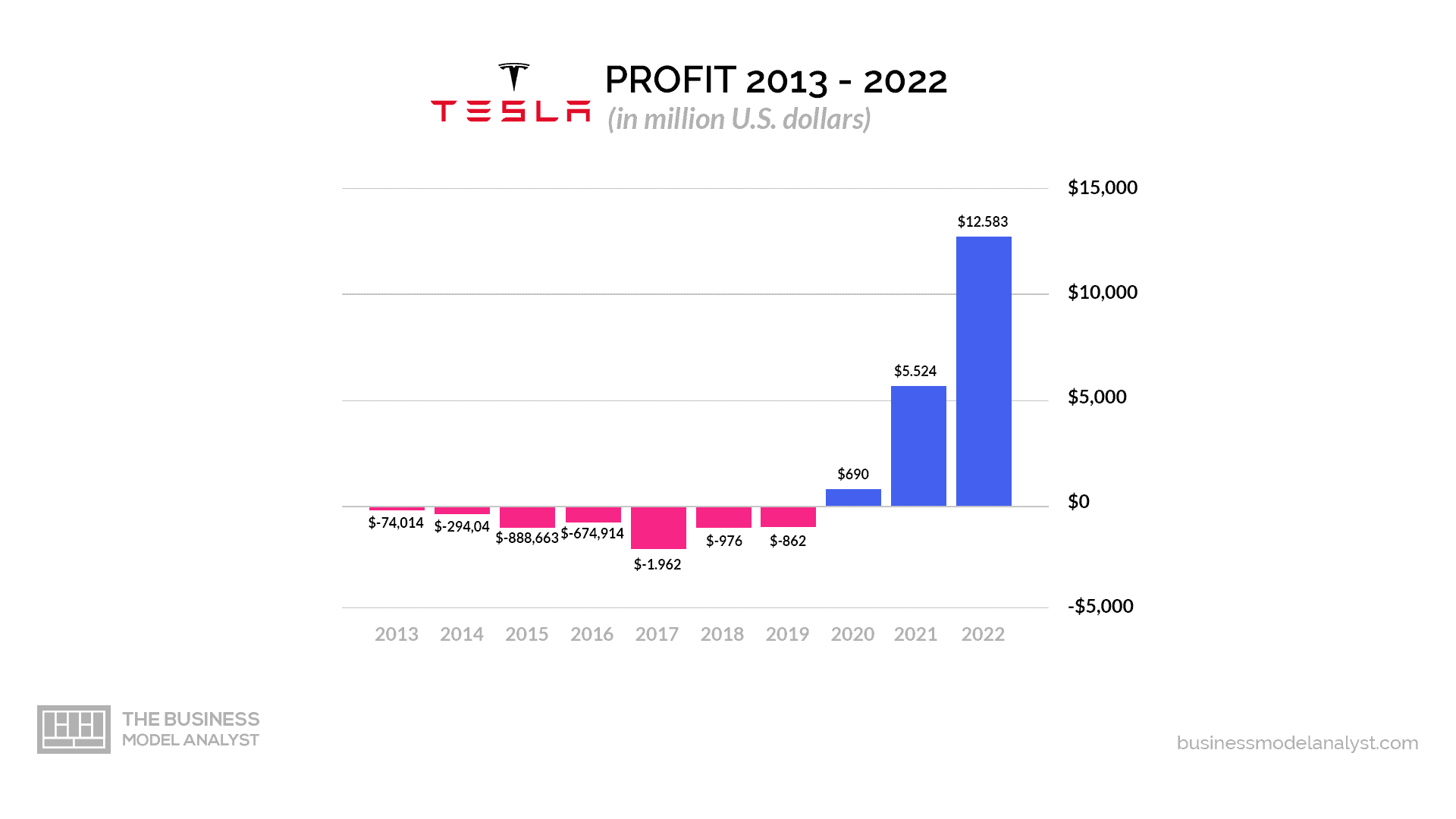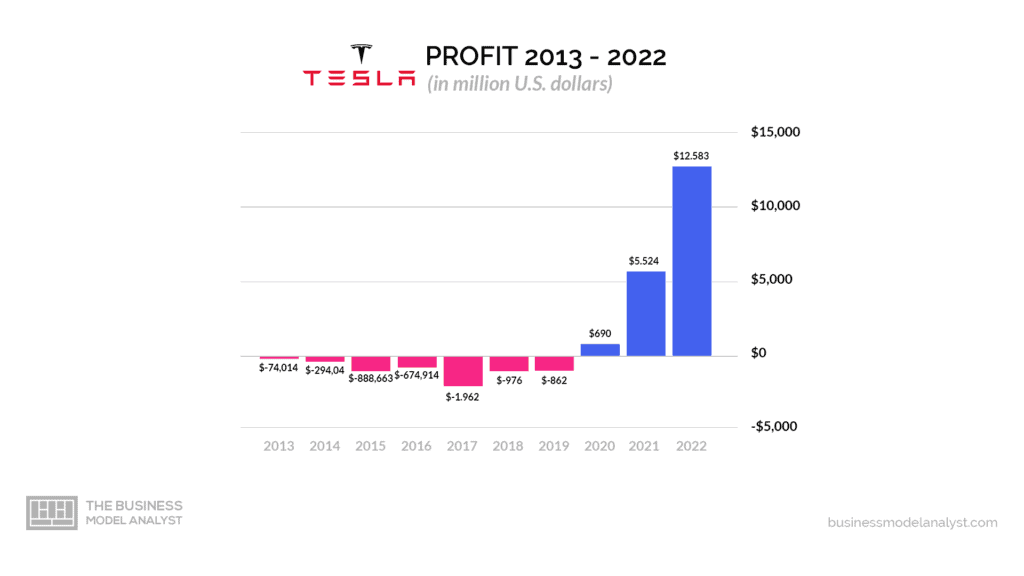 Although Tesla only recently became profitable, it isn't just pogo-sticking like most other companies. It has remained profitable for the last three years, 2020 – 2022. In 2020, it reported net profits just shy of $690 million on revenue of $31.5 billion, followed by a more impressive jump to over $5.5 billion in profitability achieved in 2021 ($53.8 billion in revenue), and lastly, a record-high profit figure of around $12.5 billion in 2022 (revenue of $81.4 billion), representing exponential growth in last year's performances.
These profits might be explained by positive consumer attitudes toward greener transport options or simply growing popularity among stock market investors, given the heavy increase in share prices that pushed TSLA stock to unprecedented levels in early 2021, reaching over the $400 per share threshold in November of the same year. It has, however, since come down and currently sits at about $200.
This indicates that despite significant investments made towards achieving green mobility goals, Tesla managed to remain consistently profitable, proving sustainability model journeys can be commercially successful without sacrificing the company's core objectives.
Potential for Profitability
Tesla has demonstrated an impressive level of profitability in recent years, and the company's potential for further profitability is very promising. As Tesla continues to expand their product offerings with new vehicles, autonomous driving technology, energy storage solutions, and other services, their revenues are likely to continue increasing.
In addition, as electric cars become more popular among consumers around the world and Tesla's brand recognition grows stronger, the demand for their products is only likely to rise. With this combination of increased revenues and brand awareness, Tesla should be able to maintain or even increase its level of profitability in the years ahead.
Conclusion
Tesla has been profitable for three consecutive years and is continuing to grow. The success of the company can be attributed to its innovative models and technological advancements, as well as its ability to recognize consumer demand and changing trends in the industry. Tesla has gained the trust of investors across the world, with their stock prices increasing exponentially since Elon Musk took control of the company in 2008. While Tesla has faced numerous challenges along the way, it appears that they have finally reached a point where further profitability is now within its grasp.
Their impressive net income figures demonstrate that Tesla is clearly doing something right when it comes to their business model — they are consistently able to turn a profit, even during times that are challenging for many other businesses and industries around the world due to the economic uncertainties caused by the COVID-19 pandemic. With such positive performance over the last three years, there is no doubt that Tesla will continue its success throughout future years as well.