Is PayPal Profitable? PayPal is a highly profitable company. In 2022, the company's revenue was $27.5 billion, out of which it made $2.4 billion in net profit. In 2021, PayPal generated $25.37 billion in revenue, an increase over the previous year's $21.45 billion. PayPal makes money by pressing fees charges on payment recipients. 
While many transactions via PayPal are free, merchants operating premier or business accounts pay a fee for each transaction. The fees are usually $.30, with a 1.9% to 2.9% surcharge. PayPal also gains interest on all the money left in an account. This forms a large portion of the company's income. 
For example, PayPal has over 400 million members. Suppose 100 million members leave $10 in their accounts for a year; the company would generate $17,500,000 due to its 1.75% interest rate. While that may be exciting news for PayPal, the same doesn't apply to its users. 
Timeline of PayPal Financial Growth and Funding
1998-Max Levchin, Luke Nosek, and Peter Thiel first established PayPal in 1998 as Confinity. The company specialized in developing security systems for hand-held gadgets. When the business model failed, the founders developed a digital wallet. The premier version of PayPal's electronic payments system was established in 1999. 
Between January and August 2000, PayPal grew tremendously, scaling to 2.7 million accounts from 12,000. Then, PayPal account holders could send money to anyone via an email address, whether they had a PayPal account or not. The system was so convenient that it won the hearts of eBay shoppers, who used it free of charge. 
PayPal was birthed after X.com, an internet financial services firm, bought Confinity in March 2000. X.com's founder Elon Musk was uncertain about the company's success, but Bill Harris, then CEO and president, thought otherwise. They later disagreed, and Bill left in May 2000. Later that year, Musk announced that X.com would only focus on the PayPal money transfer system, terminating its other internet banking services.
X.com was renamed PayPal, experiencing massive growth in 2001. PayPal went public in 2002 through an IPO listed under the ticker symbol PYPL, generating more than $61 million after selling each share for $13. After the IPO, eBay acquired PayPal for $1.5 billion in eBay stock. Previously, in June 2000, PayPal introduced a new account for businesses designed for high-volume commercial and individual accounts. 
Account holders had to pay 30 cents and 2.9% for every transaction. By the end of 2001, PayPal's business accounts were over a fifth of its 12.8 million accounts. eBay played a critical role in PayPal's growth. In July 2000, PayPal payments were acceptable by approximately two million eBay listings. By October, PayPal had 500 employees processing more than 120,000 transactions worth approximately $6 million daily. PayPal faced various challenges during its IPO phase. 
Analysts criticized it, saying it is "a unique payment platform on the Internet, ending up a company whose focus is a niche market, namely the eBay auction market." Such statements irked eBay, and after the New York State attorney general subpoenaed PayPal for its business records, eBay announced that PayPal would not be available for online gambling. Out of PayPal's $1.46 billion revenue, $117 million came from internet gambling. 
The company lobbied Congress to authorize online gambling to avoid losses, and eBay allowed it to continue operating in the adult content industry. In 2003, PayPal and the New York attorney made a formal agreement. PayPal was instructed to pay a $200,000 fine for authorizing the use of its service for online gambling. The company faced another $10 million lawsuit the same year. 
PayPal acquired the VeriSign payment system to offer reinforced security support. In 2007, the company revealed a partnership with MasterCard, resulting in the development and initiation of the PayPal Secure Card system that allowed customers to complete payments on websites incompatible with PayPal directly. 
PayPal's revenue by 2007 was $1.8 billion. The company acquired Fraud Sciences in 2008 for $169 million before buying Bill Me Later in November of the same year. December 2008 marked PayPal's tenth anniversary and neared 150 million users. 
2010-2015: By 2010, the company's active user accounts were more than 100 million in 190 markets. In 2011, PayPal announced that it would start moving its business offline to allow customers to make payments through PayPal in stores. By 2012, the company's total payment processed was $145 billion. 40% of this amount accounted for eBay's revenue, totaling $1.37 billion in the 2012 third quarter. 
PayPal continued developing its Merchant Services department and offering e-payment services for eBay retailers. In 2012, PayPal announced its collaboration with Discover Card to facilitate PayPal payments in any of the seven million stores within Discover Card's network. The company acquired Braintree Systems to enhance mobile services and product development for $800. Further, it bought IronPearl in 2013. In 2015, PayPal split from eBay officially and started trading as PYPL. 
The company announced plans to acquire Xoom Corporation, a money transfer company. The company spent approximately $1.09 billion on the acquisition, closing the deal in 2015's fourth quarter. This reinforced PayPal's international business by granting it access to Xoom's 1.3 million active customers in the U.S., who sent around $7 billion in twelve months to people in 37 countries. PayPal.Me was launched in September 2015. The peer-to-peer payment service allowed users to request funds by sending a custom link through email or text. 
2018-2021: PayPal approved the purchase of iZettle, a Swedish payment processor, for $2.2 billion in 2018, marking the company's biggest acquisition until late 2019. According to PayPal, that would be the in-store digital marketing power and expertise that would complement its mobile and online payment services. 
In recent years, PayPal has revamped its credit business by selling this feature of its operations to Synchrony Financial, a third party. PayPal announced its partnership with Instagram in 2019 as part of the latter's checkout feature. The company acquired Honey in 2020 for more than $4 billion, making it one of its most recent and biggest acquisition since its inception. 
In 2021, PayPal became the inaugural international operator with total control of a payment system in China, acquiring a high position in the local online payment sector. In the same year, Bloomberg reported PayPal's interest in buying Pinterest, with a potential $70 per share.
In March 2021, PayPal announced its interest in acquiring Curv, a crypto storage and transfer startup, after enabling crypto selling and buying on its platform. 
Since then, the company has launched cash back to crypto for Venmo credit cardholders, Checkout with Crypto, and the crypto price alert feature. In May of the same year, PayPal acquired Chargehound, which allows merchants to automate chargeback recovery. Analysts say this acquisition way PayPal's way of tightening relationships with retail partners. 
The company also acquired Happy Returns in May 2021. PayPal acquired Paidy, a BNPL provider, in 2021, too, for $2.7 billion. Paidy offers products such as Paidy Link and a short-term installment plan. PayPal was the premier wallet to integrate Paidy.
PayPal Financial Performance: Revenues, Expenses, and Profits
According to PayPal's financial results for the 2021 fiscal year's quarter four, the company's net income was $801 million, a 48%.9 drop from the previous year. However, revenue rose 13.1% year over year to $6.9 billion. The company recorded a $344 million net other expense in the quarter, compared to $896 net other income the previous year. The expense affected the net income in the fourth quarter. 
PayPal acquired up to 9.8 million net new active accounts during the quarter. This included 3.2 million from Paidy, one of its recent acquisitions. TPV (total payment volume) increased 23% year-over-year to $339.5 billion. PayPal admitted that 2021 was one of its most powerful years since its inception, declaring that its total payment volume for 2021 was $1.25 trillion. The company also said it launched more experiences and products than ever. In 2022, PayPal made no acquisitions. 
PayPal Revenue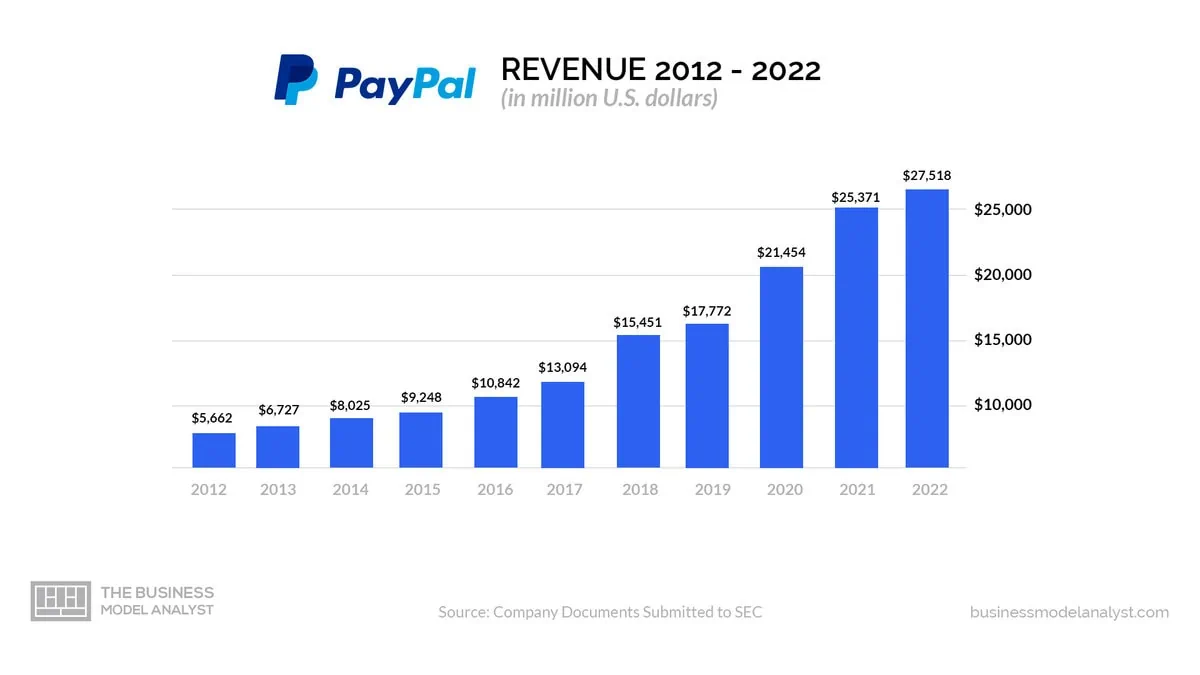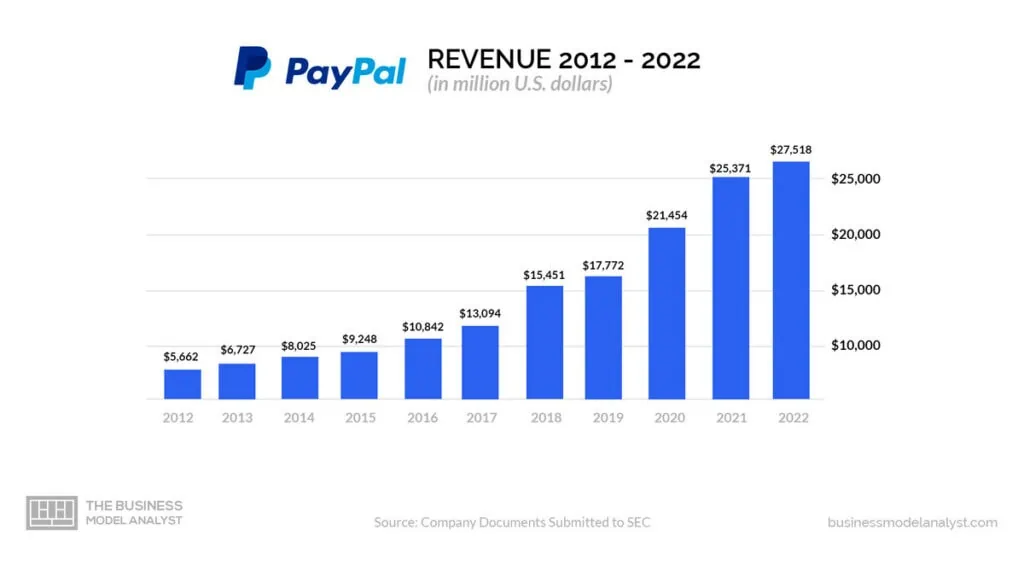 PayPal charges net fees to consumers and merchants for every completed transaction on its platform. Individuals' fee is based on the magnitude of the activity or top payment volume. The company also charges fees on cross-border transactions, currency conversions, cryptocurrency transactions, and money transfers from customers' Venmo or PayPal accounts to their bank accounts or debit cards. 
PayPal's transaction revenue for the fourth quarter of 2021 rose 12.2% to $6.4 billion. This category caters to over 92% of the company's overall revenues. The company also generates revenue from referrals, partnerships, gateway, and subscription fees. PayPal's value-added services revenue rose 24.7% to $541 million in 2021's fourth quarter. This represented almost 8% of total revenue. 
During 2022's fourth quarter, PayPal's net revenue rose by approximately 7% from the same period the previous year. Transaction revenues were around $19.9 billion in 2020. Reports suggest that PayPal is among the most used products. In 2021's fourth quarter, PayPal processed approximately 5.34 billion mobile and digital payments. 
PayPal's revenue for December 31, 2022, quarter rose 6.72% year-over-year to $7.383 billion, while annual income for the same period was $27.51 billion, an 8.46% rise year-over-year. Annual revenues for 2021 increased by 18.26% from the previous year to $25.371 billion, while in 2020, the yearly income was $21.454 billion, a 20.72% rise from the prior year. 
PayPal Expenses
PayPal recorded $6.139 billion in operating expenses in the December 31, 2022, quarter, marking a 4.62% rise year over year. The company's annual operational costs for the same period increased by 12.18% year over year to $23.681 billion. Annual operating expenses for 2021 were $21.109 billion, a 16.21% rise from the previous year, while in 2020, the company spent $18.165 billion in annual operating expenses, a 20.67% rise from 2019. 
Income taxes on December 31, 2022, quarter declined by 298.95% year over year to $0.189 billion. Annual income tax for the same period was $947 million, a 1452.86 drop year over year. Annual income taxes for 2020 and 2021 were $0.863 billion and $-0.07 billion, respectively, a 60.11% increase and a 108.11% drop from the previous years, respectively. 
PayPal Profit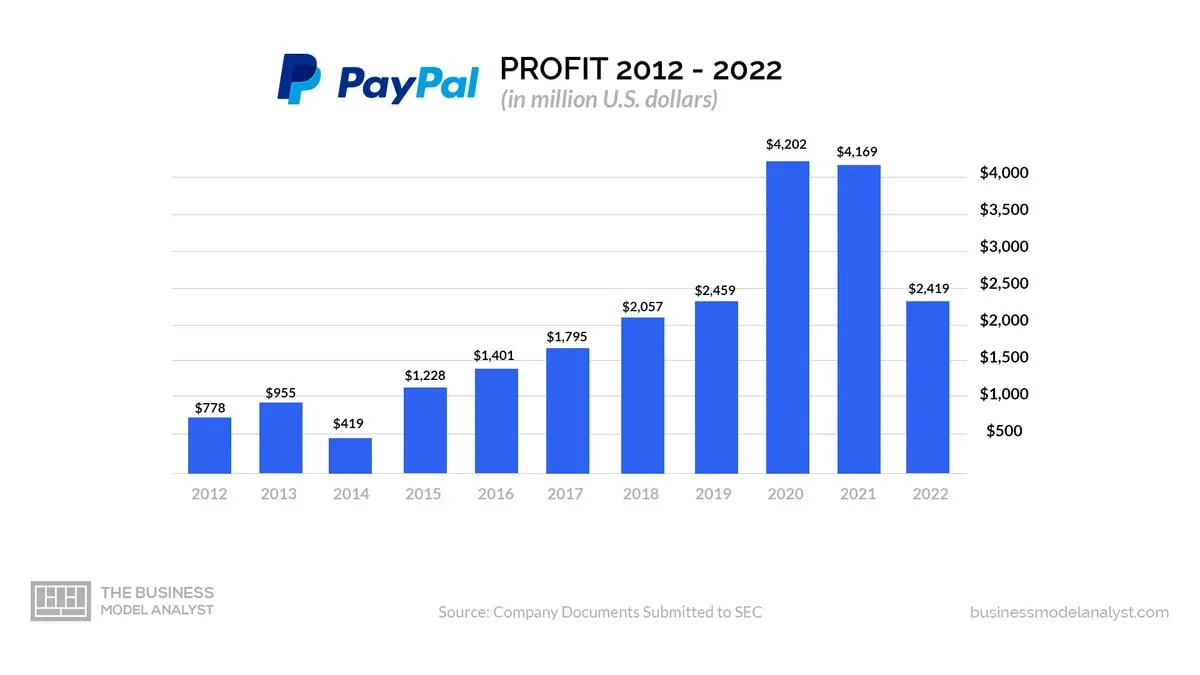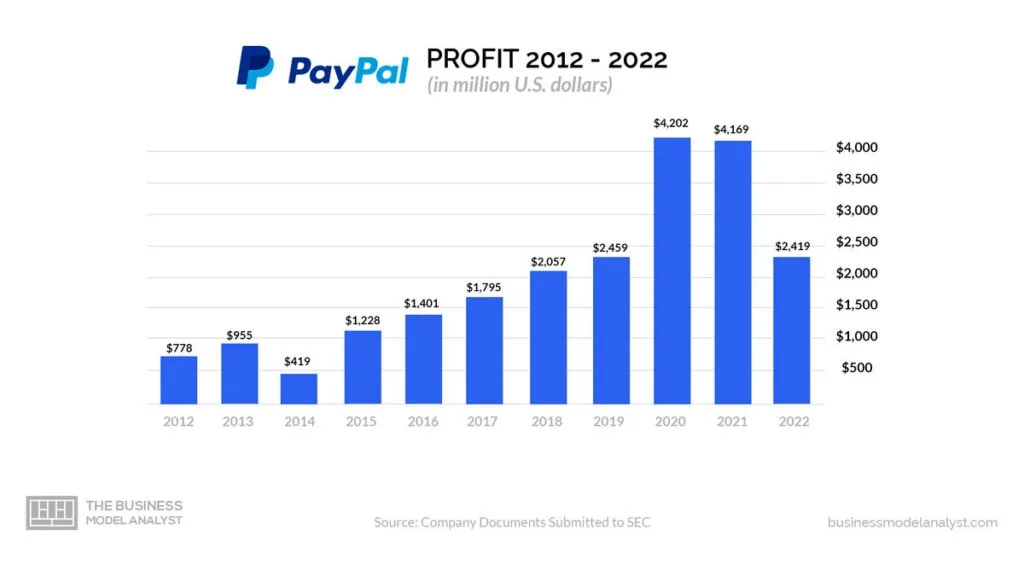 PayPal's gross profit on December 31, 2022, quarter was $3.13 billion, marking a 1.49% rise year over year. The company's annual gross profit for the same year dropped by 2.25% year over year to $11.653 billion. In 2021, PayPal's annual gross profit was $11.921 billion, marking a 19.2% rise from 2020. Annual gross profit for 2020 rose by 25.22% to $10.001 billion.
Potential for Profitability
PayPal is an innovative approach in the digital world with endless potential to increase its profits. The PayPal business model can generate more revenue by expanding to new regions. While PayPal is available in 200 countries globally, there are numerous untapped regions it should penetrate. International expansion is inevitable because it offers growth opportunities. 
PayPal operates in a highly dynamic technology sector. As a result, the company must be prepared for possible technological revolutions. The company is already advantaged when it comes to its technological scope. However, it can sharpen this advantage to become technology innovators in the future. For instance, the e-banking industry is still young. PayPal can learn more by collaborating with banks to offer user-friendly and convenient e-banking solutions. 
Businesses in the financial sector cannot ignore the emergence and popularity of cryptocurrency use. PayPal should consider incorporating cryptocurrency transfer on its platform. The popularity and use of digital cryptocurrencies such as bitcoins will continue as technology advances, and more people become digitally literate. 
PayPal can leverage these advancements by accepting cryptocurrency use on its platform or launching its currency. The company can also grow its customer base and encourage fund transfer by connecting with many business-to-customer firms. 
Conclusion
PayPal has played a core role in the digital payment world for over 20 years and remains one of the most profitable companies today. While it's deemed one of the most successful companies, PayPal can still maximize its profits by penetrating new regions, collaborating with banks to provide efficient and convenient e-banking solutions, and making its platform cryptocurrency-friendly. By adopting robust growth measures, PayPal is bound to remain profitable for many years.