Is McDonald's profitable? As of December 31, 2022, MacDonald's net profit was 26.65%. The company is one of the most successful restaurants globally, worth approximately $193.05 billion. McDonald's average annual sales for 2021 from more than 10,000 locations in the United States was over $3 million.
To franchisors, McDonald's is a highly profitable business, with a net income of over $2 billion. The average income for 2019, 2020, and 2021 was $2.480 billion. While success for a McDonald's franchisee is not guaranteed, the brand has a solid profitability record. Franchisees committed to investing in a McDonald's business can gain a good return on investment.
Reports suggest that the average MacDonald's store generates approximately $2.7 million in sales annually. While some McDonald's franchises make more than others, most generate around $150,000 in annual profit. This figure may vary based on the restaurant's location and the owner's experience. For example, McDonald's franchises in major cities like San Francisco and New York may generate more revenue and profit than their counterparts in smaller towns. Further, established McDonald's franchise owners are likely to earn more than new businesses.
Timeline of McDonald's Financial Growth and Funding
1940-1960: Brothers Richard and Maurice McDonald opened the first McDonald's restaurant in San Bernardino, California, in 1940. Originally, it was a drive-in that offered a vast range of items. This would change in 1948 when the brothers revamped the business, opening a newly transformed restaurant after three months of intensive renovations.
The founders designed a small restaurant to produce large quantities of food and low prices. To actualize this strategy, they limited the menu, which featured french fries, hamburgers, pie, and drinks, developing an efficient yet simple format, the Speedee service system. It included a self-service counter, eliminating the need for waitresses and waiters.
Customers received their orders fast since the restaurant prepared hamburgers in advance, wrapped, and warmed them under heat lamps. With these innovations, the founders sold each basic burger for 15 cents, around half the price of their competitors. McDonald's thrived, with revenue hitting $350,000 annually by the early 1950s, forcing the founders to initiate a franchise program. Speedee, McDonald's original mascot, was a chef hat atop a hamburger.
In 1962, the Golden Arches replaced Speedee, introducing the clown Ronald McDonald in 1965. The first McDonald's in Des Plaines was launched in 1953, making $366.12 in first-day sales. McDonald's bought appliances from Ray Kroc, a businessman. Thrilled by the many milkshakes the restaurant was selling, he visited it and later became a franchise agent for Ronald and Maurice. Ray launched McDonald's Systems, Inc. in Des Plaines, Illinois, in 1955. It later changed to McDonald's Corporation. He also established the premier McDonald's franchise east of the Mississippi River and bought out Maurice and Ronald in 1960 for $2.7 million.
In 1956, before the buyout, Ray discovered that Maurice and Ronald had licensed franchise rights for Cook County, Illinois, to the Frejlack Ice Cream Company. He was infuriated because he had not been informed. He repurchased them for $25,000. In 1960 McDonald's adopted the slogan "Look for the Golden Arches" as its advertising campaign.
1967-1990: The first McDonald's location outside the U.S. was opened in Richmond, British Columbia, Canada. In 1968 McDonald's incorporated the Big Mac into its menu, which later became the restaurant's top-selling product after french fries. The new Mansard Roof Design was introduced in 1960 in Matteson, Illinois. McDonald's introduced breakfast products in 1973.
Michael R. Quinlan became McDonald's Corporation president in 1982, while Quinlan became the CEO in 1987. Quinlan was the restaurant's first MBA degree-holding CEO, and his colleagues regarded him as an astute competitor. The company opened 600 new restaurants in Quinlan's first year as CEO. In the 1980s, McDonald's diversified its menu to suit evolving consumer preferences, introducing chicken nuggets and ready-to-eat salads between 1983 and 1987. McDonald's 10,000th restaurant opened its doors in 1988.
After struggling with the labor shortage, McDonald's embarked on effective training, leveraging its hamburger university, established in 1961. By 1990 over 40,000 had graduated with Bachelor of Hamburgerology" degrees. McDonald's had over 3,600 restaurants outside the U.S. by the early 1990s.
1991-2018: In 1992, McDonald's reintroduced picture and braille menus to recognize the millions of Americans with hearing, speech, and vision impairments. The company opened its first restaurant in Tel Aviv, Israel, in 1993. In 1996, McDonald's dropped the McLean Deluxe sandwich they had introduced in 1991 for poor performance.
MacDonald's core ad agency was fired in 1997 after 15 years of service following several failed campaigns. In 1998, McDonald's Corporation named Greenberg its new CEO and president, while Quinlan remained the chairman. The same year, the restaurant announced massive job cuts affecting its headquarters staff. In the company's 1998-second quarter, it accepted a $160 million charge regarding the job cuts.
This resulted in a decline in net income from $1.64 billion the previous year to $1.55 billion. Still, the company acquired a minority share in Chipotle Mexican Grill the same year. The company acquired Aroma Café and Donatos Pizza, Inc. in 1999. In 2000, McDonald's finalized its Boston Market chain acquisition for $173.5 million in debt and cash, marking its biggest acquisition then.
Revenue at the then broke Boston Market in 1999 was $670 million. During this period, Macdonald's fought to save its reputation after consumers complained of the restaurant's unhealthy food. At some point, McDonald's was forced to withdraw from two Middle Eastern nations and Bolivia after becoming a target for protests. The restaurant introduced low-calorie meals and adopted healthy cooking oil for its french fries. In 2001, McDonald's acquired a 33% stake in Pret A Manger.
The same year, the company disposed of Aroma Café, taking its McDonald's Japan affiliate public by selling a minority stake via an initial public offering. Later the same year, the company had a restructuring campaign, where they eliminated 850 positions and closed some stores. In 2002 McDonald's published its inaugural Social Responsibility Report. Sales during that year weren't encouraging, and the company tried to revive sales in the U.S. by introducing a low-cost Dollar Menu in vain.
After the company's effort to revive sales failed, Greenberg announced his resignation. Cantalupo rejoined the company as CEO and president. He began his tenure by closing down 700 restaurants in Japan and the United States and eliminating 600 jobs and $853 million worth of charges.
The charges resulted in a $343.8 million fourth-quarter loss in 2002. Cantalupo also moved away from McDonald's reliance on growth by establishing new units and focused on maximizing sales from the existing units. The restaurant launched new menu items, and in 2003 same-store sales rose 7.3%. Same-store sales for the entire year increased by 2.4% after dropping by 2.1% in 2002. McDonald's total revenue for 2018 was $21.03 billion
2019: Between 2019 and 2021, McDonald's closed over 400 restaurants located in weak locations to focus on remodels. McDonald's added new locations in 2022 after eight years of not doing so. The company recently announced plans to add more new locations in the U.S. and globally.
Speaking to investors, Chris Kempczinski, the CEO, said: "Our strong comp and brand performance has given us the right to build new units at a faster rate than we have historically" Ian Borden, the CFO, said: "We haven't added new units in the U.S. in eight years. So we've had eight years in which we've been largely focused on a remodel program. Our U.S. business is in significantly better shape today than it was back then."
Remodeling existing restaurants increased their value on the secondary market, selling for up to 10 times earnings before interest, taxes, depreciation, and amortization (EBITDA).
McDonald's Financial Performance: Revenues, Expenses, and Profits
In 2022, McDonald's released a financial report showing a $23.2 billion increase in global revenues from the previous year. This was a 21% rise from 2019 and the highest increase since the company hit $24.6 billion in 2016. Profit rose by 59% from the previous year, reaching $7.5 billion. Comparable McDonald's restaurant sales for the fourth quarter in the U.S. increased by 13.8% from the previous year. According to Chis Kempczinski, 2021 was a "banner year for McDonald's, despite the continued disruptions."
The company's net income for the 2022 fourth quarter was $1.9 billion, an increase from $1.64 billion the previous year. Net sales dropped by 1% to $5.93 billion but increased by 5% after eliminating foreign currency changes. Same-store sales globally rose by 12.6% in the fourth quarter. This was attributed to high demand in the U.S. and European markets. Increased demand and high menu prices in McDonald's home market pushed same-store sales growth by 10.3%. The company experienced stronger-than-expected growth outside the U.S.
McDonald's is looking forward to a fruitful 2023, expecting to open 1,900 new restaurants by the end of the year. The company plans to use up to $2.4 billion on capital expenditures in 2023. McDonald's also plans to grant European franchisees who require financial assistance between $100 million to $150 million in 2023.
McDonald's Revenue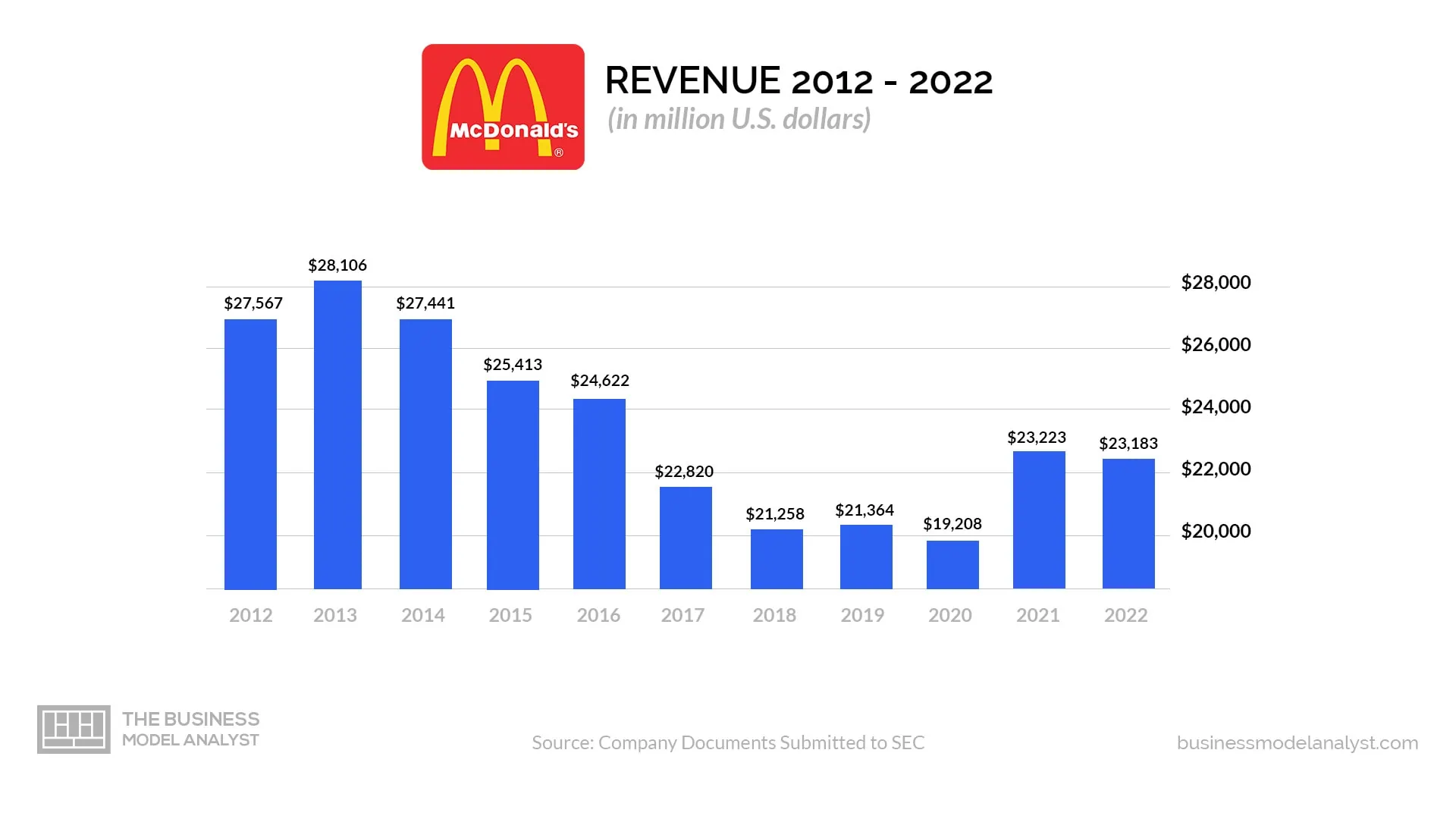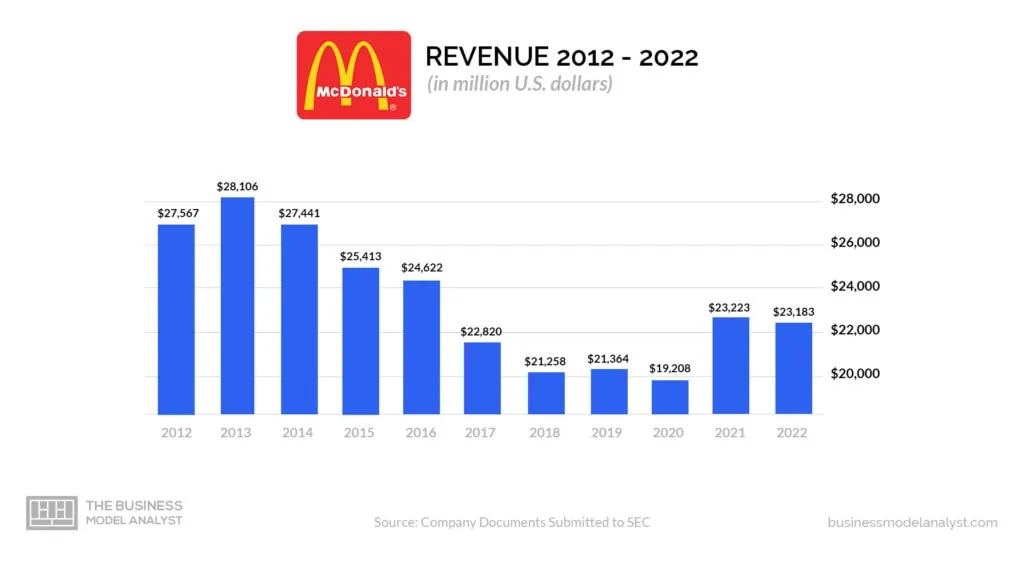 Global comparable sales for the fourth quarter ended December 31, 2022, rose by 12.6%, demonstrating solid comparable sales in all segments. While sales in the U.S. rose by 10.3%, the International Developmental Licensed Markets segment rose by 16.5%. System sales rose by 5% and 13% in constant currencies. Consolidated operating income rose 8% and 16% in constant currencies.
The sale of McD Tech Labs pushed consolidated operating income up by 5% and 14% in constant currencies. McDonald's diluted earnings per share increased by 19% and 26% in constant currencies to hit $2.59. Global comparable sales for the entire 2022 rose by 10.9%. Consolidated operating income for 2022 dropped by 10% and 3% in constant currencies.
2022 results included $1.3 billion of charges affiliated with the sale of McDonald's business in Russia and a $271 million gain affiliated with the company's Dynamic Yield business sale. Diluted per-share earnings for the year was $8.33, a 17% drop and 12% in constant currencies.
McDonald's Expenses
McDonald's operating expenses for 2020 dropped by 3.34% from the previous year to hit $11.884 billion. In 2021, the company's annual operating expenses were $12.867B, an 8.27% rise from the previous year. Annual operating expenses in 2022 increased by 7.34% to reach $13.812 billion, while the same expense for the quarter ending December 31, 2022, dropped by 7.43% year-over-year to hit $3.34 billion. Income taxes for 2020 dropped by 29.23% from the previous year to $1.41 billion.
McDonald's spend 12.23% more than the previous year, an equivalent of $1.58 billion. Yearly income taxes for 2022 increased by 4.13% from the previous year to $1.648 billion. In the quarter ending December 31, 2022, income taxes were $0.436 billion, a 7.14% drop year-over-year. McDonald's recorded a 14.18% rise in SG&A expenses in 2020, to hit $2.546 billion.
The same expenses increased by 6.36% from 2020 to $2.708 billion, while 2021 SG&A expenses were $2.863 billion, an increase of 5.73% from the previous year. Annual SG&A expenses for 2022 increased by 2.35% from the previous year to reach $2.771 billion. In the fourth quarter ending December 31, 2022, McDonald's spend $0.720 billion in SG&A expenses, a 14.44% drop year-over-year.
McDonald's Profit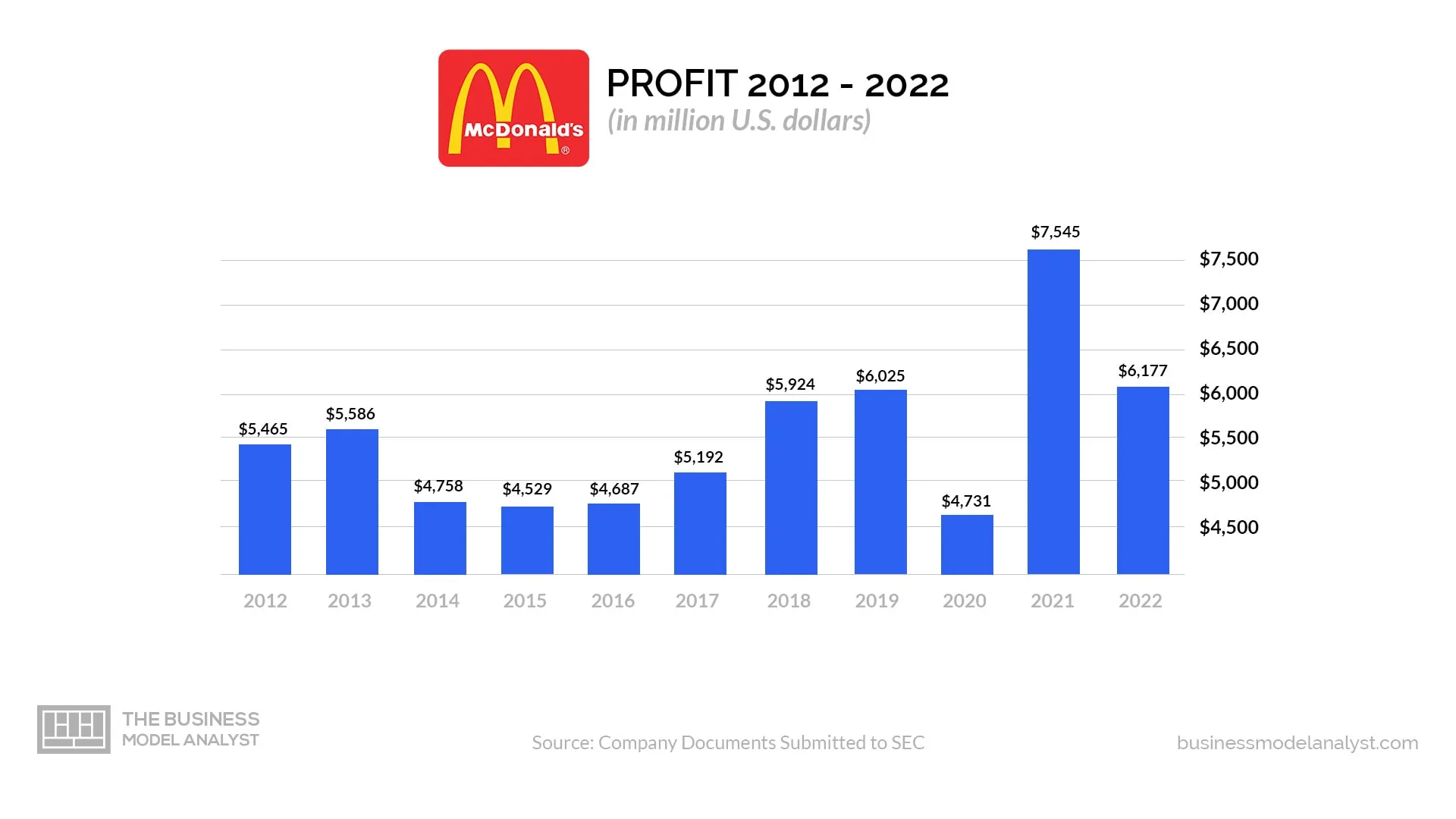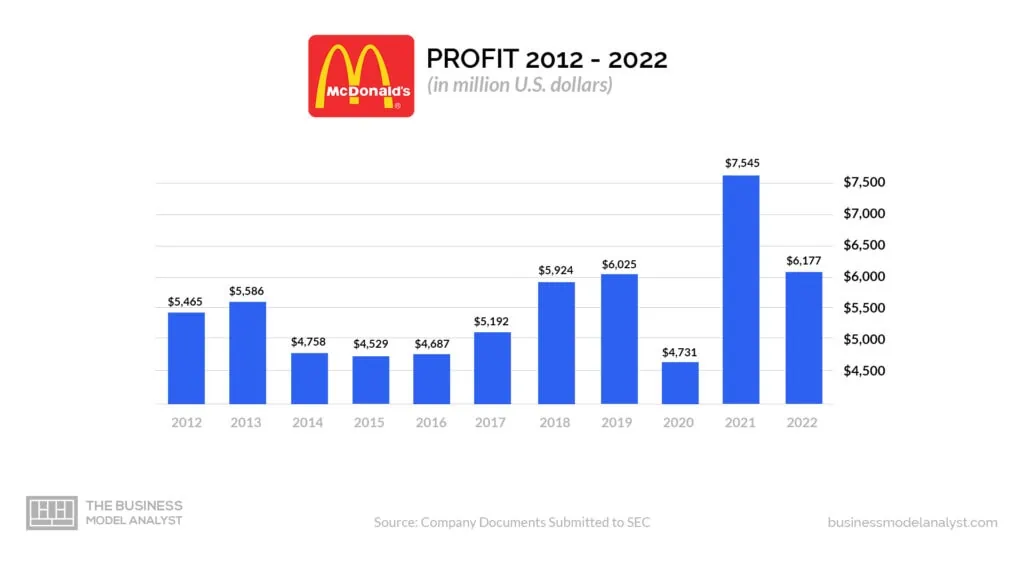 Gross profit for the fourth quarter ending December 31, 2022, was $3.409, increasing by 4.54% year-over-year. Annual gross profit for 2022 was $13.207 billion, a 4.98% rise year-over-year McDonald's gross annual profit for 2021 increased by 29% from the previous year to $21.58 billion, while profit for 2020 was $9.752 billion, a 12.77% drop from 2019.
Potential for Profitability
McDonald's can take various steps to increase their profits. For instance, it can adopt new programs to reinforce suppliers and secure the stability of its supply chains. The company can also acquire firms related to its business model to attain vertical integration. For instance, McDonald's can buy out flour processing companies to increase its supply chain control and reduce risks involving volatility in the supply of raw materials.
McDonald's McCafé products are thriving in the market, a sign the company can grow its consumer products business further. The company's 4Ps marketing concept can assist consumer product operations regarding product design and development. Growth in the consumer products business can boost McDonald's revenues and eventually increase profits.
Conclusion
McDonald's is one of the largest and most successful fast food chains globally. The company has maintained financial stability over the years, despite closures occasionally. As the restaurant industry becomes overly competitive, McDonald's must implement the right strategies to stay ahead of its competitors and increase profits.