Is Disney profitable? Disney is a successful and profit-making company. While announcing the company's first earnings in December 2022 since he returned as the CEO, Bob Iger announced that the operating profit at Disney Products, Experiences, and Parks was $3 billion. This was a 25% increase from the previous year. 
Bob also revealed that quarterly revenue and profit exceeded Wall Street's expectations. The company's streaming division was not quite profitable. Still, its losses dropped by $400 million compared to a year earlier. Even though the economy has been weakening in the last few years, the company's domestic theme parks generated a massive $2 billion operating profit, a 36% increase from the previous year. 
However, it's essential to understand that some segments of the company posted less favorable results in the recent financial release. During the same meeting, Bob unveiled the company's restructuring measures to cut costs. 
The new operating structure would eliminate approximately 7,000 jobs globally. However, the company would save $5.5 billion. Bob said, "We must return creativity to the center of the company, increase accountability, improve results and ensure the quality of our content and experiences,"
Timeline of Disney Financial Growth and Funding
1923-1955: In late 1923, siblings Roy and Walt Disney established the Disney Brothers Cartoon Studio in Hollywood, California. Today, the studio is the Walt Disney Company, one of the biggest media firms globally. From the onset, Walt was committed to creating a state-of-the-art, self-sufficient production factory, offering all the critical facilities to ease the production process. 
As a result, he was always present during the studio's design. By 1926, Disney had outgrown its small estate office. Walt moved the company to a more spacious store next door, but soon needed a bigger space. The company later relocated to Hyperion Avenue in Hollywood, where they constructed a studio and moved all the staff to the new structure. 
The inaugural series of dully animated films began in 1927, marking the birth of Mickey Mouse. It was not until 1928 that Disney released the first Mickey cartoon. The film was an instant sensation and carved a niche for the studio, which has stood the test of time over the years.
In 1930, the Disney staff discovered the art of merchandising their characters to boost revenue. 
One New York resident offered the company $300 to acquire a license to print Mickey Mouse on pencil tablets he was producing. Walt agreed to the deal, which would birth Disney merchandising. The inaugural Mickey Mouse book and newspaper comic was published in the same year. 
The company changed its name to Walt Disney Productions in the 1930s. In 1934, Disney began producing a feature film whose production cost surpassed the budget. However, it became an instant hit upon its launch in 1937. This convinced Walt that feature films would become the bedrock of Disney's profits. Between the 1940 and the 1950s, Disney produced numerous animated features. 
In 1954, Disney's first series started running on television, where it remained for 29 years straight! Disney's introductory theme park opened in 1955 in Anaheim, California. Walt Disney World Resort and the Experimental Prototype Community of Tomorrow (EPCOT) would later open in 1971 and 1982, respectively.  
1966-1989: Walt was a perfectionist who valued good movies more than profits. He died in December 1966, leaving the company in a financial mess. However, he had organized enterprises to guarantee the company a future in his absence. His brother Roy supervised Walt's projects, which became instant successes upon launch. Epcot, Walt's final project, attracted over 10 million visitors annually by the 21st century. 
Disney struggled throughout 1970, despite having some of the best CEOs. The company relied on the plans Walt left to remain afloat for years. The Black Hole was one of Disney's most expensive production, costing $20 million. However, it was clouded by the Star War's success. 
Tokyo Disneyland was established in 1983, becoming an immediate success. In 1984, Saul Steinberg attempted to take Disney over. Eventually, Disney purchased Saul's 11.1% holding for $325.4 million, triggering numerous lawsuits from shareholders against Saul's Reliance Group Holdings and Disney. Those were settled when companies agreed to pay shareholders $45 million in 1989. 
Golden Girls was introduced in 1985 by Disney's Touchstone division, while Disney Sunday Movie returned to Sunday night television in 1986. In 1988, Disney was leading in box-office gross in Hollywood studios after some of its films hit and surpassed the $100 million mark. Disney penetrated new areas by buying Wrather Corp and establishing Hollywood Pictures. The company also acquired Childcraft and launched various Disney Stores.
1990-1999: The 1990s were some of the most successful years for Disney, with the release of various animated blockbusters. By 1991, Disney's international operations generated 22% of overall revenues. The company acquired Discover magazine the same year. In 1993, Disney won the National Hockey League team franchise for the Mighty Ducks of Anaheim. 
Trouble set in the late 1990s when a helicopter crash resulted in Frank Well's (the company's president from 1984) death. Jeffrey Katzenberg, then chairman, bid for the position of president but lost. That left him angered, mainly because he had coveted the position. He later left the company on unfriendly terms, triggering a litigious feud between him and then-CEO Michael Dammann Eisner. 
While he received the equivalent of his ten-year salary upon departure, Katzenberg demanded $580 million in compensation. In 1995, Disney merged with Capital Cities in a $19 billion deal, giving the company control over radio and television stations and cable networks. By 1999, there were 725 Disney stores globally. 
Disney's businesses posted dismal financial results during the same period, except for theme parks. The company's operating income for the inaugural nine months of 1999 dropped by 17% while net income was down by 26%. Earnings per share decreased by 27%. 
2000-2018: Disney's net income in 2000 increased by 39%, while earnings rose by 9%. The company's financial position suffered in 2001 following the September 11 terrorist attacks in the USA. 
Disney lost $158 million in net earnings, partly attributed to the $5.3 billion acquisition of Fox Family Worldwide, Inc. In 2003, Walt Disney Studios became the premier company to surpass $3 billion in global box office sales. 
In 2004, Comcast Corporation bid to buy the Walt Disney Company for $54 billion, which Eisner turned down. However, this triggered uncertainty about the company's future. Disney's endless challenges forced Eisner to surrender the chairmanship, with some members calling for his resignation as CEO. 
In 2006, Disney invested $7 billion in acquiring Pixar Animation Studios. It also launched Pirates of the Caribbean: Dead Man's Chest, winning a Best Visual Effects Academy Award. Sometime in 2010, Disney sold off some of its assets and the Power Rangers franchise for $100 million. It also disposed of Miramax Films for $660 million. The company also launched Toy Story 3. 
The film won two Academy Awards for Best Original Song and Best Animated Feature. Disney purchased Lucasfilm in 2012, complete with its Indiana Jones and Star Wars properties, for $4.06 billion. Disney movies won three Academy Awards in the same year. 2014 was another award-winning year for Disney, with Big Hero 6 winning the Best Animated Feature Academy Award.
The company also bought Marker Studios for $500 million. In 2018, Comcast placed a $65 billion counter-bid for 21st Century Fox assets, but Disney beat them with a $71.3 billion offer. Comcast later abandoned the offer in pursuit of Sky Plc, giving Disney free will to buy the Fox assets. 
Disney Financial Performance: Revenues, Expenses, and Profits
The Walt Disney Company recently released its financial report for the first quarter of the 2023 fiscal year. Linear works earnings dropped by 5% to $7.3 billion, while operating income dropped by 16% to $1.3 billion. While domestic channels earnings declined by 1% to $6.1 billion, operating earnings rose 5% to $928 million. The rise in operating earnings was attributed to impressive results at the cable. 
Broadcasting results were similar to the previous year. International channels earnings for this period dropped 21% to $1.2 billion, while operating revenue was $131 million, a 64% drop. This drop was attributed to reduced advertising and affiliate income. Revenue from equity investees reduced from $242 million to $196 million, a $46 million drop. Direct-to-consumer earnings for this period rose to $5.3 billion, a 13% increase. 
Operating loss jumped to $1.1 billion from $0.5 billion, attributed to a massive loss at Disney+ and poor results at Hulu. The average revenue per month for each paid subscriber for domestic Disney+ dropped to $5.95 from $6.10. The mean monthly earnings for each Disney+ paid subscriber rose to $0.74 from 0.58, following high advertising earnings per subscriber. 
Average monthly earnings for each ESPN+ subscriber rose to $5.53 from $4.84 due to a rise in retail charges. Mean monthly payments per Hulu paid subscriber increased to $12.46 from $12.23. Content licensing and sales plus other earnings for the quarter rose to $2.5 billion, a 1% increase. Disney Parks, products, and experiences earnings rose to $8.7 billion, a 21% increase. Unallocated and corporate expenses rose to $280 million from $228 million.
Disney Revenue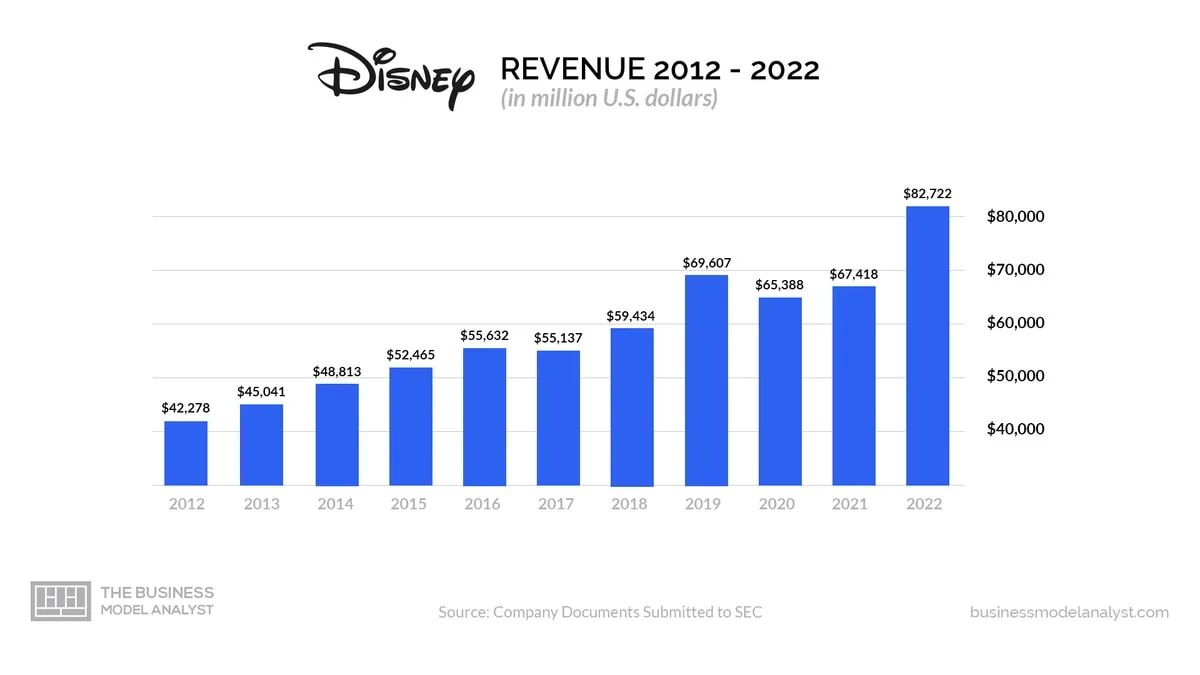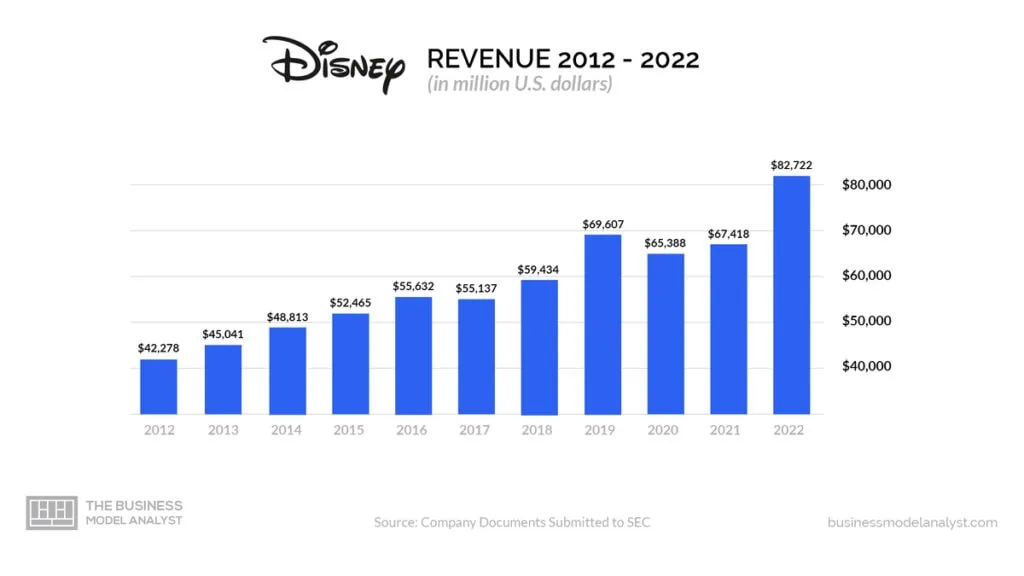 The Walt Disney Company generated almost $29 billion in overall revenue with its product segment, experiences, and parks. This was a $12 billion increase from the previous year. The company's entertainment and media segments performed best, generating $55 billion for the same period. This was an increase compared to the $50.9 billion the segment generated the year before. 
Disney's total assets were worth $203.6 billion. Revenue in consumer products and the parks rose to $8.7 billion, a 21% increase. The streaming division's revenue was a 13% increase from the previous year, generating $5.3 billion. Revenue for the December 31, 2022, quarter was $23.51 billion. 
This was a 7.76% rise year over year. Disney's earnings for the year ending December 2022 were $84 billion. The increase was 15.66% year over year. Annual revenue for 2021 was $67.41 billion, a 3.1% rise from 2020.
Disney Expenses
Operating expenses for December 31, 2022, quarter increased by 10.01% year over year to $21.588 billion. For the year ending December 2022, these expenses rose by 15.05% year-over-year to $78.15 billion. The company's annual operating costs increased by 18.28% to $76.189 billion. In 2021, the company spent $64.41 in operations, a 4.33% drop from the previous year. 
Selling, General & Administrative (SG&A) expenses for the December 31, 2022, quarter were a 1.06% increase year-over-year, that is, $3.82 billion. In 2022, Disney's SG$A expenses were $16.388 billion, a 21.24% increase from the previous year. 
Disney Profits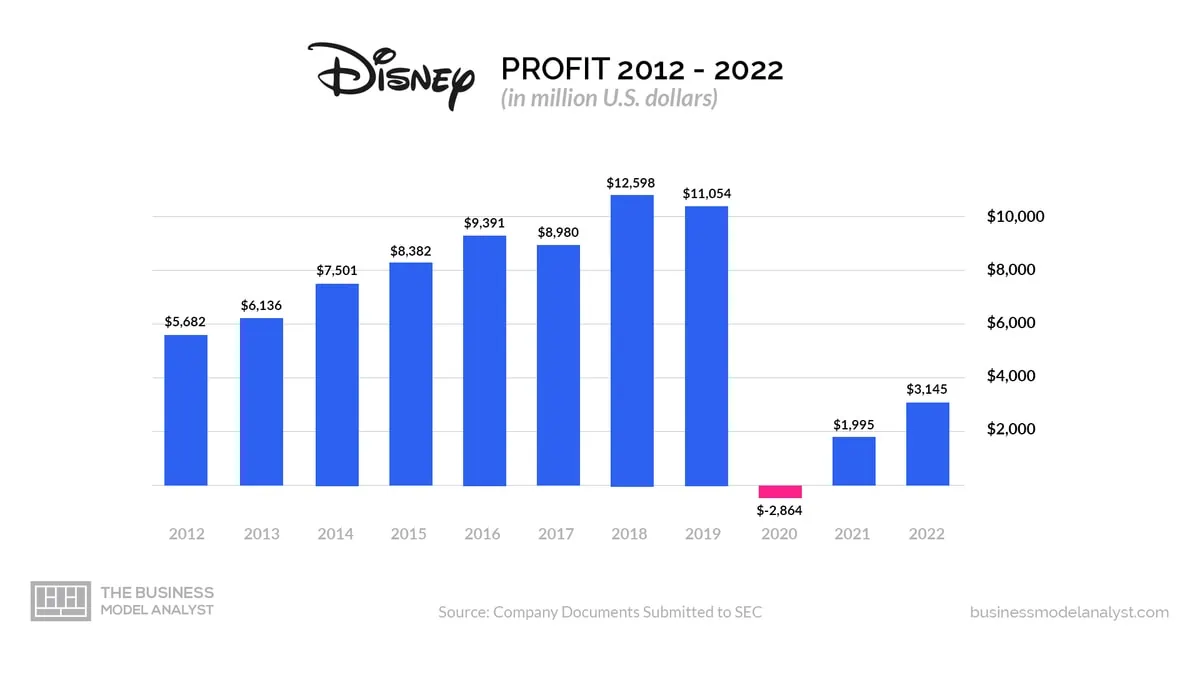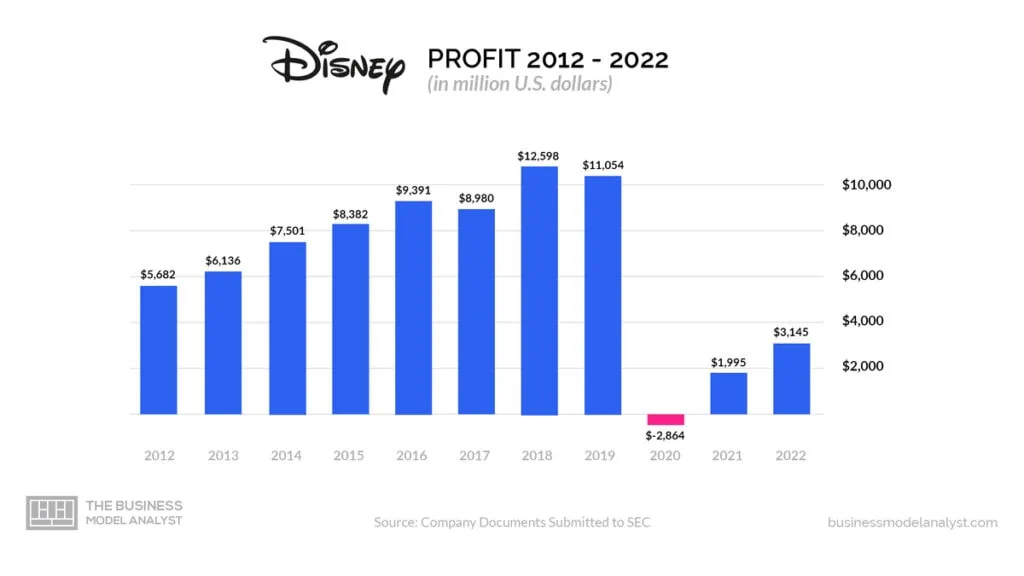 Walt Disney Company generated a $7.12 billion drop in profit in the December 31, 2022, quarter. This was a 1.74% drop year-over-year. Annual gross profit for 2022 rose 27.07% from the previous year to $28.321 billion. In 2021, the company's annual gross profit was $22.287 billion, a 3.6% rise from 2020. In 2020 Disney recorded a 21.92% drop in gross profit from the previous year, generating $21.508 billion. 
Potential for Profitability
As seen above, Disney has recorded a revenue drop in some segments. What can the company do to boost its profits? 
Expand movie production services to new countries. Disney can penetrate countries like China or India, where the movie sector enjoys excellent infrastructure. Doing so can reduce movie production costs while increasing revenue. 
Improve marketing. Marketing plays a critical role in a company's success. Disney should invest in marketing to reach a wider audience, grab new opportunities, and attract new prospects. 
Heighten focuses on its core competencies. Disney has mastered expertise in the mass media sector. The company can leverage that strength to innovate technologies to expand its revenue streams. 
Partnering with other companies to market them. Disney is a tremendous brand that other companies would love to work with. Collaborating with Disney can help companies find a foot while increasing their earnings. 
Creating theme parks in different parts of the world. Disney theme parks are only available in very few locations outside the USA. The company should consider penetrating other countries and targeting the rapidly evolving middle class in emerging economies. 
Expanding globally. By 2020, Disney+ had amassed 54.5 million subscribers globally. This represented $3.7 billion yearly. The company should consider expanding to emerging and developed economies worldwide. Doing so can grow the streaming service to a $30 billion conglomerate. 
Strategic acquisitions. Disney has made various acquisitions in the past, which were instrumental to its expansion. The company can boost its revenue and profitability by investing in strategic investments.
Conclusion
Despite the challenges Disney has waded through since its inception, it's remained afloat. The company reported impressive revenue and profit results in a recent financial release by CEO Bob Iger. However, some of its segments are doing better than others. The company must balance earnings and profits in all its segments. Disney can leverage the above recommendations to improve its revenues and profitability.