The Intel business model is based on supplying microprocessors, motherboard chipsets, graphics chips, integrated circuits, and other related computing units to computer system manufacturers such as HP and Dell. Since it was founded in 1968, Intel Corporation has been integral in driving technological breakthroughs worldwide. Its history reflects a long record of producing different resources that shape the future of technology worldwide. Asides from its excellent products, Intel also makes the most revenue from selling semiconductor chips, ranking them among the Fortune 500 companies in the United States. Additionally, the company keeps maintaining its innovative edge. For instance, they revamped the designs of their microprocessors so that they could gain more ground over their competitors and defend their large market share. As such, it is unsurprising that the company is a global leader in the tech industry.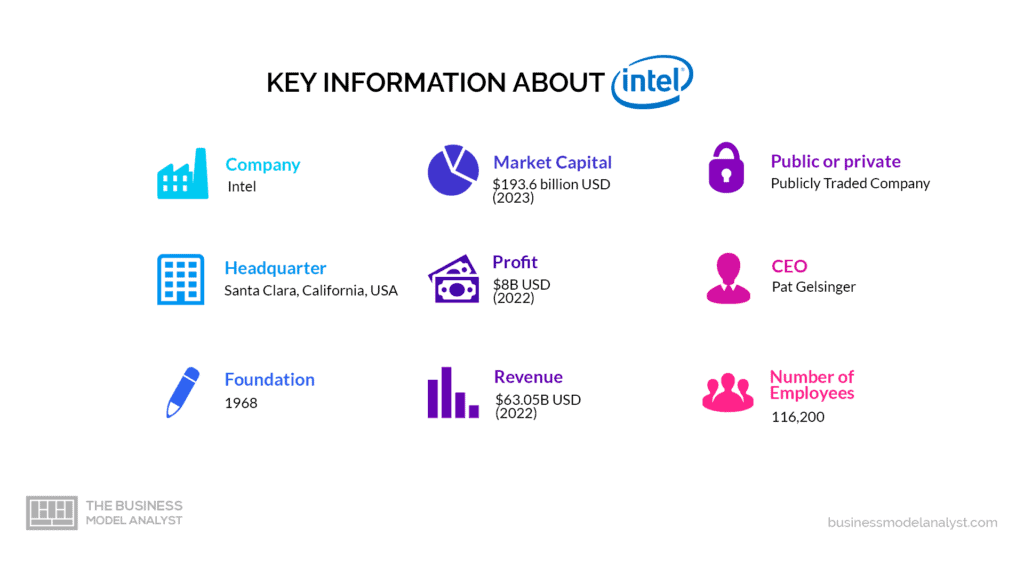 A brief history of Intel
Intel, coined from the words Integrated Electronics, was founded by Gordon Moore and Robert Noyce on the 18th of July 1968, in Mountain View, California. The founders, who were former employees at Fairchild Semiconductor, were pioneers of semiconductor chips, an integral unit in the making of computer systems. Even though Moore and Noyce founded the company, Andrew Grove is widely acclaimed for having been instrumental to the company's growth through his executive leadership skills. Additionally, the company is instrumental in Silicon Valley becoming a tech center. 
Intel started the business by producing DRAM and SRAM memory chips in 1981, after making the first commercial microprocessor, the Intel 4004, in 1971. Two years after its launch, it went public and raised $6.8 million. However, it began to make waves in the market when it focused on making the necessary computing units for personal computers. The company became more aggressive in improving its products due to the stiff competition in the market, especially from other tech companies such as Microsoft and AMD. As such, it redesigned its microprocessors, which not only increased its market share but fostered the evolution of the computer industry. Other innovations followed suit. 
In 1972, Intel opened its first international manufacturing plant in Malaysia and later in Jerusalem and Singapore in the 80s and in India, Costa Rica, and China in the early '90s. In 1987, Moore stepped down as CEO, and Andrew Grove took over. Upon his arrival, the company launched a marketing campaign in 1991 that made it a household name among its customers by the turn of the century. 
By the end of the 1990s, Intel tried to diversify into other products besides microprocessors, but some of its efforts were unsuccessful. Today, the company has a stake in other markets, including self-driving cars and smartphones.
Who Owns Intel
Gordon Moore and Robert Noyce founded Intel. Currently, it is majorly owned by institutional investors, to a tune of 60.78%. These institutional investors include The Vanguard Group, Inc., Geode Capital Management LLC, Norges Bank Investment Management, BlackRock Investment Management, Capital Research & Management Company, etc. Intel insiders own 5.16%, retail investors own 34.06%, and Gordon Earle Moore owns 4.18%, making him the largest individual owner of the company. The company's current CEO is Patrick P. Gelsinger.
Intel Mission Statement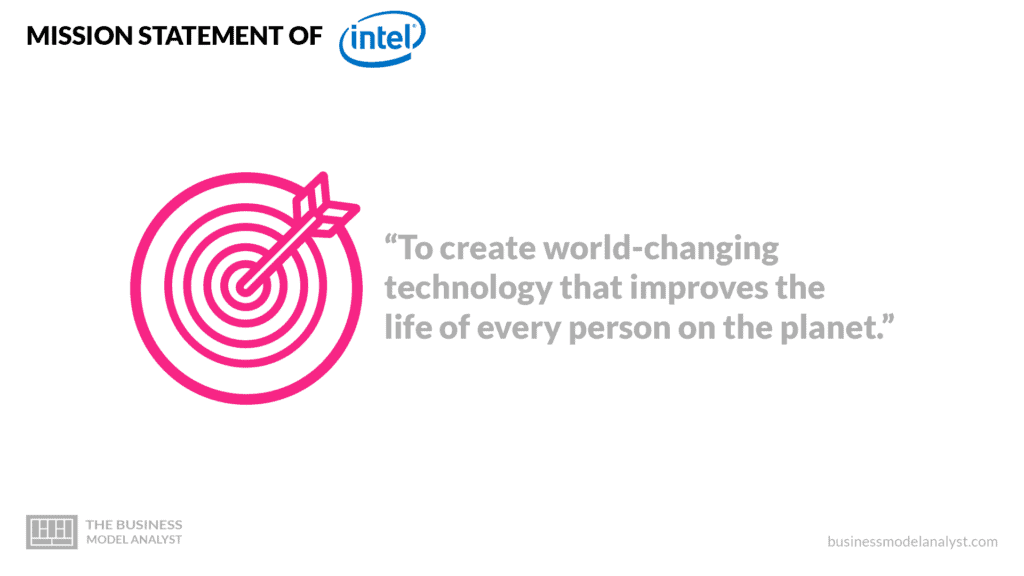 The company's mission is "to create world-changing technology that improves the life of every person on the planet."
How Intel works
Intel majorly produces microprocessor chips, motherboard units, central processing units, etc., for manufacturers of computer systems. These products are often sold under its brand name. Also, the company makes a PC chipset that allows the IT unit of its client companies to monitor and troubleshoot their computer systems remotely. 
Other products include the Xeon processors, Optane, one API, and Intel Foundry Service. The Xeon processors allow manufacturers to scale their products. Intel also makes XeGPU for the graphics card market under Ponte Vecchio. Optane is an Intel technology used as a cache for SSDs. It has the same speed as DRAm and is only available to enterprises since it's a server-only technology. oneAPI unifies Intel's microprocessors, making developers worry less about low-programming tasks. 
How Intel makes money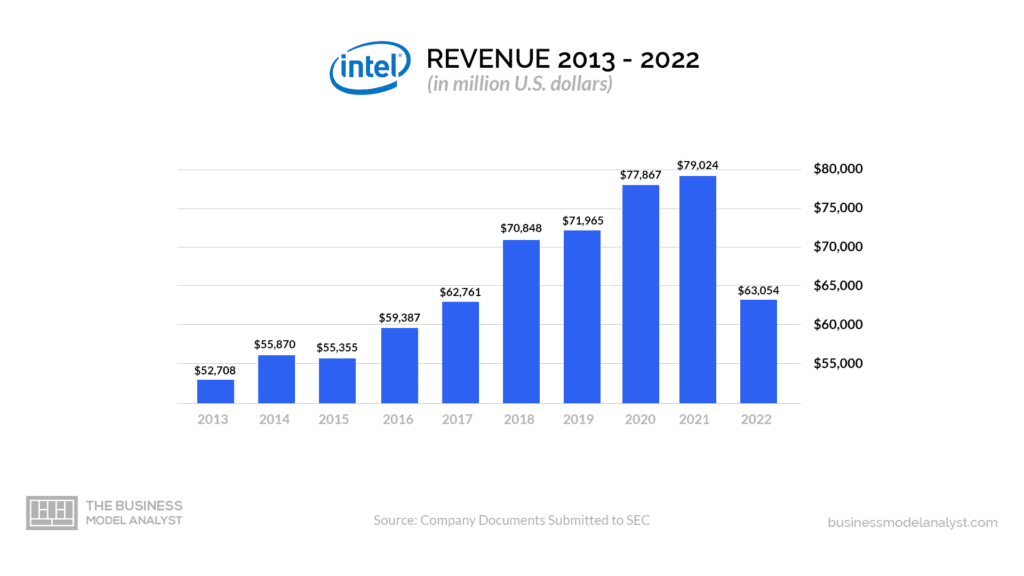 Intel makes most of its money through selling its products. Currently, it dominates the microprocessor and PC markets. Below are ways through which the company earns most of its income.
Network and Edge Group (NEX)
In this segment, the company provides businesses with improved units for higher processing, tighter security, and managing network traffic. Additionally, products in this category allow for expansion without the client company having to invest in a new system architecture. Last year, the company made $2.3 billion from NEX.
Client Computing Group
Here, Intel designs and produces for the end user to aid their internet connectivity. The products include 2-in-1 gaming and commercial computing units. The company made over $7 billion from this revenue stream in the second quarter of 2022. 
Intel Foundry Services (IFS)
This revenue sector is the core of Intel's operations. It's a standalone unit that produces microprocessors and sorts and tests their capabilities. Asides from its in-house operations, IFS also partners with the US Department of Defense to create a semiconductor manufacturing base for making necessary products for the department. In the last quarter of 2022, IFS made $122 million. 
Datacenter and AI Group
This center develops Intel's data products and leads its research and production in Artificial Intelligence. It made $4.6 billion in the second quarter of 2022. 
Accelerated Computing Systems and Graphics Group (AXG)
This group makes high-performing graphics cards for clients, including data centers and individual businesses. By the last quarter of 2022, AXG had earned $186 million, which shows a rise compared to the $177 million it made in 2021's Q2.
Mobileye
Since Intel is a stakeholder in the automobile industry as it makes vital units for self-driving cars, Mobileye focuses on researching and developing autonomous driving applications. This unit saw an increase of 41% as it earned $460 million last year compared to the $327 million it made in 2021.
Intel Business Model Canvas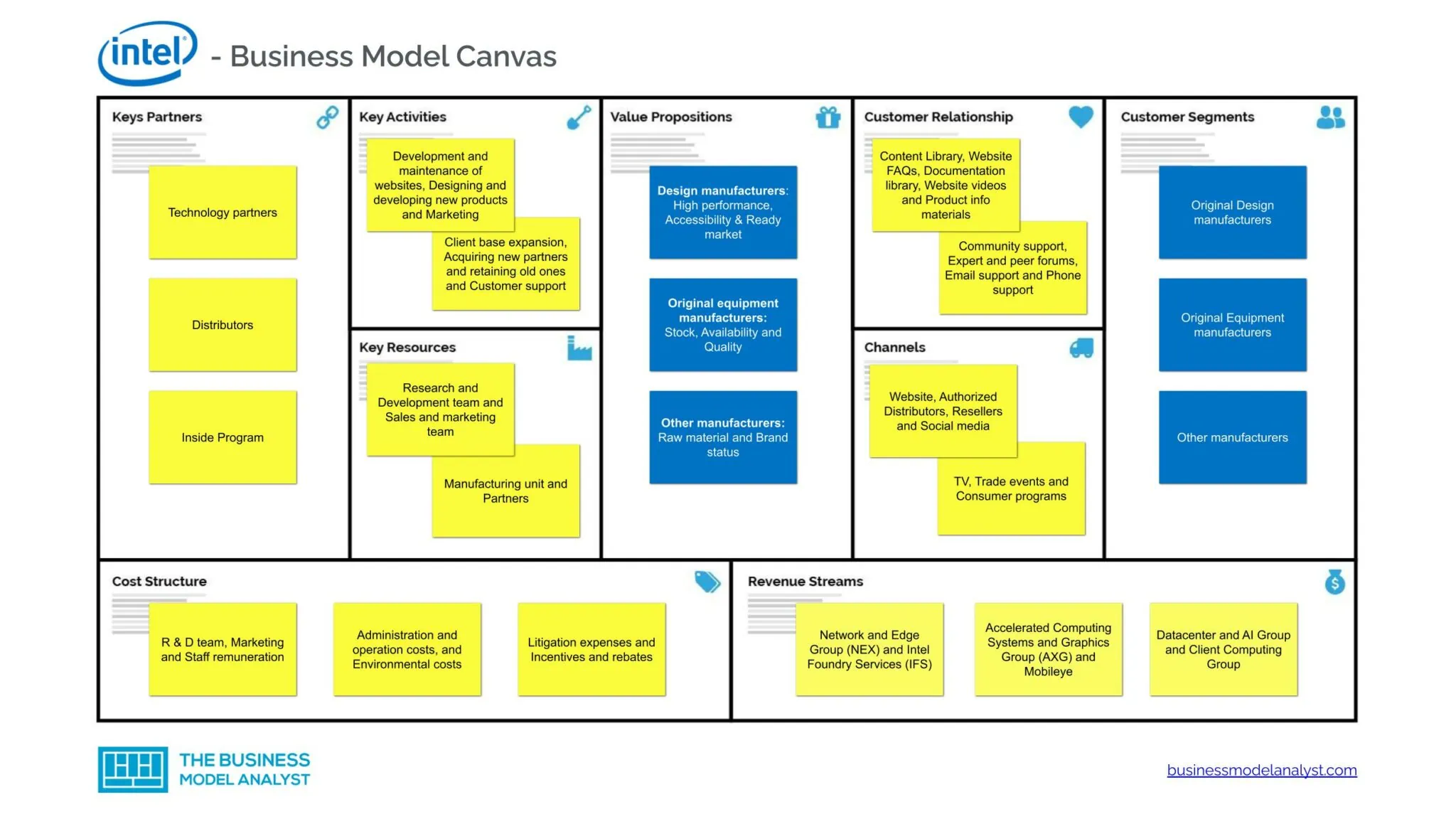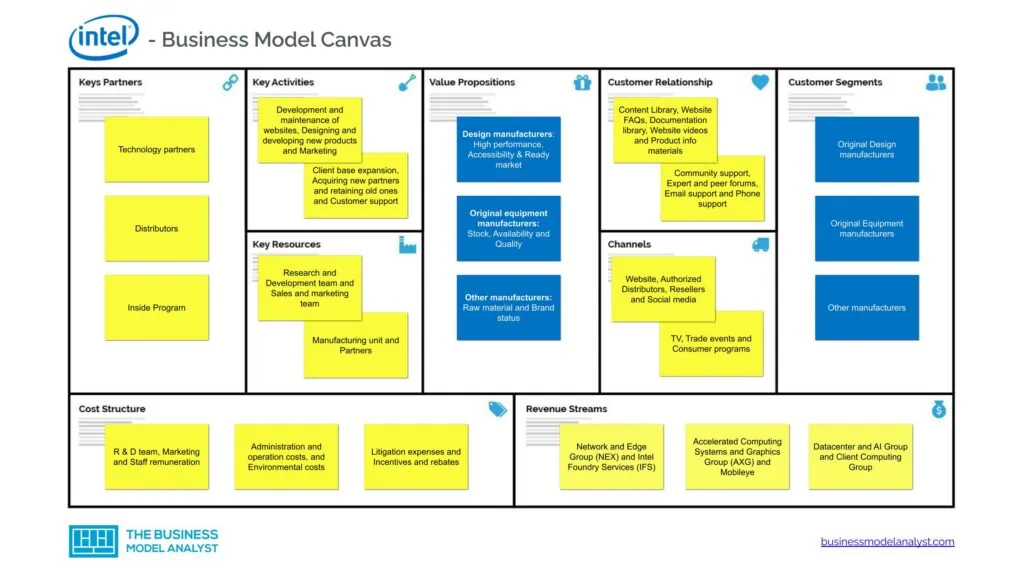 Intel Customer Segments
Intel's customer segments consist of
Original Design manufacturers
Original Equipment manufacturers
Other manufacturers
Intel Value Propositions
Intel's value propositions consist of:
Value propositions for original design manufacturers:
High performance: Usually, due to Intel's competitive edge, it adopts next-generation technology in its manufacturing process. As such, any manufacturer who uses their products is bound to enjoy them;
Accessibility: Intel's products are very accessible. Asides from the company's sales unit, they have a network of authorized distributors worldwide to make it easier for its customers to get their stock;
Ready market: Even though original design manufacturers sell to unlabeled and private clients, it's easy for them to find an existing market because Intel has made a name for itself in the computer industry.
Value propositions for original equipment manufacturers
Stock: Intel provides stock for original equipment manufacturers, who resell them to their clients under their brand. This shows that Intel's products are of high quality;
Availability: Intel's products are always ready for equipment manufacturers to pick up, keeping the sales cycle rolling;
Quality: As a world leader in the computer industry, Intel has always maintained its standard of quality products. As such, they indirectly reinforce the client's trust in the original equipment manufacturers who buy from them.
Value propositions for other manufacturers
Raw material: For manufacturers who use Intel products for industrial and communication purposes, Intel provides them with cheap but high-quality raw materials;
Brand status: People are more convinced to patronize manufacturers who use Intel products because of the brand recognition and equity they have garnered over the years.
Intel Channels
Intel's channels consist of:
Website
Authorized Distributors
Resellers
Social media
TV
Trade events
Consumer programs
Intel Customer Relationships
Intel's customer relationships consist of:
Content Library 
Website FAQs
Documentation library
Website videos
Product info materials
Community support
Expert and peer forums
Email support 
Phone support 
Intel Revenue Streams
Intel's revenue streams consist of:
Network and Edge Group (NEX)
Intel Foundry Services (IFS)
Accelerated Computing Systems and Graphics Group (AXG)
Mobileye
Datacenter and AI Group
Client Computing Group
Intel Key Resources
Intel's key resources consist of:
Research and Development team
Sales and marketing team
Manufacturing unit 
Partners
Intel Key Activities
Intel's key activities consist of:
Development and maintenance of websites 
Designing and developing new products 
Marketing
Client base expansion
Acquiring new partners and retaining old ones.
Customer support
Intel Key Partners
Intel's key partners include:
Technology partners
Distributors
Inside Program
Intel Cost Structure
Intel's cost structure consists of:
R & D team
Marketing
Staff remuneration
Administration and operation costs
Environmental costs
Litigation expenses
Incentives and rebates
Intel Competitors
Intel SWOT Analysis
Below, there is a detailed swot analysis of Intel: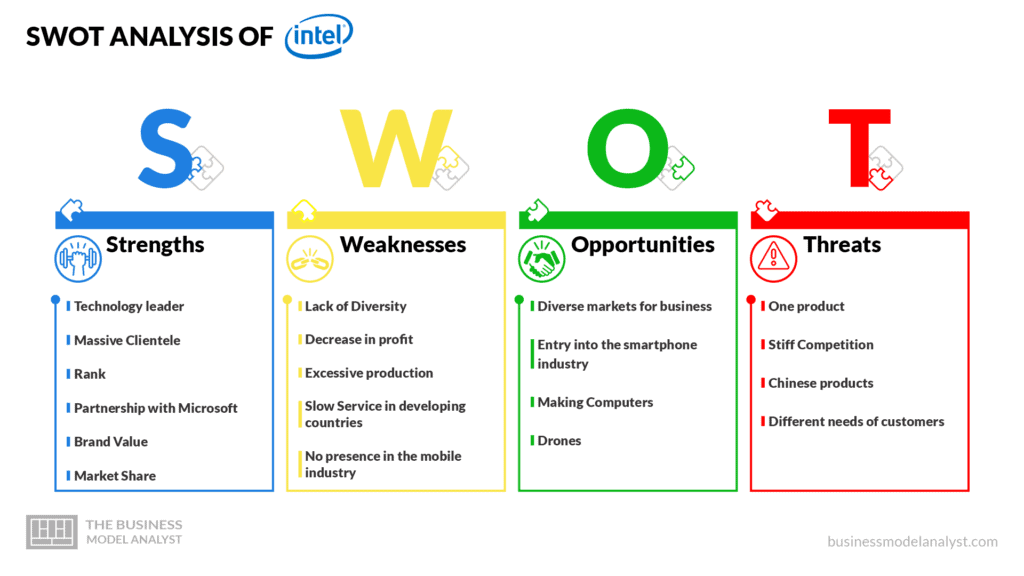 Intel Strengths
Some of Intel's strengths include the following:
Technology leader: Intel has one of the strongest marketing campaigns, making Intel a leader in the technology industry. Since its establishment, Intel has produced various products that have helped the technology sector. It can be considered the leader in the technology sector because different companies use its chips in laptops and computers;
Massive Clientele: Consumers will always prefer to go for companies they can depend on and deliver the best products with diverse options. This has helped Intel to accumulate many clients who are loyal to them;
Rank: Intel ranked 7th in the Brand Values of the top 10 technology companies. This ranking adds to the brand value of Intel. According to various rankings, Intel is one of the best available in the industry. Due to these rankings, Intel has gained popularity among others;
Partnership with Microsoft: Intel's partnership with Microsoft has given it more recognition and a competitive advantage against its competitors. Right business partnerships, mergers, and acquisitions are how a company can gain more benefits. Intel's partnership with Microsoft, which is a leading company in its industry, shines a more positive light on Intel's products;
Brand Value: Worldwide, Intel ranked 40th, and among the technology giants, it ranked 7th;
Market Share: In light of revenue, Intel is the world's largest microchip manufacturer.
Intel Weaknesses
Some of Intel's weaknesses are:
Lack of Diversity: Intel products are limited to the personal computer sector;
Decrease in profit: After the 2000s, Intel has been facing a stable drop in its market share. Due to this, Intel has been facing significant losses;
Excessive production: Intel always produces more than is needed, which always causes overflooding of the market. This affects their profits, considering that the demand for their products is constantly reducing;
Slow Service in developing countries: In developing countries, Intel's services are slower than in developed countries. Intel should provide better services for the developing country;
No presence in the mobile industry: Although Intel initially tried to be a part of it, it failed because it could not make a strong impact.
Intel Opportunities
The following are opportunities open to Intel:
Diverse markets for business: Intel can expand its spectrum for business and reach places it hasn't explored. The company's diversification will aid in increasing its market share, which is declining;
Entry into the smartphone industry: Intel should try to enter the smartphone industry. This can help them regain their lost reputation and return as a leader;
Making Computers: Intel should consider the increase in the demand for computers. Computers are fast becoming a necessity in every household;
Drones: Drones are still considered a new concept, but it has been considered one of the best technologies. Intel can partner with companies making drones, giving the company a more competitive edge.
Intel Threats
Below are written some factors that are threats to Intel:
One product: Intel puts its primary focus on one product. If one of its competitors releases a better version of Intel's only product, it will lead to a huge loss for the company;
Stiff Competition: Intel faces intense competition with companies like IBM, Dell, and AMD. To keep its market share, Intel should ensure its quality, price, and technology are higher than its competitors. These companies try to gain over Intel by offering their products at lesser prices;
Chinese products: Chinese products are currently a part of every industry, especially the technology market. However, the lifetime of these products is highly questionable. To win against this, Intel will have to fight a price war against Chinese products as it threatens Intel sales;
Different needs of customers: Customers these days prefer hands-free products. Intel will need to work more to enter that industry.
Conclusion
Intel is one of the world's largest semiconductor manufacturers, making it a global leader in the tech industry. Its digital marketing presence is highly applaudable and has helped create a name for the company. However, the American multinational technology company faces intense competition from Nvidia, TSMC, AMD, and other technology companies in the industry. Lately, its market position has declined due to threats impacting its market share. If Intel leverages its strengths and opportunities while eliminating threats, it will receive more brand value and recognition. Intel can also diversify its focus from just one product to increase its market share.