IKEA is an international brand that has built a reputation for itself as the largest furniture retailer in the world and an expert in the design of ready-to-assemble furniture. However, the company has since diversified into numerous sectors and has equally found success in a number of them. In order to understand the factors behind this success, let's take a look at the IKEA SWOT analysis, examining the strengths, weaknesses, opportunities, and threats to its business model.
A Brief Look at IKEA
IKEA is a well-known brand in many countries, especially in North America, Europe, and Australia. The Swedish conglomerate is known for offering an impressive range of affordable ready-to-assemble furniture based on traditional Scandinavian designs. Not only are their products distinctive, but they also employ a wide range of innovative design techniques and a well-known self-assembly policy, which means that customers have to assemble the furniture themselves.
Initially starting from a humble beginning as a furniture company founded by Swedish business magnate Ingvar Kamprad in 1943, the company grew steadily over the years to become the world's largest furniture retailer and a respected conglomerate with a wide investment portfolio. This includes stakes in a wide range of areas ranging from the food and dining industry to AI-based interior design, real estate, and even smart home technology.
The company operates in over 60 countries worldwide and has more than 230,000 workers. The company posted gross revenue of over €44 billion in 2022, making it one of the most profitable companies in the industry in terms of gross profit. However, that same year the company posted a net profit of about €700 million, indicating that it operates on a relatively slim profit margin. This is consistent with the company's business plan, which involves providing quality furniture at a price that can be accessible to the broadest number of buyers within its target demographic.
IKEA Strengths
Let's examine some of the key internal features which give IKEA a significant competitive advantage over its competitors.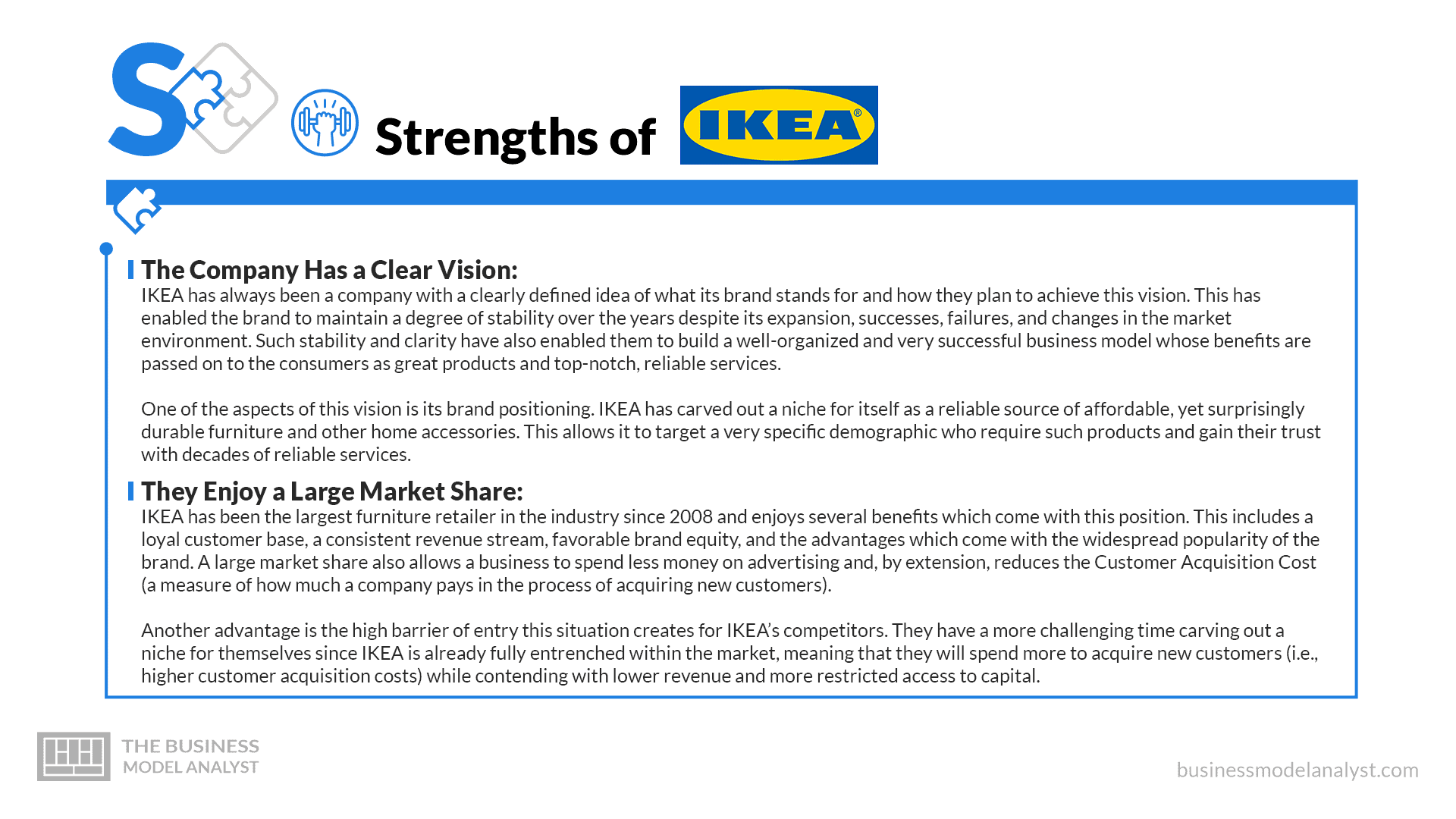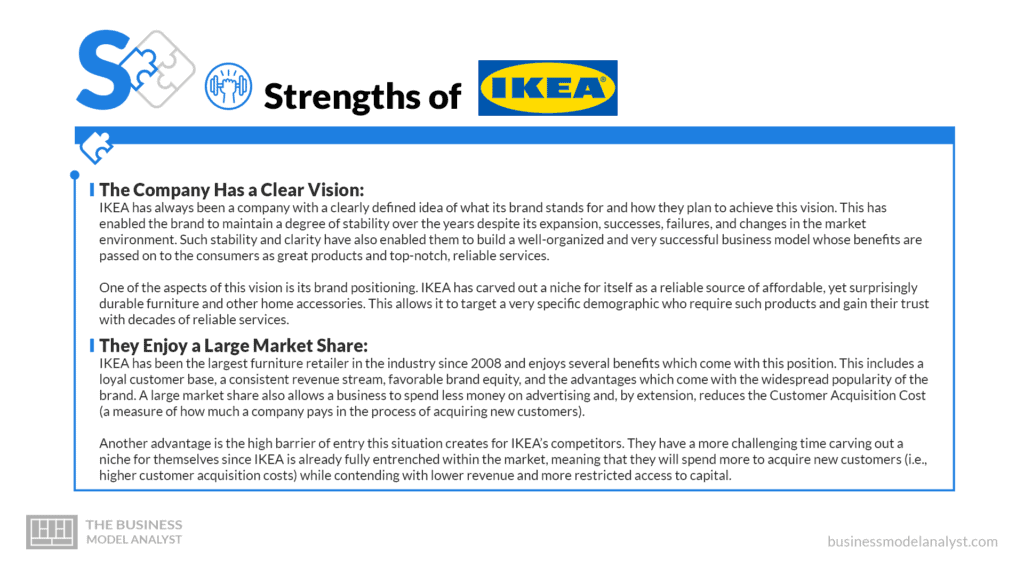 The Company Has a Clear Vision
IKEA has always been a company with a clearly defined idea of what its brand stands for and how they plan to achieve this vision. This has enabled the brand to maintain a degree of stability over the years despite its expansion, successes, failures, and changes in the market environment. Such stability and clarity have also enabled them to build a well-organized and very successful business model whose benefits are passed on to the consumers as great products and top-notch, reliable services.
One of the aspects of this vision is its brand positioning. IKEA has carved out a niche for itself as a reliable source of affordable, yet surprisingly durable furniture and other home accessories. This allows it to target a very specific demographic who require such products and gain their trust with decades of reliable services.
They Enjoy a Large Market Share
IKEA has been the largest furniture retailer in the industry since 2008 and enjoys several benefits which come with this position. This includes a loyal customer base, a consistent revenue stream, favorable brand equity, and the advantages which come with the widespread popularity of the brand. A large market share also allows a business to spend less money on advertising and, by extension, reduces the Customer Acquisition Cost (a measure of how much a company pays in the process of acquiring new customers).
Another advantage is the high barrier of entry this situation creates for IKEA's competitors. They have a more challenging time carving out a niche for themselves since IKEA is already fully entrenched within the market, meaning that they will spend more to acquire new customers (i.e., higher customer acquisition costs) while contending with lower revenue and more restricted access to capital.
IKEA Has Invested Heavily in Cost-Saving Techniques
IKEA as a company has built its image and entire business model as a budget-friendly alternative where people can purchase furniture, kitchen appliances, home decorations, and so on. They achieved this in several ways, but it can mainly be described as utilizing cost-saving techniques which allow the customer to enjoy lower prices. These techniques typically involve two key components; product and process innovation.
IKEA makes use of a flat packaging system that allows furniture to be transferred as disassembled pieces instead of a whole unit. This economizes space, cuts down shipping costs, and will enable customers to choose custom pieces. They also have beneficial arrangements with their raw materials suppliers, which allows them to make bulk purchases at significantly lower per-unit costs due to the advantages of economies of scale.
The company also makes use of a range of innovative design and production techniques, which allow them to cut down on costs by reducing the number of raw materials required. For example, their well-known technique of placing layers of wood over a honeycomb structure helps them cut down on wood usage without compromising on sturdiness and integrity.
IKEA also runs a string of self-help stores that allow customers to browse through and choose their furniture without too much interference from staff. This helps lower wage costs and, by extension, increases the profit margin of the company. Buyers are provided detailed installation guides to enable them to independently assemble the products they buy.
Alternatively, the business has acquired the freelancing company known as TaskRabbit, which also offers furniture installation services, allowing users to decide for themselves whether they require the services of these companies or not. IKEA also has a Take It Home policy, which will enable buyers to purchase and transport their items independently, allowing IKEA to avoid delivery costs.
High Brand Value and Strong Brand Equity
As we mentioned earlier, IKEA is the largest furniture retailer in the world and enjoyed a brand value of $17.43 billion in 2022. Your brand value is a monetary estimate of the value of your brand equity. Brand equity, on the other hand, refers to the commercial value enjoyed by a company based on the social perception of its products or services by consumers. There are three main components to brand equity; brand loyalty (how likely users are to stick with the brand), brand awareness (how well-known the brand and its products are), and brand association (how people feel about the brand).
These are essential areas where the company has a strong comparative advantage over competitors. IKEA is a well-known company with a loyal customer base that appreciates the affordable products the company offers and associates the brand with reliability, affordability, and pragmatism without sacrificing important aesthetics such as beauty and ergonomics.
Strong Financial Position
IKEA is a company that has long taken pride in financial responsibility, as well as its consistent profitability over the years. The company posted an annual profit of €44.6 billion in 2022, an increase from the €41.9 billion realized the previous year. This trend suggests one of steady growth within the company and lends credibility to the success of its business model. This improves investor confidence, allows the company to obtain low-interest financing, and gives them room to take more risks than their competitors as they have stronger backing.
Diverse Investment Portfolio
While IKEA is best known for its wide range of furniture and home appliances, the business has also invested in several other sectors. This includes areas such as design consultation services using AI technology, smart homes, real estate, renewable energy, and even furniture rentals. The company has also invested significantly in the food industry and now operates a chain of restaurants that contribute up to 5% of its total annual sales.
It has also invested in the hospitality industry with a chain of hotels all around the world, department stores, telecommunications, and ICT, as well as other key areas. This strengthens the position of the brand by allowing them to enjoy a diverse portfolio and increases the likelihood of profitability.
The Company Has Built a Highly Successful Franchise
Most IKEA stores are not owned directly by the company, but instead operate as franchises that pay an annual franchise fee to the parent company. There are several advantages of this to the franchisor (IKEA).
First of all, it gives the business access to capital, which can be obtained from the franchisees instead of accruing debt which is financed through bank loans. This reduces the debt burden of the company and also shifts a significant amount of the risk of starting up a new location to the franchisee. It also allows the company to expand more rapidly, as put the costs And logistical concerns involved in opening a new business are shared between IKEA and the franchisee.
It also helps improve the brand awareness of the business and, by extension, its customer base and market share. By operating a franchise, IKEA can reduce its involvement in certain operations such as employee training, hiring, logistical management, and so on.
Innovative Design Concepts
Despite their practical and ergonomic design, each piece of IKEA furniture employs a range of innovative techniques in terms of aesthetics, production, and even the design process itself. For example, the company practices what is called a reverse design process. This means that they start with a price range and then reverse engineer products that suit this cost in terms of materials used and design theme. The advantage of such a method is that it allows the company to keep its products within a tight price range.
Another important feature of the design themes is its diversity. The company offers a wide range of furniture and appliances suitable for workplaces, homes, studios, and so on. Each of these is well crafted to match and accentuate the atmosphere within which they are placed.
Strong Understanding of Its Target Demographic
It is common knowledge that IKEA is the dominant player within the retail furniture industry because it has carved out a strong niche for itself as an affordable source of quality products. Also, in its other business ventures, the company has invested a significant amount of resources in studying, analyzing, and noting certain characteristics and trends among its customers. This has allowed them to capitalize on chasing trends to invest in popular areas such as AI-aided design, smart home technology, and sustainable energy.
Their Products Are Easy To Assemble
IKEA sells ready-to-assemble furniture. This means the company does not assemble its furniture before selling it to a customer, but rather shifts this task to the buyer. Therefore, the business must make the process of assembly as quick, easy, and safe as possible. They have achieved this through the use of innovative design strategies as well as a well-detailed instruction manual that offers step-by-step directions on how to fully and safely assemble your furniture.
Successful Acquisitions and Partnerships
Over the years, the business has been able to strengthen its position as a global leader through a series of successful acquisitions and partnerships. Some notable acquisitions made by the company include the purchase of Veja Mate (an offshore wind farm located in the German Exclusive Economic Zone of the North Sea) in 2015, the AI imaging startup Geomagical Labs in 2016, and TaskRabbit Inc. This online marketplace allows buyers to hire the services of various freelancers in a wide range of everyday tasks such as delivery, cleaning, furniture assembly, and general repair work.
IKEA Weaknesses
Despite all their strengths, there are some areas within the IKEA business model which could be improved upon.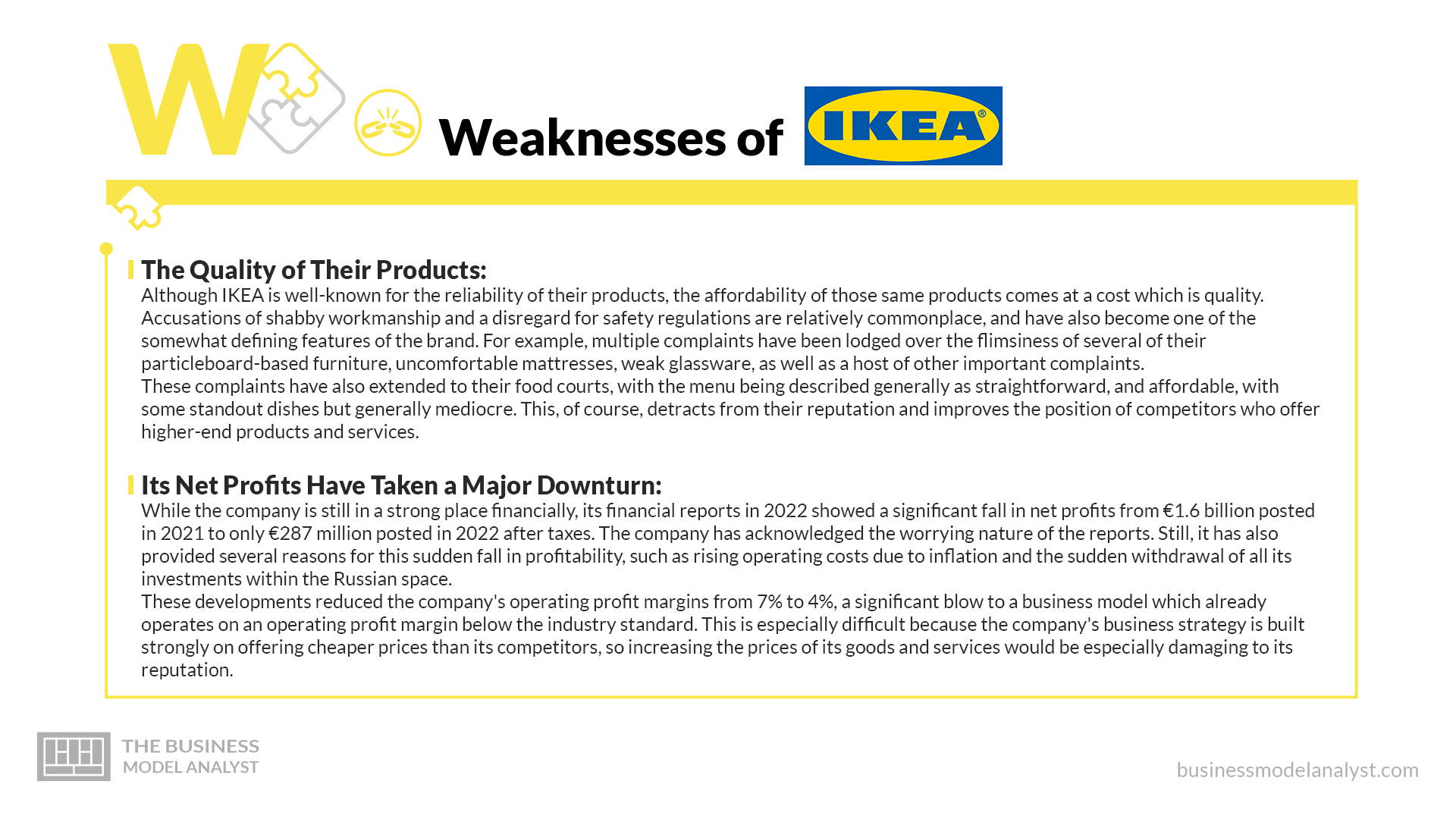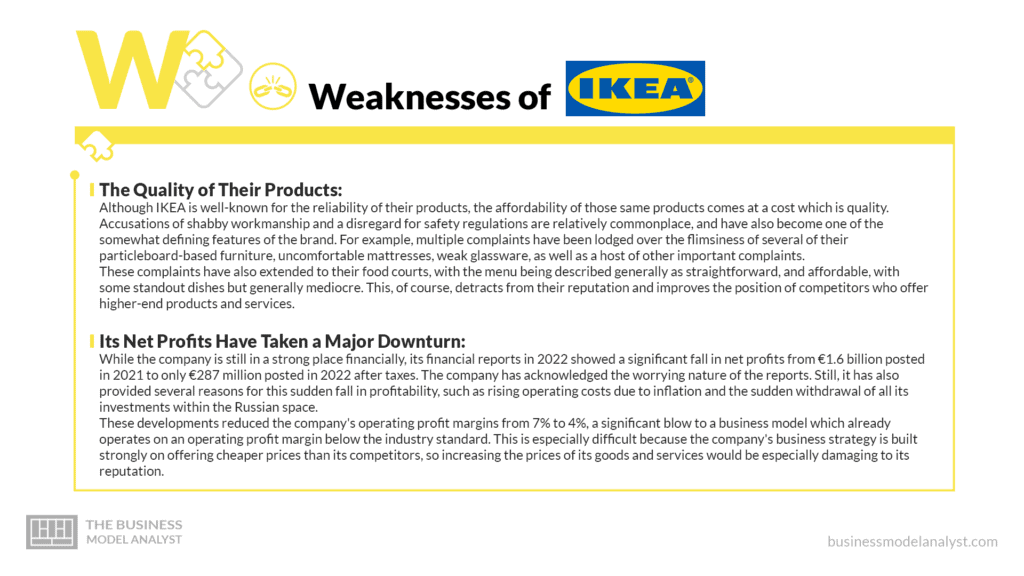 The Quality of Their Products
Although IKEA is well-known for the reliability of their products, the affordability of those same products comes at a cost which is quality. Accusations of shabby workmanship and a disregard for safety regulations are relatively commonplace, and have also become one of the somewhat defining features of the brand. For example, multiple complaints have been lodged over the flimsiness of several of their particleboard-based furniture, uncomfortable mattresses, weak glassware, as well as a host of other important complaints.
These complaints have also extended to their food courts, with the menu being described generally as straightforward, and affordable, with some standout dishes but generally mediocre. This, of course, detracts from their reputation and improves the position of competitors who offer higher-end products and services.
Its Net Profits Have Taken a Major Downturn
While the company is still in a strong place financially, its financial reports in 2022 showed a significant fall in net profits from €1.6 billion posted in 2021 to only €287 million posted in 2022 after taxes. The company has acknowledged the worrying nature of the reports. Still, it has also provided several reasons for this sudden fall in profitability, such as rising operating costs due to inflation and the sudden withdrawal of all its investments within the Russian space.
These developments reduced the company's operating profit margins from 7% to 4%, a significant blow to a business model which already operates on an operating profit margin below the industry standard. This is especially difficult because the company's business strategy is built strongly on offering cheaper prices than its competitors, so increasing the prices of its goods and services would be especially damaging to its reputation.
IKEA Has Been Involved In Multiple Scandals
It is nearly impossible for a business of this size in scope to survive for so long without a few scandals. IKEA has had its fair share of bad press with regard to a variety of delicate issues. For example, the environmental impacts of the company have been under significant scrutiny for years now, with the company being accused of being responsible for 1% of global wood consumption annually. While the company claims that most of this wood is sourced sustainably, and they have invested heavily in recycling, there is still evidence suggesting that a significant portion of this wood is sourced from illegal logging activities.
In the mid-2010s, the company also faced mounting pressure and criticism over several deaths among young children caused by poorly designed furniture. This led to the recall of over 29 million products and as well as a wrongful death lawsuit that cost the company over $50 million in compensation to the families of the deceased children.
In the early 2010s, IKEA in France was accused of intruding upon the privacy of its employees by illegally accessing private police reports. The company has also been mentioned in several other scandals, such as price discrimination, having negative impacts on the local businesses and communities with outlets to set up, cultural imperialism, as well as religious and ideological discrimination. There was also a significant stir within its food sector when it was discovered that its famous Swedish meatballs contained traces of horse meat, leading the brand to cut ties with several of its key suppliers. However, the damage had already been done.
Failure To Expand as a Proper Global Company
For a brand as well-known and successful as IKEA, the company has failed to adequately utilize its reputation and resources to expand into a wide range of markets. Currently, IKEA only has 460 outlets in 63 countries all around the globe, well below what would be expected from a global brand. While this is undoubtedly a significant accomplishment, it is not the level of globe-spanning dominance you would expect from the world's largest furniture retailer.
The vast majority of these stores are concentrated In North America, Europe, and Australia, while China is the major location in Asia. They have a smattering of stores across South America, but the company is virtually nonexistent in Africa. This leaves an entire continent as an untapped market and means that there is a largely untapped market that their competitors could tap into.
Failure To Adapt To Local Cultures
Even within the relatively few regions where the company has expanded its presence, it has been accused of failing to adapt its products and advertising adequately to the local cultures and preferences of the people living there. Virtually all its products retain the original Scandinavian design for which the brand is known, irrespective of whom it is being sold.
However, the company has accepted this criticism. It has made some strides to improve its branding and marketing to unique cultures, as well as tweak product designs to better suit the preferences of users of these items.
Their Self-Assembly Model Is Somewhat Controversial
While allowing their customers to assemble their IKEA furniture themselves drives down costs as well as maximizes shipping space, it has also led to some controversies with customers encountering difficulty during the assembly process. This may be due to faulty design or a failure to follow the instructions during setup. Either way, this may lead to an unsatisfactory product with a shorter lifespan or even injury due to faulty furniture.
Accusations of Poor Working Conditions
IKEA has made strides to ensure that they ensure fair working conditions for all their employee. However, despite their efforts, there have been accusations of poor working conditions and unfair compensation, leading to multiple lawsuits, strikes, and union actions against the business. This, of course, leads to reduced productivity, loss of revenue due to the fall in productivity and compensation payments, as well as a negative brand image.
Some Customers Have a Negative Perception Of the Brand
IKEA has developed a reputation for providing affordable products. Still, some people have also perceived this as the company offering cheap or substandard products. This, of course, negatively affects the image of the company and drives down revenue, as many buyers may opt for other options.
IKEA Opportunities
Here are some external factors IKEA can capitalize on to improve its business model and position within the market.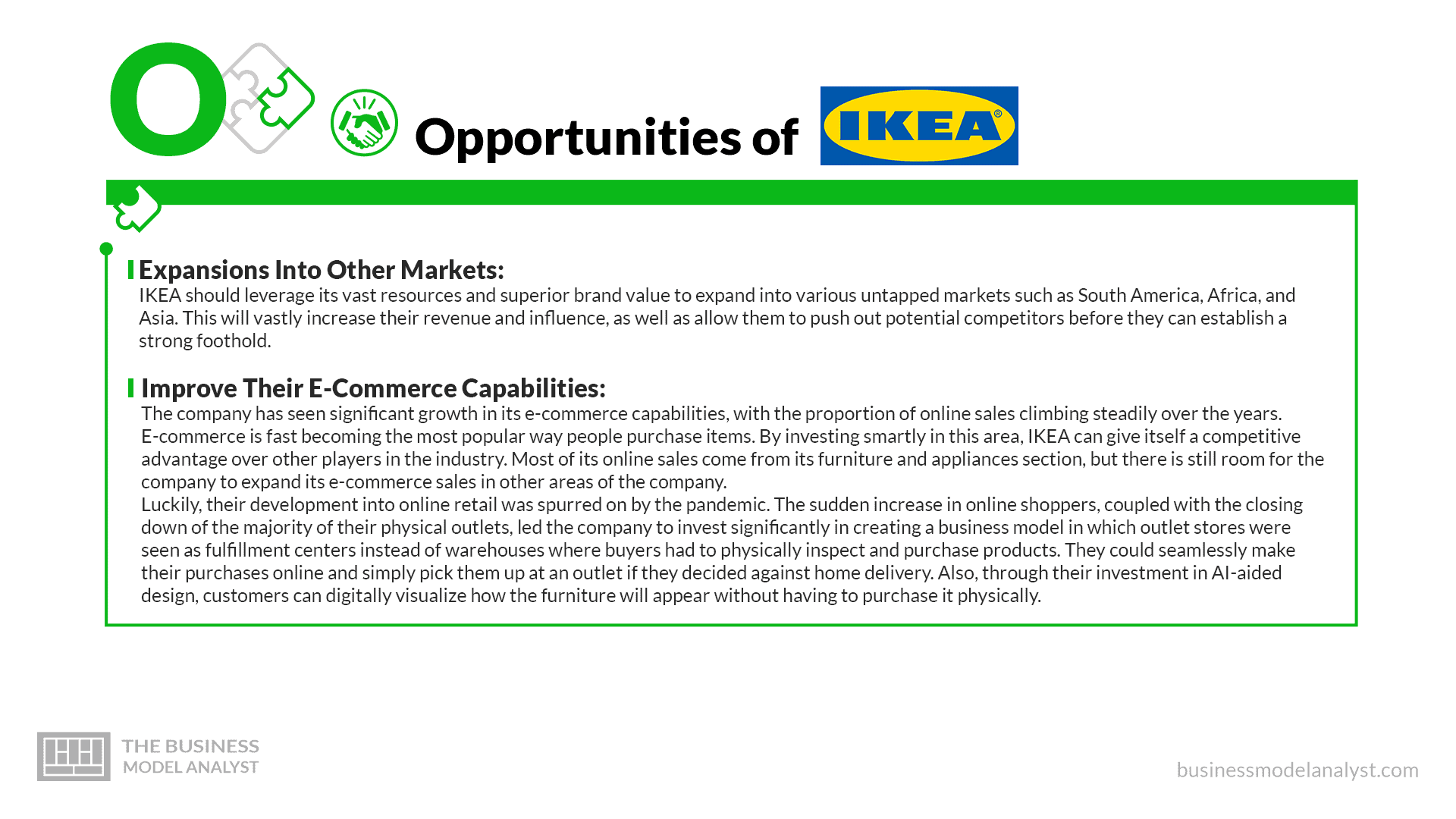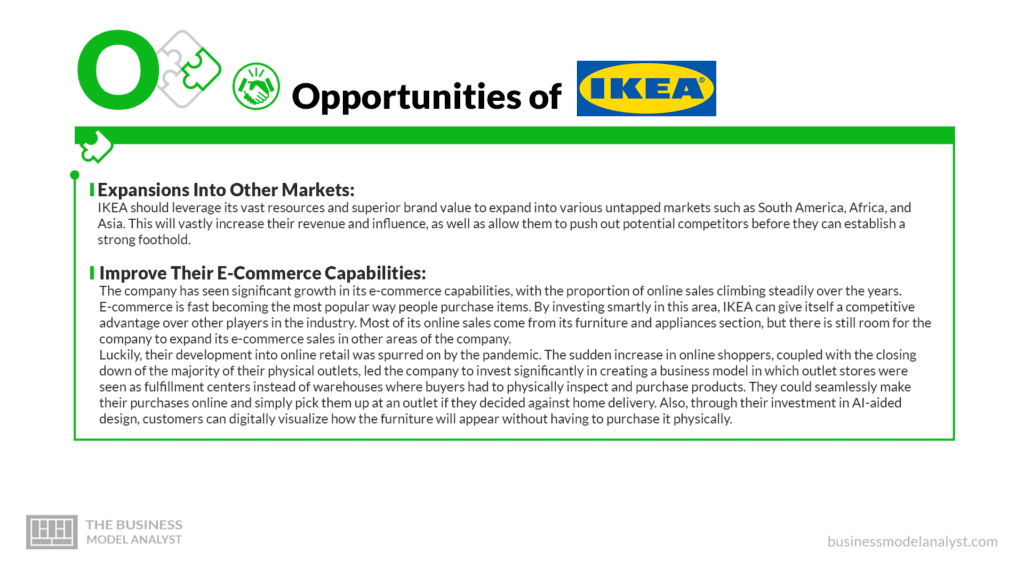 Expansions Into Other Markets
IKEA should leverage its vast resources and superior brand value to expand into various untapped markets such as South America, Africa, and Asia. This will vastly increase their revenue and influence, as well as allow them to push out potential competitors before they can establish a strong foothold.
Improve Their E-Commerce Capabilities
The company has seen significant growth in its e-commerce capabilities, with the proportion of online sales climbing steadily over the years. E-commerce is fast becoming the most popular way people purchase items. By investing smartly in this area, IKEA can give itself a competitive advantage over other players in the industry. Most of its online sales come from its furniture and appliances section, but there is still room for the company to expand its e-commerce sales in other areas of the company.
Luckily, their development into online retail was spurred on by the pandemic. The sudden increase in online shoppers, coupled with the closing down of the majority of their physical outlets, led the company to invest significantly in creating a business model in which outlet stores were seen as fulfillment centers instead of warehouses where buyers had to physically inspect and purchase products. They could seamlessly make their purchases online and simply pick them up at an outlet if they decided against home delivery. Also, through their investment in AI-aided design, customers can digitally visualize how the furniture will appear without having to purchase it physically.
Expanding Their Grocery Services
The company is known for offering various groceries both as a part of its physical outlets and as a part of its online e-commerce site as well. Though the company has made significant investments in expanding this area within the past few years, there is more room for growth as groceries only make up a minor part of its revenue stream. Diversification will also help spread risk and increase the stability of the business if there is a downturn in any of its other investments.
Investing in Sustainability
IKEA has spent significant resources on ensuring that all the materials used for its products are derived from sustainable sources and follow standard ethical protocols. This is important because modern shoppers care not only about the quality of the materials they purchase, but also the sources.
Despite this, the company has been levied with allegations of sourcing some of the raw materials, especially wood, from illegal logging activities. Assuring both investors and customers of their dedication towards ending this practice, as well as improving the reusability of their raw materials, is sure to enhance their brand image and, by extension, sales.
Diversifying Its Business Model
One of the features for which IKEA is well-known is its utmost dedication to its business model of providing affordable yet durable furniture and home appliances. While this has served the business admirably over the years and is definitely one of the critical cornerstones of its success within the industry, it has also narrowed its vision in terms of diversifying into other well-known niches, such as providing high-end furniture.
The company has the resources, leadership skills, and brand equity to carry out such as pivot. It has also successfully launched several successful side brands in other sectors, such as food, design, AI, and the hospitality industry. Therefore, there is little reason to doubt that it could not break successfully into the high-end furniture market.
Further Acquisitions and Partnerships
IKEA still holds a dominant position within the market. Still, the presence of other strong competitors means that the brand must continuously innovate and strive to maintain this status. One of the ways it can achieve this is through investing in further successful acquisitions and partnerships, which can improve the ability of the brand to successfully carry out its core value proposition to its customers.
IKEA Threats
Here are some external factors that could be detrimental to the growth and survival of the company.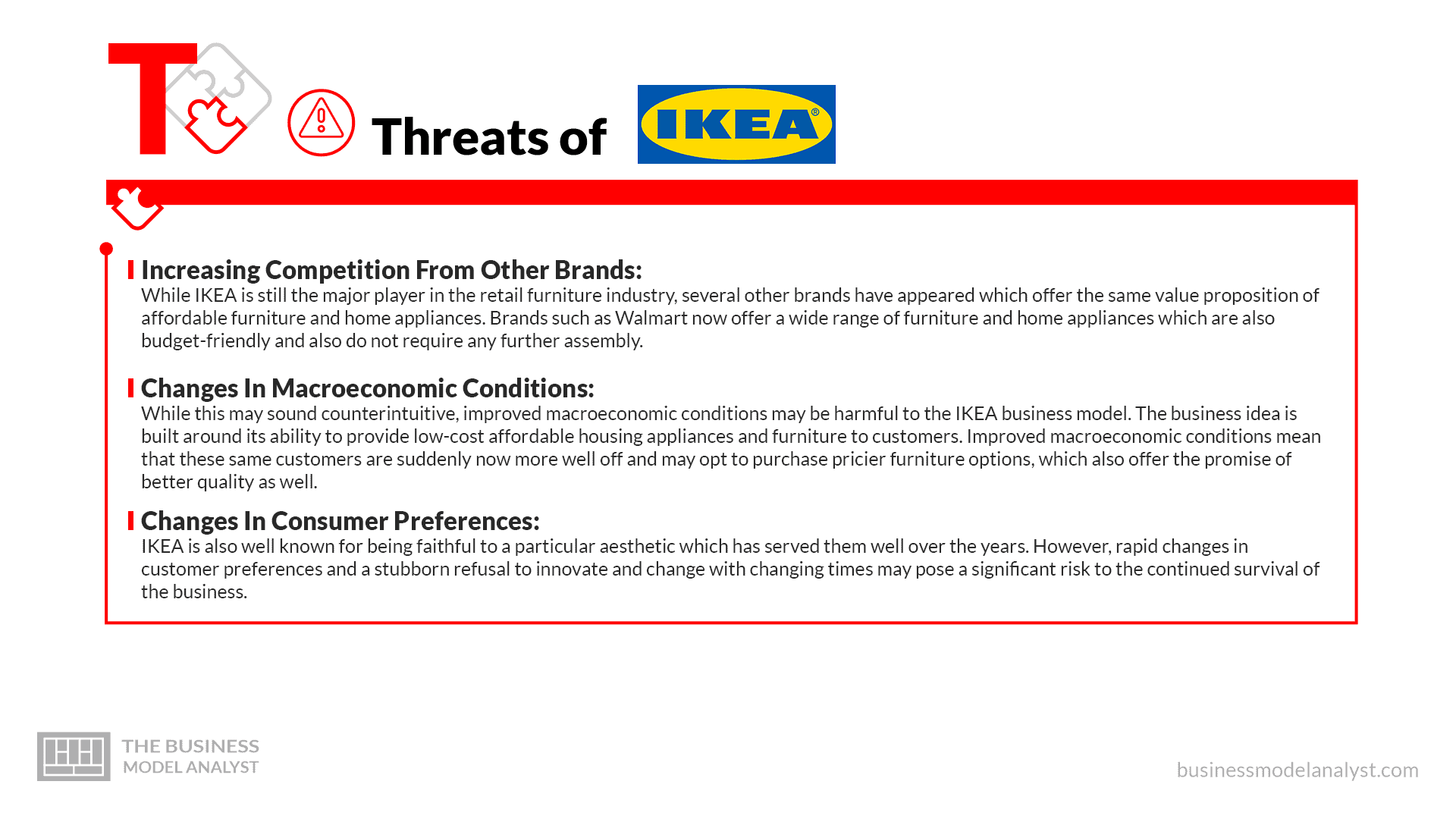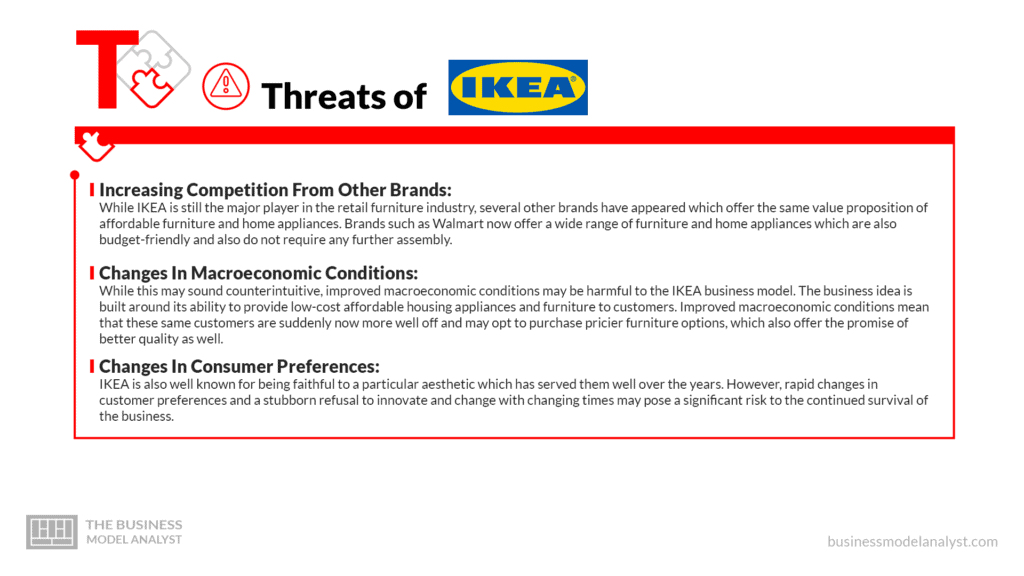 Increasing Competition From Other Brands
While IKEA is still the major player in the retail furniture industry, several other brands have appeared which offer the same value proposition of affordable furniture and home appliances. Brands such as Walmart now offer a wide range of furniture and home appliances which are also budget-friendly and also do not require any further assembly.
Changes In Macroeconomic Conditions
While this may sound counterintuitive, improved macroeconomic conditions may be harmful to the IKEA business model. The business idea is built around its ability to provide low-cost affordable housing appliances and furniture to customers. Improved macroeconomic conditions mean that these same customers are suddenly now more well off and may opt to purchase pricier furniture options, which also offer the promise of better quality as well.
Changes In Consumer Preferences
IKEA is also well known for being faithful to a particular aesthetic which has served them well over the years. However, rapid changes in customer preferences and a stubborn refusal to innovate and change with changing times may pose a significant risk to the continued survival of the business.
Supply Chain Shocks and Logistical Disruptions
IKEA runs a business that is strongly dependent on its ability to organize and capitalize on an increasingly complex supply chain that spans multiple continents and involves dozens of independent companies. The company has already seen significant disruptions to its supply chain in subsequent falls in revenue during the COVID pandemic, as well as during the Russian invasion of Ukraine. Therefore, such unexpected supply chain disruptions significantly. Therefore, such unexpected supply chain disruptions cause significant harm to the business by rendering them unable to perform their core value proposition, leading to higher prices and reduced availability of merchandise.
Multiple Legal Battles
IKEA is a company that has seen its fair share of legal battles from issues ranging from injury claims to poor working conditions and even environmental sanctions. All of these lead to revenue loss as well as create a negative brand association which is detrimental to the business.
Conclusion
IKEA is a force to be reckoned with within the world of furniture retail. Its innovative design techniques, unique business model, and clear vision are some of its greatest strengths. However, recent global upheavals, a failure to improve its business model, or an inherent reluctance to change its primary design may be a significant threat to its position as a market leader. Despite this, IKEA does not seem poised to relinquish this position anytime soon.