The Ibotta business model focuses on offering users cashback and discounts on products from their brand partners. They offer users this service in an innovative and stress-free way that users have come to love. While Ibotta is only partially reliant on affiliate commissions from sales sent to brand partners, they do constitute a significant portion of its revenue.
Ibotta is a service that offers customers cash back at more than 1,500 different retailers. Both the company's mobile apps and a browser plugin provide access to the service. Ibotta makes money via affiliate commissions, advertising, and the sale of aggregated, non-personal data. The corporate structure is founded on the concept of affiliate marketing.
A brief history of Ibotta
Bryan Leach, who later started Ibotta, used to be a lawyer in Denver. He found great satisfaction in helping companies from around the world settle business disputes in places like London and Singapore. He had hoped to join a group of people with a similar enthusiasm for new ventures, but the work of getting his company off the ground and completing the research could have been more interesting to him than he had anticipated.
Bryan noticed that someone was taking pictures of his business cards at a convention in Rio de Janeiro. When he got home, he thought about how powerful mobile technology could be if all you had to do was take a picture of your receipt to get the information you needed.
Realizing the difficulties and wasteful costs of the status quo, he set out to develop a new system for disseminating information about promos, coupons, and discounts, as well as establishing a two-way link between the brand and the consumer.
For him, the prospect of failing was less terrifying than the prospect of missing out on a great chance. Despite his lack of business acumen and technological expertise, he proceeded to Silicon Valley in search of funding and was pleasantly delighted to discover that his prospective backers were enthusiastic about the concept and eager to become angel investors. Things snowballed, and soon he had $3 million in initial financing and a team of experts in the fields required to develop this solution.
The popularity of Ibotta, an innovative cashback shopping app, skyrocketed in 2017, making it the third most downloaded shopping app in the United States. At that time, the program had been downloaded by more than 22 million users. In addition, the organization raised about $55 million from 2014 to 2015 and $25 million in 2017. With the newfound resources, Ibotta could pursue riskier projects.
In 2019, the Ibotta app received a new payment option called "Pay with Ibotta," which allowed users to pay for their total purchases without leaving the app. They took a stand against competitors like Apple Pay and Venmo by doing so. With a valuation of $1 billion in 2019 after the firm's Series D, Ibotta joined the ranks of the elite "unicorn" corporations.
Soon after this major milestone, Ibotta introduced the Ibotta browser plugin, which was an indirect rip-off of Honey's business strategy that resulted in its $4 billion sale to PayPal. Nonetheless, despite a few setbacks, like in 2020, when Ibotta had to lay off some workers due to the coronavirus pandemic, the company has steadily established itself as a leading contender in the cashback program industry.
Rumors of an IPO started to circulate in late 2021. However, Ibotta instead pursued growth via acquisition. OctoShop, a browser add-on whose technology it adopted and incorporated into its own extension offerings, was acquired soon afterward.
Who Owns Ibotta
Ibotta is still owned and headed by its founder and current CEO, Bryan Leach, and it has received funding from a total of 12 investors thus far, the most recent of which was in 2019's Series D round from Koch Disruptive Technologies and Teamworthy Ventures.
Ibotta's Mission Statement
The Ibotta mission statement is to: "Make every purchase rewarding."
How Does Ibotta Work?
Cashback benefits are available to Ibotta users whenever they purchase from any of Ibotta's numerous online and offline retail partners. Users can do their online shopping from any browser with the Ibotta browser add-on, or their mobile devices with the iOS or Android app.
When you use Ibotta, your cashback incentives are calculated instantly at checkout; no receipt uploads are required. After purchasing at a store, users may get cash back using the Ibotta app by simply uploading a picture of their receipt. A customer's account is automatically credited with the specified amount once the Ibotta AI scans their receipt for qualifying purchases of a partner brand's products. The user's rewards will be sent by 24 hours after they have submitted a receipt.
In addition to providing users with cash back, the Ibotta app analyzes their device's geolocation data in order to suggest relevant in-store products. To date, Ibotta has paid out over $860,000,000 in cash prizes to its customers.
How Ibotta makes money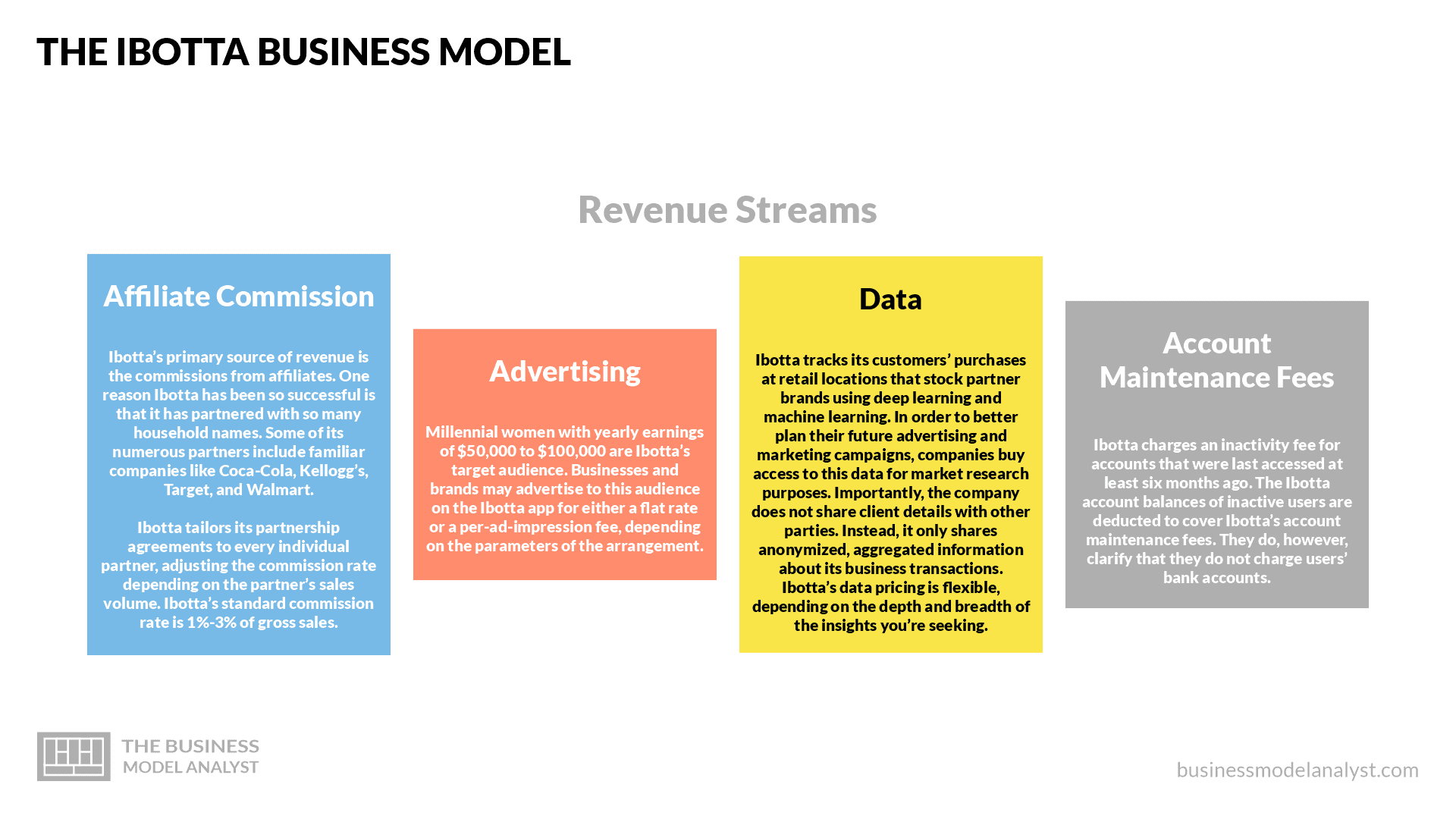 To generate revenue, Ibotta receives affiliate commissions from its business partners in return for sending them customers. The company also generates revenue from the sale of advertising space and the distribution of aggregated transaction data to retailers and manufacturers.
Affiliate Commission
Ibotta's primary source of revenue is the commissions from affiliates. One reason Ibotta has been so successful is that it has partnered with so many household names. Some of its numerous partners include familiar companies like Coca-Cola, Kellogg's, Target, and Walmart.
Ibotta tailors its partnership agreements to every individual partner, adjusting the commission rate depending on the partner's sales volume. Ibotta's standard commission rate is 1%-3% of gross sales.
Advertising
Millennial women with yearly earnings of $50,000 to $100,000 are Ibotta's target audience. Businesses and brands may advertise to this audience on the Ibotta app for either a flat rate or a per-ad-impression fee, depending on the parameters of the arrangement.
Data
Ibotta tracks its customers' purchases at retail locations that stock partner brands using deep learning and machine learning. In order to better plan their future advertising and marketing campaigns, companies buy access to this data for market research purposes. Importantly, the company does not share client details with other parties. Instead, it only shares anonymized, aggregated information about its business transactions. Ibotta's data pricing is flexible, depending on the depth and breadth of the insights you're seeking.
Account Maintenance Fees
Ibotta charges an inactivity fee for accounts that were last accessed at least six months ago. The Ibotta account balances of inactive users are deducted to cover Ibotta's account maintenance fees. They do, however, clarify that they do not charge users' bank accounts.
Ibotta Business Model Canvas
The Ibotta Business Model can be explained in the following business model canvas: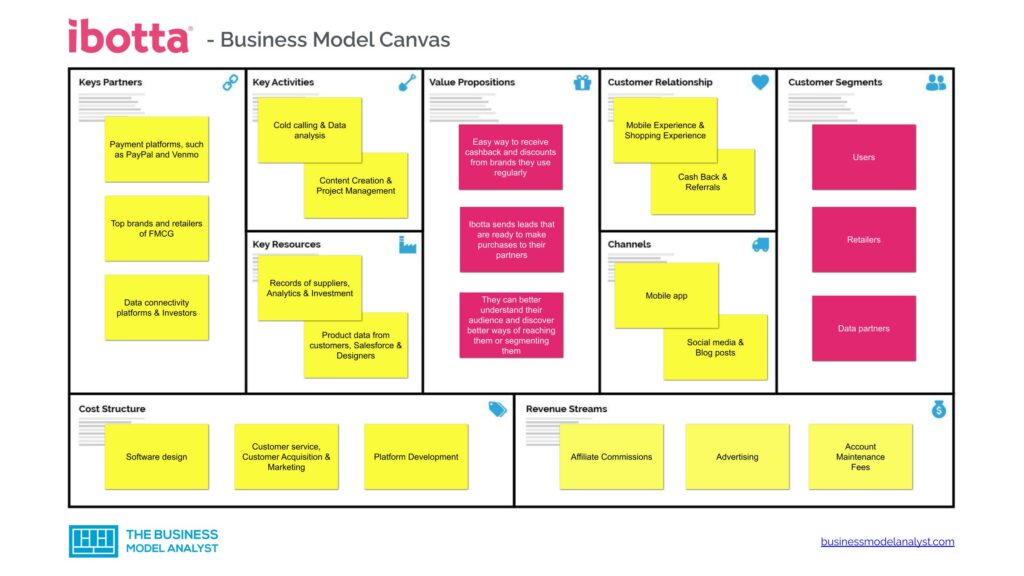 Ibotta Customer Segments
Ibotta's customer segments consist of the following:
Users: While they serve a wide range of users, Ibotta's target audience is millennials. These are millennials looking for ways to get discounts and cashback on products they buy from brands they regularly purchase from;
Retailers: These include retailers that advertise their products on Ibotta, as well as those that are in Ibotta's list of partners whom they partner with to provide users with cashback and discounts.
Data partners: These are partners that buy aggregated and anonymized user data from Ibotta.
Ibotta Value Propositions
Ibotta's value propositions consist of:
Users: Ibotta offers its users (mostly millennials) an easy way to receive cashback and discounts from brands they use regularly. Ibotta offers this service while making sure its user experience is as straightforward and streamlined as it needs to be;
Retailers: Ibotta sends leads that are ready to make purchases to their partners, as well as provides their advertising partners access to potential customers that fit a specific target audience;
Data partners: Even though these partners do not receive personal user information, from the data set that Ibotta provides them, they can better understand their audience and discover better ways of reaching them or segmenting them.
Ibotta Channels
Ibotta's channels consist of the following:
Mobile app
Google Play Store
App Store
Social media
Blog posts
Ibotta Customer Relationships
Ibotta's customer relationships consist of the following:
Mobile Experience
Shopping Experience
Cash Back
Referrals
Ibotta Revenue Streams
Ibotta's revenue streams consist of the following:
Affiliate Commissions
Advertising
Data
Account Maintenance Fees
Ibotta Key Resources
Ibotta's key resources consist of the following:
Records of suppliers
Analytics
Investment
Product data from customers
Salesforce
Designers
Image Recognition Technology
Mobile Platform
Ibotta Key Activities
Ibotta's key activities consist of the following:
Cold calling
Data Analysis
Customer Service
Sales
Research Strategies
Content Creation
Project Management
Client Support Systems Engineering
Public Relations
Advertising
Machine Learning
Recruiting
Content Marketing
Software Development
Ibotta Key Partners
Ibotta's key partners consist of:
Payment platforms, such as PayPal and Venmo
Top brands and retailers of FMCG
Data connectivity platforms
Investors
Ibotta Cost Structure
Ibotta's cost structure consists of:
Promotion
Software design
Operations
Customer service
Customer Acquisition
Marketing
Communications
Platform Development
Ibotta Competitors
There are numerous cashback rewards apps and credit card providers that provide cashback programs that compete with Ibotta for market share. The companies listed below are some of its primary competitors:
Rakuten: Until recently known as Ebates, Rakuten Rewards is now the biggest loyalty rewards program in the United States, rewarding customers with cash back and other purchasing benefits. More than a billion dollars has been cashed out by their 12 million consumers at their favorite stores. Rakuten's program provides perks in a wider range of areas than standard loyalty programs. Their regular Rakuten Card allows holders to use their points for anything inside the Rakuten Ecosystem, including Rakuten Beauty appointments and Rakuten Gurunavi Delivery takeout sushi.
SavingStar: To help its customers save costs during routine grocery trips, SavingStar launched in 2011. Unlike other cashback services, which tend to focus on commodities like home goods, clothing, and other things, SavingStar offers clients significant cashback and discounts on their grocery shopping.
Fetch Rewards: In 2013, the free smartphone app Fetch Rewards was released, allowing users to earn points for rewards by taking pictures of their receipts and uploading them. Points may be redeemed for a wide variety of rewards at places like Starbucks and Target.
Shopkick: The Shopkick app awards users with points whenever they locate, scan, and purchase featured products from major retailers. The software provides incentives for doing things like visiting a store or perusing an online retailer's website, making both types of shopping more fun and rewarding.
ShopSavvy: ShopSavvy is a mobile app that scans items and then finds stores in the user's immediate area or on the Internet that sell the product. ShopSavvy also finds the best deals, compares prices, and displays consumer reviews of the scanned product.
Ibotta SWOT Analysis
Below, there is a detailed swot analysis of Ibotta: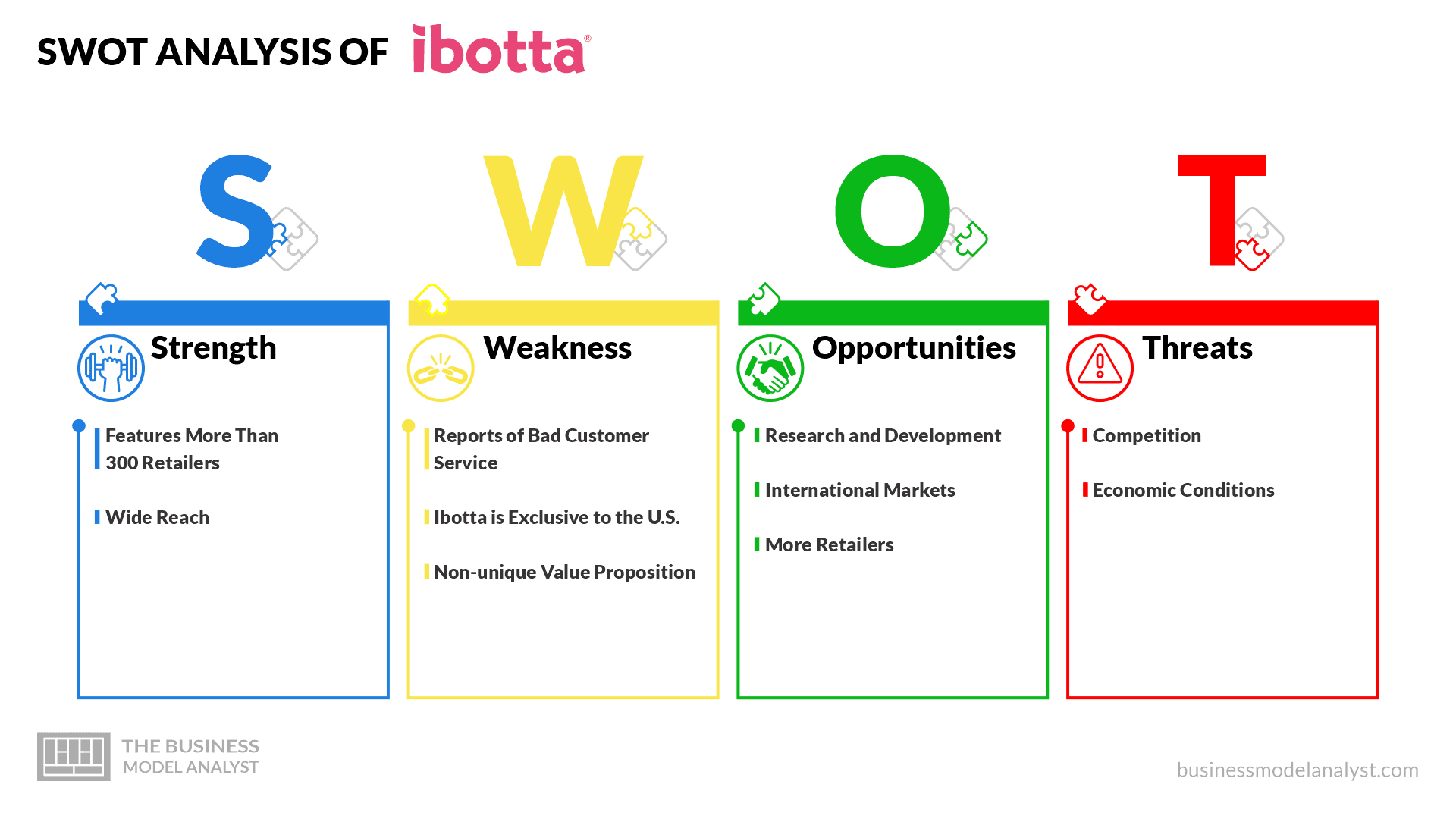 Ibotta Strengths
Features More Than 300 Retailers: There are more than 300 different types of retailers featured on Ibotta, from supermarkets and drugstores to home improvement and pet supply outlets;
Wide Reach: Their widespread presence in the United States is remarkable. The corporation claims that its products can be purchased in over 500,000 locations throughout the country.
Ibotta Weaknesses
Reports of Bad Customer Service: While Ibotta is generally easy to use and quick to load, customers with technical issues may be frustrated by the app's inefficient and slow customer service;
Ibotta is Exclusive to the U.S.: The Ibotta app is still only accessible in the United States as of the year 2022;
Non-unique Value Proposition: While Ibotta has an impressive value proposition, it isn't really unique, meaning that users can always find alternatives or even discover other similar services before becoming aware of Ibotta.
Ibotta Opportunities
Research and Development: To come out on top in their fiercely competitive landscape, or to even remain profitable, Ibotta needs to have a strong research and development division for the development of features that will ensure they have a strong grasp of their market share;
International Markets: While its stronghold is in the U.S., Ibotta has a huge market in international economies that it can invest in;
More Retailers: By including more retailers in their ecosystem, Ibotta has an opportunity of attracting more users.
Ibotta Threats
Competition: As a cashback service, Ibotta is up against strong competitors in the industry, these competitors are not looking to lose market share, but to gain more. Ibotta will not be able to stand against such competitors for long without a strong research and development division;
Economic Conditions: While things are still pretty normal, all indicators point towards harder times for consumers. Since much of Ibotta's revenue depends on affiliate commissions, they might take a big hit if the economy takes a dip dive.
Conclusion
With several app features, attractive cashback and discount offers, and a wide variety of retailers in their ecosystem, it's no wonder Ibotta has several million users and has crossed the $1 billion milestone. While they have only used their business model in the United States, it would be plausible to say that it has the capacity to work in other markets. With their wealth of experience, the right entrant strategy, and enticing cashback and discount arrangements with retailers, Ibotta has the capacity to enter new markets and almost immediately become a top contender.