The Honey Business Model operates in the United States as a free browser extension app that offers its users promotional codes, automatic coupons, and saving deals for buying products on supported e-commerce websites. Honey aims to help its users save money through mouth-watering discounts when they shop online.
A brief history of Honey
Honey was founded in November 2012, by two entrepreneurs, Ryan Hudson and George Ruan, in Los Angeles, California. Ryan Hudson developed the idea for Honey while trying to find a way to get cheaper pizza for his kids. Before the formal launch in November, the founders of Honey built a prototype of the browser extension in October 2012.
Initially, it was challenging for Ryan and George to get funding because they were unable to convince investors to pump their money into a desktop browser extension when the whole world was still focused on mobile. However, all of this changed when a beta tester leaked the tool to Reddit, and it went viral.
By March 2014, about a million people were already using the honey browser extension. In March 2017, Honey raised a total of $26 million in a Series C round, and by January 2018, they had already raised a total of $40.8 million in venture backing. In 2019, Honey started to invest in podcasts and YouTube, and this gave them even more publicity. On January 6, 2020, Honey was acquired by PayPal for about $4 billion and renamed PayPal Honey in 2022.
Who Owns Honey
Honey is owned by its parent company, PayPal, an American financial technology company that operates an online payment system in several countries. Despite its acquisition by PayPal, Honey is still headed by its co-founders, George Ruan and Ryan Hudson, who have both joined PayPal to work on integrations of products and scaling to a larger user base.
Honey's Mission Statement
"To make the world more fair."
How Honey makes money
Affiliate commission
Honey majorly makes its money through commissions from its merchant partners, such as eBay. When any of the users of the Honey browser extension app uses a coupon or promotional code to find an available discount and purchase a product, Honey gets a commission fee from the merchant. The commission is a percentage of the total sales price, usually 0.5% to 10%, and sometimes as high as 20%.
Honey tracks every sale and works with affiliates to confirm the purchases their users make. They work with over 20 affiliate networks. Honey has partnered with over 30,000 stores in industries ranging from fashion, food, and travel, to electronics and gadgets.
Honey's Business Model Canvas
The Honey Business Model can be explained with the business model canvas below: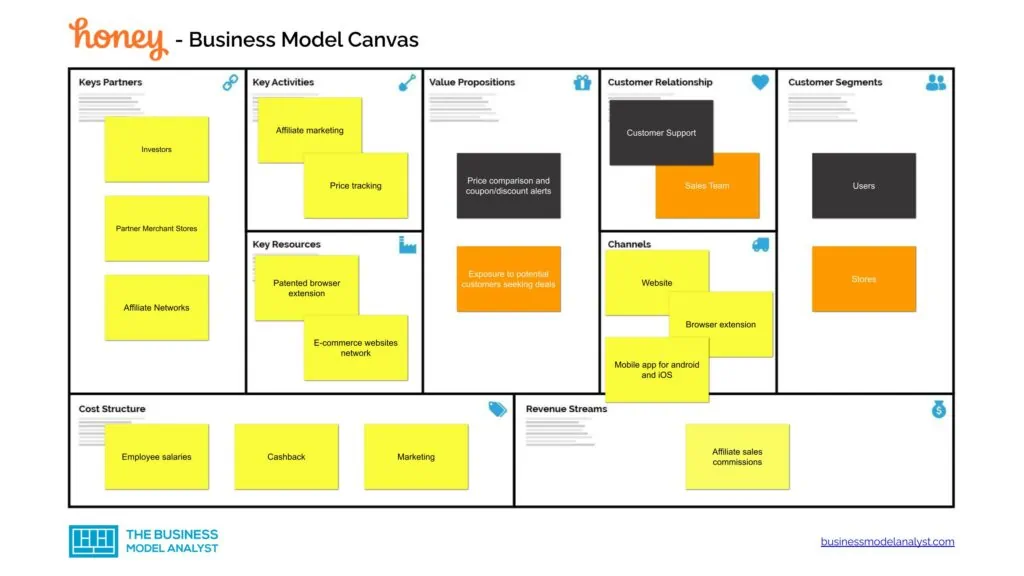 Honey's Customer Segments
Honey has customers in the U.S., UK, Canada, Australia, and some other countries. These customers are people involved in the e-commerce industry. Honey's customer segment consists of the following:
Users: The users of the honey browser extension app are people who use e-commerce websites to shop online;
Stores: These are merchants or retailers who use Honey to drive traffic to their websites and increase their sales.
Honey's Value Propositions
Honey's value propositions consist of:
Price comparison and alerts: Honey alerts its users to the lowest prices on Amazon by comparing the prices of different sellers for the same item. It even includes shipping costs and considers Prime membership;
Droplist: The droplist feature on Honey allows users to add items from their desired e-commerce store to a list. If any coupon for the added items pops up, Honey alerts its users. Also, a user can determine the price at which they want to purchase an item;
Gold cashback & Rewards program: If there are no available discounts, users can earn Honey's digital currency, "gold". The Gold cashback and rewards program ensures that users can redeem their accrued gold for gift cards from retailers such as Home Depot, Microsoft, etc.;
Price History: On Amazon, Honey tracks the prices of products from over 30 days to about 120 days. It notifies users about price changes and helps them to make informed decisions before purchasing a product.
Honey's Channels
Honey's channels consist of:
Website
Browser extension
Mobile app for android and iOS
Honey's Customer Relationships
Honey's customer relationship consists of:
Social media
Customer service
Website
Honey's Revenue Streams
What are Honey's revenue streams? Honey operates an affiliate marketing business model, therefore, they have only one major source of revenue. Honey makes its money through affiliate sales commissions. They partner with affiliate commissions that pay them commissions for every user that save their time and money with the Honey browser extension app.
Honey's Key Resources
Honey's key resources consist of:
Patented browser extension
Investors
E-commerce websites
Online shoppers
Honey's Key Activities
Honey's key activities consist of:
Affiliate marketing
Price tracking
Price history
Customer service
Optimal shopping experience
User education
Honey's Key Partners
Honey's key partners consist of:
Investors: Honey has had over 6 rounds of funding with about 14 investors. Some of Honey's investors include Citi Ventures, Anthos Capital, Mucker Capital, Wonder Ventures, Plug and Play, Trend Investment Group, etc.;
Partner Merchant Stores: Without the merchant/e-commerce stores that partner with Honey, the browser extension app cannot be used. Honey partners with over 40,000 merchant stores to give the best deals and discounts on products of all types to their customers. Some of these merchant stores include Target, Macy's Nike, Adidas, Sephora, Lowe's, etc.;
Affiliate Networks: Although Honey partners with merchants/e-commerce stores, it does not deal with them directly. Instead, Honey works with its partner affiliate networks to provide its services to its users. Some of the affiliate networks Honey partners with include Rakuten, LinkConnector, Groupon, Affiliate future, etc.;
Marketing Partners: These are channels through which Honey advertises its services to its target audience. An example of Honey's marketing partner is YouTube.
Honey's Cost Structure
Honey's cost structure consists of:
Employee salaries
Commissions and cashback
Marketing
Technological maintenance
Management, administration, and operations
Honey's Competitors
RetailMeNot: With a funding of $484 million, RetailMeNot is one of Honey's biggest competitors. Founded on 27th October 2006, RetailMeNot is an American multinational company that owns coupon websites and mobile apps;
Flipp: Flip is a website/mobile app that helps its users save money by offering them the latest deals and discounts at their local stores;
Shopper: Shopper is one of the most popular competitors of Honey. Shopper helps its users to save maximum on every purchase they make by automatically applying all available and working coupons to their cart;
Coupert: Coupert is a browser extension that works as a free personal shopping assistant to help its users save time and money while shopping online. Coupert achieves this by finding coupon codes and automatically applying them at checkout, offering cashback for each successful purchase;
Piggy: Piggy is a free-to-use browser extension that saves the time and money of its users by offering them coupon codes and cashback for their purchases.
Honey's SWOT Analysis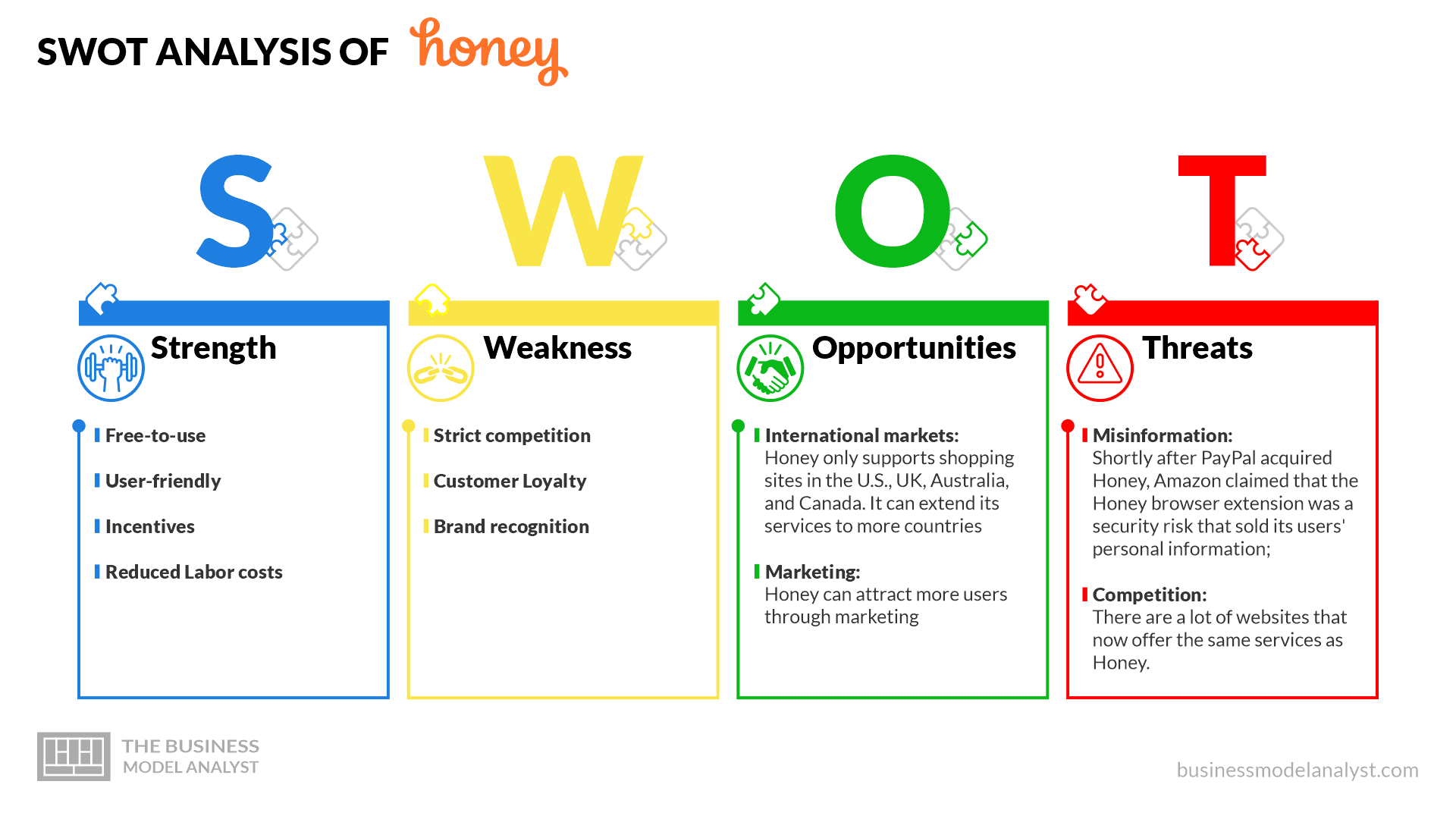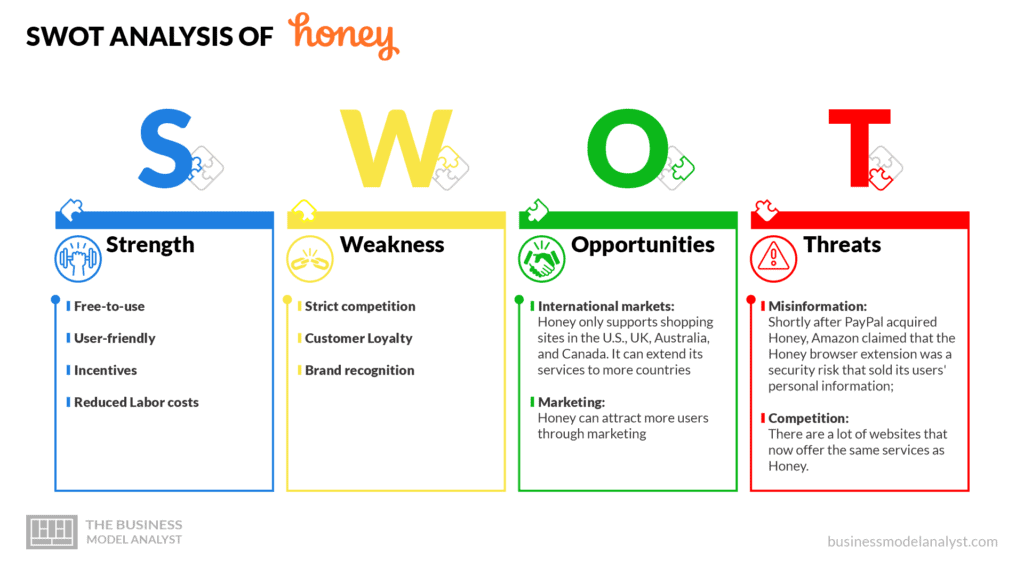 Below, there is a detailed SWOT analysis of Honey:
Honey's Strengths
Free-to-use: The Honey browser extension service is free-to-use and even pays its users in form of cashback and its digital currency called gold. This retains the existing users and entices more people to use the service;
User-friendly: The interface of the Honey web extension is very friendly, and you can enjoy the services by installing it in just two clicks. It is very easy to navigate, and it works automatically;
Incentives: Despite being a free-to-use service, Honey gives incentives such as cashback and other rewards to its users, merely for using its service;
Reduced Labor costs: Honey does not have to invest much in labor costs, therefore, it can increase its marketing.
Honey's Weaknesses
Strict competition: Honey has a lot of competitors that provide the same service;
Customer Loyalty: Some customers are one-time users who use Honey for deals;
Brand recognition: Honey can still gain some more popularity.
Honey's Opportunities
International markets: Honey only supports shopping sites in the U.S., UK, Australia, and Canada. It can extend its services to more countries;
Marketing: Honey can attract more users through marketing.
Honey's Threats
Misinformation: Shortly after PayPal acquired Honey, Amazon claimed that the Honey browser extension was a security risk that sold its users' personal information;
Competition: There are a lot of websites that now offer the same services as Honey.
Conclusion
The Honey Business Model is determined to help its users save money and time at no extra cost when shopping online. This is achieved by offering users the best deals and discounts on whatever product they are trying to purchase. In addition to saving money and time, Honey helps its users to make healthy decisions while shopping. The price history feature tells a user the best time to buy a product.
Honey operates an affiliate marketing business model and generates revenue solely from affiliate commissions. The commission Honey receives on each customer purchase depends on the deal made with the merchant/e-commerce store. The Honey business model is effective and has generated millions of dollars in revenue as its user base grows.