With over 2,300 physical stores in North America — accompanied by a strong online presence —, the Home Depot business model is focused on the sale of tools, construction products, appliances, and services for home improvement projects. Home Depot is the world's largest home improvement retailer, with about 490,600 employees and more than $151 billion in revenue. Home Depot's stock is traded on the New York Stock Exchange (NYSE: HD) and is included in the Dow Jones Industrial Average and Standard & Poor's 500 Index.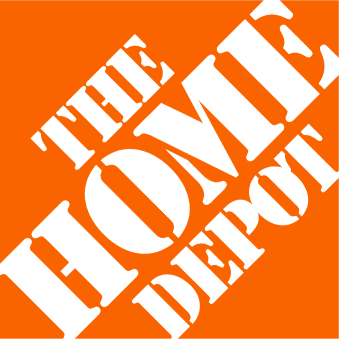 A brief history of Home Depot
Bernard Marcus and Arthur Blank, the two founders of Home Depot, worked as president and chairman of the board, and CFO respectively in Handy Dan Home Improvement Centers — one of the first home improvement retailers in the U.S. In the late '70s, Handy Dan found itself in the midst of a brutal corporate takeover, which led to the sack of Marcus and Blank.
Then, they both decided to establish a kind of store that did not exist at that time, a one-stop-shop for the do-it-yourself-er. At that time, a big project might require a customer to go shopping in two or more stores to get everything they need. With help from investment banker Ken Langone and merchandising guru Pat Farrah, they opened their first two Home Depot stores on June 22, 1979, in Atlanta, Georgia.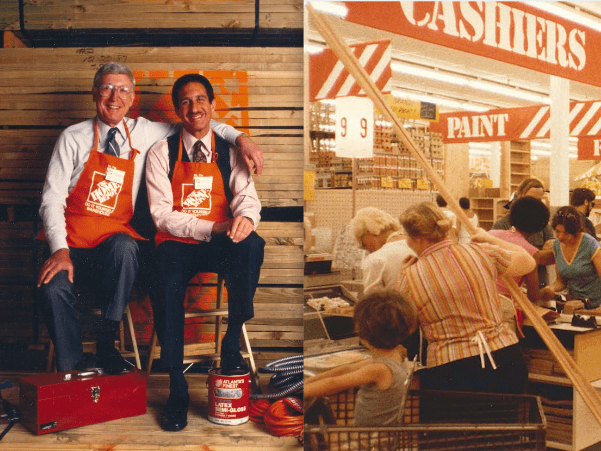 Though they were much smaller in comparison to today's stores, the first stores, at around 60,000 square feet each, dwarfed the competition and stocked 25,000 products, much more than the average hardware store at that time. On September 22, 1981, Home Depot went public on NASDAQ and raised $4.093 million.
Who Owns Home Depot:
Home Depot's stock is publicly traded on the New York Stock Exchange under the trading symbol "HD" and is included in the Dow Jones Industrial Average and the Standard & Poor's 500 Index. It has been traded on the NYSE since April 19, 1984. According to CNN Business, its top shareholders include the Vanguard Group (8.66%), BlackRock Fund Advisors (4.54%), SSgA Funds Management, Inc. (4.44%), Capital Research & Management Co. (3.91%), and Geode Capital Management LLC (1.69%).
Home Depot's Mission Statement
"To provide the highest level of service, the broadest selection of products, and the most competitive prices".
How Home Depot makes money
Home Depot makes most of its money through sales of home improvement goods and related services. Let's take a closer look.
Product Sales
Home Depot sells a wide range of building materials, decorative products, home improvement goods, garden and lawn products, etc. Home Depot generates massive revenue from the sales of these products. Home Depot sells its products to Do-It-Yourself customers, Do-It-For-Me customers, and professionals.
Professional Service Providers
Home Depot offers professional services to its customers through its vast network of professional contractors, tradesmen, remodelers, and small business owners that assist its customers. They help customers to handle small and complicated home improvement projects. Home Depots receive a commission from these service providers for the job they do.
Credit Facility
Home Depot offers a buy now, pay later scheme through third-party providers for consumers and businesses. Home Depot earns revenue from charges for these credit services.
Home Depot's Business Model Canvas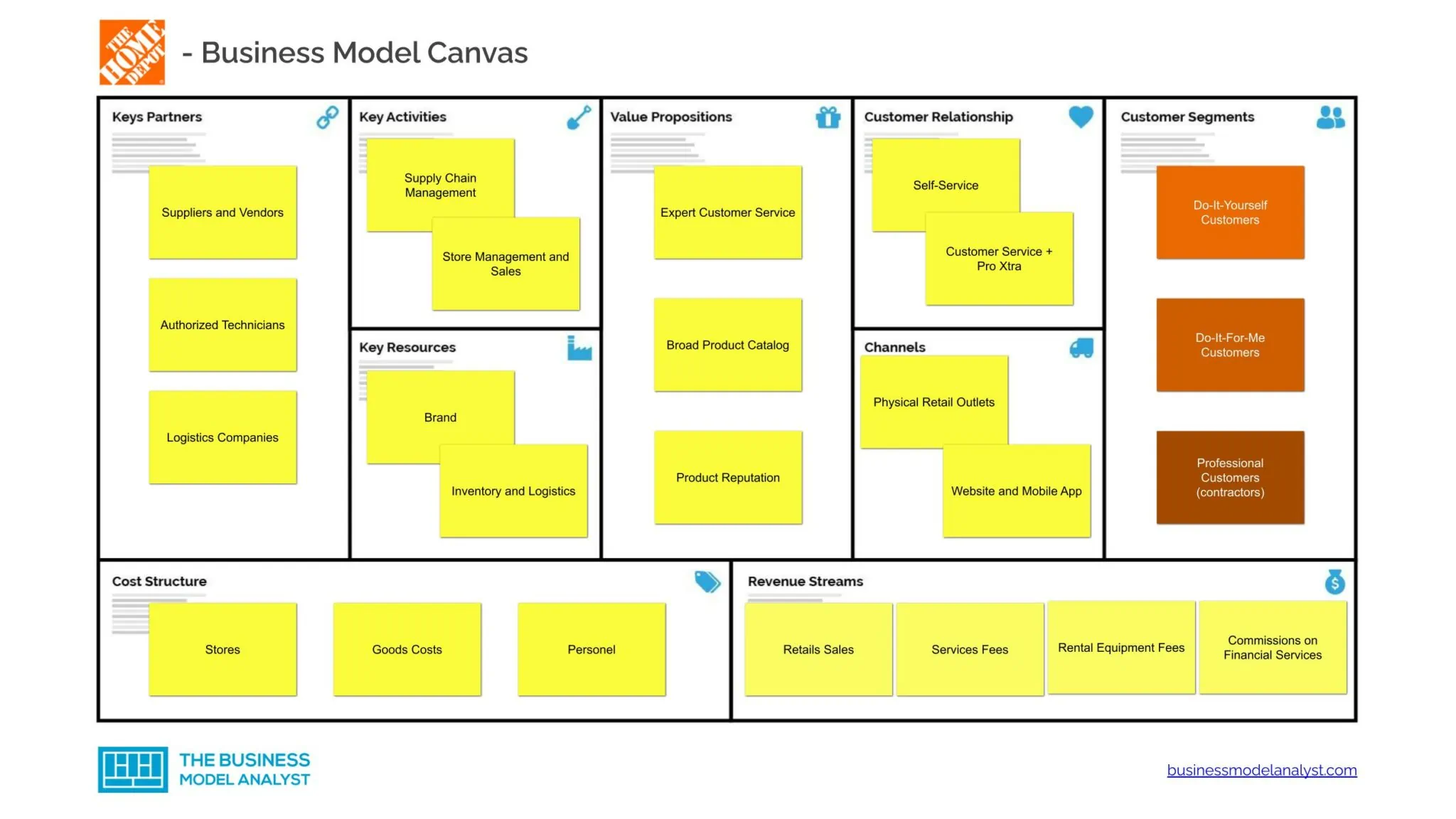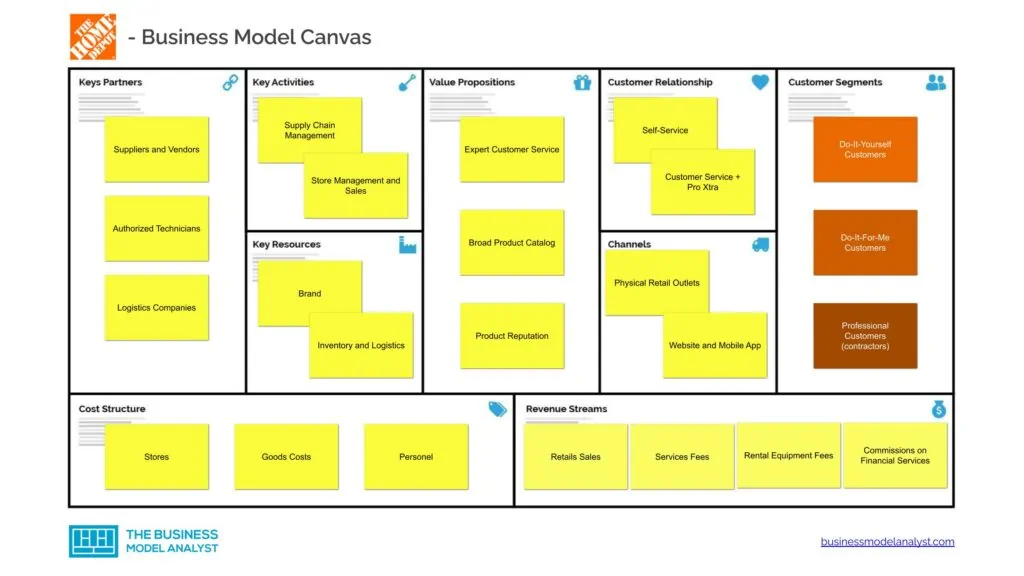 The Home Depot Business Model can be explained in the following business model canvas:
Home Depot's Customer Segments
Home Depot's Customer Segments comprise:
Do-It-Yourself Customers: These include general consumers and homeowners who make purchases from Home Depot for their own at-home DIY projects and installations;
Do-It-For-Me Customers: These include homeowners and small businesses who require Home Depot's products and third-party assistance to carry out their projects and installations;
Professional Customers: These consist of professionals such as repairmen, professional renovators and remodelers, tradesmen, and general contractors.
Home Depot's Value Propositions
Home Depot's value propositions consist of:
Expert Customer Service: Provides expert customer service to its customers, such as DIY workshops to teach installations, repairs and improvement tasks to customers of different skill levels. They also give customers knowledgeable advice on their products to help them maximize the products' benefits;
Broad Product Catalog: Home Depot offers customers a large array of products across multiple products categories;
Product Reputation: Home Depot has a reputation of offering only the highest quality product at the most competitive prices. 
Home Depot's Channels
Home Depot's channels consist of:
Physical Retail Outlets
Mobile App
Website
Home Depot's Customer Relationships
Home Depot's customer relationships consist of:
Home Depot Stores
Personal Assistance
Customer service
Credit offers
Training Workshops
Social Media
CSR programs
Self-service
Home Depot's Revenue Streams
Home Depot's revenue stream consists of:
Retail Sales
Service fees
Rental Equipment fees
Installation service and repair fees
Commission on financial services
Home Depot's Key Resources
Home Depot's key resources consist of:
Inventory
Logistics
Employees
Home Depot's Key Activities
Home Depot's key activities consist of:
Supply chain management
Orders management
Customer service
Shipping and Delivery
Marketing
Distribution and Logistics
In-Store product sale
Home Depot's Key Partners
Home Depot's key partners consist of:
Suppliers and Vendors
Logistics companies
Authorized technicians
Manufacturers and distributors
Home Depot's Cost Structure
Home Depot's cost structure consist of:
Stores
Goods cost
Acquisitions
Personnel cost
Maintenance
Home Depot's Competitors
Lowe's: Lowe's is America's second-largest home improvement retailer after Home Depot. They offer a wide range of home improvement products and installation services, along with the repair and maintenance of their goods;
Menards: Menards is a retail chain of construction materials and home decor. It is a family-owned business and has grown into one of the largest hardware chains in North America;
Ace Hardware: Ace Hardware is an American retailer with a large catalog of home improvement goods and supplies. It is the world's largest retailer-owned hardware cooperative. It is headquartered in Illinois and operates more than 5,000 stores in 60 countries;
Home Hardware: Home Hardware is a Canadian home improvement retail company. The store offers a wide selection of goods, including indoor & outdoor power tools; garden supplies & equipment; plumbing & heating; air conditioning & water treatment; kitchen cabinetry & appliances; and more.
Home Depot's SWOT Analysis
Below is a detailed SWOT analysis of Home Depot: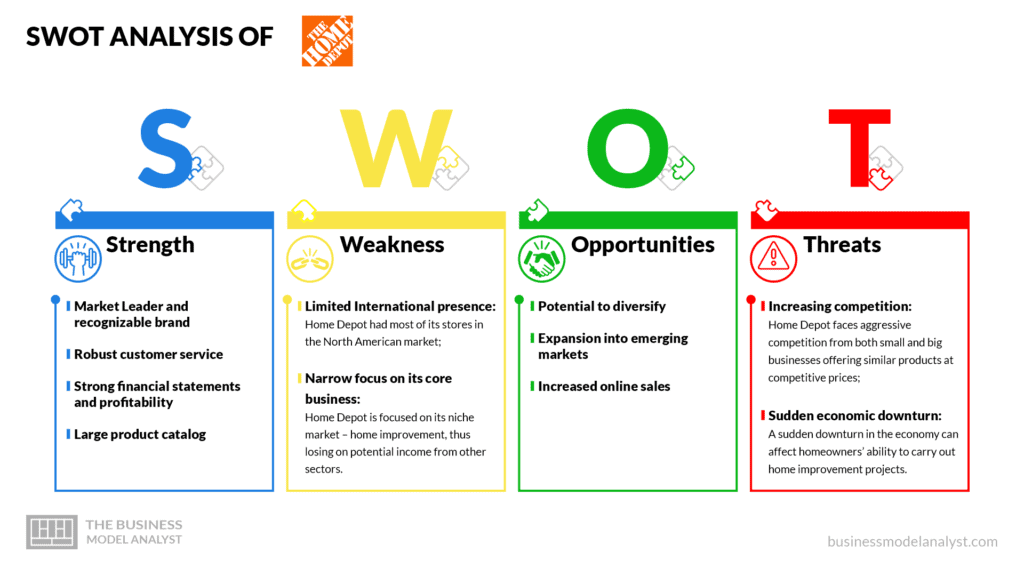 Home Depot's Strengths
Market Leader and recognizable brand: Home strength lies in its market leadership as the largest retailer of materials and tools for home improvement. The Home Depot brand is one of the most trusted and forefront of innovation in home improvement;
Robust customer service: Home Depot delivers excellent customer service through its expert employees;
Strong financial statements and profitability: Home Depot has an outstanding net income of $12.866 billion during fiscal 2021 and low long-term debt, totaling $35.822 billion as of April 30th, 2021;
Large product catalog: Home Depot provides a wide array of products unmatched by many in the home improvement space. It is a one-stop shop for everything imaginable for home improvement.
Home Depot's Weaknesses
Limited International presence: Home Depot had most of its stores in the North American market;
Narrow focus on its core business: Home Depot is focused on its niche market – home improvement, thus losing on potential income from other sectors.
Home Depot's Opportunities
Potential to diversify: There are opportunities for Home Depot to diversify into other niches — such as green energy and home decor —, which are increasingly becoming popular with homeowners and professionals;
Expansion into emerging markets: Home Depot has the potential to penetrate new markets outside the North American market, which has been their focus for a long time;
Increased online sales: The emergence of e-commerce presents an enormous opportunity for Home Depot to capture a larger share of its market.
Home Depot's Threats
Increasing competition: Home Depot faces aggressive competition from both small and big businesses offering similar products at competitive prices;
Sudden economic downturn: A sudden downturn in the economy can affect homeowners' ability to carry out home improvement projects.
-> Read More About Home Depot's SWOT Analysis
Conclusion
Home Depot has revolutionized the home improvement sector by cultivating a strong do-it-yourself and professional marketplace. Its success can be attributed to its huge catalog of product offerings, excellent customer service, and competitive prices. They have come a long way since it was founded by Marcus and Blank. They have conquered the North American market, but continue to lag in their ability to penetrate emerging markets in Asia and other parts of the world.