HBO Business Model is mostly a subscription-based model that charges users to watch its channels or use its on-demand streaming app. The company additionaly uses an ad-based model.
As HBO is almost half century old (it was founded in 1972), it's easy to assume that HBO Business Model has changed, updated and upgraded, to follow the market demands. The brand, which has built its name on the premise of exhibiting Hollywood movies uninterrupted by commercial breaks, keeps seeking to be relevant to customers.
Home Box Office, HBO for short, has been under the umbrella of Time Warner Inc., one of the largest conglomerates in the media industry, and that was acquired by AT&T for $85.4 billion, in mid of 2018.
HBO is now the longest and oldest paid channel in the United States. The network broadcasts original series, movies (both released in theaters and produced for TV), concerts and documentaries. It is the owner of titles such as Game of Thrones, The Sopranos, Sex and the City and True Blood, and the winner of uncountable awards.
But how does HBO business model supports all these productions?
HBO Business Model Canvas
Let's take a look how the HBO business model can be ploted in the business model canvas and understand its main blocks strategies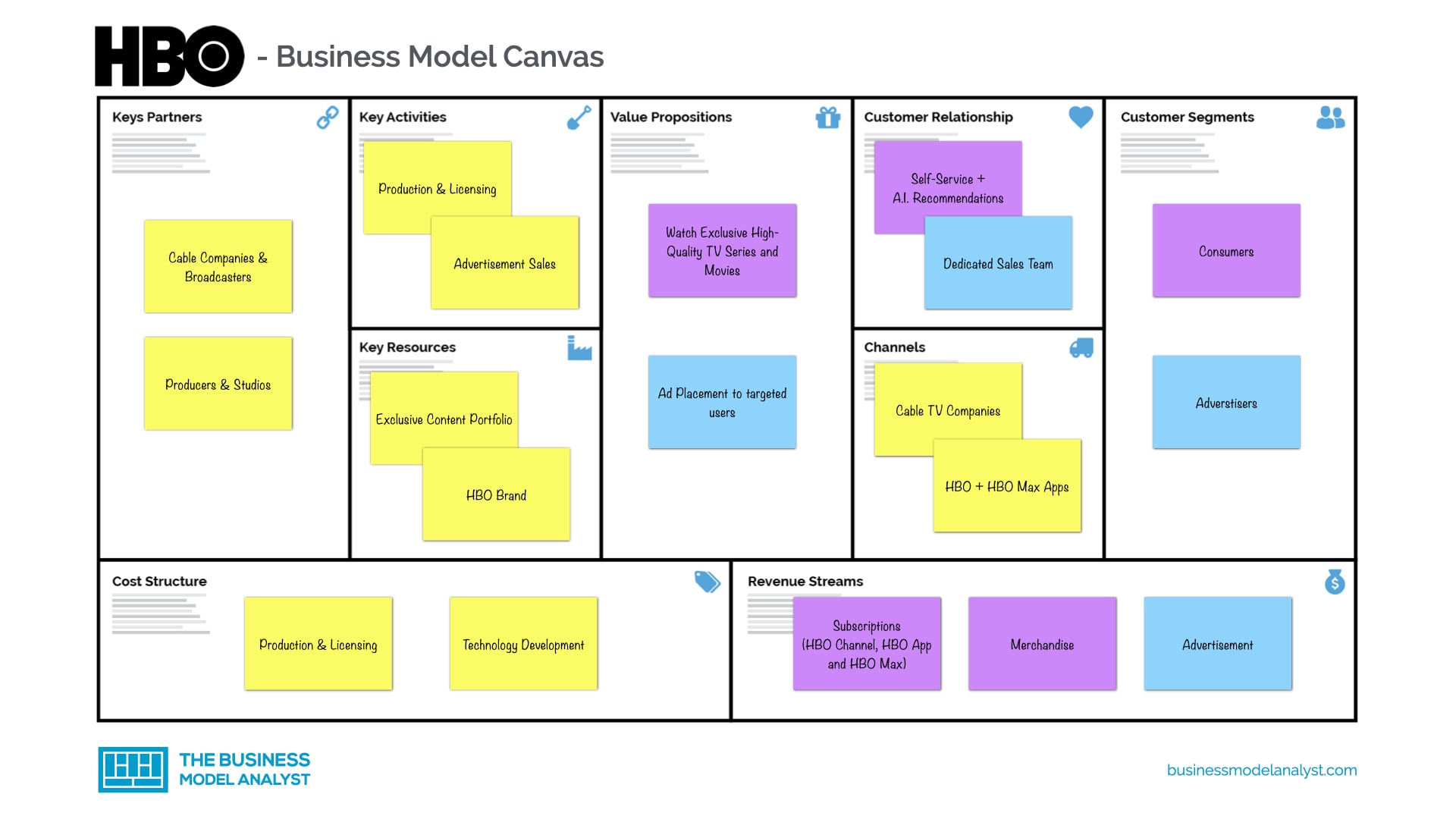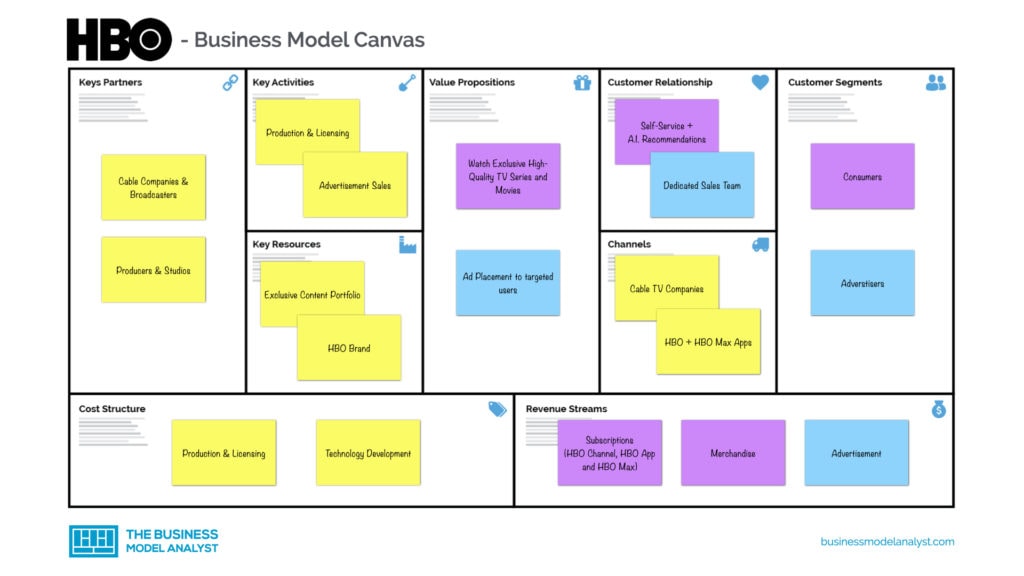 Download High-Resolution PDF of the HBO Business Model Canvas
HBO's expensive content
Probably the main value proposition of HBO business model is its exclusive content. The network is responsible for the production of many world-wide famous originals, both of series and movies.
HBO has a powerful reputation of creating award-winning shows. The qualified shows keep the subscribers active, because they start watching a new show right after finishing the previous one. It also attracts new customers who want to enjoy them as well.
And this virtuous cycle also interests famous producers, directors and actors, who want to be part of high-quality productions.
However, the budget for these productions usually reach expensive figures. One episode of True Blood would cost about $5 million, for example. And the estimated costs for the final season of Game of Thrones were around $15 million per episode – although the company didn't confirm these numbers.
Let's take a look now on the revenue streams that are able to maintain this value proposition working.
How HBO makes money
Nowadays, HBO business model is a subscription business model, based on three main revenue streams: HBO cable channel, HBO app and HBO Max (streaming).
HBO Channel
HBO has currently around 23.6 million subscribers in America, that come from what AT&T calls HBO's "wholesale" channels – those who pay for HBO through an existing MVPD (multichannel television).
And it's curious to know that, even though HBO Max became free as part of the HBO "regular" subscription, only about 1 million subscribers have activated the app.
The HBO subscription price is between $5 and $20, depending on the channel package provided in cable or satellite TV.
HBO App
In 2015, HBO moved to OTT (over-the-top media service). The network started allowing customers to subscribe to HBO via app, regardless a previous cable subscription. This put the company into B2C transactions, as a new market strategy, in accordance to consumer demand.
That's because, in recent years, we have been experiencing a new way consumers access television content. The mobile devices along with the high-speed broadband internet have made it easier for customers to watch their favorite shows anywhere, anytime.
This customer segment has realized that paying a monthly cable subscription has no longer been the most efficient way to watch TV – as sometimes they will pay for contents they will never watch.
The HBO app (former HBO Now) came to meet a demand from people who wanted to pay for an on-demand a-la-carte service. The subscription fee is $14.99 per month, and gives access to the same catalog that people would get on TV, via browser and some major platforms and providers.
HBO Max
But the changes didn't stop on "watching TV on the computer". A powerful new entrant came to transform everything we used to know as television – the Netflix. It's fair to say that Netflix has even created its own Blue Ocean – at least, as long as the giants of media industry hadn't reach it.
The success of video streaming companies (first Netflix, followed by Hulu and Amazon Prime) made revenue for cable providers and premium cable networks, such as HBO, decrease significantly (both from subscribers and advertising revenues).
HBO quickly perceived that the future of television is not cable. From one side, HBO has an advantage against Netflix: while the first streamer didn't have a subscriber base, HBO has tens of million people as its regular consumers. On the other side, HBO still doesn't have the popularity of the first. But it is surely working to get there.
HBO Max streaming service provides access to the same HBO catalog available on the channel and the app, plus the whole Warner Entertainment programming. The subscription costs $14.99 per month (and that is also a nice marketing move to strengthen HBO Max rather than HBO app.
Advertisement
Besides the subscription business model, HBO also benefits from advertising opportunities. Although the network's value proposition involves not to air commercials during the programming, sponsors (such as Apple and Jeep) enjoy paying premium prices to place their products into the programs, and have their names associated to nice productions.
Merchandising
Despite the production of merchandise of several shows, merchandising is not a big source of revenue. Especially because this strategy aims mostly for kids, and the main HBO's customer segments are adults, who watch show as Game of Thrones at night.
Other HBO current facts
Despite its approach to B2C transactions, HBO still needs to cultivate its relationships with cable providers, because the biggest share of its revenue remains in the traditional subscriptions sold by cable companies.
Plus, HBO's end goal is to expand the streaming service internationally at a lower distribution cost. Nevertheless, there is still a long way before streaming overtake traditional cable, both inside and outside America. There are plenty of regions with low broadband speeds and limited technology, which stops them of accessing digital content.