Groupon Business Model has taken the world by storm almost over 10 years ago with its high-discount coupons. After many ups and downs, how is it holding up? Let's take an in-depth look.
Groupon, founded in 2008, has gained fame and customers in several parts of the world, by offering up to 70% discount coupons and vouchers, on hundreds of products and services, from food to travel, mainly over local brick-and-mortar businesses.
Groupon business model, therefore, is based on a simple job: being the middleman. And, although many people believe the company is declining – and that it indeed has had some hard time over its lifetime –, Groupon's figures keep quite positive, with more than 200 bi app downloads, 38 mi active users and over 1.5 bi sold coupons.
But how does this translate into revenue for Groupon and value for its customers? That's what we're going to understand now when we analyze their business model!
How Groupon works
The discount coupons are loss leaders. A loss leader is any kind of product or service, at a very low price (capable of making the business lose money on), but that, on the other hand, will make the customers come over, get to know the place, spend money on other things and maybe become a regular.
The groupons (Groupon coupons) have always been targeted to young people who want to explore new possibilities in their cities, without spending too much. That's why the bargains have been much more about things people want rather than what they actually need. Often, on businesses such as:
Restaurants, pubs, and bars
Hotels, spas, and resorts,
Fitness activities (Pilates, yoga, dance, etc.)
Beauty care (hair, nails, skin, etc.)
Cosmetic procedures
Laundry
Classes
Local retailers.
The groupons always have expirations dates and they are usually limited to first-time customers. The first expiration date is about how long the deal is available for purchase, usually for 24 to 72 hours. The second expiration date refers to how long the coupon is valid for redeeming, often for 6 to 12 months.
Some businesses would also restrict the use to a specific product or service (only one dish of the menu or a single type of service in the salon, for example) and sometimes only one a time (one coupon per table in a restaurant, for instance).
Another option besides the coupons, are the card-linked offers. They are cashback or discounts received automatically as soon as the user link their debit or credit card to the app.
How to get a Groupon
You can sign up on their website, iOS app, or Android app. The coupons are separated into categories and companies, and you can filter by location and price.
On the app, you can get a virtual voucher before making the purchase (the app also sends you notifications about deals when you are near the businesses that are offering). On the website, you may print the coupons and take them to the place.
You can also have a coupon code, to use online. In this case, you just copy the code and make the purchase directly on the partner's website. And, finally, there are the cashback and discount card-linked system, just by adding a card to make the purchase.
How Groupon makes money
Since Groupon is a multi-sided platform that stands for a middleman promoting businesses, it earns commissions on sales, from the companies they promote.
It typically gets 50% of all concluded sales. That usually represents a 75% loss to the merchant (summing up discount and commission). Either way, 97% of merchants ask to feature deals more than once.
Groupon Business Model Canvas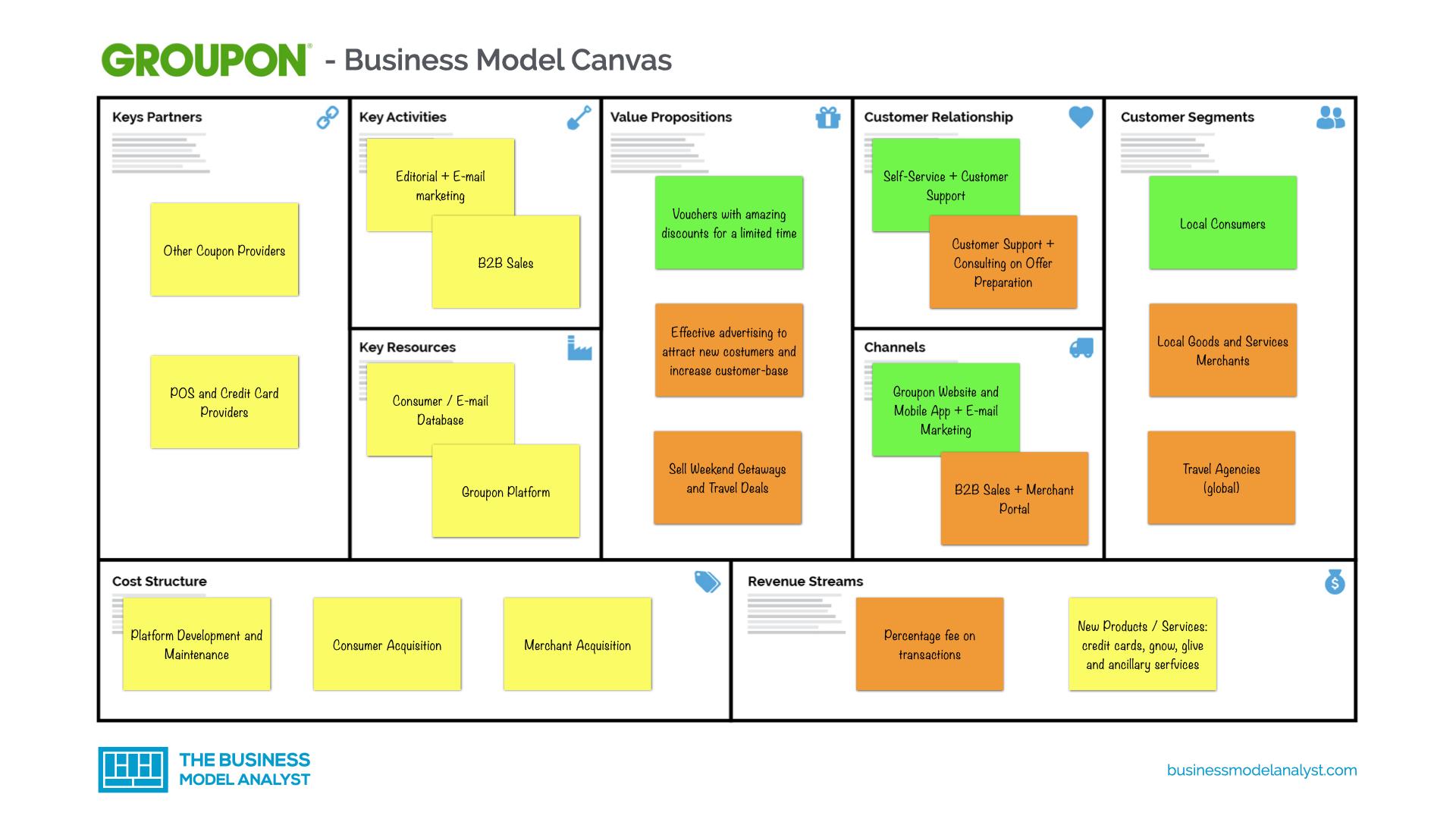 Download a High-Resolution PDF of the Groupon Business Model Canvas
Customer segments of Groupon
Groupon business model can be defined as a multi-sided platform. Its customer segments can be divided into two great ones: merchants and consumers.
Merchants, which are the businesses that hire Groupon's service, can be subdivided into Business size (national brands vs local businesses); Business type (Food & Beverage, Health & Beauty, Home & Auto, etc.) and Business properties (types of deals, location, opening times, price, etc.)
Consumers, who are the people that buy the coupons, can be micro-segmented into geodemographic, interests (especially referred to the type of coupons they acquire) and behavior (browsing history, social network sharing, rating habit, search history, etc.)
Value proposition of Groupon
Groupon has more than one customer segment than it also has one value proposition for each segment.
Consumers benefit on:
Saving money while discovering new things. They can experiment with new products and services without having to pay the whole price for them. This allows them to get to know more places and try more products.
Inspiring to try new things. As they are not going to spend much, they can explore new choices and also inspire other people to do the same.
Risk reduction in experimentation. As Groupon has a review system, they can have an idea if the deal is really worth it, before purchasing. They can also compare prices and use Groupon as the platform for payment.
Merchants benefit on:
Free marketing and advertising. The merchants can feature on Groupon's website with no charges. Besides, Groupon sends e-mails to its thousands of subscribers with the new deals. Traditional advertising demands investment and offers no guarantee of sales.
Free customer information. Groupon states on its own privacy policy that it will provide the merchants with their customer data. When customer A buys a coupon from business B, Groupon will inform business B customer A's e-mail address, for example. So, the merchant can send upcoming news and promotions.
Free marketing and editorial assistance. Groupon has professionals who help merchants on how to best feature their promotion, to attract customers.
Revenue with no sale. Studies show that 20% of people who bur coupons will never redeem them. In these cases, merchants will receive money without actually providing any service or selling anything.
Key partners of Groupon
Groupon has a wide variety of key partners. Among them:
Local business – the local merchants are the priority for the Groupon business model.
National brands – usually by offering codes, promotions, and card-linked offers, that can be accessed anywhere in the country.
Search engines/social media – for advertising.
Payment providers – especially the credit card companies that contribute to the card-linked offers.
Affiliate network – promoters that insert banner ads and links on their websites. They earn up to 10% commission.
Tech companies, regulators, investors, and lobby groups.
Key activities of Groupon
The greatest key activity is growing the marketplace, both by attracting consumers and adding merchants. Besides that, Groupon focuses on marketing and engaging customers (to achieve the first key activity), expansion (to get to new cities), improvement of merchant tools, advertisement, customer experience, support and maintenance, and others.
Key resources of Groupon
To accomplish its key activities successfully, Groupon relies on some key resources. Most of them are not tangible:
Selection of deals and discounts, with photos, details, pricing, etc.;
Relationship both with local businesses and big brands;
Big user base (200 mi downloads, 38 mi active users);
Branding and intellectual property;
The platform itself (website and app);
Consumers data;
Human resources.
Customer relationships of Groupon
The customer relationships of Groupon, with both consumer and merchant segments, are based on:
Marketing and promotion for free;
Collaboration with merchant development;
Merchant tools;
Review system;
Great variety of options;
Issues management by a reliable brand.
Channels of Groupon
Groupon benefits from a wide range of distribution channels, which include:
Website
App and app stores
Merchant portal and app
E-mail offers
Push notifications
Card-linked offers
AI voice assistant
Customer support
Search engines
Social media
Merchant tools
Advertising means
Development team
Cost structure of Groupon
Within Groupon's cost structure, there are:
Credit card and processing fees
Technology maintenance
Web hosting
Inventory
Online and offline marketing (advertising, affiliate programs, etc.)
Sales commissions
Team salaries
Other general and administrative expenses
Revenue Streams of Groupon
As it has been seen above, Groupon's revenue streams are based on commissions, taken from all sales the platform registers.
Groupon was launched 12 years ago and surfed a wave of popularity during the first years. Three years later, it went through an initial public offering (IPO). After that, the company's revenue has been often in decline, nevertheless, its figures look still optimistic.