Founded only one decade ago, GoodRX has grown to become one of the largest players in the online healthcare industry. The GoodRX business model is based on an app and a website that enables users to compare prescription prices at over 70,000 pharmacies throughout the United States, including names such as Walmart, Kroger, CVS Pharmacy, and Walgreens. It is estimated that the company has already helped its customers save more than $20 billion in drugs.
A brief history of GoodRx
As mentioned above, GoodRx was founded in 2011, by Doug Hirsch, Trevor Bezdek (who both currently act as co-CEOs), and Scott Marlette, in Santa Monica, California.
Bezdek had founded two firms before GoodRx. The first one did not take off, but the second one became one of the largest IT service providers in California and was sold in 2007. Hirsch and Marlette met at Facebook — Hirsch as VP of Product and Marlette as an engineer.
Hirsch had also worked in leading roles at Yahoo previously. And he left Facebook to launch DailyStrength, a health-focused social network, which later was acquired by HSW International.
The idea for GoodRx arose when Hirsch had to buy some prescriptions from his dermatologist and noticed that there were some significant discrepancies in pricing among different pharmacies.
He, then, convinced the other two founders to join him in the enterprise and, after more than a year of full-time work, GoodRx was launched at the Health 2.0 Conference in San Francisco, already listing over one million prices for 2,000 different drugs.
Over the coming years, GoodRx would call the attention of both users and investors, and, by 2018, it hit unicorn status. The next year, it acquired the provider of online medical services HeyDoctor, and, some months later, the company started offering telehealth and COVID-19 testing marketplace.
The firm went public in 2020, and the IPO granted over $1 billion to each founder. The company has also made some important acquisitions, like HealthiNation and RxSaver, and, nowadays, its platform is regularly accessed by over 18 million users every month.
Who Owns GoodRx
As mentioned, nowadays, the same founders still hold the position of CEO in the company, with Trevor Bezdek and Doug Hirsch sharing the occupation of Co-CEOs of GoodRX.
GoodRx's Mission Statement
To help Americans get the healthcare they need at a price they can afford.
How GoodRx makes money
Coupons
The biggest revenue stream of GoodRx (approximately 90%) is the coupons the buyers apply when they fill in a prescription. The coupons are codes, accepted at over 70,000 pharmacies in America:
The consumer uses a unique code to purchase a prescription with a discount;
The code gets recorded in the pharmacy's database;
GoodRx makes money via code (it can be a percentage of the sale or a fixed fee);
As the code is recorded, whenever a customer refills their prescription, they use the coupon and GoodRx get paid.
Subscription
GoodRx was the premium subscription the company launched in 2017. For a monthly fee, users get discounts on over 1,000 prescription drugs and healthcare services. Individuals may subscribe at $5.99 per month. Families (up to 5) can subscribe for $9.99 a month.
There is also the Kroger Rx Savings Club powered by GoodRx, a partnership between GoodRx and Kroger, with an annual-fee plan of $36 for individuals and $72 for families (up to six), that offers lower prescription prices at Kroger pharmacies.
Telehealth
GoodRx offers both its own medical checks (through HeyDoctor) and a marketplace for third-party medical services. HeyDoctor allows users to connect with doctors that are vetted by GoodRx, who provide various medical services. Visits start at $19 and do not require insurance. The marketplace enables medical professionals to offer their services on its platform. In this case, GoodRx business model revenue is based on commissions.
Advertising
GoodRx partners up with pharmaceutical companies to advertise their solutions (such as co-pay cards or patient assistance programs) on the platform while offering discounts to users. The company usually charges a fee in exchange for exposure during an agreed period of time.
GoodRx's Business Model Canvas
Let's take a look at the GoodRx Business Model Canvas below: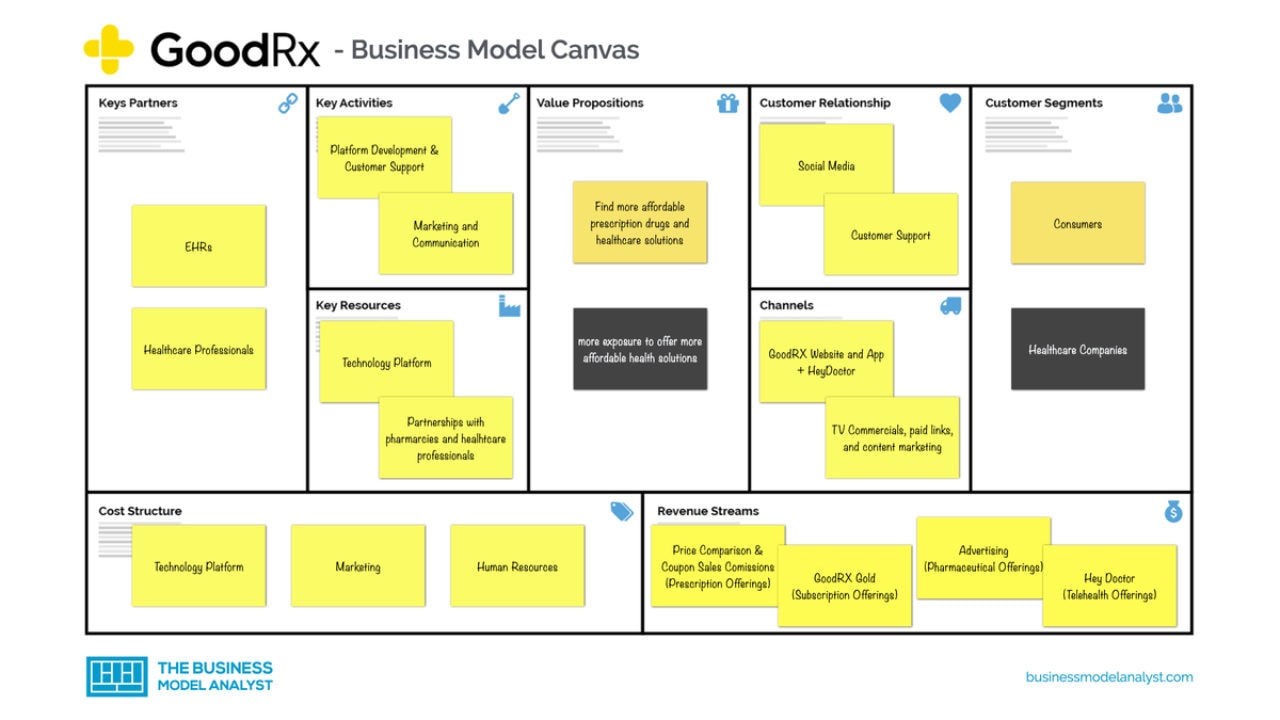 GoodRx's Customer Segments
GoodRx's customer segments consist of:
Consumers: People who want to compare prices of prescriptions, people who want to get checked by a physician online;
Businesses: Pharmacies that want to reach GoodRx's audience.
GoodRx's Value Propositions
GoodRx's value propositions consist of:
Consumers: The convenience of comparing prices online, without having to spend time and energy going from one pharmacy to another just to check pricing; the convenience of getting checked online without having to leave home;
Businesses: Extended customer base, direct marketing.
GoodRx's Channels
GoodRx's channels consist of:
Physicians
HeyDoctor
App
Website
GoodRx's Customer Relationships
GoodRx's customer relationships consist of:
Social media
Customer support
Online and offline marketing
Word of mouth
GoodRx's Revenue Streams
GoodRx's revenue streams consist of:
Commission
Membership fees
Consultations
Ads
GoodRx's Key Resources
GoodRx's key resources consist of:
Technology platform
Partnership with pharmacies and healthcare professionals
Algorithms and AI
GoodRx's Key Activities
GoodRx's key activities consist of:
Platform maintenance
Software development
Payment processing
Customer service
Marketing and communication
GoodRx's Key Partners
GoodRx's key partners consist of:
Healthcare professionals
Electronic health record providers (EHRs)
Affiliates
Partner pharmacies
Technology providers
GoodRx's Cost Structure
GoodRx's cost structure consists of:
Product development (R&D)
Marketing and sales
Distribution
Human resources
GoodRx's Competitors
UnitedHealth Group: A large medical payer that has incorporated delivery services and other benefits, besides investing in digital health;
CVS Health: Originally a chain of retail pharmacies, started to offer integrated pharmacy benefits, delivery functions, and ambulatory and long-term care;
Mayo Clinic: A well-known American academic medical center that also operates hospitals and clinics, it is developing the Mayo Clinic Platform;
Amazon Pharmacy: The retail giant announced a discount card offering, suggesting the company believes in an opportunity inside the healthcare system.
GoodRx's SWOT Analysis
Below, there is a detailed swot analysis of GoodRx:
GoodRx's Strengths
Brand: One of the largest players in the online healthcare industry;
Penetration: Access to over 70,000 pharmacies in the United States;
Reputation: It has already helped Americans save more than $20 billion in prescriptions.
GoodRx's Weaknesses
Imitable business model: Other healthcare operations can easily imitate the GoodRx business model at low costs;
Law and regulations: Vulnerability to regulatory pressures in the healthcare and pharmaceutical industries.
GoodRx's Opportunities
Global growth: Healthcare operations have been growing and have been more easily accepted by the consumer, especially as a result of the COVID pandemics;
International expansion: GoodRx operations can be easily replicated in other geographies;
Diversification: Via mergers and acquisitions of firms related to healthcare and pharmacy industries.
GoodRx's Threats
Competition: Direct competition with other strong and similar players;
Imitation: New entrants and current players can easily imitate the GoodRx business model;
Regulations: Regulatory changes regarding healthcare and pharmacy industries may influence business.
Conclusion
GoodRx, born from a negative experience of one of its founders, has grown to become a giant business in its industry. And, more than that, to be recognized as a helpful brand, able to bring convenience, and money and time savings for its consumers.
Those benefits for the users quickly turned out to bring revenues that prove how profitable GoodRx business model is, with an amount of over $550 million only in 2020.