Glassdoor is an online platform where employees can, anonymously, rate and review the companies in which they work — or have worked. At the same time, employers may advertise their job listings on the website. So, it is fair to say that the Glassdoor business model is kind of a marketplace for human resources. You may also say that they mix a subscription model and a pay-per-use model.
The company was founded in 2008, by Robert Hohman, Rich Barton, and Tim Besse, three former Expedia executives, becoming a success almost immediately. Eleven years later, Glassdoor was bought by the Japan-based Recruit Holdings, for $1.2 billion. Headquartered in California, with offices in Chicago, Dublin, London, and São Paulo, Glassdoor has built a disruptive business model, with more than 50 million visitors per month. Let's go deeper into that.
What is Glassdoor?
According to Glassdoor's website, the platform is "one of the world's largest job and recruiting sites". It operates as a part of Recruit Holdings' growing HR Technology business segment. The company provides over nine million job listings, several reviews, and lots of information on salaries, interviews, and benefits, besides photos and questions. And, differently from other sources, every piece of data come from real employees. Because of that, employers will also use the Glassdoor platform in order to recruit and hire candidates.
How does Glassdoor work?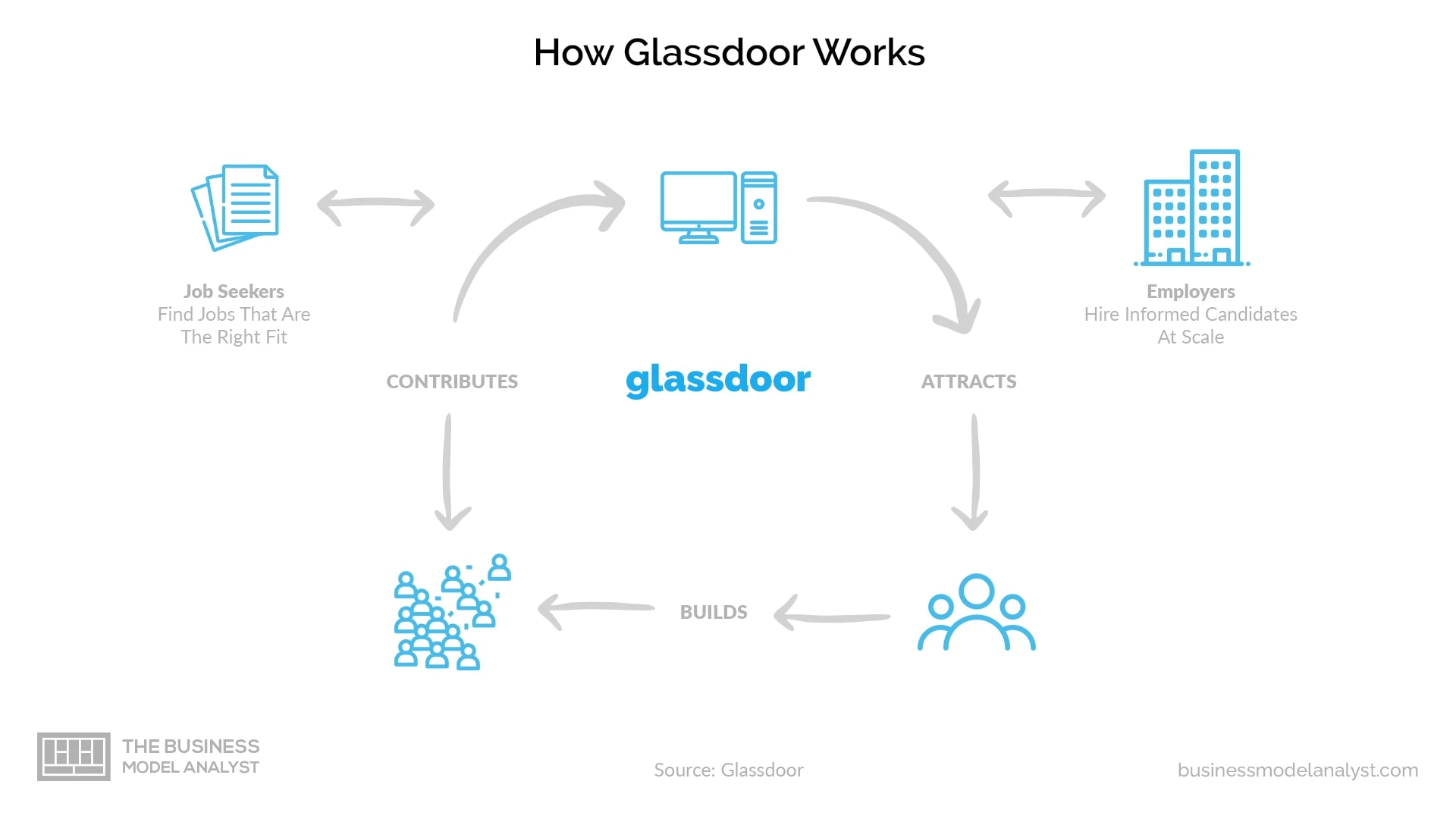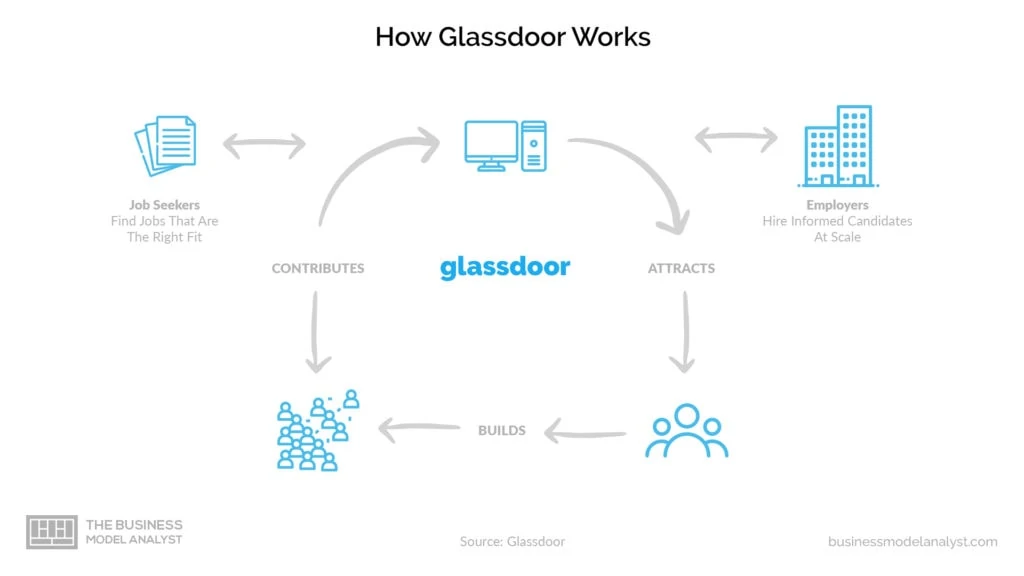 Glassdoor is a kind of marketplace that connects individuals and employers. The employers can post jobs on the platform, and the employees can evaluate their current and former employers. Individuals can search for jobs, and collect and post information about an employer (such as salary, available positions, benefits, interview questions, vacation, trips, and more).
They can also publish potential questions that might be asked in certain companies' interviews, besides other useful information for job applicants' preparation. They can also compare two possible employers, considering work-life balance, opportunities, culture, or senior management approval. And the platform will also offer suggestions of companies to be followed, according to the employee's interests and work history.
On the side of employers, it is possible to seek new qualified employees. The employer account permits responding to employee reviews, managing the company profile, verifying analytics, job advertising, bench marketing, and enhancing the brand in order to attract eager applicants.
Moreover, Glassdoor data has even been used by outside sources to produce estimates and statistics about work-life balance, office cultures, salary trends, corporate revenues, and more. And, every year, the platform determines its annual Employees' Choice Awards for Best Places to Work. The website also verifies the veracity of the reviews, by checking if they come from real employees, through technological tools and a content management team.
A brief history of Glassdoor
As mentioned above, Glassdoor was founded 12 years ago, by Robert Hohman, Rich Barton, and Tim Besse. They met each other when all of them worked for Expedia.com. Hohman was the first to leave Expedia, but remained in contact with the other two. The idea for Glassdoor came from Barton.
In the year 2007, he accidentally sent to print a document that contained salary and stock data, and his assistant rushed to pick up the papers before anyone else could see the information. Barton questioned himself, what was the problem with exposing this kind of information when you are doing your job properly and being fairly paid for that. Sharing these thoughts with the other future founders, they created the prototype site for Glassdoor.
Then, the trio asked their friends and acquaintances to leave reviews on the site. They also raffled an iPod among engineers from the Silicon Valley, in exchange for them to publish reviews and salary information. In 2008, when Glassdoor was officially launched, the website contained more than 3,300 reviews on 250 companies.
And, surprisingly over the same launch day, the platform received more than 1.2 million views, 10,000 salary reports, and 3,000 companies — and even a crash down due to traffic. Ten years later, Glassdoor was acquired. Nowadays, the website has over 10 mi job listings and more than 60 mi reviews, salaries and insights shared. There are 11 offices and over 600 employees across the planet.
Who Owns Glassdoor
In May 2018, Glassdoor has been acquired by the Japanese company Recruit Holdings, for the amount of $1.2 billion. Robert Hohman has been the CEO from 2007 to 2020 until he was replaced by the former COO, Christian Sutherland-Wong. Hohman is still the Chairman though, while Sutherland-Wong is also the President of the company.
Glassdoor's Mission Statement
"To help people everywhere find a job and company they love".
How Glassdoor makes money
Currently, Glassdoor offers a wide range of solutions for helping companies to find suitable candidates for their job vacancies. While employees and applicants can enjoy the platform features at no cost, the employer-side is monetized. Let's take a look at Glassdoor's revenue streams.
Job Posting
For small businesses, Glassdoor applies a freemium-based strategy for posting open vacancies. The first three job posts are free. Over that, the platform charges $249 per listing. For medium, large and enterprise organizations, there are more complex packages in order to meet their demands.
Job Advertising
The job ads aim to boost attention to specific listings, by promoting them at the top of the job feed. They are part of premium charging packages and vary according to the number of posts and promotions.
Employer Branding
Employer branding refers to how a company is presented on the platform. Employers may bring a great review to the top of the feed, add photos and videos, remove competitors' ads, create targeted campaigns, and more. These features are all part of a wider premium package.
Funding
Besides its recurrent revenue, Glassdoor has also relied on substantial amounts of funding, summing up to a total of $204.5 mi in ten rounds, until the company was acquired by Recruit Holdings, in 2018.
Glassdoor's Business Model Canvas
Let's take a look at the Glassdoor Business Model Canvas below: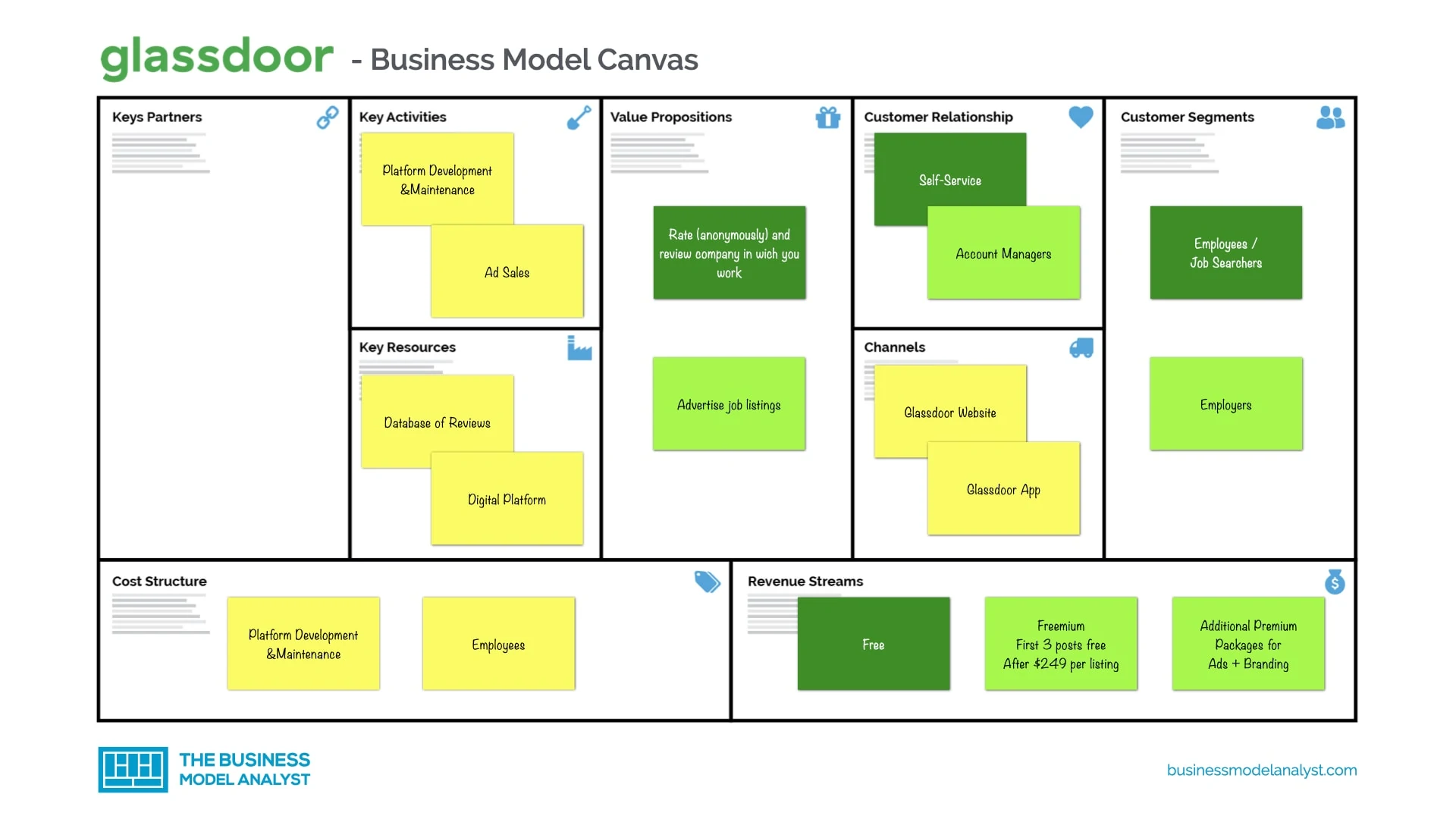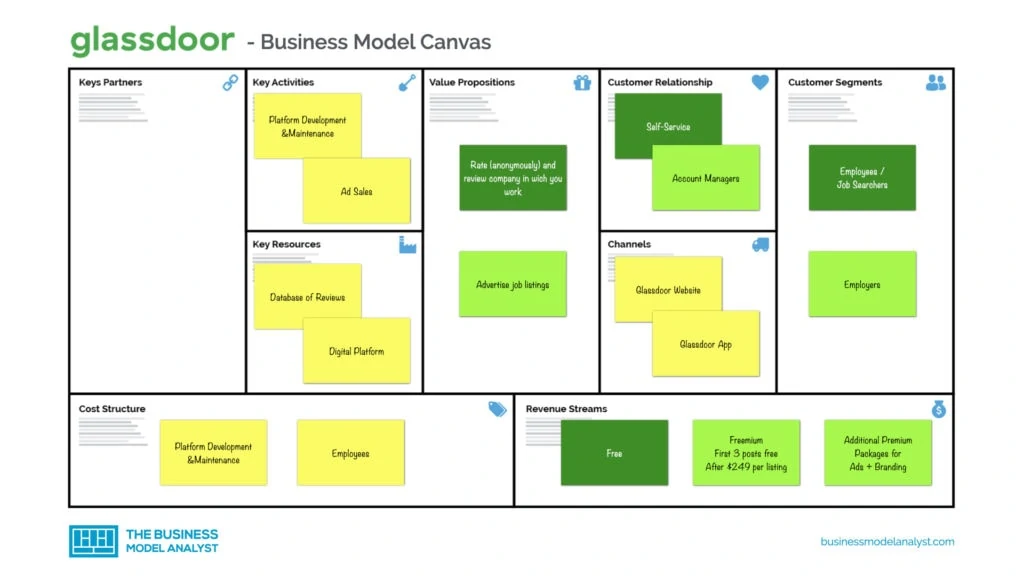 Glassdoor's Customer Segments
Employees and job searchers
Employers
Glassdoor's Value Propositions
Rate (anonymously) and review the company in which you work
Advertise job listings
Glassdoor's Channels
Glassdoor website
Glassdoor app
Glassdoor's Customer Relationships
Self-service
Account managers
Glassdoor's Revenue Streams
Free
Freemium (the first three posts are free; after that, it's $249 per listing)
Additional premium packages for Ads + Branding
Glassdoor's Key Resources
Database of reviews
Digital platform
Glassdoor's Key Activities
Platform development and maintenance
Ad sales
Glassdoor's Key Partners
There are none.
Glassdoor's Cost Structure
Platform development and maintenance
Employees
Glassdoor's Competitors
TalentTribe: Focuses on young job seekers to make better career decisions. The website shares insider stories for users to visualize the company before applying. It has detailed videos and photos of the organizations;
Jobstreet: One of Asia's leading online employment marketplaces, helping to match job seekers and employers in Malaysia, the Philippines, Singapore, Indonesia, and Vietnam;
Indeed: It is the first job site in the world, with more than 250 million visitors per month. Job seekers have free access to search for jobs, and they, as well as the current employees, can rate the company, ask questions, and add reviews;
LinkedIn: It is the largest professional network in the world, with more than 690 million users in over 200 countries, where both employers and professionals can share useful information;
Wantedly: A tech company that offers a social recruiting platform, which aims that people and companies match based on passions and values;
Careerbuilder: With more than 20 years of history, the company has already helped millions of professionals to find jobs as well as thousands of companies to find talents. Job seekers can create their resumes using a tool on the website;
Ziprecruiter: Leading online employment marketplace that applies Artificial Intelligence to provide smart matching between employers and job seekers. Job seekers can choose the filters to search for jobs;
Comparably: A culture and compensation site with millions of anonymous employee ratings on thousands of companies, it has become one of the most used SaaS platforms for employer branding, offering information based on gender, ethnicity, age, tenure, industry, location, and education.
Glassdoor's SWOT Analysis
Below, there is a detailed swot analysis of Glassdoor: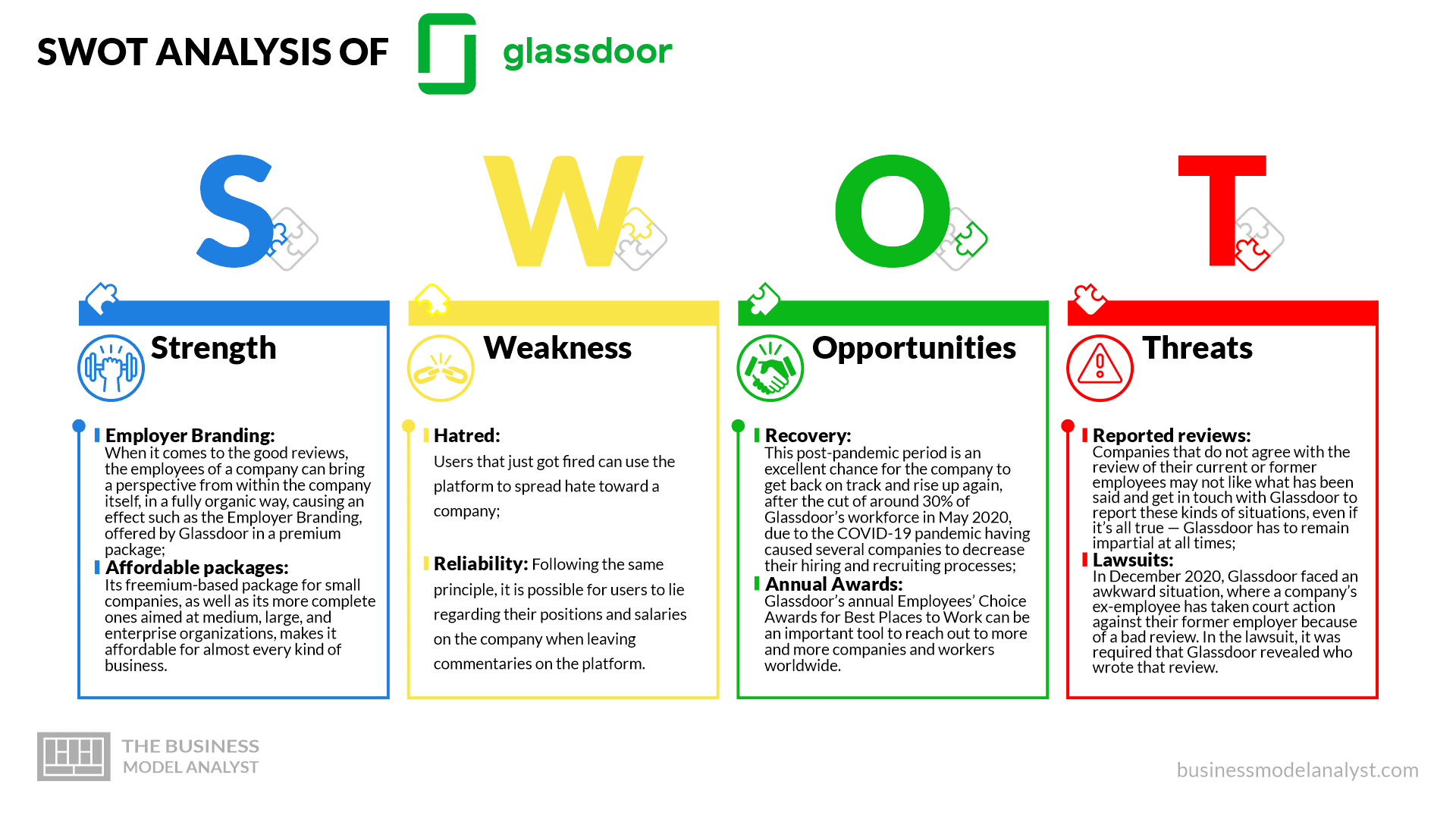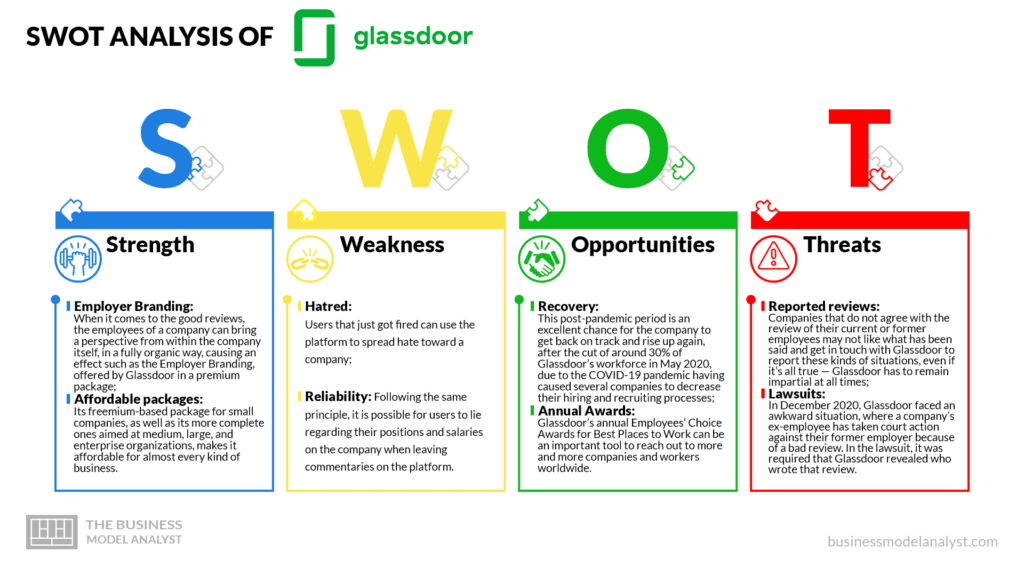 Glassdoor's Strengths
Employer Branding: When it comes to the good reviews, the employees of a company can bring a perspective from within the company itself, in a fully organic way, causing an effect such as the Employer Branding, offered by Glassdoor in a premium package;
Affordable packages: Its freemium-based package for small companies, as well as its more complete ones aimed at medium, large, and enterprise organizations, makes it affordable for almost every kind of business.
Glassdoor's Weaknesses
Hatred: Users that just got fired can use the platform to spread hate toward a company;
Reliability: Following the same principle, it is possible for users to lie regarding their positions and salaries on the company when leaving commentaries on the platform.
Glassdoor's Opportunities
Recovery: This post-pandemic period is an excellent chance for the company to get back on track and rise up again, after the cut of around 30% of Glassdoor's workforce in May 2020, due to the COVID-19 pandemic having caused several companies to decrease their hiring and recruiting processes;
Annual Awards: Glassdoor's annual Employees' Choice Awards for Best Places to Work can be an important tool to reach out to more and more companies and workers worldwide.
Glassdoor's Threats
Reported reviews: Companies that do not agree with the review of their current or former employees may not like what has been said and get in touch with Glassdoor to report these kinds of situations, even if it's all true — Glassdoor has to remain impartial at all times;
Lawsuits: In December 2020, Glassdoor faced an awkward situation, where a company's ex-employee has taken court action against their former employer because of a bad review. In the lawsuit, it was required that Glassdoor revealed who wrote that review.
Conclusion
According to Glassdoor, its mission is "to help people everywhere find a job and company they love". And, in order to reach that, they share both the good and the bad information, to collaborate for people to make the right decisions. Because of that, some analysts believe that Glassdoor has not created only a new platform, but, in fact, a new market. Now, employers are pushed to pay Glassdoor in order to build a nice reputation among employees, thus enhancing their chances to recruit and retain talents.