The Gillette business model is based on selling safety razors and personal care products for men and women. Founded in 1901 by King Camp Gillette as a safety razor manufacturing company, it was later acquired by the American multinational corporation Procter & Gamble(P&G) in 2005 for $57 billion. Gillette made its first commercial safety razor from 1903 until 1921, when the patent powering the design expired. However, the company already anticipated the expiry and had advanced on the first design. It made its first adjustable razor in 1955. Since it was founded, Gillette has continued to innovate and improve its products. It's unsurprising that even amidst the stiff competition, the over-100-year-old company still retains a substantial market share.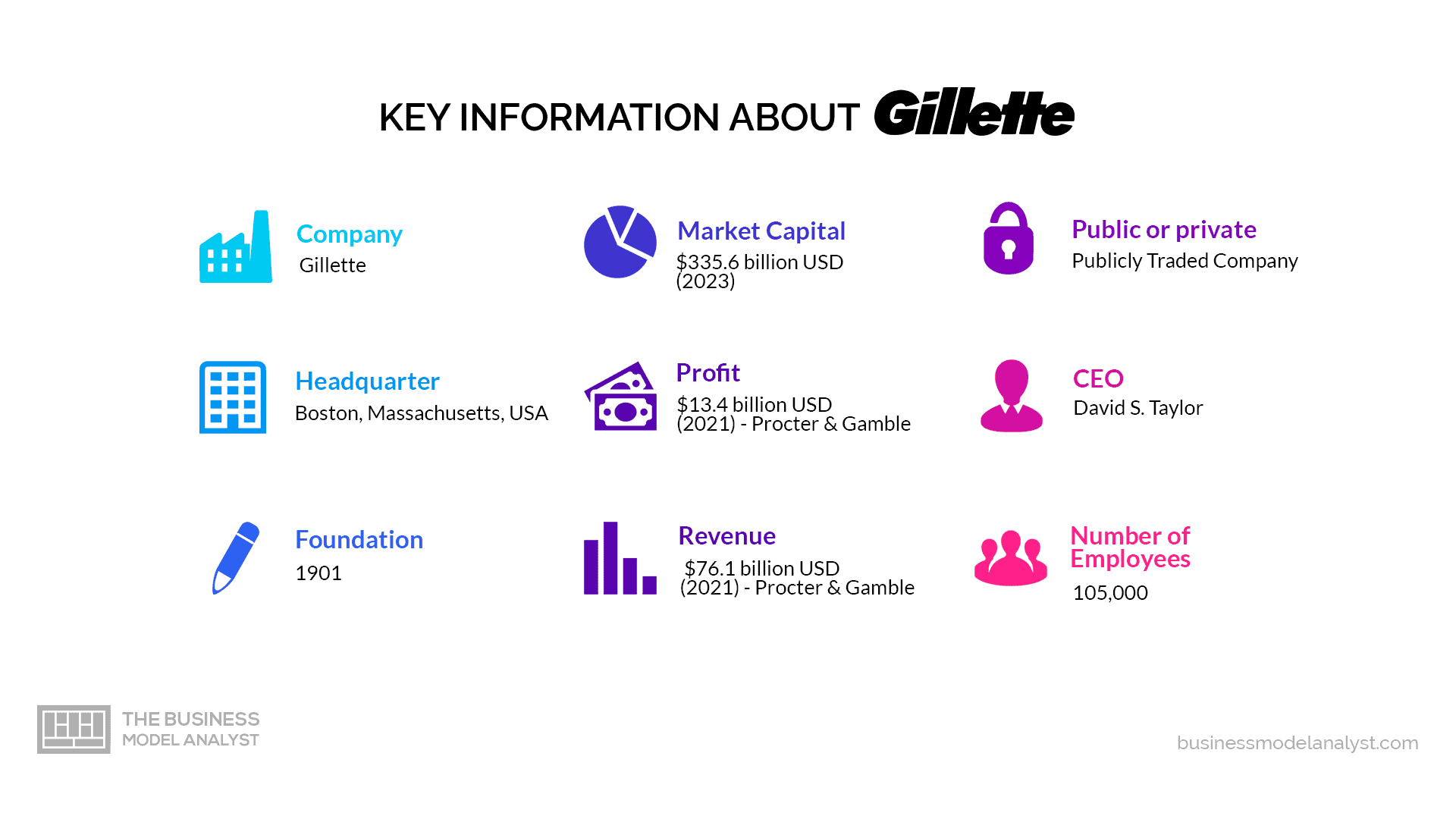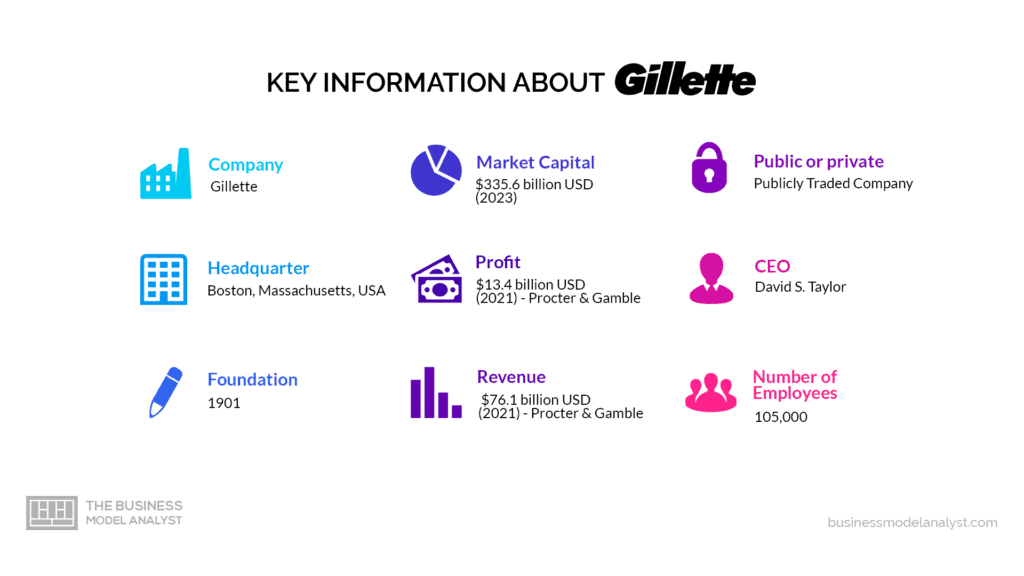 A brief history of Gillette
Gillette's history can be traced to King Camp Gillette, who wanted a razor that was not too expensive, safe to use, and disposable. King Gillette Camp, born in Fond du Lac, Wisconsin, in 1855, had to leave his family home, which was destroyed in the 1871 Chicago fire. Having no choice but to move on with his life, he became a salesman who moved from town to town. During his journey, he met with the inventor of a disposable crown cork bottle cap, William Painter, with whom he worked. Painter later enlightened him on the benefits of inventing, and Camp resolved to work on building his invention. After this, he decided to invent a disposable product.
For a long time, Gillette searched for ideas on things he could invent, and eventually, one morning, while he was shaving, it hit him. Inventing a shaving razor! Gillette worked on the idea for six years but met many disappointments from technical experts who said creating a lightweight, inexpensive razor was impossible. The story changed in 1901 when he met an MIT graduate of Chemistry, William Emery Nickerson, who agreed to try it. Nickerson succeeded in creating the safety razor and blade after three years of working on it. The production of Gillette's safety razors and blades began in 1903 in South Boston, and they made good sales. The US armed forces used Gillette's safety razors during World War 1. When the war ended, about 3.5 million razors and 32 million blades were given to the military. As such, the entire nation switched to using the Gillette safety razor.
Although Gillette had many imitators, it remained on top of the game and became successful. The company started advertising its products in 1903 with System Magazine, where its first-ever ad appeared. With that, Gillette sold 51 sets of razors at $5 each and 168 blades, originally at 20 for $1. King Gillette was granted his patent on November 15th,1904, and as a result, sales increased to 90,884 razors and 123 648 blades that year. In 1905, Gillette bought a six-story building in South Boston and had already paid its first cash dividend by 1906. It spread its wings abroad, creating its first foreign office in London in 1905. By 1909, it had manufacturing plants in Paris, Montreal, Berlin, and Leicester, England. It also created offices in France and Germany. Gillette's foreign businesses already accounted for about 30 % of its sales by 1923.
Over the years, Gillette's products have evolved. Here are the shaving razors created from inception: Double-edged safety razor (1903), Super speed razor (1947), Gillette Sensor (1990), Blue II, Mach 3 (1998), Venus (2000), Gillette Fusion (2006), all-purpose styler (2012), Treo (2017), skin guard (2018), King Gillette C Beard care line (2020) and Planet kind skincare line (2021). On January 28, 2005, P & G acquired Gillette for $57 billion.
Who Owns Gillette
Gillette was founded by King Camp Gillette but is now owned by a multinational corporation, Procter & Gamble(P&G), based in Boston, Massachusetts, United States. The current Chief Executive Officer of P&G, who runs Gillette, is Gary Coombe.
Gillette Mission Statement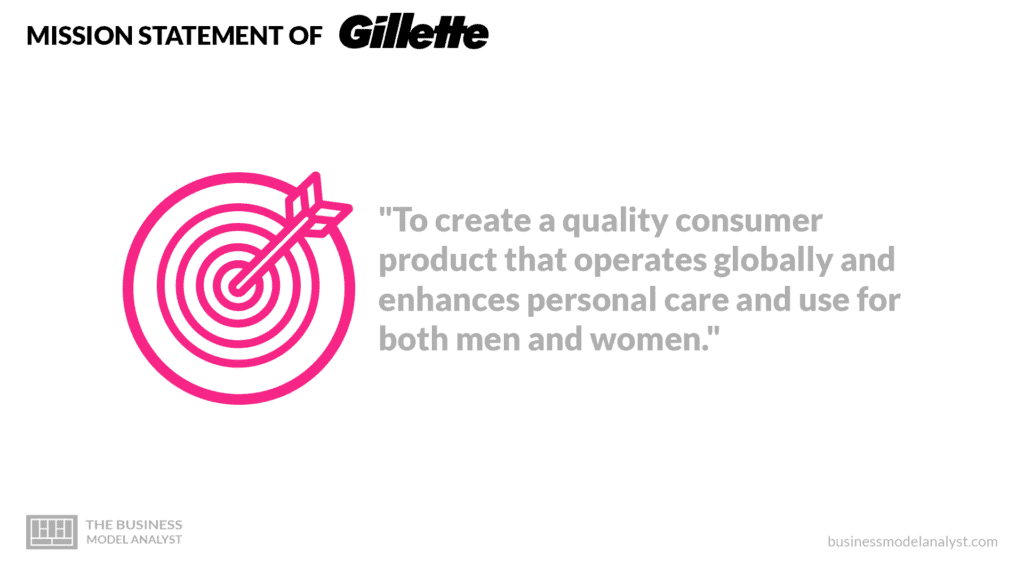 Gillette's mission statement is "to create a quality consumer product that operates globally and enhances personal care and use for both men and women." Gillette strives to create innovative products that surpass customers' expectations and meet their needs. It also seeks to build lifelong relationships with all its customers based on trust and integrity.
How Gillette works
Gillette is a brand known for producing men's and women's care products and has continued to live up to that. The razors are cheap, while the blades are sold at a premium price. The company hires the best scientists from all over the world and invests heavily in its blade designs. It has maintained a high standard in the razor industry by consistently patenting designs and innovating regularly. Gillette made a repackaged version called the Gillette on Demand. Consumers can order razors or blades through a text or subscription. The company also decided at some point to reduce their prices by 12% to make it accessible to all customers, especially those in high school and with lower income levels.
How Gillette makes money
In 2021, the peak revenue generated was $10.3 billion. The total number of employees working under Gillette is 101,000. Gillette controls 64 manufacturing facilities in 27 countries and trades its products with more than 200 countries and territories. More than 60 percent of its sales occur outside the United States. The company generates income through the following ways:
Sales of shaving equipment and products.
Production and sales of toothbrushes and oral care products.
Sales of personal care items.
E-commerce
Licensing
Partnership and collaboration
International sales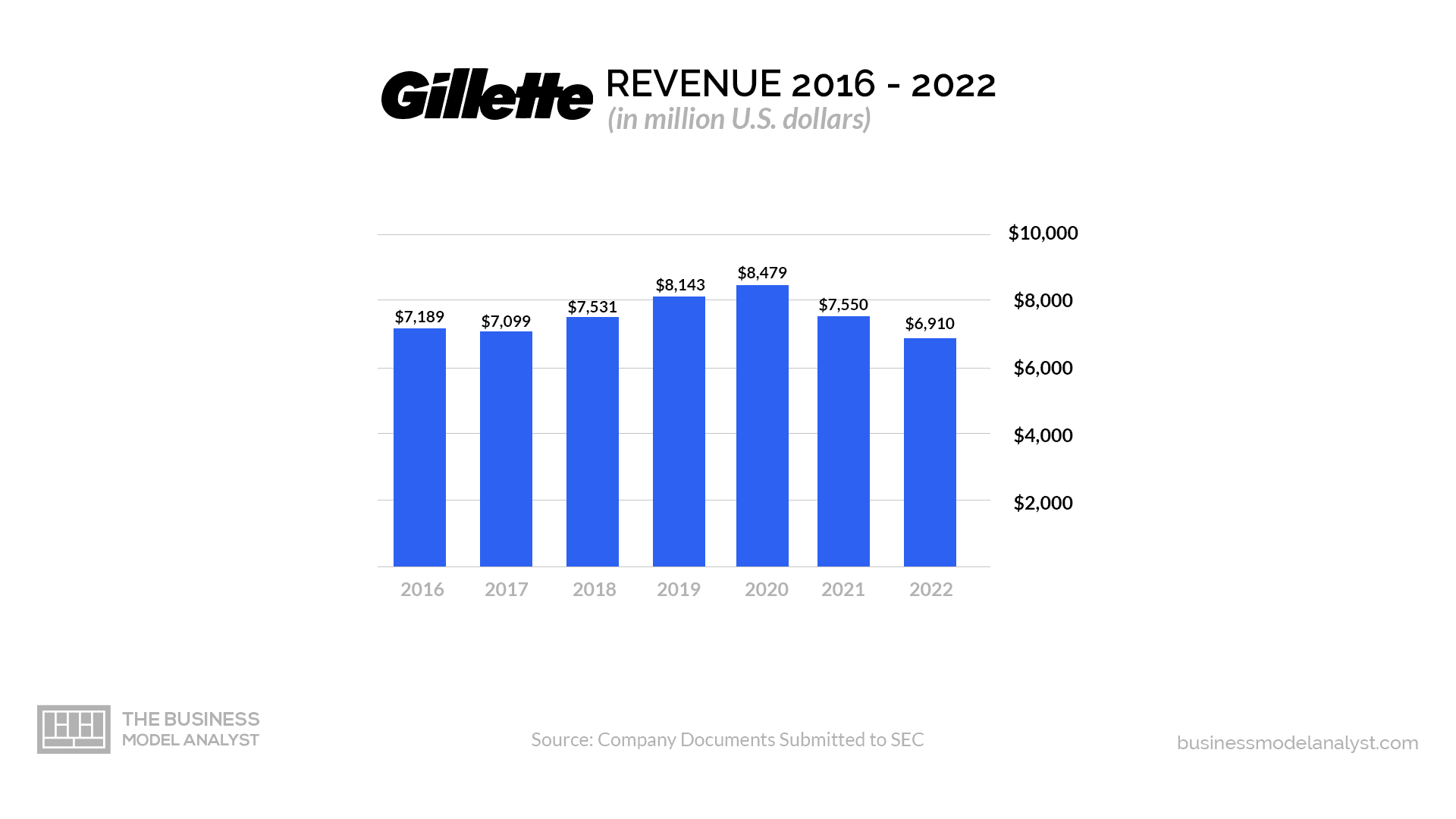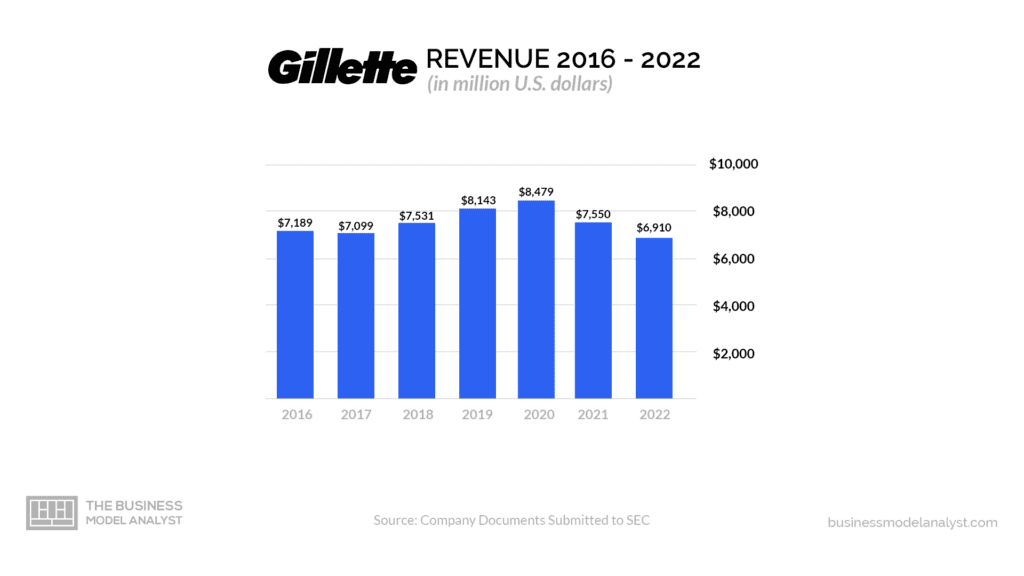 Sales of shaving equipment and shaving products
Gillette generates income from selling razors, including disposable, safety, and electric shavers. They also sell replacement blades for razors and accessories such as shaving creams, gels, and aftershaves.
Production and sales of Oral care products
The company also sells oral care products through its subsidiary Oral-B, which makes toothbrushes, dental floss, mouthwash, and toothpaste.
Sales of personal care items
Gillette also generates income from producing personal grooming items for both men and women, sold in supermarkets and retail outlets. It has a large customer base of men of all ages who use these products regularly. It has a wide range of grooming products created explicitly for athletes, such as body wash, deodorants, and antiperspirants. Furthermore, it also has a range of premium grooming products targeted at professionals, such as executives and business people, who need to maintain a well-groomed appearance.
E-commerce
Since online advertising and marketing have become crucial in selling, Gillette uses their website and e-commerce retailers to sell their products. As such, consumers can browse products online, place orders, make payments online, and deliver the products.
Licensing
Gillette allows other companies to use its brand name, trademarks, patents, and other intellectual property (IP) for royalties or fees. It licenses its trademarked brand name and logo to third-party companies that produce and sell razors, shaving creams, and other personal care items.
Partnership and collaboration
Gillette generates income from partnership and collaboration by leveraging its brand, expertise, and technology to create alliances with other companies that operate in the same industry. Through these partnerships, Gillette can increase its market reach, expand its product offerings, and generate additional revenue streams. The company also makes money by co-developing and co-marketing new products with other companies.
International sales
Most of its products are sold outside the United States market. Gillette has a strong global presence and sells its products in over 200 countries worldwide. It partners with local distributors and retailers too. These partners deeply understand local markets and help Gillette reach a broader customer base. The company also taps into growing markets in developing countries.
Gillette Business Model Canvas
The Gilette Business Model can be explained in the following business model canvas: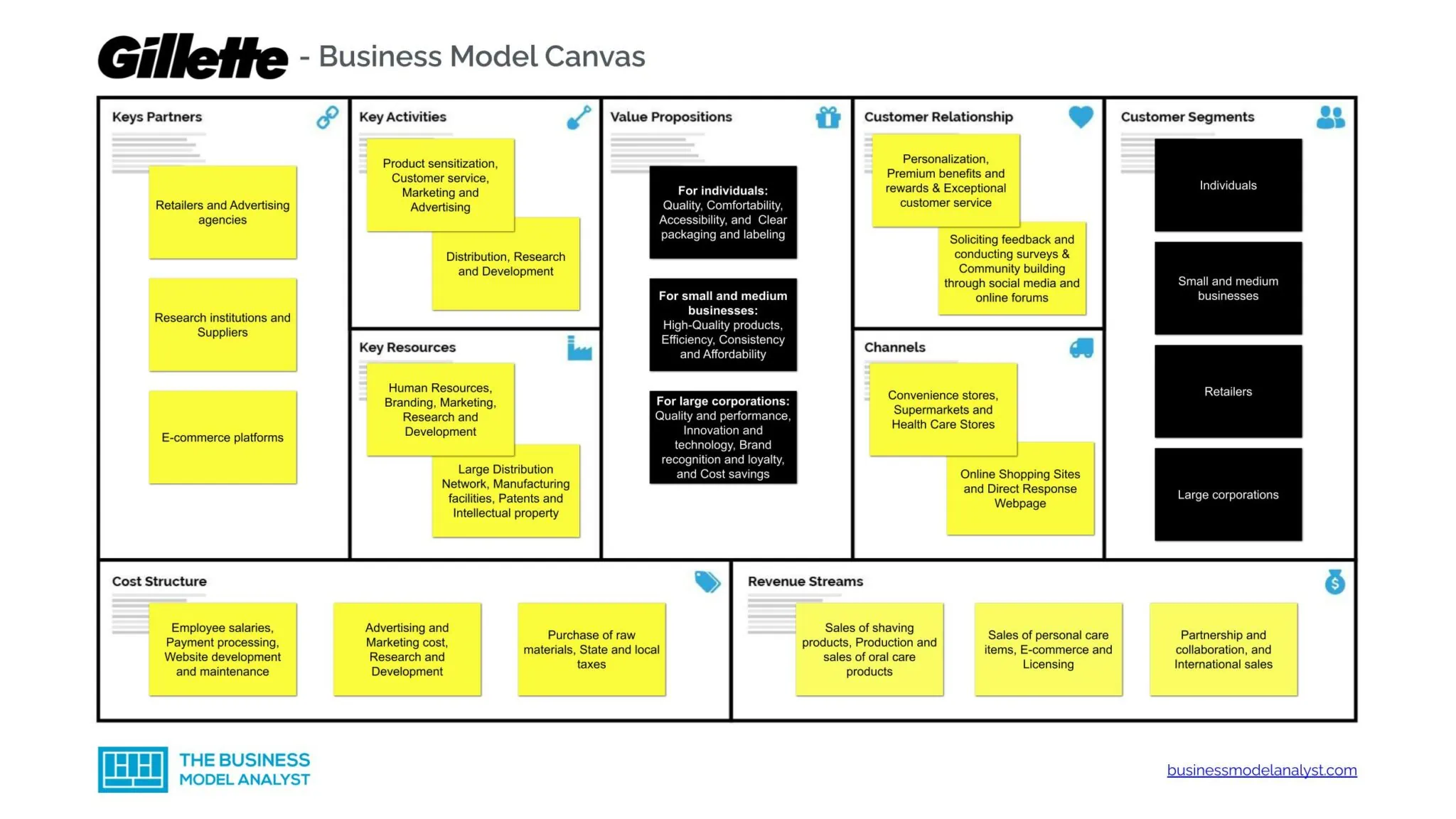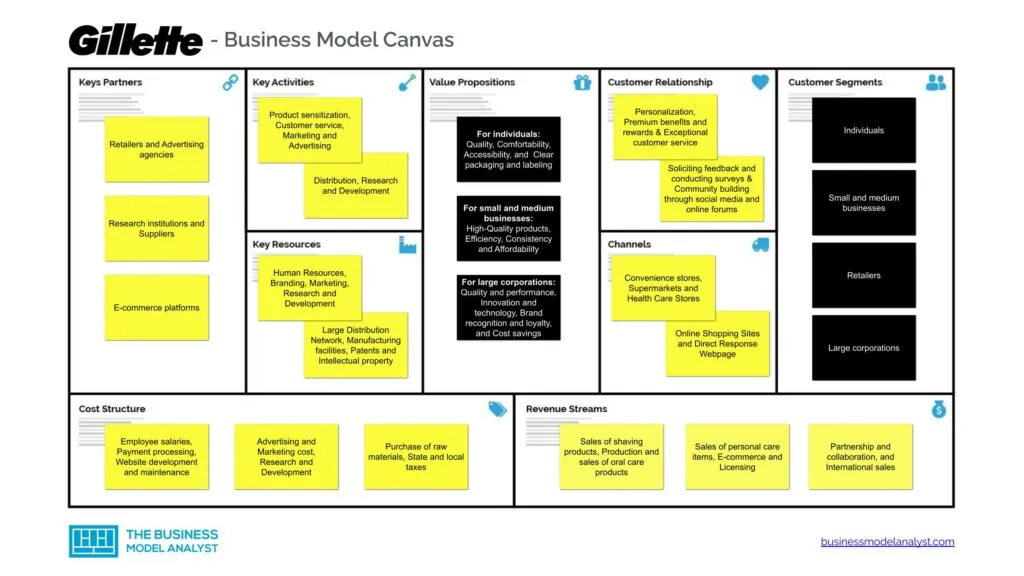 Gillette Customer Segments
Gillette's customer segments are;
Individuals: The individuals included in this sector include men, women, professionals, and young adults who use the products for their grooming;
Small and medium businesses: Gillette also has small and medium enterprises as customers, even though their primary customer base is individual consumers who purchase their products for personal use. It partners with retailers and distributors worldwide, which may be classified as small or medium-sized businesses;
Retailers: Gillette has retailers such as Target, Walmart, etc., who, in turn, distribute the products to consumers;
Large corporations: Gillette has large corporations such as hotels, airlines, and hospitals as its customers. These entities purchase Gillette products in bulk to provide to their customers or employees as part of their amenities or services.
Gillette Value Propositions
Gillette's value propositions consist of:
Value proposition for individuals:
Quality: Gillette seeks to create high-quality shaving products suitable for all consumers, irrespective of age or status. It does this through Research and Development, Quality control, Customer Feedback, and Sustainability;
Comfortability: Gillette ensures that all consumers are comfortable using the product, achieved through several research methods and advanced blade technology and lubrication slips containing aloe vera and vitamin E for soothing effects and moisturizing. They also have ergonomic handles, which enable the razors to be held comfortably and maneuvered easily. Gillette also offers a range of blade options, including two, three, four, or five blades, to suit different skin types and preferences. It has a rigorous quality control process to ensure that all its products meet high standards for performance and safety;
Accessibility: Gillette ensures their products are widely available to customers in many retail stores and online marketplaces. It also partners with retailers and e-commerce sites to ensure its products are available in different geographical locations and markets. It also offers a range of products at various price points, making them available to customers with different budgets. From time to time, they also offer promotions, discounts, and special offers to make the products more affordable;
Clear packaging and labeling: Gillette packages its products with clear labeling and instructions for customers. This packaging also includes the ingredients contained in the product, safety warnings, and other necessary details;
Innovative and technologically advanced products: Gillette produces technologically advanced and innovative products by investing heavily in research and development to create new products and improve existing ones. Its team of researchers and developers works to seek new technologies and materials that can be used to develop innovative shaving products. They also partner with companies, universities, and research institutions to carry out new projects and share knowledge and expertise. These collaborations bring together different perspectives and ideas, creating new and innovative product designs.
Value propositions for small and medium businesses:
High-Quality products: Gillette implements strict quality control processes in their products' supply to companies and ensures quality goods are produced;
Efficiency: Gillette has a network of warehouses and distribution centers that are strategically located to enable fast and reliable delivery. They also give bulk discounts to help small businesses save up more for themselves;
Consistency: Gillette ensures that a series of standardized processes are carried out to ensure consistency in the relationships between their brand and small and medium businesses;
Affordability: Gillette allows wholesale pricing for small businesses that buy in bulk, enabling the companies to sell at a lower unit price, thereby attracting more customers.
Value propositions for large corporations
Quality and performance: Gillette produces high-quality razors and shaving products. Large corporations can trust that Gillette products will meet high standards and provide a superior shaving experience for their employees/clients;
Innovation and technology: The company produces innovative technologies and introduces new designs to improve its products. Large corporations can benefit from the latest advancements in shaving technology and offer their clients and employees the best shaving experience possible;
Brand recognition and loyalty: Large corporations also leverage Gillette's status. By offering its products to its employees and clients, they identify with a trusted and recognized brand;
Cost savings: Gillette also allows large corporations to purchase in bulk, which is more cost-effective. Therefore, these large corporations can save money and gain more profits.
Gillette Channels
Gillette's channels consist of:
Convenience stores
Supermarkets
Health Care Stores
Online Shopping Sites
Direct Response Webpage
Gillette Customer Relationships
Gillette's customer relationships consist of:
Personalization
Premium benefits and rewards
Exceptional customer service
Soliciting feedback and conducting surveys
Community building through social media and online forums
Gillette Revenue Streams
Gillette's revenue streams are:
Sales of shaving products
Production and sales of oral care products
Sales of personal care items
E-commerce
Licensing
Partnership and collaboration
International sales
Gillette Key Resources
Gillette's key resources include the following:
Human Resources
Branding
Marketing
Research and Development
Large Distribution Network
Manufacturing facilities
Patents and Intellectual property
Gillette Key Activities
Gillette's key activities include:
Product sensitization
Customer service
Marketing and Advertising
Distribution
Research and Development
Gillette Key Partners
Gillette's key partners consist of
Retailers
Advertising agencies
Research institutions
Suppliers
E-commerce platforms
Gillette Cost Structure
Gillette's cost structure consists of
Employee salaries
Payment processing
Website development and maintenance
Advertising and Marketing cost
Research and Development
Purchase of raw materials
State and local taxes
Gillette Competitors
Colgate-Palmolive: Colgate-Palmolive was founded by 23-year-old William Colgate in New York, United States of America. The company produces household, healthcare, personal care, and veterinary products and also ensures their distribution to different geographical locations. Presently, it is worth $61.26 billion;
Energizer Holdings: Formerly known as American Ever Ready Company, Energizer Holdings was founded in 1896. It dealt with the manufacture of batteries under various brand names. However, in 2015, Energizer Holdings formed a personal healthcare brand, Edgewell Personal Care, with its headquarters in Shelton, Connecticut. Edgewell has acquired some personal care brands, such as Schick, Playtex, Carefree, Banana Boat, Edge, and Billie. Schick is the razor brand that directly competes with Gillette's shaving products;
Societe BIC: Headquartered in Clichy, Hauts-de-Seine, Paris, France Societe Bic, commonly called BIC, was founded by Marcel Bich in 1945. In 1972, BIC appeared on the Paris Stock Exchange. From the 1950s to the 1970s, the company expanded to Spain, Italy, and the Netherlands. Currently, BIC is a global company that produces lighters, pens, and shaving products;
Dollar Shave Club: Founded by Michael Dubin and Mark Levin in California, United States, in 2011, Dollar Shave Club is a company that manufactures shaving products and other personal grooming products to customers by mail. Levine and Dubin had met at a party and talked about their frustration with their shaving razors. They decided to pool their resources together and start their own company. By March 2012, they raised a $1 million seed fund and $9.8 million in October 2012. After a year, they raised a $12 million series B fund and a $75 million series D fund. In 2016, Unilever acquired it for $1 billion in cash;
Harry: In July 2012, Jeff Raider and Andy Katz-Mayfield pooled resources to establish Harry, a company that manufactures shaving sticks and other men's care products. The company experienced a huge head start as it purchased the German razor manufacturing brand, Feintechnik for $100 million. In 2015, the company raised $75.6 million in seed and $112 million in 2018. In 2019, Edgewell Personal Care tried to acquire the company. However, the Federal Trade Commission blocked the deal.
Gillette SWOT Analysis
Below, there is a detailed swot analysis of Gilette:
Gillette Strengths
Strong brand recognition: Gillette is well-known and trusted in the grooming industry, with a long-standing history of quality razors and shaving products;
A wide range of products and services: Gillette produces a wide range of razors and shaving products, ranging from disposable razors to advanced cartridge razors and electric shavers, which meet the needs and preferences of their different customers;
Global presence: Gillette has a broad reach in various geographical areas ranging from developing areas even to developed regions, and their products are available all over the world;
Focus on customer service: Gillette prioritizes the satisfaction of its customers over all other things. Hence, it looks for various ways to make them satisfied with its products;
Product Innovation: Gillette invests a lot in researching and developing new and innovative products and technologies, bringing about maximum customer satisfaction.
Gillette Weaknesses
Dependence on a single product line: Gillette generates revenue from producing and selling razors and shaving products. As a result, the company is heavily dependent on the success of these products. If these products fail for any reason in the market, the company will struggle financially;
Consumer brand preferences: Customers' tastes in grooming products are evolving and changing, and it may be difficult for Gillette to keep up with the changing trends.
Gillette Opportunities
E-commerce investment: The e-commerce industry is ripe with many opportunities for Gillette. Even though the company has taken advantage of this, it can do better by plunging fully into e-commerce. It can further own its e-commerce stores and even retail other necessary products, asides from shaving razors and grooming products;
More products: For over a century, Gillette has focused on producing shaving razors and personal care products. It can expand its product line by making more products, such as fully exploring the personal and dental care industry.
Gillette Threats
Competition: Gillette has many competitors, such as BIC, Dollar Shave Club, Harry, etc. These competitors are also doing their best to strengthen their market position. If Gillette does not step up its game, they are ready to take over the market completely;
Economic downturn: Another threat to Gillette's success is the economic situation. The financial prosperity of its consumers determines the financial prosperity of the company. If the consumers are financially down, it will affect Gillette's revenue;
Changes in consumer behavior: Consumer behavior is not static and evolves as often as possible. Besides, any company that fails to keep up with the trend of consumer psychology will find itself out of the market. Gillette has to plunge deeper into its research and innovation to stay ahead of the trend.
Conclusion
Gillette has proven to be a profitable and purpose-driven brand that has developed and sustained its market share in the personal care industry despite competition from other producers. It has also delved deep into several economies to maximize its profit and created campaigns promoting masculinity and encouraging personal hygiene in both males and females. The company serves as a reminder that marketing strategies continually evolve, and brands must work more on reinventing and redefining their values to remain relevant. Since customer needs are at the center of any brand resolution, there would be a need to upgrade the products constantly, which Gillette does.