The GameStop Business Model focuses on selling games and entertainment products in multiple eCommerce stores across the United States of America and other countries such as Australia and Canada. The company's history started in 1984 in Dallas, Texas, USA. Today, it has grown to become a global brand. 
The company's goal reflects its marketing strategy: sell video games and accessories. These accessories include collectibles, video consoles, electronic products, etc. Asides from selling in e-commerce stores, GameStop has a brick-and-mortar location customers can easily walk into to pick up products of their choice. 
A brief history of GameStop
Regarded as the largest merchandise retailer of video games across the world, GameStop evolved from a company founded in 1984 in Dallas, Texas, with Leonard Riggio, Daniel DeMatteo, and Richard Fontaine as the current owners. The company started as Babbage's, a software merchandise retailer founded in 1984 by James McCurry and Gary M. Kusin. Babbage's, named after Charles Babbage, started selling video games and went public in 1988 through an initial public offering. 
However, in 1994, Software Etc. merged with Babbage's to become NeoStar Retail Group. James McCurry became NeoStar's chairman, while Gary Kusin resigned in 1995 to establish a cosmetics company. However, sales began to decline, and NeoStar couldn't meet its financial responsibilities. In 1996, Leonard Riggio, a major stockholder at Barnes & Noble, purchased NeoStar for $58.5 million.
Riggio renamed the company Babbage's Etc. and made Richard Fontaine chief executive, while Daniel DeMatteo, the former president of NeoStar and Software Etc. became the president of Babbage's Etc. In 1999, Babbage's Etc launched gamestop.com, a website for selling video games.  In the same year, the company was acquired by Barnes & Noble for $215 million. In 2000, Barnes & Noble bought Funco, a video game retailer, for $160 million. Finally, Funco was renamed GameStop in December 2000 and went public again in February 2002. Today, the company has over 5000 stores in different countries.
Who Owns GameStop
Presently, 25.74% of the company belongs to institutional shareholders, 10.63% belongs to insiders, and 63.63 % belongs to retail investors. However, Ryan Cohen is the largest individual shareholder of GameStop, with about  13% of the company. As such, Ryan Cohen is the Chairman of GameStop.
GameStop Mission Statement
GameStop's mission statement is simple, "To deliver customer satisfaction."
How GameStop works
GameStop works by providing video games, video-game accessories, headsets, keyboards, consumer electronics, and subscriptions to its gaming magazine for a fee. The company receives video games and other accessories from its customers in exchange for credits or cash, and then sells these pre-owned items as part of its stocks. Additionally, GameStop has a TV that keeps its audience updated on upcoming video game releases, product demos, etc.
How GameStop makes money
Usually, GameStop makes money by selling video games, accessories, and consumer electronics. It also buys these items from its audience in return for cash or trade credits. GameStop makes money through its collectibles, hardware and accessories, and software.
Collectibles
Collectibles are items related to video games bought by video game lovers to express their love for a particular video game. Collectible sales make up 11.4% of GameStop's revenue, making $228.20 million in the fourth quarter of 2020. However, since 2019 when the company sold $245 million worth of collectibles, collectible sales have witnessed a decline of 7% yearly growth. Still, GameStop operates 48 collectible stores worldwide, with 25 in the United States. Asides from collectibles, GameStop has a print and digital video game magazine, Game Informer, which is subscribed to worldwide. 
Licensed entertainment merchandise (Hardware & Accessories)
The next revenue stream of GameStop is selling preowned and new video games console and accessories such as headsets, memory cards, PlayStations, controllers, power adapters, visual cables, etc., from brands such as HYPERX, Atrix, ASUS, Sony, MSI, Razer, etc. In the fourth quarter of 2020, GameStop generated $1.16 billion from hardware and accessories, making about 55% of its total revenue. 
Games
Besides selling pre-owned hardware and accessories, GameStop sells pre-owned and new digital and video game software used on different generation consoles. The audience can download this digital software to their computers or play directly on the internet. However, the revenue generated from software declined from $1 billion in the fourth quarter of 2019 to $731.20 million in the fourth quarter of 2020. The company experienced such revenue losses because most of its stores were closed during the pandemic, affecting its sales
Sprint and Apple product sales
GameStop has a license to sell Apple and Sprint's full range of products. Sprint is a cellular services company that provides unlimited calling, entertainment, and device protection services, while Apple sells smartphones, personal computers, tablets, wearable devices, software applications, accessories, digital content, etc. GameStop partnered with Apple and Sprint as merchandise retailers to sell their products on its channels, and it gets a commission for every sale it makes.
GameStop Business Model Canvas
The GameStop Business Model can be explained in the following business model canvas: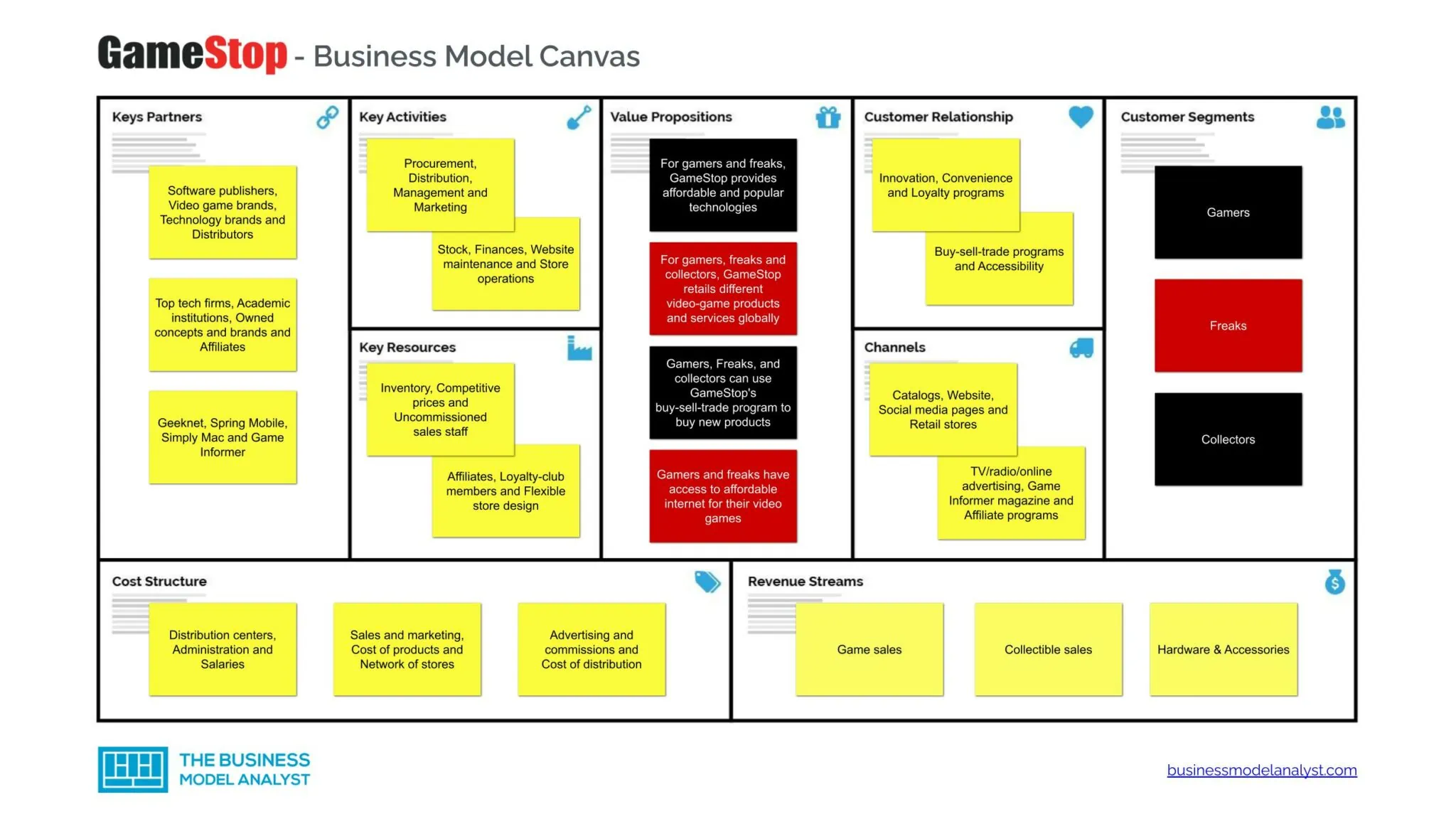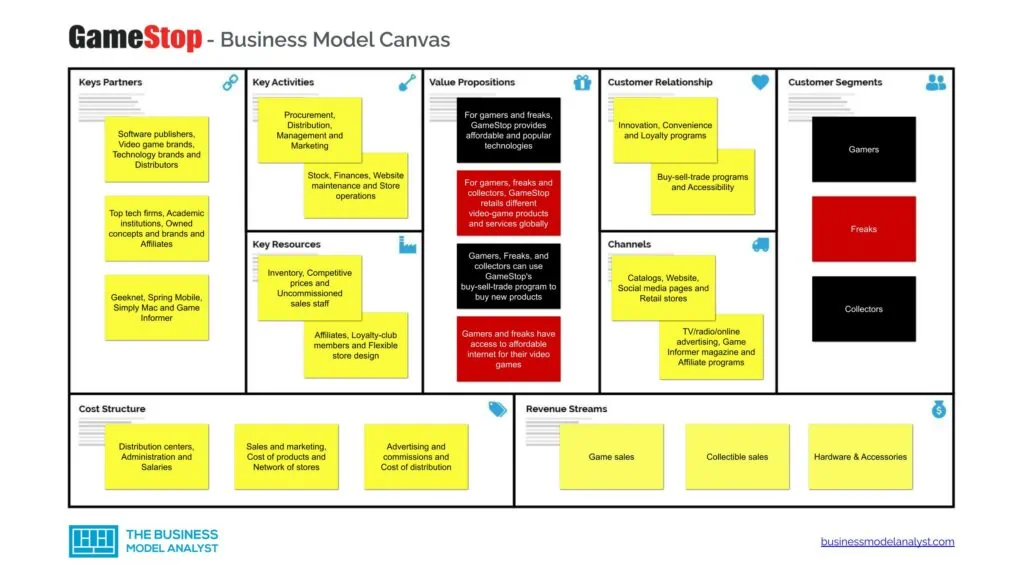 GameStop Customer Segments
GameStop's customer segments comprise:
Gamers: These are young people who love playing video games and staying updated with news from the video game industry;
Freaks: Freaks have a higher level of commitment and passion for gaming. They are people already addicted to video games, and most of their time is spent with their consoles. While gamers are moderate in their love for video games, freaks are obsessed with them;
Collectors: This customer segment derives much pleasure in gathering collectibles that express their fandom for video game characters, themes, concepts, etc. 
GameStop Value Propositions
GameStop's value propositions are:
For gamers and freaks, GameStop provides affordable and popular technologies: For gamers and freaks, GameStop providers highly affordable software and video-game accessories at the customer's convenience. They operate multiple e-commerce stores consumers can easily buy from;
For gamers, freaks and collectors, GameStop retails different video-game products and services globally: The biggest value proposition here is that gamers, freaks, and collectors can access GameStop's products and services anywhere in the world. GameStop operates in different places, such as Canada, Australia, and the U.S.;
Gamers, Freaks, and collectors can use GameStop's buy-sell-trade program to buy new products: Gamers, freaks, and collectors can bring their used video game consoles and other accessories to GameStop in exchange for cash or trade credits which they can use to buy new products and services;
Gamers and freaks have access to affordable internet for their video games: AT & T is one of the top companies providing cellular services in the United States. Their services include fast, affordable, and reliable Internet for entertainment and video streaming, and device protection. GameStop is the largest authorized dealer for AT & T wireless services, which means its gamers, freaks, and collectors can access its digital products at cheaper internet rates;
Gamers, collectors, and freaks have easier access to consumer electronics products: Apple, headquartered in Cupertino, California, manufactures phones, computers, computer hardware, etc. GameStop is the largest certified retailer of Apple's products, which means gamers, freaks, and collectors can buy consumer electronic products easily.
GameStop Channels
GameStop's channels include:
Catalogs
Website
Social media pages
Retail stores
TV/radio/online advertising
Game Informer magazine
Affiliate programs
GameStop Customer Relationships
GameStop's  customer relationships comprise:
Innovation
Convenience
Loyalty programs
Buy-sell-trade programs
Accessibility
GameStop Revenue Streams
GameStop's revenue streams are:
Game sales
Collectible sales
Hardware & Accessories
GameStop Key Resources
GameStop's key resources include:
Inventory
Competitive prices
Uncommissioned sales staff
Affiliates
Loyalty-club members
Flexible store design
Agile culture
Websites and stores across the world
Brand
Digital downloads
Frequently updated product mix
GameStop Technology Institute(GTI)
GameStop Key Activities
GameStop's key activities comprise:
Procurement
Distribution
Management
Marketing
Stock
Finances
Website maintenance
Store operations
GameStop Key Partners
GameStop's key partners are:
Software publishers
Video game brands
Technology brands
Distributors
Top tech firms
Academic institutions
Owned concepts and brands
Affiliates
Geeknet
Spring Mobile
Simply Mac
Game Informer
GameStop Cost Structure
GameStop's cost structure includes:
Distribution centers
Administration
Salaries
Sales and marketing
Cost of products
Network of stores
Advertising and commissions
Cost of distribution 
GameStop Competitors
Below, there are GameStop's competitors:
Best Buy: Founded by Richard M. Schulze and his partner in 1976, Best Buy is the number one consumer electronics retailer brand in the United States. It is headquartered in Minnesota. It started as Sound of Music, selling stereo and car equipment, but it crossed $160,000 in sales in its first year. In 1970, Richard became the sole owner. However, he realized that he couldn't sell car and stereo equipment only for long, so he added electronic appliances to the company's products. In 1982, the company made $9.5 in sales and was renamed Best Buy. Best Buy keeps expanding, having over 1500 stores across the country. Today, it has become the largest retailer of consumer electronics;
Nintendo: Regarded as the oldest video-game company in the world, Nintendo was founded in 1889 by Fusajiro Yamauchi in Kyoto, Japan, as a company producing hand-drawn Hanafuda cards. It did this for 100 years until 1989, when it produced its first video game – the Nintendo Game Boy. It evolved into making electronic video game products, and today, it is the biggest force in the video game industry.

Additionally, the company is highly respected for maintaining its standard of video game production and publishing. Nintendo also serves as a software publishing platform for game developers and retails animations, events, and toys. The company is considered the third most valuable company in Japan, worth over $95 billion;

Amazon: On July 5, 1994, Jeff Bezos started Amazon in his garage in Bellevue, Washington, as an online platform for selling books. Bezos wanted to build an online retailer, but he decided to start selling books as they were easy to get and distribute. The company diversified into selling computer games in 1998 and started Amazon Web Services in the 2000s. It unveiled Kindle in 2007 and went public in 1997 on the NASDAQ exchange. However, Amazon has become the biggest internet-based one-stop shop for any product you can think of. It is the second company in history to reach the $1 trillion market cap;
Sony Corporation: After World War ll in 1946, Masaru Ibuka and Akio Morita founded Tokyo Telecommunications Engineering Corporation in Tokyo, Japan, with less than $1500 as a manufacturer of consumer electronic products. It made the first transistor radio in Japan in 1955, the TR-55, and in 1960, released the first direct-view portable TV in the world, the TV8-301. The company went on to produce the first Blu-ray disc player in the world in 2003, but its first influential product was the Walkman, made in 1979. Asides electronic products, Sony is a major player in the media and videogame industry. It released one of the best-loved video game consoles in the world in 1994, the PlayStation. Today, Sony is worth $109.70 billion and is regarded as the 126th most valuable company globally;
Sega: Founded in Shinagawa, Tokyo, in 1940 by Martin Bromley and Richard Stewart, Sega was previously known as the Nihon Goraku Bussan after acquiring the Service Games of Japan.  The Standard Games of Japan was founded by Martin Bromley, James Humpert, and Irving Bromberg in 1940 to provide coin-operated games for the war. It sold its assets in 1945 and started Service Games. Service Games expanded to about seven companies, such as South Korea, South Vietnam, etc., before being renamed Sega in 1954. The company has produced many video game software frnachisesiek Sonic the Hedgehog, Yakuza, and Total War. It is regarded as one of the best arcade game producers in the world. Currently, the company is worth $2.823 billion.
GameStop SWOT Analysis
Below, there is a detailed swot analysis of GameStop: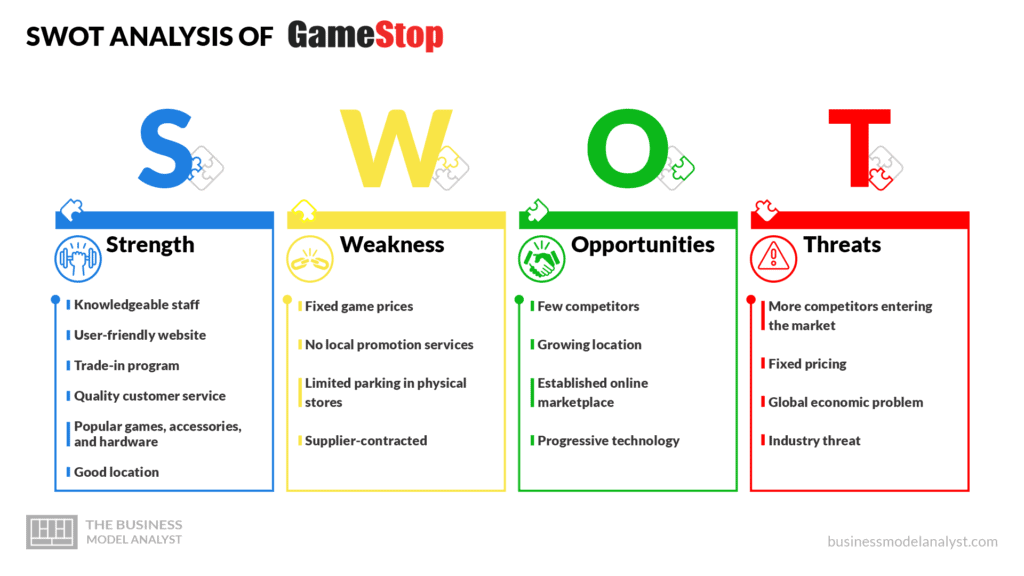 GameStop Strengths
Below, there are GameStop's strengths:
Knowledgeable staff: GameStop is committed to training its staff to ensure they meet the consumers' needs. Currently, over 30,000 work with GameStop worldwide;
User-friendly website: GameStop's website is advanced, up-to-date, and user-friendly. It is easy for consumers to navigate the platform and find what they want, whether gamers, freaks, or collectors;
Trade-in program: Another strength of the company lies in its trade-in program, where customers can exchange their video game and game accessories for cash or trade credits. As such, this attracts many people who want to sell their old games for new ones;
Quality customer service: The company treats its customers with a sense of seriousness, and as such, it has gained strong loyalty;
Popular games, accessories, and hardware: GameStop is a one-stop shop for games, hardware, and consumer electronics products;
Good location: GameStop's physical stores are in a good location with a sizeable market.
GameStop Weaknesses
Here, there are GameStop's weaknesses
Fixed game prices: GameStop's products and secures are fixed, sometimes affecting the market's response. For example, consumers could easily go to competitors who offer less prices;
No local promotion services: GameStop's local marketing services are weak to compete with other video game providers. Also, it focuses more on online marketing than local physical promotion;
Limited parking in physical stores: The parking spaces available in its physical stores are few, discouraging many people from patronizing the brand;
Supplier-contracted: GameStop mainly relies on others to supply its products and services, which it retails. It doesn't produce anything, and this can affect the company if the suppliers' contract fails.
GameStop Opportunities
Below, there are GameStop's opportunities
Few competitors: Not many players have GameStop's product mix. As such, there are only a few competitors in GameStop's league. This is leverage for the company to dominate the market;
Growing location: Some of GameStop's physical stores are in growing locations, thereby increasing the commercial quality of such places and opening up a bigger market to GameStop;
Established online marketplace: One of GameStop's greatest assets is its online marketplace, which retails video games and accessories worldwide. GameStop can expand its product range to make more money online;
Progressive technology: GameStop is powered on high technology, which helps make its operations smoother. It can take advantage of this opportunity to acquire other video game companies and partner with smartphone manufacturers.
GameStop Threats
Here, there are GameStop's threats
More competitors entering the market: Unfortunately, more video game retail competitors are entering the market, making it difficult for consumers to decide whether to stick to their old brands or try new options;
Fixed pricing: GameStop's fixed pricing threatens its survival as its consumers will leave them for cheaper options in the market;
Global economic problem: The global economy is experiencing a downturn as major companies are crashing. For example, the pandemic dealt most companies a heavy blow, and not all recovered. The worse the economic problems, the more difficult it might be for companies like GameStop to meet their margins;
Industry threat: GameStop faces threats from people who illegally use other businesses' assets to build theirs, such as software.
Conclusion
Despite the heavy blow the pandemic dealt GameStop, the company's resilience hasn't reduced, as it is still regarded as the largest merchandise retailer of video games in the world. However, the company needs to expand its product range, adjust its pricing system in light of the economic problems in the world and innovate to ensure it stays on top of its game.