Unlike most other search engines in the industry, DuckDuckGo business model revolves around providing a privacy-focused search engine that doesn't track users or record their data. The company, which was founded in 2008, was able to achieve profitability by 2014. This fueled much more investment in the company, allowing for continued development of ways to ensure users of its extensions and mobile apps remain safe online and surf the web privately. 
A brief history of Duckduckgo
DuckDuckGo was launched in 2008 and is currently led by its original CEO, Gabriel Weinberg. It is headquartered in Paoli, Pennsylvania.
The youthful Gabriel Weinberg got his start writing code for his parents' businesses. In the beginning, he devised a way for his mom to accept orders via the internet for her store. In order to help his father field questions from the public about HIV/AIDS, he set up a message board.
Weinberg enrolled to study physics at MIT in 1997. Even while still in school, Weinberg pursued a wide range of business-related pursuits. One such initiative eventually became Learnection, an online platform where teachers and students could collaborate on lesson plans. The business, however, failed.
In 2003, he started his second business venture when he enrolled in MIT to get his master's degree in technology policy. Because of his history in search, Weinberg eventually founded NamesDatabase. Initially, the software would post a list of random combinations of well-known names on the internet. For example, if you were searching for someone by that name, some of those names would come up in Google's search results.
In later years, NamesDatabase switched its focus to reuniting long-lost friends. After some negotiations, Classmates.com purchased the company in 2006 for $10 million.
When his wife got a job with GlaxoSmithKline in Collegeville in 2007, the couple upped and relocated to the Philadelphia area. In order to combat the loneliness he was feeling, Weinberg organized a tech meetup. When they had an idea, Weinberg was eager to try it out. Over the course of the following year, he worked on over 25 different projects.
One such idea that was put into practice is the wiki-style website I've Got a Fang, where anybody may provide links to reliable information on any topic. As he saw it, human curators would be more trustworthy than Google's algorithms in determining whether the content is of high quality. The website was shut down when it failed to gain traction. His thoughts lingered on the idea of human curation, however. He put together ideas from both I've Got a Fang and his next project, Tldscan, to create DuckDuckGo.
A network of websites that combed the web for structured information and uploaded it in a simplified and intelligible fashion, Tldscan was Weinberg's second attempt after the collapse of I've Got a Fang. Tldscan's maximum use would bring in over $500 daily from over 50,000 unique visitors. Due to Google's decision to ban Tldscan, Weinberg decided to permanently discontinue the service.
Yahoo's new "Build Your Own Search Service" (BOSS) tool, released at the start of 2008, allowed anybody to create their own search engine based on Yahoo search results. Weinberg expanded the program's functionality by adding features like displaying Wolfram Alpha's computation-based answers.
A search engine named after a game Weinberg and his kids played, Duck, Duck, Goose, was launched by Weinberg in September 2008. When the search engine first launched, it didn't see user privacy as a competitive advantage. TechCrunch noted in 2008 that DuckDuckGo had modified its standards for what constitutes a useful search result.
Online marketers with just a desire for quick cash have historically been guilty of artificially pushing spammy sites to the top of Google search results. DuckDuckGo inverted this principle by giving higher rankings to reputable sources like Wikipedia and well-known news organizations. In addition, unlike Google, he never meant to exploit his clients for the most profit.
Weinberg shifted DuckDuckGo's focus to privacy issues two years after creating the search engine. He shelled out about $7,500 for a billboard in San Francisco's tech-centric SOMA area that read: "Google Tracks You, We Won't." for four weeks. DuckDuckGo's traffic doubled after this marketing campaign and subsequent attention on various websites, including Hacker News. The platform was able to process over 5 million inquiries per month by the start of 2011.
The purchase of the duck.com domain is another success for DuckDuckGo. Google has owned the domain since it acquired On2 (a video codec maker) in 2009. Back then, many people would just type "Duck.com" into their browsers to reach DuckDuckGo. They would be sent to Google rather than DuckDuckGo. In light of Google's transfer, DuckDuckGo is now the domain registrant.
Also, starting in March 2020, Google was ordered to integrate competing search engines into the Android operating system. This change was precipitated by the European Union's (EU) $4.8 billion penalty against Google for abusing its dominant position in search to manipulate the Android operating system.
As a result, the Android phone setup now includes a menu where users may choose their preferred search engine. With the "fourth-price" auction system used for making decisions, large search engines like Bing and Yahoo would pay a premium for each new user that signed up using an Android phone.
As of September 2020, DuckDuckGo was only approved in four countries throughout Europe. Companies like Bing and Yandex were able to pay higher rates, and the firm just couldn't compete. The expansion made it possible for DuckDuckGo to receive $100 million in investment from investors in December 2020.
Who Owns Duckduckgo
The Paoli, Pennsylvania-based DuckDuckGo, Inc. owns and maintains the search engine. However, there is no readily available documentation of the company's previous owners. It's likely that Gabriel Weinberg, the company's founder and current CEO, is its biggest shareholder. Other shareholders in the firm include Series A and Series B investors in the company, like Union Square Ventures and OMERS Ventures, among several others.
Duckduckgo's Mission Statement
Duckduckgo's mission statement is "To show the world that protecting privacy is simple."
How DuckDuckGo Works
DuckDuckGo does not record your search history in any way, either via the browser extension or the mobile app. DuckDuckGo will always send you to the encrypted, secure version of a website wherever possible, making it harder for snoopers to track your activity. However, once you've started your search on Google, the corporation would like you to stay there as long as possible. Their business model is to market and sell your data to third-party organizations so that those organizations may then send you personalized ads.
The DuckDuckGo search engine promises that it will never share or sell any information about its users. This alternative to Google aims to protect user privacy while still maintaining a user-friendly interface. Unlike Google, DuckDuckGo doesn't sanitize its search results before presenting them. For instance, if you use a politically charged phrase in a Google search, you can get results that appear off, as if the search engine were tailoring its suggestions to you instead of returning the best results.
How Duckduckgo makes money
Advertisements
The terms typed into the search bar are used to show ads to people who are likely to be interested in them without giving away any personal information. Because of this, people are not shown ads that are relevant to them based on what they have done online in the past. Advertisements on the website can be hidden at the user's discretion.
Affiliate Marketing
DuckDuckGo also greatly benefits from affiliate earnings, which are earned whenever a user clicks on a product and then purchases it. DuckDuckGo has teamed up with industry heavyweights like Amazon and eBay to promote their products. Depending on your search, a box may appear where these partners' products will be displayed.
A purchase must be made within a particular window of time for DuckDuckGo to get a commission. For example, a commission may be offered to DuckDuckGo if a customer buys a product anywhere from 24 hours to 1 week after clicking on the ad. In some cases, DuckDuckGo may get a commission if a user clicks on an ad for one of its partners and then buys a separate product from that advertiser.
Duckduckgo's Business Model Canvas
The Duckduckgo Business Model can be explained in the following business model canvas: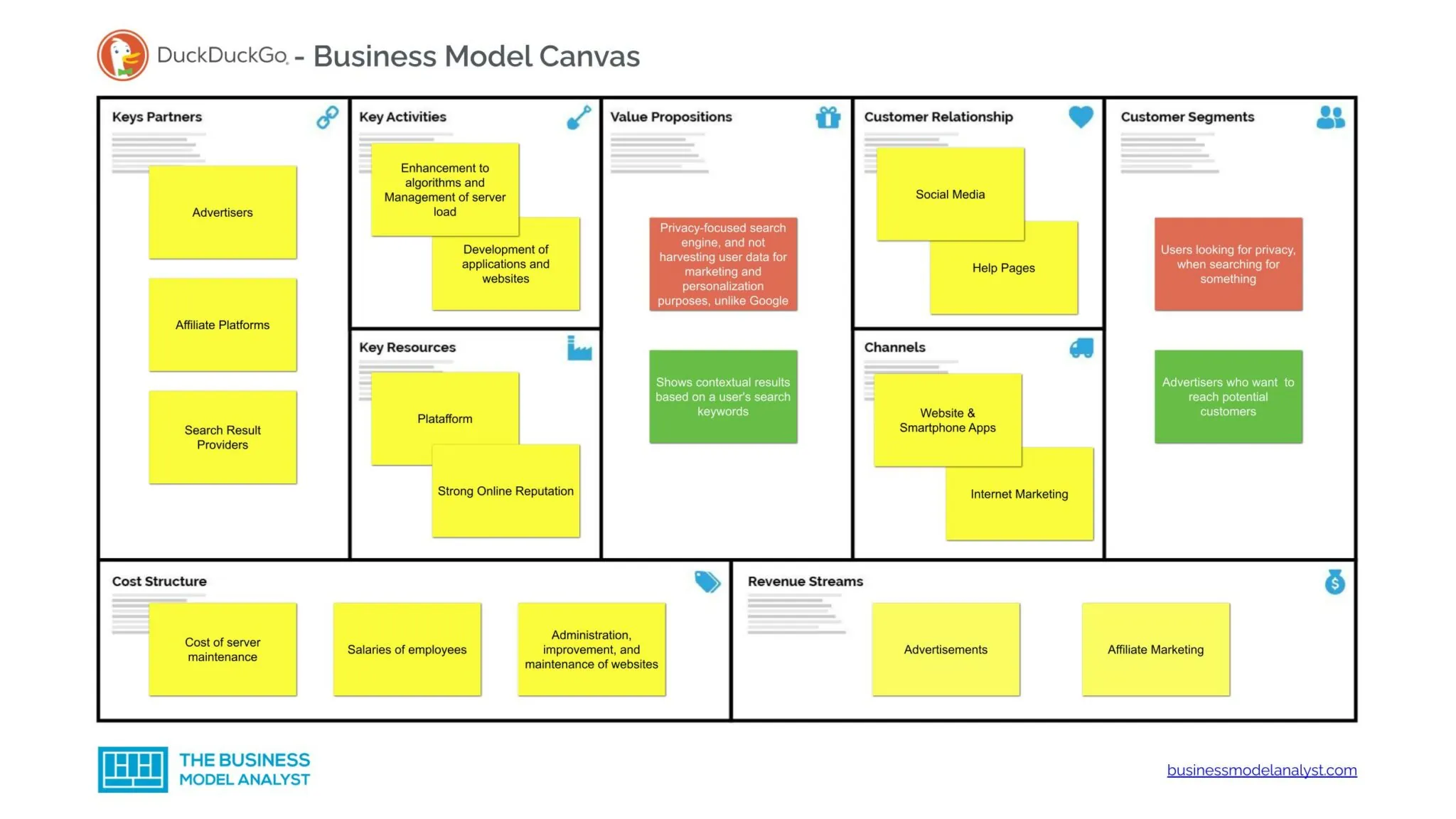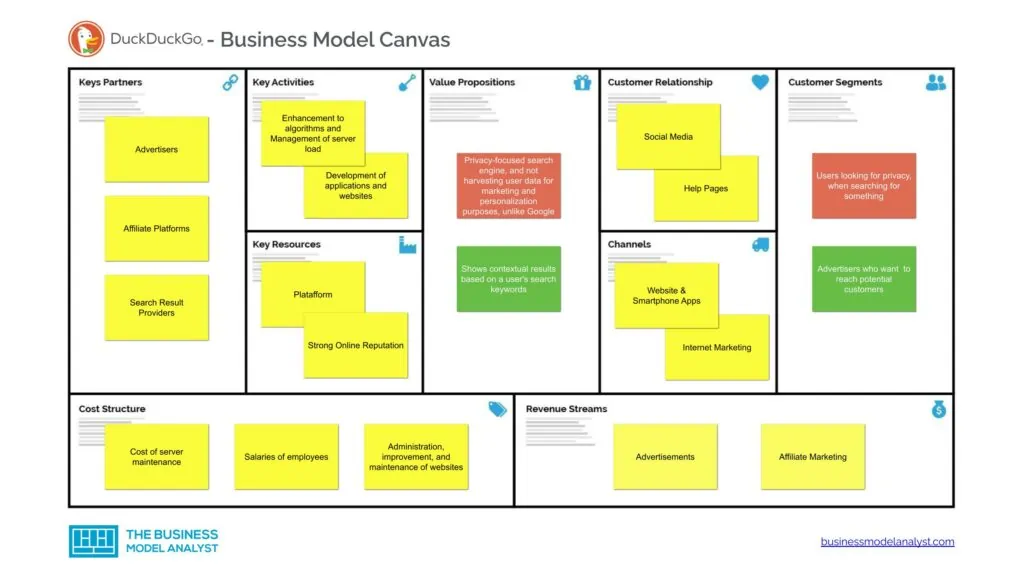 Duckduckgo's Customer Segments
Duckduckgo customer segments consist of:
Users: Duckduckgo serves users who search for different keywords in their search engine, however, unlike several other search engines, Duckduckgo caters to privacy-focused/privacy-conscious users;
Advertisers: Advertisers use Duckduckgo's search engine to reach potential customers searching for what they have in stock.
Duckduckgo's Value Propositions
Duckduckgo value propositions consist of:
Users: Duckduckgo's value propositions hang on its stance of being a privacy-focused search engine, and not harvesting user data for marketing and personalization purposes, unlike Google, which is more of an advertising company and less of a search engine;
Advertisers: For advertisers, much like the paid results Google shows on its search results page, Duckduckgo shows contextual results based on a user's search keywords, e.g., searching for travel bags might return ads that take users to websites that sell bags.
Duckduckgo's Channels
Duckduckgo channels consist of:
Website
Press
Smartphone Apps
Advocates
Internet Marketing
Duckduckgo's Customer Relationships
Duckduckgo customer relationships consist of:
Duckduckgo's Revenue Streams
Duckduckgo revenue streams consist of:
Advertisements
Affiliate Marketing
Duckduckgo's Key Resources
Duckduckgo key resources consist of:
User evangelists
Strong Online Reputation
Platform
Smartphone Apps
Duckduckgo's Key Activities
Duckduckgo key activities consist of:
Enhancement to algorithms
Management of server load
Development of applications
Development of websites
Duckduckgo's Key Partners
Duckduckgo key partners consist of:
Advertisers
Affiliate Platforms
Search Result Providers
Duckduckgo's Cost Structure
Duckduckgo cost structure consists of:
Cost of server maintenance
Salaries of employees
Administration, improvement, and maintenance of websites
Marketing
Duckduckgo's Competitors
Brave Search: The default search engine used by the Brave browser, Brave Search is a privacy-focused search engine that doesn't track its users. Coupled with the Brave browser that automatically blocks site trackers and ads, Brave Search allows users to surf the web privately.
Swisscows: Swisscows, formerly known as Hulbee, is a Swiss search engine that prioritizes user privacy. Swisscows is a search engine that, like DuckDuckGo, prioritizes providing relevant results without tracking its users for advertising reasons. This results in an ad-free SERP that is easy on the eyes.
It also takes pride in being a safe search engine for children and their parents, since it eliminates any potentially disturbing or inappropriate results.
Gibiru: Gibiru, a private search engine founded in 2009, is functionally pretty similar to DuckDuckGo but stands out due to its usage of 256-bit AES encryption. Gibiru does not monitor users by gathering information such as cookies, IP addresses, or search keywords, so user information cannot be accessed by other parties or sold.
There are two categories of results for every search: the complete result and the filtered result. In the first category, you'll see every link that is part of Gibiru's comprehensive index, but in the latter case, you'll find every link that has been deleted from filtered feeds by major search engines like Google.
Startpage: Startpage is a search engine that makes use of Google's search results, however, to protect user data, it doesn't leave behind any data about the user or record user data.
Qwant: With its French origins and European Union (EU) presence, Qwant is a formidable Duckduckgo competitor in the continent. It has a clean, simple design like Google's, but unlike Google and other top search engines, it doesn't save any of its users' personal information.
Duckduckgo's SWOT Analysis
Below, there is a detailed swot analysis of Duckduckgo: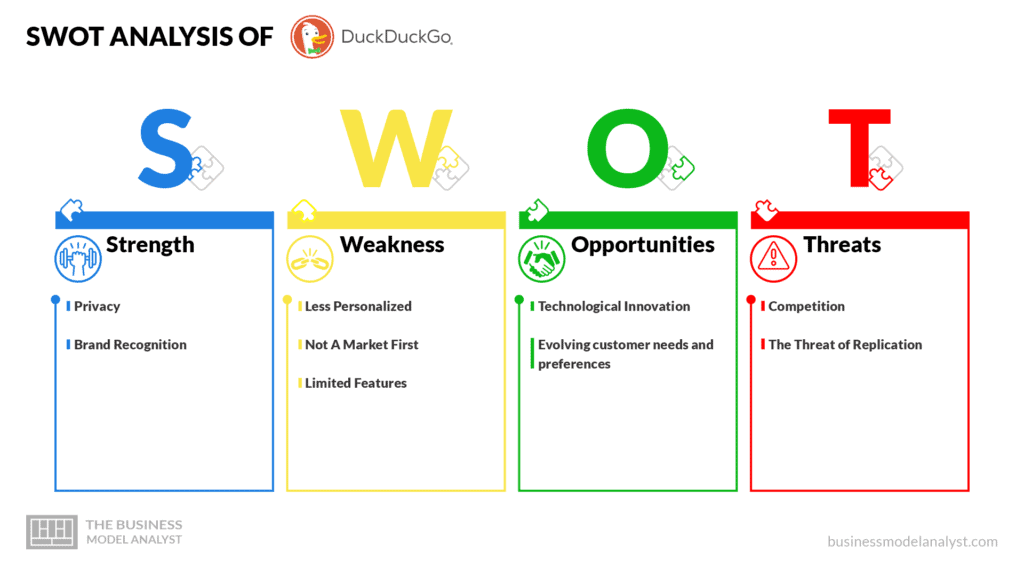 Duckduckgo's Strengths
Privacy: While its business model and value proposition aren't all that unique, DuckDuckGo has proven to be one of the best at protecting user data, and as a result, a larger number of its target market trust it to safeguard their data while searching the web;
Brand Recognition: DuckDuckGo has a strong reputation as a privacy-focused search engine, which works to its advantage when users are searching for reputable search engines that won't sell their data.
Duckduckgo's Weaknesses
Less Personalized: Personalization provides significant gains in terms of overall strategic value. This lack of personalization might hurt the company's bottom line and hurt the company's ability to compete. Customers in today's marketplace place a higher value on personalized service than they do on generic offerings, so organizations must evolve to satisfy varied tastes;
Not A Market First: DuckDuckGo offers a novel offering, but it wasn't the industry pioneer. Brands like Google have been around for a while and benefit from being early movers in the market. DuckDuckGo has competition from several different search engines in the privacy-oriented sector. Consequently, the brand's potential for further expansion in the industry is constrained by the existence of established market leaders;
Limited Features: There is no denying that Google and other top search engines give much more value than DuckDuckGo's extra features. For instance, Google provides a plethora of products and services, such as maps, finance, books, etc. If DuckDuckGo wants to provide features and advantages that will lure consumers and set it apart from other search engines, it has to devote more resources to product innovation.
Duckduckgo's Opportunities
Technological Innovation: Technology is used by many businesses as a very effective instrument in their drive to enrich their customers' lives by introducing innovative products and services. DuckDuckGo has to improve in this area to remain competitive in the market and take share from established and emerging companies;
Evolving customer needs and preferences: Internet users have ever-evolving needs. A company's opportunity to deliver what consumers want arises when those customers' needs and demands shift. There has to be a strong desire on DuckDuckGo's part to receive user input and adjust accordingly.
Duckduckgo's Threats
Competition: Established companies like Google are not eager to see their consumers go to DuckDuckGo, so competition is severe. To maintain its long-term market dominance, DuckDuckGo faces a serious challenge from even these bigger, more established rivals;
The Threat of Replication: While there are several privacy-focused search engines, they are all unique in some way. However, due to the low barrier to entry, new search engines can mimic DuckDuckGo's USP (unique selling point).
Conclusion
Rather than Google's complicated business model, DuckDuckGo focuses on a value proposition that makes their business model simpler: plain privacy. This business model has worked for them over the years, as they have been profitable since 2014. Even though DuckDuckGo's search engine isn't as powerful as Google's, it does a good job of meeting the demands of most users for common queries. In addition, it contains powerful privacy features to protect user data from third parties.