The Dropbox business model is a hosting site that helps users sync and store their files in the cloud. The headquarters is in San Francisco, California, U.S., and its services include cloud storage, client software, file synchronization, and personal cloud. Its operating systems are Android, iOS, Microsoft Windows, Linux, macOS, and Windows Phone. It is available in 22 languages.
Dropbox is both free and paid. Free account users, which is Dropbox Basic, get 2 gigabytes of free storage space, but it may be expanded through referrals. A referral is when a user recommends the brand to other people. If the referrals start using Dropbox, the user is rewarded with 500 megabytes of storage space. Users of Dropbox Basic may earn up to 16 gigabytes of storage space through the referral program.
Premium account users, which is Dropbox Plus, get two terabytes of storage space and other business-related remote wipes, advanced sharing controls, extended version history, etc. There is Dropbox for Business, which is purposed for business owners. However, users can connect their personal Dropbox accounts with their business Dropbox. Dropbox Business is for corporations with more business-related features.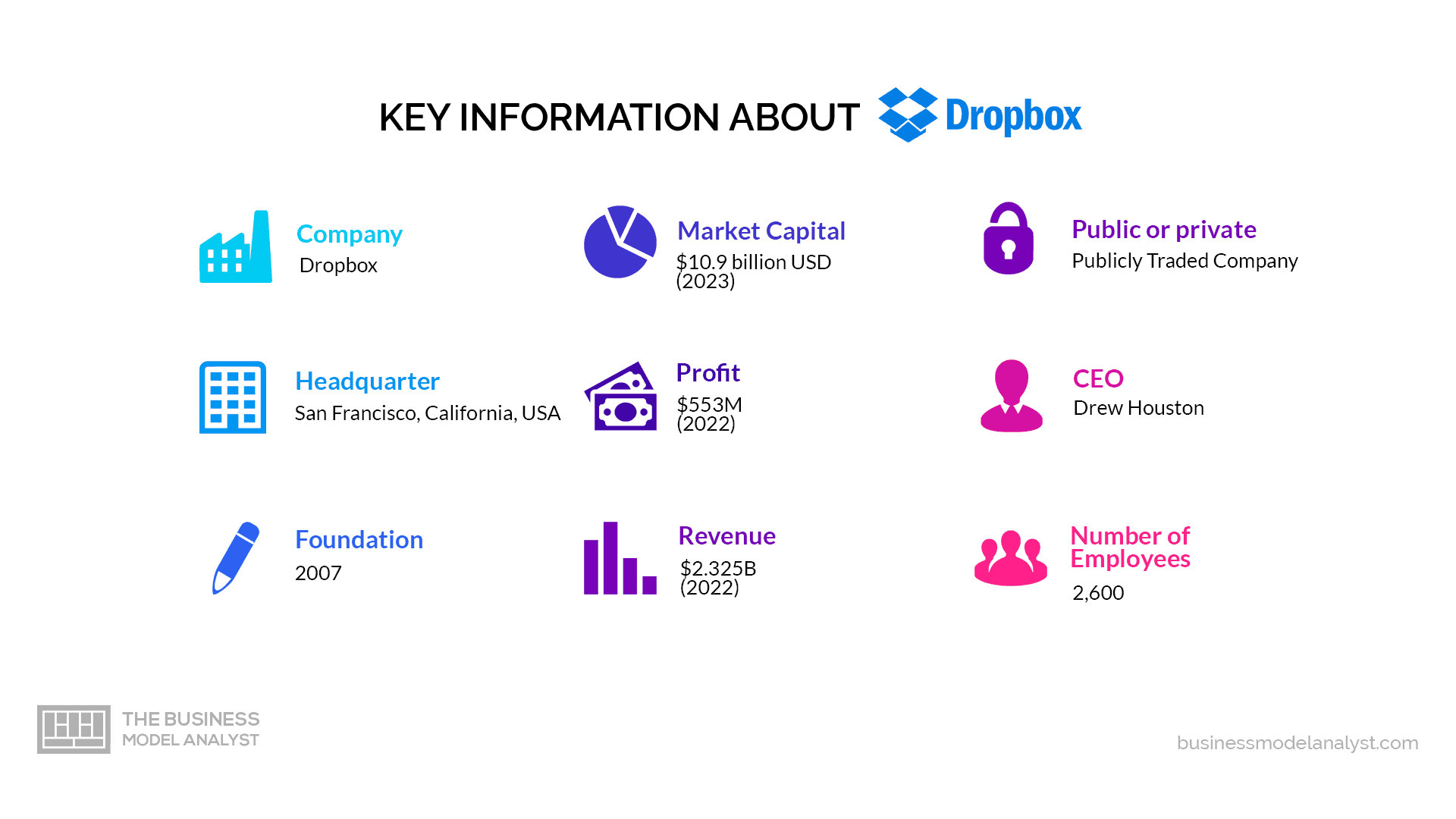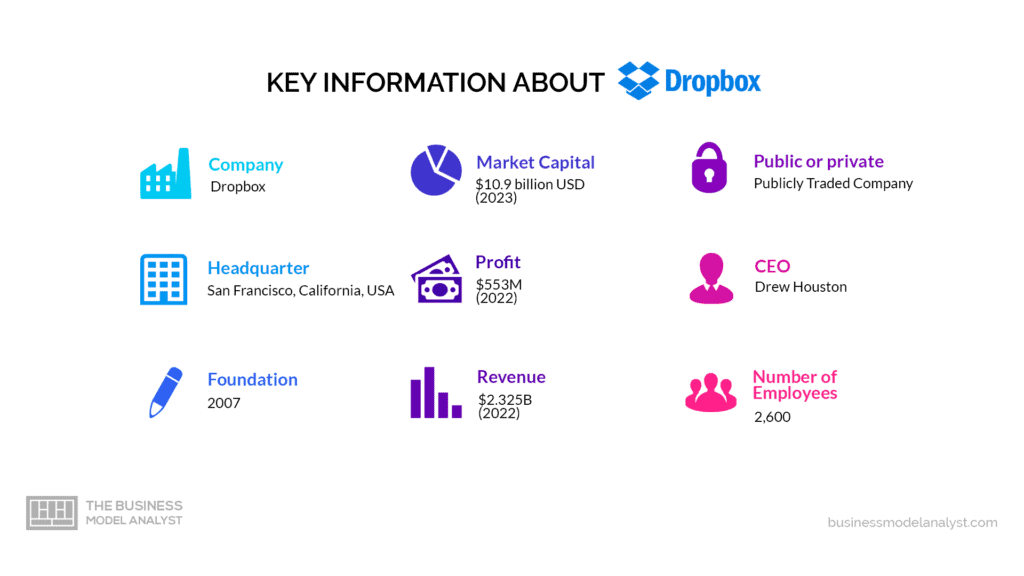 A brief history of Dropbox
The idea of the world-famous cloud storage was conceived in 2007 by Drew Houston, who always forgot his USB flash drive while at MIT. However, Dropbox was founded in 2007 by Drew Houston and Arash Ferdowsi, who were MIT students and initially funded by a seed accelerator from Y Combinator.
In May 2007, Drew Houston, however, founded Evenflow, Inc. as the parent company of Dropbox. After this, he successfully secured Y Combinator's seed funding. Officially, Dropbox was launched in 2008 at TechCrunch Disrupt, which was a yearly tech conference. Due to trademark disputes between Evenflow Inc. and Proxy, Inc., "getdropbox.com" was officially used as the domain name for Dropbox. But in October 2009, Dropbox acquired its domain name, "dropbox.com." Also, in October 2009, Evenflow Inc. was renamed Dropbox, Inc.
In October 2011, during an interview with TechCrunch Founder Stories, Houston said that he became partners with Arash Ferdowsi, who saw one of the demo videos released when Dropbox started. He was very impressed and secured a partnership. 
Dropbox has enjoyed steady growth since its establishment. In April 2009, it had over a million users, and by September, it had increased to 2 million. By November, it had grown to 3 million users. By October 2011, it had 50 million and 700 million users by 2021.
Over the years, Dropbox acquired various start-ups like TapEngage in July 2012, Audiogalaxy, and Snapjoy in December 2012. In July of the following year, It acquired Endorse. In April 2014, it acquired Loom and Hackpad; in May 2014, it acquired Bubbli. Dropbox acquired CloudOn in January 2015 and Clementine by July of the same year. January 2019 saw the acquisition of HelloSign, and March 2021, the acquisition of DocSend.
Who Owns Dropbox
In 2007, Dropbox was co-founded by Drew Houston and Arash Ferdowsi, who were both MIT students. It started as a startup initially funded by a seed accelerator, Y Combinator. 
Dropbox Mission Statement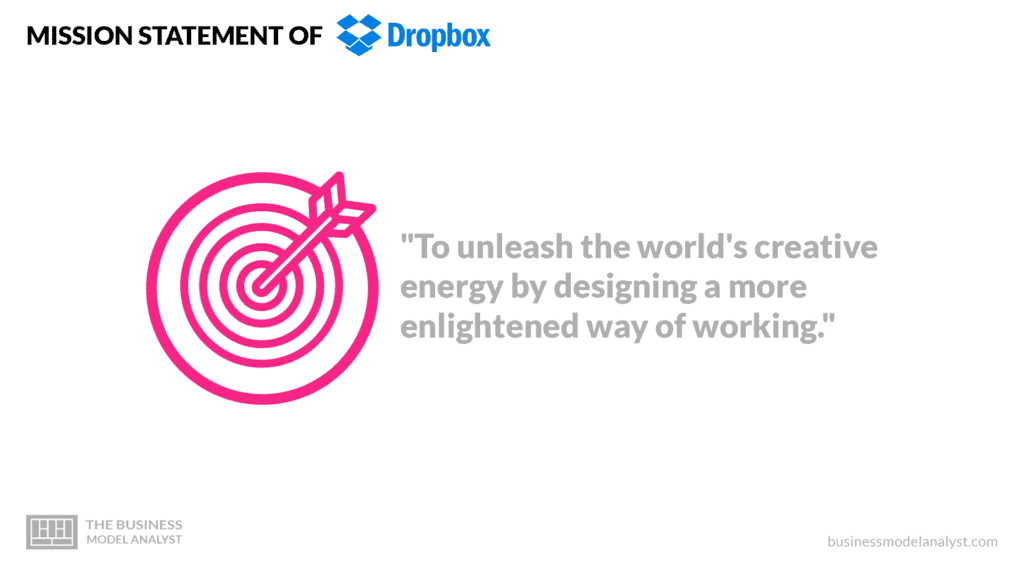 Dropbox's mission statement is "to unleash the world's creative energy by designing a more enlightened way of working."
How Dropbox works
Since Dropbox's establishment, it has solved many storage problems. Over the years, it has become one of the world's most popular cloud storage apps due to:
Easy usage: One of the most significant advantages of Dropbox is that you can start using it immediately after installing it. All you have to do is install it on your devices, create an account, and get started;
Compatibility on multiple devices: Dropbox is not limited to how it works. It works perfectly on all major platforms, such as macOS, Windows, iOS, and Android;
Security: All files on Dropbox are encrypted end-to-end, which makes them unreadable by third parties. Dropbox ensures strong and secure file storage;
Two-way synchronization: If changes are made to files in any Dropbox account, it will be reflected in other devices that are connected to that account.
Dropbox creates a folder on every user's device that is compatible, which is then synchronized with the user's Dropbox account. Any changes made in that particular folder will be reflected in the cloud-based account.
This feature enables the users to access their files from any device connected to the internet and share them with anyone. If a Dropbox user wants to share a file with someone, all they need to do is add them to their desired Dropbox folder and share the link with the said individual. The exciting part is the individual with the link can view and download the file whether he has a Dropbox account or not.
How Dropbox makes money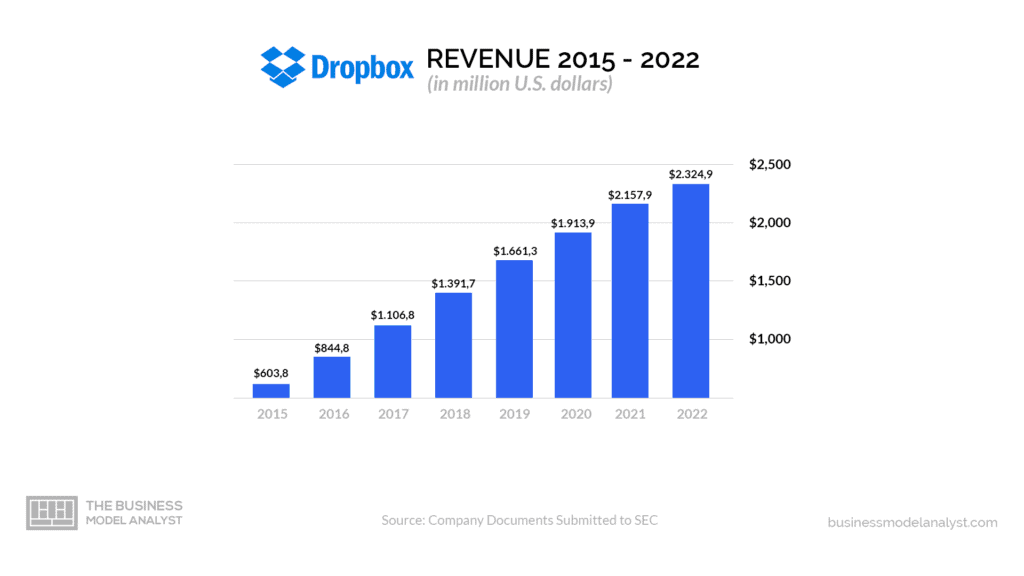 Dropbox has about 700 million users, amongst which only about 17 million are paying users, according to page 47 of 2021 Form 10-K of Dropbox. How does Dropbox make money? It makes money through the following means;
Subscriptions
Although Dropbox offers a freemium version, it receives most of its money from users who upgrade to paid subscription accounts. In 2021, revenue earned from paid subscription accounts was $2.16 billion. Dropbox offers five types of paid subscription services for its users, and they are:
Plus
Family
Professional
Standard
Advanced
All these have different perks and added features that freemium users do not have access to, like increased storage, phone support, HelloSign e-signatures, locking of files, and much more. The subscription cost ranges from $11.99 to $25 per month for every user, depending on the type of plan.
Dropbox demonstrates its value to freemium users so that they will upgrade to premium accounts. It reaches the users by email, time-limited trials of paid subscriptions, in-product prompts, and lifecycle marketing.
Partnerships
Dropbox also generates revenue through its partnership with companies like Microsoft, which have integrated Dropbox products into their operations.
Affiliation
It is said that Dropbox charges its users approximately $99 per year for one terabyte of online storage. The little amount given for free plus not-so-expensive online storage is said to be the secret sauce of Dropbox.
Advertisement
Dropbox makes money through advertising on its mobile apps and website. The revenue gotten from ads is used to run the free version.
Virtualization
The commercial version of Dropbox has "pro" features that allow customers to build virtual disks with their free account.
Dropbox Business Model Canvas
The Dropbox Business Model can be explained in the following business model canvas: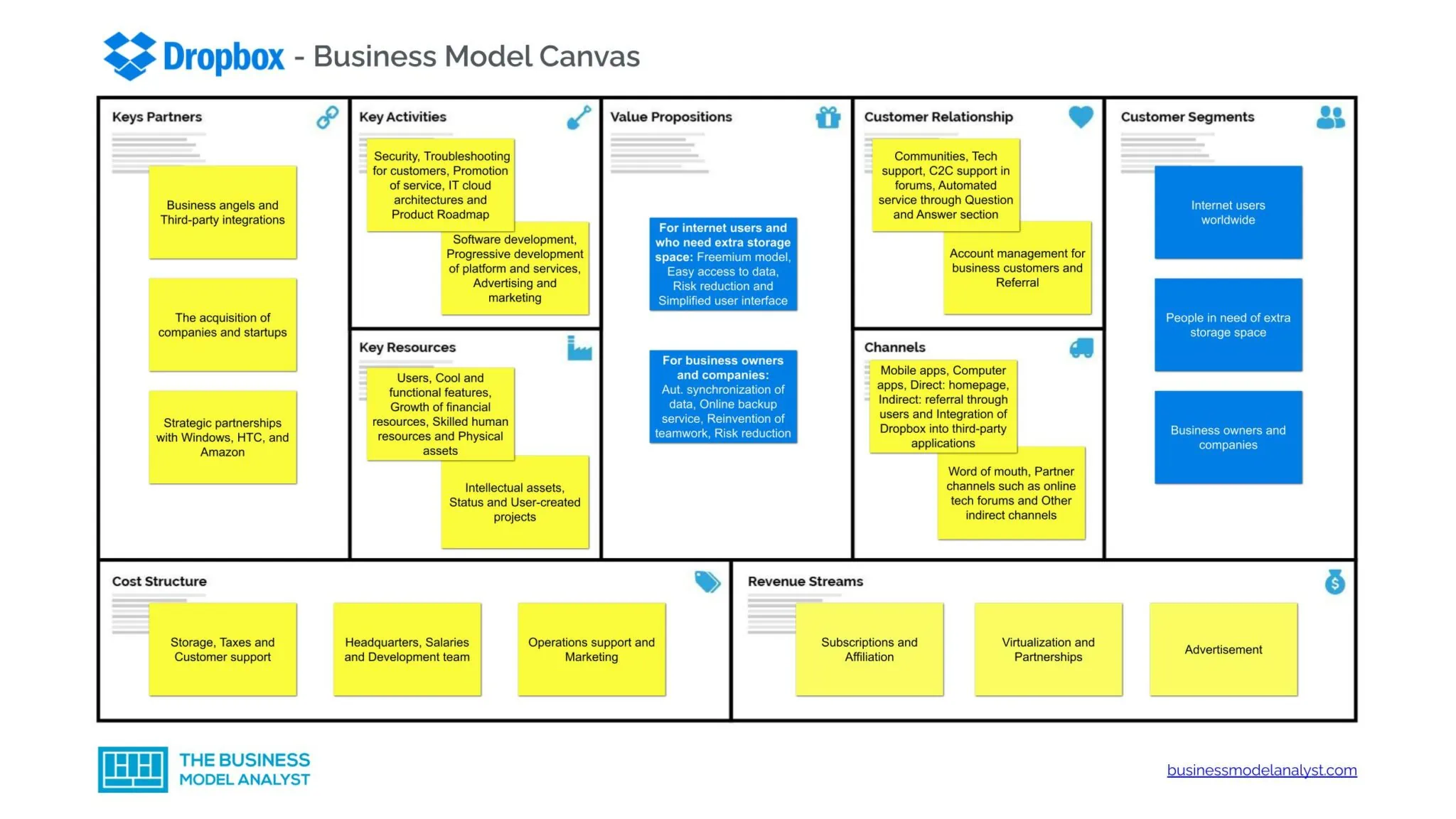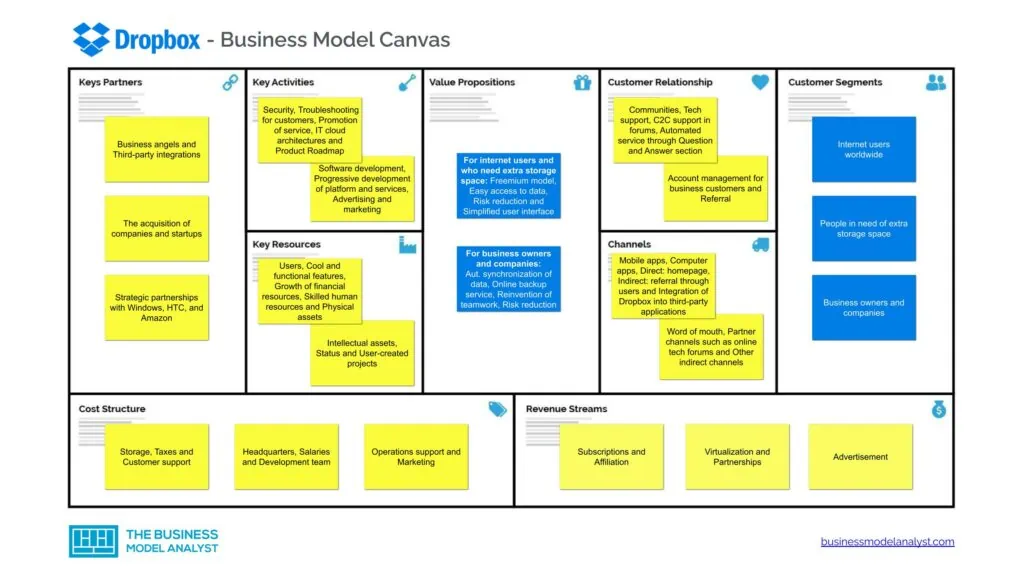 Dropbox Customer Segments
The Dropbox customer segments are:
Internet users worldwide
People in need of extra storage space
Business owners and companies
Dropbox Value Propositions
The Dropbox value propositions include the following:
Value propositions for internet users and people in need of extra storage space:
Freemium model: Dropbox offers both free and premium accounts for its users. The free version comes with 2 gigabytes of storage space, but if you require more cloud space, you will opt for their premium offer;
Easy access to data: The data saved on the cloud is easily accessible. Even if you share your files with others, they can easily access them without having a Dropbox account;
Risk reduction: Dropbox has an encryption feature available, and this means that a third party cannot gain access to files;
Simplified user interface: The Dropbox user interface is simple and instructive. There is no need for special teachings to navigate it.
Value propositions for business owners and companies include:
Automatic synchronization of data: Business owners that have personal Dropbox accounts can synchronize their files together automatically;
Online backup service: Data on Dropbox is not entirely lost. They are saved in the background and recoverable;
The reinvention of teamwork: Employees and employers can work together on the same files without leaving their positions or transferring a USB flash drive;
Risk reduction: Thanks to Dropbox's online backup service, businesses can always retrieve lost files. Also, the encryption makes the files unreadable to third parties.
Dropbox Channels
The Dropbox channels are:
Mobile apps 
Computer apps 
Direct: homepage
Indirect: referral through users
Integration of Dropbox into third-party applications 
Word of mouth
Partner channels such as online tech forums
Other indirect channels
Dropbox Customer Relationships
The Dropbox customer relationships include:
Communities
Tech support
C2C support in forums
Automated service through Question and Answer section
Account management for business customers
Referral: Dropbox Basic users earn up to 16 gigabytes through the referral program
Dropbox Revenue Streams
The Dropbox revenue streams are:
Subscriptions
Affiliation
Virtualization
Partnerships
Advertisement 
Dropbox Key Resources
The Dropbox key resources include:
Users
Cool and functional features 
Growth of financial resources 
Skilled human resources
Physical assets
Intellectual assets
Status as one of the most useful startups in the U.S. and the world
User-created projects
Dropbox Key Activities
The Dropbox key activities comprise:
Security
Troubleshooting for customers
Promotion of service
IT cloud architectures
Product Roadmap
Software development
Progressive development of platform and services
Advertising and marketing
Customer support
Dropbox Key Partners
The Dropbox key partners include:
Business angels 
The acquisition of companies and startups like; Loom, Hackpad Endorse, Clementine, Snapjoy, CloudOn, TapEngage, Bubbli, Audiogalaxy, and DocSend
Strategic partnerships with Windows, HTC, and Amazon
Third-party integrations 
Dropbox Cost Structure 
The Dropbox cost structure comprises:
Storage
Taxes
Customer support
Headquarters
Salaries
Development team
Operations support
Marketing 
Dropbox Competitors
Google Drive: Operated by Google, Google Drive was launched in April 2012. Its users can save files on the internet, either privately or publicly. They can also sync files or share files with other people. Its users can upload any file, audio, video, or document. Google Drive users enjoy 15 gigabytes of free storage through Google One, which allows them to store their files on Google servers' cloud. Although there is a web interface, Google Drive offers applications that can function offline for Android and iOS smartphones and tablets and Windows and macOS computers. Google Drive includes other Google apps like Google Docs, Google Sheets, and Google Slides;
Microsoft OneDrive: Formerly known as SkyDrive, Microsoft OneDrive is a file storage and synchronization service operated by Microsoft as one of its Office Suite Online services. It was established in August 2007 and is available in 107 languages. It offers free 5 gigabytes of storage space. The client app has additional cloud backup features and file synchronization to its device. The app comes with Microsoft Windows and is available for macOS, Xbox One, Android, Windows Phone, Xbox 360, iOS, and Xbox Series X and S;
Amazon Drive: Formerly called Amazon Cloud Drive, Amazon Drive was launched in major countries like the U.S., U.K., Canada, Japan, etc. It is a file hosting and cloud storage service operated by Amazon Web Services. It offers file sharing, secure cloud storage, etc. The files and folders may be transferred across platforms which include mobiles, tablets, web browsers, and desktop applications through Amazon accounts. With an Amazon Prime subscription, It offers zero-cost unlimited photo storage. But on July 29, 2022, Amazon made it known that the service would stop on December 31, 2023, but Amazon Photos will continue.
Dropbox SWOT Analysis
Below, there is a detailed swot analysis of Dropbox:
Dropbox Strengths
Below, there are Dropbox's strengths;
Flexible storage options: Due to Dropbox's flexible storage option, businesses find it easy to adapt;
File Recovery: Dropbox has special features that help in the easy recovery of files that have been deleted, as opposed to other cloud-based solutions;
Subscription plan: Dropbox has various subscription plans so that its users can choose their preferences. 2 gigabytes of free storage is given, and customers that wish to upgrade can upgrade;
High User Base: Dropbox has about 700 million users. 92% of its users are using the free version, which means only 8% of its users are using the premium version. Although only 8% generates revenue, the model is profitable;
Brand Awareness: Brand awareness plays a crucial role in attracting more customers, and Dropbox is one of the most recognized brands in the industry in which it operates;
Backup: The Dropbox application stores all the data present in your Dropbox account in the background, which implies that none of your data will be lost;
First Mover Benefit: Dropbox has first mover benefits in several sectors like entrepreneurship, marketing, product development, growth strategy, etc. The Innovation and Entrepreneurship solutions and strategies have helped Dropbox develop intelligent solutions to explore uncatered markets;
A strong relationship with existing suppliers: Dropbox has a strong relationship with its suppliers and other members of its supply chain;
Versatility: Dropbox users get to view their files in various ways because of the various views offered to them;
Diverse Product Portfolio: Dropbox's product brand portfolio enables it to explore various areas in the industry simultaneously. This has helped Dropbox to create a profit mix and diverse revenue sources;
Easy Usage: Dropbox is easily accessible. Its installation process is relatively easy, and it also offers multi-language support;
Wider Range: Dropbox can be used on various platforms because of its compatibility with multiple devices;
User Interface: Dropbox isn't built up in a complicated way, but in a simple and easily navigable manner. Its design and user interface are user-friendly;
Great Innovations: Dropbox is a great innovation that is useful for all, and it can serve as a replacement for USB drives;
Security: Utilizing encryption, users' files are kept secure even though they are in the cloud.
Dropbox Weaknesses
The following are considered to be Dropbox's weaknesses:
Dependence on corporations: Dropbox heavily depends on corporate clients to generate its revenues. This means that when the demand grows, the company may be unable to sustain it;
Third-party Cloud Service: Dropbox does not host any data, but it saves data on the cloud servers of other internet services;
Unsuitable for some data types: Another weakness of Dropbox is that it is only suitable for certain data types. Data that are fragmented or that need an excess level of segregation may not be stored on Dropbox. The data types that Dropbox can easily work with are similar and not too segmented;
Not suitable for large businesses: Dropbox is unsuitable for companies with large projects and employees. This is because it does not have security features that are strong enough to store the data away from third parties, and its administrative tools are not advanced enough;
Smaller space for free version: Unlike Google Drive, one of its competitors, Dropbox offers smaller storage space for its free users;
Limited support: Dropbox only offers limited support to its users;
Lack of crucial talent: In the technology and digital transformation field, Dropbox does not have enough talent. It is struggling with restructuring processes in terms of development in AI, Artificial Intelligence, and machine learning;
Easy duplication: The company business model can be easily reduplicated, even with the copyright and patent that Dropbox possesses. In the industry that Dropbox is working in, it isn't easy to implement intellectual property rights;
Lesser implementation of the technology: Although Dropbox has made use of integrated technology in terms of backend processes, it has still not fully used the power of technology for its front-end processes;
Customer Dissatisfaction: Complaints range from a slow speed to dislike for text formats of files to the corruption of some files after downloading. Interestingly enough, the demand for Dropbox products has not gone down. However, Dropbox should take note of these bad reviews and focus on satisfying its users.
Dropbox Opportunities
The opportunities opened for Dropbox are:
Presence in the cloud computing industry: Since its establishment, Dropbox has been one of the leading brands in the cloud computing industry. Its growth has been steady, and it was estimated that soon it would be a major leader in the cloud-based service sector;
Growing Market Size: Over the years, the market size has been steadily increasing. New customers with new preferences and tastes bring exciting challenges for Dropbox. Dropbox has successfully tried to diversify by using different brands and adding new features through its customer preferences;
Better integration with other services: Dropbox will need much better integration as internet services to go online. Other services like Google Drive and iCloud will be handy;
Reduction in risks: Globalization and the boom in digital marketing have helped to constantly reduce the risks of entry into industry and marketing in international markets;
Innovation: As time passes, Dropbox can add new and enticing innovations to attract new users and keep existing users on its platform;
Crowdfunding: Dropbox can crowdfund to raise funds for further development;
Exploring: Dropbox can explore opportunities in other adjacent industries such as marketing, product development, entrepreneurship, internet, and growth strategy. This will help its growth, especially if the company extends its current services and the products it is offering;
Social media: Fortunately, Dropbox is already integrated into social media networks like Twitter, Facebook, and LinkedIn;
Dropbox Paper: This part of Dropbox has great potential to become a famous cloud-based collaboration and communication platform;
Growing demand: There is a steadily increasing demand for information storage. Individuals and businesses crave large storage capacities to help them store their various data types like documents, audio, or video, expanding the market for information storage solutions;
Collaboration: Dropbox can encourage its users to collaborate on diverse projects by integrating its products and services into other business applications;
Asian market: A viral start-up culture has started in China, India, and other parts of Asia. This implies that Asia is a very lucrative place for information storage services and products like Dropbox, which is based on cloud storage;
Smartphones and Tablets: With the emergence of smartphones and tablets compatible with Dropbox, it will increase its market share;
Improved and New Technology: Every day, individuals require a simpler way where they can transfer files with ease;
New features: Dropbox should continue to add new features that will be used to entice new customers and retain the old ones;
Expansion to new services: Rapid technological development, research, and development is an opportunity for Dropbox to expand its services;
Connection friendly: Dropbox provides its users a way for friends and family to stay connected so that they will know what you are doing if you want them to.
Dropbox Threats
Factors that are threats to Dropbox include:
Intense competition: Dropbox faces a lot of competition from brands like Google Drive, Sugar Sync, SkyDrive, etc. These companies are aggressively competing with Dropbox by providing more services and products for lesser prices;
Change in consumer taste: There is a need for a continuous update in the system, which should be done based on customer feedback;
Government regulation: Government regulations hardly stay for a long time; there will always be a twitch at one time or the other, so Dropbox needs to keep a close eye on them;
Substitute products: New products that can be an alternative to Dropbox are steadily being developed;
Security and privacy issues: The fact that data is stored in the cloud, even though there is security, still poses a threat to Dropbox;
Smaller cities: Although cloud computing solutions are well known, some small cities and towns do not fully understand their benefits and usage;
Sticky Prices: Dropbox functions in an industry that has a culture of sticky prices. This may lead to the inability of Dropbox to increase prices when the need arises, affecting their revenue generation;
Environmental regulations: There is an increase in the cost of components for working in developed markets because of environmental regulations. Dropbox has to deal with these increases in costs, increasing its operating costs.
Conclusion
Dropbox remains the pioneer for sharing software and synchronization of files. L It operates innovatively by providing cloud storage and file-sharing services for its users. It carved out a niche in the industry by offering a simple, easy, user-friendly interface and affordable premium plans. But since its establishment, Dropbox has faced intense competition from larger and more established service providers like Google and Microsoft. For Dropbox to keep leading, it must be open to new and improved innovations and technology. It can also expand its services and features.