DoorDash is maybe the most popular meal-delivery service in the U.S. and has hundreds of thousands of users. The DoorDash business model aims to benefit both users and restaurants, since it allows individuals to order food and beverage from different places on one single platform while providing the businesses with an extended customer base.
DoorDash has grown quickly and has overcome large players such as GrubHub, Uber Eats, and Postmates, with an estimated 35% market share. That is a great business, considering that on-demand food delivery services are increasing 20% per year and are expected to reach $365 billion in revenue by 2030.
A brief history of DoorDash
DoorDash's history starts back in 2013, when four students from Stanford — Tony Xu, Stanley Tang, Evan Moore, and Andy Fang — founded the so-called PaloAltoDelivery.com.
At the time, food delivery platforms would simply serve as restaurant listings, so the students decided to test this new business model (in a small area) where the platform would be responsible for the deliveries too.
As soon as they had confirmed the business model, the founders rebranded into DoorDash and joined the accelerator Y Combinator. The company expanded rapidly and, two years later, it served 18 cities in the U.S., with a valuation of over $600 million.
Throughout its history, DoorDash has faced several lawsuits, especially regarding drivers as contract workers. But that did not avoid the company from reaching the top spot in its market.
At the end of 2020, DoorDash decided to IPO. Currently, the company is present in over 4,000 cities in the United States, Canada, Australia, Japan, and Germany, and one million drivers are registered as Dashers.
Who Owns DoorDash
DoorDash is still owned by its founders; while Tony Xu holds the position of the company's CEO, Andy Fang is the CTO. Christopher Payne, who worked in the eBay's board from 2009 until 2014 and has been Tinder's CEO back in 2015, was DoorDash's COO from 2016 until 2021, when he was pointed the president of the company in May of the same year.
DoorDash's Mission Statement
We're working to empower local communities and, in turn, create new ways for people to earn, work, and thrive. We believe in delivering goods by connecting people and possibilities.
How DoorDash makes money
Fees
DoorDash relies on three kinds of fees, that can vary based on location and demand. They are:
Delivery Fee: $1.99 — $4.99
Small Order Fee: ~ $2.50
Service Fee: ~ 9% — 11% of the subtotal
Commissions
DoorDash takes up some percentage of the order subtotal every time a transaction is complete on its platform. The restaurants must choose a plan:
Basic: 15% commission, with the highest delivery fees for the customer and limited delivery area;
Plus: 25% commission, with reduced delivery costs, expanded delivery area, and inclusion into the loyalty program;
Premier: 30% commission, with the lowest fees, the largest delivery area, loyalty program, and the warranty of 20 deliveries a month (otherwise it gets a fee refund).
Subscription
DoorDash has launched DashPass, a subscription service that offers unlimited deliveries with no delivery fees (on orders over $15) for $9.99 per month. There are more than 1.5 million subscribers nowadays.
SaaS
DoorDash Storefront is software for restaurants that want to own their personalized ordering and delivery system. Merchants pay a monthly subscription to use the platform.
DashMart
DoorDash has expanded its delivery service to over 2,500 convenience stores, with some large retail players, such as CVS, Walgreens, 7-Eleven, Wawa, etc.
Acquisitions
DoorDash has acquired four companies so far:
Caviar (2019): food-ordering and delivery service;
IvI5 (2019): a software company that uses computer vision to provide mapping to robots and autonomous vehicles;
Rickshaw (2017): delivery network;
Scotty Labs (2019): teleoperations company focused on self-driving vehicle technology.
Brick-and-mortar store
Partnered with the San Francisco restaurant Burma Superstar, DoorDash opened Burma Bites, its first restaurant. It is a takeout and delivery operation that uses the company's online infrastructure. Menu prices range from $2.95 to $20.
Catering
It is their B2B side, but it works just as restaurant-to-customers. The merchant only needs to sign up for accepting orders from corporate clients.
Advertising
DoorDash charges for displaying ads on its inventory. Restaurants that want to be placed at the top pay more.
DoorDash's Business Model Canvas
Let's take a look at the DoorDash Business Model Canvas below:
DoorDash's Customer Segments
DoorDash's customer segments consist of:
Users: People who don't want to cook, who don't want to go out to eat, who don't have time or energy to dress up for going out, who want to eat from outside, who want to have food delivered to their doorstep;
Businesses: Places that don't have a delivery team, or which want to reach DoorDash's audience;
Drivers: People looking for flexible jobs, with adaptable timing and good tips.
DoorDash's Value Propositions
DoorDash's value propositions consist of:
Users: The convenience of ordering online, AI that suggests what they may like, scheduled delivery, order real-time live tracking, rating system;
Businesses: Extended customer base, efficient transportation, easy, cheap, and fast way to deliver, a strong asset for small businesses;
Drivers: Flexible working hours, good money, good tips.
DoorDash's Channels
DoorDash's channels consist of:
Website
Apps for Android and iOS
DoorDash's Customer Relationships
DoorDash's customer relationships consist of:
Social Media
24×7 customer support
Brick-and-mortar store
DoorDash's Revenue Streams
DoorDash's revenue streams consist of:
Commissions
Delivery fees
Service fees
Membership fee
Ads
SaaS
DoorDash's Key Resources
DoorDash's key resources consist of:
Technology platform
Partnership with stores and restaurants
Delivery people
Algorithms and AI
DoorDash's Key Activities
DoorDash's key activities consist of:
Delivery
Platform maintenance
Software development
Payment processing
Customer service
Marketing and communication
DoorDash's Key Partners
DoorDash's key partners consist of:
Restaurants
Retail stores
Dashers (drivers)
Investors
Technology providers
DoorDash's Cost Structure
DoorDash's cost structure consists of:
Platform maintenance
Marketing
Customer Acquisition Costs (CAC)
Legal costs
Credit card and other payment fees
Research & development
Customer support
Human resources
DoorDash's Competitors
GrubHub: Popular because it is widely available throughout the U.S.;
Uber Eats: Very popular because it is the food delivery service owned by Uber, the ride-share giant;
Postmates: It has increased in popularity because it provides delivery from restaurants that don't usually offer food delivery or pre-orders;
ChowNow: Commission-free delivery service with a transparent pricing system;
Waitr: No minimum order limits and a flat delivery fee, no matter the order.
DoorDash's SWOT Analysis
Below, there is a detailed swot analysis of DoorDash: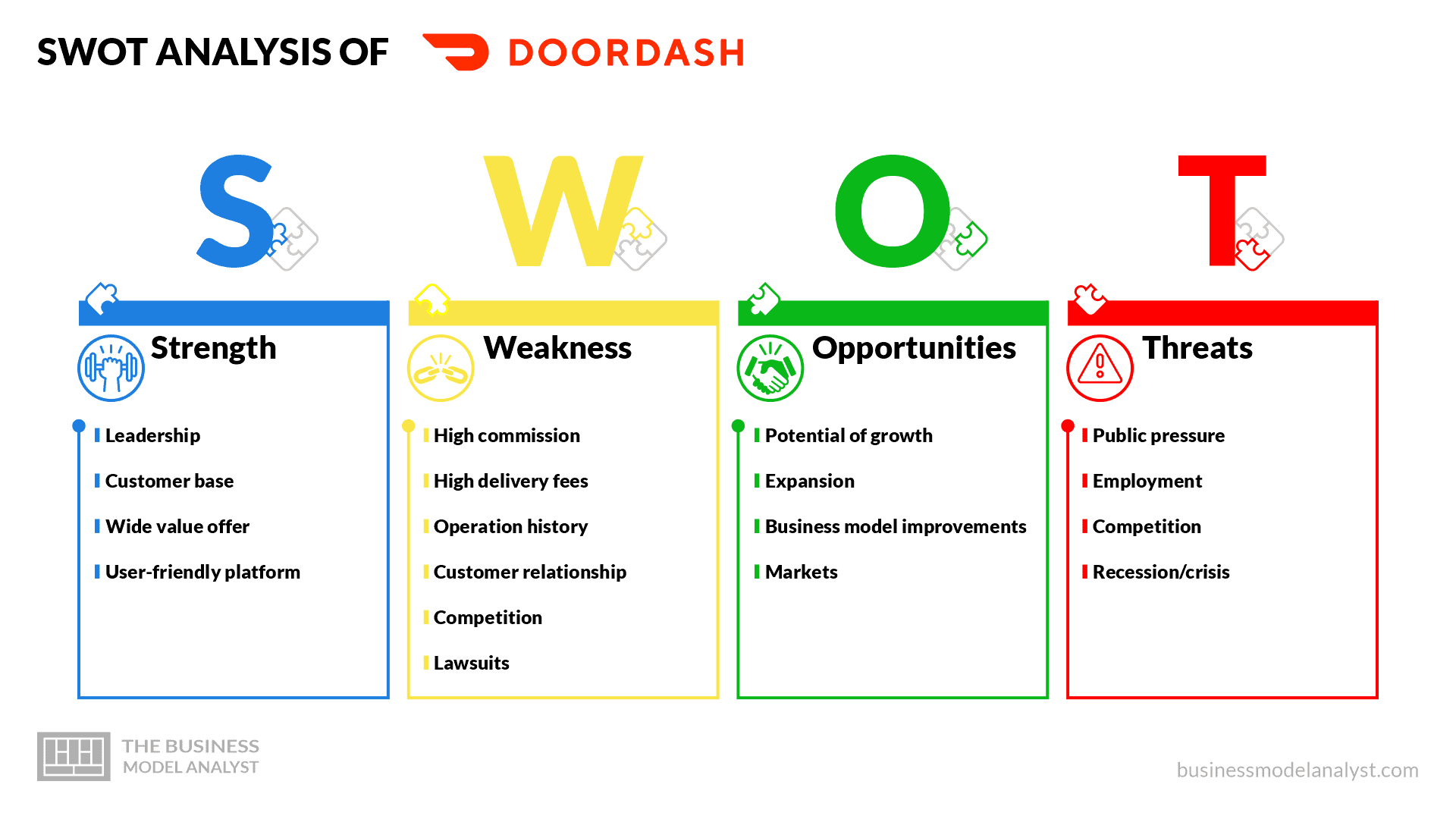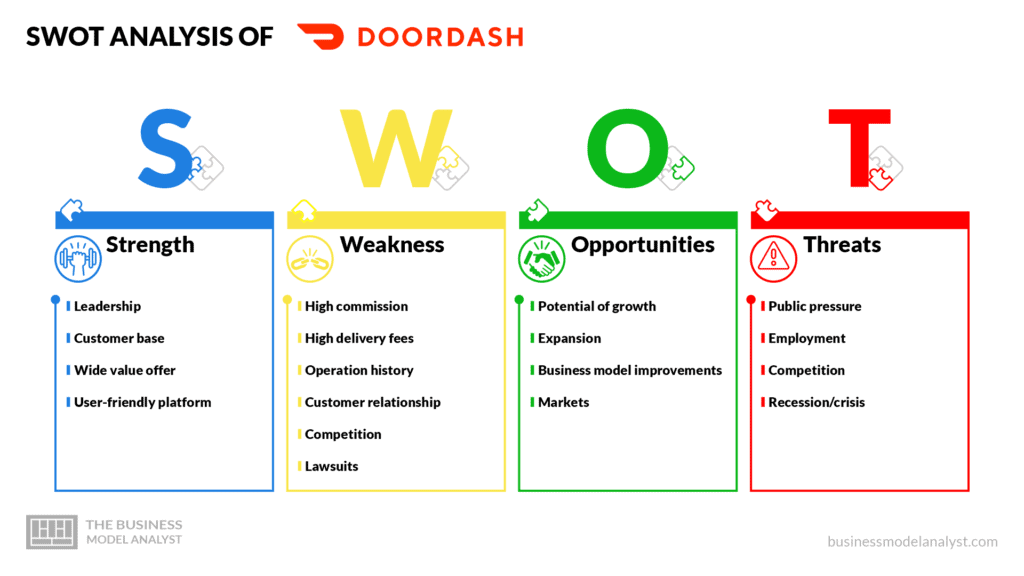 DoorDash's Strengths
Leadership: Leading marketplace in both online food delivery and convenience delivery businesses;
Customer base

: Large network with more than 450,000 restaurants, 20 million customers, and one million riders;

Wide value offer: Provision of different products to restaurant partners, besides food delivery, such as marketing, payment processing, and storefront;
User-friendly platform: Users can easily place orders with an intuitive app or website.
DoorDash's Weaknesses
High commission: Plans are expensive for its partners, especially the small businesses, since it starts from 15% of commission, and they can reach up to 30%;
High delivery fees: Compared to its competitors, delivery costs can be pretty costly for users;
Operation history: DoorDash has less than 10 years in the market;
Customer relationship: The marketplace faces canceled orders and unsolved customer complaints on a daily basis;
Competition: Strong players in a market with very low switching costs;
Lawsuits: Multiple proceedings and lawsuits regarding merchant acquisition, quality control, and dasher relationship.
DoorDash's Opportunities
Potential of growth: DoorDash can grow further beyond its locations, both inside the current countries and to others;
Expansion: The platform can grow its partner network, mainly if it lowers the commission costs;
Business model improvements: Since it is a young company, it can reduce losses and improve quality to enhance profit;
Markets: The company can grow beyond the current delivery services, into other logistic segments.
DoorDash's Threats
Public pressure: The company still faces lawsuits and litigation risks as a result of pressure to legalize its drivers as employees;
Employment: If the company is forced to turn its drivers into full-time employees, the costs will significantly be affected;
Competition: Despite the leadership, the threat of strong competitors and even new entrants remain;
Recession/crisis: There is always the risk of facing net losses due to financial crises or recession.
Conclusion
With focus and investments in logistics and operating systems, DoorDash has become the top representative of food and convenience store delivery services. And, according to the company's speakers, DoorDash has the intention to expand aggressively into delivery markets. That can be seen as the brand is utilizing, investing, and even making acquisitions considering top technology, like self-driven cars, that may soon be employed in its business model.