DJI Business Model can be described as Direct-to-Consumer as it sells its manufactured drones directly to its customer through its own channels.
Not so long ago, drones, at least the ones that are common nowadays, were seen as a curious hobby. Currently, this technological device has been used all over the world, in better, faster, smaller, safer, and cheaper versions.
DJI (which stands for Da-Jiang Innovations) is the leader of the industry on the planet. The drone manufacturer is based in Shenzhen, the "Silicon Valley" from China, and encompasses approximately 70% of the drone market, which allows DJI to steadily innovate its production.
A brief history of DJI
As with most of the startup stories, DJI's history goes back to its founder's university dorm room. Frank Wang started to develop his passion – which would later become his empire – in 2006 when he studied at Hong Kong University of Science and Technology.
After graduating, he moved the startup to Shenzhen, by investing his remaining scholarship money. But his first commercial drone, Phantom 1, would be released only in 2013.
With heavy investment in software and hardware components, an advanced GPS system, and the creation of its Lightbridge transmission system, DJI was able to deliver a faster, better, and even easier-to-fly product, when compared to its competitors.
Its GPD system could finally determine the precise position of the drone in the air, giving the pilot more control. And the Lightbridge technology would permit footage to be recorded at long distances, benefiting the photography and videography industries. The footage could be followed live, in HD quality, from a smartphone.
With the Phantom 2 series, DJI extended the range and battery life, avoiding so frequent landings. Later on, the Phantom 3 series would integrate GLONASS, the Russian versions of GPS, enabling drones to connect to more satellites, improving position accuracy, and also introduced the DJI Go App, which provided access to the drone's camera settings and flight controls.
Phantom 4, in its turn, introduced a new gimbal that supported the camera on both sides, ensuring more stability, providing vibration-free footage, and also an obstacle avoidance system, to make the drone stop or move around objects in its path.
Besides the Phantom series, DJI also released Mavic Pro, a foldable and compact drone, that would become the most popular consumer drone in the world and, afterward, the smallest drone ever, the 300-gram Spark.
All over its history, DJI has released innovative drones, with better range, camera, battery life, flight performance, and pilot control. Its latest release was Mavic Air, a powerful accessible consumer drone that would solidify its leading position as a dominant empire in the industry.
DJI mission statement
To be a technology company that continues to promote human progress, a pioneer in the era of space intelligence, and to let the beauty of technology exceed imagination, since life without reflection and progress is not worth living.
How DJI makes money
First things first: manufacturing drones is not a simple task. It actually demands deep knowledge and mastery over the production, which includes processes that require precision machining, and high-degree engineering and tooling.
DJI was able to achieve a high level of quality while keeping low costs, especially due to the fact that the company has been able to find skilled labor and use the same technology platform both for consumer and enterprise solutions, resulting in cheaper and faster launchings.
Besides that, it is important to highlight that DJI has indeed invented its own market. Because DJI developed every feature of its solutions: stabilization mechanisms, flight control systems, motors, cameras, software, etc.
Industries that have never used drones – and maybe have never thought of doing it – found out they actually needed those brand-new solutions that they have not even known of. Filmmaking, photography, anthropology, rescuing, military, real state, agriculture, zoology, among others, are now able to check and/or register its focuses of attention remotely.
DJI's product range includes drones, cameras, camera stabilizers, gimbals, accessories, systems, and software. Its revenue comes from all the markets in the globe, distributed as 30% from Asia, 30% from the USA, 30% from Europe, and the last 10% among Latin America and Africa. In the early years, DJI saw its sales increase around 3 or 4 times every year. Its annual sales are estimated at $3 mi and its valuation over $8 bi.
DJI business model canvas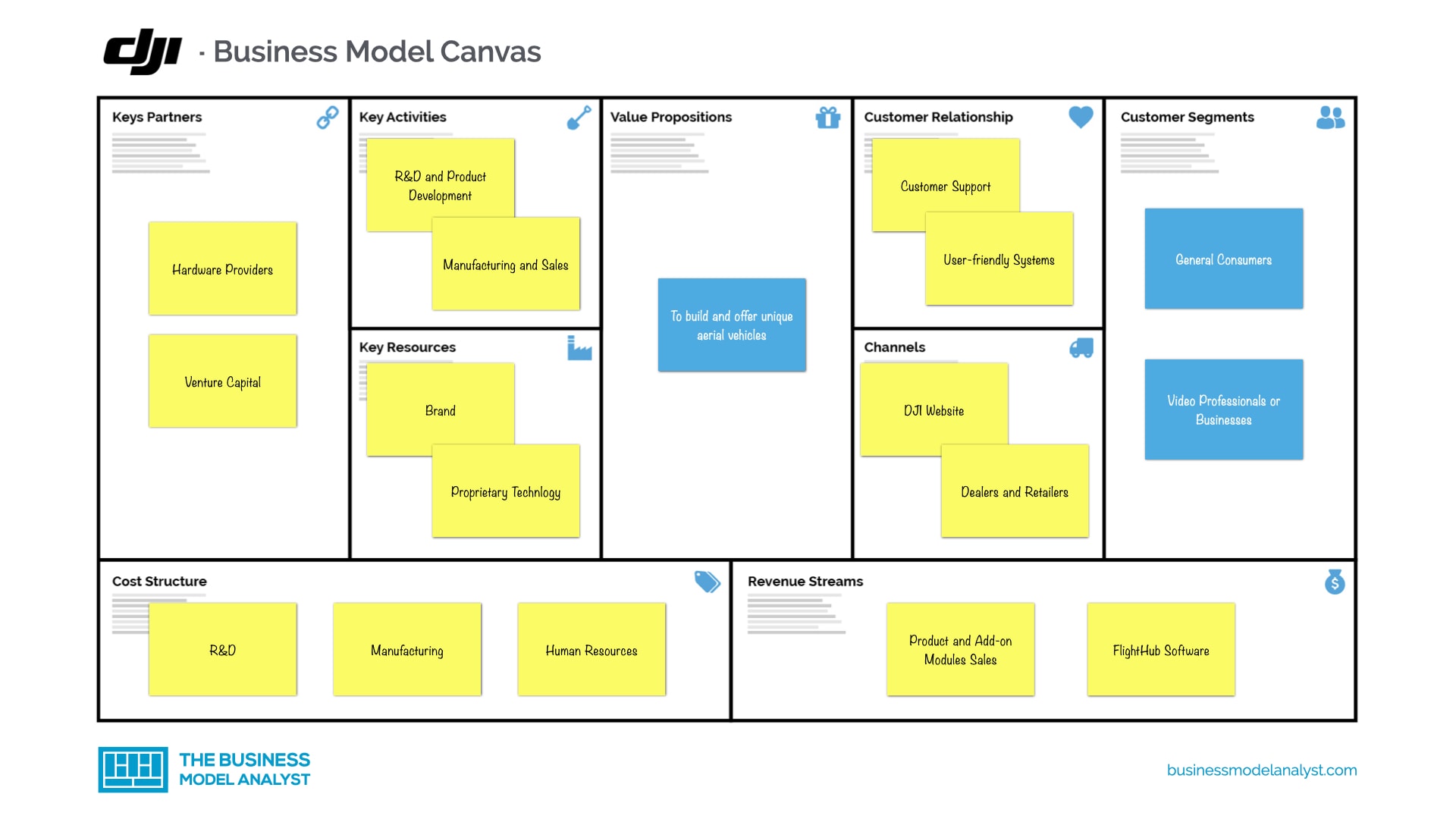 Download High-Resolution PDF of the DJI Business Model Canvas
DJI customer segments
General consumers, military organizations, professionals, and businesses. Virtually anyone who wants to record photos or videos from long distances.
DJI value proposition
To build and offer unique aerial vehicles, in order to provide the best solutions regarding drone operations.
DJI channels
DJI dealers and retailers
Website
Online stores
YouTube
Media
Newsroom
Events
DJI customer relationships
Customer support
B2C
B2B
User-friendly systems
DJI revenue streams
Products sales, add-on modules, repair service, and FlightHub Software Plans (starting at $99).
DJI key resources
Brand
Proprietary Technlogy
Human resources, with high-level engineers and developers
Network of dealers and resellers
FlightHub's cloud platform
Supply chain processes
DJI key activities
R&D
Product development
Manufacturing
Design
Engineering
Sales and after-sales
Data securitization
DJI key partners
Hardware providers
Venture capital firms
E-commerce
Suppliers
Dealers
DJI cost structure
R&D
Manufacturing
Administration and operations
Sales and after-sales teams
E-commerce and affiliates commission
Components
Taxes
DJI competitors
PowerVision: specialized in UAV-related products, robotics, and big data.
DroneDeploy: provider of cloud-control software for drones.
Skycatch: specialized in technology to autonomously capture, process, and analyze 3D drone data.
3D Robotics: focused on developing and selling secure UAV hardware solutions for the government and other security customers.
DJI swot analysis
Strengths:
First Mover Advantage – As mentioned before, DJI has practically created its own markets, being the first mover in many customer segments.
Intellectual property – DJI has incontable patents and copyrights, thus blocking some competition's moves
Strong Balance Sheet – DJI's financial situation enables investments in new projects that can diversify the revenue streams.
Business Environment – DJI manages numerous regulations and governmental policies by building strong relationships with lobby groups and political networks.
High Margins – DJI's profitable business model ensures resources for innovation, research, and development.
Strong Brand and Reputation – DJI's products have reputation for being the best, which keeps attracting new customers.
Supply Chain – DJI has a strong relationship with its suppliers, allowing the company to offer a wide range of products and prices.
Connection to drone filmmaking community – DJI has a close and strong relationship, cultivating a community of loyal aerial creatives.
Weaknesses:
Customer Dissatisfaction – many reviews on online platforms show that there is a sense of dissatisfaction among DJI's customers. The company needs to improve the after-sales experience and customer support.
External stakeholders – DJI's project management is focused on internal delivery and misses considering the interests of external stakeholders, which can lead to poor public relations.
New adopters – most lists with the cheapest drones for beginners do not include DJI's products.
Social media – DJI's profiles on Facebook and Instagram's content are mainly advertisement and company-generated posts. The interaction with its customers is not effective on those platforms.
Opportunities:
Increasing Standardization – DJI can reduce the product range and focus only on the most successful and profitable offers.
New Markets – DJI can always explore new industries and segments, such as mining, science, education, and showbiz.
International Markets and Human Resources – globalization, digital marketing, and social media have facilitated entry in any international market, as well as the internet, has enabled access to international talents.
AI – DJI can leverage artificial intelligence to predict consumer demand, besides lowering costs and transforming processes.
Threats:
Regulations – the rules are certainly strict regarding objects in the sky, even in civilian fly-zones. These regulations may limit future developments. There is also pressure from some protest groups when it comes to environmental and labor safety aspects.
Privacy – drones are somewhat seen as privacy invaders, that is why some people are against the technology.
US-China Trade Relations – the growing tension between the two countries can lead to protectionism and more friction in international trade.
Despite its weaknesses and possible threats, DJI has shown no signs of slowing down. On the contrary, with countries like India allowing commercial drone operations associated with DJI's investments in UAV technology and camera gear, the tendency is for us to watch an evolution of drone technology and consequent expansion of the leader's presence in the world.