Ever since Disney business model created the cartoon character Mickey Mouse, the company has become a household name in cinematic experiences around the world. The Walt Disney Company, popularly known as Disney, headquartered at the Walt Disney Studios complex in Burbank, California, is a diversified family entertainment and media conglomerate that includes Disney Parks, Experiences and Products; Disney Media and Entertainment Distribution; and four content groups — Studios, General Entertainment, Sports, and International.
A brief history of Disney
Walt Disney made a cartoon in Kansas City about a little girl in a cartoon world called Alice's Wonderland. He arrived in California in the summer of 1923 and contracted a distributor named M.J. Winkler to distribute the "Alice Comedies" on October 16, 1923, and that date became the start of the Disney Company.
The company had Walt Disney and his brother Roy as equal partners in the new company, which was originally named Disney Brothers Cartoon Studio. The name was later changed to the Walt Disney Studio, at the suggestion of Roy.
After making a huge success of Alice Comedies, he created Oswald the Lucky Rabbit in 1927. Within a year, he made 26 Oswald cartoons, which were also a success but presented an ownership rights challenge between him and his distributor. In 1928, while on a train headed to California, he came up with the idea of a mouse character, which was later named Mickey Mouse. With the 1928 release of Steamboat Willie, a cartoon star, Mickey Mouse was born. The new character was immediately popular and went on to become one of the most recognizable cartoons in history.
Afterward, the Walt Disney Company has gone on to produce dozens of very popular films and has evolved into a media conglomerate. And, for over nine decades, it has continued to remain preeminent in the family entertainment industry.
Who Owns Disney?
Disney was founded by two brothers, Walt and Roy Disney, and they both owned equal shares. Currently, it is a publicly-traded company, hence, it is owned by several shareholders. The largest shareholder in the company is Vanguard Group Inc., which owns 137.8 million shares, amounting to about 7.6% of the company. According to Business Insider, the Disney family currently owns less than 3% of the Disney Company.
Disney's Mission Statement
"To entertain, inform and inspire people around the globe through the power of unparalleled storytelling, reflecting the iconic brands, creative minds, and innovative technologies that make ours the world's premier entertainment company".
How Disney makes money
The Walt Disney Company is a diversified family entertainment and media enterprise. It has five business segments: Media Networks, Parks and Resorts, Studio Entertainment, Consumer Products, and Interactive. All of these individual segments are money spinners for the company. We shall now take a look at how the company generates income from them individually.
Interactive
This segment covers Disney's online games and entertainment. This included the production and distribution of multi-platform games, licensing of game content, and the creation of branded online services. Revenues from this segment were generated through the sale of games;  subscription to online and mobile games; and online advertising and sponsorships.
Consumer Products
This is a segment and subsidiary that deals in merchandising of the Disney brand and Disney properties through its many Disney Parks, local and international retailers, e-commerce platform as well as Disney store locations around the world. This segment generates revenue through the sale of consumer products — from toys to t-shirts, books, console games, and more —, and licensing of characters from Disney films to third parties.
Studio Entertainment
The studio entertainment segment is where the Walt Disney Studios belong. The Walt Disney Studios has been the foundation on which The Walt Disney Company was built. The studio delivers quality movies, music, stage plays, and episodic storytelling throughout the world. The Walt Disney Studios comprises: Disney, Walt Disney Animation Studios, Pixar Animation Studios, Marvel Studios, Lucasfilm, 20th Century Studios, and Searchlight Pictures. This segment generates revenues through the distribution of films to theaters, homes, and television markets globally; distribution of recorded music; stage play tickets; and licensing revenues from live events.
Parks and Resorts
Disney Parks and Resorts include the Disney theme parks, resort hotels, water parks, dining, conference centers, and other recreational facilities. In 2020, the United States' Magic Kingdom (Walt Disney World) was visited by nearly seven million people, making it the most visited amusement park worldwide. This segment also runs the Disney Cruise lines and vacation club. Revenue is generated through: admission fees to theme parks, payments for cruise vacations, sales of food and merchandise, and fees for hotel rooms.
Media Networks
This segment accounts for Disney's various cable networks such as ESPN, ABC Family, and Disney Channels. The company also owns television production operations, television distribution, and radio networks. Revenues within the media network segment are generated through advertising fees, affiliate fees charged to their various media services, and the sale and distribution of television programming.
Disney's Business Model Canvas
The Disney Business Model can be explained in the following business model canvas: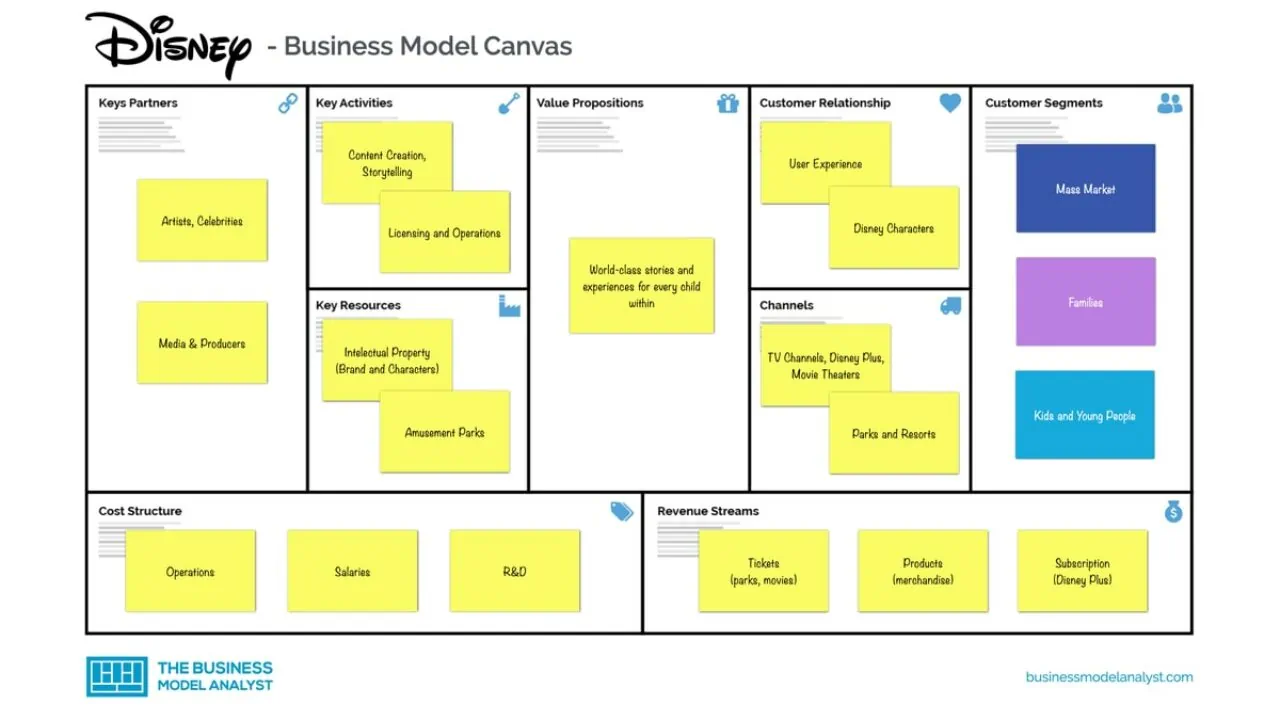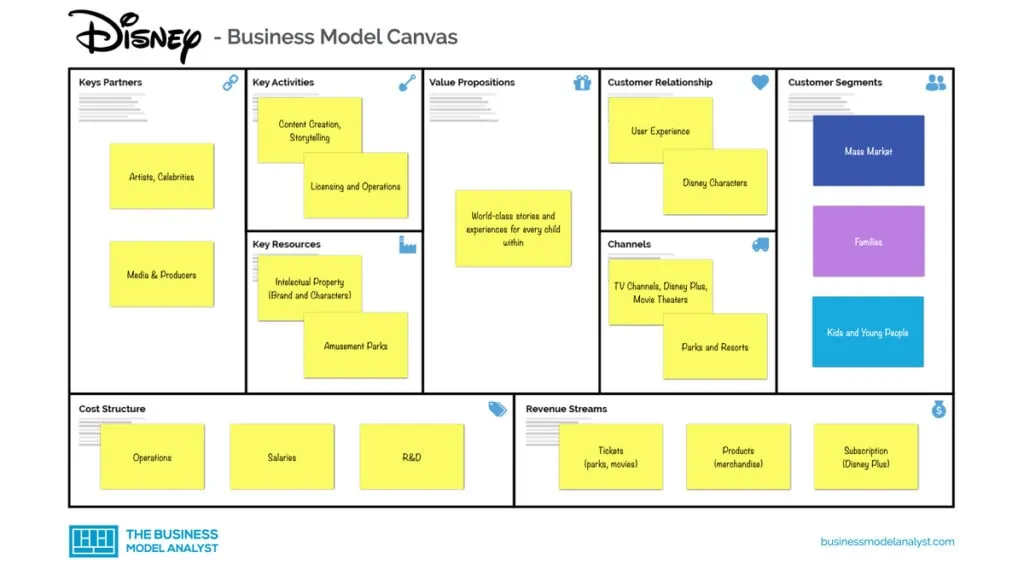 Disney's Customer Segment
Disney's customer segments are broadly divided into three:
Mass Market: People who seek leisure and entertainment;
Families: Families who seek family-friendly entertainment;
Kids and Young People: Young people seeking relatable entertainment and information.
Disney's Value Propositions
Disney's value propositions for each of its customer segments are as follows:
Mass Market: World's leading producers and providers of entertainment and information;
Families: Creating world-class stories and experiences for every member of the family;
Kids and Young People: Market more matured content than is typically associated with its flagship family-oriented brands.
Disney's Channels
Disney uses multiple distribution channels to reach its customers. They include:
TV Channels
Subsidiaries and Affiliates
Social Media
Movie Theaters
Music Industry
Website
Online
News
Parks and Resorts
Disney's Customer Relationships
Disney has built its customer relationship on the foundation of Safety, Courtesy, Show, and Efficiency through:
User Experience
Brand Awareness
User Community
Celebrities
Popularity-Trending
Disney's Revenue Streams
Their revenue streams include:
Sales of Merchandise
Movies revenue
Advertising
Park Entrances
Subscription
Disney's Key Resources
Disney's key resources comprise both tangible and intangible assets.
Intellectual Property
Media Networks
Brands Portfolio
Studio Entertainment
Brand Awareness
Disney's Key Activities
Disney's activities are created to ensure entertainment for their customers.
Content Creation
Branding
Marketing
Licensing
Operations
Market research
Disney's Key Partners
Disney's key partners are an integral part of their business success.
Artists
Investors
Suppliers
Celebrities
Affiliates
Media
Producers
Disney's Cost Structure
Disney's cost structure comprises:
Administration and Operations
Salaries
Marketing
Content development
Technologies
Acquisitions
Legal
Disney's Competitors
CBS: Produces and distributes content on different platforms to global audiences;
Time Warner Inc.: They engage in the provision of filmed entertainment, cable network, and publishing work;
Lionsgate: They provide film production services, video entertainment, broadcast programming, and digital distribution;
Sony Pictures: They started as a tech company, but then diversified to the media and entertainment, gaming music, and motion pictures businesses;
Netflix: Netflix is a streaming service that offers a wide variety of award-winning TV shows, movies, anime, documentaries, and more on thousands of internet-connected devices.
Disney's SWOT Analysis
Below, there is a detailed swot analysis of Disney: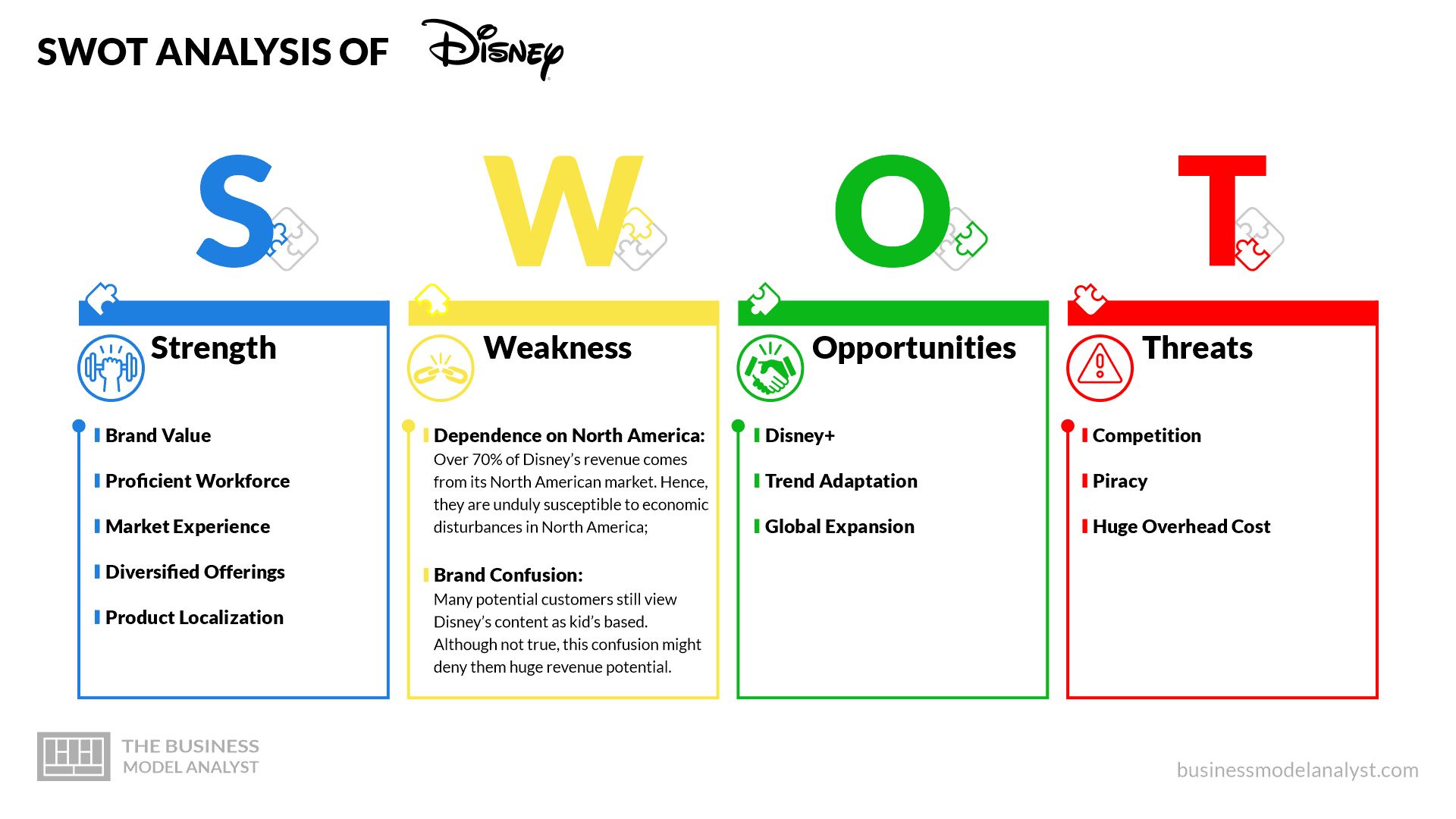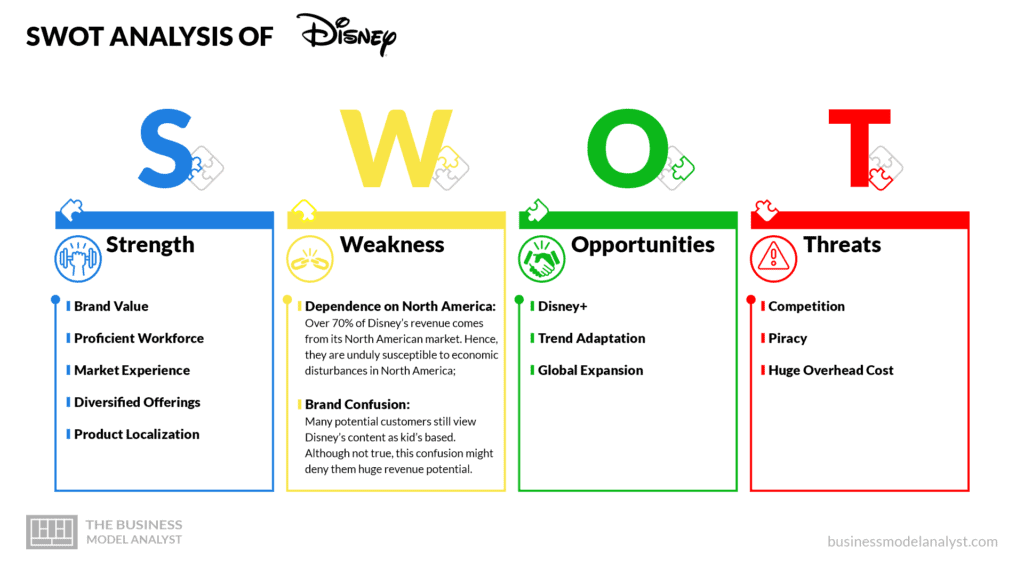 Disney's Strengths
Brand Value: The Disney brand name and logo have been in existence for nine decades and are easily recognizable worldwide. According to Forbes world's most valuable brands list, Disney is ranked at number 8 position and its brand value is estimated to be $52.2 Billion;
Proficient Workforce: Disney's workforce creates magic. They have extremely creative teams consisting of artists, story scriptwriters, and graphic designers;
Market Experience: Disney has had years of experience experimenting with different market approaches and knows what works and what does not work. They have also acquired many other studios over the years through mergers, giving them a robust presence in the market;
Diversified Offerings: Unlike some of its competitors, Disney offers a wide variety of products and services through its operations under several business segments in which it operates;
Product Localization: Though a global enterprise, Disney adapts its programs to meet the expectations of local consumers. Many of their theme parks and resorts tend to contain local content.
Disney's Weaknesses
Dependence on North America: Over 70% of Disney's revenue comes from its North American market. Hence, they are unduly susceptible to economic disturbances in North America;
Brand Confusion: Many potential customers still view Disney's content as kid's based. Although not true, this confusion might deny them huge revenue potential.
Disney's Opportunities
Disney+: Disney+ is the company's online streaming service, providing direct-to-customer service. It will feature lots of Disney's content, and it will serve as an alternative to Amazon Prime Video and Netflix;
Trend Adaptation: Disney's content is trendy, and they are constantly searching for new ways to make their content and resorts appeal to all demography;
Global Expansion: Disney is a brand with easy recognition globally. This presents an immense opportunity for them to expand the line of their businesses to other parts of the world where they are currently absent.
Disney's Threats
Competition: Disney's operations are in industries with intense competition like media, news, and entertainment. They face both local and international competitors which are eating into their potential revenue base;
Piracy: Pirated contents are now widely and readily available for a fraction of the original price, or even sometimes totally free. This poses an immense challenge for creative content producers like Disney;
Huge Overhead Cost: Disney has a huge workforce that has to be maintained. With rising global wage bills, Disney could end up with lower profits.
-> Read More About Disney's SWOT Analysis
Conclusion
The Disney brand has proven to be a very stable brand name in global infotainment. They continue to innovate on their content and spread their coverage to new places. From a humble beginning, they have grown into an iconic brand, warming its way into the hearts of millions of its customers around the world.