Discord is a social media platform which is headquartered in California and provides a wide range of communication services, such as text messaging, voice-over-Internet Protocol (VoIP) services, video call services, and so on. The company initially started as a niche product within the online gaming community, but has since grown to encompass an even more comprehensive range of popular communities. Let's take a look at the platform's history, how the Discord business model makes money, and the platform's strengths, weaknesses, opportunities, and competitors.
A brief history of Discord
Discord started off as the brainchild of Jason Citron and Stanislav Vishnevskiy, two seasoned veterans in the world of online gaming. Citron founded OpenFeint in 2009, a software development kit that was available on iOS and Android mobile devices and allowed players to integrate social networking features into the functionality of various games. Vishnevskiy on the other hand founded Guildwork, a social network service with web hosting capabilities.
The idea for Discord came to Citron during the development of his next project after OpenFeint, which he sold in 2011 for $104 million. Using these proceeds, he founded a game development studio named Hammer & Chisel. During the development of various projects under the company, Citron noticed specific inadequacies in the current VoIP services offered to players.
This led them to develop a pilot service, a chat service focused on creating player-centric features like usability, while still maintaining overall functionality. This service was publicly launched in May 2015 and was called Discord because it apparently sounded "cool" and had "something to do with talking". However, the name turned out to be quite fitting, since the platform was designed to solve the problem of "discord in the gaming community".
Despite the background of its founders and the problem they sought to solve, the company was initially not touted as a service designed specifically for the gaming community. According to Citron, the association between the platform and the online-gaming community developed when a subgroup of gamers on Reddit started using the platform as a chat forum.
This was further reinforced by the fact that they also developed a significant relationship with users of the video game live-streaming service, Twitch. This led to the increased popularity of the platform among the community and its reputation as a "gamer" social network, with the service being used extensively during online gaming tournaments.
As the company grew, it opened its door to funding from outside investors, including an early $20 million investment by Warner Media. Subsequent funding for the company came through a series of funding rounds in April 2018 which attracted significant investment from well-known venture capitalists such as Tencent, Spark Capital, IVP, Index Ventures, and Benchmark. This initial funding round raised $50 million and cemented the place of Discord as a burgeoning tech company within the community.
Other significant rounds of funding raised $150 million, $100 million, $3.3 million, $500 million, and $10.9 million. This involved popular companies both inside and outside the online gaming community like Sony Interactive Entertainment, Greenoaks Capital, Technology Opportunity Partners, the Dragoneer Investment Group, and so on. The total funding raised by the company was nearly $1 billion.
Aside from the solid financial investment the company enjoyed, it also developed strategic partnerships to bolster its role within the industry. Some of these include:
A partnership with Microsoft which allowed players to link their Discord and Xbox Live accounts, allowing them to communicate with their Xbox Live friends through Discord;
The company partnered with YouTube to create a "Watch Together" feature, which enables different Discord users to view YouTube videos together;
A partnership with Spotify allows friends to share their Spotify information, and playlists, and even listen to music together.
They also acquired several companies such as Sentrop Technologies (a machine learning-powered tool that helps moderate online communities to avoid hate speech and harassment), Ubiquity6 (a San Francisco-based company that is involved heavily in augmented virtual reality technology, especially within the world of online gaming) and Blitz app (an AI-powered personal gaming system which was designed and built by professional gamers).
The platforms saw steady growth over the years, but saw a sharp rise in both valuation and the number of users due to several advantageous factors. First of all, their strategic partnerships and acquisitions had put them in a favorable position within the market. Also, the platform saw an influx of new users in 2020 due to the onset of the COVID-19 pandemic as well as in mass exodus of users from several other social media platforms like Facebook over concerns about privacy and user data miss management.
In the aftermath of this rapid rise in users, the platform started to make concentrated efforts to move away from the image of a gamer social media platform and encompass more communities such as hobbyists, business communities, content creators, and so on. This was estimated to have grown the number of daily active users on the Discord platform to over 20 million unique visitors in 2020.
Who Owns Discord
The Discord company is currently owned by co-founder and CEO Jason Citron.
Discord's Mission Statement
According to the platform, "Discord is about giving people the power to create space to find belonging in their lives. We want to make it easier for you to talk regularly with the people you care about. We want you to build genuine relationships with your friends and communities close to home or around the world. Original, reliable, playful, and relatable. These are the values that connect our users and our employees at Discord".
How Does Discord Work?
As we mentioned earlier, Discord is a social media platform that is designed to support communities that can communicate through VoIP services, chat rooms, video calls, as well as other exclusive content. These systems are available on Android, iOS, and PC devices, as well as major gaming consoles and platforms such as Xbox and PlayStation.
Though Discord offers some paid features, the basic platform is free. To understand the platform, we must look at some of its key features as well as the infrastructure, hierarchy, and terminologies used on the platform.
Server: The definition of the word server on the Discord platform differs from its usual meaning in the world of computing. Servers on Discord do not refer to any physical or online resource, but rather a community within the platform where users can communicate via text or voice options known as channels.
Servers may range from small invitation-only chat rooms consisting of a few friends and a single text channel to large public spaces with thousands of members supporting many voice, text, and video channels. Access to a private server is usually shared by sending an invitation link that is unique to that particular server, but anyone can join a public server simply by clicking on the link.
Channel: Due to the potential size and versatility of a Discord server, the platform is organized into various dedicated communication media known as channels. A channel could be a text channel, a video call channel, or a VoIP.
On the Discord platform, a channel is simply a dedicated medium within a server through which players can communicate one on one or with all members of the server on specific topics.
For example, a Discord server about cryptocurrency may have separate text channels dedicated to popular crypto projects like Bitcoin, Ethereum, Solana, and so on, as well as a VoIP channel where members discuss the latest news in the world of cryptocurrency and blockchain technology. So in a nutshell, a collection of channels makes up a Discord server.
Typically, a single user is allowed to join 100 servers and its server can hold up to 500,000 members. The platform in its original form served as a means for online gaming enthusiasts to communicate while gaming and when they wish to discuss the latest events within the world of online gaming. Diverse text channels can be organized into categories and have robust messaging systems, which make them ideal for live communication.
Also, the VoIP services offered by the discord platform are miles ahead of that offered by any other system. While the platform also offers video chat services, instead of competing with well-entrenched players within the industry like Twitch, it has partnered with the platform to encourage Twitch players to communicate through discord servers even while live streaming.
How Discord makes money
Now that we have taken a look into the Discord platform's history and how it functions, it's time to explore its finances and how this business turns a profit.
Premium Model Subscription Fees
While the core features of the Discord platform are offered to users for free, there is also a premium model which allows members to take advantage of additional functionality and greater server efficiency for a subscription fee. The subscriptions are based on each price-tier system, with Discord Nitro Classic costing $4.99 per month, while Discord Nitro costs $9.99 per month.
Some of the advantages of the premium model include faster upload times, a larger upload limit, HD video chat options, as well as a greater degree of avatar and emoji customization. These benefits are encompassed in packages known on the platform as "server boosts".
Discord Store
The discord platform initially released a game distribution service that sold exclusive games to members. However, following the failure of the service to meet expectations, they decided to pivot and instead partnered with game developers to allow them to market their games on the discord platform in exchange for a 10% commission known as the distribution fee.
Discord Merchandise Store
The company also operates an e-commerce platform where they sell a wide range of merchandise including clothing, gaming goods, collectibles, keyboards, and other accessories.
In-app Purchases
The core functions of the platform are all free, but users can choose to purchase additional features such as emojis and stickers.
Ticket Sales for Virtual Events
The platform is currently testing a new feature that allows them to sell virtual tickets to live events that are hosted by server moderators in various concentrators on the platform.
Funds and Investments
A significant amount of the income from the company came from various rounds of funding which raised a total of $995.4 million and was last held in March 2022.
Is Discord Profitable?
The company currently boasts 300 million registered members, with over 150 million active users. The company was valued at $15 billion in 2021 and posted an annual revenue of $130 million in 2020 (representing a 188% year-on-year increase). It recently reached a new record of 10.6 million concurrent users and made an estimated revenue of $300 million in 2021, showing a continuation of its strong growth trend.
Discord's Business Model Canvas
Let's take a look at the key components of the Discord business model by analyzing its Business Model Canvas.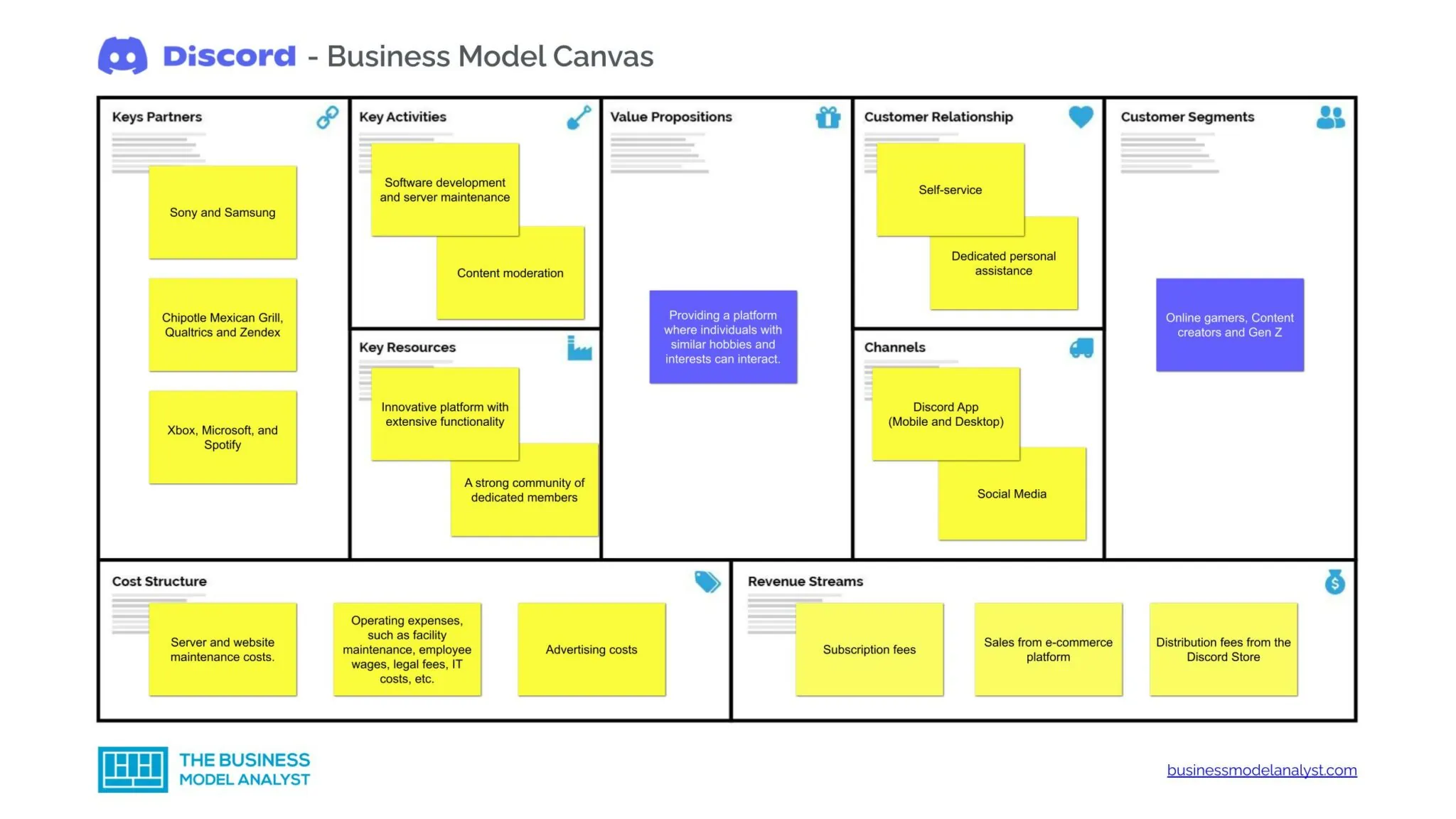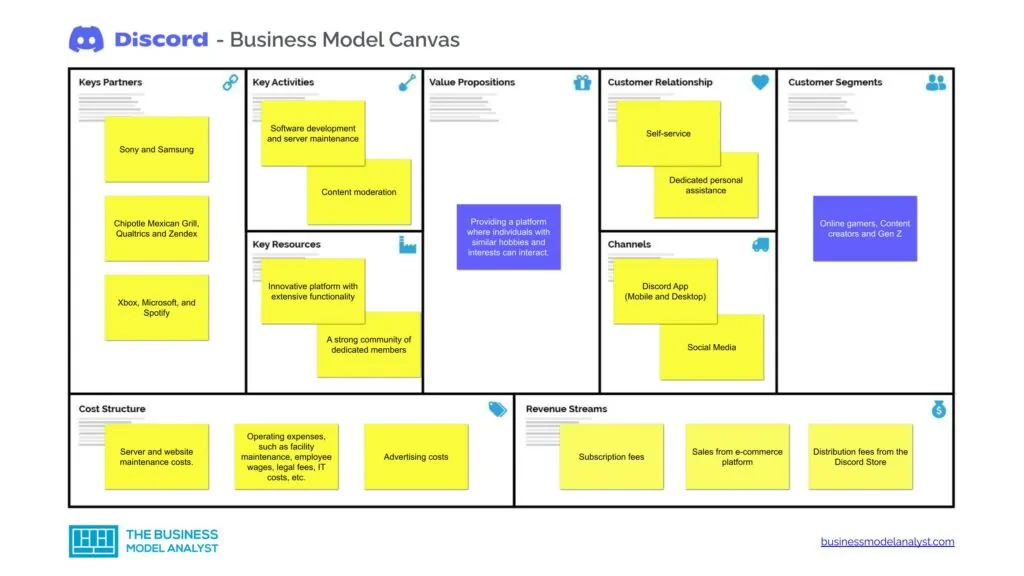 Discord's Customer Segments
Discord customer segments consist of:
Online gamers
Hobbyists
Content creators
Tech-savvy individuals
Discord's Value Propositions
Discord value propositions consist of:
Providing a platform where individuals with similar hobbies and interests can interact using the best available online communication technologies and services.
Discord's Channels
Discord channels consist of:
Discord app
Website
Customer service
Social media platforms
Marketing campaigns
Google Play Store
iOS App Store
Discord's Customer Relationships
Discord customer relationships consist of:
Self-service
Social media marketing
Content marketing
Dedicated personal assistance
Customer feedback solicitation
Discord's Revenue Streams
Discord revenue streams consist of:
Subscription fees from Discord Nitro Classic and Discord Nitro
Sales from e-commerce platform
Distribution fees from the Discord Store
Various rounds of funding and investment
In-app purchases
Discord's Key Resources
Discord key resources consist of:
Innovative platform with extensive functionality
Large market share
A strong community of dedicated members
Discord's Key Activities
Discord key activities consist of:
Software development
Research and Development
Marketing and advertising
Content moderation
Human resource management
Customer services
Server maintenance
Discord's Key Partners
Discord key partners consist of:
Sony Interactive Entertainments
Samsung Electronics
Chipotle Mexican Grill
Qualtrics
Zendex
Xbox
Microsoft
Spotify
Discord's Cost Structure
Discord cost structure consists of:
Server and website maintenance costs;
Operating expenses, such as facility maintenance, employee wages, legal fees, IT costs, etc.;
Research and Development.
Marketing and advertising costs;
Discord's Competitors
Let's take a look at some of the top competitors of the Discord platform.
Slack: Slack is an instant messaging service which is operated by Slack Technologies. The platform allows members to communicate through text messaging, voice calls, and video calls, as well as exchange media and files. These conversations can take place in communities (referred to on the platform as workspaces) or within exclusive chats.
The system was designed primarily to facilitate communications between professional organizations, but has also found widespread popularity in many other communities. Currently, the platform has over 20 million active users and is used by over 65% of Fortune 100 companies.
Skype: Skype is a household name within the world of telecommunications. The platform is owned by Skype Technologies, a division of Microsoft, and is a leader in the areas of teleconferencing, voice calls, and video telephony. They cater to a variety of customers, including desktop, mobile device, and video game console users.
The platform was kicked off in 2003 by a diverse team of entrepreneurs and was purchased by eBay in 2005 for $2.6 billion, before being subsequently taken over by Microsoft in 2011 after paying eBay $8.5 billion. The platform initially struggled to gain traction, but saw a massive increase in usage during the 2020 COVID-19 pandemic. The platform is used by an estimated 40 million people a year, making it incredibly popular.
TeamSpeak: TeamSpeak Systems is a voice-over-Internet protocol server that allows users to communicate through a chat channel, which is akin to teleconferencing. It was founded in 2001 by TeamSpeak Systems GmbH and is currently running on the 3.5.6 version, which was released on November 25, 2020.
The software is currently compatible with macOS, iOS, Linux, Microsoft Windows, Android, and FreeBSD. The service is targeted primarily towards the online gaming community and serves as a channel through which team players can communicate during play. The platform has a small but loyal following who are mainly interested in the privacy, security, and better voice quality that TeamSpeak offers.
Microsoft Teams: Microsoft Teams is a popular alternative to the Discord platform and offers a proprietary communication service as part of the larger Microsoft 365 suite of tools. Your office text messaging, videoconferencing, file sharing, and media storage services to users.
Though the platform is technically a sister to Skype Microsoft Classrooms (which are both technically owned by the Microsoft Corporation), it focuses more on offering its services to businesses and other professional bodies. It is designed in such a way to allow users to be arranged into Teams, within which the various members can communicate via Team Channels.
Discord's SWOT Analysis
Let's now examine a detailed swot analysis of Discord business model.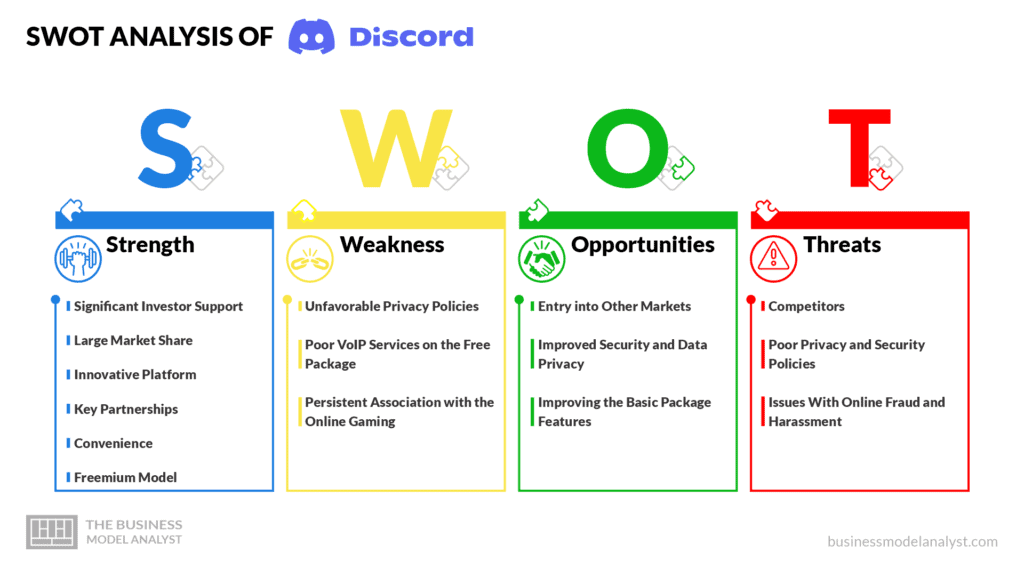 Discord's Strengths
Significant Investor Support: Strong financial support from investors during various rounds of funding;
Large Market Share: Popularity and greater market share made up of loyal users;
Innovative Platform: Innovative technology with a beautiful, easy-to-use interface and abundant social features, and strong developers;
Key Partnerships: Strategic formal and informal partnerships within the business world;
Convenience: Utility and interconnectivity with a number of other platforms. For example, Twitch, Xbox, Steam, and Spotify integration;
Freemium Model: The free basic package offers a respectable amounts of features and functionality, which is adequate for most users;
Discord's Weaknesses
Unfavorable Privacy Policies: Some users have complaints over the privacy policy of the discord platform, with worries over how the data is being stored and utilized without explicit consent. To allay these fears, the platform has claimed that it is not monetized user data. However, it has admitted to investigating private user chats and even providing these chats to law enforcement;
Poor VoIP Services on the Free Package: Some users have questioned the quality of the voice-over-Internet Protocol services offered by the Discord platform. Even though the service offers high-quality calls, these are usually only available on the paid versions;
Persistent Association with the Online Gaming: espite the best efforts to expand beyond the online gaming community, the platform is still heavily associated with that industry.
Discord Opportunities
Entry into Other Markets: Discord has invested significant resources in escaping their position as a communication platform for online gamers. However, they have not fully managed to tap into the broader market share, which includes a significantly larger number of potential communities and customers;
Improved Security and Data Privacy: Security and privacy updates would go a long way in improving the attractiveness of the platform;
Improving the Basic Package Features: Upgrading some features on the basic plan would make the software much more attractive to users.
Discord Threats
Competitors: The Discord platform is facing significant competition from several other key industry players. Failure to continuously innovate as well as maintain and increase its share of the markets may eventually lead to its failure;
Poor Privacy and Security Policies:Failure to update its privacy and security policies to meet the current preferences of users may pose a significant threat to the future of Discord platform;
Issues With Online Fraud and Harassment: Even though the platform places a key priority on security, the danger of online scammers and spamming threats cannot be eradicated entirely from the platform.
Conclusion
Discord is a force to be reckoned with within the world of online communication. Despite its beginnings as a social media platform exclusively for online gaming enthusiasts, it has developed significantly into a place where a large number of people with different interests can communicate easily within varied communities.
The service is definitely one to look out for in the coming years and is well on its way to becoming one of the most influential tech companies of the last decade. With its constant drive to innovate and the numerous projects that it rolls out regularly, it is almost certain that the platform will grow past its shortcomings and competitors to become an industry leader.