Businesses often fall into traps based on their current models or assumptions. What does the Crocs Business Model do well? Where should they focus their marketing efforts to maximize revenue?
Crocs sell foam clogs at a low price point because they want to bring consumers' attention to their quality. Consumers want to spend less on shoes, especially when it comes to fashion items such as athletic footwear. The company has also found success through social media marketing by posting pictures of its employees wearing its shoes.
Crocs share a fun, relatable message that encourages customers to join them in their journey toward being happier.
If you want to run a successful business, you must decide what kind of business model suits you best. Before launching your new venture, consider the pros and cons of each type of business and how they relate to your goals.
In this article, we will review the Crocs Business Model from its history, the owners, its mission statement, how they make money, and SWOT analysis.
A brief history of Crocs
The history of Crocs began in 2002 when Duke Hanson and George Boedecker Jr. started a small business called Crocs.
The idea came from a pair of Crocs that Duke's father bought for him. The boots were comfortable and durable, but he didn't like how they looked.
He wanted something with better style and design!
Crocs started out producing boat shoes. They created their first model, the Beach, in 2001 at the Fort Broward Boat Show in Florida, and the following year they produced 200 pairs of them. Since then, Crocs has sold 300 million pairs of its shoes.
The company launched its first shoe store in 2002. It opened its first retail location in 2003. In 2004, the company's sales grew to $100 million.
By 2006, Crocs had grown to over 1,000 stores worldwide. By 2007, Crocs was selling more than 2 billion pairs of shoes per year. That same year, Crocs became the largest manufacturer in North America, with $847 Million in sales annually.
Who Owns Crocs
Crocs was founded in 2002 by Lyndon "Duke' Hanson and George Boedecker Jr. to manufacture and sell a type of water boot designed for outdoor use.
Hanson is an entrepreneur who previously worked with Nike and Adidas. He met Boedecker Jr. while working at Nike. Together, they formed Crocs.
Boedecker Jr. was an entrepreneur, humanitarian, and the principal founder and creative force behind Crocs, Inc. He served on the board of directors and their Executive Chief Officer (CEO) from July 2002 until December 2004, during which time Crocs grew from an eight-person start-up to an industry giant.
Crocs' Mission Statement
Crocs' mission statement is simple yet really effective. The company wants to help people be happy.
It states that Crocs wants to provide people with happiness through high-quality products and services.
They believe that everyone deserves to feel good about themselves. Their job is to help others find joy in life by bringing comfort to customers' feet.
How Crocs makes money
Crocs make money by selling its products. They have two main ways of doing so, which have landed them great success on the international scene.
Retailers are companies that buy products wholesale and resell them to end users. Distributors are companies that buy products from manufacturers and resell them to retailers.
Distributors typically pay higher prices for products than retailers do. This means that distributors can charge more for their products.
Retail Sales
When Crocs sells direct to retailers, they pay a commission fee to those retailers. This commission can range anywhere from 5% to 15%.
Wholesale Distribution
Crocs also work with wholesalers to distribute their product. When they do this, they receive a percentage of the sale price.
Crocs' Business Model Canvas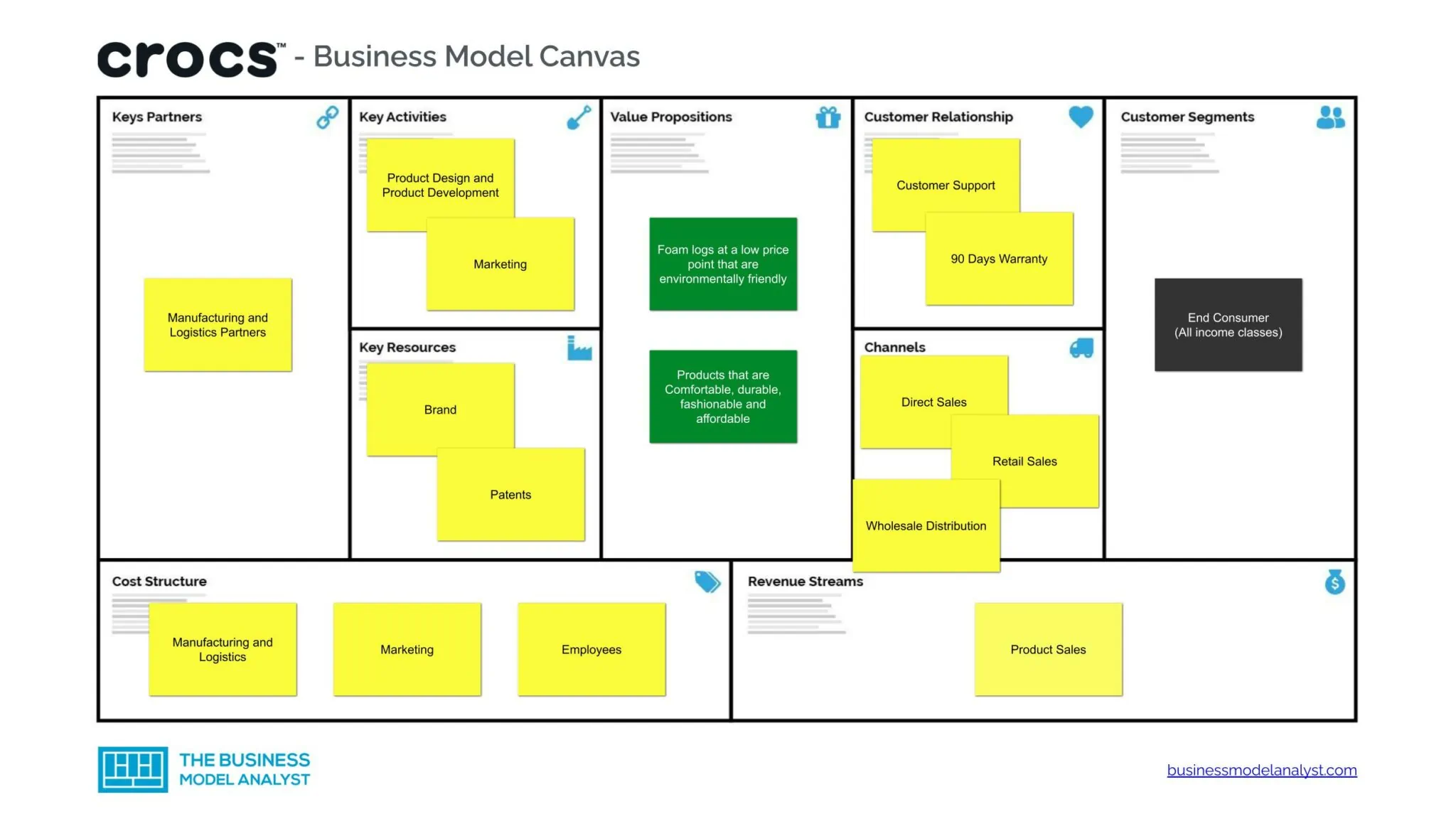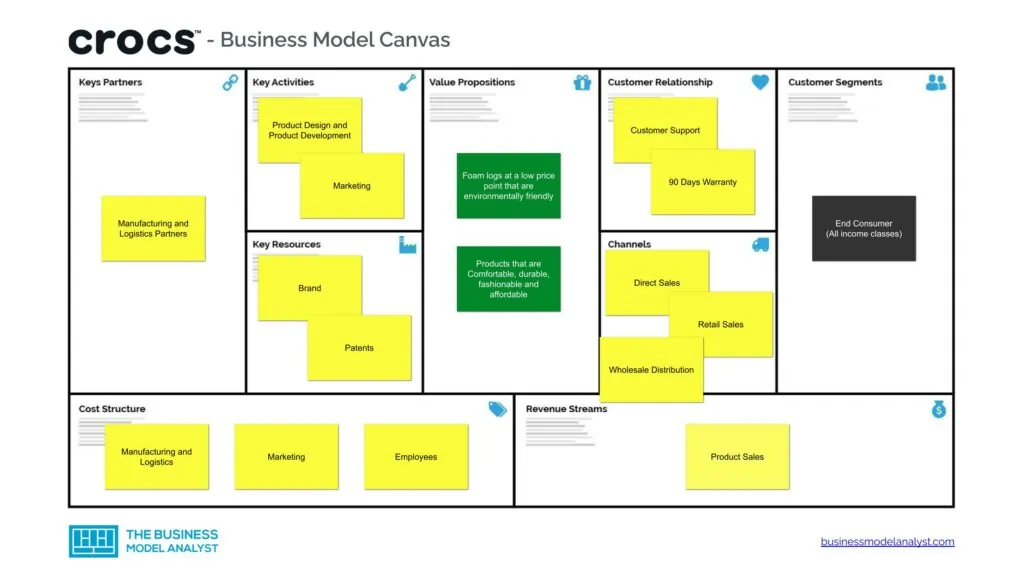 Let's take a look at the Crocs Business Model Canvas below:
Crocs' Customer Segments
The Crocs customer segments consist of:
Category A: Low-income consumers;
Category B: Middle-class consumers;
Category C: High-income consumers.
Low-Income Consumers
This category includes individuals who cannot afford to spend much money on footwear. These consumers tend to wear Crocs because they are affordable and comfortable.
Middle-Class Consumers
These individuals earn enough money to purchase other types of shoes, but not Crocs. They prefer Crocs because they are inexpensive and easy to clean.
High-Income Consumers
These individuals earn enough money to spend lots of money on footwear. They tend to wear Crocs as part of their wardrobe.
The Crocs business model canvas shows how Crocs makes money.
Crocs' Value Propositions
The Crocs value propositions consist of:
1. Crocs are comfortable and durable;
2. Crocs are affordable;
3. Crocs are easy to clean;
4. Crocs are fashionable;
5. Crocs are fun;
6. Crocs are environmentally friendly;
7. Crocs are safe;
8. Crocs are reliable;
9. Crocs are quality;
10. Crocs are innovative. 
Crocs' Channels
The Crocs channels consist of:
Direct Sales:
Direct sales are when Crocs sells directly to consumers. It does not sell to retailers or wholesalers.
Retail Sales:
Retail sales are when Crocs sells directly to retailers. It does not sell directly to consumers.
Wholesale Distribution:
Wholesale distribution is when Crocs sells to retailers and wholesalers.
Crocs' Customer Relationships
The Crocs customer relationships consist of:
Crocs have many different kinds of customers and relationships with them. Some of these include:
Individuals: Individuals use Crocs to protect their feet from the cold weather;
Businesses: Businesses use Crocs to keep employees happy while working outside;
Educators: Educators use Crocs to keep students warm during outdoor classes;
Nonprofits: Nonprofit organizations use Crocs to raise awareness about important issues.
Crocs' Revenue Streams
The Crocs revenue streams consist of:
Direct to Customer Sales;
Wholesale Distribution;
Retail Sales.
Direct to Customer Sales
Direct-to-customer sales are when Crocs make money by selling directly to consumers.
Retail Sales
Retail sales are where Crocs make money by charging retailers for their services.
Wholesale Sales
Wholesale sales are when Crocs sell to retailers and wholesalers.
Crocs' Key Resources
The Crocs key resources consist of:
Customers: Customers are people that buy Crocs;
Employees: Employees are those who work in Crocs factories;
Suppliers: Suppliers are companies that provide materials used in the manufacturing process;
Financing: Financing is where the money that Crocs uses to operate its business. The team behind finance is a significant asset for this company.
Crocs Key Activities
The Crocs key activities consist of:
Manufacturing: Manufacturing is where Crocs create products;
Marketing: Marketing is when Crocs advertise its product to potential customers;
Sales: Sales is when Crocs sell its product to customers;
Research & Development: Research & development is where Crocs develop new ideas, products, and technologies.
Crocs' Key Partners
The Crocs key partners consist of:
Balenciaga
Christopher Kane
Barneys New York
Alife
Chinatown Market
Crocs' Cost Structure
The Crocs cost structure consists of:
Salaries
Manufacturing & Distribution
Payment Processing & Platform Fees
Marketing
Crocs' Competitors
The Crocs Business competitors are Nike, Adidas, Puma, Reebok, Converse, Vans, Timberland, and more.
Nike: Nike has been around for ages, and they are an established brand in the industry. Founded in 1964, Blue Ribbon Sports became the original Nike, Inc., which went public in 1980. They were the first shoe company to produce athletic shoes. Their slogan is "Just do it";
Adidas: Adidas was founded in 1924. The company was founded by Adolf Dassler in his parents' house in Germany. He later collaborated with his elder brother, Rudolf, to create the first high-quality leather shoe using reinforced canvas. Its slogan is "Impossible is Nothing";
Puma: Founded in 1948, Rudolf Dassler began working for a small local shoe factory called Gebrüder Dassler Schuhfabriken. Rudolf and Adolf "Adi" separated their business in 1948, creating two companies: Adidas, which focused on sports shoes, and Puma, which focused on leisure wear. Today, Adidas remains a family-owned company, while Puma has been acquired by Newell Brands. Their slogan is "Forever Faster";
Crocs' SWOT Analysis
Below, there is a detailed swot analysis of Crocs:
Crocs' Strengths
Brand Awareness: Crocs has strong brand recognition among young adults. It is known as one of the most popular brands among college students;
Competitive Advantage: Crocs has a competitive advantage over other competitors because of its unique design;
Strong Product Line: Crocs has various styles and colors. This allows it to appeal to many different types of customers;
High-Quality Products: Crocs makes quality products. It is also very durable, so it can withstand heavy use;
Unique Design: Crocs has a unique design that sets it apart from other footwear manufacturers.
Crocs' Weaknesses
Low Customer Loyalty: Customers have low loyalty towards Crocs due to its lack of customer service;
Limited Number of Stores: There are only about 100 stores in North America;
Lack of Innovation: Crocs does not innovate much;
No Longer Exclusive: Crocs no longer offers exclusive designs;
Poor Management Team: The management team at Crocs is not well organized or experienced.
Crocs' Opportunities
Expansion into International Markets: Crocs should expand into international markets such as Europe and Asia;
Increased Marketing Efforts: Crocs could increase marketing efforts to attract more customers;
Increase Store Numbers: Crocs could open more stores to increase sales;
Expand into Different Categories: Crocs could expand into other categories, such as sandals;
Acquire Other Companies: Crocs could acquire other companies to gain new customers.
Crocs' Threats
Competition from Cheap Shoes: Many cheap shoes are being sold in the market today. These shoes are cheaper than Crocs, but they offer similar features;
Declining Market Share: As consumers become more educated about the benefits of buying Crocs, they will begin to buy other shoes instead of Crocs;
Increasing Prices: Crocs could raise prices if it wants to maintain its current profit margins;
Decreasing Demand: Demand would decrease if people lose interest in Crocs;
Loss of Reputation: Crocs could lose its reputation if it continues to make poor decisions.
Conclusion
Crocs has several strengths, including its brand awareness, high-quality product line, and unique design. However, it lacks customer loyalty and innovation. It also faces competition from cheap shoes and declining demand.
Despite these weaknesses, Crocs still has opportunities to grow in the future. Its main opportunity lies in expanding into international markets. It could also increase its marketing efforts to attract more potential customers. 
Crocs's business model is not that of a subscription business model; however, it's still really successful and has achieved great things for them. This is probably because Crocs do not charge their customers anything extra besides what they already pay for the shoe. They don't even require you to sign up for any kind of membership. All they ask is that you just keep wearing your shoes. So, that makes Crocs' business model a pretty good one.