Considered one of the powerhouses controlling the beverage industry, Coca-Cola is a carbonated-drink manufacturing company valued at $74 billion. In 1886, John Stith Pemberton, a chemist, created the soda. He combined caffeine from kola nuts and cocaine from the coca leaves to create a stimulant. The coca and kola are the ingredients that gave rise to the product moniker and the advertising of Coca-Cola as a "healthy tonic."
Coca-Cola has been using varied advertising since it first began to grow its market share. As a result, it has grown into one of the greatest recognizable brands around the globe. Most of the company's output is syrup concentrate, sold to numerous bottlers with exclusive markets worldwide. According to Business Insider, 94% of people worldwide can immediately recognize the brand because of the red-with-white Coca-Cola logo. Below is the swot analysis for Coca-Cola.
Strengths
Below, there are the strengths of Coca-Cola: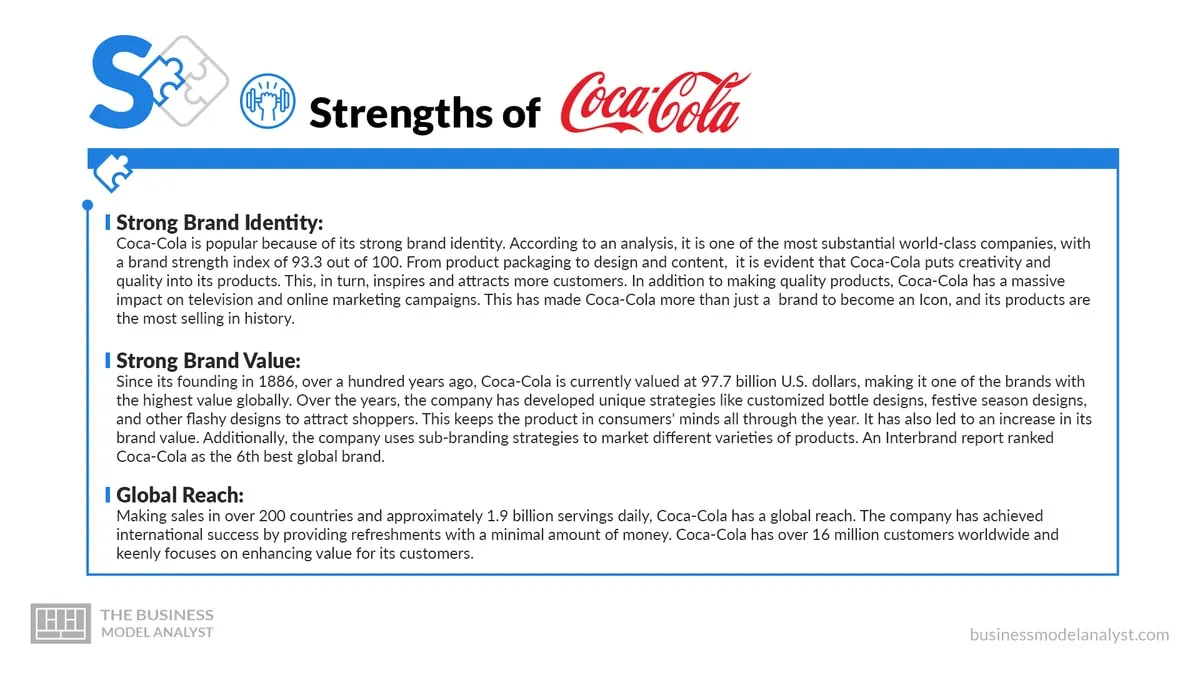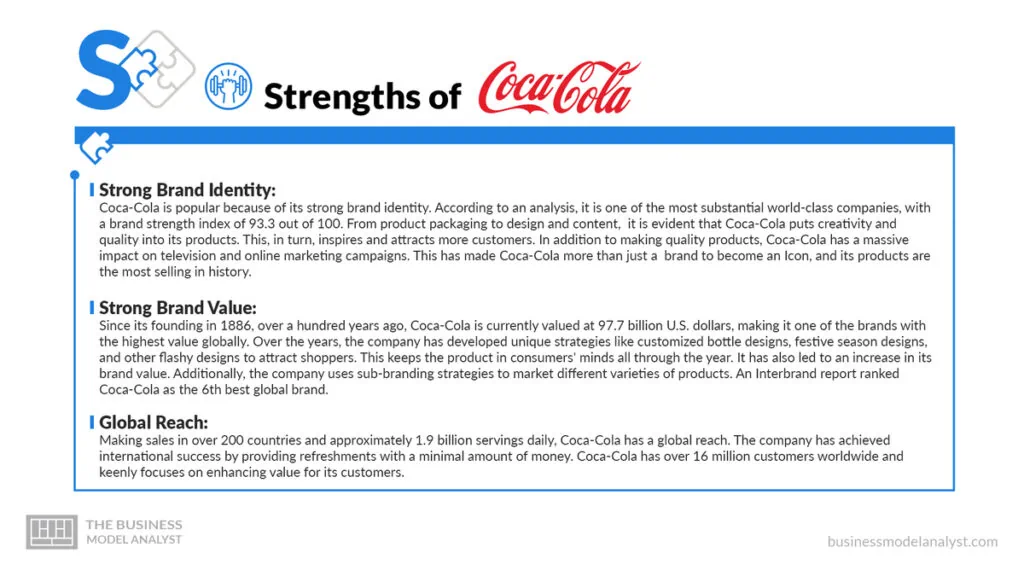 Strong Brand Identity
Coca-Cola is popular because of its strong brand identity. According to an analysis, it is one of the most substantial world-class companies, with a brand strength index of 93.3 out of 100. From product packaging to design and content, it is evident that Coca-Cola puts creativity and quality into its products. This, in turn, inspires and attracts more customers. In addition to making quality products, Coca-Cola has a massive impact on television and online marketing campaigns. This has made Coca-Cola more than just a brand to become an Icon, and its products are the most selling in history.
Strong Brand Value
Since its founding in 1886, over a hundred years ago, Coca-Cola is currently valued at 97.7 billion U.S. dollars, making it one of the brands with the highest value globally. Over the years, the company has developed unique strategies like customized bottle designs, festive season designs, and other flashy designs to attract shoppers. This keeps the product in consumers' minds all through the year. It has also led to an increase in its brand value. Additionally, the company uses sub-branding strategies to market different varieties of products. An Interbrand report ranked Coca-Cola as the 6th best global brand.
Global Reach
Making sales in over 200 countries and approximately 1.9 billion servings daily, Coca-Cola has a global reach. The company has achieved international success by providing refreshments with a minimal amount of money. Coca-Cola has over 16 million customers worldwide and keenly focuses on enhancing value for its customers. Also, Coca-Cola strives to understand the needs of its consumers and customers in different locations. Also, Coca-Cola is known to have introduced over 500 new products, some of which are variations of the Coca-Cola beverage. Ultimately, the success of Coca-Cola depends on its ability to satisfy consumer beverage demands and add value to its customers.
Market Share
Coca-Cola has the largest market share. According to a report, Coca-Cola products are sold in more than 200 countries. The report also shows that out of 50 billion different beverages served worldwide in a day, beverages owned or licensed by Coca-Cola amount to approximately 1.9 billion. Overall, beverages with the Coke or Coca-Cola trademark dominate the soft drink market. Recently, Coca-Cola was named the first company to surpass £1 billion in annual sales. It commands a more prominent market presence in the carbonated soft drink area. Though rivalry exists between Coca-Cola and Pepsi, Coca-Cola has emerged as the dominant beverage provider.
Repositioning Portfolio
There are varieties of brands under Coca-Cola that are currently in circulation in the world. This is because the company produces carbonated drinks and other types of drinks. Therefore, Coca-Cola repositioned and also reduced its global brands before splitting them into five (5) major product categories:
Coca-Cola;
Plant, nutrition juice, and diary;
Emerging;
Sparkling flavors;
Hydration sports tea and coffee.
Hence, when launching products, the country's culture is usually considered.
Brand Association
In the U.S., Coca-Cola is one of the most "emotionally connected" brands. The brand has strong customer loyalty, and customers are easily attracted to a particular taste, making it difficult to get substitutes quickly. Also, it has a close consumer-supplier relationship and entertaining adverts that trend in the media. In addition, the use of international stars, athletes, and actors made Coca-Cola a famous brand. Moreover, it has more followership than any other beverage brand. Therefore, Coca-Cola is a product known in almost every home worldwide.
Distribution System
Coca-Cola's efficient distribution system has the most extensive distribution network globally, with approximately 225 bottling partners and 900 bottling plants worldwide. The company can be described as "a Global Business that operates on a local scale." The company produces and sells beverage bases, concentrates, and syrups to bottling companies, who further process, package, and distribute the beverages to partners and clients who sell the products to the consumers. The process is always closely monitored by Coca-Cola. Most times, the bottling companies are partially owned by Coca-Cola and can only bottle their products. In addition, Coca-Cola sells directly and indirectly; direct selling by supplying to shops and outlets through their transport and indirect selling by maintaining the wholesale in the region.
Acquisitions
Coca-Cola has a record of profitable company acquisitions, which are made strategically. These acquisitions include the Costa Coffee chain, Fuze Tea, Fair life, and many others. With these acquisitions, Coca-Cola has been able to diversify its beverage portfolio.
Weaknesses
Below, there are the strengths of Coca-Cola: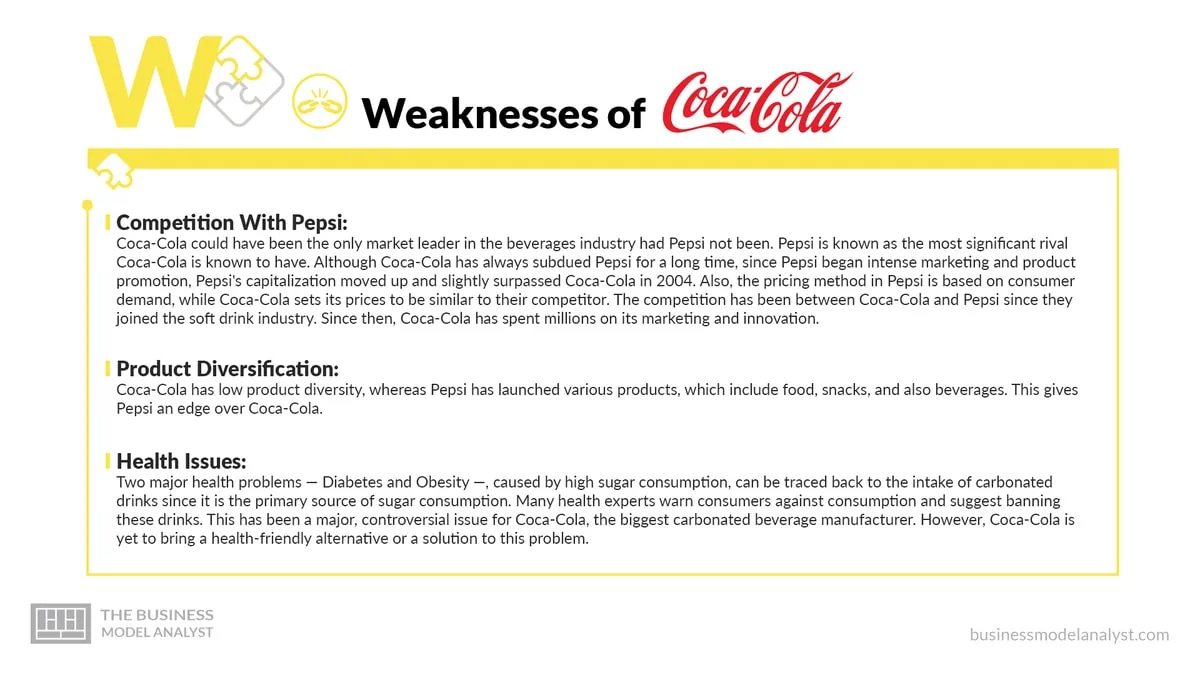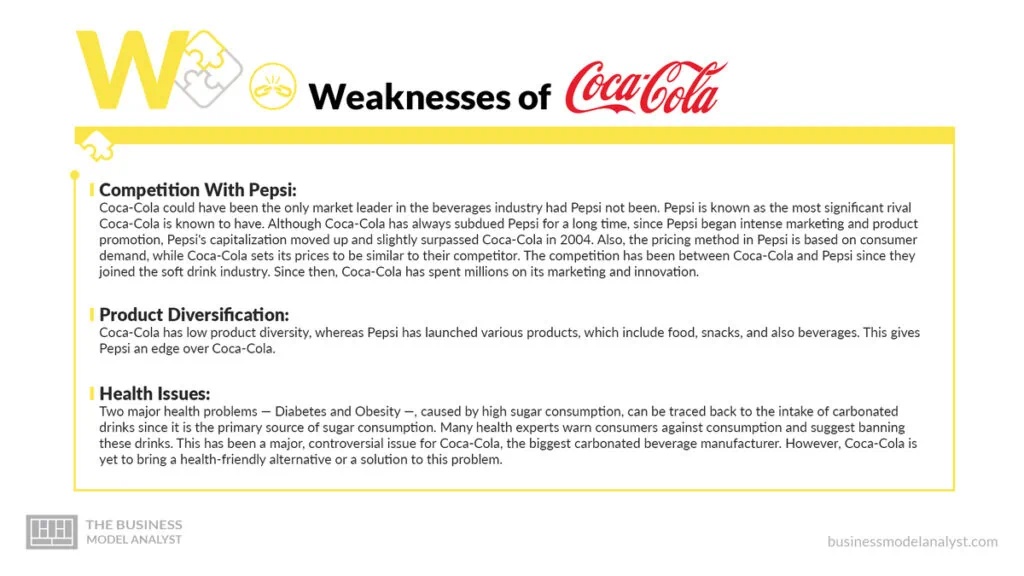 Competition With Pepsi
Coca-Cola could have been the only market leader in the beverages industry had Pepsi not been. Pepsi is known as the most significant rival Coca-Cola is known to have. Although Coca-Cola has always subdued Pepsi for a long time, since Pepsi began intense marketing and product promotion, Pepsi's capitalization moved up and slightly surpassed Coca-Cola in 2004. Also, the pricing method in Pepsi is based on consumer demand, while Coca-Cola sets its prices to be similar to their competitor. The competition has been between Coca-Cola and Pepsi since they joined the soft drink industry. Since then, Coca-Cola has spent millions on its marketing and innovation.
Product Diversification
Coca-Cola has low product diversity, whereas Pepsi has launched various products, which include food, snacks, and also beverages. This gives Pepsi an edge over Coca-Cola.
Health Issues
Two major health problems — Diabetes and Obesity —, caused by high sugar consumption, can be traced back to the intake of carbonated drinks since it is the primary source of sugar consumption. Many health experts warn consumers against consumption and suggest banning these drinks. This has been a major, controversial issue for Coca-Cola, the biggest carbonated beverage manufacturer. However, Coca-Cola is yet to bring a health-friendly alternative or a solution to this problem.
Infringement Lawsuits
Coca-Cola has faced several lawsuits, which may have left doubts in the minds of consumers. It also might negatively impact its credibility. One of the significant lawsuits faced by Coca-Cola is the infringement on a patented, internet-enabled, freestyle drink dispenser. A Texas-based RCDI filed the lawsuit in 2015. Though Coca-Cola had earlier won the suit, a Federal Circuit panel, in 2020, brought the case back to life and canceled Coca-Cola's patent win against the earlier Georgia Federal judge ruling. A Californian environmental also sued Coca-Cola, Nestle, and Pepsi for creating a plastic pollution "nuisance." Additionally, the company has been sued for misleading people that their plastic is recyclable. Other lawsuits Coca-Cola engaged in include Thumbs up a trademark, "ZERO" trademark, 1983 copyright infringement, and many others.
Overdependence on Third-Party Technology Providers
Coca-Cola seeks to enhance its productivity and profitability through technology and innovation. It uses technology in product development, better product placement and personalization, data analytics, and advertising. However, Coca-Cola outsources the IT support it needs. It also needs technology for its supply chain to thrive. It is, therefore, a significant disadvantage that most of their technology comes from third parties. Coca-Cola outsources its technological needs to companies like Virent, Powerade, Avanium, and Gevo. In April 2020, Coca-Cola partnered with Microsoft and signed a 5-year deal for cloud technology and business software. It would be making use of Microsoft's Azure Cloud Platform, customer service software, as well as Microsoft's 365 apps, which include Microsoft Teams.
Environmentally Destructive Packaging
Coca-Cola has been reportedly greenwashing its plastic packaging. Companies' claim of "ocean-bound" and "recyclable" plastic was an excellent example of greenwashing. This is because there is no substantial proof of how Coca-Cola, along with some other brands, tackled the situation. An article by The Guardian reports that Coca-Cola has been declared the worst plastic polluter due to an estimated 3 million plastic packaging annually. In response, Coca-Cola pledges to ensure 25% reusable product packaging. In other words, plastic would be gathered and reused. It is envisaged that by 2030, Coca-Cola will have met this goal globally.
Reducing Cherished Coke Products
The CEO of Coca-Cola, James Quincey, has been slammed for killing some of the most beloved coke brands. Quincey had cut down the number of the brand's products in half, killing favorite brands such as smoothie brand Odwalla, drink Tab, and Zico coconut water. About 200 brands in total fell into the lot. A previous attempt in 1985 had failed, making Coca-Cola refrain from cutting off brands. The danger in a brand ambassador is that loyal customers can get disappointed and turn to competitors. Also, it is foolproof that loyal customers shouldn't be toiled with. With this product reduction, Coca-Cola should prepare to lose some of its loyal customers.
Coca-Cola Opportunities
Here, there are the opportunities Coca-Cola can leverage on: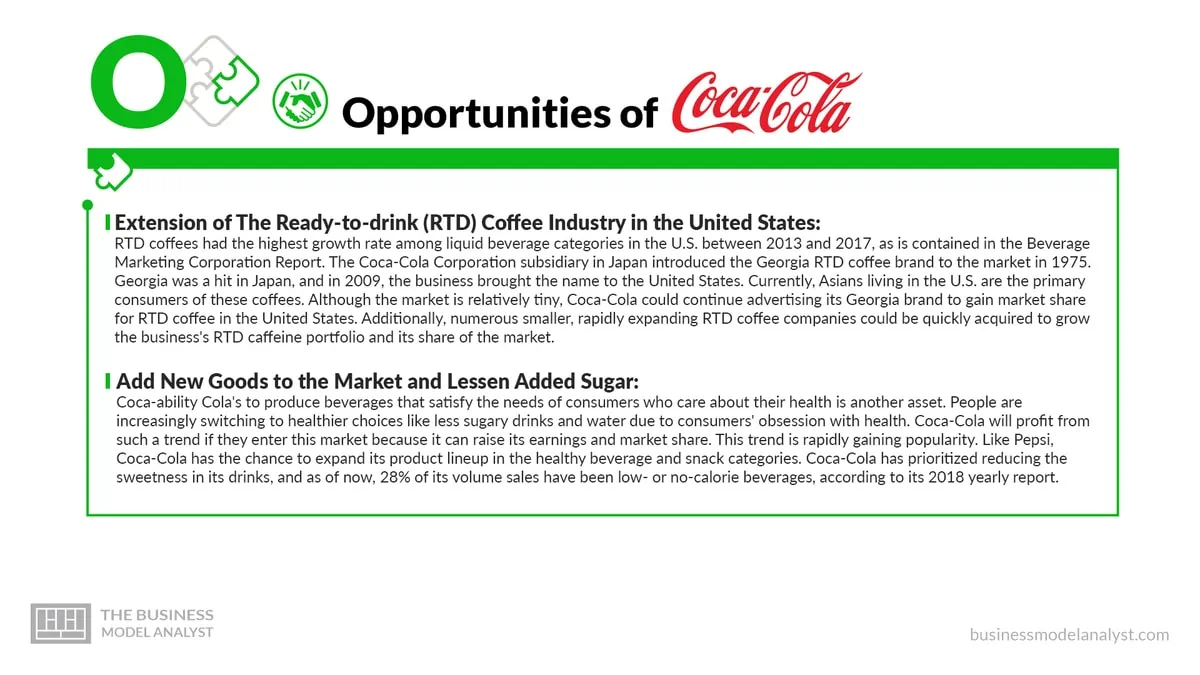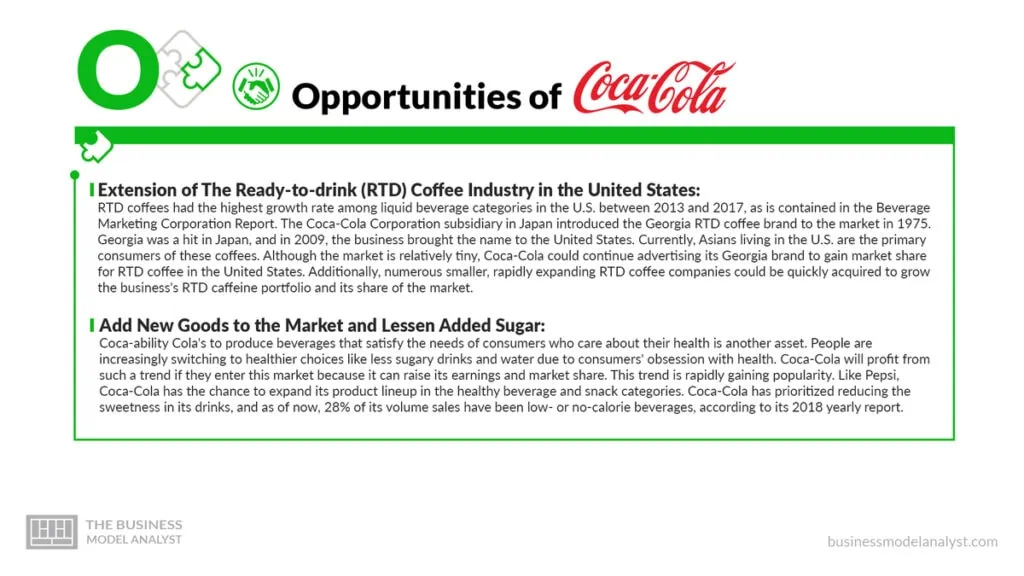 Extension of The Ready-to-drink (RTD) Coffee Industry in the United States
RTD coffees had the highest growth rate among liquid beverage categories in the U.S. between 2013 and 2017, as is contained in the Beverage Marketing Corporation Report. The Coca-Cola Corporation subsidiary in Japan introduced the Georgia RTD coffee brand to the market in 1975. Georgia was a hit in Japan, and in 2009, the business brought the name to the United States. Currently, Asians living in the U.S. are the primary consumers of these coffees. Although the market is relatively tiny, Coca-Cola could continue advertising its Georgia brand to gain market share for RTD coffee in the United States. Additionally, numerous smaller, rapidly expanding RTD coffee companies could be quickly acquired to grow the business's RTD caffeine portfolio and its share of the market.
Add New Goods to the Market and Lessen Added Sugar
Coca-ability Cola's to produce beverages that satisfy the needs of consumers who care about their health is another asset. People are increasingly switching to healthier choices like less sugary drinks and water due to consumers' obsession with health. Coca-Cola will profit from such a trend if they enter this market because it can raise its earnings and market share. This trend is rapidly gaining popularity. Like Pepsi, Coca-Cola has the chance to expand its product lineup in the healthy beverage and snack categories. Coca-Cola has prioritized reducing the sweetness in its drinks, and as of now, 28% of its volume sales have been low- or no-calorie beverages, according to its 2018 yearly report.
Profits from the Declining Value of the U.S. Currency
Every multinational corporation, including The Coca-Cola Company, is impacted by currency exchange rates. The company generated $20.683 billion of its revenue outside the United States in 2017. This indicates that most of The Coca-Cola Company's profits come from sources other than the U.S. dollar. Therefore, for the business to compute its total income and send its revenues back to the U.S., other currencies must be changed to the U.S. dollar. This is where a weak U.S. dollar, or in other words, the currently declining U.S. dollar exchange rate, is a financial opportunity for the company. In addition to raising international profits, a weaker dollar makes a company's products more affordable and alluring to customers overseas. It also allows Coca-Cola to increase global sales and geographically diversify its income.
Leveraging TikTok
Coca-Cola launches its first U.S. TikTok challenge and joins the TikTok stratosphere. It's an excellent move for the business to increase brand awareness. With more than a billion active members, TikTok is a powerful platform. Coca-Cola also worked with Grammy-nominated musician "Khalid" to sing the challenge's first opening tune as it debuted on TikTok. Additionally, Coca-Cola is open to working with Renegade Dance creator Jalaiah Harmon, a young lady.
Entry into the Alcoholic Beverage Sector
Coca-Cola primarily serves the non-alcoholic beverage industry, though it did introduce its first alcoholic beverage, "Chu-Hi," in Japan in 2018. This market is currently experiencing slow growth. The business competes fiercely across all non-alcoholic beverage market segments where it already has operations. There is limited space for Coca-Cola to expand its beverage business quickly. A new expanding chance for the company is to enter the alcoholic beverage sector. Tequila is one of the alcohol industry's segments with the quickest growth. To reach USD $2.7 billion, tequila sales increased by more than 9% in 2017 alone. In 2021, the American tequila market was valued at USD $8 billion. Coca-Cola may decide to enter the market for alcoholic beverages to diversify its product line. The business could quickly boost sales and diversify its holdings by utilizing its expertise in creating and selling drinks.
Coca-Cola Threats
Below, there are Coca-Cola's threats: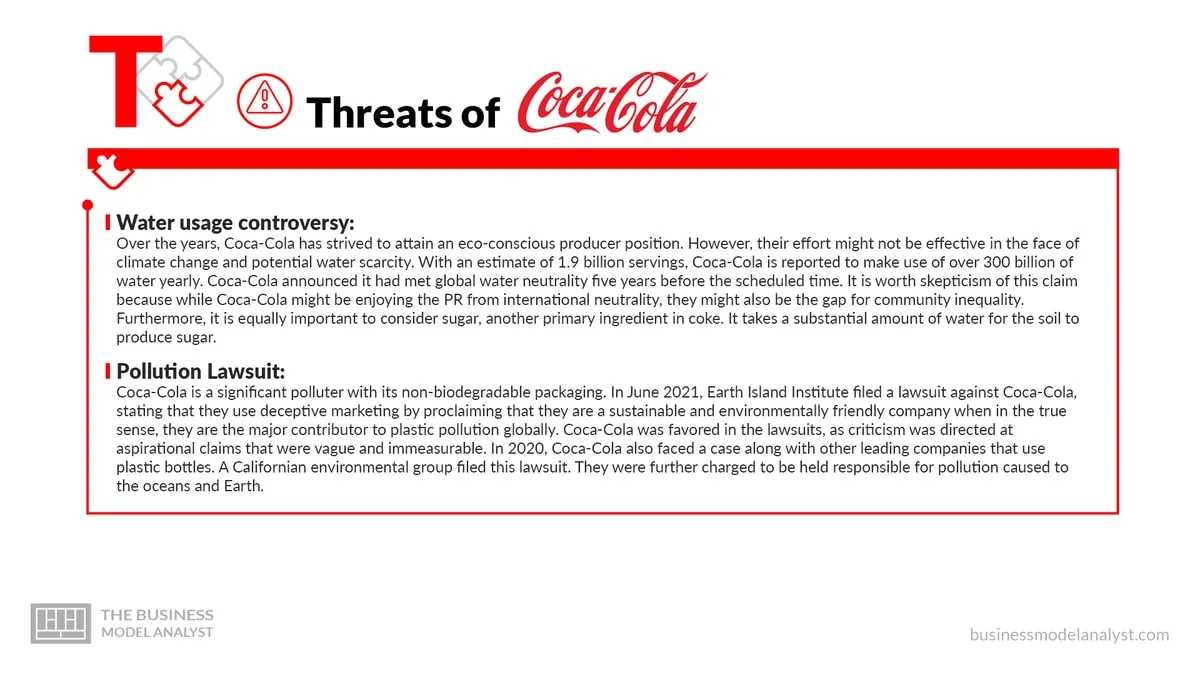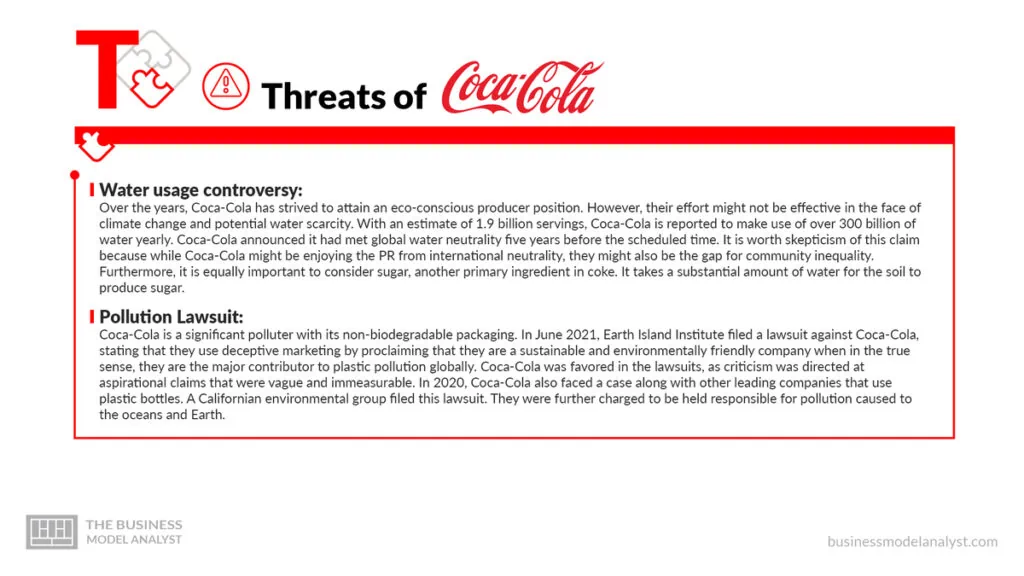 Water usage controversy
Over the years, Coca-Cola has strived to attain an eco-conscious producer position. However, their effort might not be effective in the face of climate change and potential water scarcity. With an estimate of 1.9 billion servings, Coca-Cola is reported to make use of over 300 billion of water yearly. Coca-Cola announced it had met global water neutrality five years before the scheduled time. It is worth skepticism of this claim because while Coca-Cola might be enjoying the PR from international neutrality, they might also be the gap for community inequality. Furthermore, it is equally important to consider sugar, another primary ingredient in coke. It takes a substantial amount of water for the soil to produce sugar.
Pollution Lawsuit
Coca-Cola is a significant polluter with its non-biodegradable packaging. In June 2021, Earth Island Institute filed a lawsuit against Coca-Cola, stating that they use deceptive marketing by proclaiming that they are a sustainable and environmentally friendly company when in the true sense, they are the major contributor to plastic pollution globally. Coca-Cola was favored in the lawsuits, as criticism was directed at aspirational claims that were vague and immeasurable. In 2020, Coca-Cola also faced a case along with other leading companies that use plastic bottles. A Californian environmental group filed this lawsuit. They were further charged to be held responsible for pollution caused to the oceans and Earth.
Fierce competition
Coca-Cola stands distinctly and firmly in the market. However, it is not immune to fierce competition. Coca-Cola's direct competition comes from soft drinks producers such as Pepsi, Red Bull, etc. Indirect competition often comes from wine and beer companies such as Starbucks, Lipton juices, Costa coffee, Tropicana, Nescafé, and Nestle. While these indirect competitors don't produce the same product as Coca-Cola, they have other soft drink alternatives for their customers. Direct competitors, of which Pepsi is major, make the same or similar products and target the same customers.
Economic uncertainty
One of the biggest concerns of many companies, including Coca-Cola, is economic uncertainty. In 2016, Coca-Cola reported a decline in revenue in 28 countries, which includes Nigeria and Russia. In 2020, due to the pandemic, sales declined, though not as much as anticipated. Coca-Cola will experience revenue in 2022 due to the price increase. However, it shares in the global economic uncertainty due to inflation, currency volatility, pandemic-related mobility restrictions, and geopolitical tensions.
Increasing Health Awareness
Sugary soda drinks have held less appeal to consumers due to increased health consciousness. Informed consumers are also turning to healthier drinks. Some alternatives include low-or-no-sugar carbonated beverages, iced tea, sports drink, energy drink, ready-to-drink coffee, sparkling water, energy drinks, juices, and dairy. To tackle this, Coca-Cola has stepped up its game with non-carbonated beverages and "Zero" sugar Coke. This results in the costs accrued in packaging, data analytics, marketing, supply chain, and technology. It is also challenging for the company to surmount criticisms and doubts about the ingredients of Coke and how safe it is.
Possible Contamination
In November 2021, Coca-Cola voluntarily recalled Minute Maid drinks with the explanation that they might contain washers or metal bolts. The Food and Drug Administration, responsible for keeping the foods consumed safe, made the report. About 7,500 cases of Minute Maid were recalled. Other products involved in the recall are Sprite and Coke. Furthermore, Coca-Cola recalled some wrongly boxed zero coke, which might contain full sugar. The devastating effect of recalls is distrust in the brand. Consumers may not buy products from them in the future. Besides brand degradation, the recall often results in financial losses as companies affected will have to replace defective products and, worst still, handle lawsuits.
Conclusion
Since John S. Pemberton founded Coca-Cola in 1886, the business has steadily expanded and emerged as the largest beverage manufacturer in the world. Although its income has not significantly increased over the past ten years, it continues to lead the world in the selling of non-alcoholic beverages. Because it meets particular market and customer demands, the company continues to operate in that situation. It has developed a strategy to accomplish its objective and guide the business toward success in light of growing health and obesity concerns, making it well-known worldwide. Additionally, Coca-Cola has carefully and meticulously implemented its tactics in alignment with its leadership, culture, and organizational structure to align with its purpose. To boost sales and offer customers value, the company uses story-driven marketing strategies such as the Share-A-Coke campaign. However, Coca-Cola can exponentially grow its revenue by ensuring it meets current health trends and satisfies the lawsuit demands.