The Clubhouse Business Model has two layers: It allows users to tip content creators and helps them monetize their creative work. First called Talkshow, Clubhouse is a social audio-chat app launched during the pandemic to enable people to communicate through listening and speaking. That means audio clips are used instead of texts, and only an existing Clubhouse member can invite others to participate. It started being available only for iOS users, but Android users can now use it. The core idea on which Clubhouse is built is to strengthen friendships among people and connect new people. The app has impressed many people by being a worthy rival of Facebook and Twitter. 
A brief history of Clubhouse
Paul Davison, an entrepreneur, and Rohan Seth, a Google software engineer, built Clubhouse. Both had already gathered the necessary skills to start, scale, and sustain an app from their experiences in Silicon Valley. After he graduated from Stanford University, Seth went to work as a software engineer at Google from 2005 to 2012. As for Davison, he started Math Camp in 2011 together with Benjamin Garrett. Math Camp was a team of people who innovated mobile products that helped people connect over similar interests, using images and videos on different platforms. One of the mobile products Math Camp built is Highlight, which allows users to passively share their information with other people in the hopes of connecting with someone who has similar tastes and interests. However, in 2016, Pinterest acquired Math Camp. After this, Davison and Seth got together to build Clubhouse as an alternative to other social media apps like Instagram and Facebook.
However, the app doesn't use text or videos. It uses voice only. As such, users don't have to worry about how they look or where they are before they can use the app. The app recreated the features that first appeared on different social media apps, such as online chat rooms but in a voice-only format. In this way, Clubhouse presents itself as a minimalist social audio-chat app. However, no recording or feed is available on the app. In April 2020, Clubhouse launched on iOS, and in May, it got a $12 million investment from Andreessen Horowitz, a venture firm. By the end of January 2021, it already had over 2 million users. However, it went viral in February when Elon Musk started tweeting about it and hosted chats with high-profile individuals such as Kanye West, Vladimir Putin, and Vlad Tenev. Even though this gave the app more exposure, it also led to some setbacks. Chinese citizens began discussing government suppression and other sensitive issues on the app and selling invitations for as high as $60. This led the Chinese government to censor Clubhouse in China. Presently, Clubhouse is targeting prominent individuals and quietly growing.
Who Owns Clubhouse
Clubhouse was built by Paul Davison and Rohan Seth. Currently, Paul Davison is its CEO.
Clubhouse Mission Statement
Clubhouse's mission statement is "to create a place where people can talk with each other, not talk at each other."
How Clubhouse works
Clubhouse has various offerings, such as sponsorships, merchandising, advertising, etc., for its audience. For instance, listeners can donate funds to a creator's project if they are moved by the passion or want to help you achieve your goals. Influencers can also advertise for a brand by explaining the benefits to a group of people, or selling invites to premium rooms. Additionally, creators can sign up for the Clubhouse Creator First accelerator program, which provides monetization and development tools to creators and help them look for brands that can sponsor and use their creative ideas. The financial transactions on the app are processed by Stripe, a payment platform that takes a small percentage out of every transaction. The rest of the money goes to the creator. Basically, Clubhouse focuses more on supporting and rewarding content creators rather than building a highly-profitable business model. As such, creators and influencers make most of the money that passes through the app.
How Clubhouse makes money
Currently, Clubhouse doesn't make any money as it is focused on building its audience base before rolling out monetization policies. Instead, Clubhouse is investing in its creators and influencers to enable them to develop high-profile, creative content ideas and connect them with brands who need these ideas through its Creator First accelerator program. Additionally, Clubhouse supports these creators by giving them stipends.
However, Clubhouse sustains itself through funding from venture firms. In May 2020, it received $10 million in Series A funding with just 1,500 users. In January 2021, it received another funding worth $100 million, which valued Clubhouse at $1 billion, making the app a unicorn in less than 12 months after its launch. Like other social startups, such as Twitter and Facebook, which weren't monetized in their early days, Clubhouse focuses on expanding its user base before rolling out monetization policies.
Some of these monetization policies might include:
Monthly subscriptions
Selling tickets for events and venues directly on the app.
Connecting creators with brands
Clubhouse Business Model Canvas
The Clubhouse Business Model can be explained in the following business model canvas: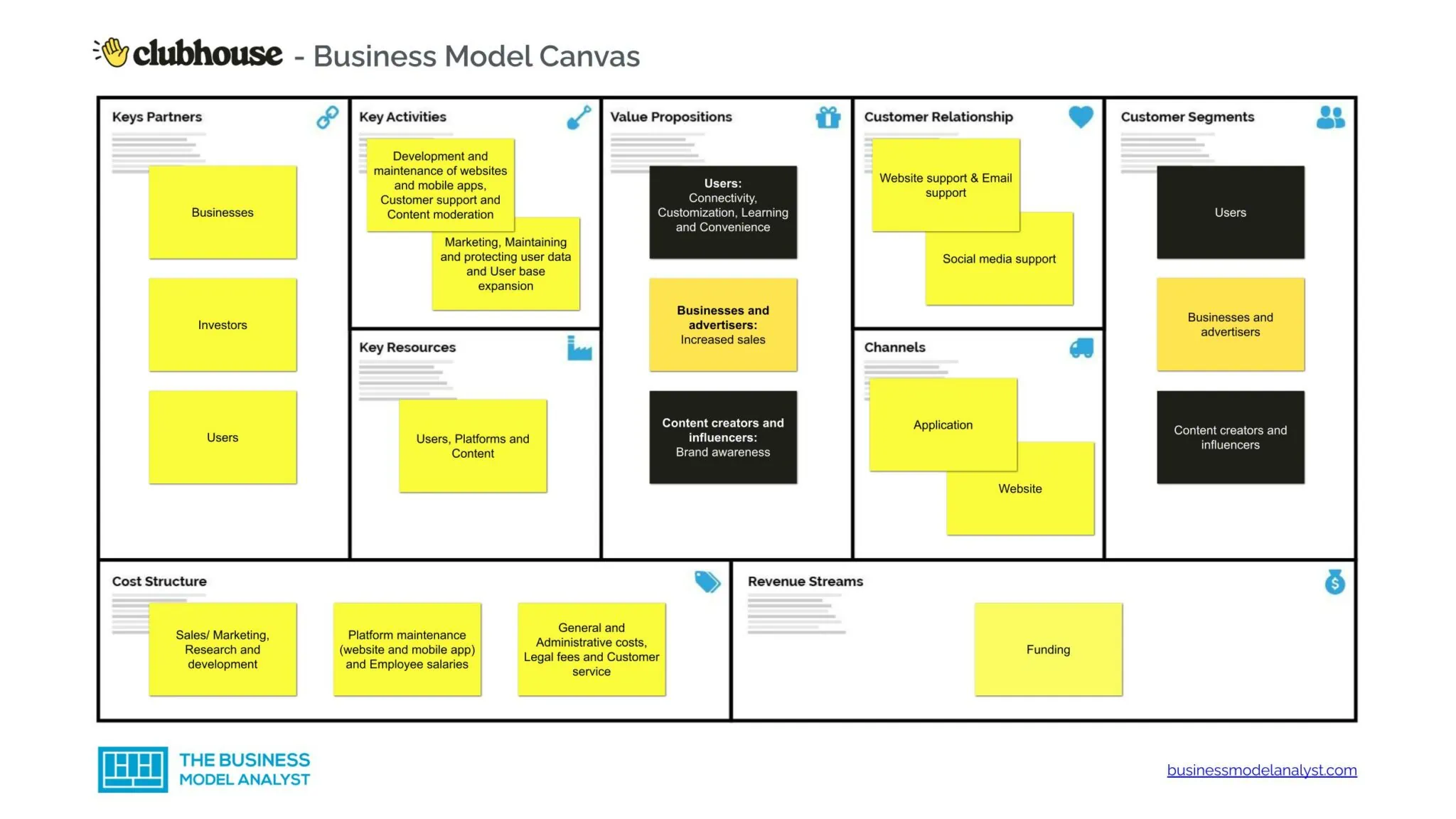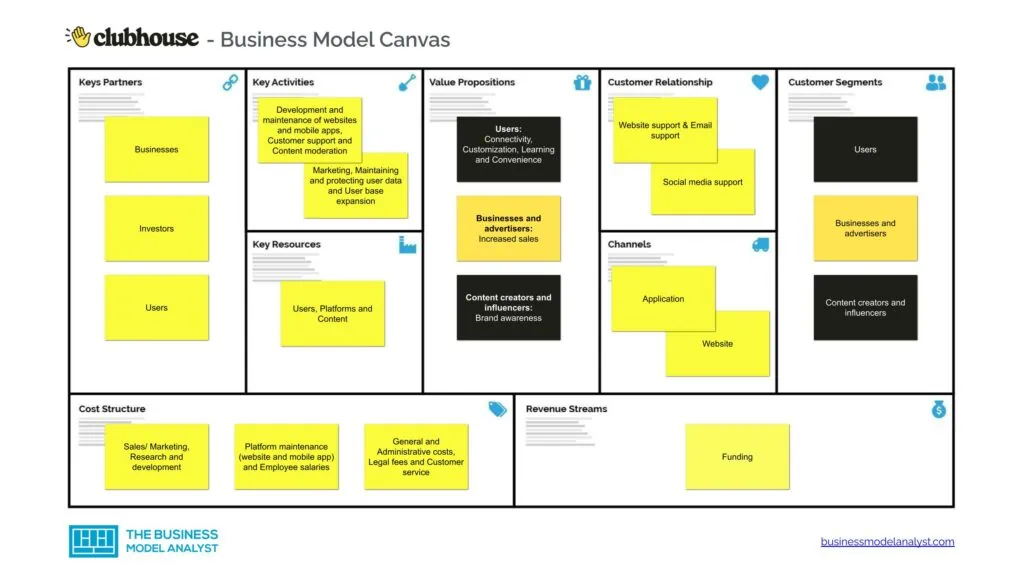 Clubhouse Customer Segments
Clubhouse's customer segments consist of
Users: Currently, Clubhouse has about 3.5 million active users, with 10 million people using the app weekly. Clubhouse is no longer invite-only, so anyone can sign up on the app and use it for anything as long as it does not violate its policies. More than half of Clubhouse users in the United States are between the ages of 18 and 34, while the rest are between 35 and 54 years. Users don't pay to use Clubhouse;
Businesses and advertisers: Another customer segment on Clubhouse is businesses and advertisers. Considering the app's growing customer base, businesses and advertisers open rooms where they educate users on the benefits of their products, nurture customers, drive conversations around their products and increase brand awareness. Clubhouse is also free to use for businesses and advertisers;
Content creators and influencers: Based on their social strength, content creators and influencers can influence others to join the app and listen in on their audio clips. They can also help businesses and advertisers promote their offerings and, in return, get a cut of every transaction made through their activities.
Clubhouse Value Propositions
Clubhouse's value propositions consist of:
Value propositions for users:
Connectivity: Clubhouse allows its users to connect for free. Users can host talks on issues that are important to them without any discrimination. Clubhouse breaks social barriers as people can connect with those they can't ordinarily meet because of their social status and connections. The app is open to anyone, whether a celebrity, business owner, activist, politician, etc.;
Customization: Another value proposition is that users can customize their Clubhouse profiles. They are free to follow and be followed by anyone. They can also use the protection feature, allowing users to control who follows or sees their account. Another perk of customization is that Clubhouse recommends rooms and discussions users can join based on their interests and tastes;
Learning: Clubhouse is highly regarded for its ability to foster learning. There are different rooms and discussions based on various matters you can learn about. Whether you are a business owner, activist, CEO, politician, non-profit professional, etc., there's room for you. You can gain from anyone's vast experiences to boost your personal, business, or corporate brand;
Convenience: You don't have to go through any hassles to use Clubhouse. All you have to do is to download the app and sign up. You don't need an invitation to join the app, since it's no longer invite-only. As long as you have a phone number, you are good to go.
Value propositions for content creators and influencers:
Brand awareness: For content creators and influencers, Clubhouse helps drive more awareness to their brands, leading to more leads, conversions, and sales. However, they have to create valuable content that meets the needs of their target audience to achieve this.
Value propositions for businesses and advertisers:
Increased sales: Businesses and advertisers that can satisfy their target audience on Clubhouse can turn this satisfaction into more sales. However, they must be intentional about their content marketing strategy on the platform.
Clubhouse Channels
Clubhouse's channels consist of:
Application: Clubhouse's primary channel is its mobile application, which is available on iOS and Play Store. You can download this app on your phone and sign up. Some features of this app include listening rooms, explore pages, notifications, etc.;
Website: If you can't download the app or don't have an account, you can listen to the talks on the website through Web listening. However, if you don't have an account, you can't contribute to conversations. You can only listen in. Additionally, the Web listening feature allows you to listen to the replays of the conversations and works on most browsers.
Clubhouse Customer Relationships
Clubhouse's customer relationships consist of:
Website support: Clubhouse has a website where users can see the answers to their frequently asked questions. The website also features blog posts updating users on Clubhouse's value propositions and other important information.
Email support: Additionally, Clubhouse provides its users with email support. There's a search feature where you can indicate your questions and send the results to your email.
Social media support: Clubhouse is on social media platforms like Twitter, and users can reach out when experiencing difficulties with the app.
Clubhouse Revenue Streams
Clubhouse's revenue streams consist of:
Funding: Like other social apps which focused on increasing their user base in their early days, Clubhouse is not currently focused on monetizing its platform. The app wants to grow its user base before it rolls out monetization features such as connecting creators with brands, selling tickets to events on the app, and monthly subscriptions. However, Clubhouse relies on funding from venture firms to operate. It has received over $100 million worth of funding and is valued at $4 billion.
Clubhouse Key Resources
Clubhouse's key resources consist of:
Users: A key resource of Clubhouse is its users, which are currently over 3 million. Without the users who host and contribute to conversations, Clubhouse would cease to exist;
Platforms: Another Key resource is its platforms. Clubhouse has a website and mobile app through which users and non-users can access its services;
Content: Clubhouse houses high-quality content, as users often share their vast experiences. You can learn about anything on Clubhouse and also connect with anyone.
Clubhouse Key Activities
Clubhouse's key activities consist of:
Development and maintenance of websites and mobile apps
Marketing
Maintaining and protecting user data
User base expansion
Customer support
Content moderation
Clubhouse Key Partners
Clubhouse's key partners include:
Businesses
Investors
Users
Clubhouse Cost Structure
Clubhouse's cost structure consists of:
Sales/ Marketing
Research and development
Platform maintenance (website and mobile app)
Employee salaries
General and Administrative costs
Legal fees
Customer service
Clubhouse Competitors
Originally, Clubhouse was built as an alternative to social media platforms like Twitter, Facebook, Instagram, etc. However, its voice-only feature makes it different from theirs. Below are some of the Clubhouse competitors:
Facebook: Facebook was founded by Chrish Hughes, Mark Zuckerberg, Eduardo Saverin, and Dustin Moskovitz in 2003 as FaceMash. It was rebranded as Facebook in 2004. Today, Mark Zuckerberg is the CEO of this social media site, which billions of people use. It has a market share of over $600 billion. It acquired Instagram, another social media app, in 2012. It has audio features such as live audio rooms where users can share their experiences with others. Currently, live audio is one of the most popular tools among creators;
Twitter: Stemming from the idea of the podcasting tool, Odeo, Jack Dorsey, Biz Stone, Noah Glass, and Evan Williams founded Twitter in 2006. In July of the following year, the company received $100 000 funding from Union Square Ventures. The app became more popular when the tech community promoted it at the Southwest Conference. Twitter has been instrumental in many public events, such as the Arab Spring, Barack Obama's victory in 2012, etc. Even though Dorsey stepped down as the CEO in 2008, he later returned in 2015 when Twitter began to struggle with making revenue. After Clubhouse's launch in April 2020, Twitter launched Spaces in November 2020, a feature similar to Clubhouse but only available on Twitter. Anyone can join Spaces, but hosts are allowed to control who can contribute. In 2022, Elon Musk acquired Twitter, making him the current owner;
Telegram: Launched for both iOS and Play Store by Nikolai and Pavel Durov in 2013, Telegram is a messaging app with over 600 million users. Pavel Durov is the current CEO. In June 2015, Telegram launched its Bot API, allowing users to create and publish their bots. In September 2015, it launched channels, a mass broadcast tool. It introduced encrypted chats in July 2017. After Clubhouse entered the market, Telegram launched a voice chat feature available only in groups and can only be started by group admins. However, only group or channel members can join and contribute to the voice chat;
Discord: Discord was founded by Jason Citron and Stan Vishnevskiy in May 2015. Currently, Citron is the CEO, and the app has over 150 million users. Discord focuses on enhancing communication and helping people form friendships while playing online games. The company has different servers, which can be likened to chat rooms in other similar apps. Some servers are invite-only, while some are open to the public. The app has a similar feature called the Stage Channels, where users can talk to their friends while playing online games. On the Stage Channels, you can invite people to listen, allow them to contribute, and remove people;
Instagram: A photo-and-video sharing app launched by Kevin Systrom and Mike Krieger as Burbn in 2010, Instagram is headquartered in Menlo Park, California. Krieger joined Systrom after raising $500 000 in seed funding from Andreessen Horowitz and Baseline Ventures. Both worked on improving the app, making it like Facebook. They launched it in October 2010, and by the end of the first week, the app had 100,000 downloads and one million users by the end of that year. In February of the following year, the founders acquired another $7 million worth of funding. In April 2012, they got another $50 million from venture firms. The company was valued at $500 million, and in that same April, Facebook acquired it for $1 billion. After Clubhouse launched in 2020, Facebook improved Instagram Live by allowing creators to go live with three others. As such, creators can collaborate with others, shop and fundraise on Instagram Live, etc.;
LinkedIn: Founded in 2002 by Reid Hoffman in his living room in Mountain View, California, LinkedIn is a business and career-oriented social media app. It focuses on enhancing connections between professionals. After five years, in 2017, this social networking site eventually became profitable. Also, in that same year, LinkedIn had over 15 million users. By 2011, the number grew to 100 million users, and the company's IPO reached $353 million. In January 2022, two years after the launch of Clubhouse, LinkedIn launched an interactive, audio-style feature to enhance virtual engagement. It is available to every user who operates Creator mode on the app.
Clubhouse SWOT Analysis
Below, there is a detailed swot analysis of Clubhouse: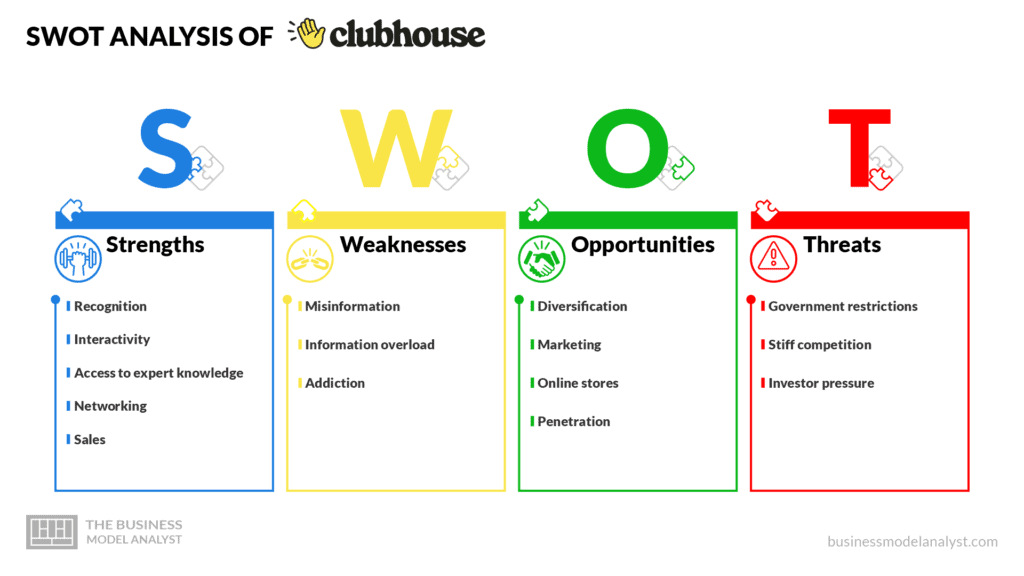 Clubhouse Strengths
Clubhouse has become a force to be reckoned with among social media apps. Below, there are some of its strengths:
Recognition: Currently, Clubhouse has over 10 million users weekly, with 3.5 active at all times. The brand has grown since it was launched, such that prominent people like Elon Musk, Oprah Winfrey, and other high-profile individuals use the app. This strong recognition is one of its biggest strengths;
Interactivity: One major feature of Clubhouse is that it encourages interaction. The rooms foster intimacy with other people. Whether you are the talk host, listening in, or contributing to the conversation, you can say whatever you want in this unfiltered setting;
Access to expert knowledge: Arguably, Clubhouse is one of the best social networking sites that provides much knowledge. You have access to listening to people who are the best in their fields, and this knowledge can help you grow your personal and business brand. Additionally, you can ask these experts questions you would not be able to ask them if you met them somewhere else;
Networking: As you learn from others, you can also connect with them. Networking is easier on Clubhouse because common tastes and interests in a room bind individuals. Besides, if you have talked with them online, meeting and bonding with them physically would be much easier;
Sales: If you have a business, optimizing Clubhouse will do you a lot of good. Through the app, you can meet many potential clients interested in the service you offer. Create valuable content around your business; interview experts and host talk shows. Asides from marketing your business to potential clients, you are also establishing yourself as an authority in that niche.
Clubhouse Weaknesses
Despite its strengths and success, Clubhouse is not without its weaknesses. These include:
Misinformation: Even though Clubhouse fosters unlimited learning, it is advisable to screen what you are learning. Not everything you are told is right. There are many self-acclaimed experts on the app who claim to be the best in their fields, but conjure up data and facts to chase clout. If you come across such, you can also report them;
Information overload: It's good to seek information, but too much information leads to decision paralysis. When you listen to too many people, you can get overwhelmed with knowledge and become confused about what to do. Sometimes, you can end up making the wrong decisions and doing the wrong things because you might be led astray;
Addiction: Even though Clubhouse is a goldmine of information and knowledge, it can become addictive if you do not intentionally manage time. As such, you must stick to a fixed routine when engaging on Clubhouse and other social media apps.
Clubhouse Opportunities
Here, there are some opportunities Clubhouse can take advantage of:
Diversification: Clubhouse can diversify into other services that can grow its revenue. Even though investors currently fund the company, they plan to roll out monetization features soon. For example, Clubhouse can find a stake in online audio streaming services for events, music, etc.;
Marketing: Considering how its competitors are improving their apps' capabilities to have Clubhouse-like features, Clubhouse needs to buckle down on its marketing if it wants to secure and expand its stake in the market. They can also get more users through intensive marketing;
Online stores: Clubhouse can create online stores for business owners and non-profits on their platform so that people can patronize or donate after listening to their talk shows. This makes customer/audience capturing easier for these businesses and NGOs;
Penetration: Clubhouse is more dominant in North America and some parts of Asia. Even though it is available in other regions, it doesn't have a strong presence there. If it doesn't work on strengthening its position in these areas, competitors will do, which will reduce its market share.
Clubhouse Threats
Below, there are the hearts Clubhouse faces:
Government restrictions: Clubhouse was banned in China when the Chinese government perceived it as threatening the country's welfare. This shows that more autocratic governments can censor Clubhouse in their countries since the app encourages freedom of speech;
Stiff competition: Shortly after the launch of Clubhouse, major competitors quickly improved the capabilities of their apps. It doesn't stop there, however. Everyone is trying to advance in the innovation game, and new competitors are coming up;
Investor pressure: Clubhouse is funded by its investors. This means that asides from the money they provide, the investors can mount pressure on the company. As such, without making its own money, Clubhouse will find it difficult to operate like an independent entity.
Conclusion
Since 2020, Clubhouse has remained one of creators' and influencers' top choices for connecting with and engaging their audience virtually. The company became a unicorn within less than a year of its launch and received over $100 million in funding. Its position as a major alternative to large social media apps such as Instagram, Facebook, LinkedIn, and Twitter isn't surprising. However, it needs to improve on and expand its services if it wants to maintain its market position.