The Chewy business model is based on selling pet food and pet-related products online while maintaining excellent customer service and convenience. Read on for a comprehensive overview of how Chewy works and makes money.
A brief history of Chewy
Michal Day and Ryan Cohen established Chewy in 2011. The company has its headquarters in Dania Beach, Florida. Cohen's exposure to the business world began at an early age, having spent the better part of his childhood with his father, a glassware-importing business entrepreneur in Montreal. 
Cohen was inspired by his father, who was also his mentor, and started developing websites for local businesses and family members at the age of 13. He would later stumble upon the affiliate marketing world in his teenagehood, making thousands of dollars monthly. Instead of going to college, Cohen decided to continue working on his business and embarked on finding a programmer to boost his affiliate marketing operation. He'd later meet Michael Day in a Java chatroom, who would become his co-founder. 
Day, then a computer science student at the University of Georgia, dropped out of school to join Cohen in business. The two chose to venture into eCommerce, where they started selling jewelry online. Both parties invested $150,000 in the business to buy up inventory. They gave up the business in 2011 after attending a trade show in Miami due to a lack of passion for learning about the different precious metals and gems available in the market. Cohen's inspiration to launch Chewy came from his experience as a dog owner. 
During an interview, Cohen said, "We even spent a few hundred thousand dollars on jewelry, and we were a few weeks away from launching the company, but I have a poodle, Tylee, who's now 12 years old, and I would go every couple of weeks to buy products from this store owner who knew me and who I really trusted and who was a pet lover like me. And I had this epiphany; I realized I'm so much more passionate about this category. So we sold the jewelry, luckily getting back most of our money, and started Chewy."
The team launched Chewy's website during the summer of 2011. The business was funded solely via income from their previous affiliate marketing business and sales they'd already generated through Chewy. Cohen was convinced the business needed capital to run successfully. As a result, he flew to Silicon Valley in search of investors. Unfortunately, he wasn't successful. 
The investors he approached sighted a few concerns, such as his age, competitors, and business location. However, rejection didn't discourage Cohen from focusing on his goals. In October 2013, Chewy raised its initial round of funding and received $15 million from Volition Capital. Volition's funding was the cue other investors needed to invest their money in Chewy. In 2014 the company raised two funding rounds worth $41 and $30, respectively. 
Cohen would later step down as CEO in March 2018 after being at the helm for seven years. In 2017, PetSmart acquired Chewy for $3.35 billion. Chewy eventually went public in July 2019, raising $1.02 billion. While the Coronavirus pandemic left a reeling effect on businesses, Chewy reaped tremendous benefits from selling its products online. 
Apart from gaining numerous customers, the company made a profit for the first time since its launch. Today, the company has more than 7,000 staff and operates in over 20 locations in the U.S.
Who Owns Chewy
Ryan Cohen and Michael Day founded Chewy in 2011. While PetSmart acquired the company in 2017, it went public in 2019.
Chewy Mission Statement
Chewy's mission statement is "To be the most trusted and convenient destination for pet parents (and partners) everywhere." 
How Chewy works
To shop on the Chewy platform, customers must create an account on Chewy.com. After signing up, customers can choose from the 75,000 products on the website. 
How Chewy makes money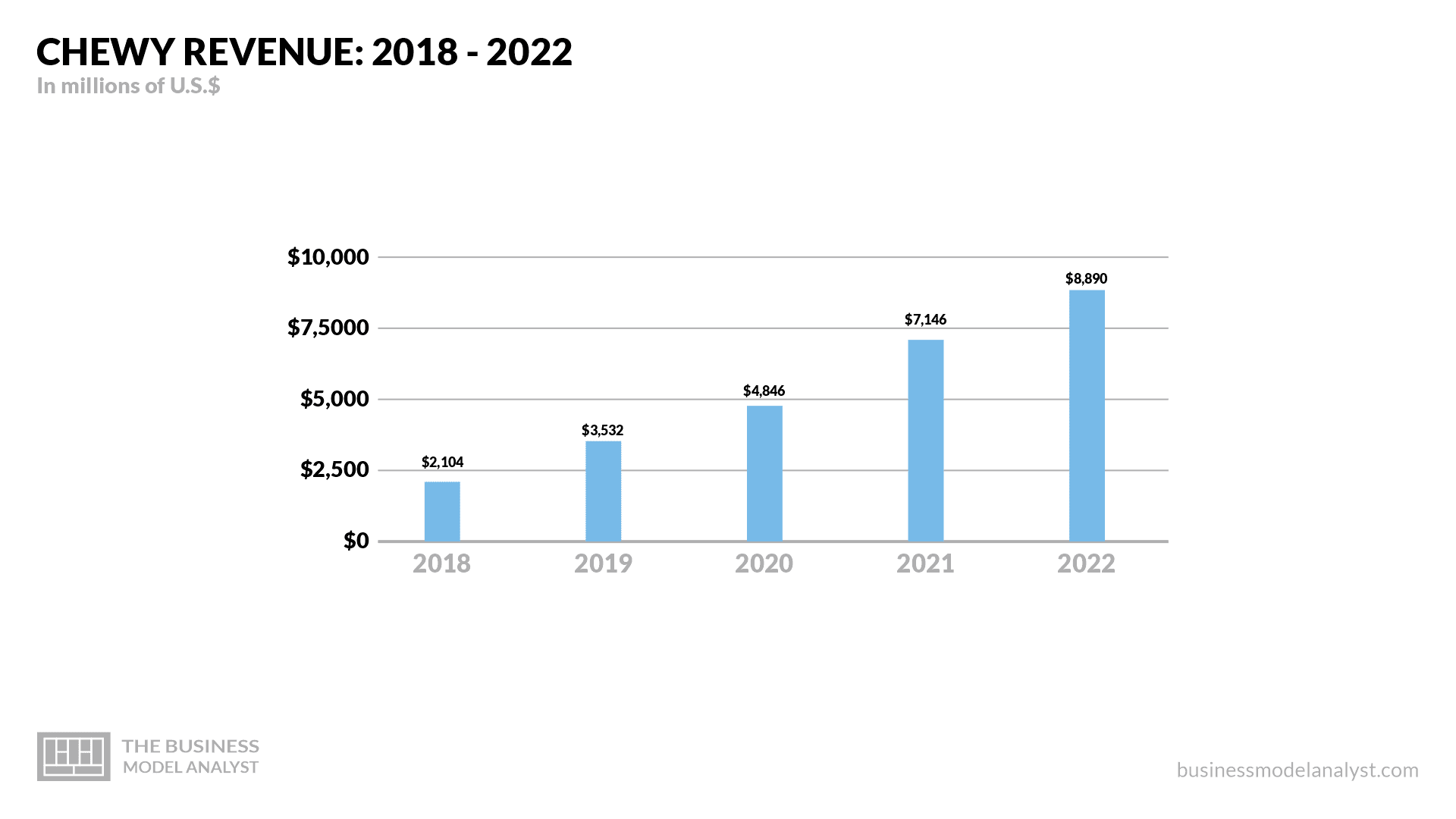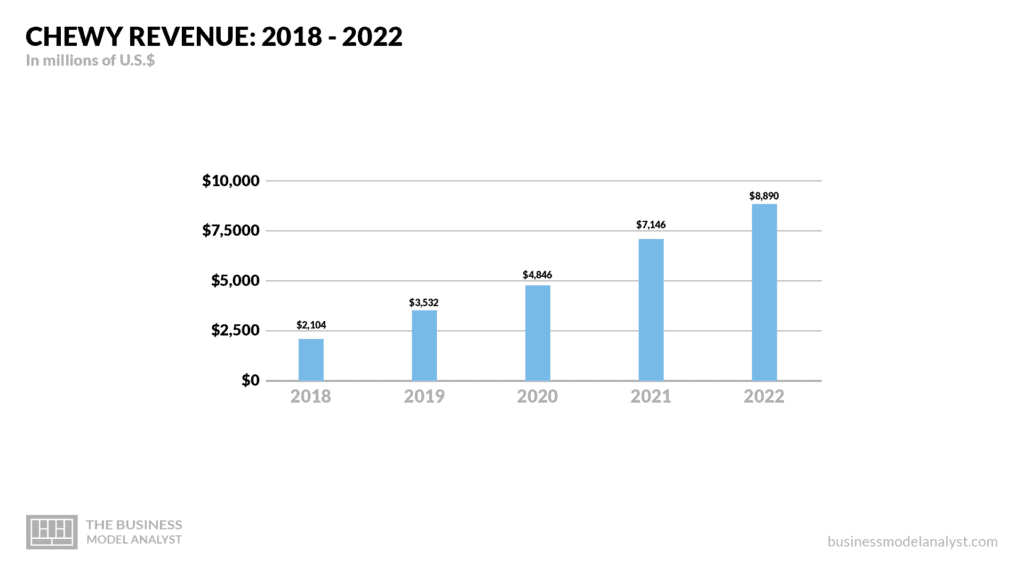 Chewy makes money by selling pet food and pet-related products on its eCommerce website. The company also earns a significant percentage of revenue from:
Autoship Customer Sales
Over 60% of the company's revenue in 2020 came from its Autoship subscription program. The program is a strategy for customers to activate recurring deliveries on their preferred products with zero membership fees. By activating auto-ship on orders, customers save up to 35% on their initial order and between 5% to 10% on recurring orders. 
Autoship customers also enjoy access to Chewy's Pet Health service. It includes virtually connecting with vets on-demand, adding vet clinics, and filling pharmacy prescriptions.
Non-Autoship eCommerce Sales
Chewy also generates non-autoship revenue through its eCommerce site.
Chewy Business Model Canvas
The Chewy Business Model can be seen in the business model canvas below: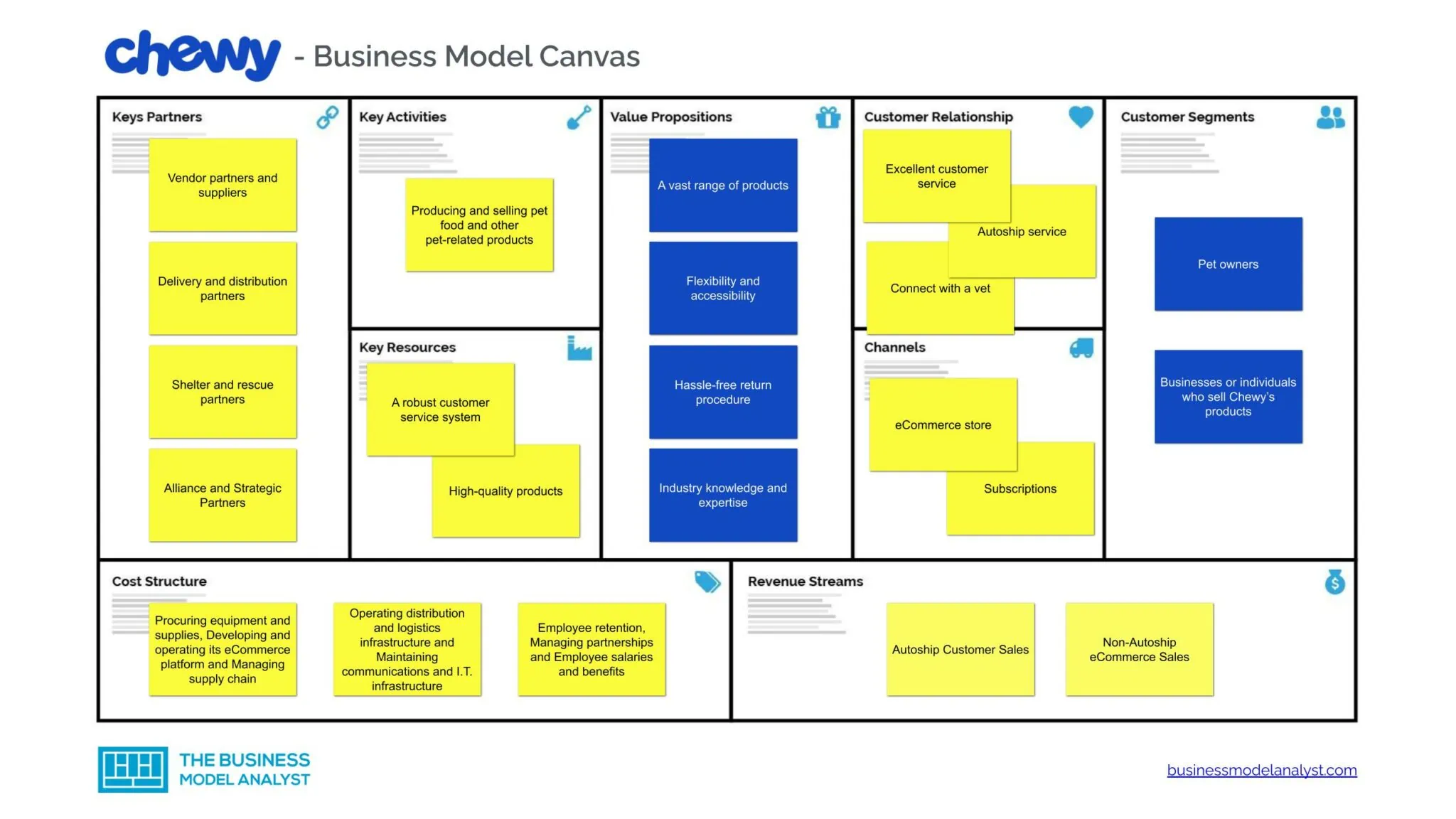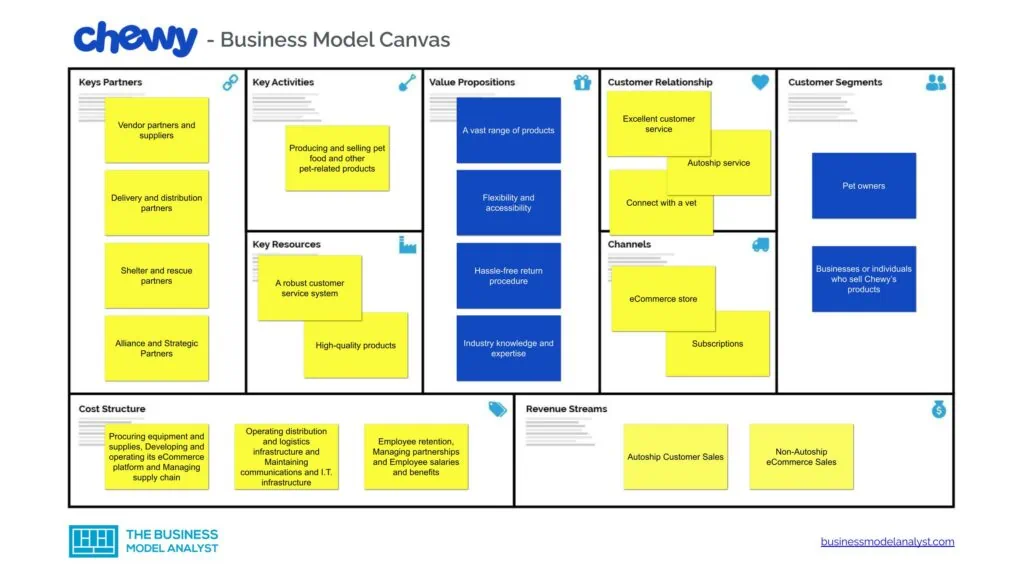 Chewy Customer Segments
The customer segments of Chewy are:
Buyers: Pet owners from various parts of the U.S. and the world who shop through the company's eCommerce platform;
Retailers: Businesses or individuals who sell Chewy's products to the public. 
Chewy Value Propositions
The value propositions of Chewy are based on the following:
Systematic delivery service: Chewy offers between one and two-day shipping on purchases amounting to over $45. Customers can use the autoshipping option to set automatic dispatch of their products.
A vast range of products: Chewy has a wide variety of pet products from different brands, such as treats, food, toys, and equipment for pets like rabbits, reptiles, fish, cats, and dogs;
Flexibility and accessibility: Chewy's online platform is user-friendly, allowing customers to browse products, schedule delivery, and manage payments with ease. Customer support service is available online and on the phone round the clock;
Hassle-free return procedure: Chewy offers a 365-day return period for dissatisfied customers to return their purchases;
Industry knowledge and expertise: Chewy's customer care representatives are knowledgeable, experienced, and responsive. They help customers understand different products and brands.
Chewy Channels
Chewy channels consist of:
eCommerce store
Subscriptions
Chewy Customer Relationships
The company offers top-tier customer relationships, that consist of:
Excellent customer service: Chewy often sends bereavement flowers to its customers when they lose their pets. Sometimes the company sends handwritten notes or pet sketches to its customers. Chewy understands that customers purchase pet food periodically;
Autoship service: This free-to-use service comes in handy to schedule deliveries and improve customer experience. Customers can leverage this service to choose their preferred products and the delivery timeline;
Connect with a vet: Autoship customers are signed to a paid subscription plan that generates repeat business for the company. Chewy customers can also contact a licensed vet to inquire about their pet's behavior or health. 
Chewy Revenue Streams
Chewy's revenue streams consist of
Autoship Customer Sales
Non-Autoship eCommerce Sales
Chewy Key Resources
Chewy's key resources consist of 
A robust customer service system 
High-quality products
Chewy Key Activities
Chewy's key activities involve: 
Producing and selling pet food and other pet-related products
Chewy Key Partners
Chewy's key partners facilitate smooth business operations. They are:
Vendor partners and suppliers: These are supplies and vendor items that Chewy resells through its phone and online sales channels, providers of equipment, services, and technology used in the company operations;
Delivery and distribution partners: Third-party delivery and distribution service providers help Chewy manage its shipping services;
Shelter and rescue partners: Groups of philanthropic and non-profit organizations interested in animal care and rescue, with which Chewy partners on different initiatives;
Alliance and Strategic Partners: Firms with which Chewy works on mutually helpful activities and collaborative initiatives.
Chewy Cost Structure
The cost structure of Chewy includes:
Procuring equipment and supplies
Developing and operating its eCommerce platform
Managing supply chain
Operating distribution and logistics infrastructure
Maintaining communications and I.T. infrastructure
Employee retention
Managing partnerships
Employee salaries and benefits
Chewy Competitors
Petco: The company, with its headquarters, is one of the largest pet retailers in the U.S. Apart from Its 1,500 retail locations in Mexico, the U.S., and Puerto Rico, it has over 100 in-store vet hospitals. 
Petco provides pet medications and supplies alongside other services such as dog training and grooming, a monthly wellness plan, a company-branded debit card, automated deliveries, and pet insurance. 
Currently, Petco has more than 24 million customers. The company generated approximately $6.15 billion in revenue in 2022 and posted a more than $190 million profit. More than 27,000 individuals work for Petco. 
PetSmart: While PetSmart acquired Chewy in 2017, the firms separated three years later. Before the separation, PetSmart leveraged Chewy's 2019 IPO gains to settle some of its debt, triggering massive problems. PetSmart is among North America's biggest pet supplies retailers, with stores in Puerto Rico, Canada, and the United States. Apart from selling a wide variety of pet products, PetSmart offers pet grooming, dog training, day camps for dogs, and pet boarding. 
Amazon: The world's biggest marketplace is headquartered in Seattle, Washington. Ryan Cohen has often credited Jeff Bezos, the Amazon founder, for inspiring him to grow Chewy. Amazon now offers a wide range of pet products from leading brands. Prime Amazon members can enjoy automatic refills and same-day and free deliveries. 
Amazon also launched private label brands, which are more affordable than other companies. In 2022 during National pet month, Amazon launched Amazon pet day, a 24-hour event allowing customers to access attractive discounts on pet-related products. 
Walmart: Walmart is a popular company with branches in 24 countries. It's one of the biggest private-sector employers in the U.S., with more than 2.3 million employees. Walmart's ventures in the pet category are a threat to Chewy. 
In 2020, Walmart launched a pet care service, bringing together some of Walmart's existing offerings, like pet insurance, pet sitting, and dog walking. The company later launched a new dog and cat food brand. Apart from pet utensils like beds and food, Walmart provides pet medication through Walmart Pet Rx. 
PetMeds: With its headquarters in Pompano Beach, Florida, PetMeds has 11 million customers in different states. The company runs an online veterinary pharmacy verification from the National Association of Boards of Pharmacy. PetMeds distributes pet medication while connecting pet owners with vets via a chat. 
The firm creates content on different health issues and treatments. It also ships prescriptions automatically. Former anesthesiologist and PetMeds founder Puelo established the business as a mail-order service for human and animal prescriptions before moving to pet supplies due to the massive competition in the human prescription industry. PetMeds later went public on Nasdaq's stock exchange. 
Target: currently, Target sells more than 7,000 different products for fish, cats, rabbits, birds, and dogs. The firm launched its Boots & Barkley brand in 2011, which includes pet collars, bowls, beds, toys, and leashes. It later launched Kindfull, a pet food brand. Target offers in-store pickups, same-day deliveries, and loyalty points for all purchases.
Pet Supplies Plus: This physical pet product retailer has a premium subscription service allowing customers to access exclusive deals and discounts. Pet Supplies Plus also offers pet washing and grooming services and medical procedures like vaccinations and microchipping. 
Chewy SWOT Analysis
Below, there is a detailed SWOT analysis of Chewy.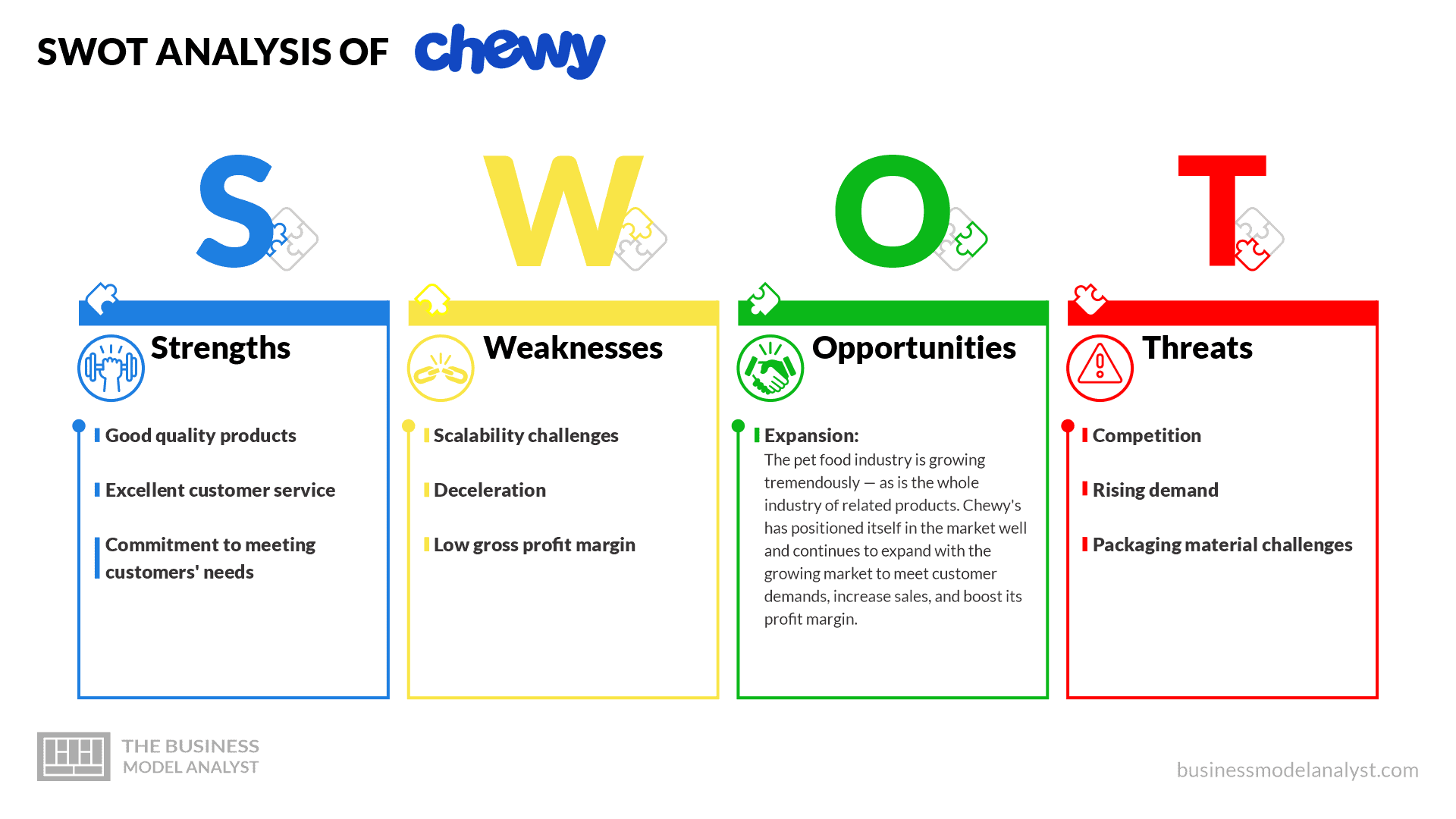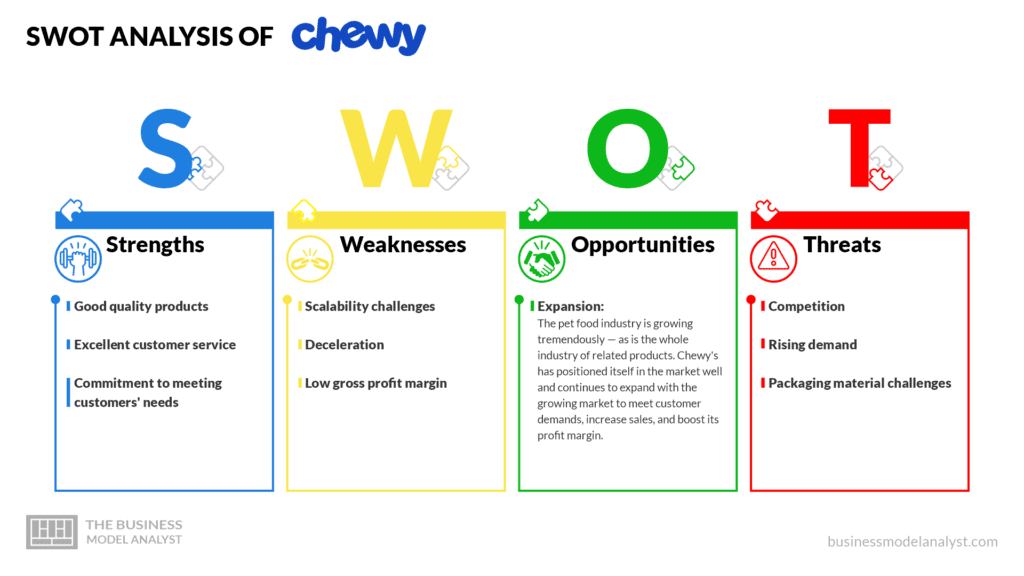 Chewy Strengths
Good quality products;
Excellent customer service;
Commitment to meeting customers' needs.
Chewy Weaknesses
Scalability challenges;
Deceleration;
Low gross profit margin.
Chewy Opportunities
Expansion: The pet food industry is growing tremendously — as is the whole industry of related products. Chewy's has positioned itself in the market well and continues to expand with the growing market to meet customer demands, increase sales, and boost its profit margin.
Chewy Threats
Competition: This remains Chewy's biggest threat, with new companies capitalizing on the ever-evolving pet food industry;
Rising demand: The pet food industry in the U.S. alone generated $42 billion in sales in 2020, a 9.7% increase from the previous year. This massive growth triggered challenges, seeing that many businesses were unprepared for the sudden rise in product demand;
Packaging material challenges: The manufacturers of packaging materials are yet to recover from the effects of the pandemic, causing a scarcity of their products. Pet food manufacturers such as Chewy face disruptions due to limited packaging materials supply. 
Conclusion
Chewy is a renowned brand that offers the best quality products for your pets. Its core revenue generation source is its website, where customers can access their preferred products. In today's overly competitive market, Chewy offers impeccable customer service while allowing pet owners to connect with licensed vets for free. These services have helped the company stay ahead of its competitors. 
Chewy's autoship service, a delivery system for recurrent pet product deliveries, is one of the best earners for the company. As demand for pet food and other related products and services rises, Chewy will remain relevant for many years.