Canva business model is a SaaS that provides graphic design software for people who are not professional designers and don't have an interest or cannot afford to hire one. The user has access to innumerous ready-made templates, fonts, and even free images, in a user-friendly interface, able to feed any kind of social media, and more.
Keep reading to understand how this company which started from two in-love Australian youngsters back in 2012 became a graphic design software used by 85% of Fortune 500 companies.
A brief history of Canva
Despite the foundation, in 2012, Canva's journey began five years before, when Melanie Perkins and Cliff Obrecht were students at the University of Western Australia. At that time, Perkins used to give InDesign and Photoshop classes to students – and realized that people considered that software really tricky to learn and use indeed.
The students would append nearly half a year only learning what the available tools in the applications were and Perkins thought there should be a way of doing the same kind of work with simpler tools.
This way, together with her boyfriend, Obrecht, Perkins had the idea of developing a simple online tool to create school yearbooks. They took a loan and built Fusion Books. Users would design the books, while the young couple would then print and deliver them to schools across Australia.
It was a success – and remains: it is currently the largest school yearbook publisher in the country, with expansion in New Zealand and France.  But, as Canva can tell now, they have not stopped there.
Some years later, in 2010, Perkins attended a conference in Perth and met Bill Tai, a legendary venture capitalist from Silicon Valley. Tai was a passionate kitesurfer and Perkins realized that practicing the sport would be a way to keep contact with the investor, and, thus, have a network.
Her dedication paid off, and, in a short time, they won major investments and were able to create Canva with a great team of engineers. But, to go beyond that, they would need some tech person, and that came with Cameron Adams, one ex-Google.
A few months after that, within 2012, their first funding round was able to put the Canva website online. Nowadays, Canva has helped create around 2 billion designs in 190 countries. Its valuation reached USD 15 billion in 2021 and keeps counting.
Canva mission statement
To empower everyone in the world to design anything and publish anywhere.
How Canva makes money
Canva is a freemium business model: it is free to use, with subscription plans that offer additional features, images, and templates. There are five revenue streams at Canva:
1. Canva Pro
Canva Pro is a premium subscription plan, with prices starting at $ 6.50 per month, depending on how many users are going to use the subscription. The Pro features include:
75+ million premium stock photos, videos, audio, and graphics
420,000+ free templates with new designs daily
1 Brand Kit with your own fonts and logos
Unlimited use of Background Remover
Saving designs as templates for your team to use
100GB of cloud storage
Scheduling social media content to 7 platforms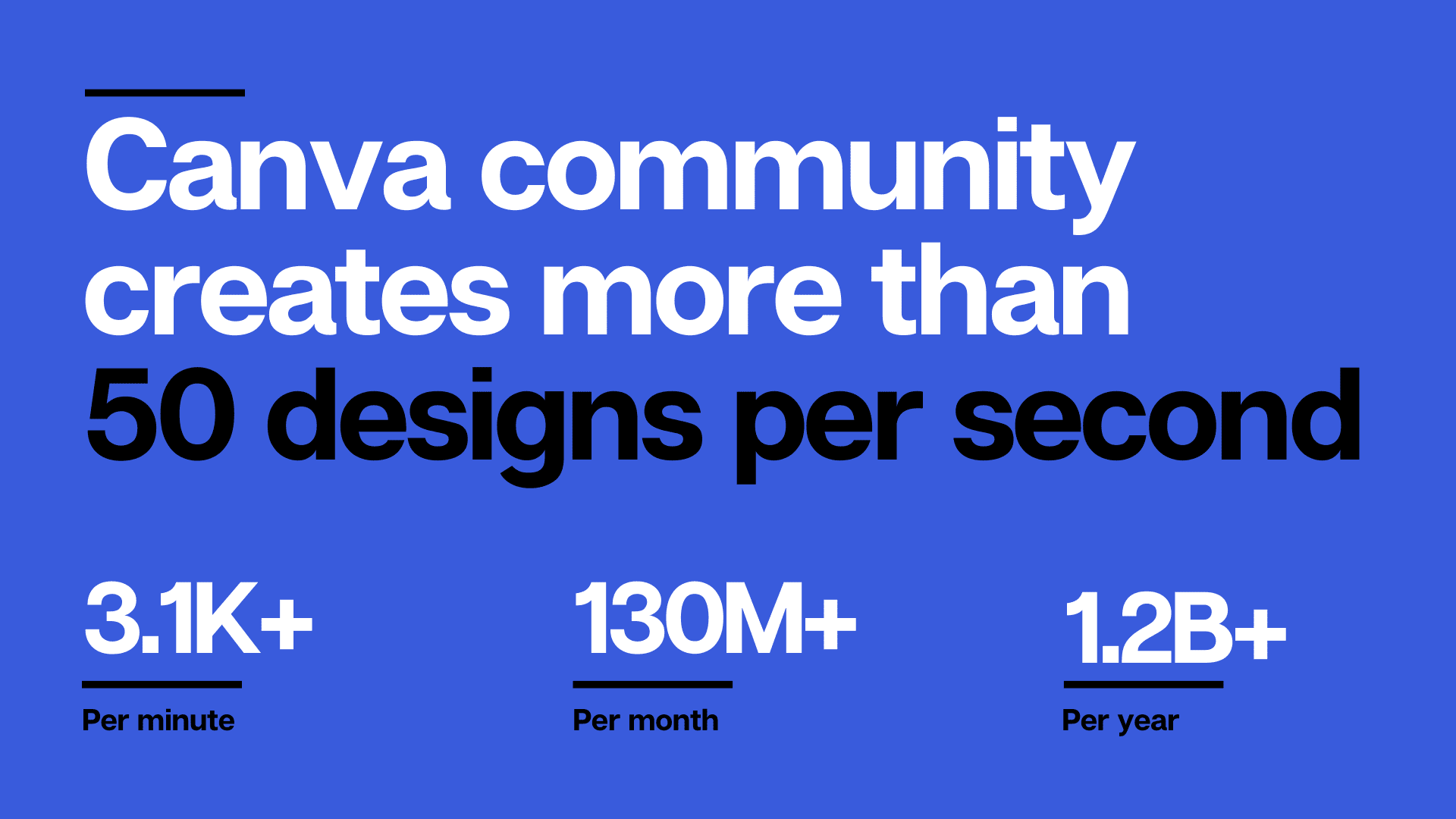 2. Canva Enterprise
Canva Enterprise is another subscription plan, aiming at large businesses, interested in managing their brand. The cost starts at $ 20.50 per person, monthly. The Enterprise features include:
Establishing your brand's visual identity with logos, colors, and fonts across multiple Brand Kits
Controlling your team's access to apps, graphics, colors, logos, and fonts with brand controls
Controlling team uploads into Canva
Built-in workflows to get approval on your designs
Setting which elements your team can edit, and stay on-brand with template locking
Unlimited storage
Single-sign on (SSO)
24/7 Enterprise-level support
Educations institutions have discounts on Enterprise plan and non-profit organizations can access it at no cost.
3. Canva Print
Canva has partnered with printers to print and deliver the material printed. Users can make their designs in the applications and receive the physical material at their address. Canva charges the service according to the type of product, order volume, and location for delivery.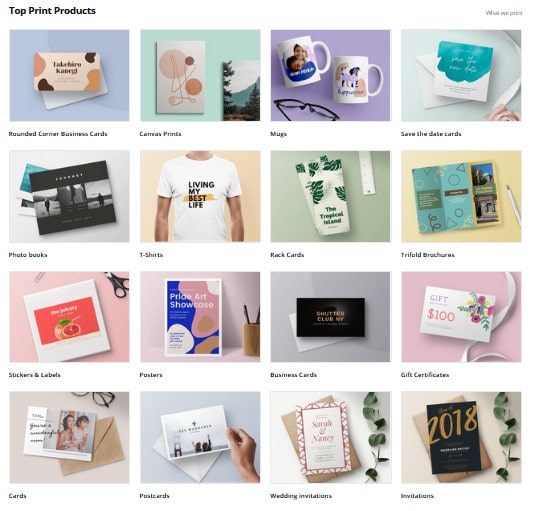 4. Marketplace
Sometimes people do not see the necessity of subscribing but want to buy some premium design. In these cases, Canva charges a one-time fee for single usage. Users can find paid images and templates, ready to use.
The content is developed by designers, who leave their work available on the platform. For every sale, Canva takes 35%. For content sold in the Pro plan, creators received 50% (cutting off taxes and processing fees).
5. Design school
Canva also has a Design School, by which the company offers online and in-person classes, about design, branding, and social media, hosted by Canva's experts. Online classes are free and the presential ones start from $5.
Canva business model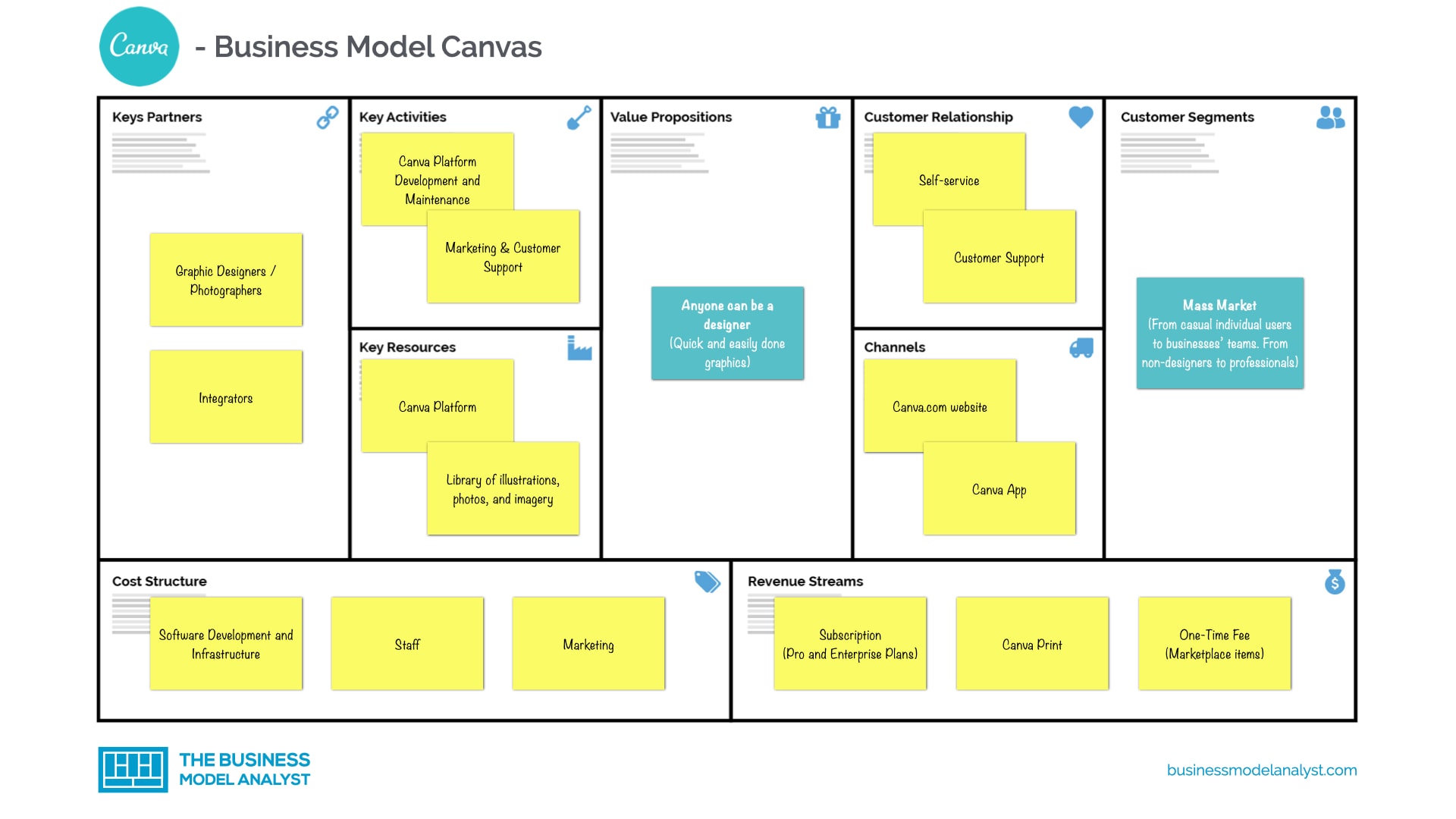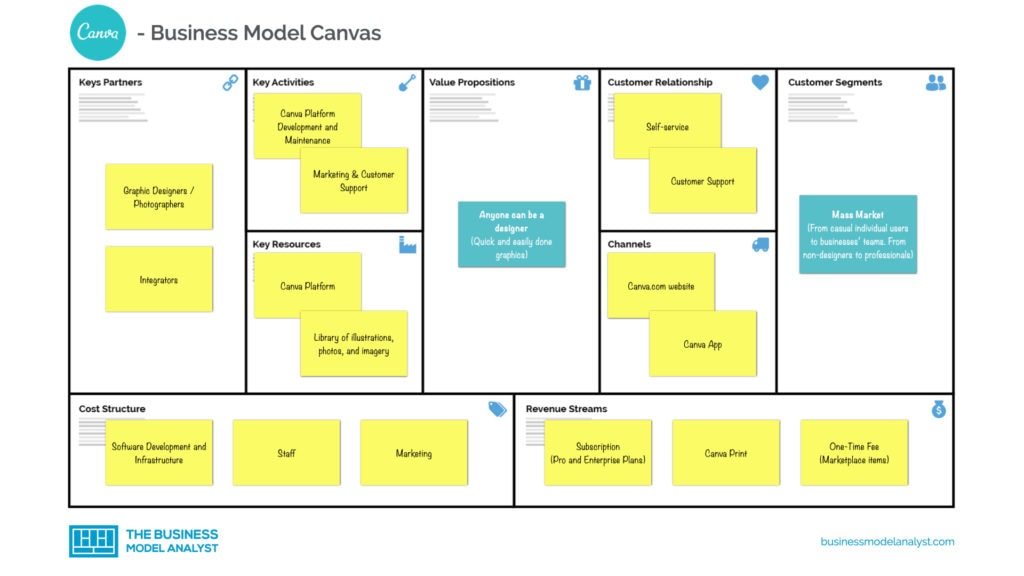 Download High-Resolution PDF of the Canva Business Model Canvas
Canva customer segments
Anyone. From casual individual users to businesses' teams. From non-designers to professionals. Also, non-profit organizations and educational institutions.
Canva value proposition
Simple and flexible design platform
Quick and easily done graphics
Marketing material with no expertise
Variety of customization
Accessible through mobile and browsers
Canva channels
Website
Mobile app
Canva button (integrated into any website that hosts user-designed content)
API
Social media
Affiliate program
Canva customer relationships
Mostly self-service, but the platform offers the marketplace, the Design School, a blog, and social media accounts.
Canva revenue streams
Canva revenue is based on the sale of user subscriptions and single-use licensing of content. Additionally, there are the Design School in-person classes and printed delivered material.
Canva key activities
Graphic design
Platform maintenance
Product development
Marketing and sales
SEO
Operation
Support
Integrations
Canva key resources
Graphic design platform
IT infrastructure
Library of illustrations, photos, and imagery
Staff
Design community
Contributor partners
Canva key partners
Graphics contributors
Integrators
Marketers
Third-party apps and websites
Investors
Bloggers
Affiliates
Canva cost structure
Software development
Infrastructure maintenance
Network
Personnel
Marketing and affiliates
Administration
Canva competitors
Adobe InDesign
Adobe Photoshop
Adobe Photoshop Lightroom
Adobe Spark
CorelDraw
Creatopy
Crello
Design Wizard
Fotor Photo Editor
GIMP
Lucidpress
Microsoft Publisher
Picktochart
PicMonkey
Pixlr
Prezi
QuarkXPress
Venngage