Before 2004, entrepreneurs suffered from prolonged and cumbersome business plans. Alexander Osterwalder facilitated the creation of a business model by introducing the Business Model Canvas (BMC).
By definition, it's a visual template that illustrates various objects of a business model. Osterwalder's original canvas includes nine elements, which we will have explained below in the article. They represent vital aspects of business survival.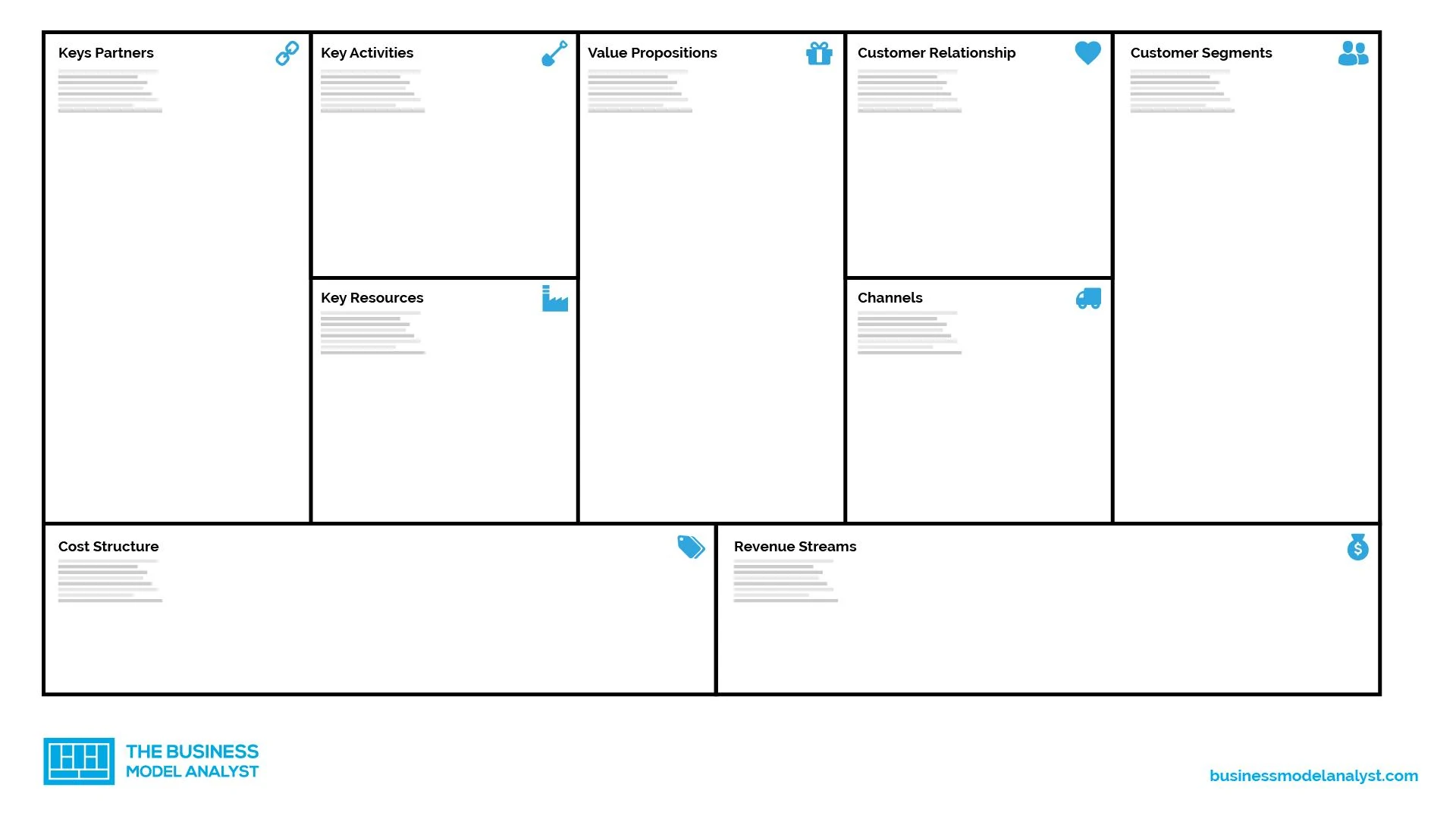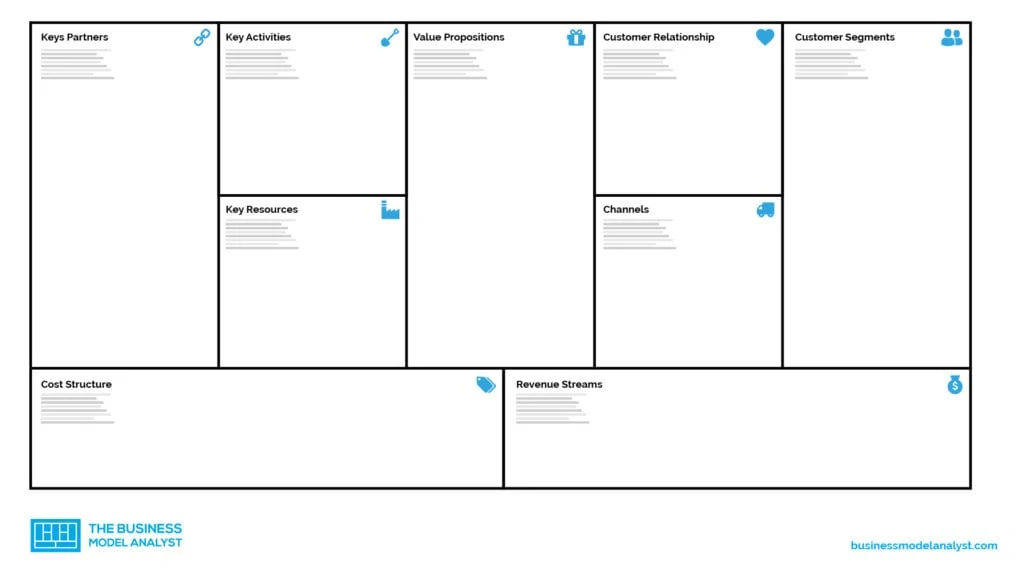 What to Begin With?
Once you decided to use the Business Model Canvas approach, you need to prepare the essentials:
Decide on the team members involved.
Allocate time
Prepare the tools.
The necessary tools depend on how you decide to brainstorm:
Offline. Download a PDF Business Model Canvas template, and take several colored markers, sticky notes, and anything else you may need. For example, if you are brainstorming in a big team, a board is a must for enhanced convenience.
Online. Choose the platform where you will work with a template. It can be Google Docs, Omnigraffle, or the Stratygizer web app.
Why Choose Business Model Canvas?
What makes The Business Model Canvas stand out in an array of approaches to business model creation? Its 1-page nature drives the following advantages:
Focus – With all the data presented on a single page, business owners don't spread themselves too thin. They formulate key elements and eliminate unnecessary ones.
Density – It's much better to read one dense piece of paper than look through a 30-page report.
Flexibility – The canvas is easy to customize; therefore, you can fill out several templates, compare them, and choose the best one.
About the Nine Business Model Canvas Elements
Let's elaborate on what is behind the nine Business Model Canvas blocks:
1. Customer Segment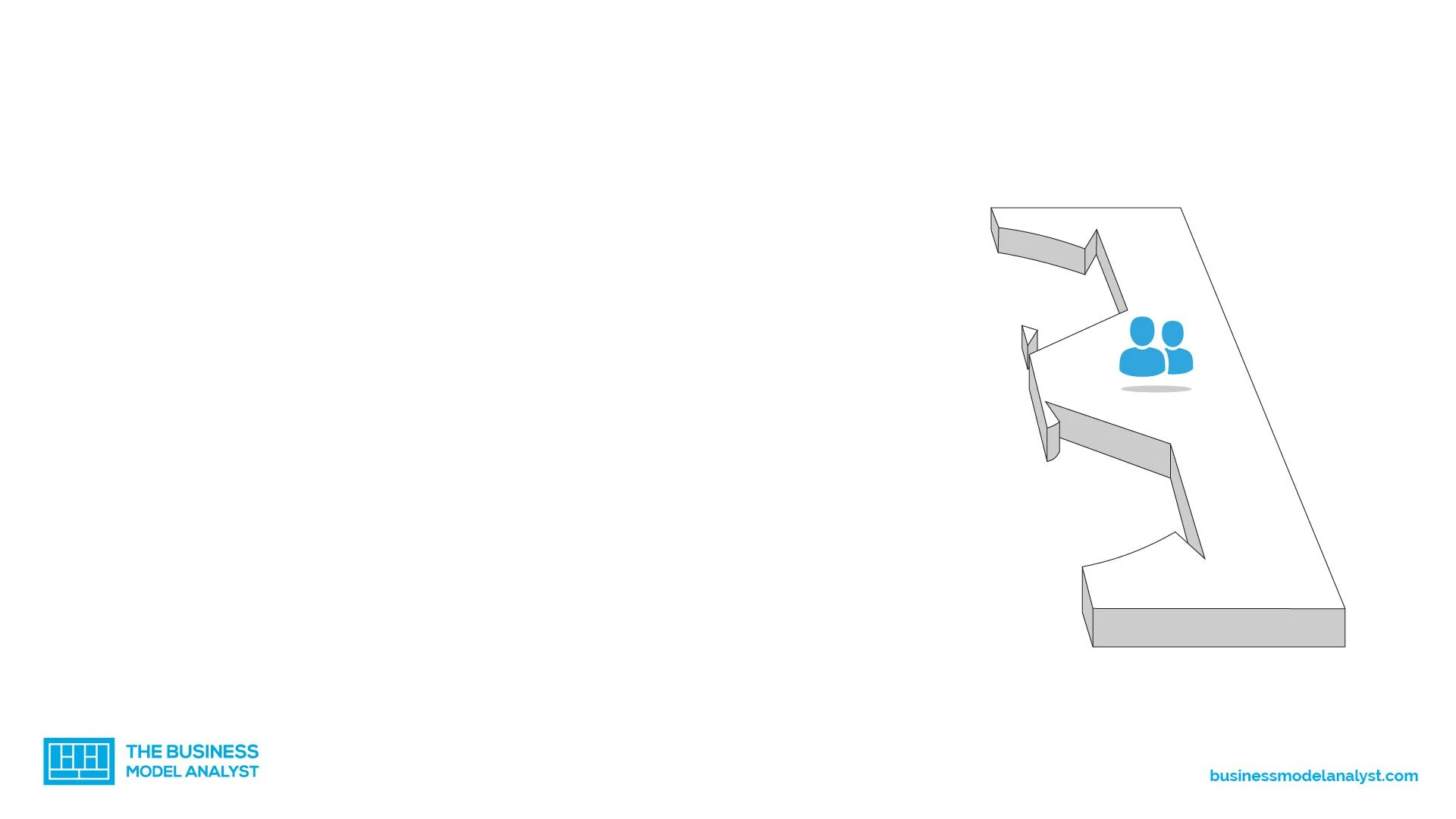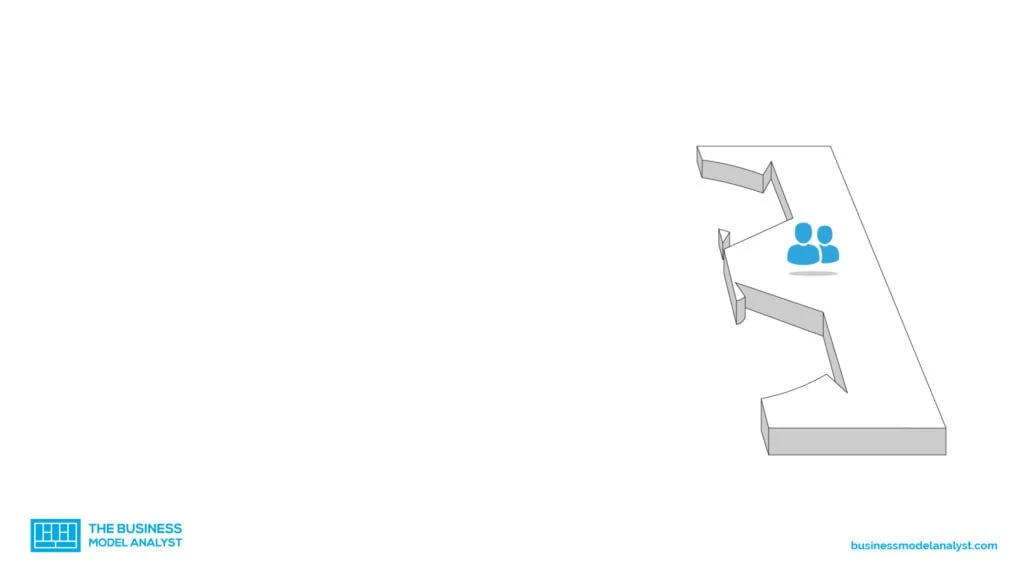 Daily operations highly depend on customers and their behavioral patterns. That's why customer segmentation is a must when creating a business model.
In this block, you need to describe the buyer persona. The description includes the following:
Demographics (age, gender, etc.)
Professional status
Motivation and goals
Shopping preferences
This is a basic list of points. You can add specific parameters. For example, software developers may identify the preferred device type. Already-established brands can also introduce visitors' tiers that differentiate people according to their level of connection with a brand.
Read an in-depth article about customer segments here.
2. Value Proposition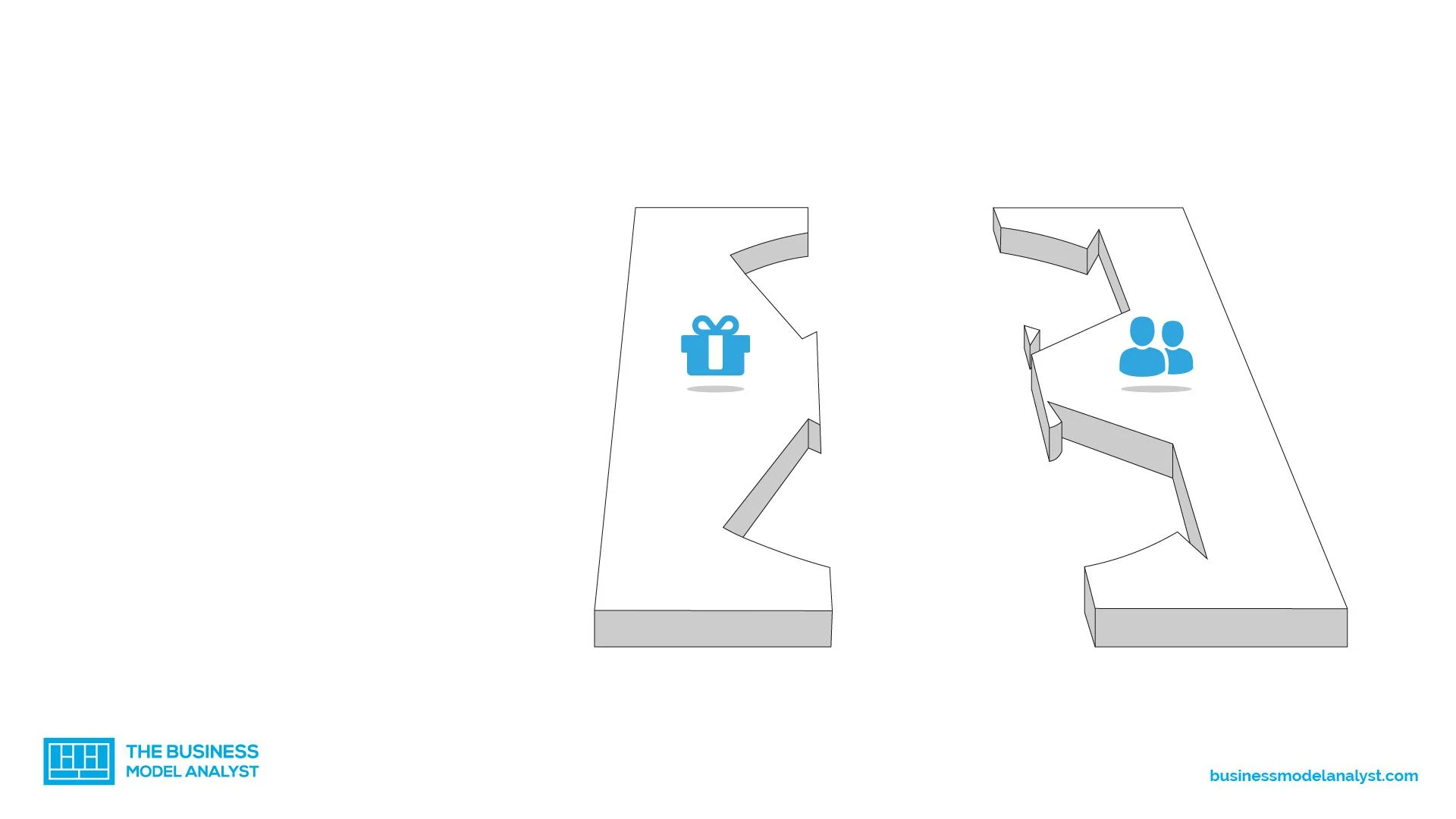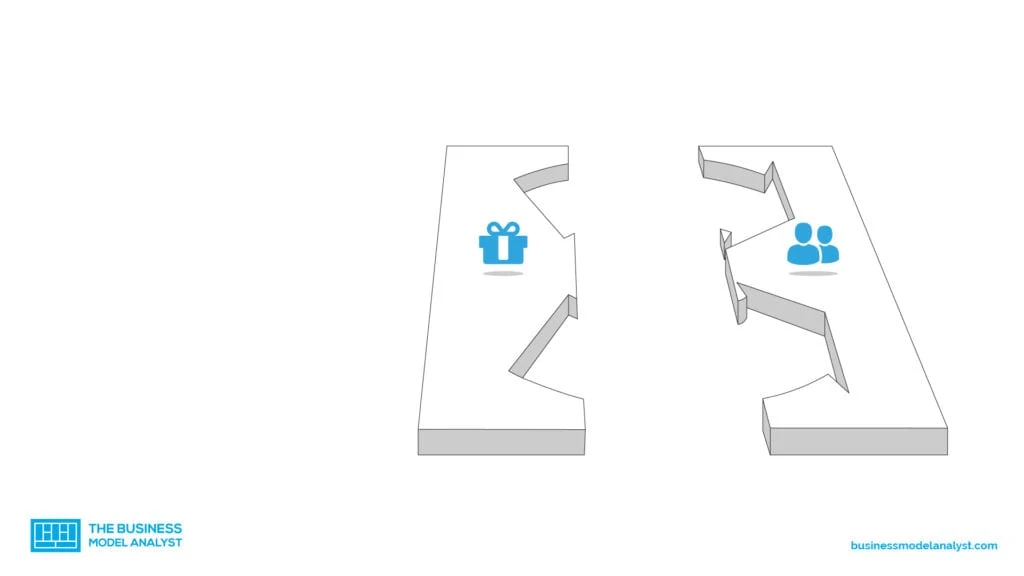 A value proposition is a brief description of your product and its ultimate value for a client. In other words, write down in a Business Model Canvas why consumers should buy your goods or services. Ideally, it solves a problem or drives additional value for an end-client.
Keep in mind that the wording should be precise and short. Don't describe your value proposition in several sentences. Limit it to a single but eloquent phrase. Here is a good example from Maps.me: "Fast, detailed, and entirely offline maps with turn-by-turn navigation – trusted by over 140 million travelers worldwide."
Read an in-depth article about value proposition here.
3. Distribution Channels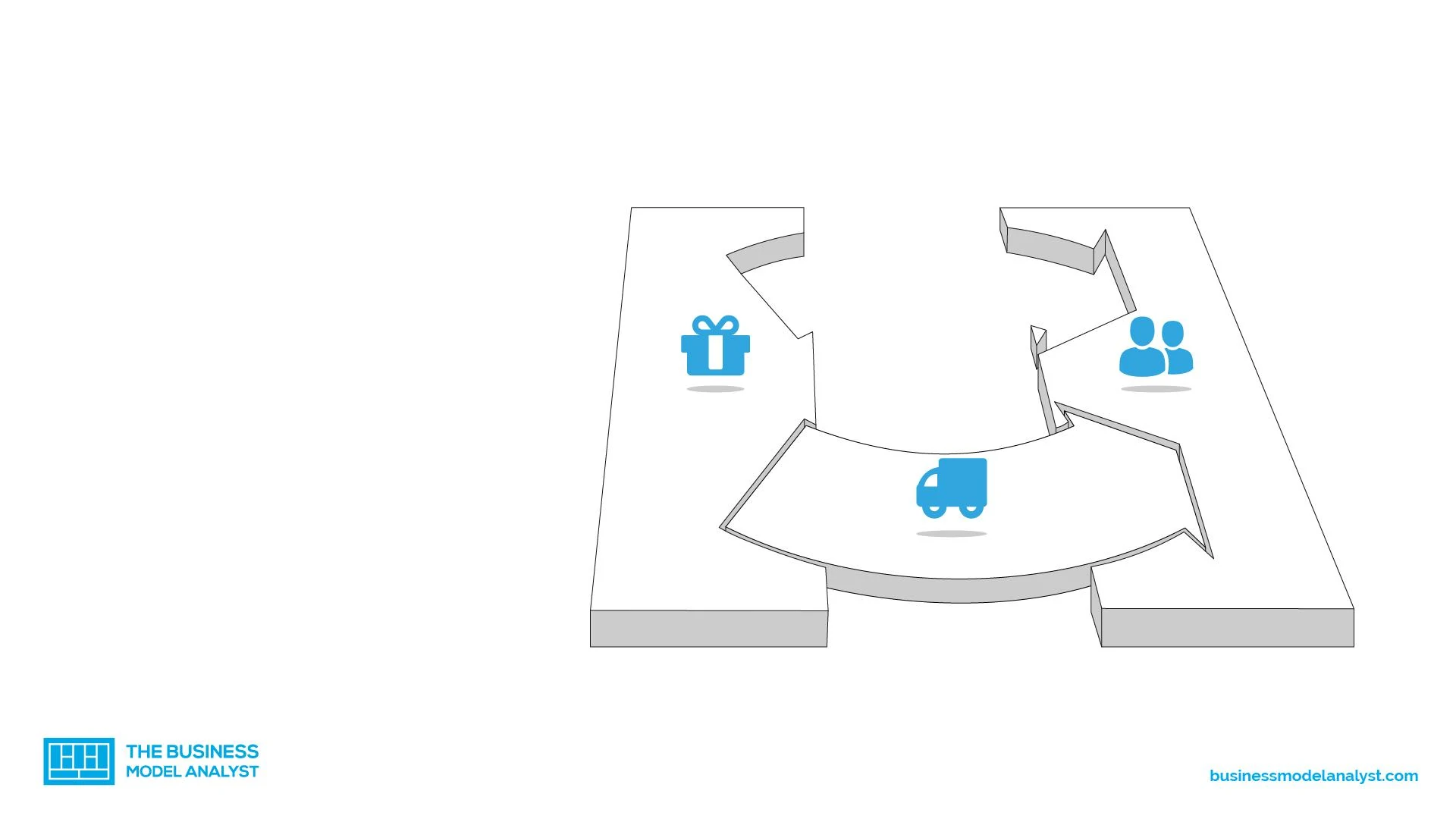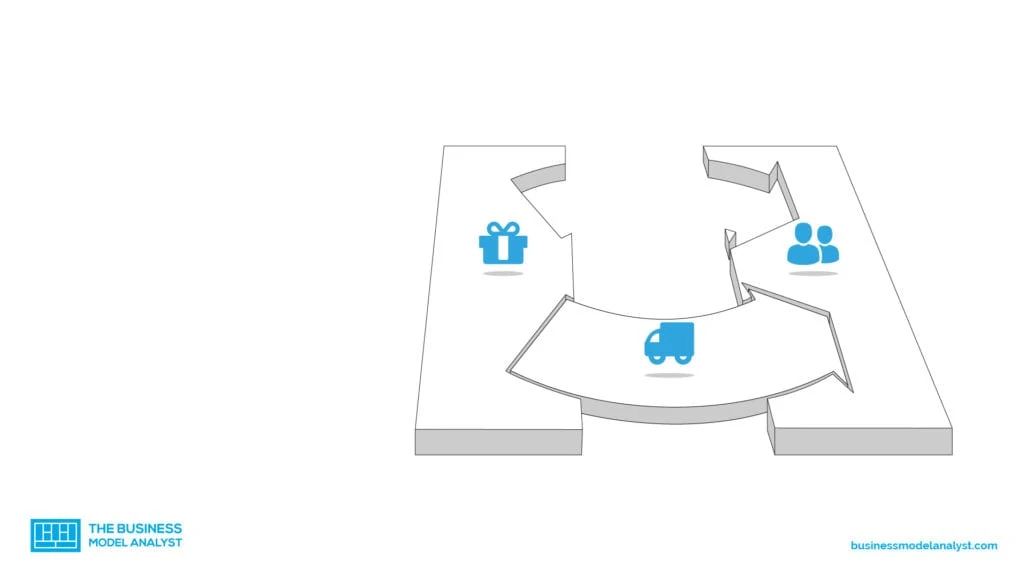 Osterwalder, together with Pigneur, described five phases of channel development.
Awareness includes channels that establish the initial contact with the target audience and develop the connection. It usually involves marketing channels.
Evaluation implies allowing potential buyers to try your goods and see the value. Popular channels are free samples, reviews, and case studies.
Purchase is about when and by what means customers can buy your product. The channels vary significantly depending on the prevalence of online or offline communication.
Delivery describes how an end consumer receives a product.
After-sales is usually limited to customer support that provides after-sales service and resolves problems.
Read an in-depth article about distribution channels here.
4. Customer Relationship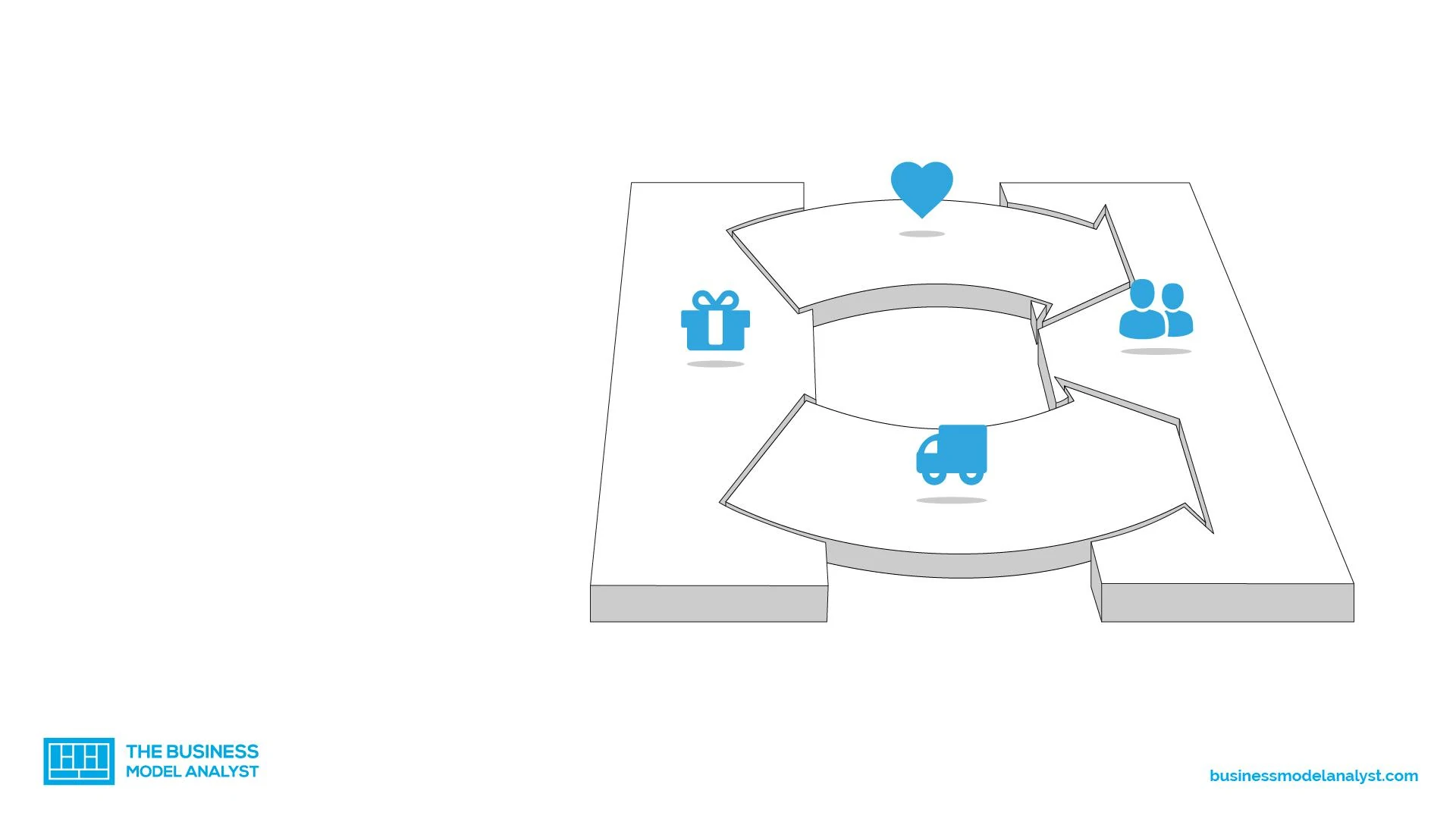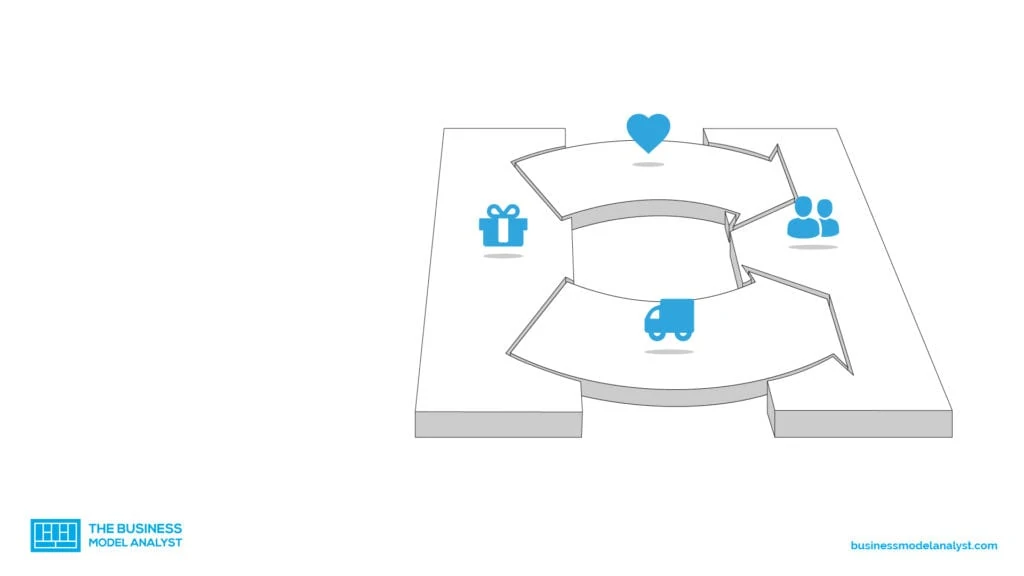 A customer relationship strategy determines how your target audience interacts with your brand. You can choose from five types of customer relationships in terms of the Business Model Canvas:
Personal assistance is a traditional approach where a customer interacts with a personal assistant when contacting your brand. It implies a high level of personal care and deep, meaningful relationships.
Self-service is the opposite of personal assistance: a brand doesn't directly communicate with a consumer – instead, the consumer can understand the product via guides and FAQs.
Automated service involves AI-based suggestions and bots that can provide basic assistance. This type is more engaging than self-service.
Communities are spaces developed by a brand itself to help the audience understand the product better. A good example is Oracle, which practices the approach.
Co-creation implies educating the customers via user-generated content.
Read an in-depth article about customer relationships here.
5. Revenue Streams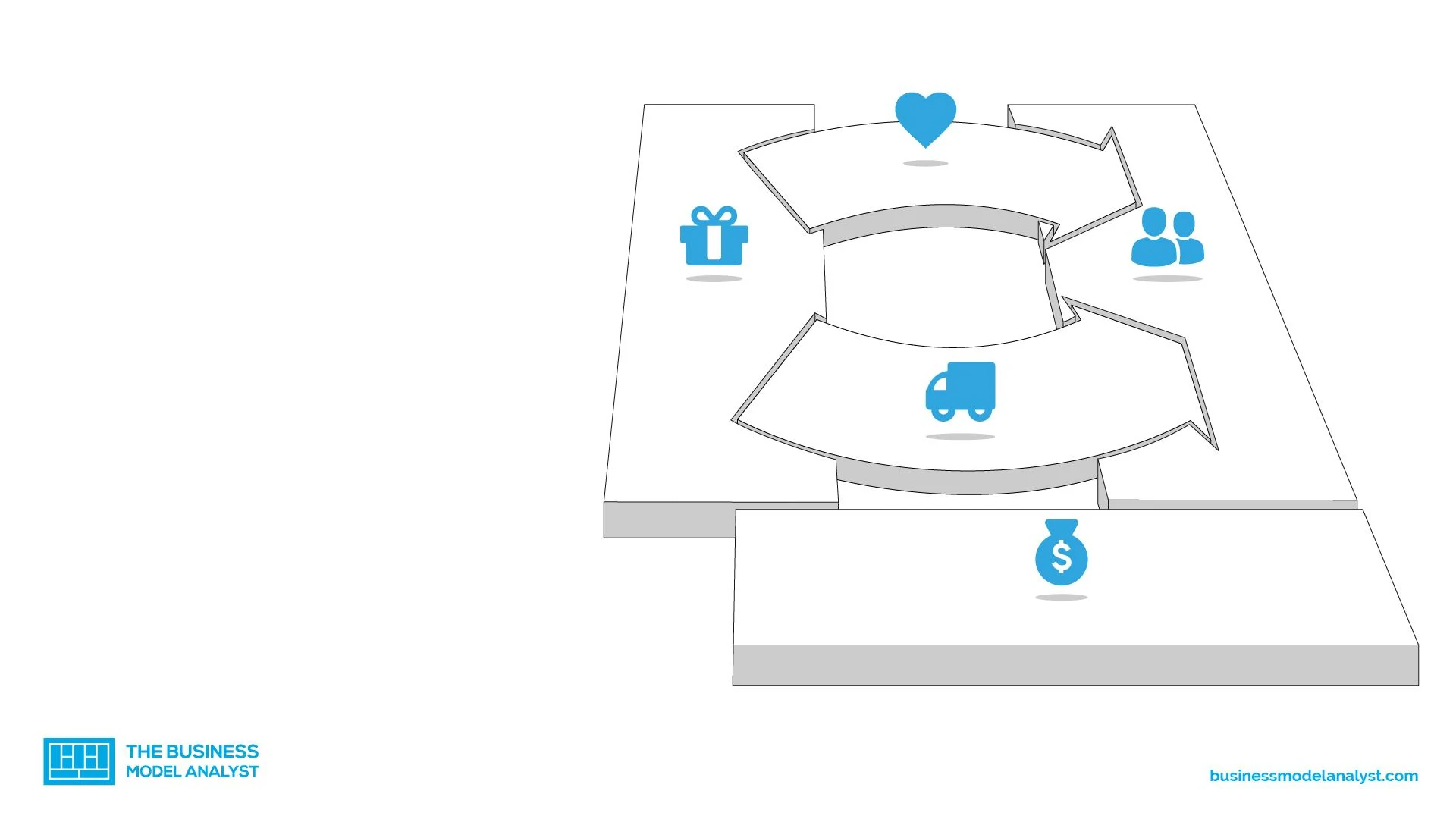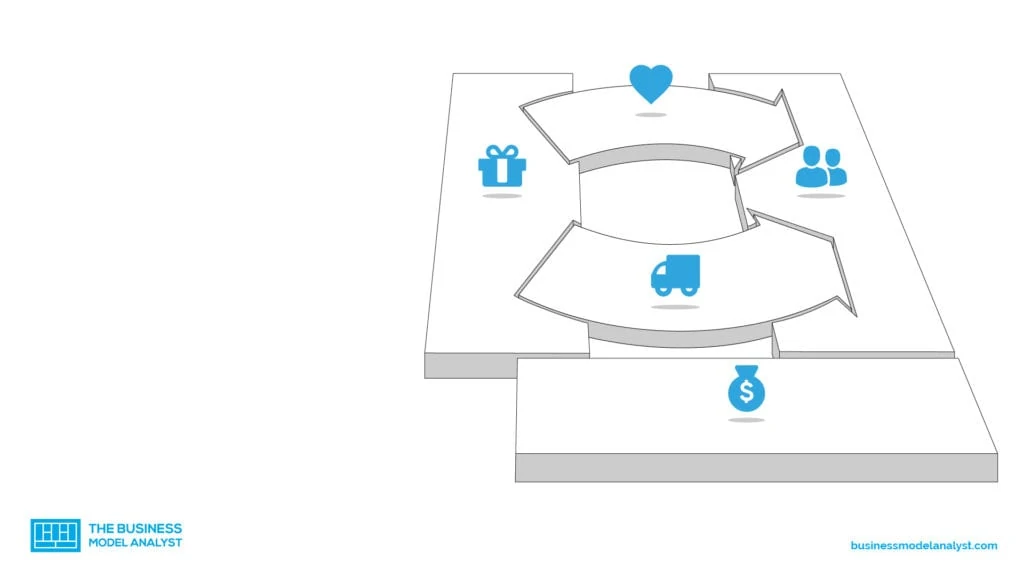 The next block of the Business Model Canvas is about determining where your revenue comes from. Here, you should consider the buyer's persona to identify what the target audience is ready to pay for.
There can be several methods of monetization:
Direct sales: Implies selling your service or product for a fee. It's common for the majority of industries.
Advertising: It's relevant for such niches as blogging or IT platforms. The revenue comes from advertisers who want to reach your audience.
Freemium: This applies to services only. Some features are free, while premium ones are paid for.
Subscription: It's similar to a fee-based monetization. The only difference is that a consumer pays for getting access to the service for a limited time, not forever.
Read an in-depth article about revenue streams here.
6. Key Resources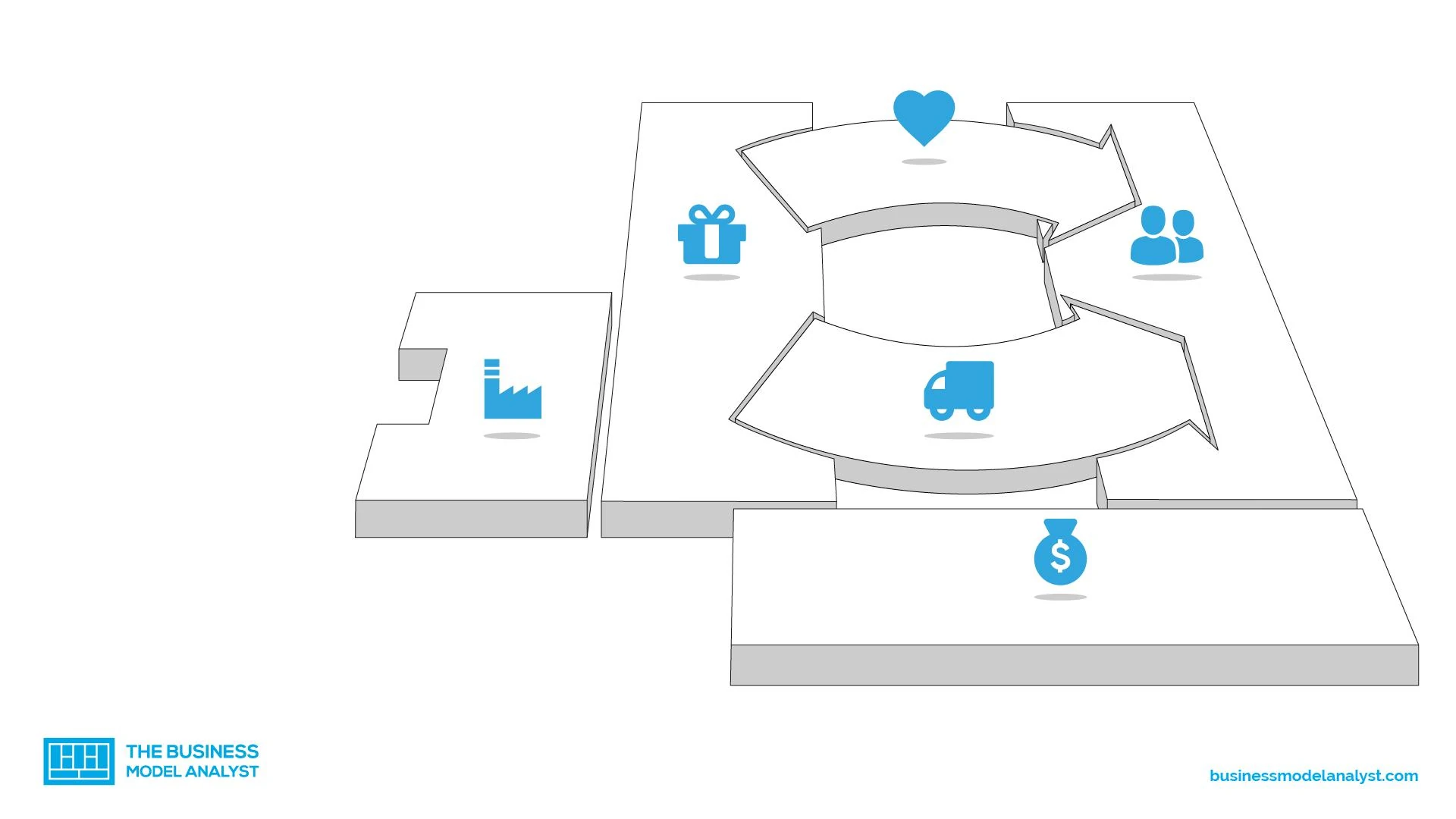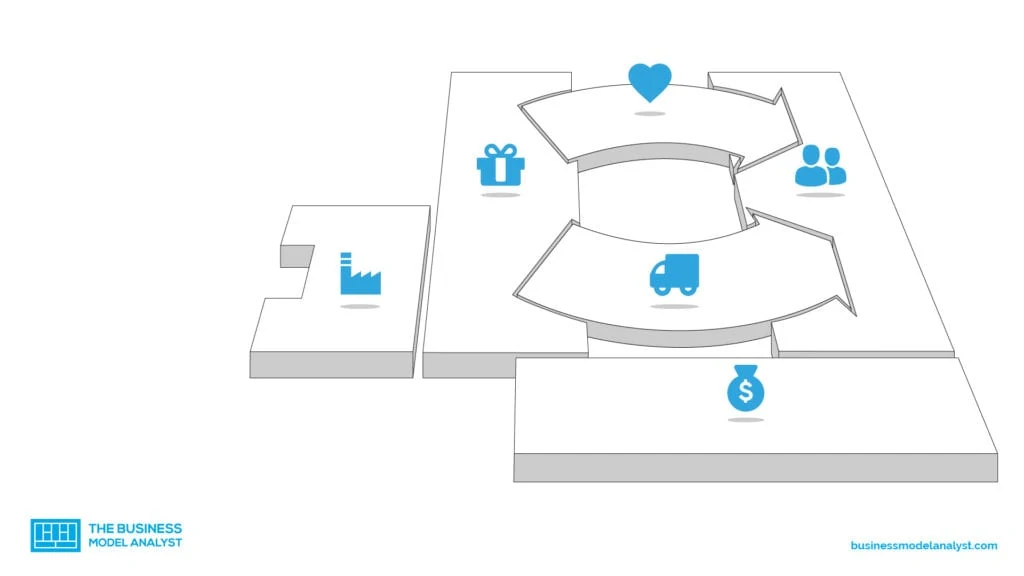 In the Business Model Canvas, key resources are divided into four categories. Here are they explained:
Tangible – Any physical resources, from real estate to equipment. The stocks also fall in the category.
Intangible – Intellectual property like patents, copyrights, licenses, and customer knowledge
Human – Your employees that make the business run
Financial – All the finance, regardless of whether it's an obligation or not. It includes cash, bank loans, grants or donations, and other finances.
Read an in-depth article about key resources here.
7. Key Activities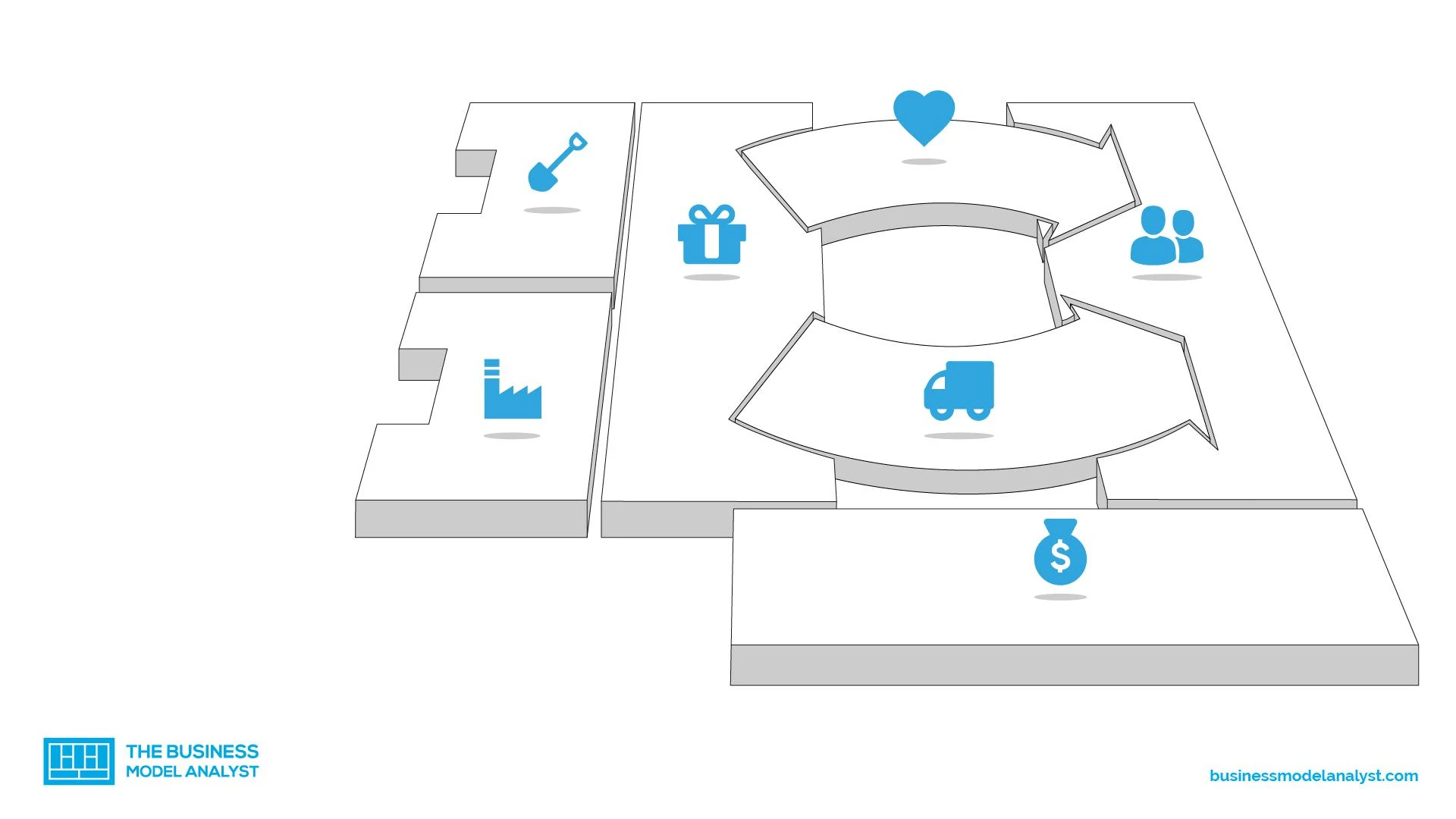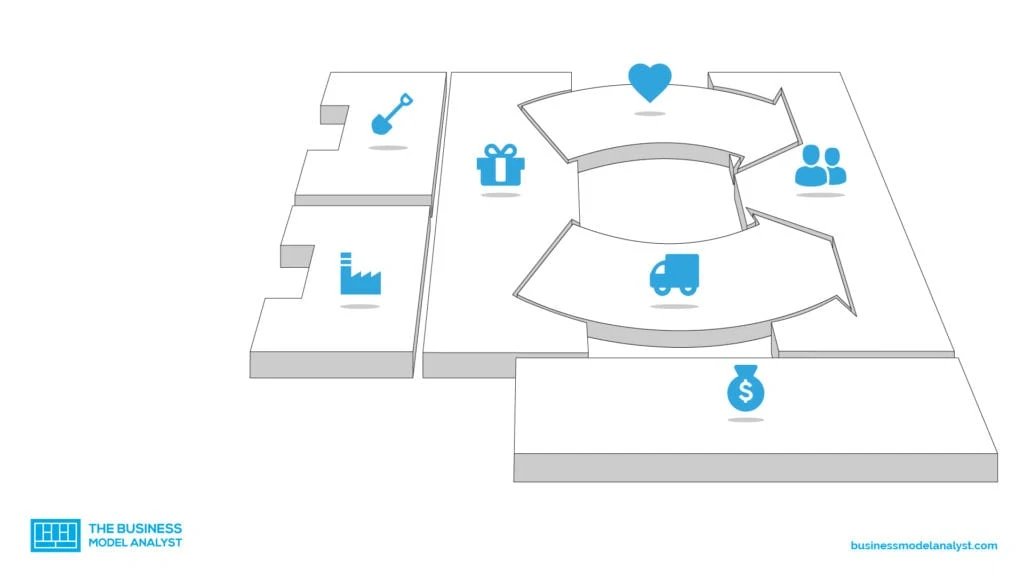 Key activities included in a canvas are the business activities vital for work. They vary from industry to industry. Some design this block by uniting the activities into one out of three categories:
Production
Problem-solving
Platform
For example, software developers fall in the first category as they design new products, while an IT company with its own taxi service is attributed to the third category.
Read an in-depth article about key activities here.
8. Key Partners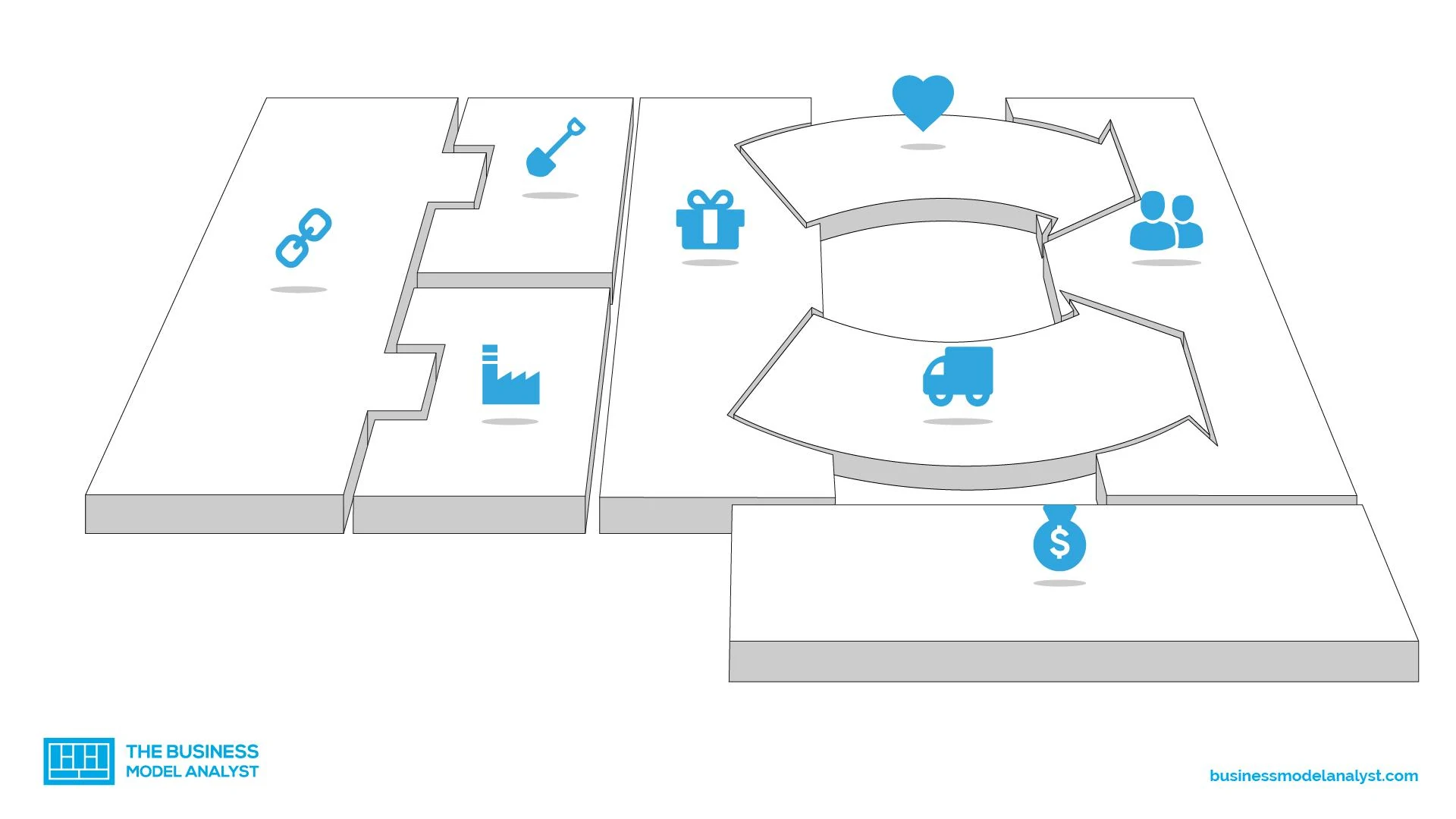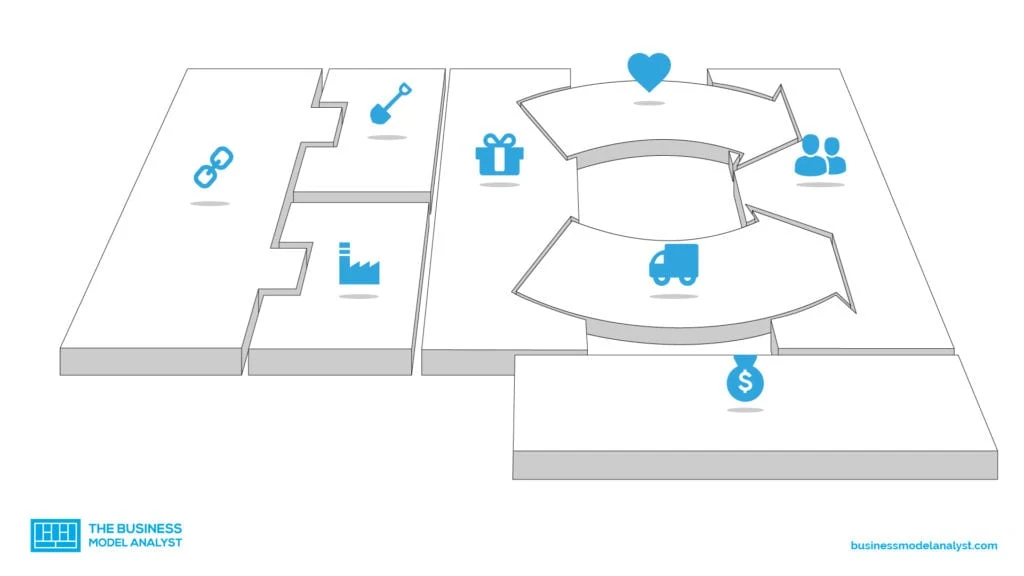 Key partners are parties like suppliers who are vital to flawless business operations. In other words, a company can't survive without them. There are four categories to include in the Business Model Canvas:
Supplier – A partner who supplies you with raw materials or finished goods
Non-competitors – Companies you team up with to leverage their resources: for example, you can source goods from several suppliers
Joint ventures – Partners who help you fill the gap: enter a new market or reach a new niche. The result of a joint venture is enhanced mutual profitability.
Coopetition – Partnership between two competitors, which may take place as a merger to market a new product
Read an in-depth article about key partners here.
9. Cost Structure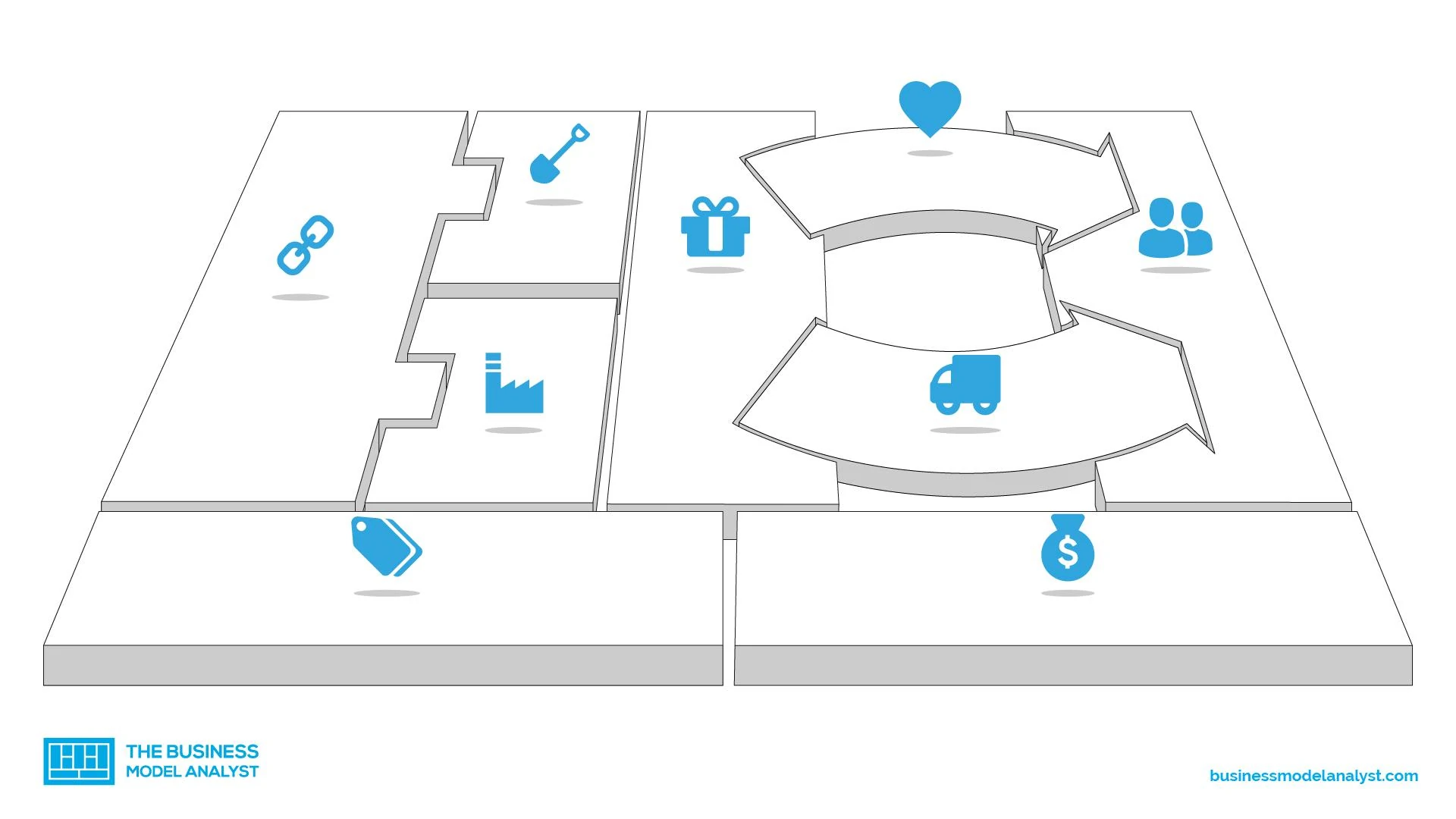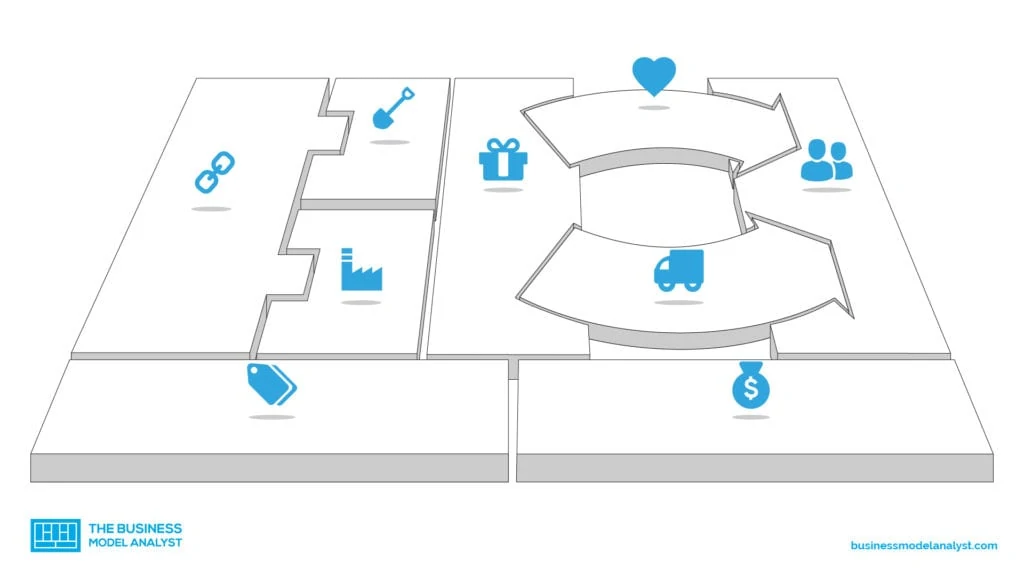 All the mentioned above blocks of the Business Model Canvas aren't implemented for free. Startups and enterprises spend money on production and accompanying services. To set realistic revenue goals, a company needs to estimate the costs first.
The costs vary depending on the industry. For example, some businesses have to cover R&D expenditures, together with production and post-service. Others, however, exclude this debit from the template.
Read an in-depth article about cost structure here.
Applications and Analysis
Once the Business Model Canvas is ready, you need to analyze it. For this, you should assess the canvas in terms of three points:
Is it logical and coherent? Are there are misaligned blocks? If yes, address the issue.
What can be improved? If you find any mediocre blocks, devote more time to improve them.
Are there any other ideas to consider? Maybe you can add something to the existing template or design a new one?
Does my team agree with the canvas? If not, reconsider the arguable moments. To prove your point of view, rely on data and facts.
Have I taken into account a long-term competitive advantage? If no, address the point. You need to consider the market and competitors when building a business plan.
What to Do After?
After you have examined the canvas, you can integrate it into your daily routine. Here is how it can be utilized:
Track the changes. Any company evolves with time. A plan helps to make sure that changes don't contravene core principles.
Onboard top-management. The model communicates who you are and how you live. Instead of describing everything on your own, you can let new hires read everything.
Guide the brainstorming. Every time you have a meeting where a team is generating ideas, place the canvas in front. It will help to reject unfit ideas.
Besides, you can use the same technique in other areas. For example, if you have several customers, you can describe an approach to them with the help of the BMS.
Some Tips for Beginners
If you have never created the Business Model Canvas before, comprehending all the above-mentioned data may be hard. Here are five tips that will help to navigate across the template easier:
Prefer teamwork: It's better to brainstorm side by side with reliable and competent team members rather than alone. You reduce the risk of designing the canvas from one perspective.
Work on a whiteboard: The more space you have, the better. It allows the whole team to have a good look at the template and facilitates the process.
Stock up on stationery: Colored markers and stickers will help you to group the ideas when brainstorming. Otherwise, you risk ending up with an incoherent Business Model Canvas.
Devote enough time: Don't allocate half an hour or schedule an important meeting right after the brainstorming. You will need a minimum of one hour for a draft.
Determine the sequence of blocks to fill in: It's advisable to start with customer segmentation or value proposition. After that, you can determine the sequence as it's convenient for you.
Software for Business Model Canvas
If you prefer digital solutions to traditional paper and markers, you can opt for software to create the Business Model Canvas. There are many useful tools on the web. These three, however, are the best:
Canvanizer. The tool is free, simple, and shareable. It allows collaborative brainstorming in Google Docs. Later, the canvas can be exported to an image or other formats.
Strategyzer. The free software is more advanced with deep analytics and enhanced user experience. For example, the tool can assess the financial viability of a business idea. It also offers additional modes: for example, a dashboard for Lean Startup development.
CNVS. The software with a simple interface is easy-to-understand. It allows building not only the BMC but also a Lean and Feature Canvas.
What Are the Benefits of the BMC?
Businesses of all scopes choose the Business Model Canvas approach because of four core benefits:
Enhanced Visibility. Since the canvas involves visual presentation, it facilitates data comprehension. The team has all the information in front of their eyes; therefore, the analysis and decision-making are much easier.
Customization. You can change some blocks of the canvas in no time if they don't match with others. It won't take several hours to retype and reprint a 40-page report.
Focus on Value. Typically, the value of the product is at the core. It means that all the other blocks are designed with the end-benefit in mind.
A Single Message. A team gets a clear message of the operation. The Business Model Canvas eliminates risks of failure because of misunderstandings.
What Does the Business Model Canvas Lack?
Although the Business Model Canvas is a popular and recognizable approach, many critics revolve around it. In particular, some executives criticize the model because of the lack of:
Competitors
Market analysis
Brand mission
Key priorities
While it may bother some people, in reality, there is nothing wrong. The nature of the BMC doesn't imply focusing on these aspects. Its ultimate objective is to facilitate the process of crafting business models. And the template includes the core blocks only. After all, the market and competitors' external outcomes aren't shaping the company's inner structure.
Why Should Already-Established Companies Implement the Business Model Canvas?
Traditionally, the canvas approach is the prerogative of startups. But it can also be useful for already-established enterprises. The BMC covers the following tasks: Helps to identify gaps in the model and discover new opportunities.
Allows comparing your model to competitors to identify competitive advantages
Enhances a presentation of a company to potential investors
Allows examining and testing new business models
It helps to unite the model and eliminate misunderstandings in a team
Allows recreating the company from scratch
As can be seen, the Business Model Canvas helps to effectively analyze the whole company or particular project, map out possible changes or gaps, and address them.
Real Examples of the Business Model Canvas
Examples help executives to grasp the basics of the BMC better. Here are two examples of canvases from different industries:
Airbnb
Airbnb is a provider of affordable accommodation around the globe. Its canvas may look like this: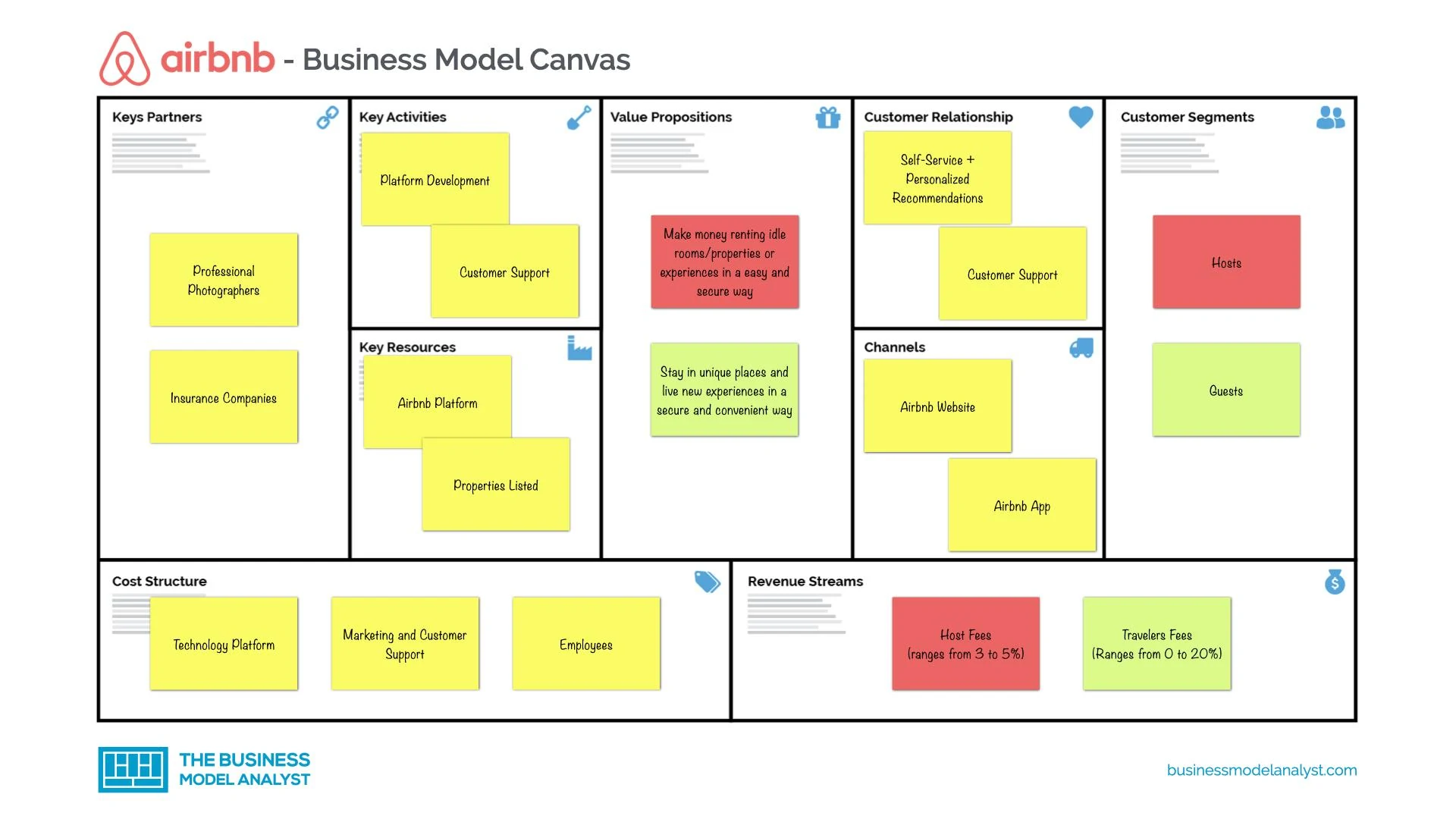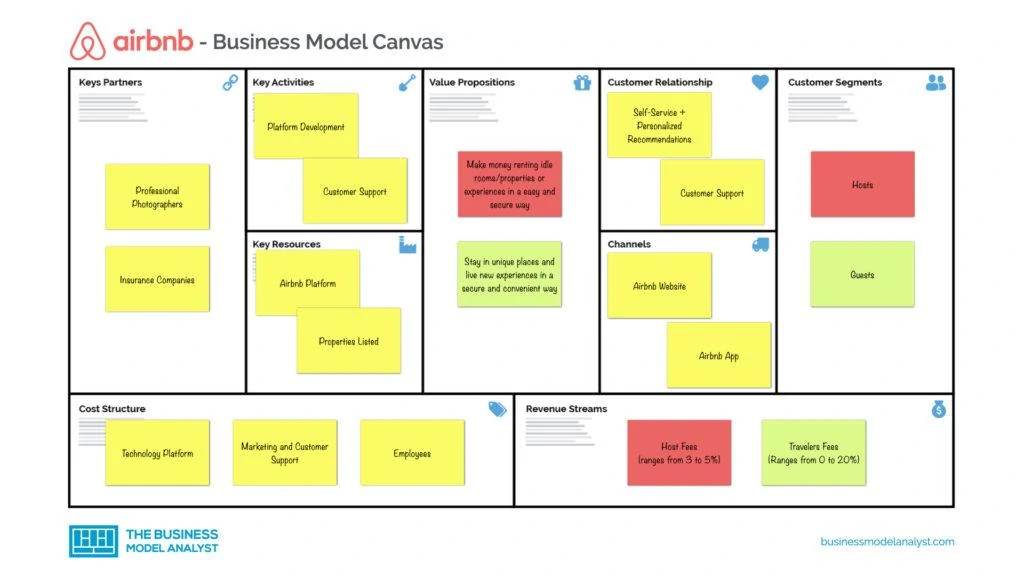 Customer segments – budget tourists, unconventional travelers, locals seeking extra income
Value proposition – easy and fast booking, huge offer, competitive prices, local lifestyle
Distribution channels – social media, travel bloggers, word-of-mouth
Customer relationships – self-service with customer support
Revenue streams – a fee system, affiliate marketing
Key resources – a community of both landlords and guests, platform, IT-specialists
Key activities – user research, customer support, maintenance
Key partners – tourists and travelers, hosts, investors, payments providers, insurance companies
Cost structure – marketing, platform maintenance
LinkedIn
LinkedIn is a professional social network.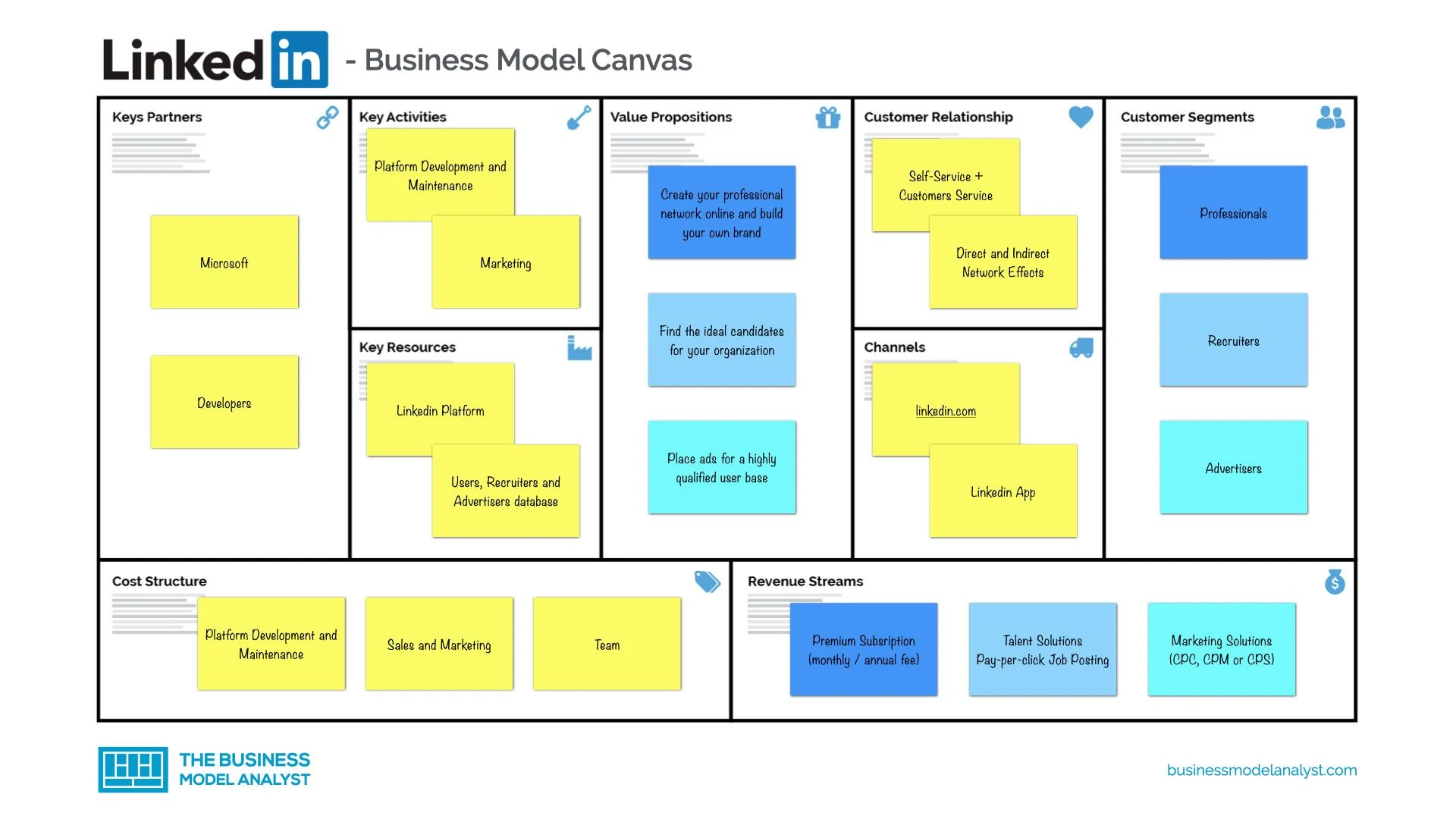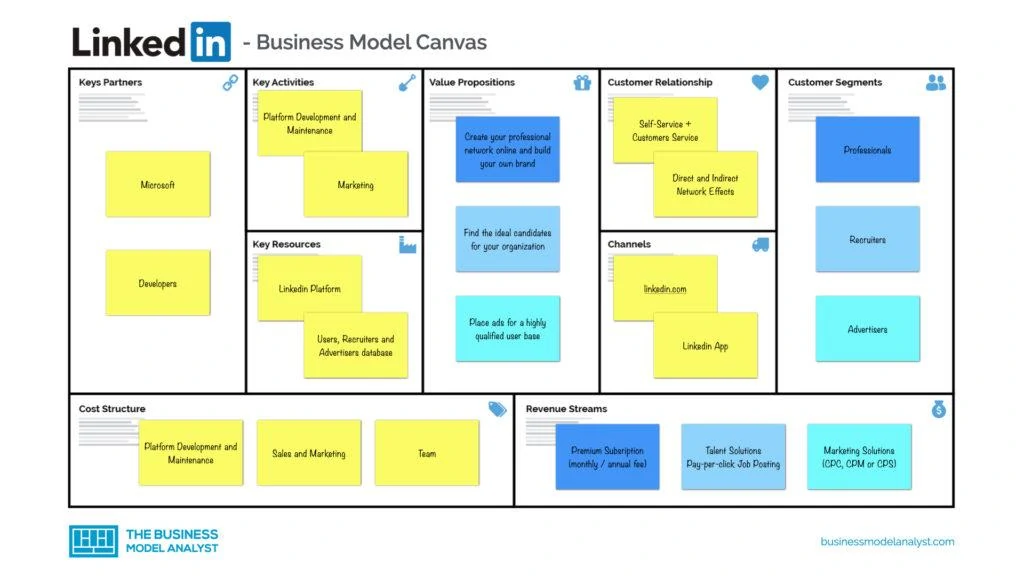 Customer segments – HR, professionals seeking employment, marketing specialists
Value proposition – building a professional network of contact, sourcing potential employees, blogging.
Distribution channels – app stores, website
Customer relationships – self-service, customer support
Revenue streams – freemium, marketing, and hiring solutions
Key resources – platform, IT-specialists, user-generated content
Key activities – platform maintenance
Key partners – users, SlideShare
Cost structure – marketing, maintenance
Conclusion
The Business Model Canvas is one of the numerous approaches to business modeling. For more than fifteen years of existence, it has proved its worth in the corporate community. Despite some critics, the method is effective and illustrates the business plan precisely. Moreover, thanks to its visual feature, it's easy to comprehend and assess.
Download a Business Model Canvas Template
Download our free tools below to create your own Business Model Canvas right now.
BUSINESS MODEL CANVAS TEMPLATE PDF
BUSINESS MODEL CANVAS TEMPLATE PPT
BUSINESS MODEL CANVAS TEMPLATE EXCEL
BUSINESS MODEL CANVAS TEMPLATE WORD
BUSINESS MODEL CANVAS TEMPLATE GOOGLE SHEETS
BUSINESS MODEL CANVAS TEMPLATE GOOGLE SLIDES
You may also be interested in the Value Proposition Canvas template, a complementary tool to the Business Model Canvas.