The Boeing Business model is based on designing, manufacturing, and selling airplanes and defense-related products. It's a legendary company that has been a key player in the aviation industry for decades. 
Boeing's manufacturing and global services extend to over 150 countries. The company is one of America's top exporters, leveraging the talents of global suppliers. Furthermore, they employ more than 140,000 people across the world, including the United States, solidifying their position as one of the largest (if not largest) aerospace manufacturers in the world. 
However, Boeing has recently faced many challenges, including grounding, decreased demand for its services and products, and financial difficulties that came with COVID-19. Nonetheless, it has managed to rise above these challenges, partly because of its complex business model, that's the key driver of the company's revenue and profitability.
In this article, we'll examine Boeing's business model, including its revenue streams, cost structure, and competitive advantages.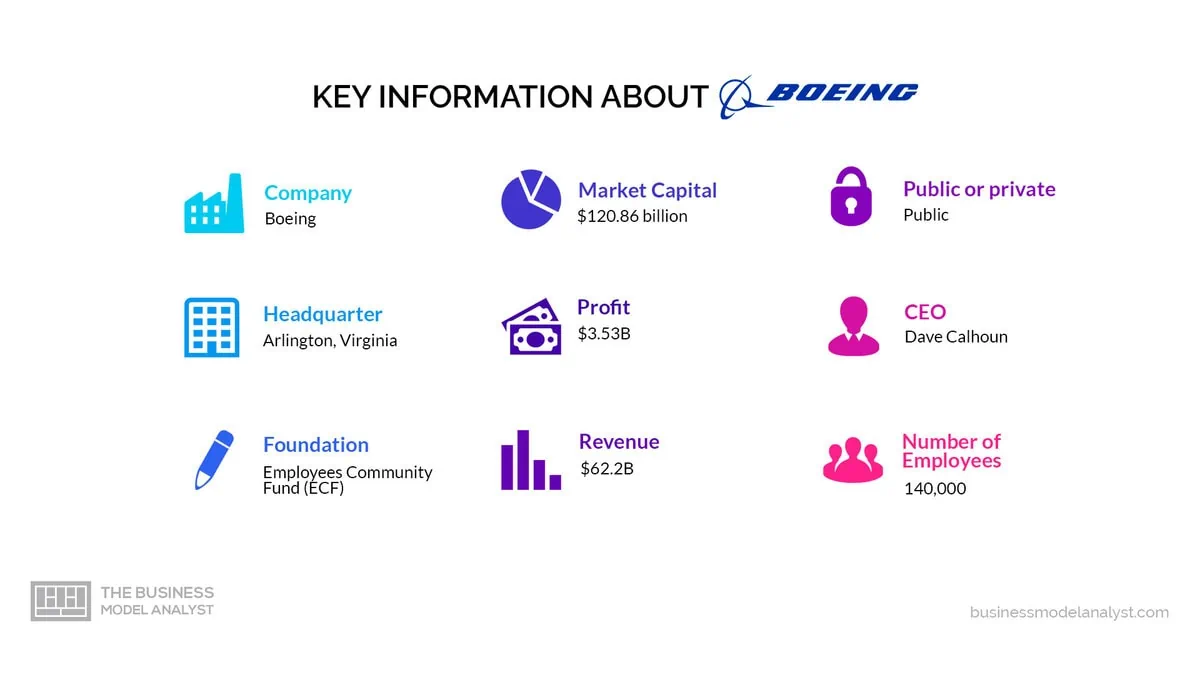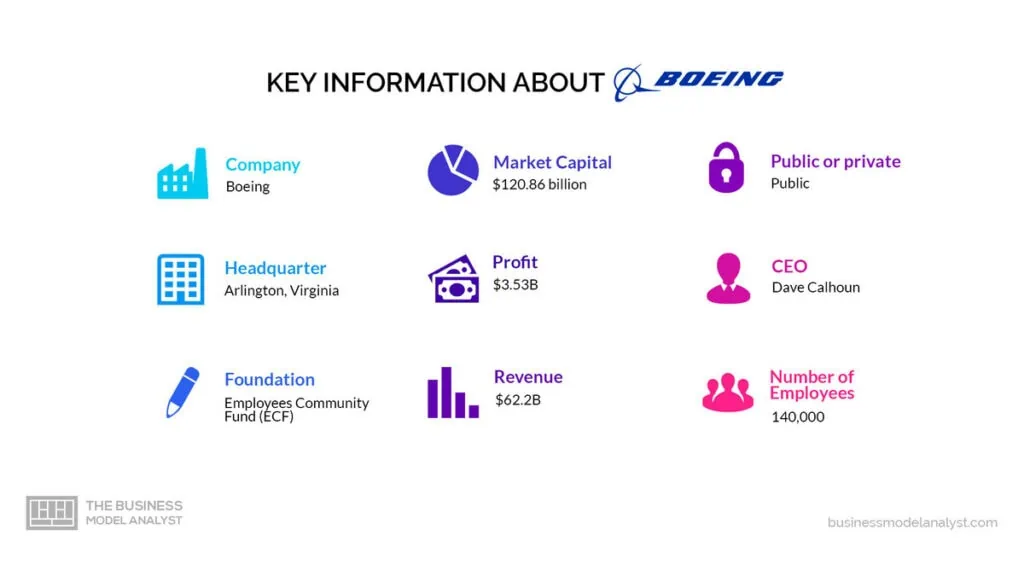 A brief history of Boeing
Boeing was founded in Seattle, back in 1916 by William Boeing. Their corporate headquarters are in Arlington, Virginia, but they were first in Chicago before the move to Virginia. Boeing also has major facilities in Seattle, Washington; St. Louis, Missouri; and Huntsville, Alabama.
It began as a small airplane manufacturer, with its first airplane being the B&W Seaplane. The plane was built by William Boeing and George Conrad Westervelt, his partner. William's interests in the aircraft industry led him to attend the Pacific Aero Club's inaugural meeting, where he would eventually meet with Westervelt in Seattle in 1915.
Boeing has grown to become one of the largest aerospace companies in the world. In 2021, they made approximately $62.2 billion in revenue after a turbulent 2020 period defined by the coronavirus. Huge revenues are not the only thing distinguishing Boeing in the aerospace industry. The giant airplane maker also employs 140,000 people across 65 countries worldwide.
But recently, this company has had a couple of safety concerns related to the 737 Max aircraft. In 2018 and 2019, two 737 Max planes crashed, killing 346 people. The crashes were attributed to a design flaw in the plane's software.
Who Owns Boeing
Boeing is a publicly traded company, which means that shareholders own this company. According to CNN, institutions, and mutual fund holders own a 59.28% stake in Boeing. Individual stakeholders own a 0.94% stake.
Owners with the largest stake in Boeing include Newport Trust Co., The Vanguard Group, SSgA Funds Management, BlackRock Fund Advisors, Fidelity Management, Capital Research and Management, and Loomis, Sayles, and Co. LP. 
Individual shareholders with the most significant stake in Boeing include Timothy J. Keating, Leanne G. Caret, and Theodore Colbert. At the time of writing, Dave Calhoun, the CEO of Boeing, did not have a stake in the company, but rather a $5.3 million incentive to stick around. 
Boeing Mission Statement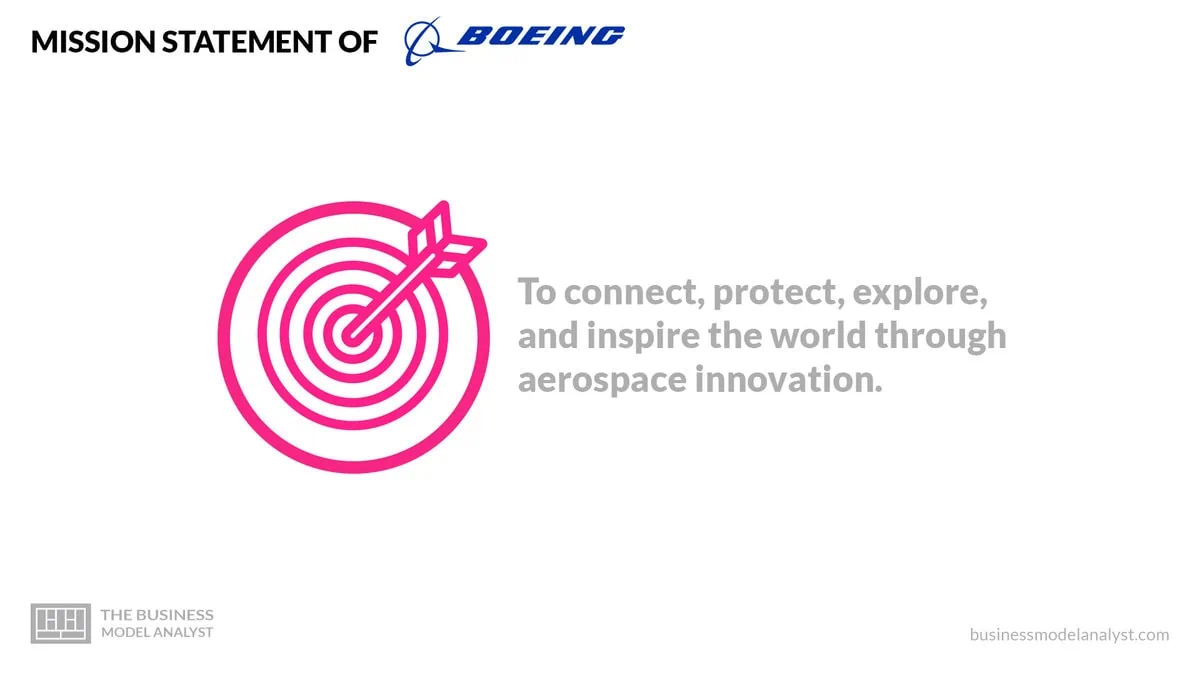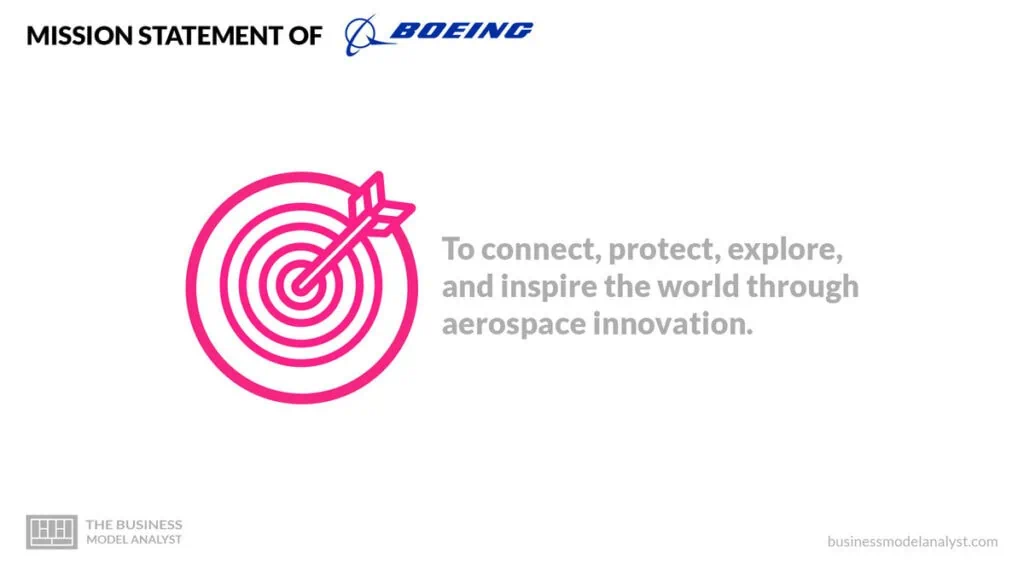 Boeing's mission statement is "to connect, protect, explore, and inspire the world through aerospace innovation."
How Boeing works
Boeing is a leading American corporation that deals in the aerospace industry. They design, manufacture, and sell airplanes and defense-related products such as rotorcraft, rockets, and satellites. The giant airplane maker has a diverse and broad portfolio, including commercial airplanes, military aircraft, defense systems, and space-related technology.
To achieve this, Boeing starts with conceptualization, research, and development. Boeing's product development kicks off with research, including identifying market needs and improving on previous products. Once this has been done and the requirements for the next product have been identified, Boeing moves to the design phase. 
Testing and validation come next. The product is put through a series of tests to validate its performance and safety. Once the design testing has been finalized, manufacturing can now start. Boeing has several production facilities around the world, and each facility is responsible for manufacturing different components of the product.
The manufacturing stage is shortly followed by assembly and integration. It's a complex process that entails precision and accuracy to ensure that all components fit together correctly. But before the products are delivered to Boeing's clients, they go through a rigorous quality control and testing process to ensure that it meets all specifications and requirements. This includes functional testing, performance testing, and safety testing.
How Boeing makes money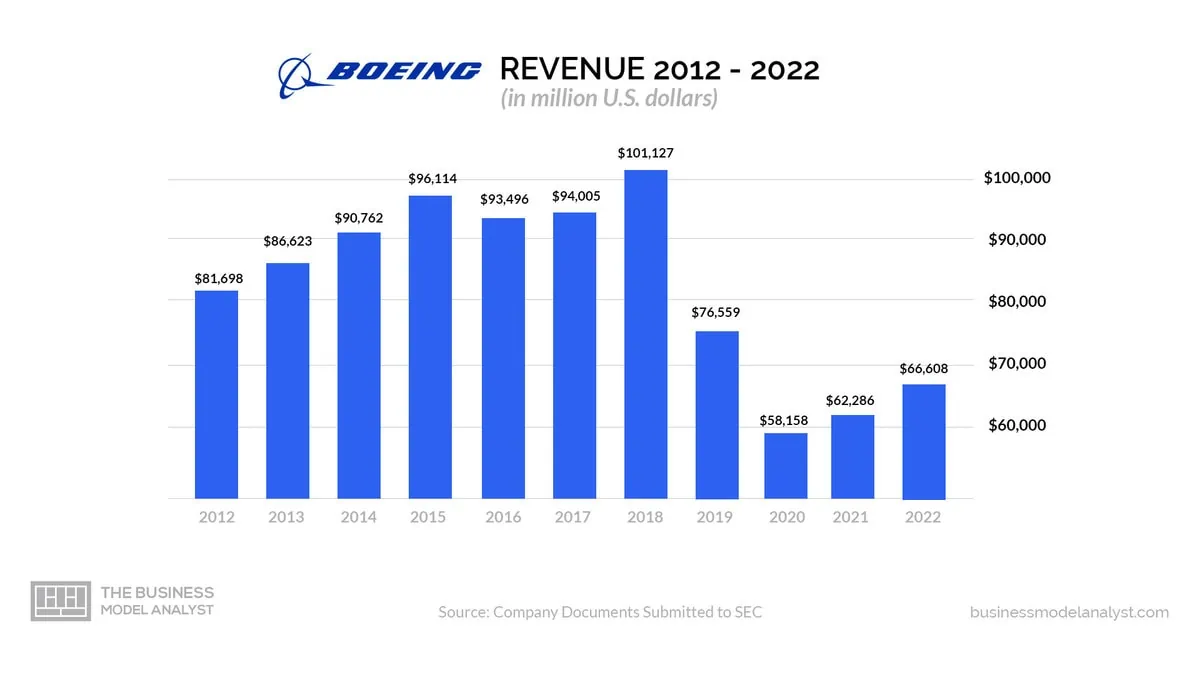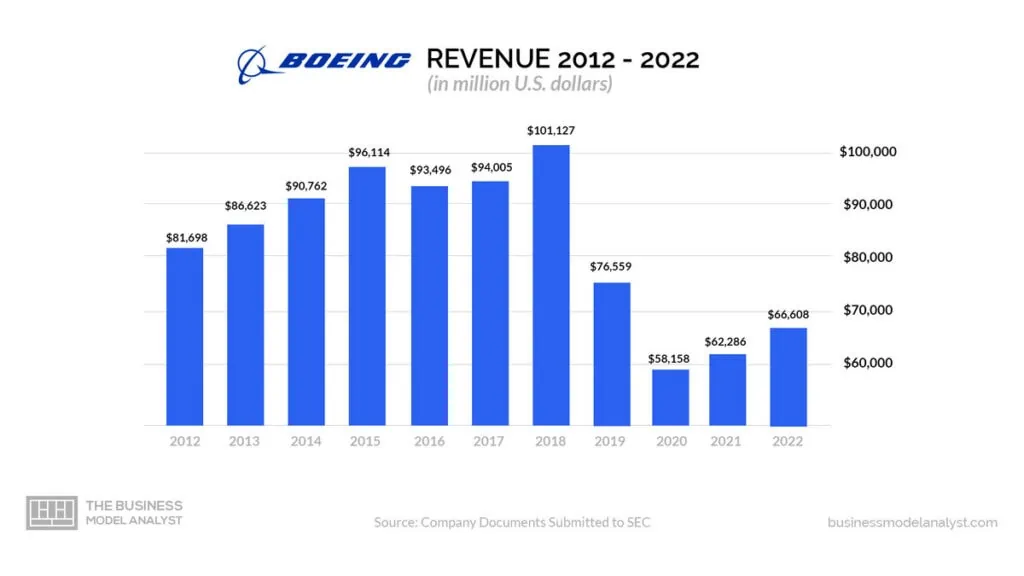 Boeing makes money through three primary channels: commercial airplanes, global services, defense, and security. These channels can be seen by analyzing their income statement, also known as the profit and loss statement.
Commercial airplanes
Boeing's commercial airplane division is the company's largest contributor to revenue. It designs, manufactures, and sells commercial jet aircraft to airlines worldwide. Commercial airplanes accounted for about 50% of the company's revenue, during the years between 2017 and 2018. 
Defense Space and Security
Boeing's Defense, Space & Security division designs and manufactures products and services for government and commercial customers worldwide. Boeing has a significantly enormous claim in the U.S. government through its defense space and security division. Prior to the pandemic, this airplane giant had seen a slight improvement in the amount of revenue generated by this division, from $24 billion in 2017 to $26.2 billion in 2019. 
Revenue from its defense products and services comes from the sale of military aircraft, weapons, and related products and services. On the other hand, Boeing also generates revenue from the sale of satellites, rocket launch services, and other space exploration products and services.
Global Services
Boeing's global services involve aftermarket support for the mixed fleets of airplanes and defense products it manufactures. They provide services that integrate with Boeing's aircraft and other related systems. Some of these services include fleet services, digital services/ solutions, training, and maintenance, just to say a few. 
According to one report, the airline manufacturer made about $17 billion in revenue in 2022. At the time, this represented a huge leap considering the COVID-19 pandemic, which slowed down the economy, and the cases levied against Boeing as a manufacturer. 
Boeing Business Model Canvas
The Boeing Business Model can be explained in the following business model canvas: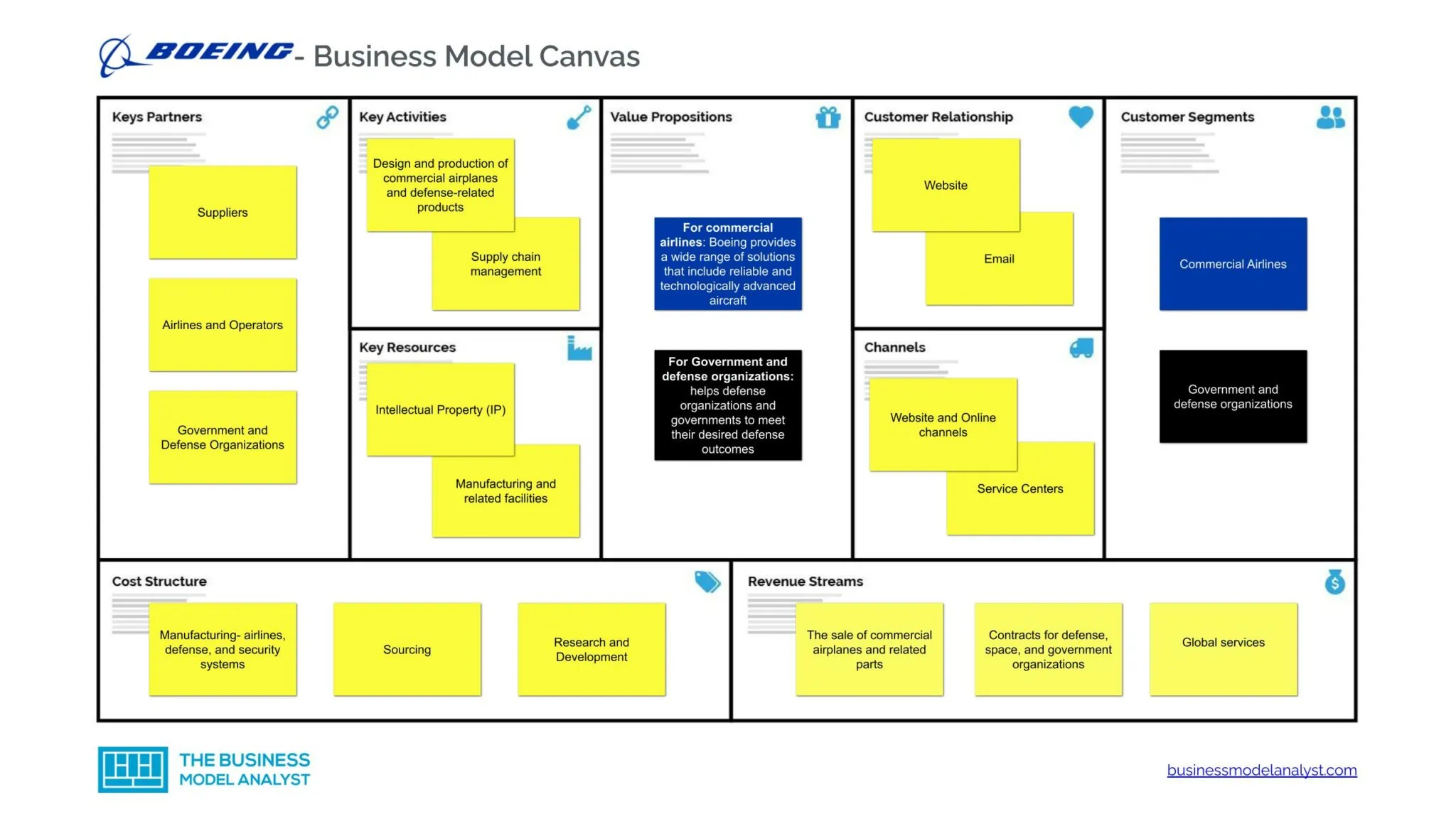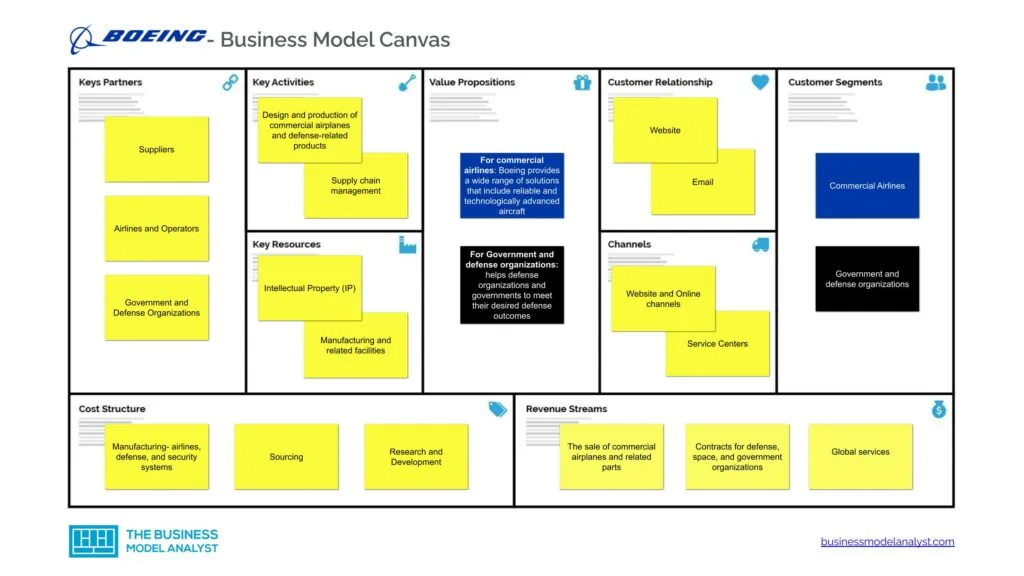 Boeing Customer Segments
Boeing customer segments consist of:
Commercial Airlines: Since Boeing started its operations back in the late 1910s, commercial airplanes have been a key driver for the company's operations and revenues. Some of the biggest clients and customers of Boeing include United Airlines, Southwest Airlines, and American Airlines. Other airline operators like Emirates have also gone in business with Boeing and hold the record for the highest value single order;
Government and defense organizations: Much like other manufacturers and organizations, Boeing does most of its business with defense organizations and governments. The company has a variety of reasons as to why they do this, including its tech capabilities, ambitions for diversification as a business, and defense contracts, which are a source of employment and revenue for the company;
Business Jet Operators: Also known as corporate jets or private jets, this industry is a big revenue generator for Boeing. The company's dedication to the special customization and tailoring that the private industry demands is a major contributor to the company's;
Cargo and Logistics Companies: Companies in this field often rely on efficient and reliable transportation as part of their logistics company requirements. For these companies, Boeing offers a barrage of solutions that enable them to facilitate easy transportation and movement of their goods and services;
Maintenance, Repair, and Overhaul (MRO) Providers: In line with Boeing's global services, the company offers a wide range of solutions that cater to firms in the maintenance, repair, and overhaul providers. 
Boeing Value Propositions
Boeing value propositions consist of:
For commercial airlines, Boeing provides a wide range of solutions that include reliable and technologically advanced aircraft: Boeing offers a comprehensive range of reliable and technologically advanced commercial aircraft solutions, including passenger and cargo aircraft, MRO services, advanced technology solutions, customization options, and fleet management solutions;
Boeing helps defense organizations and governments to meet their desired defense outcomes: Boeing also provides a range of solutions to defense organizations and governments to meet their desired defense outcomes. These solutions include advanced military aircraft, rotorcraft, satellites, communications systems, missile defense systems, cybersecurity solutions, and support services tailored to the specific requirements of defense and government customers worldwide;
For defense organizations, governments, and related organizations, Boeing offers a broad portfolio of military aircraft, services, and support solutions that are designed to meet different defense requirements: Boeing has continued to use its technology to advance defense and aerospace products. The company features a huge portfolio which includes aircraft, unnamed systems, and other technologies. 
Boeing Channels
Boeing channels consist of:
Website and Online channels
Service Centers
Authorized Dealers/Distributors
Aftermarket Channels
Boeing Customer Relationships
Boeing customer relationships consist of:
Website, with 24/7 support
Email
Phone
Boeing Revenue Streams
Boeing revenue streams consist of:
The sale of commercial airplanes and related parts
Contracts for defense, space, and government organizations
Global services
Boeing Key Resources
Boeing key resources consist of:
Intellectual Property (IP)
Manufacturing and related facilities
Workforce and staff
Research and Development (R&D) Capabilities
History, reputation, and brand
Global customer base
Boeing Key Activities
Boeing key activities consist of:
Core business activities include the design and production of commercial airplanes and defense-related products.
Supply chain management
Research and development
Testing and training
Boeing Key Partners
Boeing key partners consist of:
Suppliers including General Electric, and United Technologies Corporation (UTC)
Airlines and Operators, including United Airlines, Southwest Airlines, and American Airlines
Government and Defense Organizations, including the U.S. government and NASA
Research Institutions and Universities such as the Massachusetts Institute of Technology (MIT)
Boeing Cost Structure
Boeing cost structure consists of:
Manufacturing- airlines, defense, and security systems 
Sourcing
Research and Development
Rent, utilities, and other overhead costs for office buildings and other facilities
Salaries and benefits for employees
Boeing Competitors
Airbus: Much like Boeing, Airbus is also a pioneer in the aerospace, defense, and space sectors. The company was founded in 1970 in France, and since then, it has enjoyed a spell of successful aircraft, including the Airbus A380, Airbus A321, and the Airbus A319. Boeing and Airbus share similar revenues, as Airbus revenues in 2021 amassed €58.8 billion ($64.8), while Boeing made $62.29 billion;
Lockheed Martin: Lockheed Martin is a Boeing competitor in aerospace, defense, and space, as both companies are involved in the design and manufacture of defense-related products such as military aircraft, satellites, and missiles. The company is massively younger than Boeing, as the former was founded in 1995. However, they have a pretty similar portfolio, and this can be seen in the revenue posted by the two companies. According to a source, Lockheed Martin made about $65 billion in revenues back in 2022;
Embraer: Embraer is a Brazilian aircraft manufacturer that manufactures commercial, military, and executive jets. It's fair to consider them a Boeing competitor in the commercial aircraft market;
Comac: Comac is a Chinese-owned aerospace developer and manufacturer. They typically engage in the research, manufacture, and flight tests of civil aircraft and related products. However, the company isn't quite there but aims to launch its first mainline airliner soon to compete with the likes of Boeing and Airbus. 
Boeing SWOT Analysis
Below, there is a detailed swot analysis of Boeing: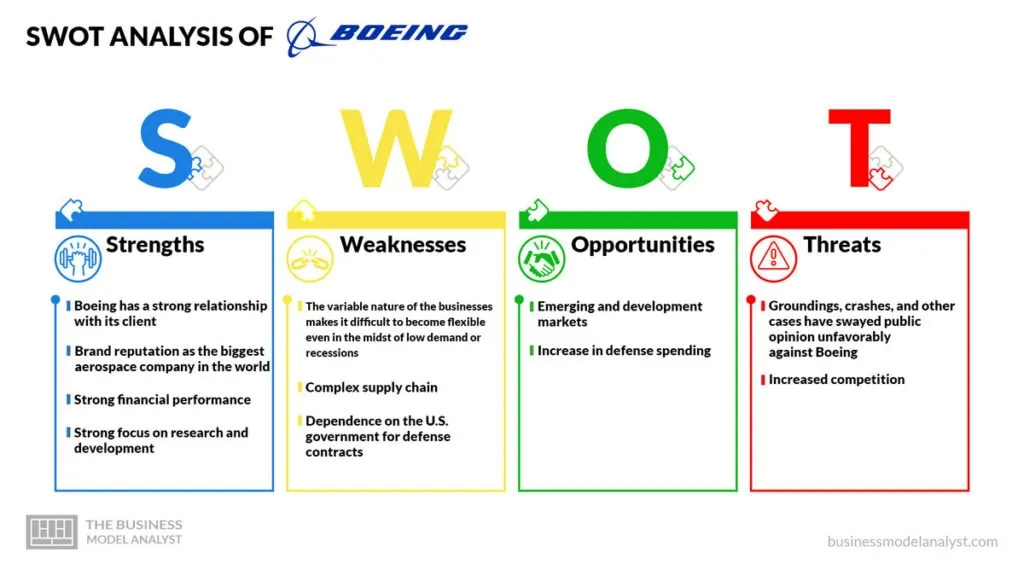 Boeing Strengths
Boeing has a strong relationship with its clients: Over the years, Boeing has cultivated relationships with a fairly small number of clients who've proven to be huge for the company;
Brand reputation as the biggest aerospace company in the world: Boeing is perhaps the oldest mainline airliner manufacturer in the world. This has given the company a significant advantage over the competition, as they have been able to work the market to favor them. According to one source, Boeing's brand value has shot up 13% to approximately $17.5 billion, making it still the most valuable aerospace company in the world;
Strong financial performance: Excluding the groundings and COVID-19 pandemics that rocked the company, Boeing has enjoyed a steady stream of strong financial performances each year. The company's revenues can measure this performance. Statista documents the company's steady and increased financial performance from 2007-2021;
Strong focus on research and development: According to their official website, Boeing invests approximately $3 billion in research and development each year. These figures drive the company's innovation and technological capabilities, steering them clear of the competition. 
Boeing Weaknesses
The variable nature of the businesses makes it difficult to become flexible even in the midst of low demand or recessions: Some of Boeing's airplanes take up to 10 years to design, manufacture and roll them out.  This makes it hard for them to change their pricing or other related policies when demand falls, a recession hits the economy, or cases arise against them. It also makes it hard to change their cost structure, which inevitably leads to a snowball effect that ultimately ends with a loss of revenue;
Complex supply chain: Multiple tiers of suppliers and subcontractors are just the tip of the complex iceberg that is Boeing's complex supply chain. Managing this requires an army of resources, including skilled personnel and advanced technology, which is a costly endeavor for any company, including Boeing;
Dependence on the U.S. government for defense contracts: Although this isn't necessarily a weakness, it's something that should be addressed. Dependence on a single supplier for contracts, including the government, leaves the company vulnerable to disruptions. 
Boeing Opportunities
Emerging and development markets: Africa, Asia, and South American countries all present an opportunity for developing a customer base in these emerging markets. There's room for partnerships, collaborations, and tailored solutions;
Increase in defense spending: Boeing is a major defense contractor. Governments and defense organizations worldwide are increasing their spending on defense-related products and services. This means that an increase in defense spending could provide an opportunity for the company to secure more contracts and generate revenue. 
Boeing Threats
Groundings, crashes, and other cases have swayed public opinion unfavorably against Boeing: The Boeing 737 MAX groundings that happened between 2019 and December 2020 left the company in a rather uncomfortable position. This came after the 737 Max airplane crashed, killing 346 people. The crashes were attributed to a flaw in the aircraft's automated flight control system, which was not properly disclosed to regulators or pilots. Boeing told a U.S. court that they were not guilty of concealing information about flight control systems. Nonetheless, the damage was already done;
Increased competition: Comac, Airbus, and Lockheed Martin are all aerospace and defense contractors. Although Boeing has long been a dominant player in the commercial aircraft industry, it faces threats from relatively newer and younger companies, especially in the wake of the groundings and other related cases.
Conclusion
Boeing has been a major player in the aerospace, defense, and space arena for decades now. The company is perhaps one of the oldest in the aerospace industry, with a strong performance record and customer relationships. Its business model is based on pillars involving strong innovation, technology, development, and the distribution of aerospace and defense-related products.
However, Covid-19, the recent cases, and the failings of the Boeing 737 Max have led the company to murky waters, threatening the company's position as the market leader. Nonetheless, Boeing looks to have bounced back and put these dark days behind them.