When most people are asked to mention the best grocery stores, the first names that come up are usually Amazon and Walmart. However, brands like ALDI have begun to prove that there's no monopoly in the grocery store space. The ALDI business model has proven so effective and efficient that even Greg Foran, a former CEO of Walmart, has praised it.
The private retail brand has become an international juggernaut with more than 12,000 outlets globally. ALDI's business mode of operation is centered on frugality, and the establishment has used this core value to provide products that offer quality and cost-effectiveness to their consumer base.
While offering a limited catalog, they've achieved a simplified and streamlined supply chain structure that facilitates optimal business operations. We'll be taking a deep dive into this franchise to observe how it functions now.
A brief history of ALDI
The roots of ALDI can be traced back to Essen, Germany in 1914. This was when Frau Anna Albrecht decided to open a store meant to specifically cater to the mining population in the city. She managed the small retail operations of the store on the meager wages of her husband.
In 1946, she finally passed control of the store to Theo and Karl, her sons.
Because the war had just ended, Theo and Karl Albrecht concluded that doubling down on the discount principle of the business was the best approach. This turned out to be the right move because, by 1950, they had expanded to 13 other outlets in the Ruhr Valley region.
The brand would start its bid to expand globally seven years later. This move was again successful as they were able to expand to the Netherlands, Great Britain, Ireland, Slovenia, and Hungary by the 1990s.
Today, ALDI has a strong presence in every major country in Europe. They also have a huge base in Australia and the U.S.
Who Owns ALDI
In reality, ALDI is two companies, not one. As such, it has two different owners. The brothers split the original ALDI in 1960 over whether the brand should include cigarettes and other tobacco-related products in their offerings or not.
The brothers agreed on collaborating on their business venture efforts, even though there would be two companies. They split fully in 1966.
Theo Albrecht, the younger brother, founded ALDI Einkauf GmbH & Co. oHG then. More popularly known as ALDI Nord, the company remains hugely successful. It acquired Trader Joe's in the U.S. and runs it independently.
When Theo died in 2010, ownership of the company fell to his children and grandchildren.
Karl Albrecht, the elder brother, founded ALDI SÜD GmbH & Co. oHG which is more commonly known as ALDI Sud. This establishment was even more successful, such that, at the time Karl died in 2014 at the age of 94, he was the richest man in Germany.
Upon his demise, ownership of the company fell to his children and grandchildren as well.
ALDI's Mission Statement
The mission statement of ALDI is, "Spend a little, live a lot." The brand follows this up with the motto, "The best quality at the lowest price."
How ALDI Makes Money
This brand employs several measures to generate revenue. The most significant ones are:
Private Brand Margins
The concept of using private brand margins to drive profit isn't new. However, ALDI is the largest retailer in the world that is most dependent on this tactic. While private brand margins account for only 1% of Amazon's earnings, it's responsible for 90% of ALDI's total revenue.
Customers walk into a brick-and-mortar store or visit the brand's online platform, see a product that's similar to that of more popular brands, and make a purchase. These items are usually made with a durable enough quality that consumers are left satisfied with what they get.
Customer-Catered Employee Costs
ALDI also makes a minimal portion of its revenue by making its consumers finance certain aspects of its operating costs. As an example, where many grocery stores would typically hire extra staff to retrieve shopping carts, ALDI rents this item out to their consumers, giving users the necessary incentive to return it when they're done.
Thanks to that, they can make money off the cart and save on the expenses of hiring extra hands. In addition to renting shopping carts, ALDI stores also place a fee on plastic bags.
This and many other measures create a steady minimal stream of income for the brand.
ALDI's Business Model Canvas
The ALDI Business Model can be explained in the following business model canvas: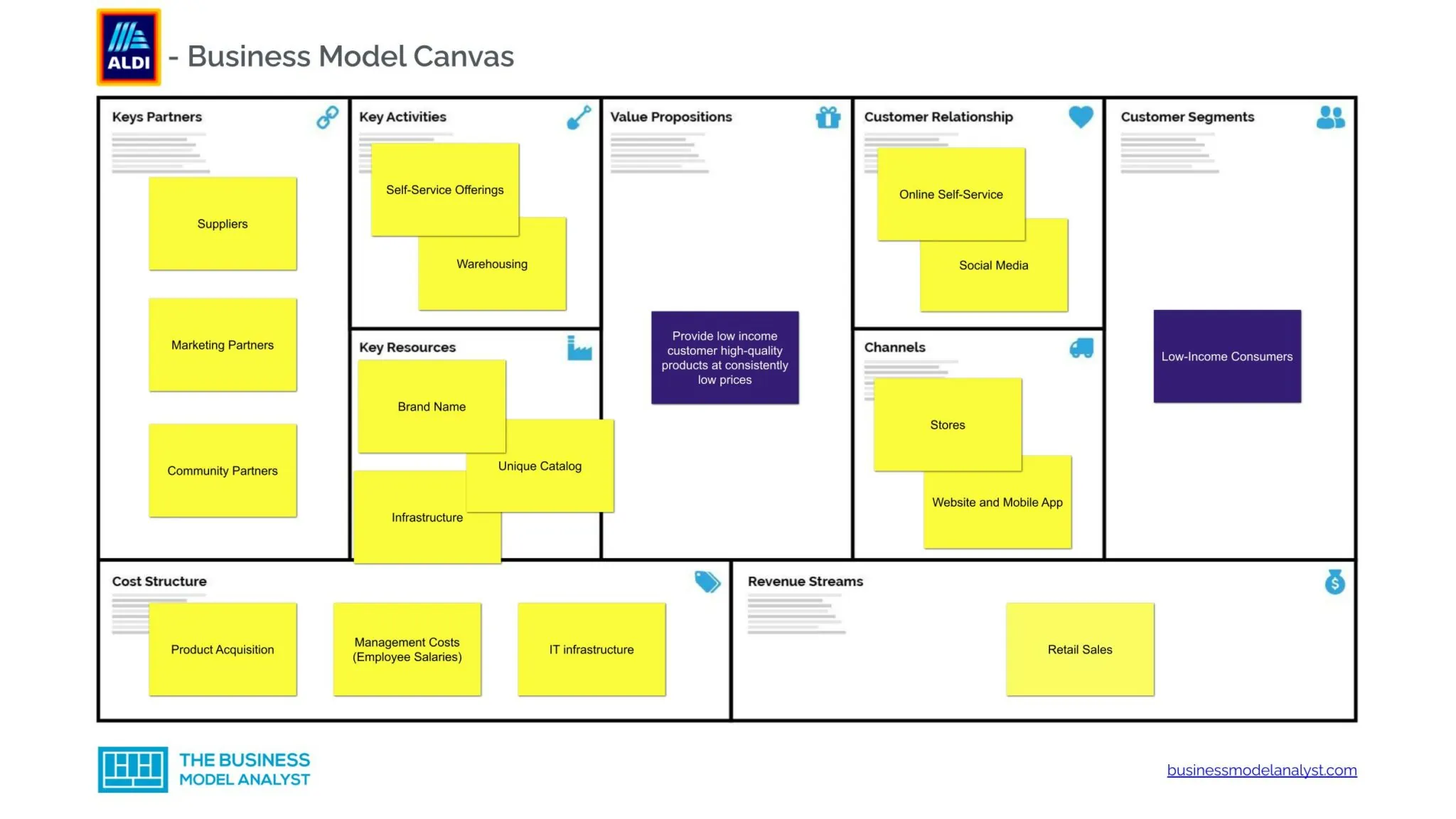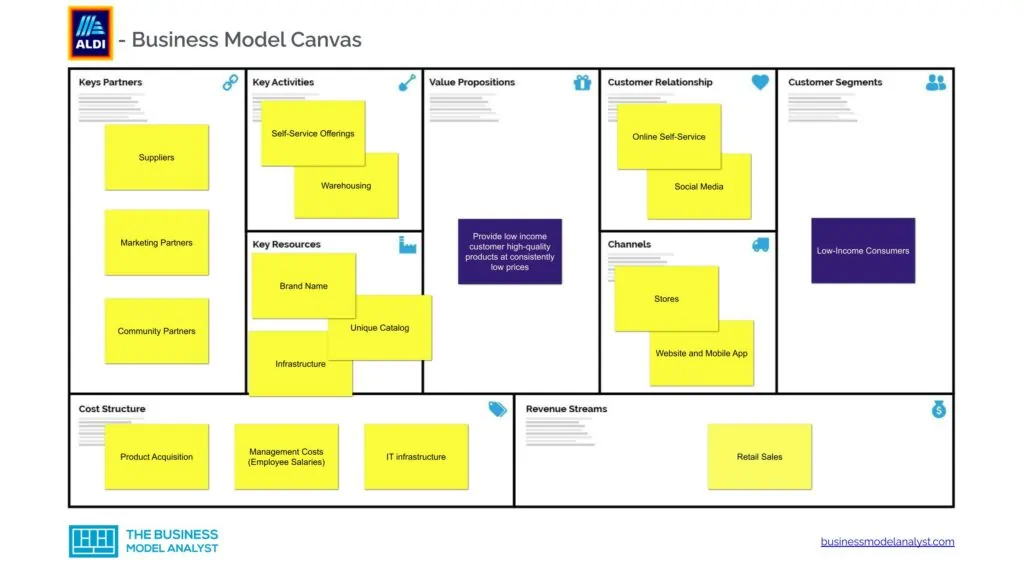 Now, we'll be looking at the way that the ALDI business model operates through certain lenses. These include:
ALDI's Customer Segments
As ALDI adopts a very precise method of operation, they actively cater to two specific categories of grocery shoppers. These are:
Low-Income Consumers: In keeping with the founding spirit of the franchise, the system of operation that the company leverages continues to target lower-income earners. It caters to this group by largely providing limited private-label stock-keeping units (SKUs) that these shoppers will find readily affordable. Because of this, the brand has become the preferred choice of consumers who want to make larger individual grocery purchases;
Middle-Class Shoppers: As the brand continues to offer consistently lower prices compared to the competition, middle-class shoppers have also gravitated toward them. Because these consumers believe they can do more with their budget at ALDI, the international client base of the franchise keeps growing.
ALDI's Value Propositions
This company can consistently offer value to its client base through five channels. These are:
Brand Name and Recognition: The brand name of the franchise has only gained increased standing and recognition over the years. The presence of ALDI in Europe has particularly proven worthwhile for the company. Over the years, its numerous supermarkets have gathered plenty of accolades and awards from recognized retail bodies and organizations on the continent. This has considerably contributed to the brand's awareness and acceptance level both in Europe and across the globe;
Superior Accessibility: Since it was founded, ALDI has gone to great lengths to enhance the ease with which users could access its services. This measure started with expanding its chain of physical outlets. In the digital age, they've adapted appropriately and invested in making their online platform among the very best currently;
Discount Features: ALDI has also made a name for itself thanks to the discounted prices that come with nearly all the products featured in its catalog. While it isn't very popular for providing variety, the budget-friendly prices it offers are world-class;
Dedicated Support Staff: ALDI has become synonymous with exemplary customer support. The brand prides itself on providing the most helpful and relatable customer service, both offline and online. This has earned it top marks in several customer satisfaction surveys;
Zero Frill Operation: Prospective customers are likely to be shocked at first by ALDI's lack of bells and whistles. Rather than focus on frills that may not improve the consumer journey in any notable way, the company opts to focus on providing a simpler yet more comprehensive and efficient consumer experience.
ALDI's Channels
ALDI channels consist of:
Offline Platforms: The vast majority of the income that ALDI gets is through this channel. At the moment, the company boasts more than 12,000 outlets globally. These supermarkets are operated by the establishments' team of well-trained sales and customer service personnel who interact with consumers directly. They complement this measure by operating their distribution and logistics network. ALDI also has its warehouse and distribution infrastructure. As they are not hampered by a third-party service provider in any of these areas, they're able to perform more efficiently than most competitors;
Online Platforms: The brand has invested heavily in the creation of multiple websites around the globe so that it can function with maximum latitude in different jurisdictions. These platforms provide users with crucial information like the brand's locations, suppliers as well as current activities. They also have an online shopping service that consumers can take advantage of to shop and organize deliveries with ease.
Mobile Applications: ALDI also has mobile applications that smartphone users can use to access the features of many of their online stores. However, these resources have the added advantage of providing consumers with a wide range of bargains and personalization functions.
ALDI's Consumer Relationships
ALDI customer relationships consist of:
Online Self-Service: While this isn't available in all the countries that ALDI is currently active in, it remains one of their most popular relationship platforms. Users can simply perform any transaction or activity that they want without having to come in contact with any sales or customer service agent directly;
Physical Stores: This is readily accessed through all of the brand's brick-and-mortar stores around the world. Here, consumers get to simply walk up to any member of the sales and support team and request guidance on matters relating to returns, refunds, and other inquiries;
Social Media and Email: Consumers also have the opportunity to reach out to the brand through specific social media platforms like Pinterest, Twitter, Facebook, and Instagram. However, customer relationships through this channel are still somewhat limited.
ALDI's Revenue Streams
The brand can get profit through two primary revenue streams. These entail:
Product Sales: This is the most significant avenue through which ALDI makes money. By offering a limited number of private-label fresh food, bakery, drinks, frozen, household, pet care, and beauty and health products, the company can generate revenue. Their limited SKU approach generally encourages many consumers to patronize the brand more freely and intensively;
Service Cost Optimization: The brand adopts several tactics like encouraging walk-in consumers to pay for certain services, adopting a multitasking work culture, and getting creative with their shipment, storage, and logistics operations to make and save money.
ALDI's Key Resources
This company takes advantage of several key resources to be able to perform at the level that it does currently. These include:
Brand Name: The enterprise capitalizes extensively on the brand name and recognition that it has built so far to maintain a strong presence in the regions it's already present. Additionally, it further leverages this platform to break into and dominate new markets;
Unique Catalog: ALDI makes a point of offering only limited if any options where product brands are concerned. As it only carries a small selection of products, many of which are its brand, it's able to efficiently drive sales and make a profit;
Infrastructure: Because it has significantly invested in various areas of its supply chain, ALDI has managed to achieve a level of control over its business operations that most of its competitors can't rival. Coupled with a patented and highly advanced IT infrastructure, as well as a few strategic partnerships, the company doesn't have to deal with most of the cogs commonly experienced with brands of its size;
Real Estate: ALDI is notably very frugal with property ownership. Firstly, they don't own too many properties all over locations like America, Australia, and Europe to begin with. Secondly, when they do purchase real estate, they don't opt for the prime variety. Rather, they buy properties that lay on the outskirts of cities, saving more in cost.
ALDI's Key Activities
Currently, the key activities of ALDI globally include:
Self-Service Offerings: ALDI continues to invest heavily in creating and promoting numerous self-service offerings. Recently, this has grown to include the development of mobile applications, in-store pickup options, and home delivery services;
Home Growth: Germany accounts for a large portion of the profits that this company records. This is perhaps because they have their largest concentration of stores in the region. Consequently, the catalog of private label brand products made available to consumers here is considerably more than what other locations see.
ALDI's Key Partners
To make all its services possible and profitable, ALDI engages four partners. These are:
Vendor and Supplier Associates: This refers to the group of entities that supply ALDI with the resources, services, and tools needed to remain fully functional;
Strategic Partners: These are the entities that the brand shares certain resources for mutual benefit;
Marketing Partners: ALDI doesn't invest highly in advertisements. But what little it does is always hugely successful. This is because it also collaborates with several brands, sports organizations, and bodies;
Community Partners: The company also maintains a close relationship with various charitable organizations. It uses this platform to execute numerous community projects globally.
ALDI's Cost Structure
The cost structure of the company entails:
Product Acquisition: This is the cost that ALDI incurs through exercises like purchasing the products that it makes available to consumers;
Innovation: ALDI invests a lot in enhancing and maintaining its IT infrastructure;
Management Costs: This refers to the expenses that come with managing its partnerships, as well as paying for the services of its staff.
ALDI's Competitors
ALDI shares the market with several other major brands as well. Some of the biggest ones are:
Dollar Tree: This is an American Fortune 500 company that specializes in providing multi-price-point discount products. It was founded in 1986 and is currently valued at $25 billion;
Target Corporation: Target is another brand whose services are in direct competition with ALDI. It's the largest discount retailer operating in the U.S. and is currently owned by George Draper Dayton;
Walmart: Walmart was founded in 1962 and has nearly 5,000 operational stores in America today. The company is worth $328 billion and is controlled by the Walton family, the heirs of the founder, Sam Walton.
ALDI's SWOT Analysis
Below, there is a detailed swot analysis of ALDI: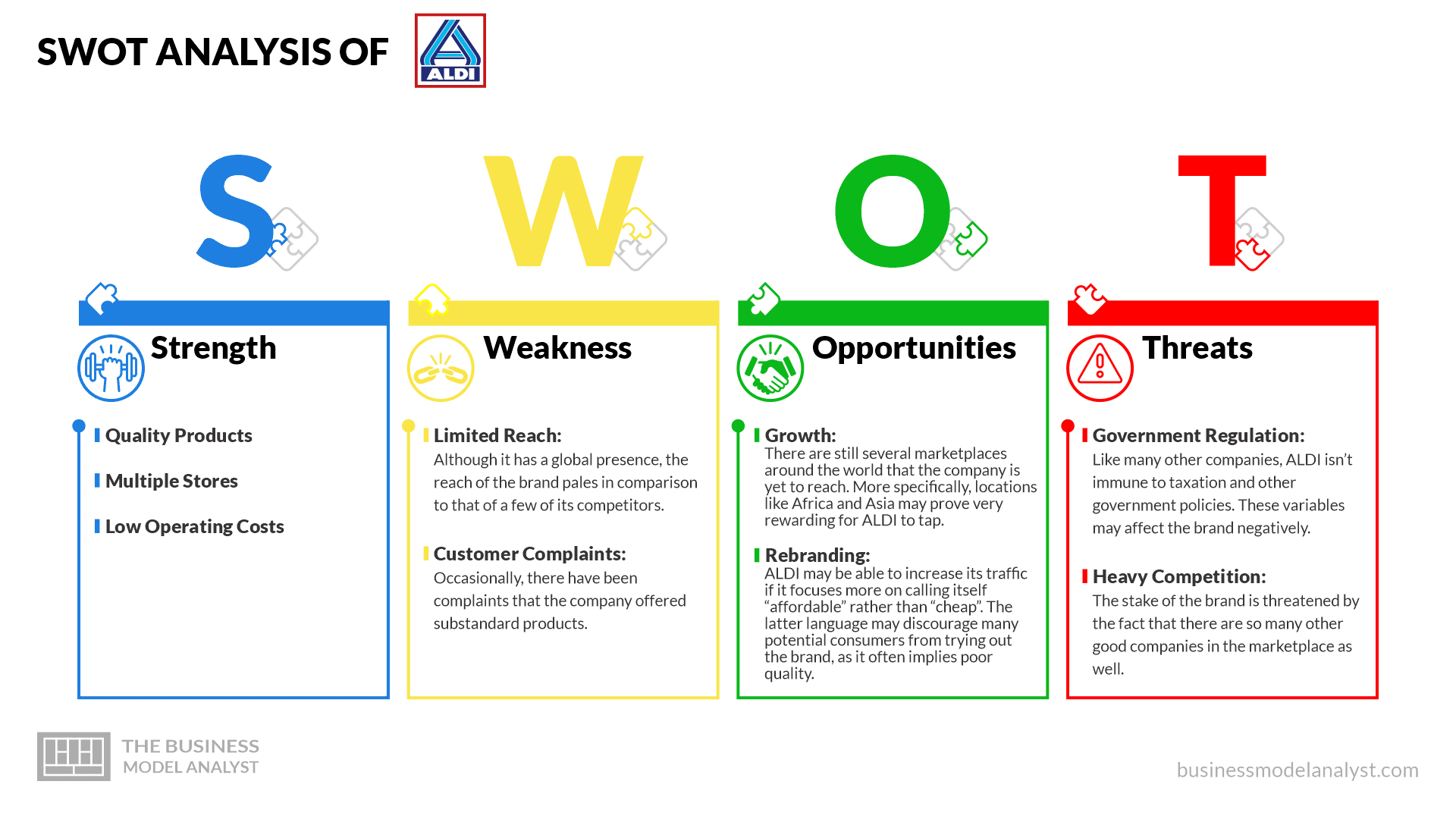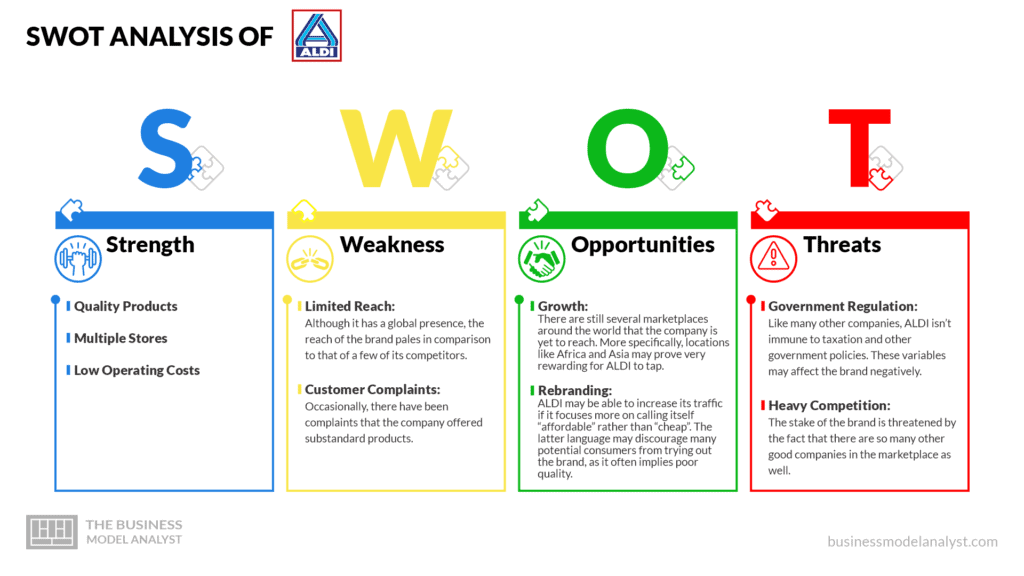 ALDI's Strengths
Quality Products: More consumers keep patronizing this brand because they consistently deliver top-quality broads across the board;
Multiple Stores: The fact that the brand has so many outlets offering its products across the globe contributes to its profit margins greatly;
Low Operating Costs: By adopting a unique workplace culture, limiting expenses, and optimizing operations, the brand can make more profit.
ALDI's Weakness:
Limited Reach: Although it has a global presence, the reach of the brand pales in comparison to that of a few of its competitors;
Customer Complaints: Occasionally, there have been complaints that the company offered substandard products.
ALDI's Opportunities
Growth: There are still several marketplaces around the world that the company is yet to reach. More specifically, locations like Africa and Asia may prove very rewarding for ALDI to tap;
Rebranding: ALDI may be able to increase its traffic if it focuses more on calling itself "affordable" rather than "cheap". The latter language may discourage many potential consumers from trying out the brand, as it often implies poor quality.
ALDI's Threats
Government Regulation: Like many other companies, ALDI isn't immune to taxation and other government policies. These variables may affect the brand negatively;
Heavy Competition: The stake of the brand is threatened by the fact that there are so many other good companies in the marketplace as well.
Conclusion
Because it appears somewhat unconventional, the ALDI business model is one that's often underestimated by competitors until it has stolen the market. It is efficient and detailed, as well as allows less room for waste.
As the company has continued to record a profit steadily over the years, ALDI looks set to grow even bigger in the future.